We've chosen our destination, We've set the time aside with no distractions or work commitments to get in our way and our tickets are purchased.
It's time to enjoy our dream vacation and we don't want anything to go wrong. So, we make sure to follow this travel checklist before we go. It makes things go smoothly when we're ready to travel.
Our Travel Checklist
The time for worry and stress is not meant to happen on vacation, and planning should be fun. That's why we have a system we use on every trip, and we thought it was time to share it with everyone!
This is a travel list we go through for each trip.
Check out more travel tips:
Choosing a Suitcase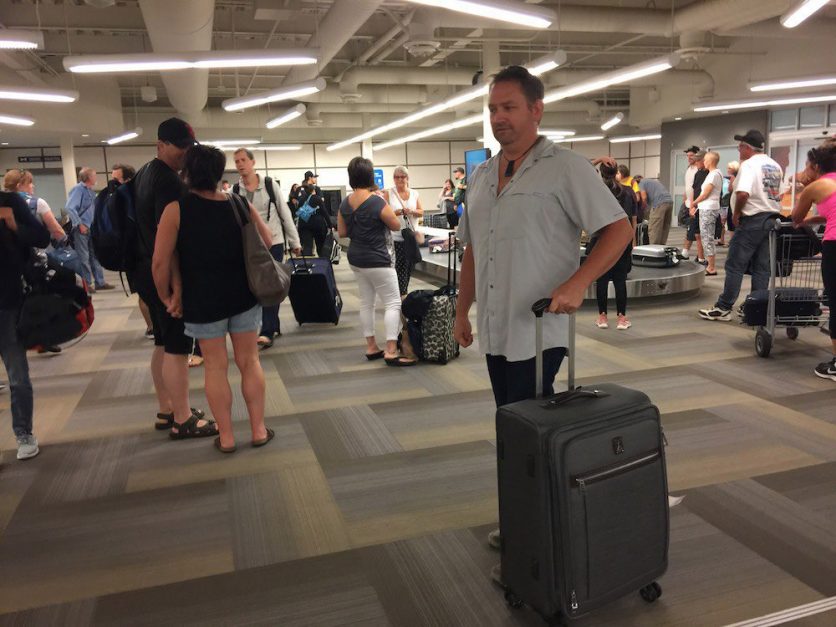 Before we start packing, we think about where are we going? The destination can make a difference in how we pack and what we pack our things in.
For Asia, Central or South America
If we are going to Southeast or Central Asia, we usually opt for a backpack as we'll be hopping on different trains, boats and busses through more rugged terrain and rougher roads. We want to be mobile and have an easy time weaving through crowds.

For Europe or Australia
If we are traveling Europe we usually pack a suitcase as we normally travel between cities by train or car and it is easy to use a rolling suitcase on sidewalks in Europe, Australia and US cities.
For Polar Regions or Remote Lodges
This is when we usually pack a rolling duffel bag. When having to get into small planes, we need a suitcase that is soft and easily packed.
A duffel bag alone is too hard to carry through airports, so we choose a rolling duffel. They are lightweight for small planes and can easily be pushed and packed into cargo area.
But we can also stuff our layers into it easily.
For Caribbean Travel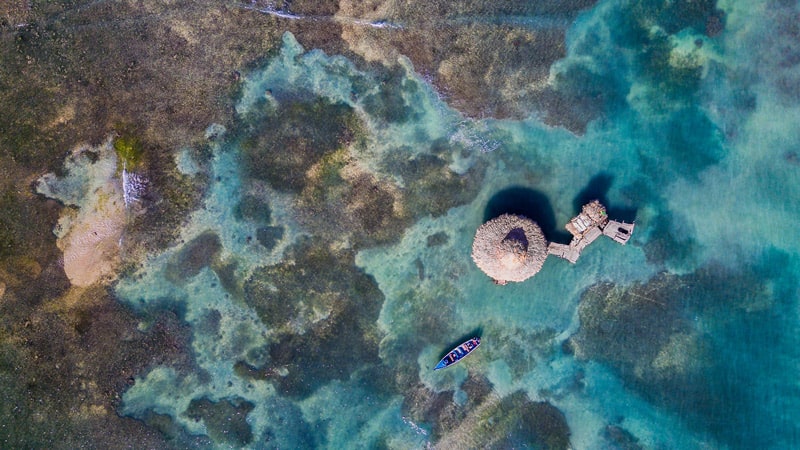 We can usually get away with carryon only for the Caribbean. It's hot and the clothing we pack is lightweight and smaller than when we go to other destinations.
Plus, charter flights usually charge more for checked baggage, so we keep it light and save on the fees.
Pro Tip – Make sure to add something to your luggage to make it easily identifiable.

Luggage wraps, colourful handle identifiers that can be velcroed to your handle or some people even tie yarn or ribbons to your luggage.

We have been with people who have taken someone else's luggage all the way to their hotel and didn't notice it wasn't theirs.
Which brings us to another important thing to check on the list.
Baggage Restrictions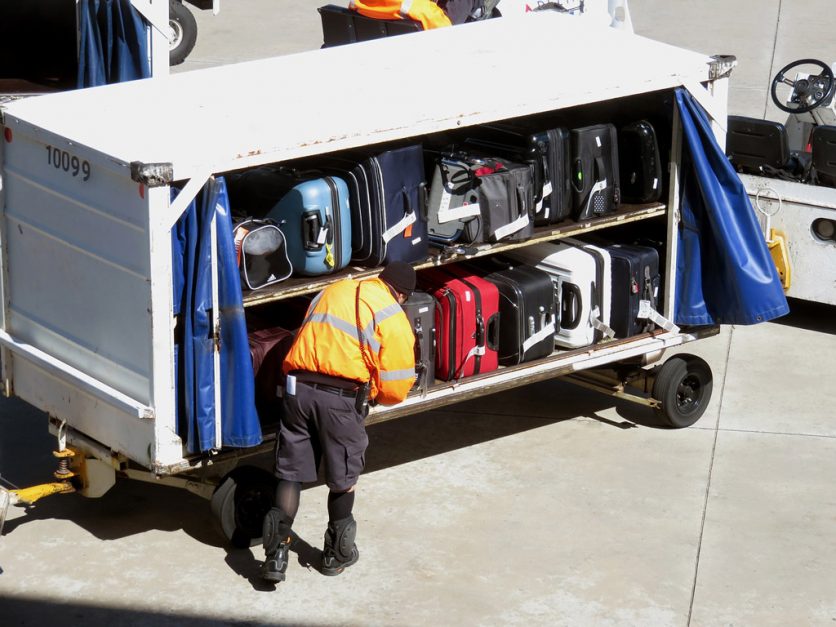 Luggage
We now always check with our airline to see what luggage is included. There is nothing more frustrating than getting to the airport and finding out we have to pay $79 for extra luggage. (speaking from personal experience here).
That is why we are now loyal to one airline carrier. Having gold status lets us have two free bags every time we fly. But we know what it's like to have to cram everything into a carryon when we don't have to.
Drone
A lot of people are starting to carry drones with them and we never leave home without it. But we do check to make sure that drones are allowed in the country.
We know of people that have had their drones confiscated at the airport. So we always check to see if we can even bring a drone in before we fly. We don't want to take the chance.
And we always look up the rules of each destination. Some countries have stricter rules than others, and we follow them. We don't want to ruin future droning laws by unwittingly breaking the law.
It's easy to look up, so we always check it out. Read our Airport Security Tips and Common Travel Mistakes for more details.
Pre Trip Safety Checklist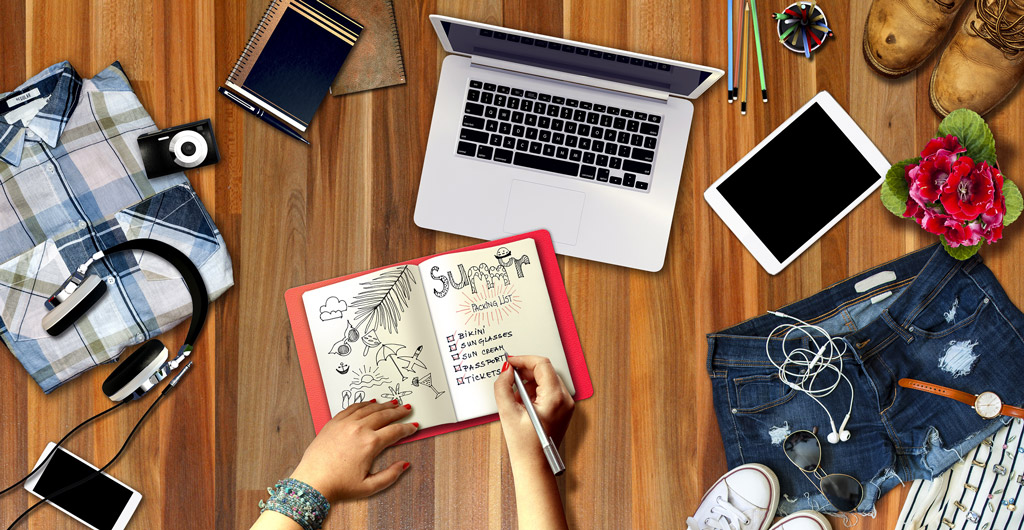 Call our Bank. We call our bank to make sure they know where we're going so our cards work.
Recently we didn't do this when flying to Cuba and my card was frozen after using the ATM. It was an added stress to our travels that we didn't need.
Check for immunizations. New diseases are breaking out and we know people that have been very sick from things like Malaria.
It's worth popping into a travel clinic to talk to a professional to see what we need if it is a new destination.
Check for Visas. The more we travel, the worse we have been at this. We have come close to not getting into a country because we assume we are fine and don't need a visa. When flying into Istanbul a couple of years ago, we didn't check for Visas and saw that we needed to buy a Visa on arrival.
We didn't have any cash on us, and the ATM was out of money, so we had to be escorted through the airport to the other side to get cash. (they didn't take credit card) We were lucky they were nice, or we could have been refused at the border and sent home.
Travel Safety Tips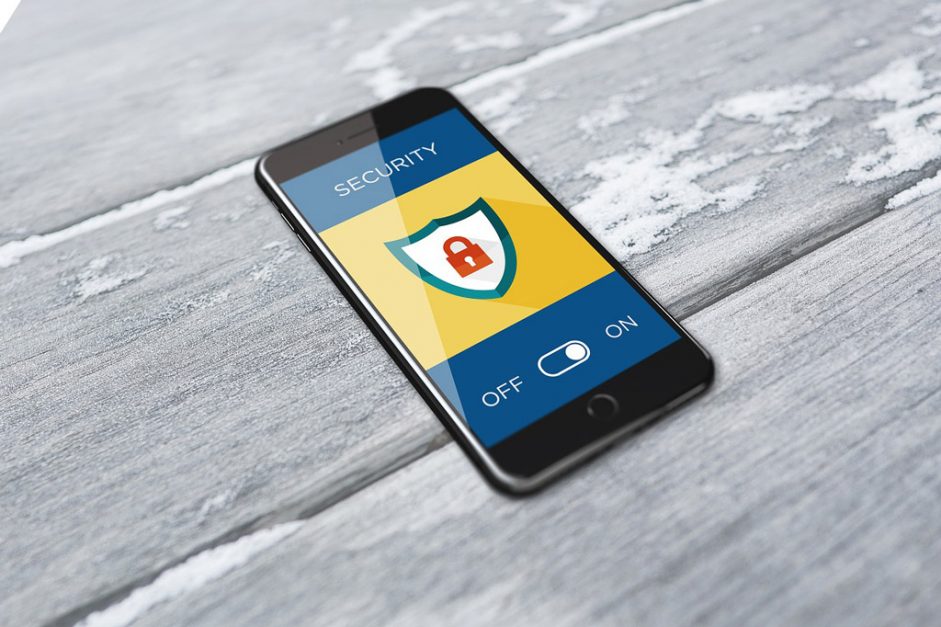 Travel Warnings
Before we choose our destination, we take a look at things like weather and warnings.
There is no sense going to the Maldives if it is monsoon season or the Caribbean if it is hurricane season. We then check warnings to see if there are any areas we should avoid.
We have gone to countries where there have been travel warnings.
For example, there have been warnings in Mexico when we were traveling in Cancun. But Mexico is a big country.
If there is a warning for Chiapas and we are going to Cancun, we are far enough away, that we don't need to worry.

Travel Insurance
And finally, we make sure our travel insurance is all in order and up to date.
Our travel insurance renews yearly, but we make sure we have the emergency numbers on hand. We always check to make sure it covers everything we need.
We never leave home without travel insurance.
Travel is expensive and it wouldn't make sense for us to spend a lot of money on a trip, and lose it all if an emergency should happen like:
If we have to delay our trip because of an emergency
Or we had to cancel our trip and could never take it.
Something happened and we had to return from our trip early.
We were injured or became severely ill during the trip
Or what if we were playing volleyball on the beach and knocked out a tooth?
We can be reimbursed for our travels if we make a claim for a covered reason.
That takes me to.
Knowing what our Insurance policy covers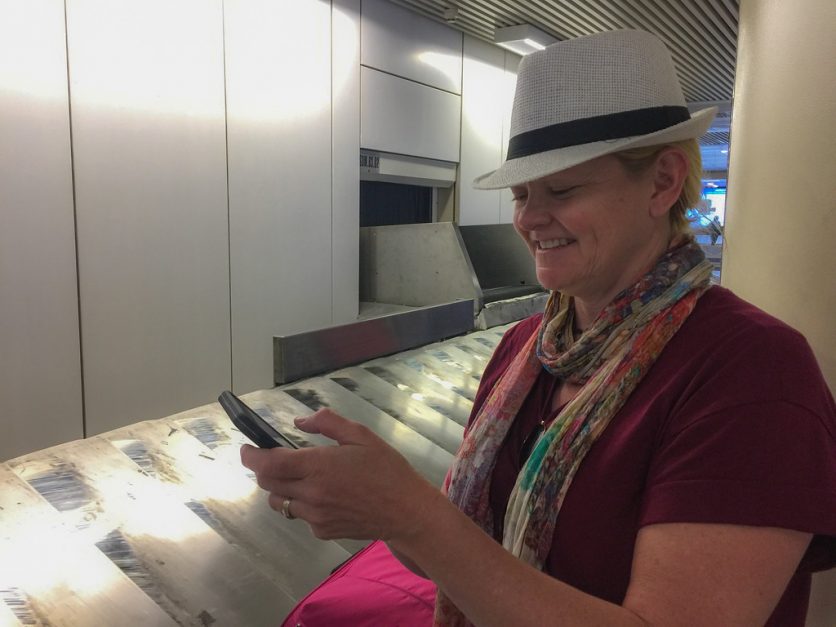 Simply purchasing travel insurance isn't enough.
We call and speak to a licensed agent to learn which plan would best suit our needs during our travels and to make sure we fully understand what is and isn't covered by our policy.
Dave and I are big fans of calling when in doubt. That way we know ahead of time what we can do on vacation and what we'll end up doing at our own risk.
Technology
We all want to get away from technology when traveling, but it's a fact, it's the way of the world.
We were just in Alaska with no Internet for 8 days.
While it was nice to be disconnected, and we missed opportunities and it created a lot of stress when we finished our trip because we had hundreds of emails we had to sift through.
Besides, there are many things technology can help us with during our travels.
RFID Bags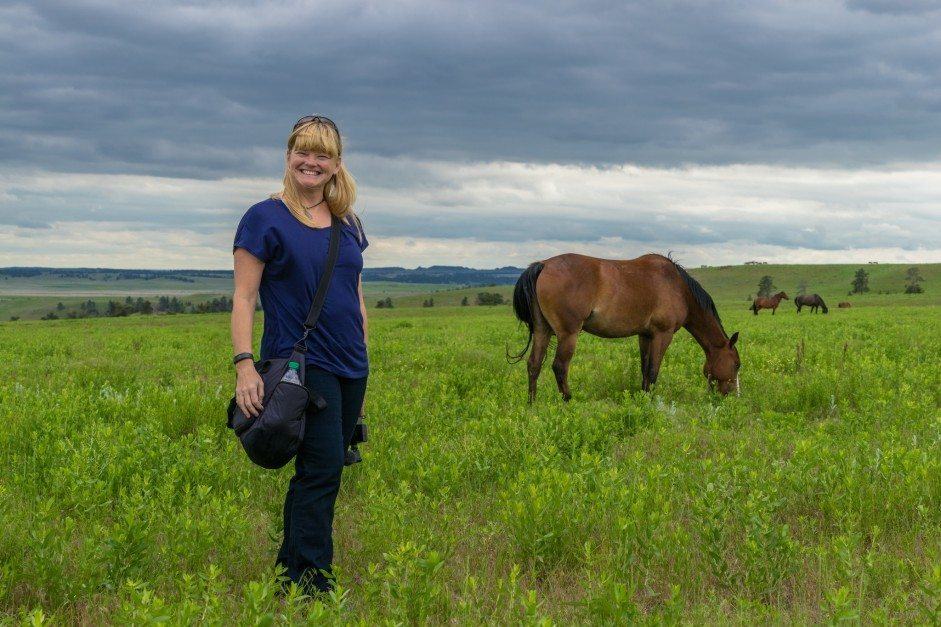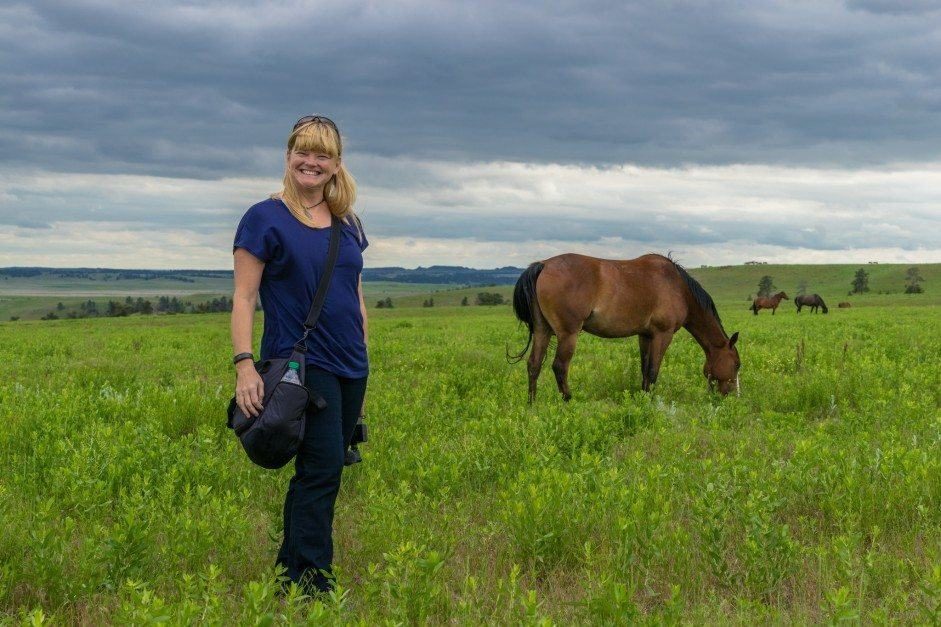 When we travel, we now only use RFID blocking bags and wallets.
The latest scam is for theirs to us wireless transmitters to gain information to your credit and debit card identification chips. RFID bags from PacSafe take care of that problem.
Google Maps – We use it to find and book accommodation, we check hours of attractions, buy ticket and check Yelp for places to eat nearby.
International Roaming – For International Roaming we use a KnowRoaming sticky sim that sticks to our home SIM and can be activated wherever we go once we land.
It's only 3.99 per day for data and we can pay as we go, or order 3, 7 or month-long packages.
Camera Gear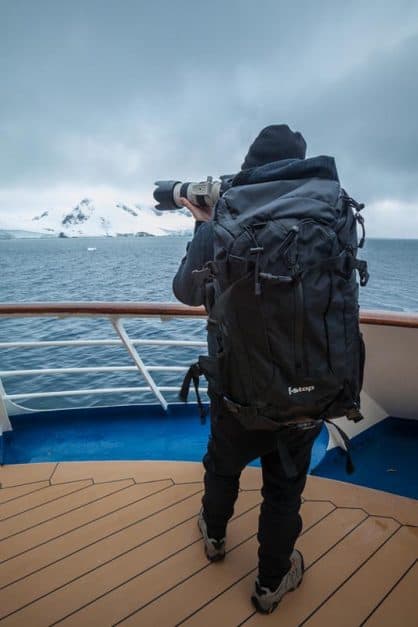 We carry a lot of camera gear and the average person wouldn't want to hurt their backs lugging lenses, extra bodies, and drones around. (yep, that's what we do).
You can check out our entire list here.
But we have recently become huge fans of our Huawei P30 pro cell phone.
It's starting to take the place of our camera gear for both video and photography. For video, I have cut down to only using the Huawei and a GoPro for my footage.
Dave still uses his Sony cameras, but even he has been using the Huawei more often. If we aren't working on a specific project, this really lightens the load and lets us enjoy our travels more.
Note: we don't use our Huawei as a phone, we're still iPhone lovers and aren't fans of the Huawei system. But the phone is one awesome camera.
At the Airport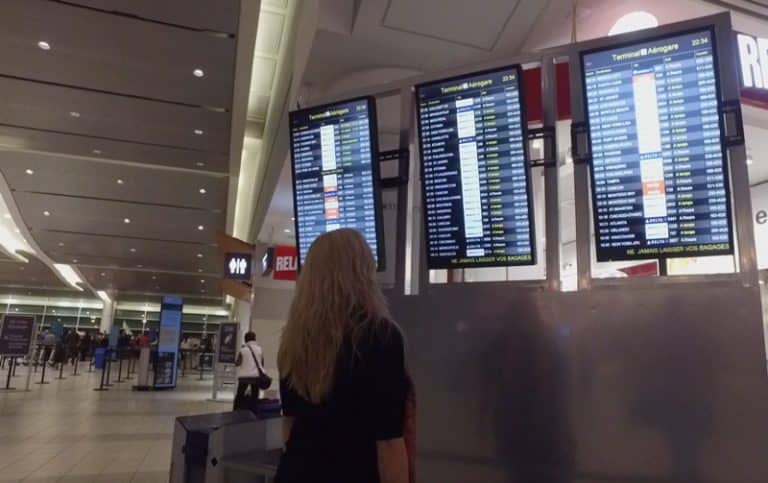 Flying can be the most stressful part of travel, so we always work to make it comfortable and fun.
Lounge Access
If we don't have status on an airline and don't have lounge access, we use our Priority Pass to get into a lounge before flying.
Being in a lounge before a flight is a wonderful thing. It let our vacation begin at the airport rather than at the destination.
We can enjoy peace and quiet, food and a glass of wine. When flying out of Toronto, our Platinum American Express Card gives us access to the American Express lounge and we get a fast track to security.
For people looking to gain lounge access, we suggest looking into your home airport to see what credit card lounges they have.
Many airports in North America have dedicated credit card perks for fast-tracking through security and gaining lounge access.
If you plan on flying more than once or twice in a year, we really love Priority Pass. A lot of times their lounges are nicer than the airline lounges.
On the Plane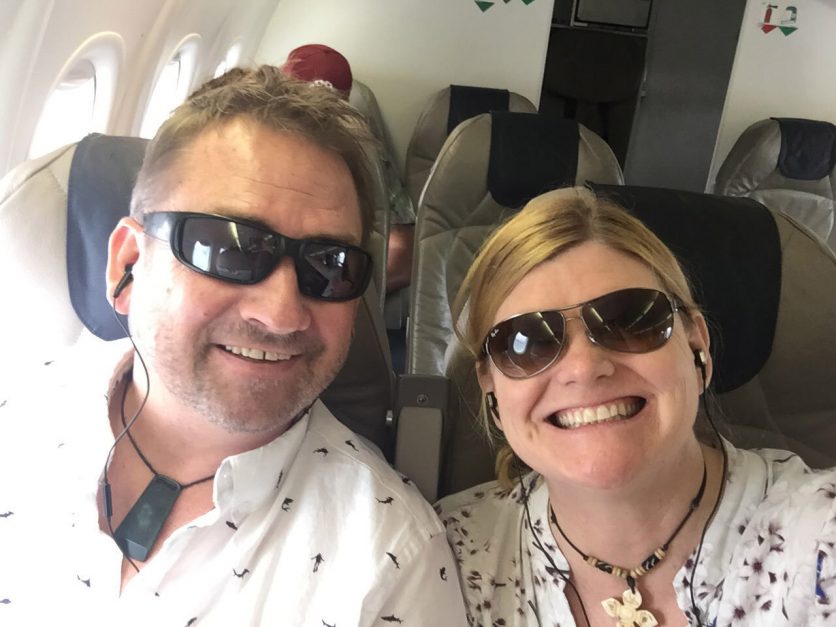 If we can't manage to get an upgrade to business class. (we often try because we fly a lot and have gold status, so we use e-credits with each flight) we still try to make flying coach as comfortable as possible.
We both pack care packages with essentials in our carryon.
Carryon Checklist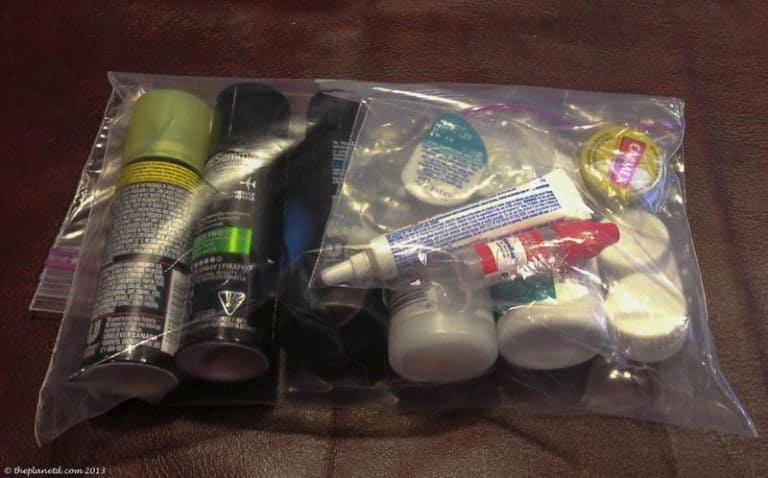 Noise cancelling headphones – this makes all the difference if we have a crying baby or loud talker around us.
Eye Mask – It's nearly impossible to get to sleep on a plane, but an eye mask really blocks out the sun (if we are sitting near someone that refuses to put their shade down) and the florescent lighting that is on the plane.
Scarf or sweater – it seams that planes are always either too hot or too cold, so I always use a big pashmina scarf to wrap myself up in on the flight. Dave uses a lightweight merino wool sweater
Socks – When flying to a warm destination I usually board a flight in sandals or shoes that require no socks. But when flying, nobody wants to look at bare feet, and my feet usually freeze on the plane anyway. So I pack a pair of socks that I can put on for the flight.
Foldable water bottle – The cost of bottled water in an airport is highway robbery, so we use a foldable water bottle through security and then fill it up when we get across.
Lip balm, moisturizer and nasal spray – Airplanes are very dry and we have all the gadgets to keep us hydrated in our care package.
Sunglasses – We always have our sunglasses handy. Whenever I wake up, my eyes are dry and sore and sunglasses help ease the glare of the cabin.
Load Up Your phone or iPad – We have large phones, so we load up movies or TV series on our phones. We never rely on the airlines entertainment system. They often don't work (we've had it happen on more than one occasion) and we've often seen everything they have in their choices.
Portable USB charger – Sure, many airlines say they have chargers, but many times they don't work. We keep a portable charger handy at all times.

Packing List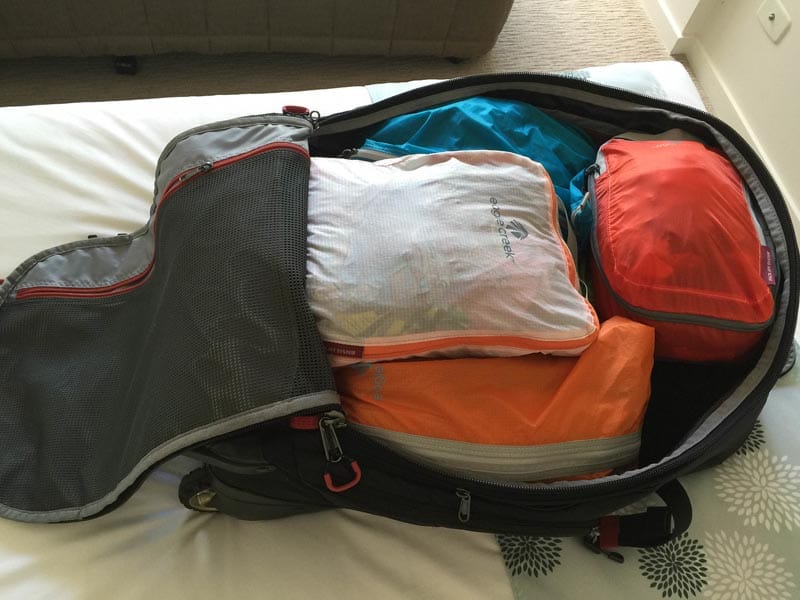 We could go share a complete travel packing list, but we find every one is different.
Some people will never travel with checked luggage, while others would never dream of going carry on only.
Some people like to have a different wardrobe with shoes to match each day, while others (like us) prefer to mix and match.
We do have a travel packing list that you can check out here.
But we do have items in our suitcase that we never leave home without no matter what type of trip we are going on.
Be it a winter trip, a beach holiday or an expedition, these items are always in our travel bag.
Travel Gear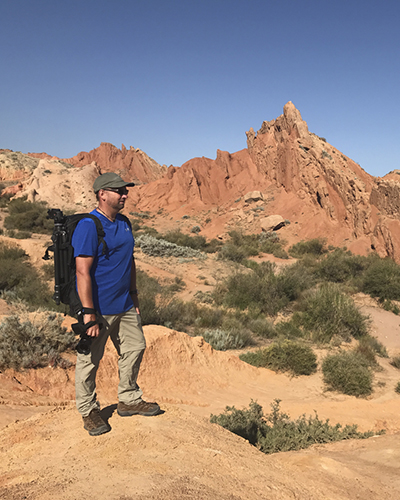 Dry bags – When taking a boat trip or even going to the beach, we put all our electronics and cameras into a dry bag.

Headlamps – Great in the backcountry and on adventure trips. We've needed it when going caving or even exploring dim castles.
But we also use headlamps a lot when taking photos at night. You can really up your photography game by painting light or shooting a beam into the air in the dark.

Packing Cubes – We put everything into separate nylon cubes and compression cubes. This helps us organize our bags with ease. And if we have bulky items like a down jacket, we use compression cubes to squeeze out the excess air.
Toiletry Bag – The Packsafe foldable toiletry bag hangs for ease in hotel bathrooms and has different compartments for all our needs.

Packing Envelope – Dave never leaves home without it. He folds all his collared shirts and pants into an envelope keeping them from wrinkling and taking up less space.

Steripen – We never worry about bottled water because we use a Steripen to purify our water no matter where we are. We just fill up our foldable water bottle, sterilize in 30 seconds and go!

Belkin Mni Surge Protector – It has three outlets and 2 usb chargers for all our electronics. Plus a surge protector to keep our electronic safe.

World Plug Adapter – Forget wondering what adapter to bring to each country, the world plug adapter is compact and covers everywhere in the world. There's a USB charger too giving us an extra place to charge our cameras or cell phones.

Mesh Laundry Bag – great for letting laundry air out so it doesn't smell, but still keeps it separate from our clothes.

Tweezers, nail clippers, scissors – this accessory kit has come in handy more times than you'd think.

Waterproof/Windproof Jacket – for cold weather we layer warm wool and fleece underneath, for warm weather we use it in the rain, early mornings or when climbing up to higher altitudes.

Pegless Clothesline & Universal Sink Stopper – For quick washing and drying of items like bathing suits and underwear.

Hiking Shoes – We love the outdoors so you never know when we'll be going on a good hike!
We have a light pair of watershoes that we use in tropical climates and a heavier pair that we use in mountains and northern travel. (we switch them out depending on the trip)

Flipflops – great for going to the pool or beach.

Packable Daypack – folds up small and can be Brough out when going on a day hike.

Goo Toobs – Puts all our lotions and liquids into small containers that are airline friendly.

Our Own Canvas Bag – Instead of using plastic bags and local markets, we bring our own. Plus, it's good if our carryon is overweight at the airport, we can throw our computers in to lighten the load.

First Aid Kit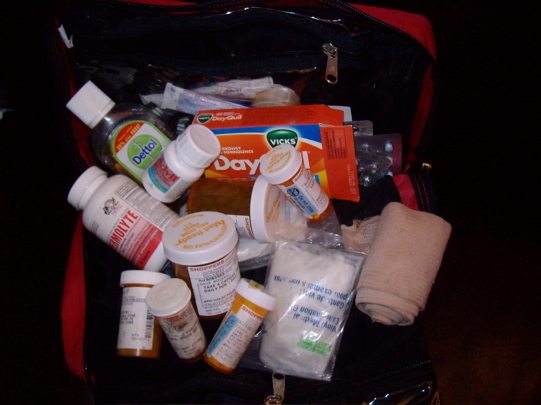 We used to carry a really big first aid kit, but we have found that we can easily buy most of what we need. But we still do carry a basic first aid kit.
Things we include in our First Aid Kit are:

Prescription Medication – with a photocopy of our prescriptions
Insect repellent
Sunscreen
Gravol – for nausea
Bandaids
Benadryl and Claritin – For allergic reactions
Allergy Eyedrops
Imodium – for mild diarrhea
Rehydration tablets and electrolyte tables – in case of dehydration or severe diarrhea.
Topical Ointment like Polysporin or prescription Fucidin Cream – For cuts and scrapes
Antisceptic spray – it's important to clean cuts quickly, especially in tropical climates.
Moleskin – I recently bought shoes I loved for China. They were sketchers and comfortable at home, but they gave me serious blisters after walking for a day in Shanghai. I needed moleskin for the rest of my trip!
And that is our complete pre-travel checklist.
Remember, planning for travel will give you peace of mind to create a stress-free vacation.
Like this post? Why Not Pin it!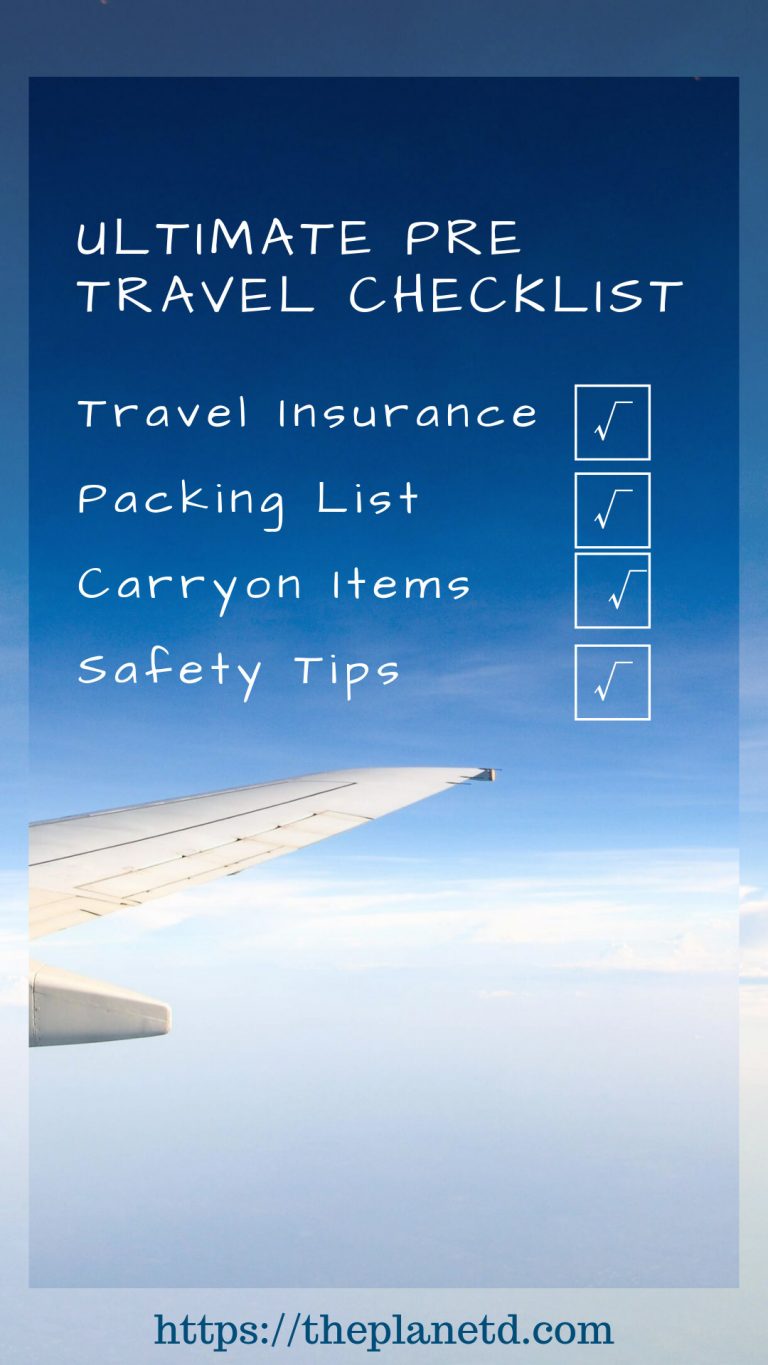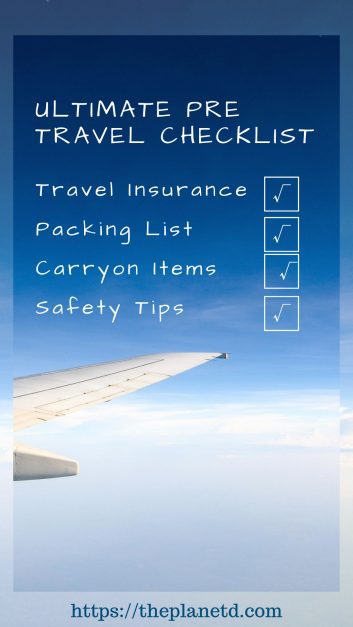 Read More:
How We Choose Travel Insurance to Best Suit our Needs
How to Have a Safe and Healthy Vacation
How to Overcome Your Travel Anxiety and Fears
Bonnie Henderson
from
Pixabay
and phone security by Image by
Biljana Jovanovic
from
Pixabay