One of the biggest things that Dave and I always struggle with is over packing our first aid kit. You just never know what you are going to need, but at the same time, we hate carrying too much stuff.
A lot of travelers including ourselves tend to go a little overboard when it comes to carrying medication. In the past, we have carried a small pharmacy and it has driven me insane.
At the same time, we really do need to be prepared for any situation. We have been in hospitals on 4 different continents, we've had severe infections, sprained ankles, broken backs and dangerous illnesses.
While we're fans of packing light, we are also fans of being prepared. This is a packing list of everything we carry in our travel first aid kit. So how does one find balance?
Travel Tip: Most of the items listed are found in a basic first aid kit that you can buy at any outdoor or travel store.
Dave and Deb's Travel First Aid Kit
Prescription medication
Malaria – Malarone – Luckily, we are pretty well set when it comes to our prescription medication. We have a tonne of Malarone left over from Africa for Malaria. We haven't overly worried about Malaria in the past, but when traveling Africa, it is not something to play with. And since we have a lot left over, we are set. In the past we have used doxicycline or laryium.
Altitude – Apo-Acetazolamide – We like to climb things and we always take altitude medication with us. It alleviates altitude symptoms and helps you feel better. But Note: You still must pay attention to how you are feeling. Don't let it mask serious altitude sickness. Pay attention to your body.
Diarreah – We are out of ciprofloxacin. Unfortunately we seem to get bad cases of diarrhea, so we seem to go through this quickly.  I don't think that we will be making a trip to the travel clinic for that alone, so hopefully my doctor will prescribe this when I go in for my yearly physical.
Cold Sores/Fever Blisters – For anyone that has problems with fever blisters or Cold Sores acting up in extreme heat, go to your family doctor for a prescription of Acyclovir or Zovirax. We've tried every over the counter medication and this stuff works. The minute you feel a tingle, you pop 4 pills and the cold sore never comes up.
Antibiotic Cream – We tend to get a lot of cuts and scrapes and in tropical climates these can get infected quickly. Clean wounds and them apply a topical antibiotic cream to prevent infection. We like feuciden cream.
Antibiotics – We keep a stash of amoxicyclin and ampicilin with us at all times. We stock up where antibiotics are sold over the counter around the world.
Travel Specific First Aid Items
You don't need a doctor to prescribe any of these items for your travels, but I think that they are essential items in your first aid kit when traveling the world.
Syringe and suture kit – We have never had to use this, but I think that it is a good idea if you are going to remote places to make sure that you have sterile supplies. We have heard horror stories (first hand accounts) of people being in the hospital and nurses sticking syringes in the bed to reuse later. Be safe, have your own needle.
Rehydration Tablet – We needed this in the Sudan and until I became seriously dehydrated, I never knew that this was such an important piece of the first aid kit. Rehydration tablets also help you recover from extended vomiting and Diarrhea and to recover. It helps with heat stroke and dehydration. Just get them.
Water Purification Tablets – A must if you are planning on trekking and going off the beaten path.  We used them climbing Mount Kinabalu and Climbing Mount Kilimanjaro and up to the pinnacles in Borneo.  We make sure to buy the tablets that do not contain iodine.  All through Africa, our water was purified with this method.  Even if you carry a filtered water bottle, water purification tablets are a good back up too.
Antiseptic – After getting a serious knee infection that turned into a full blown case of cellulitus in Africa, I will always have Iodine or dettol or some other kind of disinfectant to clean out a wound.  In the tropics small cuts can become infected quickly and it is important to clean them as soon as they happen. Just put a small amount in a small plastic bottle. You don't need to bring a huge bottle with you.
Topical Ointment like Polysporin – If you can't get your hands on prescribed Fucidin cream,  Polysporin is the next best thing. The doctor used it on my cellulitus in Africa, so I am sure it is good enough for a minor wound.
Anti-nauseant – Gravol – is always a good addition to a travel first aid kit. Nausea creeps up on you when you are traveling the world. Think of sea sickness, harrowing bus rides, flights,,,there are so many situations. Gravol has saved my bacon more than once!
Insect Repellent – Prevention is the number 1 way to deal with many diseases like Malaria and Dengue Fever. They are transmitted through mosquitoes so have a good insect repellant. It is important to protect yourself as much as possible from mosquito bites.
Pro Tip: We never carry full packages of everything. Put large bottles of liquids into smaller bottles or tubes, carry just a few tablets of what you need and just a portion of your bandaids. Remember, this is all for an emergency, you don't need a year's supply of items, just enough to get you through an emergency situation until you can see a doctor.
Miscellaneous items
Ibuprofen, decongestants and antihistamines. Of course we will need the usual pain and cold relief.   We make sure to keep a small supply of these in our first aid kit.  We don't go for the large bulky items, but we carry just enough to get us through a few days of not feeling well.  We can always restock as we go.
Imodium has been a life saver for us in the past.  If you are stuck traveling on a bus for hours on end and whatever you ate the night before isn't agreeing with you, this can be the only thing that will make you get through the day.
Gold Bond – We always swear by this one it relieves heat rashes, prickly heat
Band Aids – We don't go crazy and carry a ton of band aids, but we have a few just in case.
Gauze and Tape – I think that this is more important than band aids. Gauze and tape will take care of a cut of almost any size.
Lip Balm – A must in my books. Soothes sunburned lips and when trekking or climbing it soothes chapped and wind burned lips.
Sunscreen – Gotta protect our skin, especially at the beginning of the trip.  After we finally develop a tan, we don't need it as much, but the nose and ears seem to keep on burning.
Tums – Indigestion and heartburn can occur a lot when travelling, Tums or Pepto Bismol can be a welcome relief
Oraguard-B – Stress and different foods can cause mouth ulcers. OraguardB numbs the gums while they are healing.
First Aid Kit Items – Up For Debate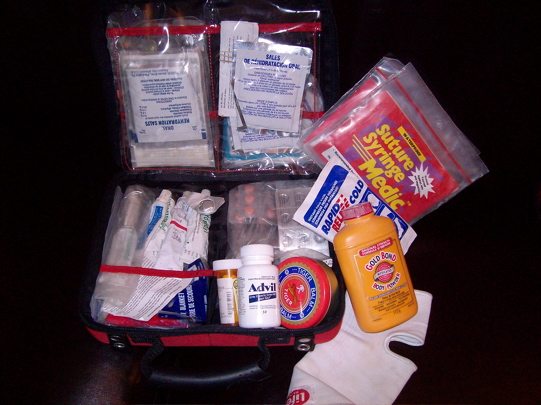 Instant Ice Pack – Do we really need this? If we sprain an ankle or twist a wrist, instant Ice will help to ease swelling and pain. But it is big and bulky. We will probably pass. However, we have needed it on more than one occasion and injuries always seem to happen when you are far away from anywhere.
Surgical Gloves – I never would have thought of this in the past, but Dave was attacked by a swarm of fire ants in Honduras once. Whenever I tried to brush them off, they would swarm my hands. It was impossible to get them off. But then, another traveler whipped out his surgical gloves and brushed them off quickly and efficiently. Have carried them ever since.
Aloe Vera – Helps to relieve sunburn. But maybe we should just try not to get burnt.
Eye Drops – we can really buy these anywhere. But I do suffer from Allergies and it is packaged in a small bottle, so it will probably come along.
Tiger Balm or peppermint essential oil – It is just my savior. Relieves sore muscles and headaches and even when my nose is stuffy, a little placed on the bridge will help to open them up
And there you have it. Our complete travel first aid kit. Of course we don't carry this if we are going on a vacation to a resort or city, you can call an ambulance or see a doctor. But when you are travelling long-term and going to more remote destinations, it's good to have all of these items on hand. Do you have a staple first aid kit item that you don't leave home without?
You Might Also Enjoy