Do I really need travel insurance?  I am sure it is a question you ask yourself each time you head out on vacation.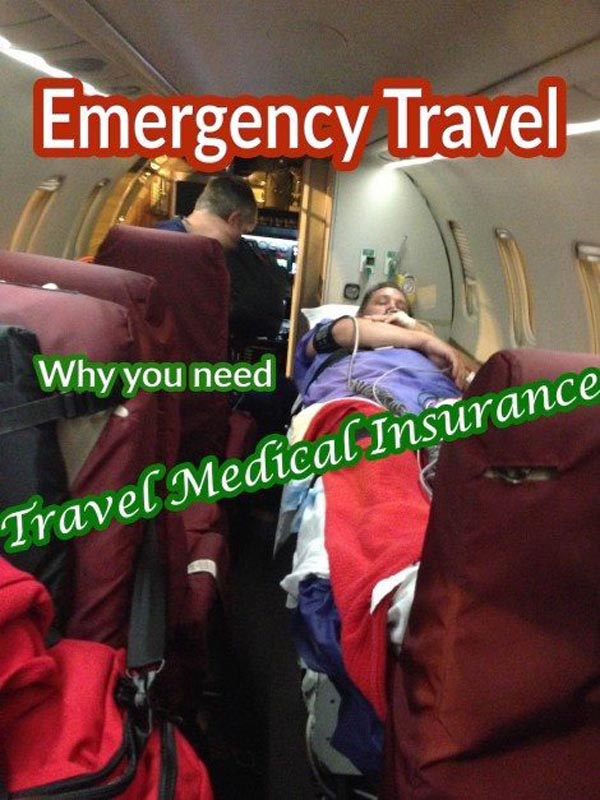 We've had so many people tell us over the years that they never buy travel medical insurance.
We've heard things like "I don't need travel medical insurance, hospitals are cheap where I'm going."
Or people have said things like "It really depends on the situation,"  I'll just come home if I get sick or injured."
Do I Need Travel Medical Insurance?
I find all of these excuses crazy.
For those of you that think you don't need travel medical insurance, read on.
We've got a story to tell you exactly why we needed travel medical insurance after we had a fluke accident in the Amazon.
Dave and I have always bought full travel insurance before leaving the country. It's been ingrained with us since we were kids.
It was the first thing our parents did when planning any trip out of country and it's the first thing we do now. Boy, are we glad we did.
Yes, You Do Need Travel Medical Insurance
We've had medical emergencies while traveling a few times in our lives.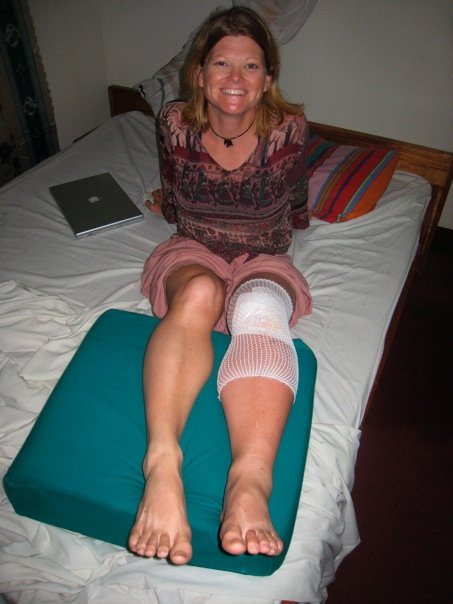 Times we used Travel Insurance

Dave Broke his back in South America
Dave had second-degree burns from a motorcycle accident in Thailand
I had a bad skin infection in Africa that turned onto cellulitus.
I had an extreme reaction to Malaria medication in Asia
I had very bad food poisoning in South America
I even had a panic attack once in Asia and went to the hospital because I thought I was having a heart attack!
All injuries and illnesses required a hospital visit and we used our medical insurance.
Using Medical Travel Insurance
But it was during our latest trip to Peru that we really needed to use our travel medical insurance to the fullest.
As  I said above, Dave took a spill on an Amazon Cruise and broke his back.
He fell hard on a set of steel steps and fractured two vertebrae in his back.
Travel insurance saved us money, time, and a lot of pain.
Medical Evacuation from Amazon
The Amazon River is an extremely remote location and if an injury happens there, you need to be flown out by float plane.
The closest town was a four-day boat ride away and I have no idea what a private charter flight would have cost us.
But I didn't care because we had full travel medical insurance.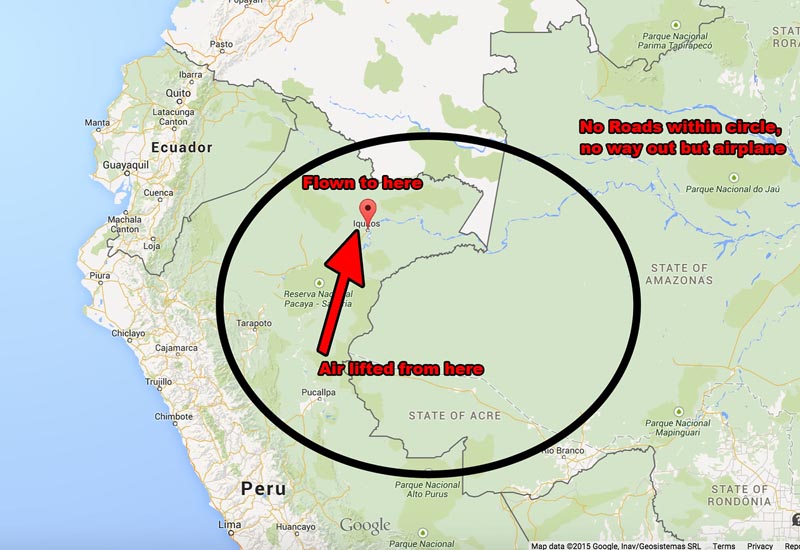 As soon as the accident happened, I called our insurance company from the ship's satellite radio and told them what happened.
They informed me that we were fully covered and not to worry about any rescue costs. We were 100% covered.
All we had to do was make sure we got a copy of the ship's report and keep all receipts.
See our video stating all the reasons you need travel insurance
What if we didn't have Travel Medical Insurance?
If we didn't have travel medical insurance we would have been in dire straits.

If we didn't' have travel insurance, Dave might have been stuck on the river cruise until the end of the journey. He may have had to just lay on his back for the next 8 days.
We would have had to either pay thousands of dollars for the pilot and plane to fly us to Iquitos.
Or have the boat drop us off at a nearby remote village that had a very basic medical clinic.
God knows how long we would have had to stay at that clinic before having to pay for the cheaper and slower option of chartering a boat to take Dave to Iquitos.
Dave would have been in severe pain and would have done more damage to his back. Who knows how he would have ended up.
When you don't have insurance, people tend to think they aren't seriously injured and rest might do the trick.
We didn't know the extent of his injury at the time, if we didn't have travel insurance, maybe we would have fooled ourselves into believing that he just had a really bad bruise?
We've heard of people being severely injured or sick, but because they don't have insurance, they don't go to the hospital and they end up making things worse.
If we felt his injury was serious regardless, we would have been out the cost of the float plane and hospital stay.
We could never have afforded medical evacuation, so we would have been stuck in the Iquitos hospital until the doctors fixed him.
When we arrived at the hospital, they told us it could be 2 months before Dave could sit up.
At the Hospital
Once we arrived at the hospital, we were met by Jaime, a representative from Explorama Lodges a division of International Expeditions.
Thank God for Jaime because nobody at the hospital spoke English and we didn't speak Spanish, he was our lifeline interpreter
Note: If we didn't have Jaime's help from IE Travel, our travel insurance company would have sent an interpreter
They immediately hooked Dave up to an IV and gave him some drugs to help with the excruciating pain he had endured over the last 10 hours.
They took him immediately to X-Ray and found nothing at first.
Luckily this hospital had a CAT Scan machine so the next morning they took him in for a closer look. That's when they found the fractures.
The doctor told him that he had fractured 2 vertebrae: His L1 and L2 and that he would have to lay flat on his back for at least 2 weeks and that it would be a 3 months recovery.
He would not be able to fly home anytime soon unless he could lay flat.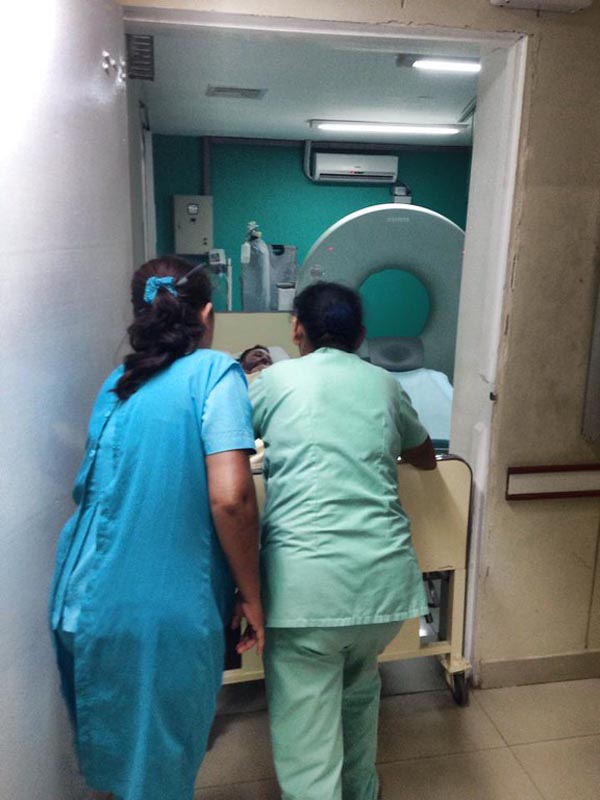 Even flying first class would not be an option because he has to be able to sit up for takeoff and landing. Dave couldn't even lift his leg or roll over on his own let alone sit up.
So, we stayed in the hospital in Iquitos for 7 days total.
We were able to leave earlier than expected because we had travel insurance. While doctors regularly examined Dave and nurses pumped him full of painkillers, I was on the phone with our insurance company working on securing an air ambulance home.
Preparing for Air Ambulance Evacuation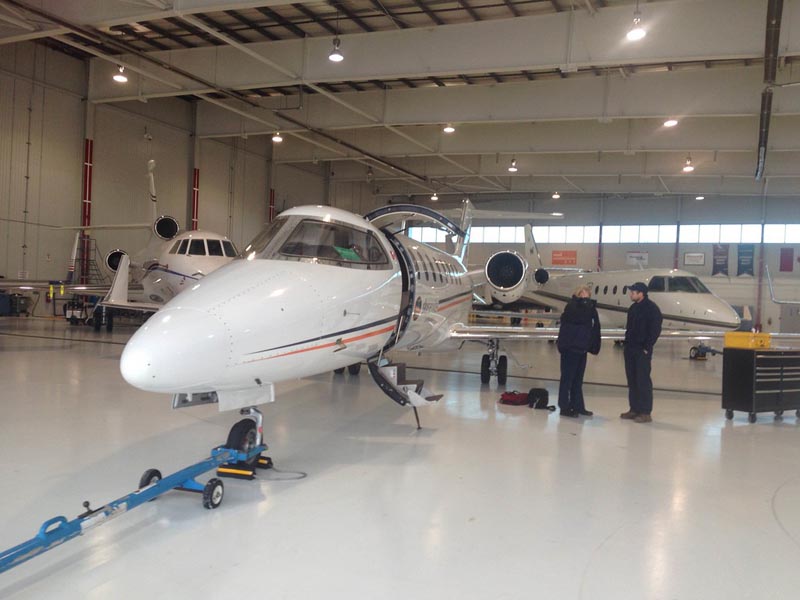 It's not as easy as one would think to secure an air ambulance home.
For one thing, your insurance company has to find one that is available.
The doctor has to sign off stating that the patient is good to fly.
And finally, you need to make sure there is a bed in a hospital ready and prepped to take you.
It took us three days to get the doctor to sign the paperwork that Dave was good to fly.
He signed off with the stipulation that Dave must be on a stretcher, strapped down and in a back brace.
Keep all Receipts and Paperwork
Once we had that signature from the doctor saying Dave was fit to fly,  the paperwork needed to be done.
Thanks to the help of International Expeditions things went much smoother than they would have otherwise.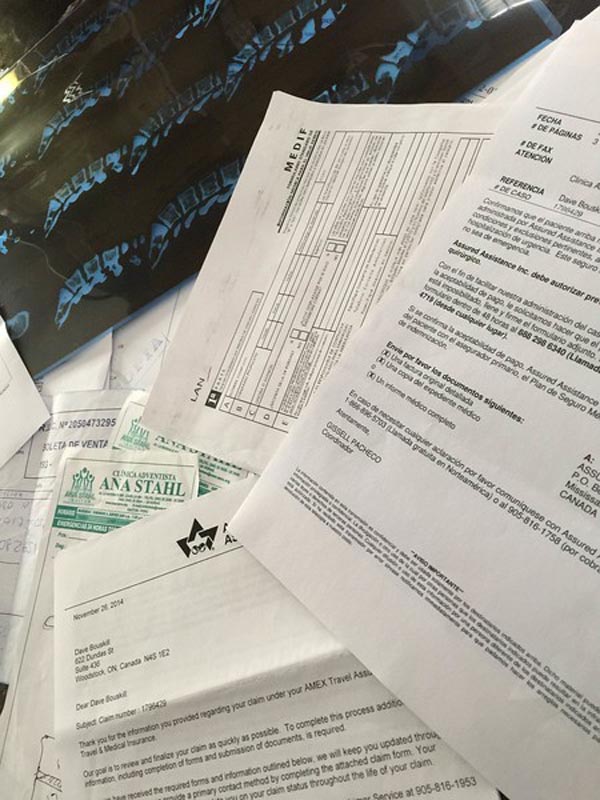 The General Manager of Explorama Lodges, Pam Bucur, helped me gather all the paperwork I needed from the hospital.
She speaks fluent Spanish, so I followed her around from cubical to cubical and desk to the office while she gathered all of Dave's test results, prescriptions, and medical fees.
She then took everything back to her office, made copies and emailed everything to American Express so that they could start initiating the transfer.
Even with Insurance Travel Takes Time
Four days had gone by now and Dave seemed to be deteriorating rather than getting better.
His pain was getting worse, he hadn't had a bowel movement for days and all the hospital in Iquitos was doing was filling him with more and more painkillers.
He needed to get home to Canada for proper treatment and soon.
By the time all the paperwork was collected, it was the weekend so our insurance company was having a difficult time securing a bed and getting a hold of hospitals in Canada that would take Dave.
Until that was all settled, they couldn't confirm the flight.
At one point I asked, "Can't we just fly home and call an ambulance once we land?"

Their reply was  'The air ambulance costs $50,000 ma'am We can't just send a plane when we don't have a hospital to take Dave."
All the proper procedures need to be followed. I reluctantly agreed. Even though I was desperate, I could see her point.
It was another two days, but they finally found a hospital to take us and told us that we'd have a plane meet us in Iquitos on Monday.
Interesting note:

For those of you who think you can just book a flight home if you are injured or sick, think again. If you injure yourself, you can't just get on any plane to fly home. Especially if you need to fly on a stretcher.

At one point, we thought Dave would be able to be wheeled in on a stretcher and then we could book a seat in business class so that he could lay down.

That's not possible.

To be flown laying down on a flight, it has to be through air ambulance.

It is also up to the pilot to decide if you are fit to fly if you haven't come from a hospital. If you are injured, you may be denied flight and then what would you do?

Travel insurance assures that you will be able to get the proper help you need to get yourself home.

Thank goodness for travel medical insurance. 
The flight was finally booked for Monday evening and Dave would be flying home with a medical team.
I paid up the final hospital bill and bought the prescriptions he needed.
Our hospital stay in Peru cost $2500
The Air Ambulance Experience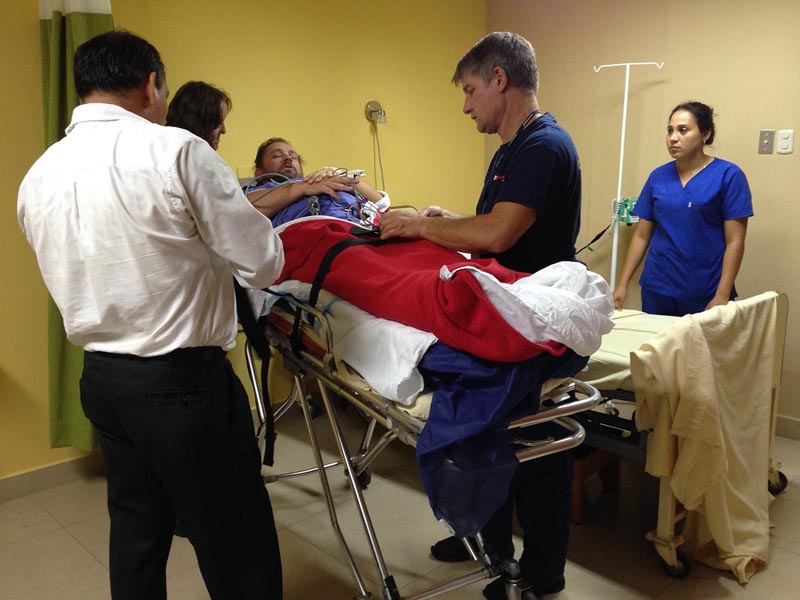 I nearly cried when the paramedics walked into Dave's room on Monday morning. I knew we were flying out at night, but I didn't expect them to pop in that morning.
That morning the team just arrived from Canada and came to check on Dave before going to the hotel to rest.
The air ambulance team and crew need a certain amount of hours of rest before they could fly again.
Having just come in from Canada they had another 12 hours until we were scheduled to fly.
But they popped by before going to their hotel and when the door opened and I heard their Canadian accents say hello, my eyes welled up with tears.
For 7 days I had dealt with nurses who I couldn't communicate with.
I had asked for drugs like stool softeners and laxatives to help Dave and to relieve some of the pressure he was feeling.
I was trying to find food that he could stomach as the hospital food in Iquitos was atrocious and Dave was having a hard enough time eating anything let alone their mush.
Suddenly when I heard familiar voices I knew everything would be ok and I could talk to them about what was really wrong and what I could expect.
Off to the Airport, we Go!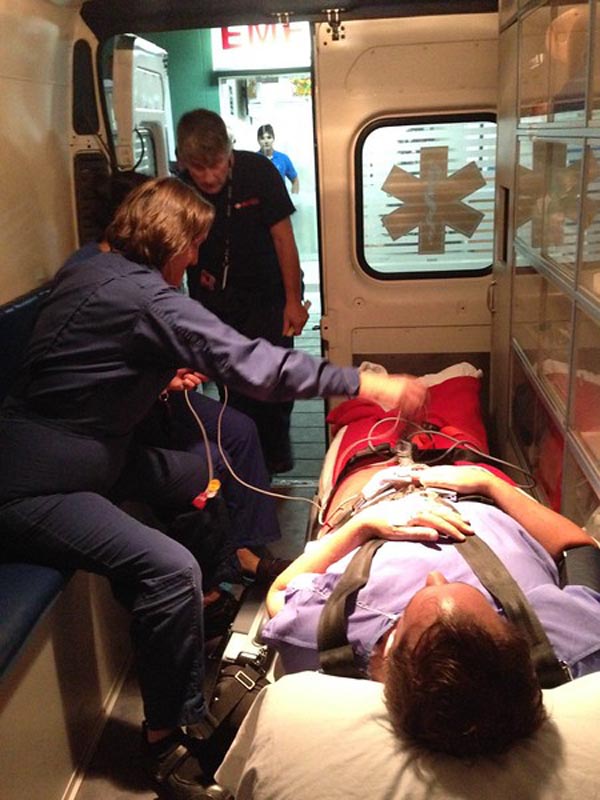 That night an ambulance took us to the airport where we caught a private jet home.
Dave was on the stretcher the entire time and was hooked up to a monitor and was given plenty of Demerol to ease his pain.
I slept soundly for the first time in a week.
The plane landed in Toronto and an ambulance was waiting at the airport to take Dave directly to Woodstock hospital.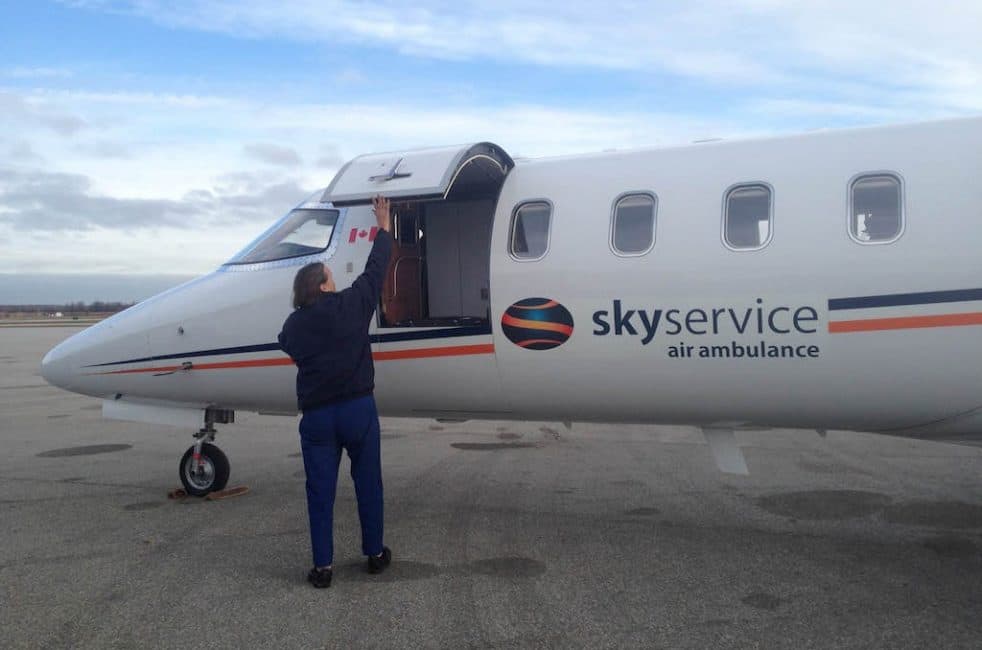 I rode with him in the Ambulance along with the team from Skyservice and when we arrived at the hospital, we skipped all the admitting paperwork.
Because we had travel medical insurance, they did everything for us. Our room was ready and waiting.
Dave was in the hospital another 10 days, but he was now home and being taken care of.
Cost of Injury without Travel Insurance
Had we not had insurance, we have calculated that we'd be stuck with a $75,000 bill.
We would have lost our return flights home from Peru and then we would have had to buy new flights home.
We would have never been reimbursed the $2500 hospital bill (which we received 2 weeks after arriving home)
And we never would have been able to afford the air ambulance to Canada.
In reality, the air ambulance would have been out of the question and Dave would have been forced to stay in the hospital until he could sit up and board a plane.
The rate he was going there, it would be at least a month.
I would have had to stay in a hotel for that month (another expensive fee) and Dave would have deteriorated because he wasn't getting the proper treatment.
But really, let's forget the cost of everything.
Had we not had medical insurance, Dave would have had a slow and painful recovery.
By the time we got home, the hospital in Woodstock said that Dave had to get mobile as soon as possible.
They said that being flat on his back in Peru was an old way of treating spinal injuries that didn't have nerve damage or weren't weight bearing.
Here in Canada, they get you as mobile as quickly as possible.
His vertebrae was fractured but not weight bearing or displaced, so as long as they could manage the pain with medication, they'd work on getting him as mobile as possible.
Two days after being home, he was already sitting up and the next day he was standing.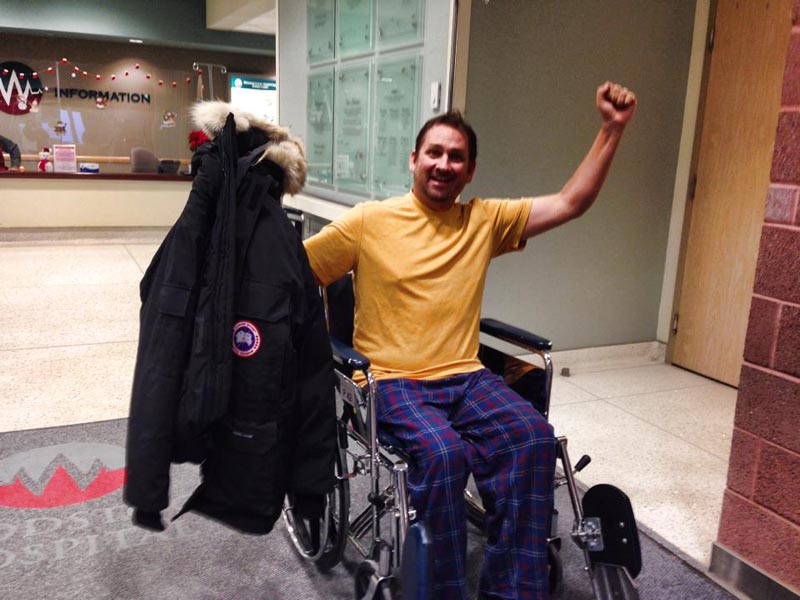 Recovery After Travel
It's been nearly 3 months since the fall and he is back to nearly 100% mobility.
To see him it's amazing to think that he was in so much pain and completely immobile just a short time ago.
When he came home from the hospital he was using a walker, he could barely go up three steps at the front door and he had to be holding on to someone or something whenever he went anywhere.
He has come a long way baby.
And that my friends is why you need to have travel insurance.
Choosing Travel Medical Insurance
When choosing your travel medical insurance, make sure to check it thoroughly.
Does it cover medical evacuations? does it cover hotel stays and meals?
Many people rely on their credit card insurance only but make sure that ensures you fully.
Not all cards are created equal. Are you covered if you didn't buy your travels on your card? We have platinum insurance with American Express Canada.
We bought the $500 yearly plan, that was in addition to our card fees, that allows us to travel out of the country for up to 45 days with full coverage whether we paid for our travels on Amex or not.
Find out all the details before you travel for your own insurance.
One important thing to note is that most travel insurance policies and platinum card plans don't include medical evacuation coverage, so you should definitely consider purchasing a protection supplement such as Medjet.
You won't always need to be hospitalized, but you do need to be prepared. Besides travel medical insurance, make sure you have a well-stocked travel first aid kit with you as well.
Read More:
Top 10 Travel Health Tips for your Next Trip Abroad
What to Expect on an Amazon River Cruise