One of the coolest festivals (and I mean that in every sense) is Songkran Festival in Thailand. We were lucky enough to find ourselves in Chang Mai during the holiday and took part in the World's Largest Water Fight for 4 days!
Songkran Festival Thailand
Chang Mai is certainly the most exciting place to celebrate Songkran Festival.
A significant cultural city of the country filled with tradition, temples, the old city and even a beautiful moat.
There is no place I would rather be during the Water Festival.
We really need to change our New Years celebrations here in North America.
South East Asia has the right idea.
Celebrated in Myanmar, Laos, Vietnam, and Thailand, the water festival rings in the Traditional Thai New Year which just happens to be the hottest time of the year.
It takes place from April 13-15, but while we were in Chang Mai, the festivities started on the 10th.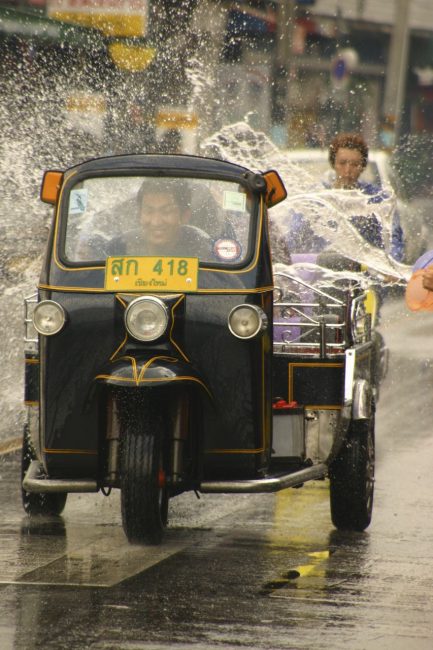 Songkran Festival Ceremony
There is a ceremony and ritualistic side to Songkran Festival, Buddha images are bathed, young people pay respect to their elders, people visit temples to pray and pour water in the hands of monks.
Traditionally the water has been scented with roses and it is also considered the time of year for spring cleaning.
Yes, there is a deep tradition to the Songkran Festival and people take that very seriously.
However, our Songkran consisted of 4 days of solid cheer, goodwill and at times painfully cold dousings of water.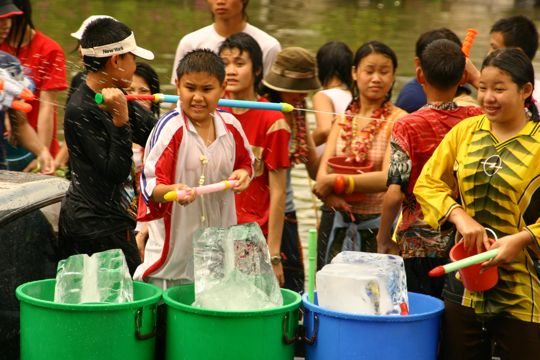 The most exciting place to experience Songkran in Chang Mai is to make your way to the moat.
Thousands of people line the street next to the water waiting for people to drive by.
The first couple of days seem harmless enough, but as time goes on the water becomes colder and colder as blocks of ice are added to huge barrels of water.
Songrak Tips
If you find yourself in a Tuk Tuk, you are in big fun trouble.
Riding in the back seat of this open-air mode of transportation, your driver will take you straight down to the moat and stop regularly for people to get you from all directions.
There is no escape as you are trapped.
Traffic is stopped and everyone is going to hit you with everything they've got until you finally move on.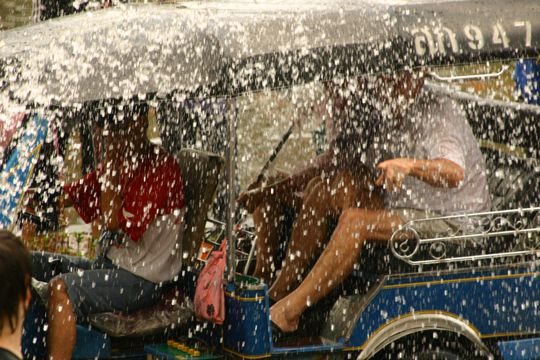 The icy water will make you gasp for air between bouts of laughter. It is completely exhilarating and festive.
World's Largest Waterfight
Grown men, women and children ride in backs of trucks filled with giant barrels of water throwing it out at people as they pass by.
People have enormous squirt guns strapped to their backs and children are jumping out from behind hidden corners squirting the unsuspecting pedestrian.
We had a special moment during the water festival when Dave came across three cute kids sitting in a barrel full of water.
They were sitting ducks and Dave had a grand old time having an all-out war.
The kids were so adorable.
They didn't seem to get the fact that Dave could have run away at any moment, they just kept on squirting him and laughing. It was a moment that I will never forget.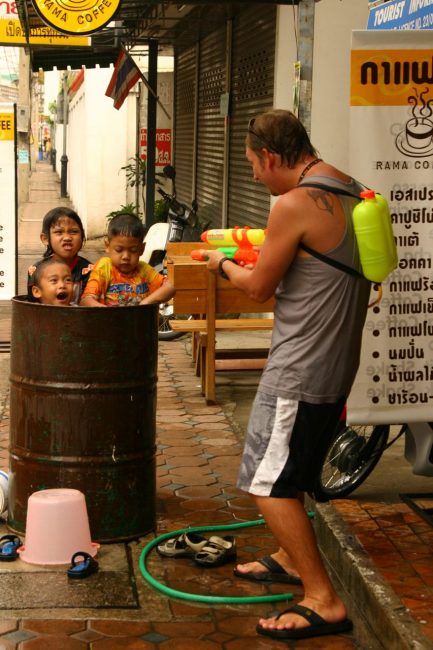 It's party time and tourists are definitely a great target. Everyone is fair game here at Songkran.
The nicer the suit, the wetter you get. Even trying to dodge your way through back streets late in the day will not bring relief. People are everywhere.
Water and the Songkran Festival
Water fill stations are even set up everywhere. Lined like parking meters you throw in a few baht and voila…you will have a quick refill without having to interrupt your ongoing water fight.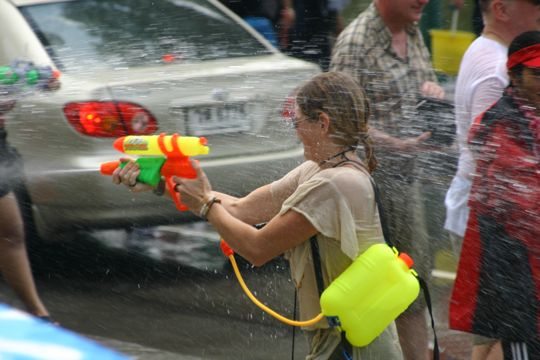 Songkran Tips:
Keep your money in a plastic bag and any electronics in a dry bag. Things will be drenched in no time.
Respect Thailand Customs and cover up. There is nothing more insulting than westerners wearing bikini's and spaghetti straps.
Be careful when throwing water at motorcycles. Many accidents happen every year and there are fatalities.
If you need a break from the festivities, head to the mall. It is a safe haven.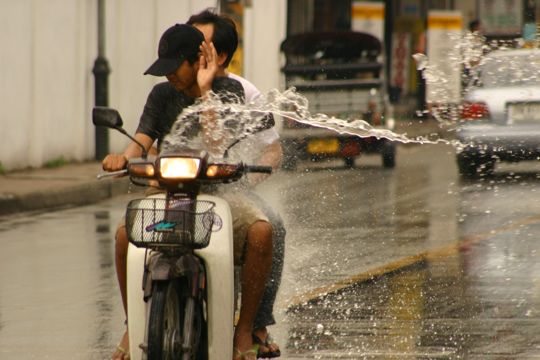 Read More
Sziget Festival – A Complete Guide to Know Before you Go
Witnessing the Gory Vegetarian Festival in Phuket