Looking for the perfect 3 Day Bangkok Itinerary?  Well, we have got it for you.
Having been a resident of the city, I feel that three days in Bangkok gives you enough time to see and do a lot of the top attractions that the city has to offer.
To help you in your planning I put together this Bangkok Itinerary to help you make the most out of your 3 days in the city.
The Perfect 3 Days in Bangkok Itinerary
Check out how cheap you can fly to Bangkok below!
About this Bangkok Travel Blog
Bangkok is a huge sprawling metropolis. There are so many things to in Bangkok, that it is important to make sure you make the most of your time there.
When putting this itinerary together, I wanted to give you a good balance of seeing the top attractions as well as experiencing the culture and food that Bangkok has to offer.
If you are looking for places to stay in Bangkok, be sure to check out the guide below.
Day 1 in Bangkok
Here is an interactive map (Just click on it to open in another window) that will help you see what kind of distances you will be covering as well as where everything is in relation to each other.
Bangkok Map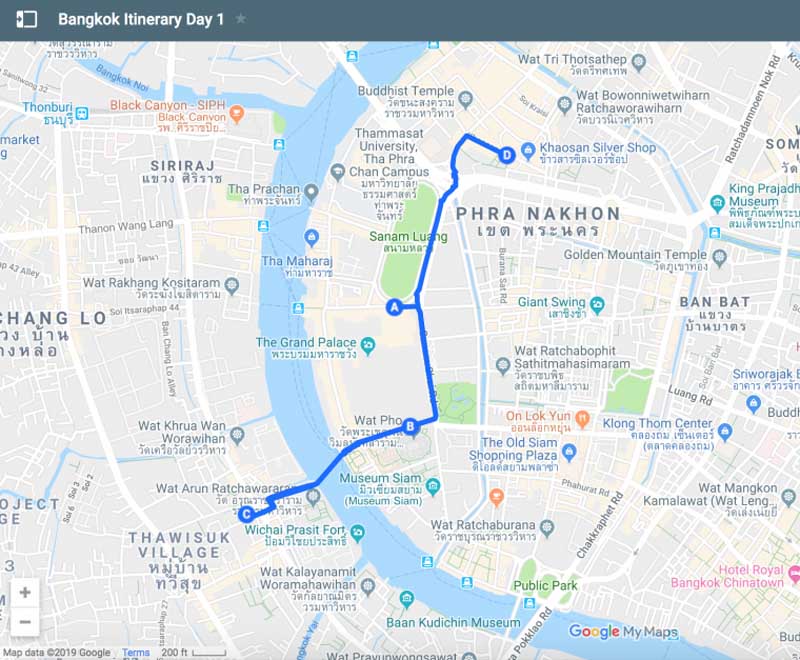 Click here for the Interactive Map
This should make it easier to plan out you 3 Days in Bangkok Itinerary.
Fun fact: in Thai, Bangkok is known as Krung Thep Maha Nakhon which is actually a shortened version of its longer name that is listed in the Guinness Book of World Records as the longest place name.
Where to Start
This Bangkok Travel Guide shares the things to do in Bangkok for first-time visitors exploring the city for three days.
There are many places to base yourself in Bangkok. We recommend Banglamphu (which is famous for the backpackers street known as Khao San Road or Sukhumvit which is close to downtown and walking distance from the Siam Centre.
We also once stayed at the Sheraton Centre Royal Orchard on the Chao Phraya River and loved the location. It had free shuttles to the MTS Skytrain and we could easily explore all the Bangkok things to do in the River.
From these areas, it is easy to get around Bangkok and you'll have plenty of options for accommodation, dining and booking tours.
Suggested Hotels in Banglamphu and Sukhumvit
One of the higher end hotels in this backpacker dominated area. Features elegant rooms, a pool and a view of the river.
Check out Availability & Prices
This Japanese brand's hotel sits close to the Ploen Chit BTS stop. The 35th-floor infinity pool overlooks some stunning views.
Check out Availability & Prices
Did you enjoy this Bangkok Itinerary? Why not Pin it on Pinterest to plan your future vacation?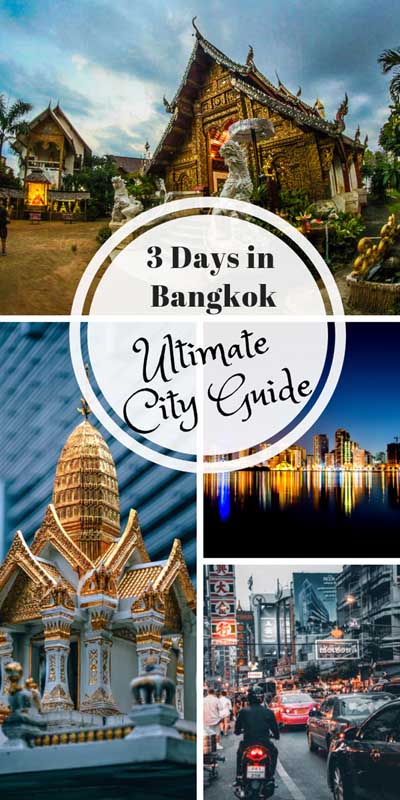 Author Bio
Stella is the author of the travel blog Stella's Out where she documents her adventures on a budget. As a traveling teacher, she lived in South East Asia for 2 years and now resides in Honduras, Central America. 
You can find her on Facebook, Instagram, and on her website Stella's Out.
Stella's out was awarded one of the top Thailand travel blogs and is considered an expert Bangkok blogger.
You Might Also Enjoy