The best things to do in Bali from our various experiences on this beautiful tropical island and insider tips as suggested by local writer and scuba diver – Mo of Travelust101.
Whether you love cultural experiences or outdoor adventures, Bali is your ultimate dream come true.
I have traveled extensively throughout Southeast Asia, but there is no island quite like Bali.
Things to do in Bali Indonesia
There are endless things to do Bali including surfing, snorkeling, temple hopping, volcano trekking and so much more.
Even after living in Bali for nearly five years, there is still so much left of the island to discover.
I am excited to share with you the top activities and things to do in Bali on your next trip to the Island of the Gods!
Adventurous Things to do in Bali
1. Surf the Waves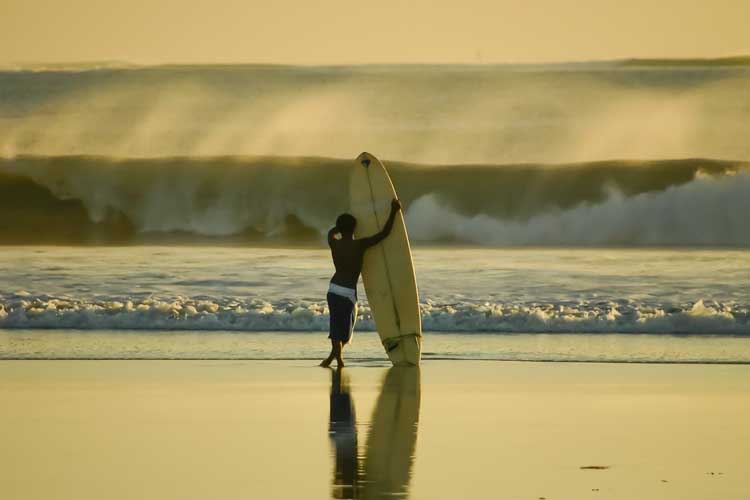 Bali is known for many great adventures, but surfing is one activity that attracts adrenalin junkies from all over the world.
You can find world class surfing on all four coasts of the island, as well as a range of surfing classes and lessons.
Advanced surfers usually head to the south coast of Uluwatu in Bukit Peninsula.
Where to Surf in Bali for Beginners
Milder waves on the west coast (Canggu) and east coast (Sanur) make fantastic spots for beginner surfers.
Canggu
Canggu is a hot spot among all levels of surfers but the water is so crowded I did not enjoy my surfing lesson there – I was scared that I would either get run over by someone else or bump into someone with my board.
Sanur
Instead, head to Sanur – a "sleepy" beach town where you can practice without worrying about getting hurt.
Sanur is much less crowded than Canggu, with calm waters, a golden sand beach and a quaint beach vibe.
Surfing lessons are available on all the island's coasts so if you have never tried surfing before, hit the waves and give it a go!
2. Climb Mount Batur (Gunung Batur)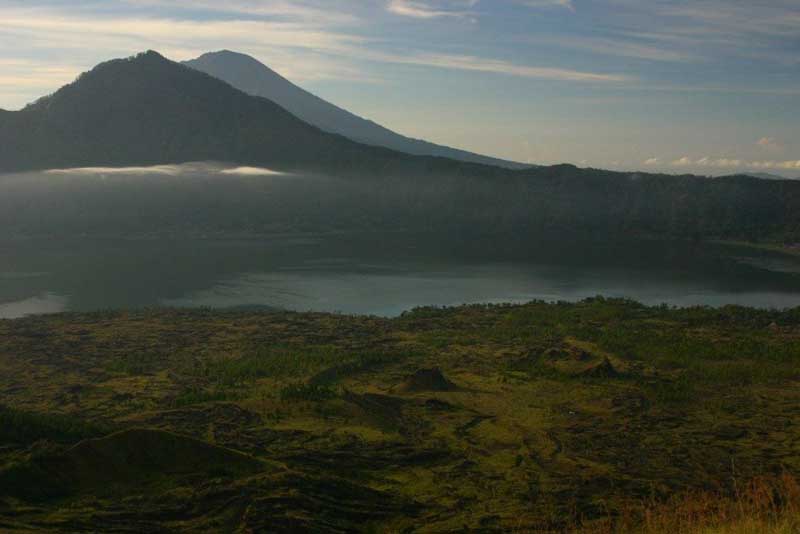 Mount Batur or Gunung Batur (Indonesian for Mountain) as we know it is a must-do in Bali for adventure lovers.
We were picked up from our guesthouse in Ubud by SUV and ate our breakfast during the 1-hour drive to the starting point.
Once we began to climb was harder than I expected as we scrambled up the loose black rock.
We were on the trail by about 4 am and the two-hour climb was fast and steep but worth every effort once we reached the top to enjoy an incredible Batur Sunrise looking over neighboring Gunung Rinjani on the island of Lombok.
We even ate boiled eggs cooked fresh by the steam of the active mountain.
It truly is an amazing adventure. You can read all about it fully at Climbing Mount Batur.
It is easy to book a tour from Ubud, but if you want to book in advance, Get Your Guide offers tours to Mount Batur that you can book with easy cancellation up to 24 hours in advance for a full refund.
3. Scuba Dive with Manta Rays in Nusa Penida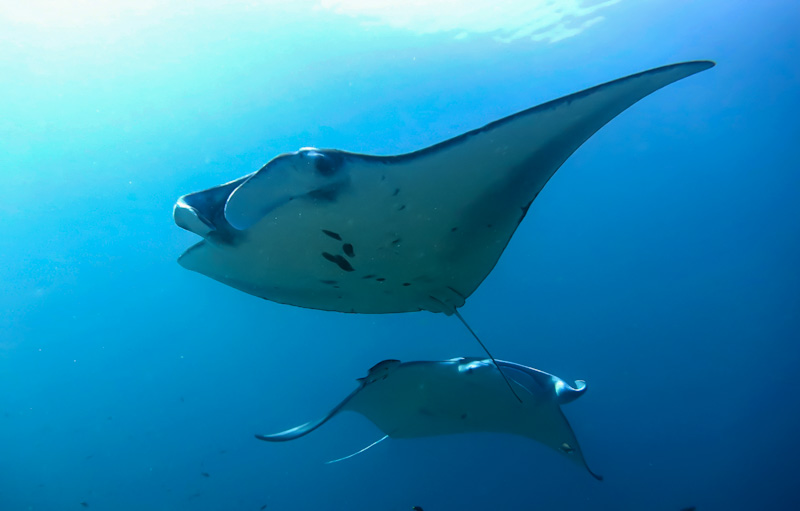 On the coast of Nusa Penida off of the mainland of Bali, there is a cleaning station called the Manta Point where the Oceanic Manta Rays can be seen nearly year-round.
Since Mantas approach the surface quite often, scuba divers, as well as snorkelers, can enjoy a swim with the manta rays that grow up to 7-meters in length!
Don't miss this once-in-a-lifetime encounter. Seeing this majestic animal is definitely one thing you want to add to your Bali bucket list!
You can book a day trip to Nusa Penida from Bali, or head to any of the Nusa islands (Lembongan, Ceningan, Penida) for a snorkeling or full day diving package.
4. Shipwreck at Tulamben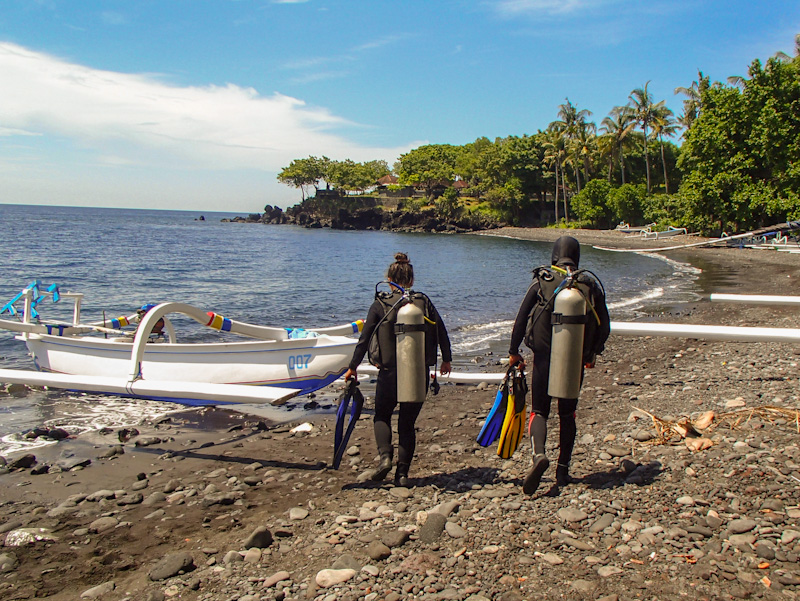 The USAT Liberty Shipwreck is a sunken US Army cargo ship from WWII that lies just 5 to 30 meters below the ocean surface.
What makes this shipwreck a hot spot is that it is located only 30 meters off the shore, making it accessible for snorkelers as well as beginner divers.
You can simply walk in the water from the beach to the shallowest shipwreck on the island!
The shipwreck is one of my favorite dive sites in all of Bali!
Note that if you end up snorkeling, you can see a small portion of the shipwreck but will not be able to view the entire site.
For a better view of the USAT Liberty, I recommend that you sign up for a trial dive that will allow you to explore up to 12 meters in depth (if not a certified diver already).
5. Hike Through – Jatiluwih Rice Terraces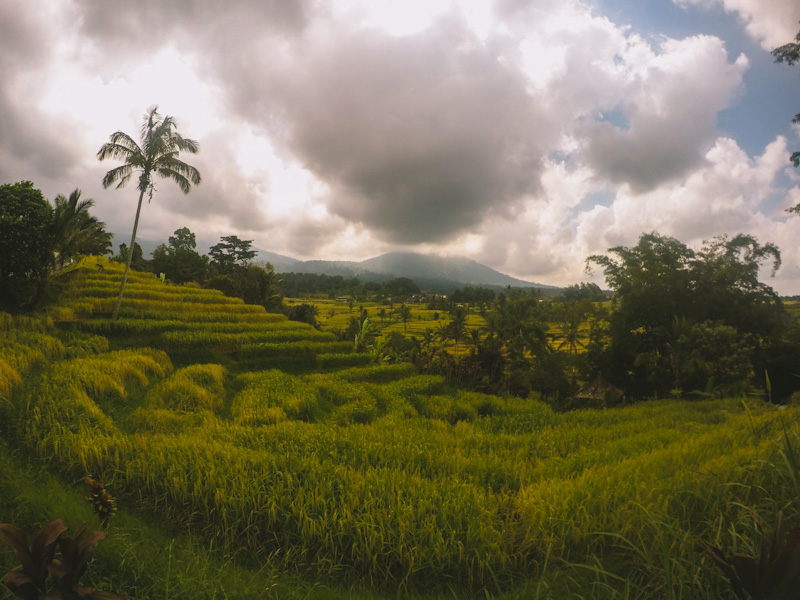 When you think of Bali, you may imagine a vast field of lush green rice terraces and tall palm trees peppered throughout the horizon.
While rice terraces can be found all over Bali from the famous Tegallalang to the remote highlands of Pupuan my favorite is the Jatiluwih Rice Terraces.
What I loved about Jatiluwih Rice Terraces is the access to 3 paved hiking trails through the UNESCO World Heritage Site.
The trails make it easy to immerse yourself in the vast horizon of perfectly sculpted terraces without disturbing the rice paddies.
The panoramic view of the rice fields at Jatiliwih is truly one of a kind.
Admission fee is IDR 40,000 per person (USD 2.80)
Opening Hours: 08:30 to 18:00
The shortest trail is about 30 minutes long, the second trail is about an hour long, and the longest trail is about 1.5 hours long.
Be sure to slather on some screen before beginning your hike
6. Cycle the Sidemen Valley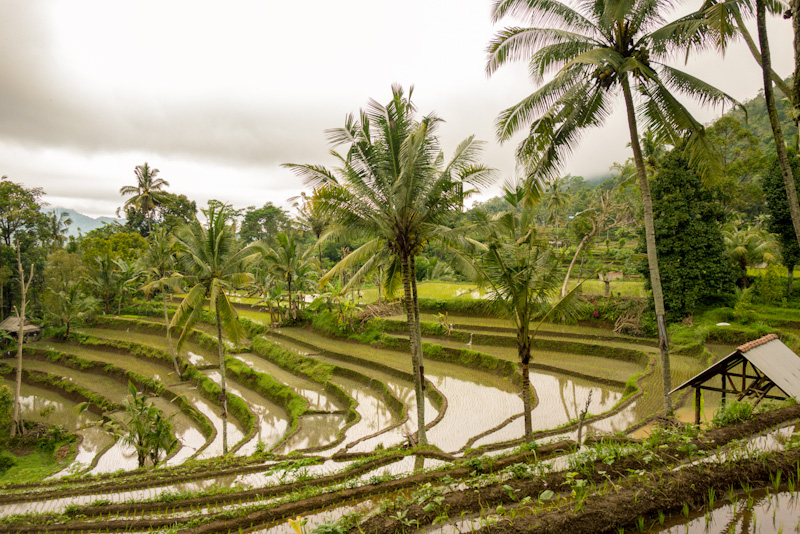 Sidemen valley is a rural countryside that offers jaw-dropping views of rice fields and farmlands.
Located just an hour from the tourism mecca of Ubud, Sidemen will make you feel like you transported back in time to the life of traditional Bali.
Even though several resorts and homestays have popped up in Sidemen, the tranquility of the region is a far cry the hustling and bustling towns of south Bali.
If you want to experience an authentic Bali, head to Sidemen and sign up for either a cycling tour or a trekking tour to access the best views!
My 3-hour cycling tour through the villages and rice paddies, and ending with a picnic overlooking the valley was one of the most memorable trips I did in Bali.
7. Banyu Wana Amertha Waterfall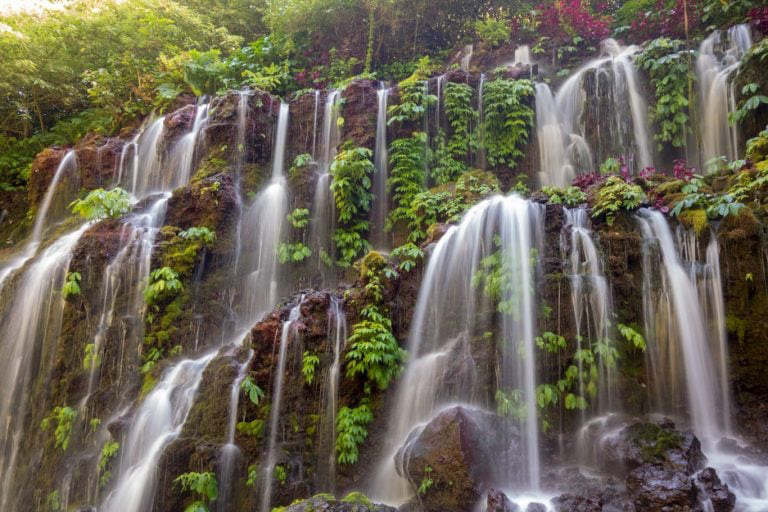 The one thing that makes Banyu Wana Amertha waterfall stand out from all the rest is that you can enjoy four spectacular waterfalls in one location!
One waterfall took my breath away as water cascaded down in various streams over a cliff wall enveloped in lush greenery.
Banyu Wana Amertha is located near other noteworthy attractions such as Jatiluwih Rice Terrace and Ulun Danu Baratan Temple, so you can design a day trip combining some of Bali's highlights and exploring nature's wonders.
Admission fee for the waterfall is IDR 20,000 (USD 1.40) per person.
Opening hours: 08:00 – 18:00
8. Ubud Monkey Forest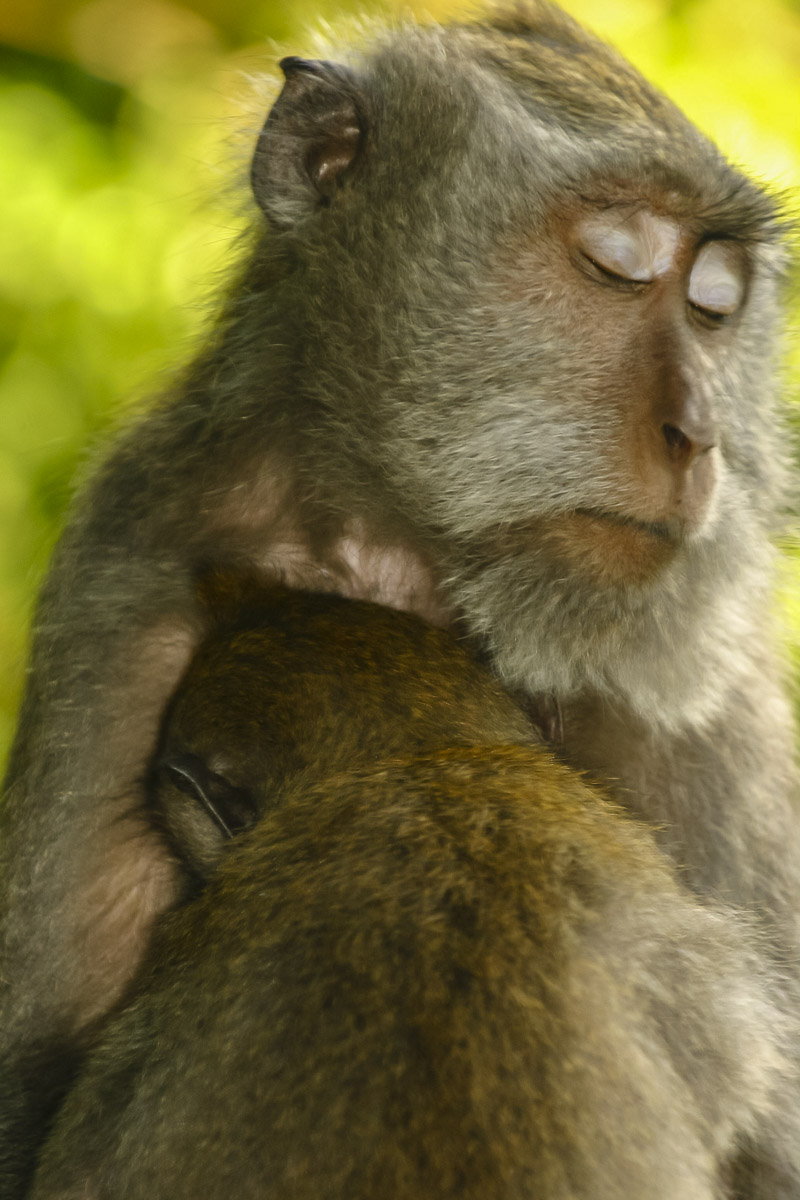 If you want to get up close and personal with monkeys, a to Ubud's Monkey Forest is a great option.
It's one of the most popular places to visit in Bali, so be warned, it is busy and the monkeys are used to humans.
The monkey forest is sacred to the island's residents and it plays an important role in conservation.
About 700 hundred monkeys live here and it is located just 1 1/2 km from Ubud.
Insider Tip: Keep an eye on your sunglasses, don't wear loose jewelry or hats, the monkeys are very brave and will grab anything that is not attached.
Open daily 8:30 am to 6pm
Cost: 80,000 IDR
Bali Beaches
Bali is filled with beautiful beaches. These are the top suggestions for beaches to visit in Bali.
9. White Sand Beach at Nyang Nyang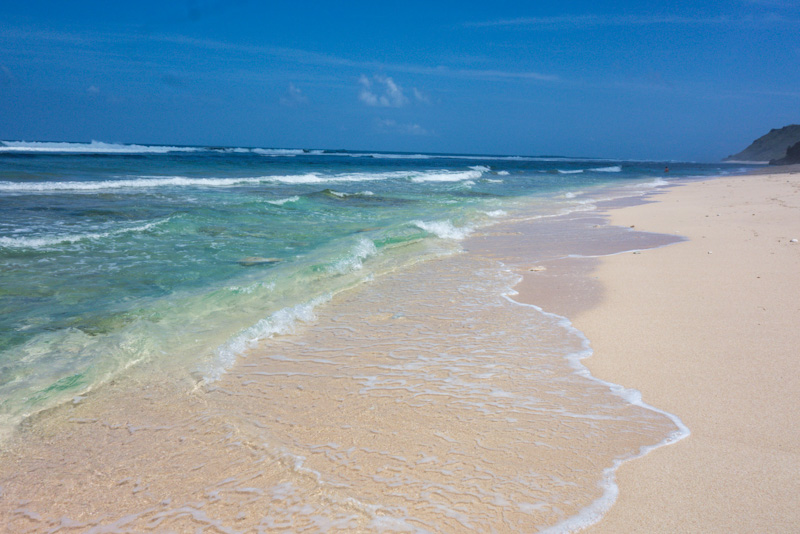 My absolute favorite beach in Bali is Nyang Nyang beach in Uluwatu.
Despite the powdery white sand, the turquoise blue seas and the stunning landscape, very few tourists make their way to the south tip of the island. It's like having a private beach to yourself.
This pristine white sand beach is one of the best places to visit in Bali when looking for some beach time.
The long shoreline is also fantastic for taking a peaceful stroll.
If you want to escape the mass tourism of nearby Kuta, Legian, or Nusa Dua head to Nyang Nyang!
If you have time, check out the sister beach called Nunggalan beach just a few minutes down the road – it's just as seclude.
Plus you can also find an abandoned shipwreck which is famous for Instagrammers!
10. Blue Lagoon on Nusa Ceningan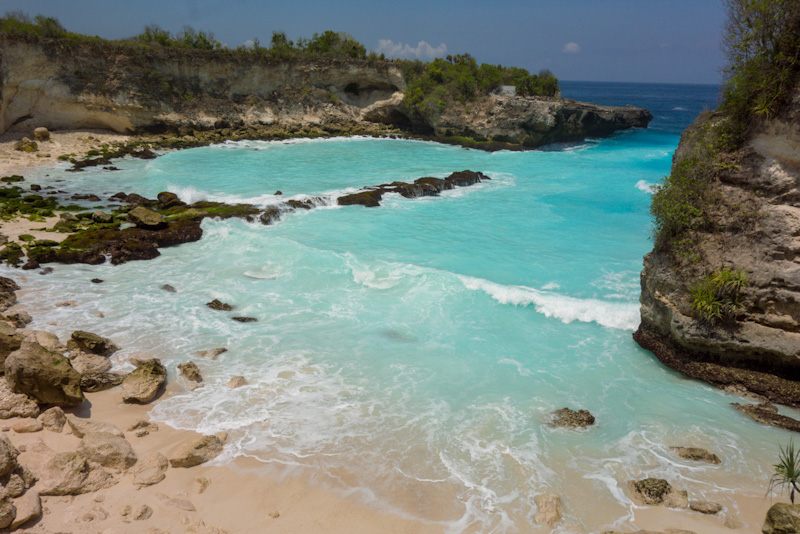 Off of the east coast of Bali is a small island called Nusa Ceningan.
After a short 30-minute ferry ride to Lembongan Island and a scooter ride across to Ceningan island, you will come upon a mind-blowing horizon of the bluest water you'd ever seen.
There are several scenic spots on Ceningan, but Blue Lagoon blows everything else out of the water.
The various shades of blue that surrounds this coast of Ceningan range from baby blue to Azure. I had never seen colors so beautiful!
Admittedly, the Blue Lagoon has become quite touristy in the last couple of years, but you will not regret waiting for a photo opportunity at this stunning cliffside location.
11. Tukad Cepung Waterfall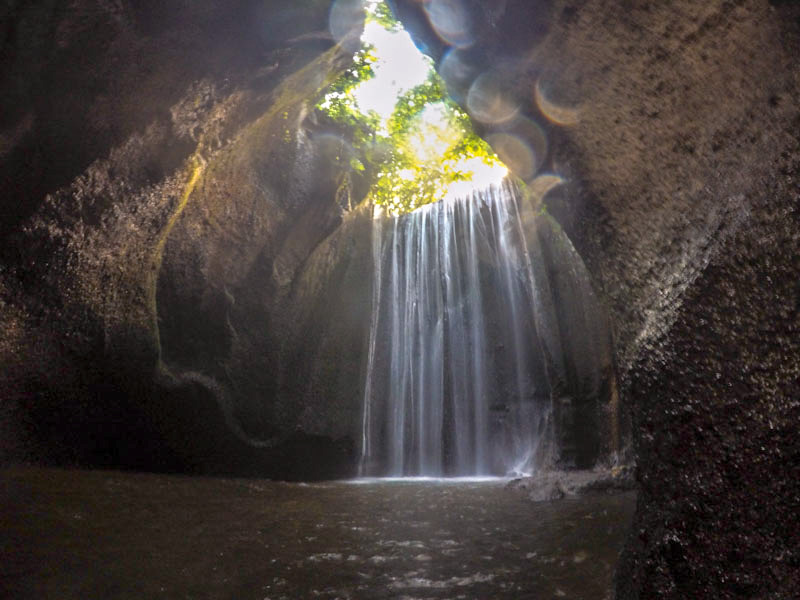 If you ever struggle to decide which of the 20-plus waterfalls in Bali to see, you should visit, Tukad Cepung waterfall.
After an easy 15-minute hike down a paved trail and walking through shallow streams and climbing over some boulders, you will run into a breathtaking sight of a sunbeam and waterfall streaming into a cave in unison.
Tukad Cepung is quickly becoming a popular tourist destination so be sure to get there early to avoid the crowds.
I arrived as soon as the ticket booth opened at 08:00 and ran into only one other couple.
Admission is IDR 10,000 (USD .70) per person
Opening Hours: 08:00 – 17:00
12. Soak in a Natural Pool at Tegal Wangi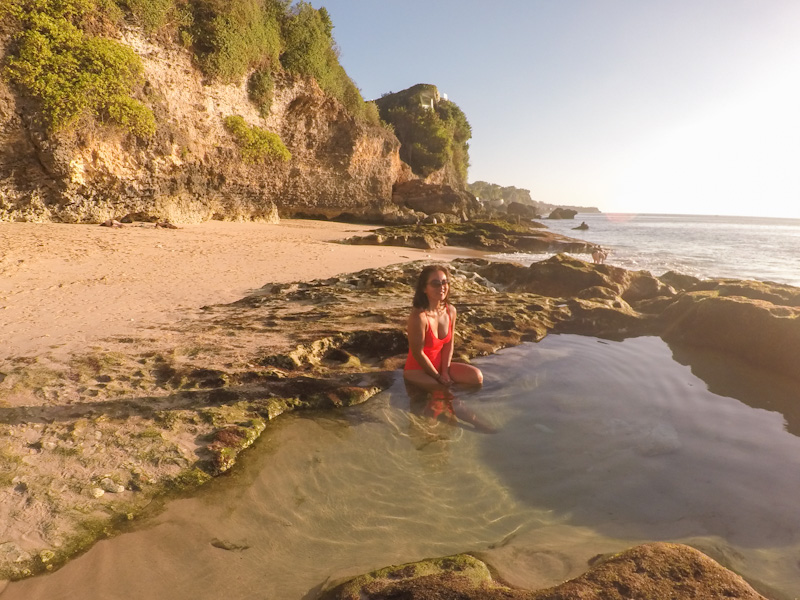 Tegal Wangi is a special beach that offers shallow pools where you can dip in at low tide.
It is an unknown beach on the west coast, so you can enjoy a private and romantic view of the dramatic orange hues in the sky at sunset while soaking in a natural Jacuzzi.
Even though Tegal Wangi is fairly unknown by tourists, it does get crowded with locals around sunset.
So arrive early at the golden hour for the best photo opportunities.
Discover this hidden gem during your next trip to Bali – you won't regret it!
If you plan to spend the day at Tegal Wangi, note that there are no shops on the beach. Take everything you need for a beach day such as drinks, snacks, towels, etc
13. Volcanic Black Sand Beach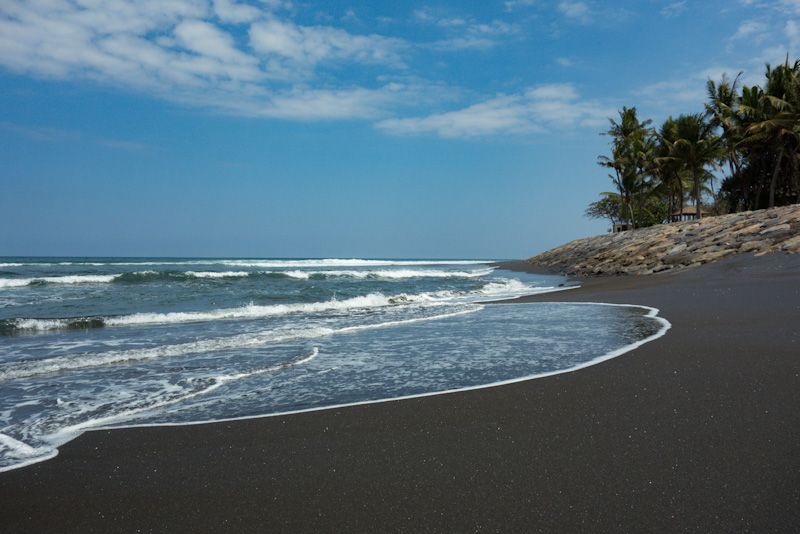 Most people dream of a white sand beach when they imagine paradise.
But did you know that Bali offers some natural, volcanic black sand beaches along the north and east coasts?
One of my favorite black sand beaches in Bali is an off-the-beaten-path location called Pantai Masceti.
Masceti beach is only a 30-minute ride north of Sanur, you can take a quick trip after your surfing lesson to check out this unique setting
The black sand at Masceti is shimmery and powdery which is very rare, as most of the black beaches in Bali mainly consist of rocks and pebbles.
Also, you will rarely run into another tourist here. It is the perfect hideaway if you want to escape the masses.
14. Kuta Beach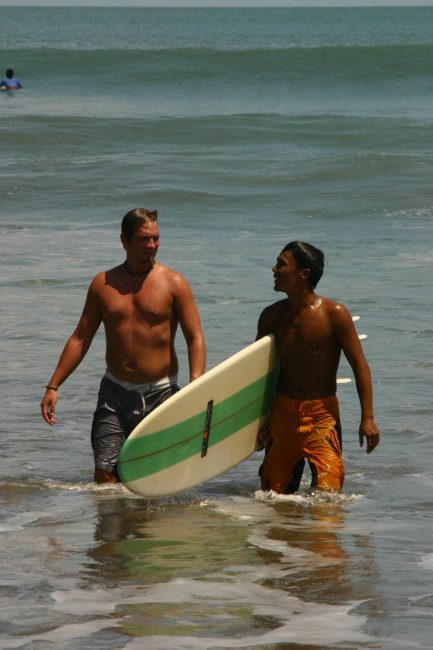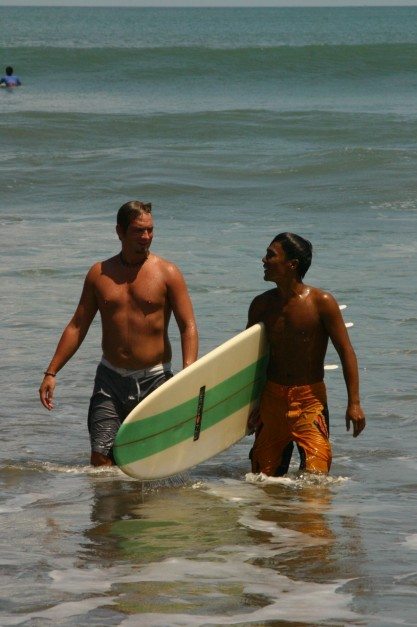 Kuta is busy and crowded, but you can't visit Bali without spending a day or two there.
It's a great place for shopping and if you are looking for things to do in Bali at night, this is the place to hang out.
The beach resorts of Tuban, Legian and Seminyak are all within walking distance of Kuta, so if you are staying at one of the more luxurious hotels in Bali, you can easily pop over to Kuta for some partying.
It is still popular with surfers and many of Bali's best surfers still train there particularly at a spot located at the end of Jalan Padma.
It was on Kuta that we first learned to surf.
One of our favorite things to do in Kuta was sitting and watching the pro surfers do their thing at high tide.
Things to do in Kuta Beach
Shopping at Beach Walk
Take a surfing lesson
Visit the Bali Memorial paying tribute to those who lost their lives in the 2002 Bali Bombing.
Grab a drink at Sky Lounge
Dancing at Engine Room
Visit the Water Parks – There are two waterparks Waterbom is the biggest and most famous and another choice is Circus Waterpark
Eat famous Indonesian sate at Sate Babi Bawah Pohon
Visit the sea turtle sanctuary at the Bali Sea Turtle Society
Cultural Bali
15. Cremation Ceremony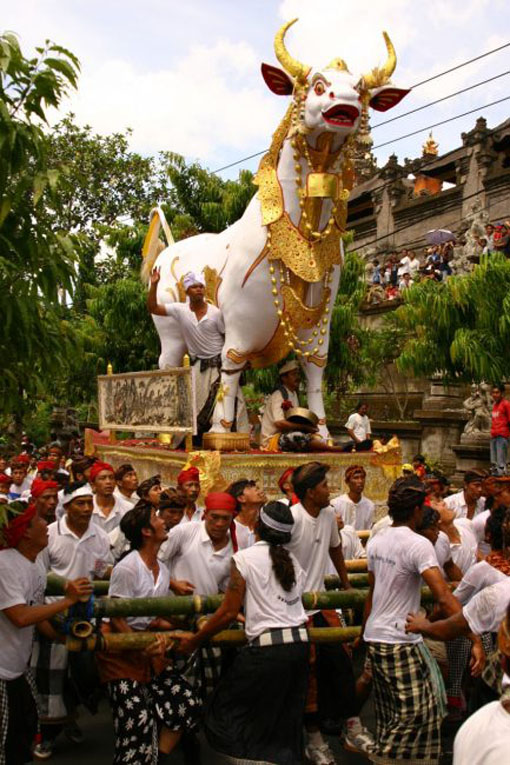 One of the more interesting things to see in Bali is a cremation ceremony.
They don't happen all the time, and you will have lucky timing to see one, but we happened to be there when a very important person from the Ubud community was having his cremation ceremony.
In Bali, death is a celebration and tourists are allowed to join in. Like all religious ceremonies, make sure to be respectful of their traditions and culture.
It is a privilege to witness this long-standing custom that celebrates the life of the deceased.
Usually, a cremation ceremony celebrates many lives as families usually save money over time to pay for the ceremony and then have a mass cremation together.
16. Kecak Dance
When visiting Bali, you must watch the famous Kecak Fire Dance. The fire dance is a fascinating dance telling the story of the monkey army.
It's amazing to listen to the male chorus chant keh-chuck as the dancers parade around the fire.
We watched the fire dance in Ubud and at Uluwatu Temple.
Temple Tour of Bali
With thousands of temples in Bali, it may be difficult to choose which temples to put on your itinerary.
Since many temples are scattered throughout the island, it's a great idea to base yourself in Ubud.
Hire a driver for a day and make your way around some of these gorgeous sites.
17. Uluwatu Temple
Uluwatu is one of Bali's most popular temples.
It is best to visit at sunset and while there watch a traditional Kecak dance. They are held in the open-air theatre.
After walking through a monkey forest, you will come across the impressive temple perched on a high cliff.
From here you can watch surfers catch a wave below.
There are a lot of mischevious monkeys at Uluwatu so beware of your sunglasses and belongings and don't feed them.
18. Tirta Empul
Experiencing the healing bath pool at Tirta Empul.
Tirta Empul is also known as Holy Water Temple and people have been coming to bath in these waters for thousands of years.
It is believed the spring was created by the God Indra.
19. Ulun Danu Baratan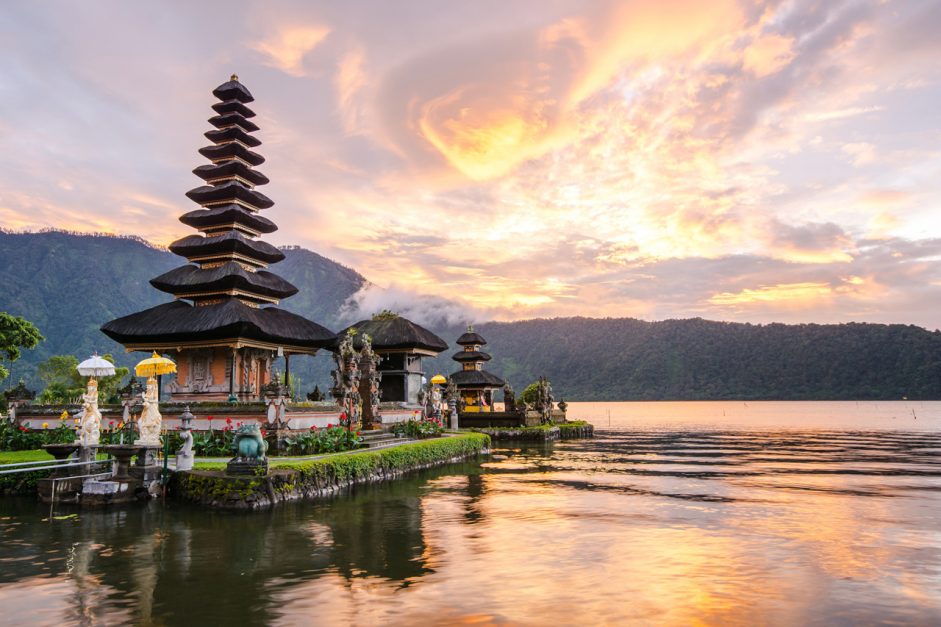 Visit the floating temple on a canoe at Ulun Danu Baratan in north Bali.
It was used to make offerings to the waters of Bali. It is 11 stories high and when the waters rise it looks like it is floating on the lake.
20. Gunung Kawai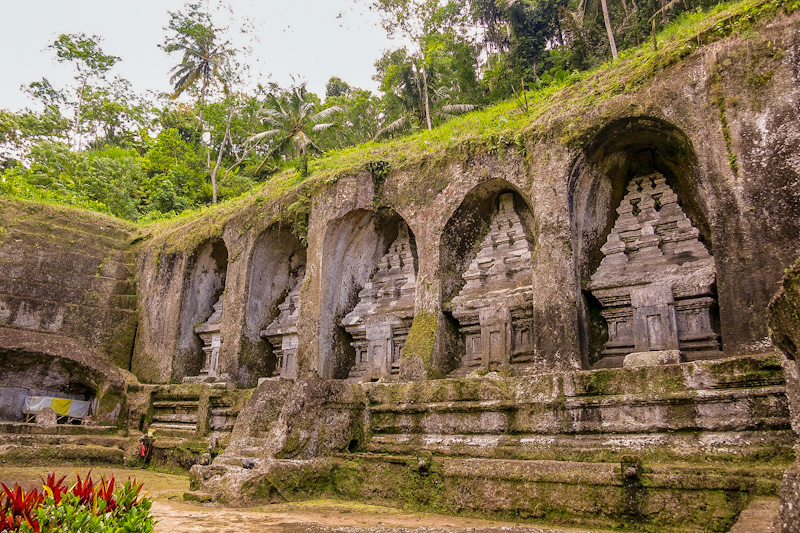 Touring the archeological cliff carvings at Gunung Kawi.
Gunung Kawi is a funeral complex consisting of 10 shrines standing 7 meters (27 feet) high.
When I visited the Gunung Kawi, hundreds of local villagers were gathered to honor the temples located on the grounds, and it was a beautiful sensory experience involving incense, instruments, chanting, and colorful costumes.
Even though these temples can be crowded with visitors, they are also often used by the Balinese to host local ceremonies, which is an unforgettable experience if you are lucky to witness one!
21.

Taman Ayun Temple
This is the Mengwi Empire's Royal temple.
The name of the temple translates to, "Beautiful garden'" and is seen as the most attractive temple in Bali.
22. Ulun Danu Batur
This is the second most important temple in Bali.
It sits on the crater of Ulun Batur after moving from the bast of the volcano after being damaged by lava flow.
It was built in 1926 and even though it isn't situated on a lake, it is dedicated to the goddess of lakes and rivers.
23. Tanah Lot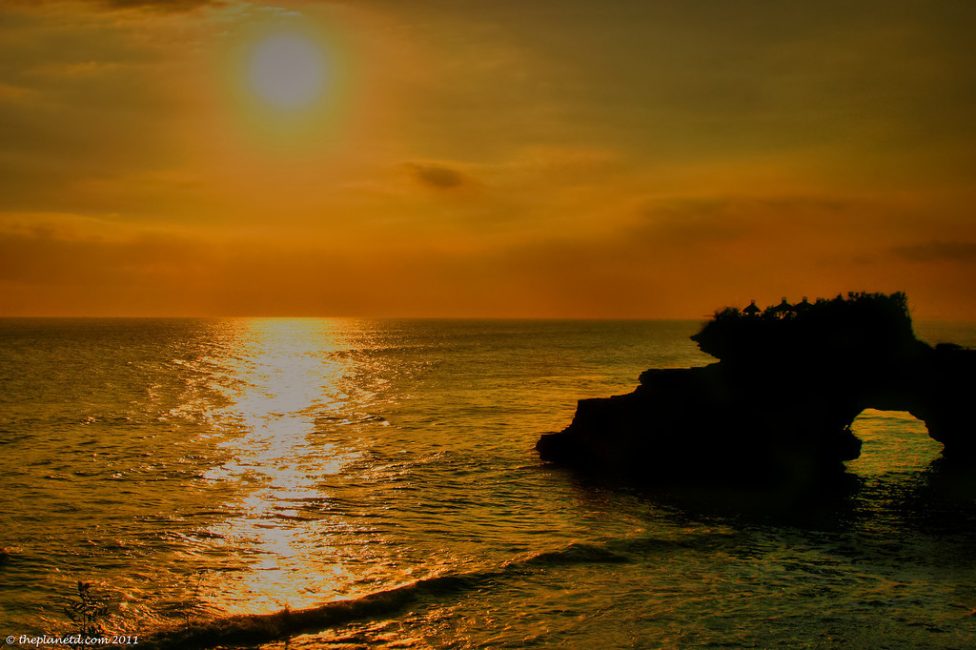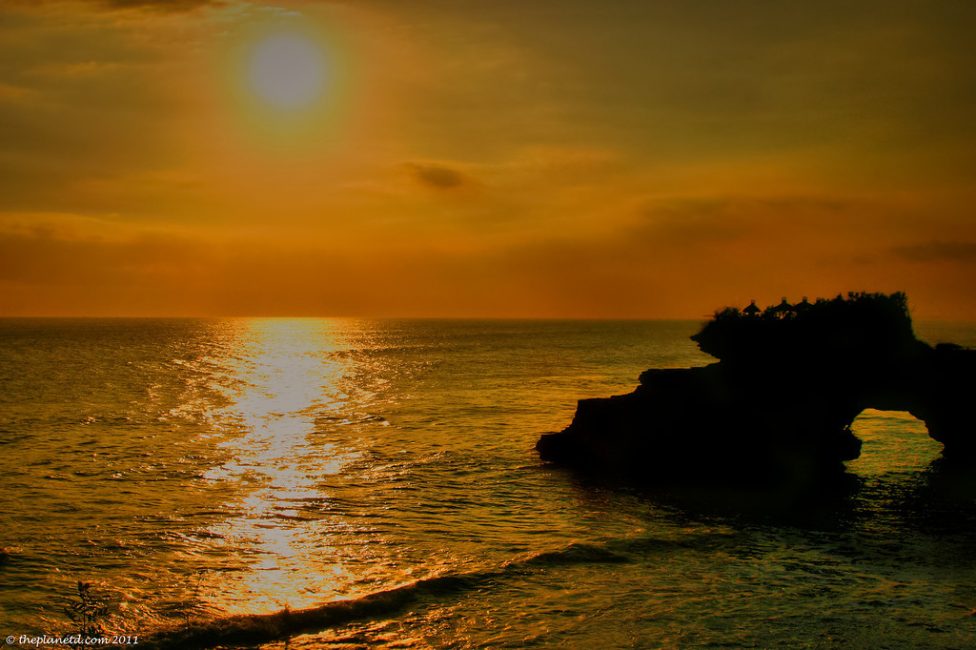 Watching the sunset over Tanah Lot temple is one of the top things to do in Bali.
Tanah Lot translates to "The land in the middle of the sea" and that is what the experience is.
The temple sits on a unique rock formation in West Bali shaped over centuries by the sea.
Luxury in Bali
24. Infinity Pools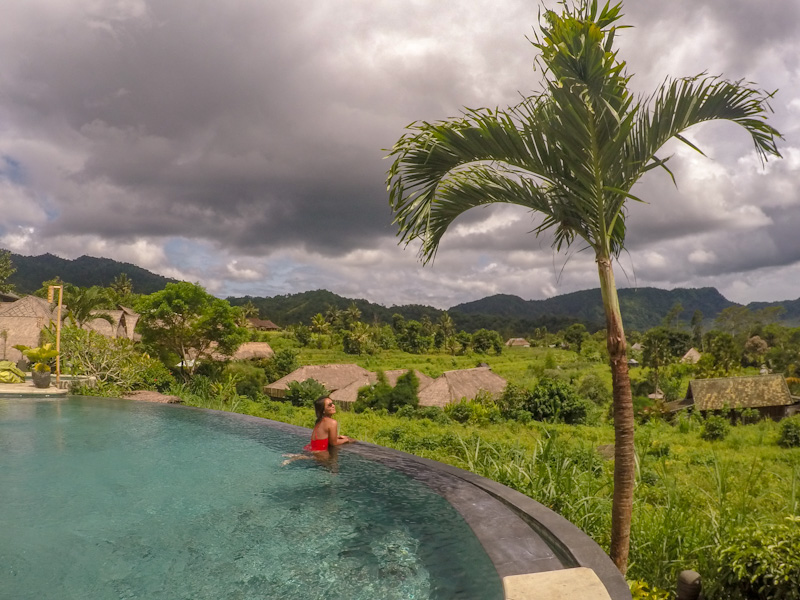 Bali is one of many places in SE Asia where you can live like a King/Queen even when traveling on a budget.
And what better way to feel like a royal than to relax in an infinity pool, basking in stunning scenery while sipping on a fresh coconut or a cocktail?
Whether you enjoy a cliffside view, an ocean view or a jungle view, Bali is famous for infinity pools with a dramatic, breathtaking backdrop.
Some of the most impressive infinity pools in Bali.
Toya Villa in Ubud
Samanvaya in Sidemen
Aya Resort in Jimbaran
Maya Resort in Ubud
Infinity pool villas in Bali fall in a broad price range (from USD 20 to USD 1,000), so no matter what your budget is, you can find your perfect villa with a view to drool over
25. Relax in a Flower Bath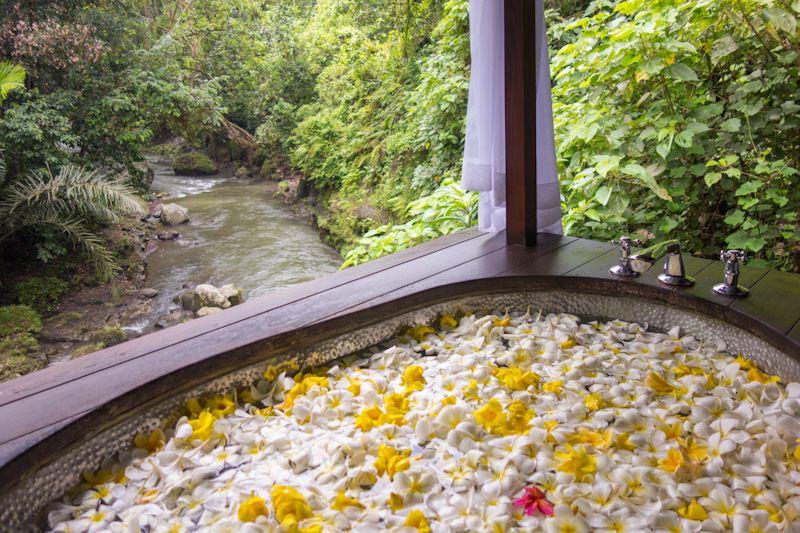 No trip to Bali is complete until you experience a flower bath! The combination of the floral-scented water, the luxurious ambiance, and silky smooth skin will have you walking on cloud nine for days to come.
Many spas around Bali offer a flower bath, but my all-time-favorite experience was one at Maya Ubud, where you can soak in a bathtub surrounded in nature.
The spa "bungalows" are built in the jungle over a river, so all your senses interact with the nature around you.
From the sounds of birds chirping, the river flowing down below and to the crisp breeze flowing through the foliage is absolute heaven!
As if the experience of a flower bath isn't incredible enough, the Spa at Maya Ubud offers spectacular views.
If you are looking for fun things to do in Bali for couples, this is a must.
Bali Food and Drink
26. Visit a Coffee Plantation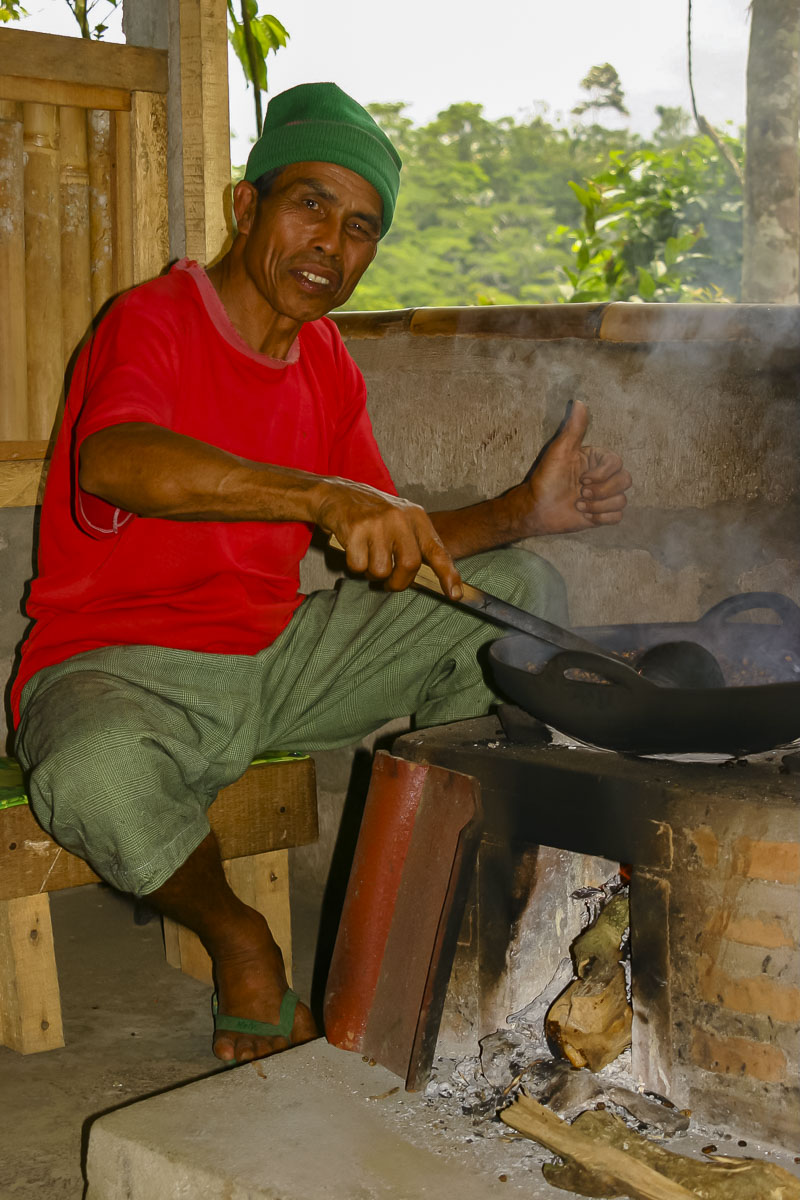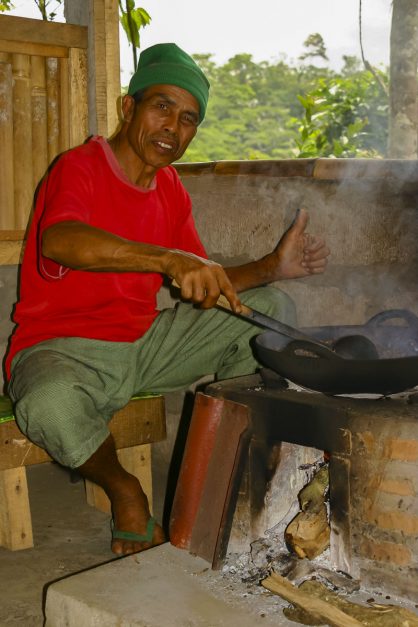 We have never tasted better coffee anywhere than in Bali.
We love Turkish coffee and Ethiopian coffee ground freshly by hand on the side of the road is to die for, but there was something about Bali coffee that made me a coffee drinker.
Before traveling to Bali, I didn't touch the stuff!
We loved it so much, we bought several packages and sent them home.
There are many tours you can take in Bali that will include a visit to a plantation and I say go for it.
We found it fascinating to see how coffee is planted, harvested and finally roasted to create that distinct taste.
27. Smoothie Bowls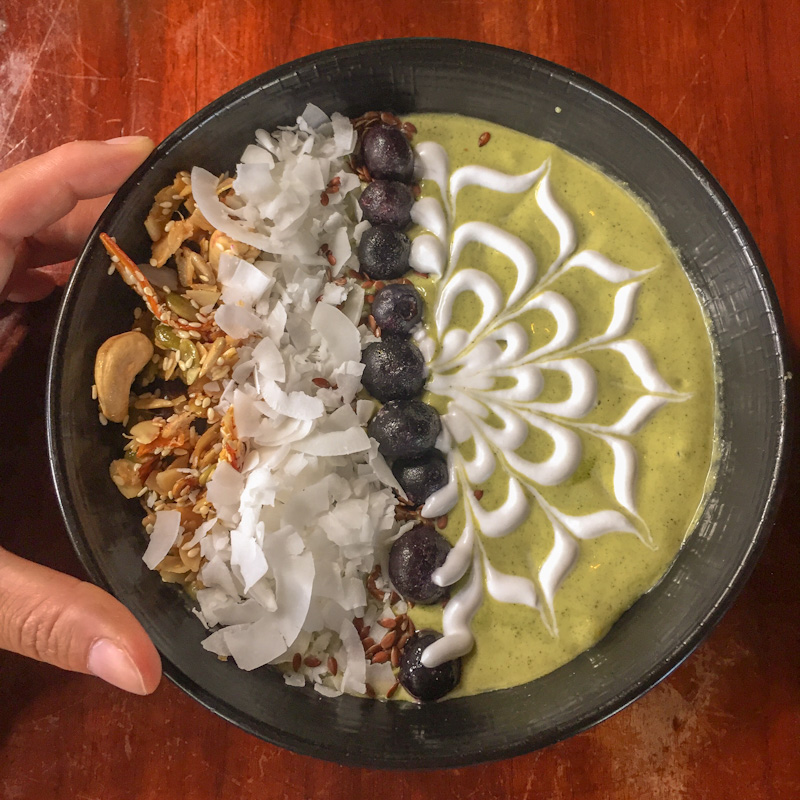 Bali has become a haven for vegans and foodies over the last few years, offering an impressive selection of delicious, and hearty smoothie bowls.
From east coast to west coast, you can find mouth-watering smoothie bowls packed with superfoods and exotic fruits just about everywhere.
In popular areas like Canggu or Ubud, you will find mouth-watering smoothie bowls packed with superfoods.
There are so many heavenly cafes to choose from in Bali, but some of my top votes are:
Nalu Bowls in Seminyak for the best menu selections
Café Vida in Canggu for aesthetic smoothie bowls
Alchemy in Ubud for "make your own" smoothie bowl creations.
28. Cooking Classes in Bali
The best way to immerse in any culture is through food.
This full day private food tour gives you a taste of Bali's authentic flavours such as Oka's roast suckling pig, and Ubud's crispy duck.
Plus you'll get to sample Luwak coffee, try fresh coconut and visit the Gianyar Night Market for a street food feast.
Bali Side Trips
29. Gili Islands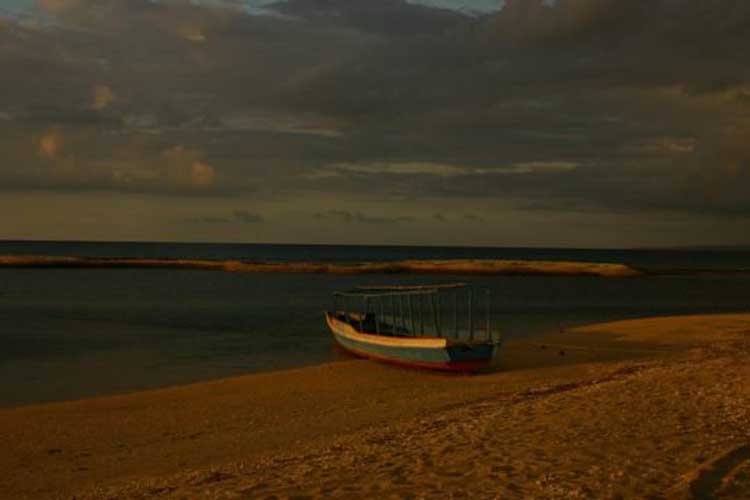 When we were traveling Bali, we decided to get far away from the crowds for a bit to the neighboring islands of Lombok.
There are three Gili Islands, Gili Air, Gili Trawangan, and Gili Meno. We chose Gili Air, the smallest of the Gilis.
We slept in hammocks, snorkeled the drift in front of the beach and ate seafood until our heart's content.
Horse carts were the mode of transport or some good old fashioned foot power.
We first booked a ferry from Bali to Lombok and then caught the island hopper boats to the Gili Islands.
If you want to party, Gili Trawangan is the place to choose.
30. Nusa Lembongan
Nusa Lembongan is becoming a popular tourist destination in its own right.
If you have the time, be sure to spend a couple of days to explore this Bali neighboring island and its beautiful beaches.
But you can take day trips from Bali to explore the island in a short time. This full day tour takes you on a high speed catamaran to the beach club where you'll go snorkelling, enjoy banana boat rides and waterslides.
About Bali
Bali is an island paradise located in Indonesian Archipelago.
Bali is located in the Indian Ocean (contrary to what the old time Musical "South Pacific would have you believe)
It is only one of a thousand islands in Indonesia, but it is definitely the most famous.
Bali's currency is the Indonesian Rupiah 1USD = 14127 IDR
The main religion of Bali is Hinduism.
When to visit Bali
Bali is a tropical country so there is really no bad time to visit. There is basically a dry season and a rainy season.
The high season is July and August.
December is also a busy time due to the Christmas holidays
A good time to visit is on shoulder season when prices are lower, and it is still dry. April – June and Sept/Oct.
We visited Bali in January and it was fine. Rain during the rainy season is usually short and followed by sunny skies.
Places to Stay in Bali
It can be difficult deciding where to stay in Bali, so we've broken down the popular hotel areas of Bali.
Kuta Beach – Kuta Beach is the original beach destination in Bali. Known for budget travel, parties and, nightlife,
Seminyak – upmarket resort area located a few km north of Kuta Beach. High-end dining and nightlife
Nusa Dua – Resort hotel area located on South East side of Bali about an hour from Kuta Beach. More of a tourist feel with upmarket hotels and shopping
Ubud – Interior of Bali close to rice terraces. Laid back vibe, central and easy to get to most Bali attractions.
Canggu – Has become a popular spot for digital nomads to hang out. Located about 45 minutes North of Kuta Between Tana Lot.
Bali is a dream destination that should be put on any South East Asia itinerary. So start planning your trip to Bail today!
Read More: Bali on a Budget – Why It's the Best Destination for Couples
Bali from a Different Perspective with a Local Guide
Mo is a Bali-based scuba instructor whose current passions include coconut ice cream, rescuing street dogs and sharing her travel tips, guides, and resources on her website, Travelust 101.
Find Mo's comprehensive 2-Week Bali Itinerary here, and her paradise adventures on Instagram and Facebook.