It is our first day of Muay Thai training in Thailand and I have no idea what to expect.
Kickboxing with Rawai Muay Thai
Thailand is the land of Muay Thai Kickboxing Boxing and no adventure to this country would be complete without doing some training. We contacted Rawai Muay Thai to see if they would be willing to host a couple of adventure travellers from Canada and they were kind enough to slot us in for 2 weeks.
After checking out a couple of other gyms that will remain nameless, we are glad that we settled on Rawai. It is an excellent facility with friendly staff located in Thailands most popular tourist beach haven, The Island of Phuket.
We arrived a day early to Rawai Beach to check in and get oriented, but there was a big fight on Phi Phi Island the day earlier so nobody was here.  We were on our own until morning.
The morning starts at 7:00 am with a 4 km run.  I was very nervous about the run. I am not at my optimal fitness right now and to run in a group with people that train for months at a time or for some, all year long was going to be very intimidating.
We awoke at 6:30 and by the time 7:00 came around there was no one to be seen.  We saw a couple of girls walking up ahead so we started our jog in that direction.
They were Muay Thai students all right so we asked them if this was the right route to follow for our run.  They gave us directions and we were on our way.
The Start of Class
I breathed a sigh of relief, Ah!  Everyone is free to run at their own pace.  The slower people left earlier and the quicker ones leave later. We didn't have to run in a group.
The weather was muggy and humid and the run was more than a little difficult for this out of shape traveler.  How on earth was I going to finish this run and then complete 4 more hours of training?
We made it back with 10 minutes to spare before class started at 7:30. Just enough time to have our hands wrapped for us since we had no idea what we were doing and to do a little skipping.
Sweating Already
At 7:40 they blew the whistle and we made our way to the sign in and begin our 10 minutes of stretching.
Rawai Muay Thai is one of the most popular spots in Thailand for tourists to train in kickboxing.  They can have up to 80 students at a time.  During our stay, we averaged about 50 people at the gym each day.
The groups are divided into beginners and the rest of the gang that have experience.
We joined Jang, our instructor in the beginners group where he taught us punches, jabs, upper cuts, elbows, knee kicks and side kicks.  The drill went on for an hour as he corrected our technique and checked to make sure that we knew what we were doing.
It is surprising just how tiring shadow boxing can be!  In between drills we had to stop and do 10 pushups before grabbing water.  A couple of weeks of this and we are going to be buffed.
At 9:00 am we all gathered together with the advanced students for more stretching.
With a quick bow in prayer position we thanked our instructors for the morning and went to our rooms to wait out the rest of the day until the afternoon session began.
About Rawai Muay Thai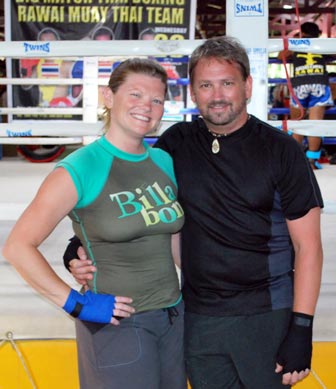 Rawai Muay Thai was the first foreign tourist training camps in the area.  Run by Diana and here husband Tuk, it is well organized and definitely caters to the western market.
It is the most popular place for women to train in Thailand and they have coached more than a few champions in their day.
The rooms are clean and comfortable, there is free wifi, cable T.V., hot water, refrigerator, kettle, dishes and English speaking staff.
It is the perfect destination for foreigners looking to whip themselves in shape while staying in an exotic destination with no other worries but to have wake up, go to the gym and wonder what they are going to eat for dinner.  Even dinner is made easy for you.
The Cashew nut restaurant just down the street offers a meal plan of 1800 baht per week for a multi course dinner and breakfast.  Their food is delicious and filling. They offer protein shakes and brown rice too!
–
We went back to the afternoon session gung ho and excited about the days ahead.  It was tiring to say the least, but it feels good to be forcing ourselves to get back into shape after a year on the road.
Let's hope we can keep up the rigorous schedule because we have to do it all over again tomorrow.
Costs:

Bungalows At Rawai Muay Thai on the Premises

Delux with Air conditioning:

Weekly Rate: 5000 Baht ($166 Can/US) that is only $23 per day
Daily Rate:  1000 Baht ($33 Can/US)

Shared Twin Rooms – Fan Only

Weekly Rate: 1500 Baht ($50 Can/US) per person that is $7 per day
Daily Rate: 300 Baht ($10 Can/US) per person

Training

3000 Baht ($100 US/Can) per week- $14 per day.
500 Baht ($16 US/Can) per day

Training includes:

up to 3 group classes per day.
Classes are two hours in length.
Unlimited use of weights, and training machines.

1 USD and CAD = 30 Baht
Read More
Five Unique Things to Do in Thailand
Where to Stay in Bangkok – A Guide to the Best Neighborhoods
You Might Also Enjoy