Pai is a small town and unique mountain village tucked away in a valley in Northern Thailand. Its natural surroundings are nothing less than stunning. Many people come here to relax, but there are plenty of things to do in Pai to keep you busy for days.
Pai is surrounded by waterfalls, hot springs, paddy fields, and caves. All of which are all easily accessible by motorbike. Because of the low prices and the laid-back lifestyle, Pai has become a popular hotspot for backpackers, hippies, and artists. It's the kind of destination where you stick around a bit longer than expected. And I should know because I've lived there for six months.
Top Things to do in Pai, Thailand
Thailand expert Mariska van Brederode shares her favorite things to do in Pai, Thailand.
A two-day trip turned into a week, a month, and before I knew it half a year had gone by and I was living in Pai, Thailand. Why? Check out these 10 great things you can do in Pai and find out for yourself!
1. Watch the sunset at Pai Canyon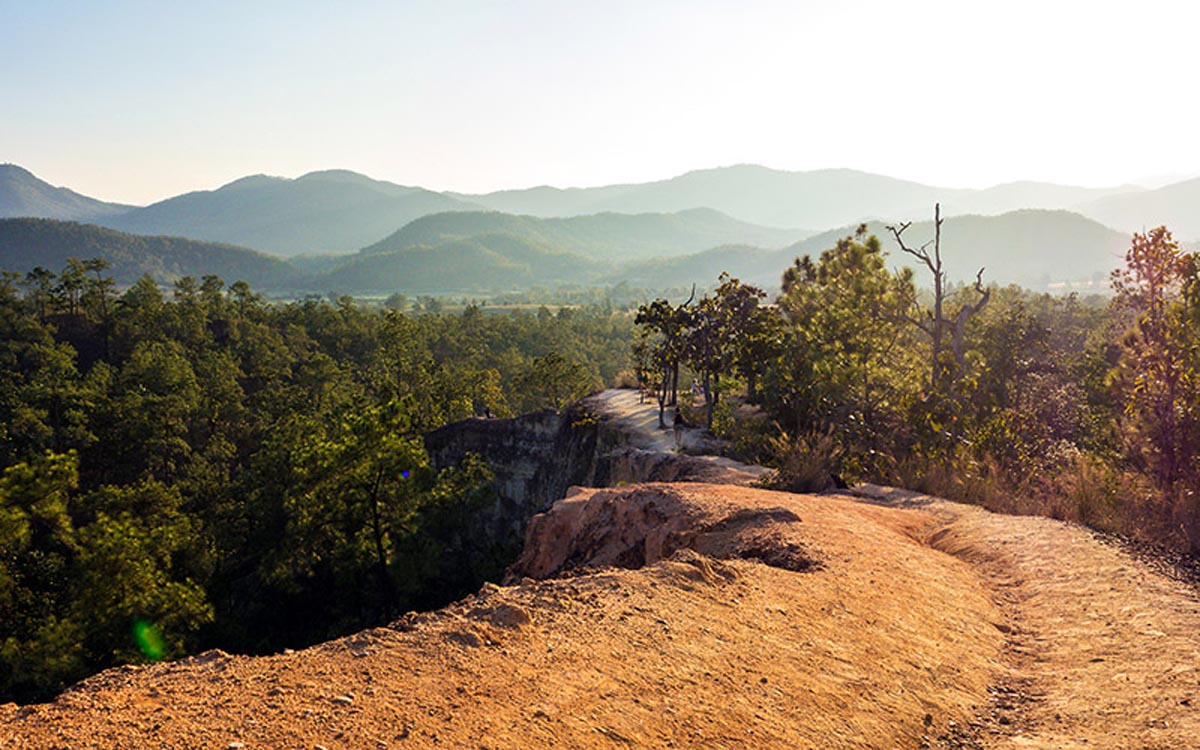 One of the best things to do in Pai is to head out to Pai Canyon to watch the sunset. Pai Canyon is an impressive ravine where you can follow a walking trail over the steep rock faces. Locals jokingly call it 'the Grand Canyon', but in fact, the Pai Canyon is not 'grand' at all; walking from end to end takes about thirty minutes.
Some parts are quite narrow, with a drop of more than 50 meters on each side. So please be careful. It's best to visit Pai Canyon during sunset because the view of the surrounding hills is amazing!
2. Swim underneath waterfalls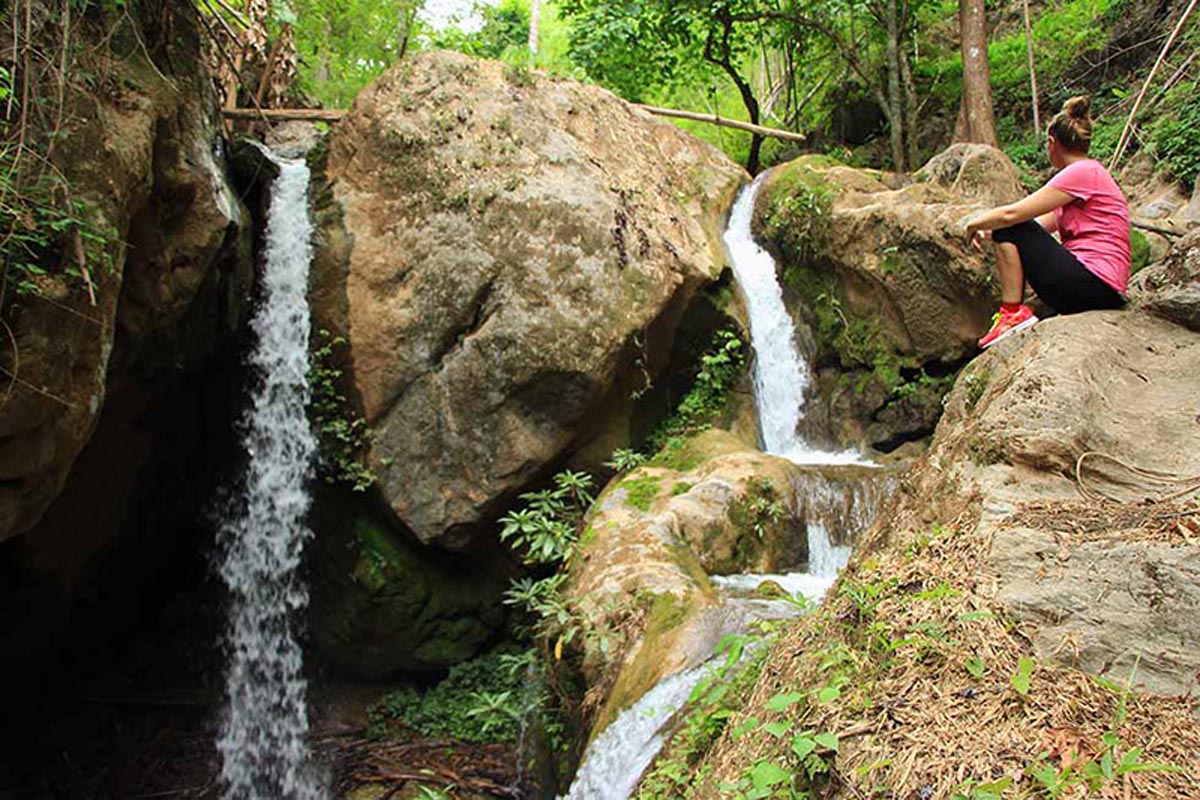 Pai is also known for its waterfalls and no trip to Pai would be complete without going waterfall hopping. You can swim in them, jump off cliffs and even slide down. Several waterfalls are very easy to reach by motorbike, which makes it a perfect day trip. They're at their most beautiful during the rainy season, which lasts from July until October.
The Pam bok Waterfall is the best known of them all. It is one of many waterfalls in Pai, but it is popular due to being conveniently located near Pai's town center, in a ravine deep enough to jump in from a cliff.
Mor Paeng Waterfall
Another conveniently accessible waterfall is the Mor Paeng Waterfall, a large three-tier waterfall. When the water is high enough, you can slide down it.
Two slightly lesser-known waterfalls are the Mae Yen and Hua Chang. The Mae Yen is located in the middle of the jungle. Hiking there takes about three hours, so be prepared! The hike to Hua Chang is about an hour. Because the river regularly bursts its banks during the rainy season (July until October), the footpaths are sometimes barely passable. So I advise against visiting these waterfalls during this period.
3. Visit the Land Split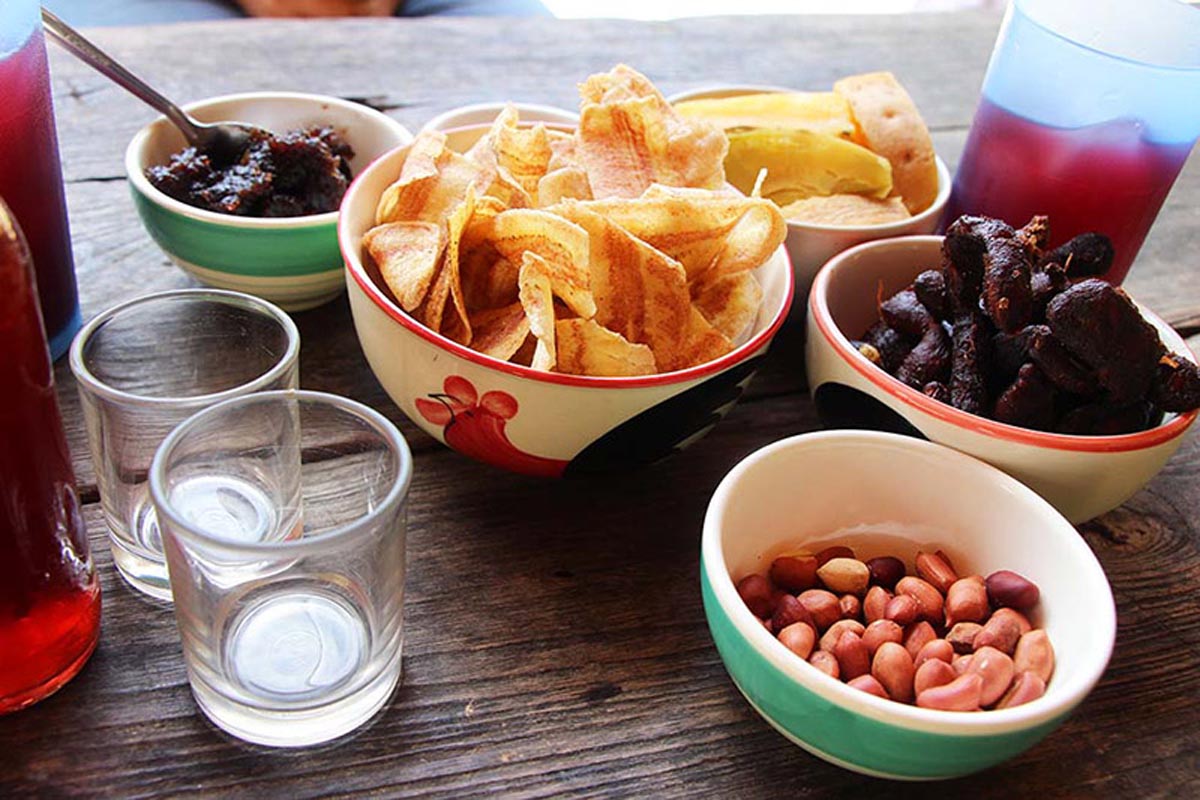 On your way to the Pambok Waterfall, you'll come across the Land Split, where natural erosion has caused fissures in the soil, rendering agriculture impossible. However, the owner of the land thought of a brilliant solution and turned his land into a tourist attraction.
After you check out the fissures, he will come by and offer you some homemade snacks with ingredients from his land such as roselle juice, crispy bananas chips, peanuts, and tamarind. Read more: 9 Massively Tasty Thai Dishes
4. Float around in a hot spring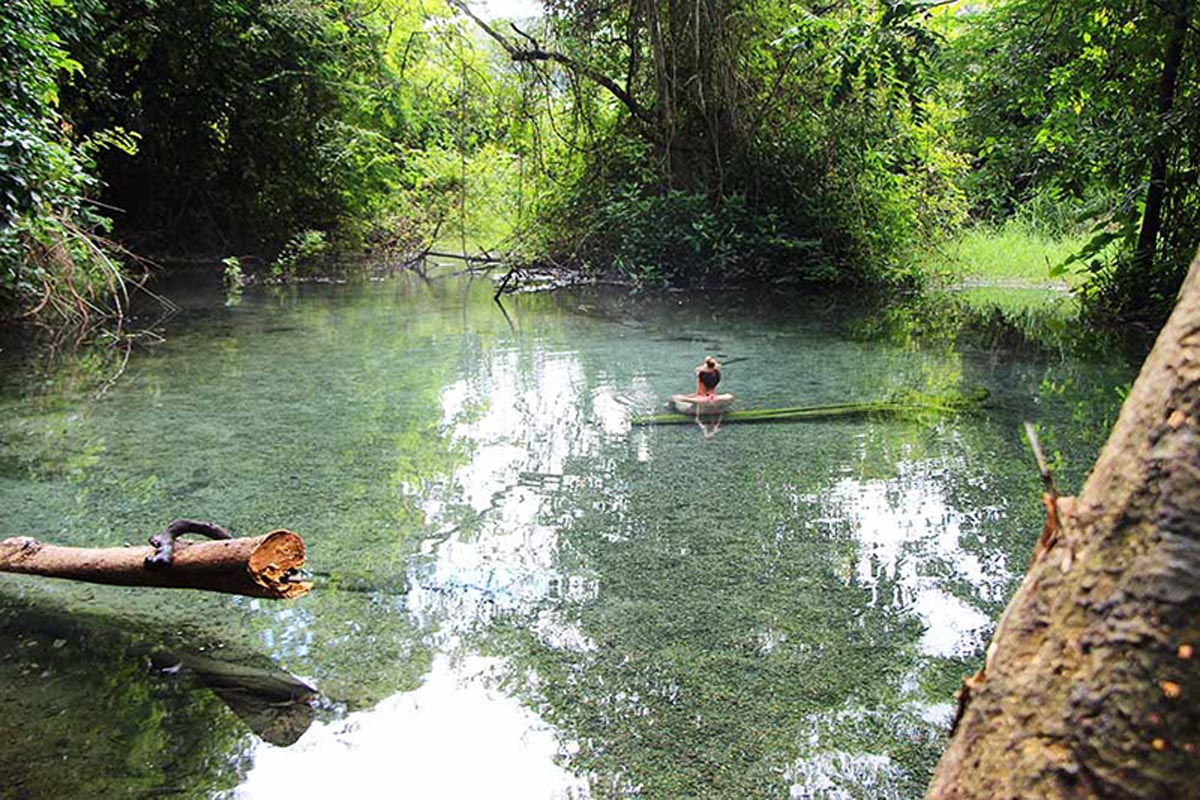 The Pai valley has several hot springs; blissful pools of clear warm water. I recommend visiting them in the early morning when temperatures are still low, and most of the tourists are still asleep. The afternoons are notoriously busy!
5. Pai Secret Hot Springs
One of the best places to go for a dip is at the Pai Secret Hot Springs, but they are not so secret anymore. Sai Ngam, a small pool of crystal clear water surrounded by nature.
Pai's most famous hot springs are the Ta Pai Hot Springs, which are located in a beautiful environment. The water vapor and the smell of sulfur make for an almost magical experience. The natural water pools are too hot to bathe in (80 degrees Celsius), but there are some man-made pools as well with temperatures of 34 to 38 degrees Celsius.
6. Rent a motorbike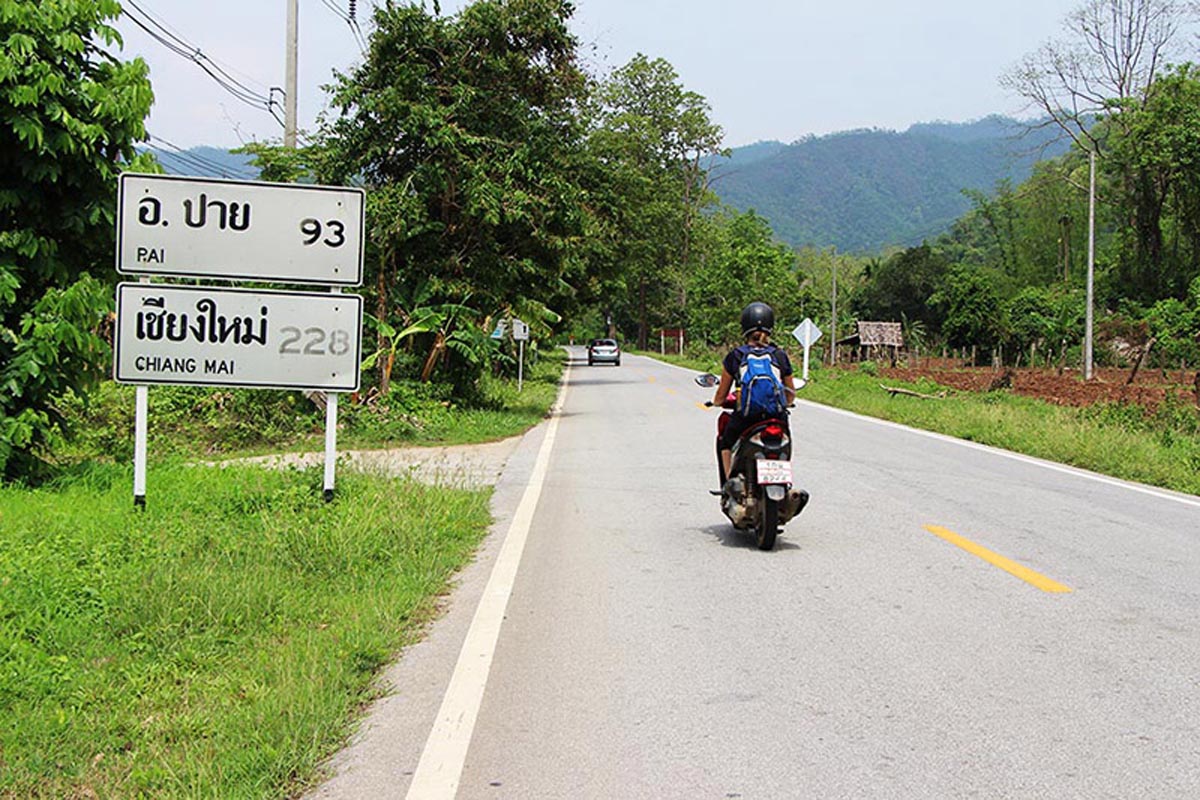 One of the best ways to get around Pai is to rent a motorbike and hit the open road. Wondering how to get to the waterfalls and hot springs? You guessed it! By motorbike.
Pai is the best place in Thailand to Thailand to rent a motorbike. And with good reason: riding around the countryside, the paddy fields, and the jungle is an experience you'll never forget. Do make sure you always wear a helmet and only drive if you're an experienced motorcyclist. Accidents happen!
Renting a motorbike will cost you about 300 baht per day, and you'll find plenty of rental shops along Pai's Walking Street. We recommend choosing a rental shop that doesn't need to hold your passport as a deposit. Instead, give a copy of your passport plus a despot in cash, which is usually around 3,000 to 5,000 baht per motorbike.
So… are you up for some more motorcycling?
Pai is located on the Mae Hong Son loop, a motorbike route of about 650 kilometers long that passes through the mountains and the jungles of Northern Thailand. The roads are in excellent condition, and the entire course is littered with viewpoints.
7. Snack on some street food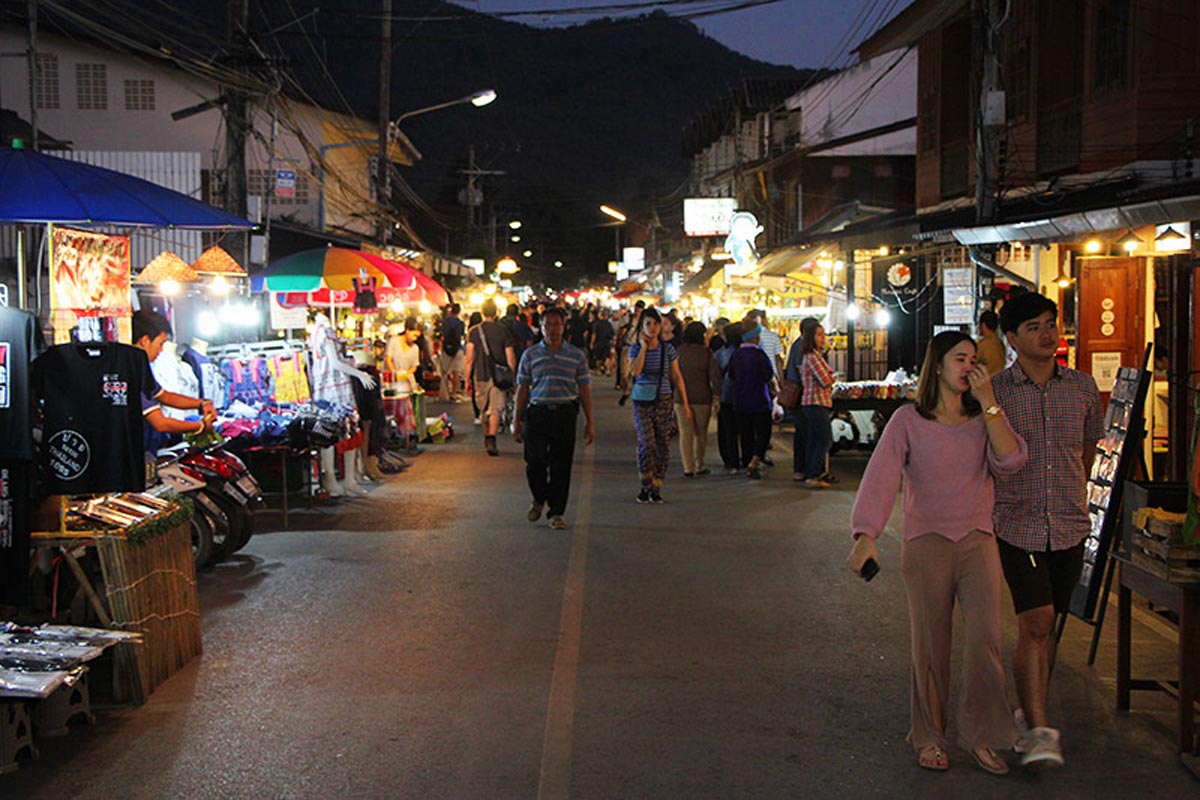 One of the best things to do in Thailand is to eat street food and Pai is no exception. Pai's Walking Street market is set up as soon as the sun goes down. This is where it all happens at night.
Crave some tasty street food? You're in for a treat. Your dinner – a smoothie, pad thai and a serving of mango sticky rice – will cost you a just a few baht. Afterward, you can stroll along the adjoining market and buy some handmade souvenirs. Pai is home to many artists, who come here to show and sell their paintings.
To close out the evening, visit one of the neighboring bars for a nice cold Chang beer and listen to some live music from the comfort of your hammock or lounge chair. Cheers!
8. Raft through Tham Lod Cave
The Lod Cave Tham is a stunning cave complex that consists of three chambers, remarkable rock formations, stalactites, stalagmites, and pillars.
Moreover, there's an underground river which you can cross on a bamboo raft. Make sure you try this unique activity in Pai. The distance between Pai and Lod Cave is about 40 kilometers, across a beautiful winding mountain road. A tour of all three of the cave chambers and bamboo rafts will cost 450 THB.
9. Visit the Chinese viewpoint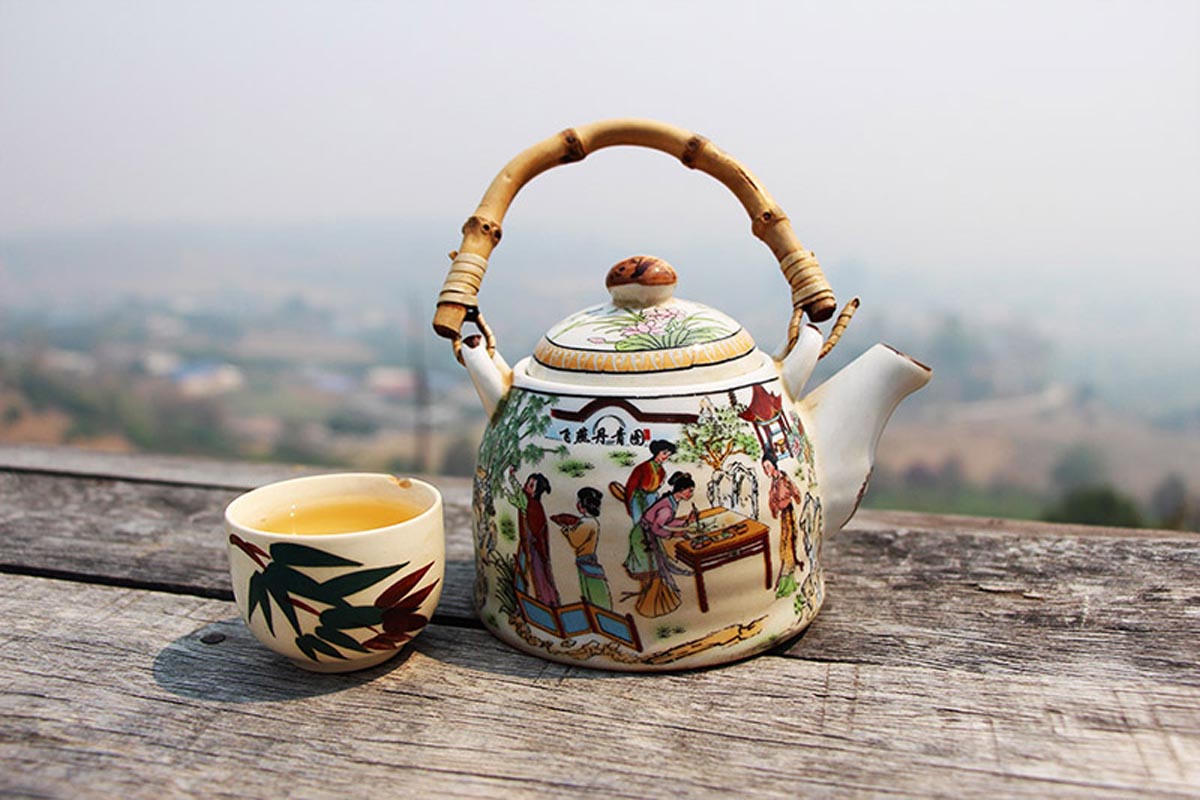 Just outside Pai's center, you'll find a small ethnically Chinese village community built on a mountain slope. On top of the mountain is a small viewpoint (Yun Lai Viewpoint), which is the perfect spot for enjoying a nice cup of green tea while overlooking Pai.
You can also visit this viewpoint at sunrise. It is one of the best views in Pai making it popular among Thai tourists. Despite the hour, you'll find them taking one selfie after another while impeccably dressed. A nice and amusing way to start your day.
10. Santichon Village
Santichon Village is one of the best places to visit in Pai for a cultural experience. It is very popular among Thai tourists. Known as the Chinese Village is a beautiful display of traditional clay houses and temples of the Yunan People. The descendants of the Chinese who fled China during the revolution of Mao Tse Tung still follow traditional ways of life.
11. Pai Memorial Bridge
Pai Memorial Bridge (Tha Pai World War II Memorial Bridge) If you are looking for a bit of history, the Pai Memorial Bridge is a stop to commemorate the Pai workers who were forced to help build the bridge with Japanese Soldiers. This is one of the main tourist attractions in Pai. The pedestrian bridge crosses the Pai river and today it is an important historic site in Pai.
12. Eat Khao Soi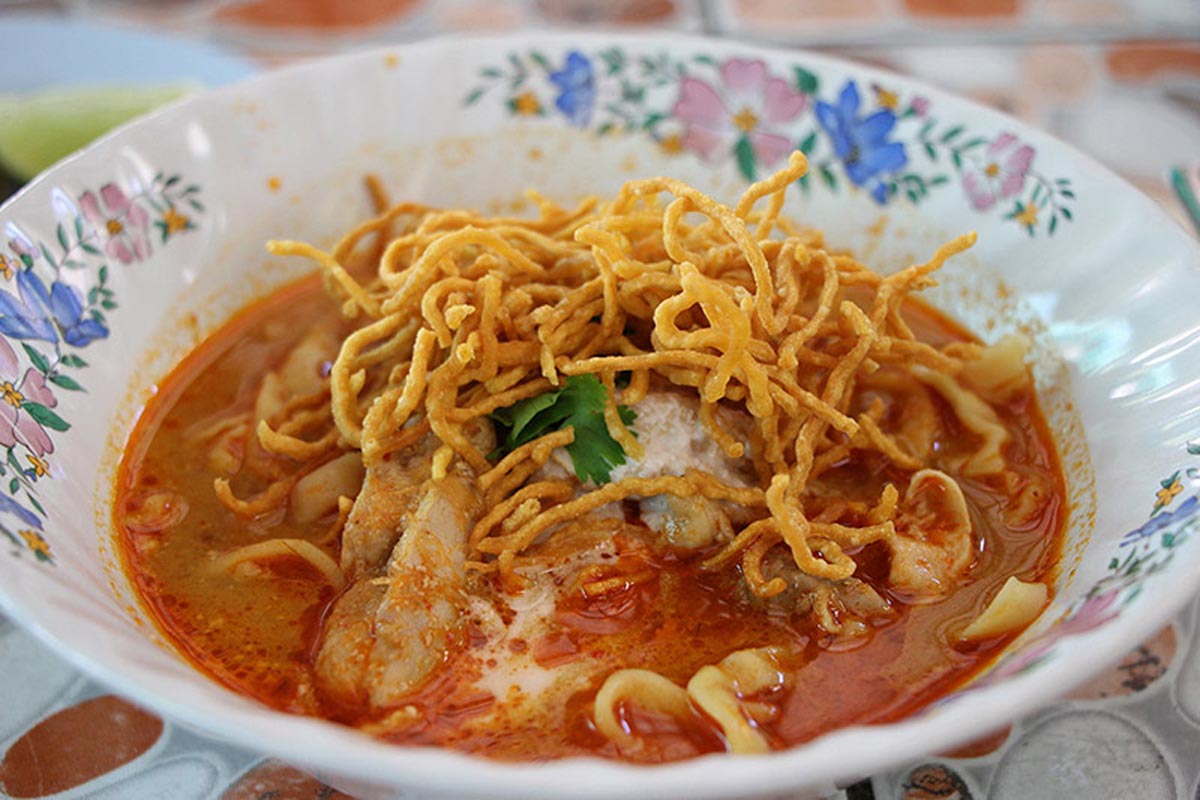 Khao Soi is Thailand's number one lunch meal; a creamy, yellow, coconut-flavored curry mixed with egg-noodles and soft, braised chicken. You can add extra spices such as onion, chili or vegetables to add even more flavor.
Although khao soi is pretty much on every menu, I recommend having Khao Soi at either the Duang Restaurant or Nong Beer where the taste is fantastic. Prices are low at only 40 THB per bowl! (about $1.25 US) Aroi mak mak!
13. Enjoy your coffee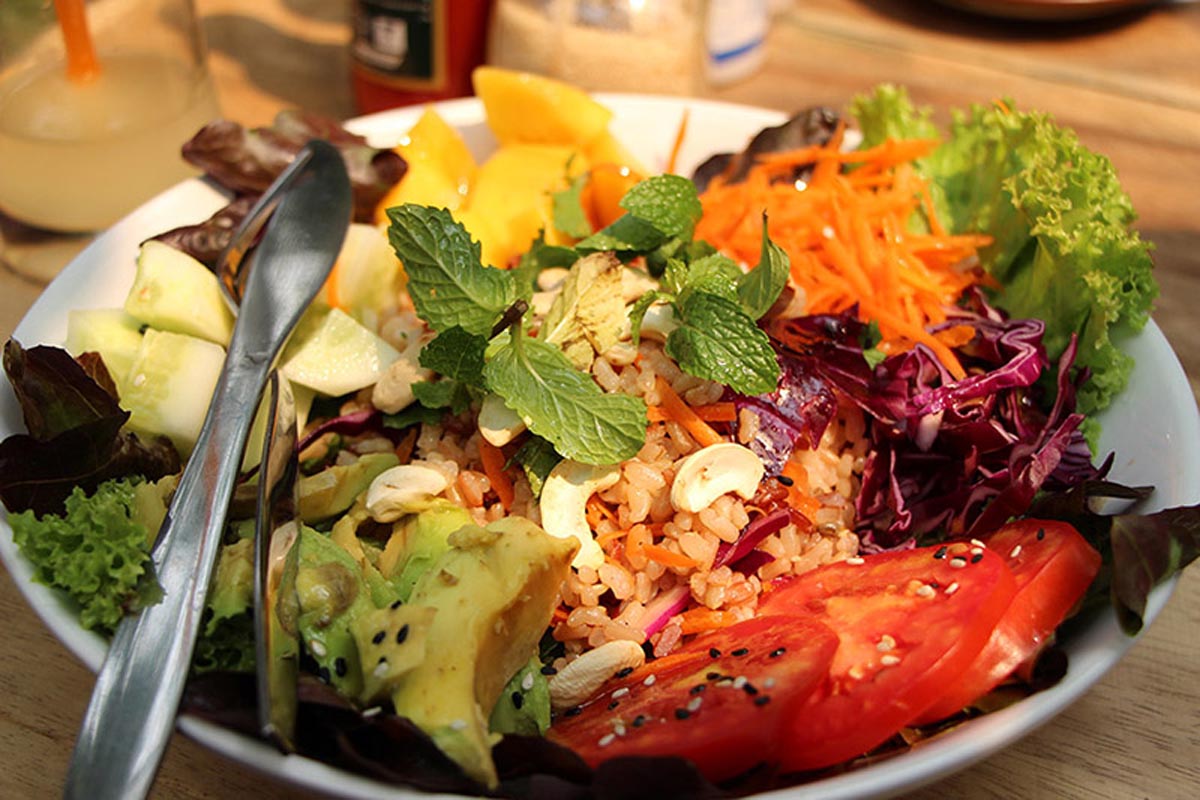 Besides the tranquil surroundings and nature, Pai is also known for its excellent food traditions. There are many trendy places to eat, mainly focussed on coffee and healthy foods. Our favorite place to have breakfast is the Lemon Thyme Café, a small café that serves some divine French toast, poached eggs, and shakshouka.
Pai's lunch hotspot is the Om Garden Café, which is located in a beautiful garden and serves healthy meals and sweet cakes. Are you a vegetarian or a vegan? Then I recommend Earth Tone because of it super healthy salads and tempeh sandwiches.
14. See the White Buddha Statue
Located just 2 km from Pai, Wat Phra That Mae Yen is a great thing to do in Pai at sunset. Climb its 353 steps to see the massive white Buddha statue that is gazing out towards the sunset.
15. Take A Thai Cooking Class
Being in Pai is all about slowing down and relaxing. Nothing feels more like home than taking a cooking class. We love Thai food and one the best things to do take home memories from your trip to Thailand is to learn how to cook the local food. When you are back in your dreary flat on a winter's day, nothing lifts the spirits more than cooking up some Pad Thai or Green Curry.
16. Bar Hopping on Pai Walking Street
When in Thailand, it is almost impossible to avoid the party scene. The country comes alive at night and Bar Street in Pai is the place to go. The Pai night market is a place lined with watering holes in the downtown core. Be sure to go to Why Not Bar, a Pai institution.
17. Visit an Elephant Sanctuary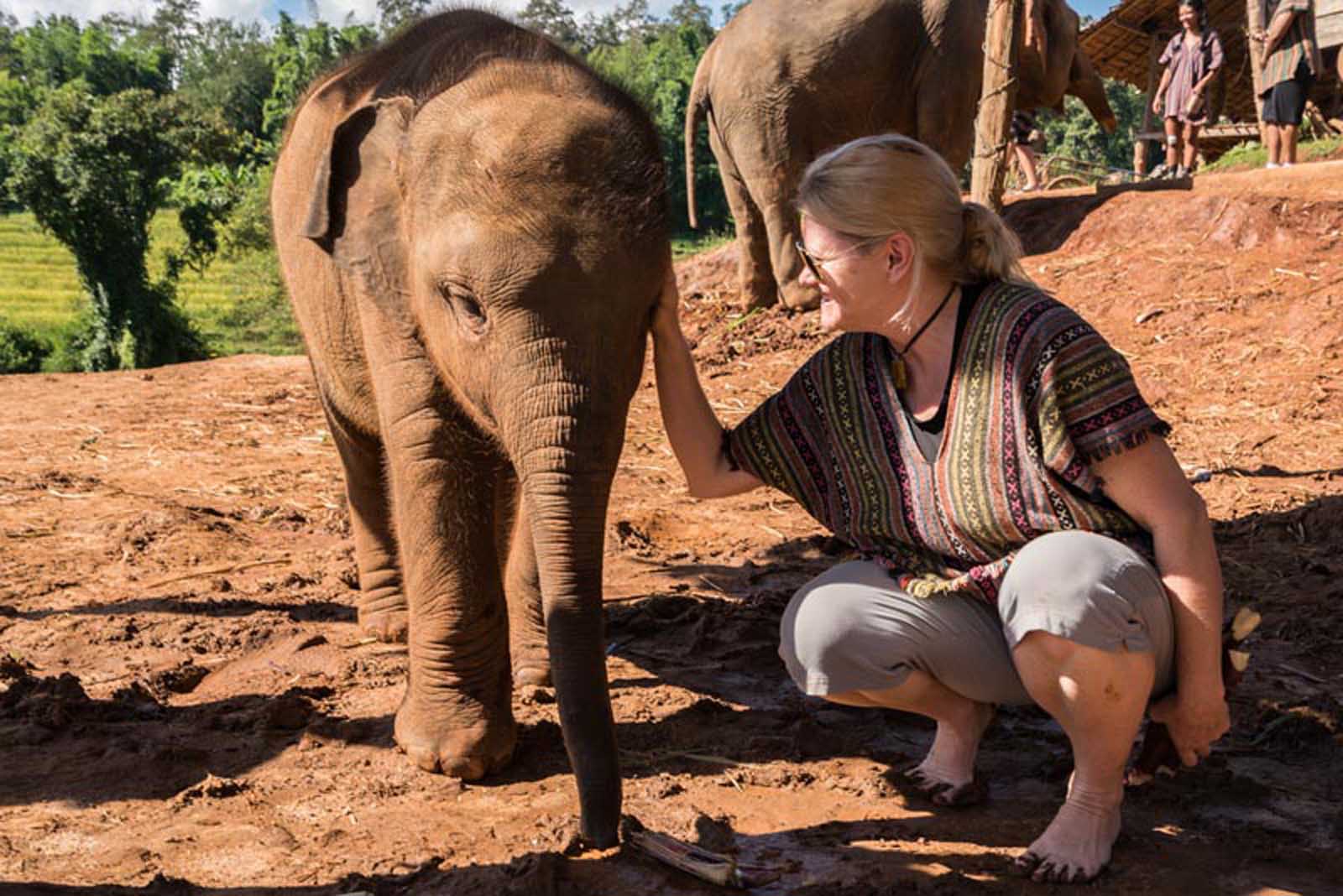 When in Thailand do not ride elephants. Instead visit an elephant sanctuary. More and more outfitters are avoiding riding elephants and when you book a tour, make sure that there is no riding involved. Read more about it here. A Visit to an Elephant Sanctuary in Chiang Mai
18. Yoga and Meditation
Pai may be a backpacker hang out, but being in the north it is much more laid back than Bangkok and the southern islands. Get recentered and focused while in Pai and take a yoga retreat or meditation course. Xhale Yoga offers multiday meditation and yoga retreats in Pai.
19. Immerse in Muay Thai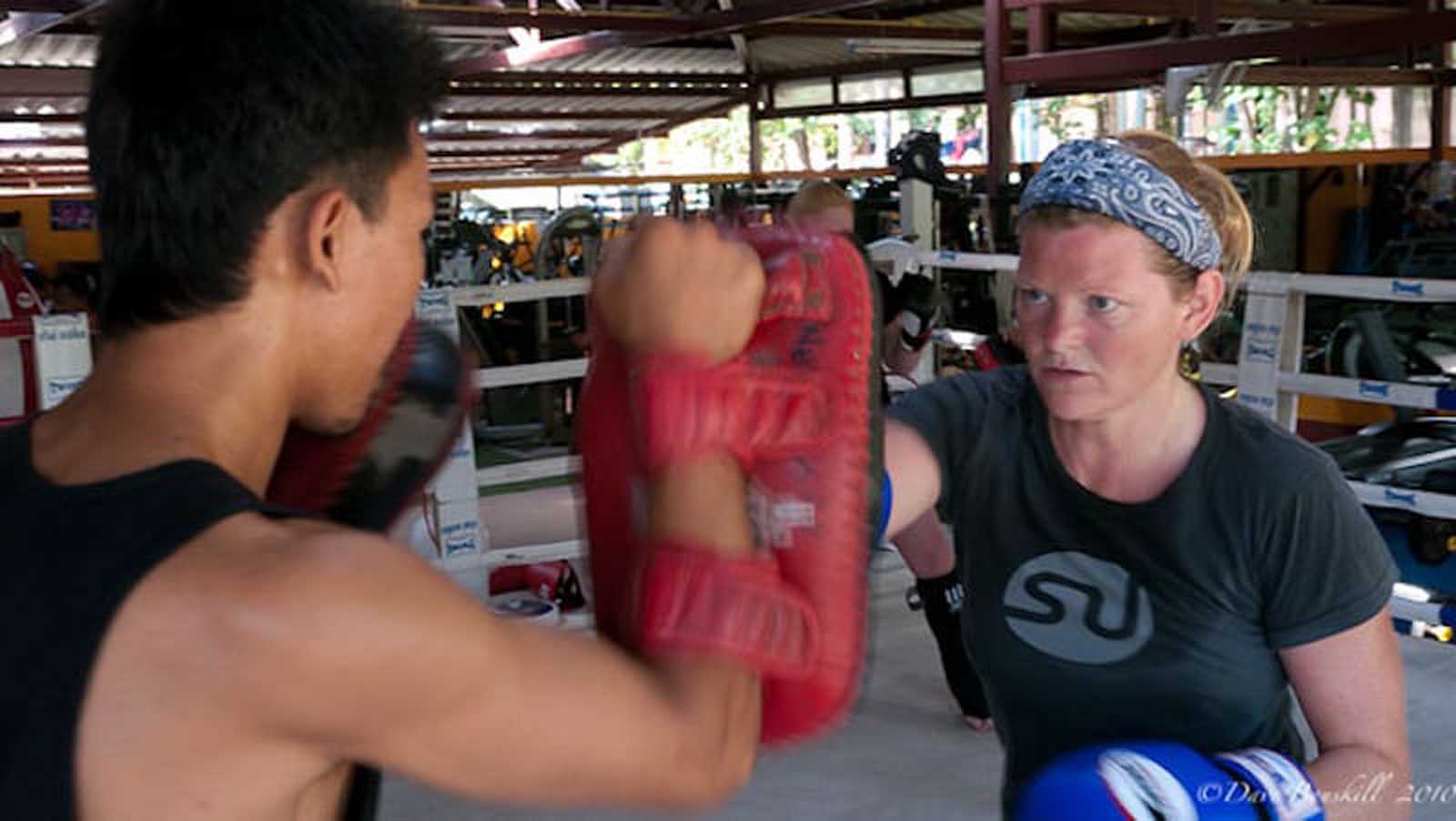 A great way to detox, get in shape, and immerse in Thail culture is to take a Muay Thai kickboxing course. Charn Chai Muay Thai camp offers training courses where you'll be training right alongside professional kickboxers.
How to Get to Pai, Thailand
Pai is about 80 km from Chiang Mai. You can get to Pai from Chiang Mai driving or taking the bus. Several buses leave daily from Chiang Mai's Arcade Bus Station.
Kan Air flies three times a week from Chiang Mai to Pai – it is only a 25-minute flight and is quite reasonable.
Public buses leave hourly from Chiang Mai's Arcade Bus Station.
Mini Buses can be booked at travel agents and guesthouses in Chiang Mai
One-way scooters can be rented from Chiang Mai to Pai. – We have driven this route and it is fine, but be sure to have experience on a motor scooter before you decide to drive in Thailand.
Where to stay in Pai, Thailand
There are many places to stay in Pai. Most backpackers choose to get a place downtown Pai to be close to amenities and nightlife. But Pai also has lovely resorts along the Pai River that are still close to downtown but much quieter.
Have you been to Pai? What are your favorite things to do. Share them in the comments below.
Are you planning on visiting Pai? Pin it now for reference.