I don't know what we were expecting when we arrived in Christchurch.
We knew that a devastating earthquake rocked New Zealand less than a week ago but we are used to the media overblowing emergency situations. We flew in expecting the damage to be localized and that the rest of the town would be in working order and functioning.
We didn't expect things to be as bad as the media portrayed them; we thought that they were probably showing the same damaged buildings in the epicenter over and over on the news.
What a 6.3 Earthquake Can Do to a City
In reality the city of Christchurch is indeed suffering. Much of the city is without power and many buildings outside the massively damaged Central Business District (CBD) have also been damaged or destroyed.
Houses, shops and eateries have collapsed and piles of bricks can be seen on almost every corner. Our hostel, The Old Country House on Gloucester is intact but is without water pressure, heat and hot water.
Most people in this area don't have any power and have to queue in long lines for gas and propane.
Damage is Significant in and around the Central Business District
Nothing is open.
We went for a walk thinking foolishly that we would be able to grab a bite to eat, do a little shopping and buy a SIM Card for our iPhone but the city is shut down. Businesses and schools are closed and everyone is off work.
Other than supermarkets and corner stores every shop and restaurant is closed. A lot of people are out driving around and riding their bicycles. Families are out together making the best out of a bad situation.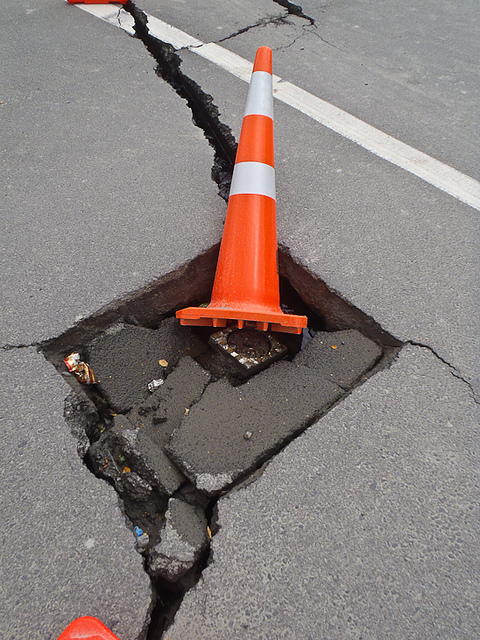 New Zealanders seem to be the most resilient and optimistic people on earth. Residents are walking with smiles and saying hello as we pass by.
One family was working out front of their collapsed house with heavy machinery surrounded by helping friends and offered us food. They were smiling and talking and we could tell that they were grateful to be alive. They were seeing the positive instead of looking to the negative.
Central Business District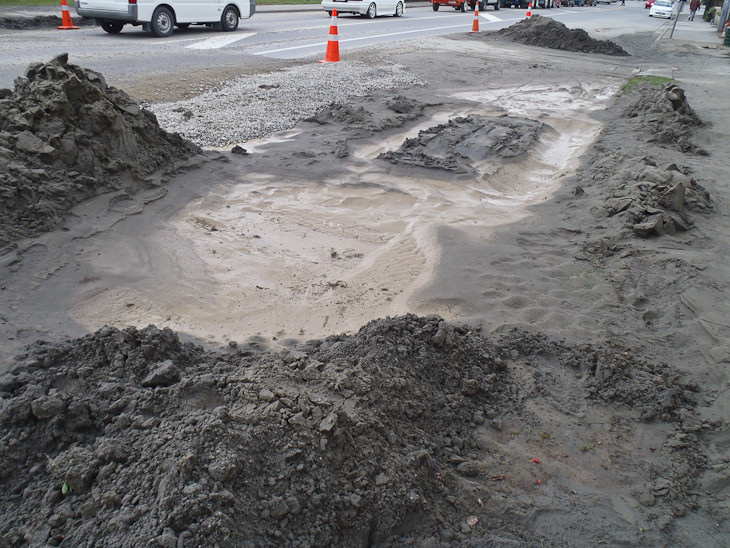 The Central Business District (CBD) suffered the most significant damage in Christchurch and nobody is allowed in except for essential personnel and residents whose homes have been deemed safe. There is great risk of more buildings collapsing and they don't want anyone in the way of their recovery efforts.
Tanks drive through the streets and are parked at intersections leading to the CBD. Military and police guard these intersections making sure nobody sneaks into the area. If you are not an emergency worker or resident, you will be arrested if you enter.
We walked for hours around the surrounding area and could not believe the damage. When we looked down the streets into the city centre, we wondered how a community goes about cleaning up something so catastrophic.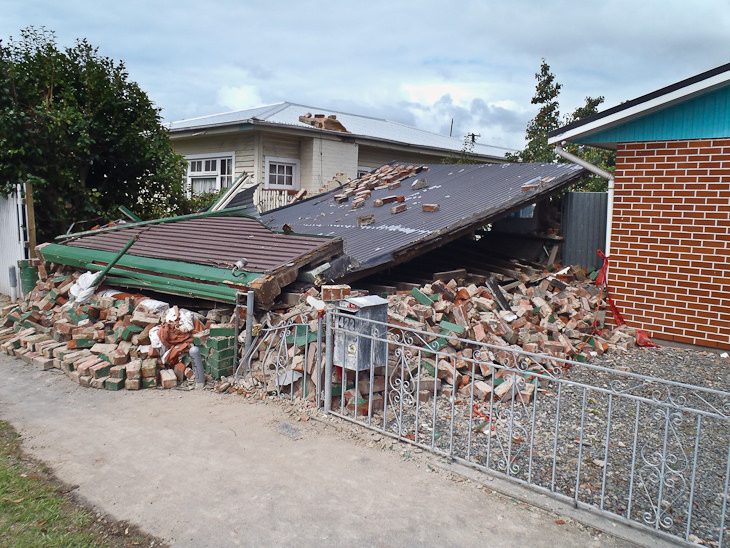 Many streets have gaping cracks and holes and bridges have buckled in the centre. After the earthquake liquid sand seeped up from under the ground causing a muddy mess.
This is known as liquefaction and it has come out of the ground both inside and out. Once the water recedes it leaves behind mounds of hard packed mud. We saw people shoveling out piles of the heavy dirt from showrooms, businesses, parking lots and front yards.
Recovery for Christchurch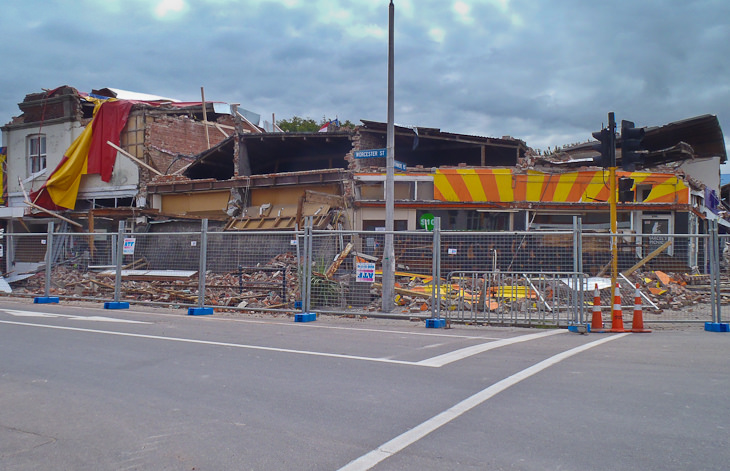 If there is one city that will be able to get back on it's feet, it will be Christchurch. People are shoveling out tons of hard packed sand that seems as heavy as clay.
They pile heaps of mud onto the street for front end loaders to take away in the future. It has only been a few days since the earthquake, and while things seem bleak, the people of Christchurch have a resolve to rebuild their lives.
"People have been worried for us coming to Christchurch, but we feel that why wouldn't we come now? The earthquake already happened and they are in the rebuilding stages. It is the perfect time to come and support this beautiful country. It's still prime tourist season and the weather is gorgeous."
We have heard reports hundreds of students and volunteers turning up in areas of the city with shovels and wheelbarrows to help dig out the tones of liquefaction from backyards and neighbours are helping each other through this terrible time.
The residents of Christchurch definitely have the right attitude. They are optimistic and hopeful and ready to rebuild and recover.
As on man said to us "I was born and bred here. Some people may flee after this second earthquake, but most of us will stay."
Read More
Where To Stay In Melbourne – A Guide To The Best Neighborhoods