Who doesn't want to go to New York City during the holidays? It seems that every great Christmas movie or memory is somehow associated with NYC. When IHG© Rewards Club  asked us where we'd like to spend our last trip of the year, we suggested the Big Apple. A New York City Christmas celebration has always been our dream and we finally got the chance to make it happen.
Check out our other IHG Rewards Club Experience in Key West
Dave and I had big plans for our New York City Christmas. We asked all our Manhattan friends what to do during the holidays and they gave us amazing suggestions. We made our list, we checked it twice, and off we went to New York City for the holiday season.
For those of you who don't know, IHG has the largest rewards program in the world with hotels like InterContinental, Holiday Inn, Hotel Indigo, and Crowne Plaza. It's Christmas time in the city, so the Holiday Inn Times Square made the most sense for our IHG© Rewards Club Stay. If you don't know the reference, there's a classic movie with Bing Crosby called Holiday Inn. How could we not stay at a Holiday Inn during the holidays? Rent the movie this Christmas Season and let me know if it gets you in the mood for all things St. Nick.
The last time we stayed in New York, we lodged in the Intercontinental Times Square. It's an amazing property that offers a different, more upscale choice. And that's what we love about the IHG brand: there's something to suit every budget or situation. The Holiday Inn is definitely the more affordable of the two properties and is only a couple of blocks farther out of Times Square, which makes it an excellent choice for the family. We're looking forward to giving the Crowne Plaza a go the next time we're in New York.
IHG's Priceless Experiences
"IHG Rewards Club Priceless Experiences promotion rewards members with special events and prizes. Register and stay using a Mastercard® at any IHG® hotel from December 1, 2016 – February 15, 2017 and you could win the ultimate Chicago weekend getaway. Plus, stay twice with one stay being 2+ nights to get a Mastercard® Reward Card up to $100, dependent upon which brand you stay at. Most recently, IHG Rewards Club held a surprise concert with triple platinum artist Andy Grammer at the Crowne Plaza LAX for members to attend."
Read our review of the Intercontinental Times Square 
The rooms at the Holiday Inn were upscale and well appointed. Even though our room was a bit small, it had all the amenities we needed and a fantastic view of Manhattan. Once we checked in, we were back outside on the town. That's something we like to point out about New York – you are not going to be spending a lot of time in your room. The best thing to think about when booking a hotel is the location and affordability. You are, after all, in the city that never sleeps!

A New York City Christmas
So, bundle up with your favourite hat, scarf, and mittens, pack your comfortable and warm winter boots, and get ready to explore our New York City Christmas.
Another good choice for Times Square Accommodation is Staybridge Suites. Check out our experience here. 
The Rockettes Christmas Extravaganza
When putting the question out on Facebook as to whether or not we should see the Rockettes, I was sure my New York friends were going to tell me I was nuts. It turned out that everyone said "Go see the Rockettes!" It's a New York City institution dating back to 1932. If you are going to catch a show during the holidays, this is the one to see. I was expecting to simply see 90 minutes of women kicking their legs high in the air Chorus Line style, but there's a ton of thought that goes into the show. There are singers, figure skaters, a 3D screen showing Santa's adventure, and a group of shorter and more diverse male and female dancers backing up the actual Rockettes.
Nutcracker

If you want to see another Christmas Show, the Nutcracker is performed by the New York City Ballet at the Lincoln Centre. I have seen so many shows on TV starting with the Lincoln Centre that I felt giddy stepping foot on the complex. Besides the ballet, you'll find the Opera House and Geffen Hall where the New York City Philharmonic plays. Handel's Messiah was being presented while we were there.
Christmas Markets
We visited our first Christmas Markets during a river cruise of Europe a few years ago, and since that time, Christmas markets have been sprouting up everywhere. New York City has markets all over town from uptown to downtown. We visited several holiday markets from the indoor market at Grand Central Station (a New York City tourist attraction unto itself) to the lovely stalls at Union Square, Columbus Circle, and our personal favourite, Bryant Park.
Bryant Park
Why was Bryant Park our favourite? Well, for one, you can skate here for free! Bring your hockey or figure skates along and you can go skating at Bryant Park. If you don't have your own skates, rentals are $20. The arena is surrounded by Christmas stalls selling ornaments, arts and crafts, and of course, apple cider to keep you warm. There's a great Christmas tree here as well, which we actually enjoyed more than the tree at the Rockefeller Centre.
The Tree At Rockefeller Center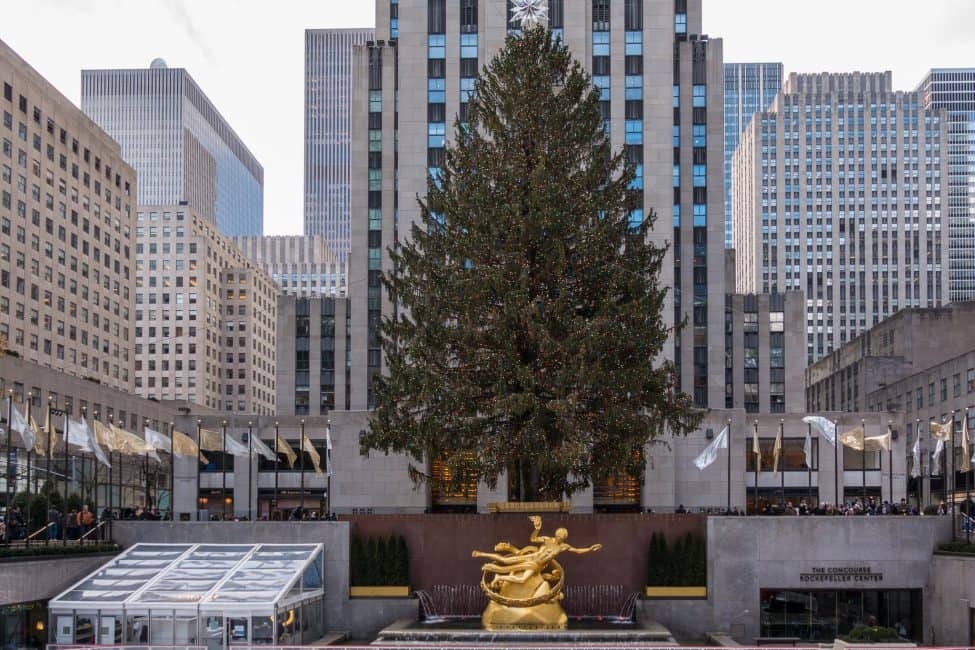 Crowds are out of this world at Rockefeller Center because everyone's trying to grab a photograph in front of the Christmas tree. If you go in the morning or later at night, they will die down a bit and you can see the lights displayed on the tree overlooking the famous skating rink. I wouldn't recommend skating here. The fees are high and there is a long wait to get on the ice, but it's worth stopping by to see the holiday display and to pop into the Rockefeller Center to use the free public washrooms, have a seat, and warm up with a cup of coffee in the concourse. Plus, you can take a walk through the halls and maybe see Jimmy Fallon or someone famous that works at 30 Rock.
Saks Fifth Avenue Light Show
New York City is known for its holiday window displays but Saks Fifth Avenue takes the holiday spirit to new heights. If you time it right, you could be standing at the viewpoint of the Warner Brother's Tree at Rockefeller Center to watch the show. If you do a complete 180 degree turn from the rink, you'll see Saks storefront where their light show plays to dramatic Christmas music at regular intervals once the sun goes down.
Window Displays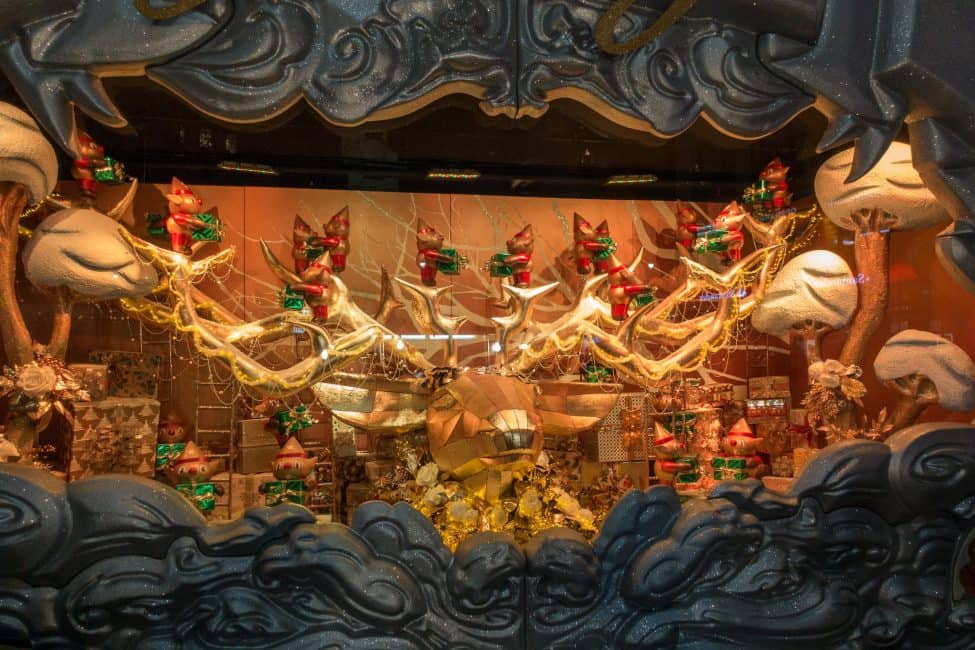 Speaking of Saks, the best way to check out the New York window displays is to walk down Fifth Avenue from Central Park. All the storefronts are decorated to the nines. We have heard that there are line ups for Saks to see their displays. We didn't stand in line ourselves. Instead, we made our way to Macy's to check out their adorable Christmas window displays. Some were calling for children to interact with the display by hitting buttons and pulling levers. Don't forget to make a detour to Bloomingdales, a staple of New York located on Lexington Avenue.
Central Park
There is nothing more romantic than strolling through Central Park during the holidays. There's a skating rink in the park where you can strap on a pair of skates, but Dave and I chose not to since it is owned by Donald Trump. We also intended to take a carriage ride, but then we heard that the good citizens of New York are working to get these rides banned. Or at least they're trying to improve the conditions of the horses. We have heard that the horses are kept in tiny stalls that don't even allow them to turn around. They don't get to go out to pasture and they have to stand on concrete 24 hours a day.
This quote from animal right's activist Jane Velez-Mitchell made us think twice and forego the horse and buggy and instead explore by foot. "Horses are flight animals. They're also pasture animals. They go from being locked in a carriage horse to locked in a stall behind bars. They do not get to go into a pasture and they're in the middle of one of the busiest cities in the entire world," JaneUnchained.com.
Tavern on the Green
We were excited to visit Tavern on the Green in Central Park. The top hat and tails clad doorman greeted us with a smile as he let us into the city's iconic landmark. But we made the mistake of not making reservations, and so only had the opportunity to browse the gift shop and check out the sitting area by the bar.  When we arrived at 2pm there was a 90 minute wait for a table. This is a romantic destination and the setting is beautiful, but do yourself a favour and reserve a table for lunch. I want to go back and sit inside properly.
A View from Brooklyn
There are many places to get a great view of the New York City skyline, but our favorite is definitely from the Brooklyn Bridge Park in DUMBO (Down Under the Manhattan Bridge). This is a spot you recognize from many a Hollywood movie, where historic buildings lead down narrow streets directly to the Manhattan and Brooklyn bridges. From the waterfront here you can snap several different views of the New York City skyline, but the most impressive picture comes from Pier 2 where wooden poles jut out of the water, making for an impressive foreground.
There are always so many things to do in New York, but even more events and attractions happen during the holidays. So if you want to fulfill your New York City Christmas dream, start planning now. You won't be disappointed. We loved every minute of our holiday; there's no other place in the world where Christmas is embraced as much as New York City.
Our Christmas in New York was made possible by IHG© Rewards Club. To learn more visit the IHG© Rewards website. This post is in partnership with IHG Rewards, but as usual, all views of our experience are our own.