Looking for the best things to do in Venice, Italy? Well, look no further, as this comprehensive guide will give you molto informazione. (a lot of information). Venice is one of the most beautiful cities in the world and no trip to Italy would be complete without visiting the city of love.
Former Italy resident, frequent Venice visitor, and travel writer Karen Worral shares her extensive knowledge of her city with us. This Venice guide will help you navigate the best of this magical city.
Things to do in Venice, Italy
Venice Italy is unspoiled by modern life and unlike any other city. It has to be seen in person to really be appreciated. It is easy to see why it has been a hub for artists and sculptors, to musicians and poets. since it was birthed. And still is.
Stomping grounds of writer and lover Casanova and Marco Polo, Venice has inspired greatness and delights all lovers of beauty. I have fallen in love with this city and share the very best things to do in Venice from my first hand knowledge and many visits.
There are some affiliate links in the post below where theplanetd will earn a commission if you make a purchase but there is no extra cost to you!
1. St. Mark's Square – Piazza San Marco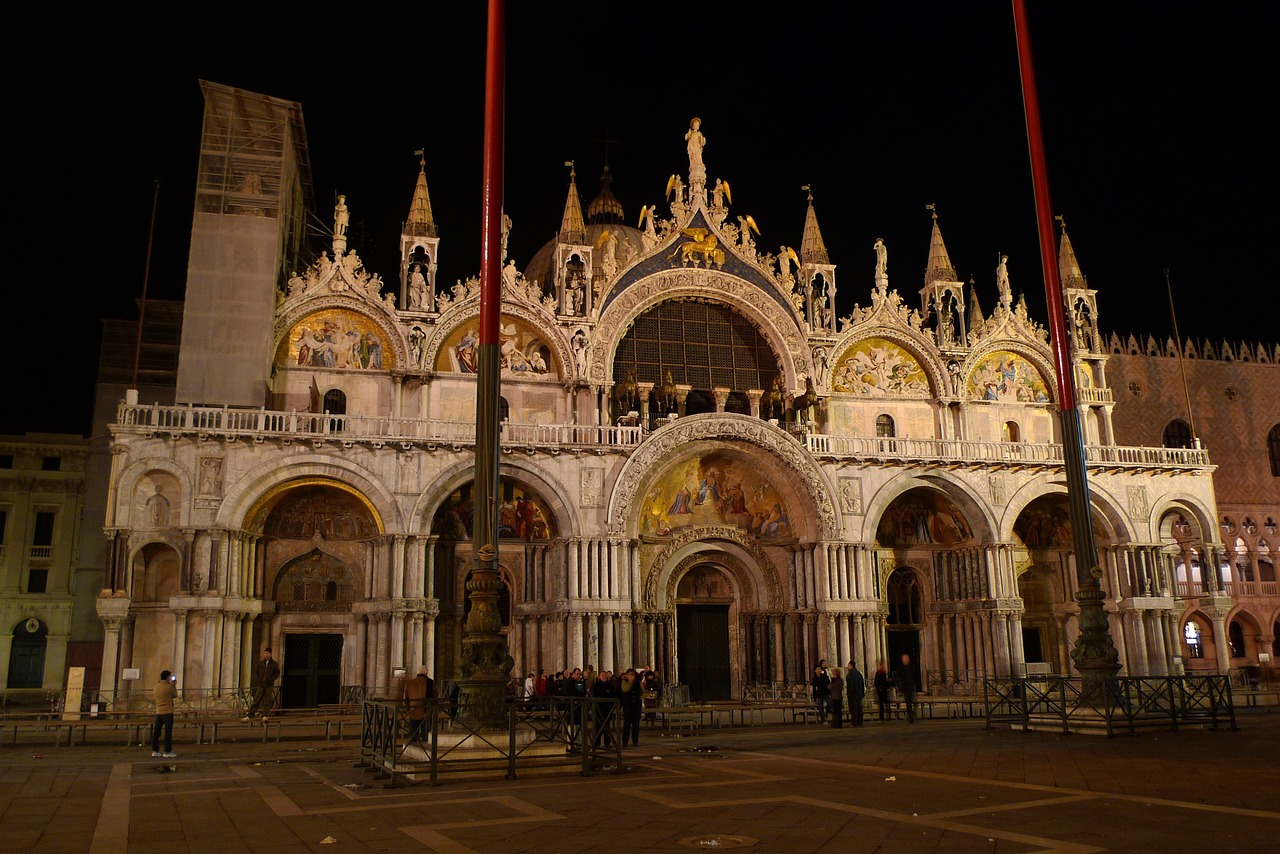 While the beating heart of Rome may be the sand of the Colosseum, the beating heart of Venice is its most illustrious piazza. St. Mark's Square. To feel the essence of Venice, this is the place to be.
The large impressive square is flanked on all four sides by ornate buildings, archways, and porticos that host cafes, high-end shops and some government offices.
What to do at St. Mark's Square
Some of Venice's most important buildings are located in or around the Piazza San Marco.
The Piazza San Marco (St. Mark's Square) – with the Campanile (clock tower) on one side and the Torre dell'Orologio (tower of clock) on the other.
The Doge's Palace – is tucked in the corner with the statues of Saint Mark himself and the winged lion of Venice towards the water.
Feeding the pigeons – has been banned in St. Mark's Square but they are still thousands of birds, so keep an eye out for a "present" from a friendly neighborhood pigeon dropping.
Coffee or Hot Chocolate – Even though it will probably be the most expensive coffee or hot chocolate you've ever had, I recommend it. Quadra Café often has a classical quartet playing in front of it.
Hot Tip: get up for sunrise to have the square all to yourself before tour buses and boats come in.
Dive into Venice's history with this 2-hour guided walking tour of Saint Mark's Square. Including skip the line tickets to Doge's Palace. Find out more and book your ticket here – Free cancellation with refund up to 24 hours before the tour starts.
2. St Mark's Basilica – Basilica San Marco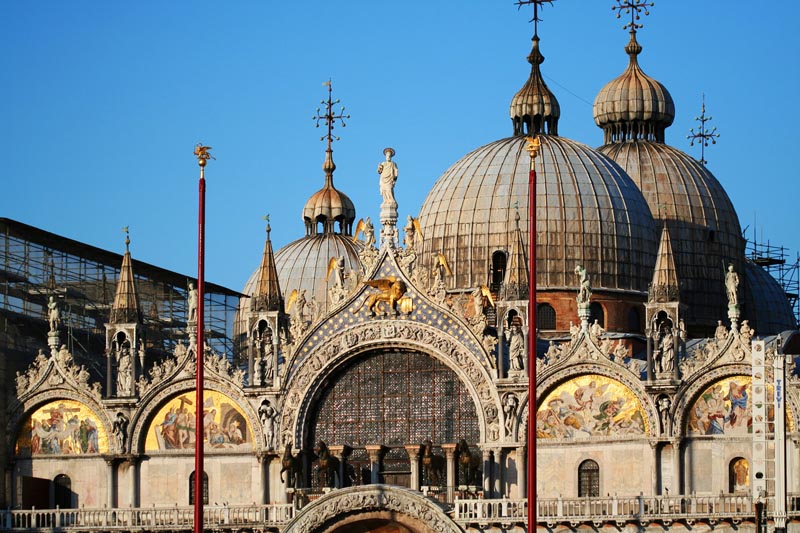 St Mark's Basilica (Basilica San Marco) holds the primo spot over one whole side of the square. The stunning façade is covered in gold leaf mosaics, grand domes and elegant equestrian statues.
Going inside the Basilica San Marco to see the beautiful multitude of recently renovated mosaics is a Venice must-do. Take the steps up to St Mark's Museum, a small museum about the basilica and Venice history and for an unrivaled view of St Mark's Square from the terrace by the horse statues.
Inside the church, you can also see the Treasury that holds the church's relics and the Pala D'oro – Byzantine golden cloth.
Tips for visiting St Mark's Basilica
A visit inside lasts about ten minutes.
Lines can be long to go into the church, especially in summer
Go early or late in the day, it is usually much quieter.
Backpacks are not allowed inside, but there is a locker area where you can store them for free just around the corner
If you have a group, take it in turns going in and watching the bags outside.
Also, remember that as in all churches in Italy, modest clothing should be worn with shoulders and knees covered.
It is stunning inside and definitely worth waiting to go in to, so don't miss it.
Hours: Church Mon-Sat 9.30am-5pm (last entry 4.45pm), Sun 2-5pm (after services). Museum, Treasury and Pala D'oro 9.35am-5pm summer (April 16-October 28), 9.45am-5pm winter (October 28-April 15).
Cost: Free for the main church, and €5 for the museum, €2.50 children 6-18 years, free under 6. Treasury €3, €1.50 for children, Pala D'oro €2, €1 for children.
Get your skip the line ticket and take a tour with a local guide of St Mark's Basilica.
3. The Rialto Bridge (Ponte di Rialto)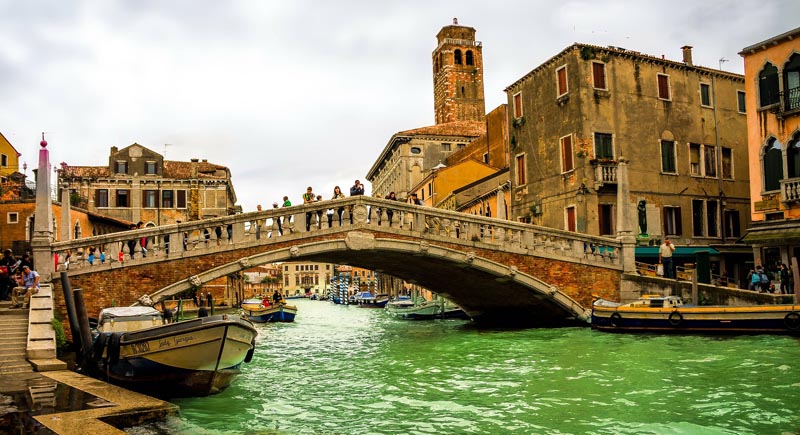 The Rialto Bridge (also known as Ponte di Rialto) is the oldest bridge in Venice, dating back to the sixteenth century. It is the most famous bridge in the city and one of the most famous bridges in the world. It is the first of only four bridges that span the Grand Canal today.
The Rialto Bridge divides the districts of San Marco and San Polo. In the middle of it. Today it is full of shops making it one of the most unique bridges in the world.
The other bridges that span the Grand Canal are Ponte di Calatrava a Venezia, Ponte dell'Accademia and Ponte degli Scalzi
4. Rialto Market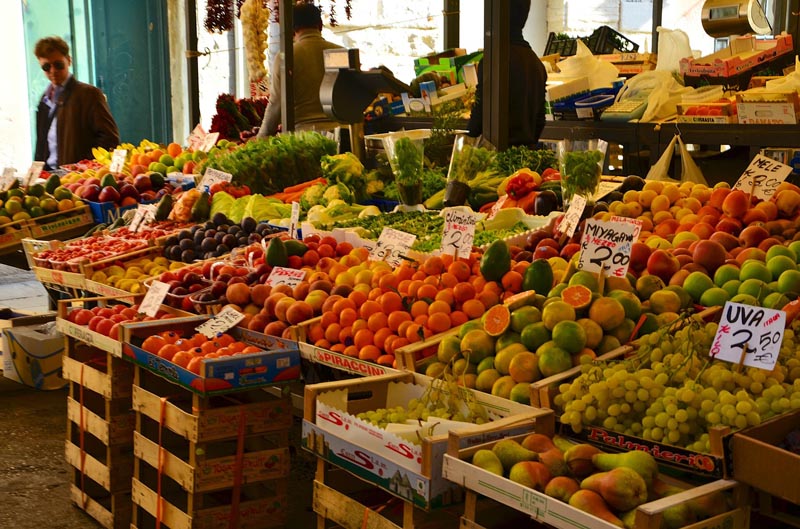 The Rialto Market on the other side from St Mark's Square is a great place for shopping. It started in the eleventh century as the principal food market of Venice.
Rialto Market has two parts. The principal outdoor food market where fruit, vegetables, fresh fish, and produce are sold. And the souvenir market. It is also a good spot for street food.
My favorite thing to do here is to buy a mini bottle of Bellini and sit by the bridge on the San Polo side sipping it while people watching.
Hours: Usually 9am until about 9pm in summer, until dark in winter.
5. Gondola Ride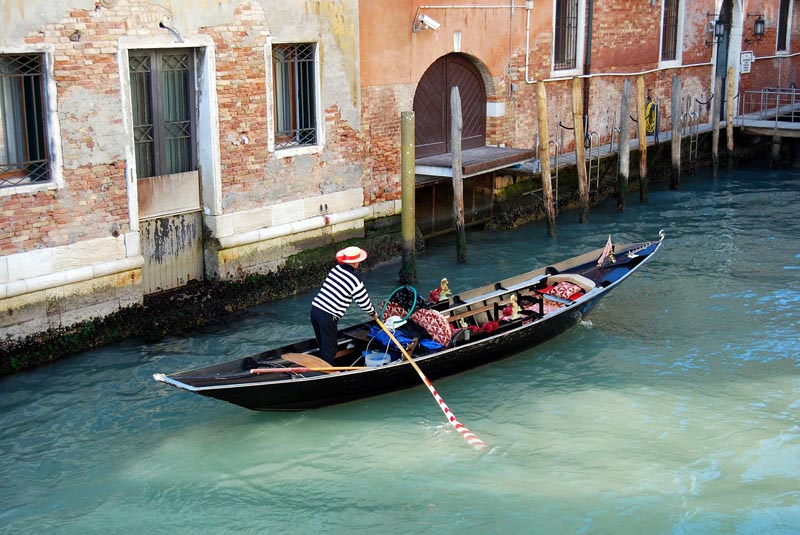 When you think of Venice, it is difficult to think about the city and not pictures the waterways and gondolas that traverse them. Gondolas are the small boats that are paddled by a trained gondolier who knows the waterways like the back of their hand.
Gondola rides can be very romantic, and a great way to snuggle up to your loved one, especially at sunset. They can also be very expensive. Expect to pay upwards of €100 off-season for a trip.
If you'd like to have the experience but aren't too bothered about it being private, then you can go on group trips with other tourists and lower the cost.
Not all gondoliers are the same, and some have fancier boats and clothes and some sing and some don't. So check what is included before hopping on, but remember the price will reflect what is included too.
(If you want to go on the canals for cheaper, check number 5 on this list of Venice things to do).
If you are looking to book romantic things to do in Venice, book a Gondola Ride and Serenade on the Grand Canal. It is one of the best known experiences in Venice for a reason! Read more and book your refundable ticket here.
6. The Grand Canal by Vaporetto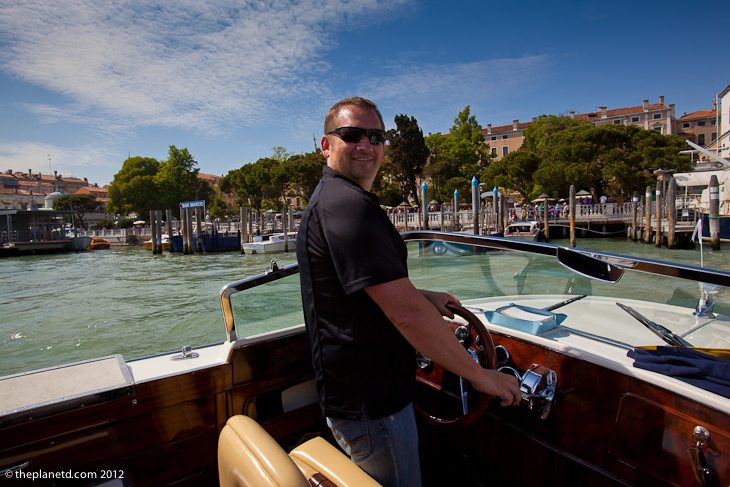 No visit to Venice would be complete without a ride on the Grand Canal. Taking a gondola ride is a quintessential Venetian tourist thing to do, but if you would rather spend your euros elsewhere, you can tour the Grand Canal for much cheaper by simply taking a water taxi – or Vaporetto ride.
Vaporettos like a sort of water bus and are the most common way to travel around Venice if you're not walking. Hop on the Vaporetto at St Mark's Square at the San Marco Gardinetti stop taking it all the way to Piazzale Roma. Et voila! Perfect Grand Canal tour for only €7.50!
Hours: Public Vaporetto times, usually around 6am-10pm, but check website or timetables at Vaporetto stops to be sure.
Cost: €7.50 one trip in one direction, or if you're going elsewhere buy a 24-hour ticket for €20 which will take you out to the other islands too.
My tip is to have a Venice guide book with you (my favorite is Rough Guides Pocket Venice), and read the section on the Grand Canal. You can then self-guide your own tour and know what all the major sites and buildings are as you go around.
7. The Bridge of Sighs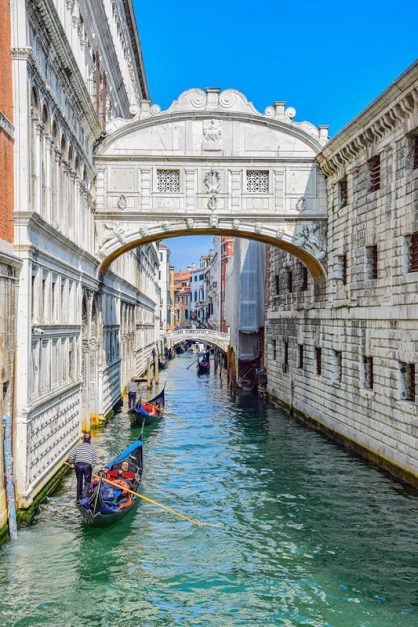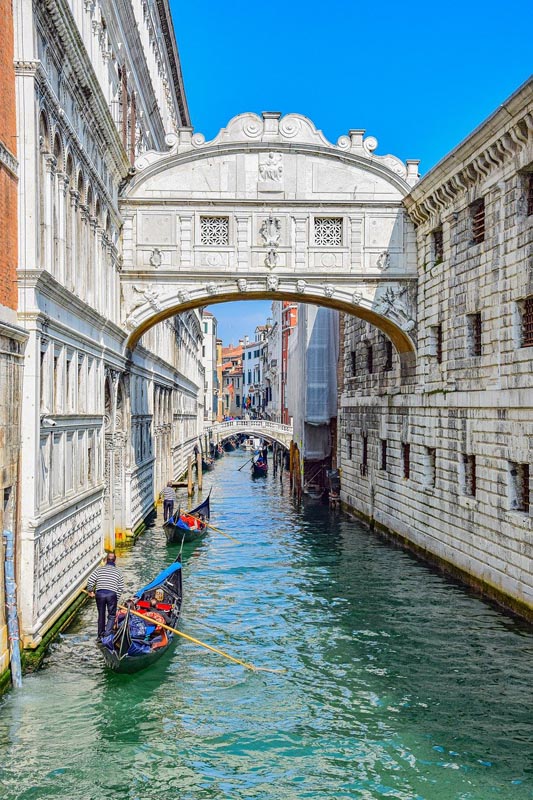 The Bridge of Sighs is located between the Doge's Palace, the Palazzo Ducale, and Venice's jail. It is a small bridge that can be seen from the waterside by St Mark's Square, very near the San Zaccaria Vaporetto stop.
Legend has it that the Bridge of Sighs got its name because on one side of the bridge is the courtroom of the Palazzo Ducale where people accused of crimes were tried. If convicted, the soon-to-be prisoner would then be walked across the bridge to jail.
The last view they would have would be looking out of the small intricate windows of the bridge. And here they would "sigh" at their last glimpse of freedom. (Hence the name Bridge of Sighs)
Many gondolas paddle by underneath the bridge of Sighs so look out for one when you're there to get an extra iconic Venetian vista.
8. Doge's Palace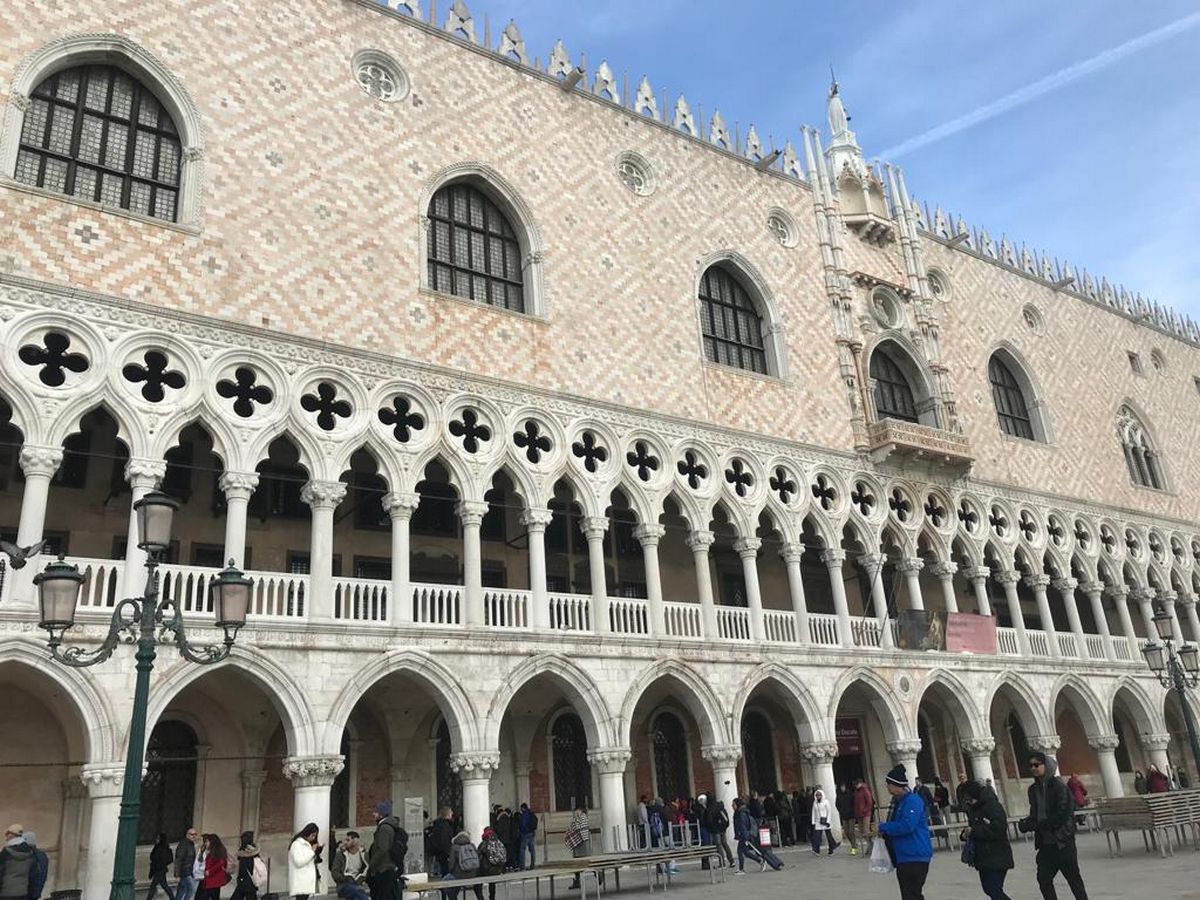 Located on the Grand Canal, Doges Palace is one of the best places to visit in Venice. The Palazzo Ducale or the Doge's Palace is the most important building in Venetian history. The Doge was the head of state and religion in Venice for centuries. He was like Venice's Pope, Regent plus President or Prime Minister all at the same time.
The architecture inside and out of Doge's palace is impressive and I'd recommend at least 90 minutes to see it all properly. They have various special exhibits throughout the year that is included with your ticket.
The ticket also allows you entry to Museo Correr, Museo Archeologico Nazionale, and Biblioteca Nazionale. The Doge's Palace and St. Marks' Square Tour offers skip the line tickets to Doge's Palace and a locally-led guided tour.
Hours: Doges Palace Summer (April 1-October 31) Sun-Thur 8.30am-9pm, Fri-Sat 8.30am-11pm. Winter (November 1st-March 31st) 8.30am-7pm. Last entry always 30 minutes before closing.
Cost of Doges Palace: €25. €13 for children 6-14, students 15-25 and people over 65.
9. Galleria L'Accademia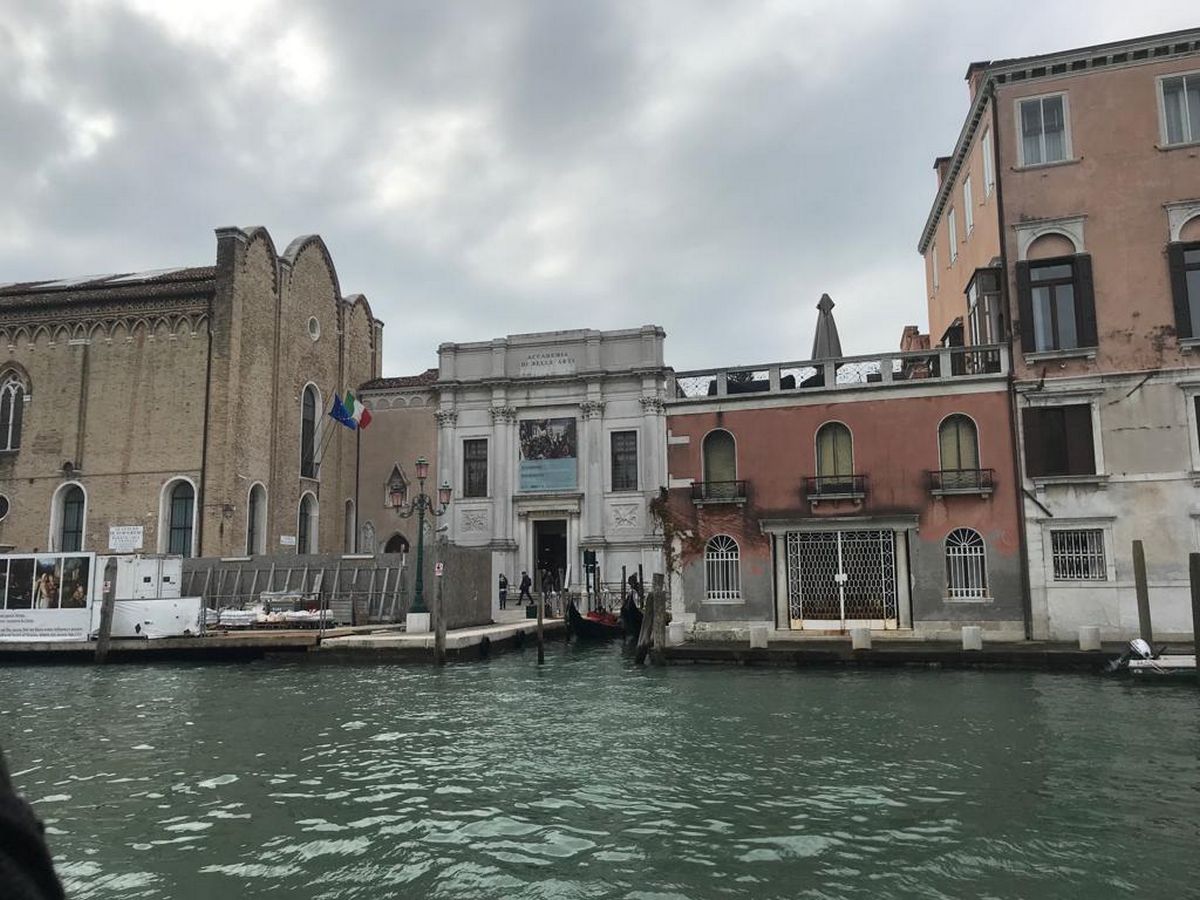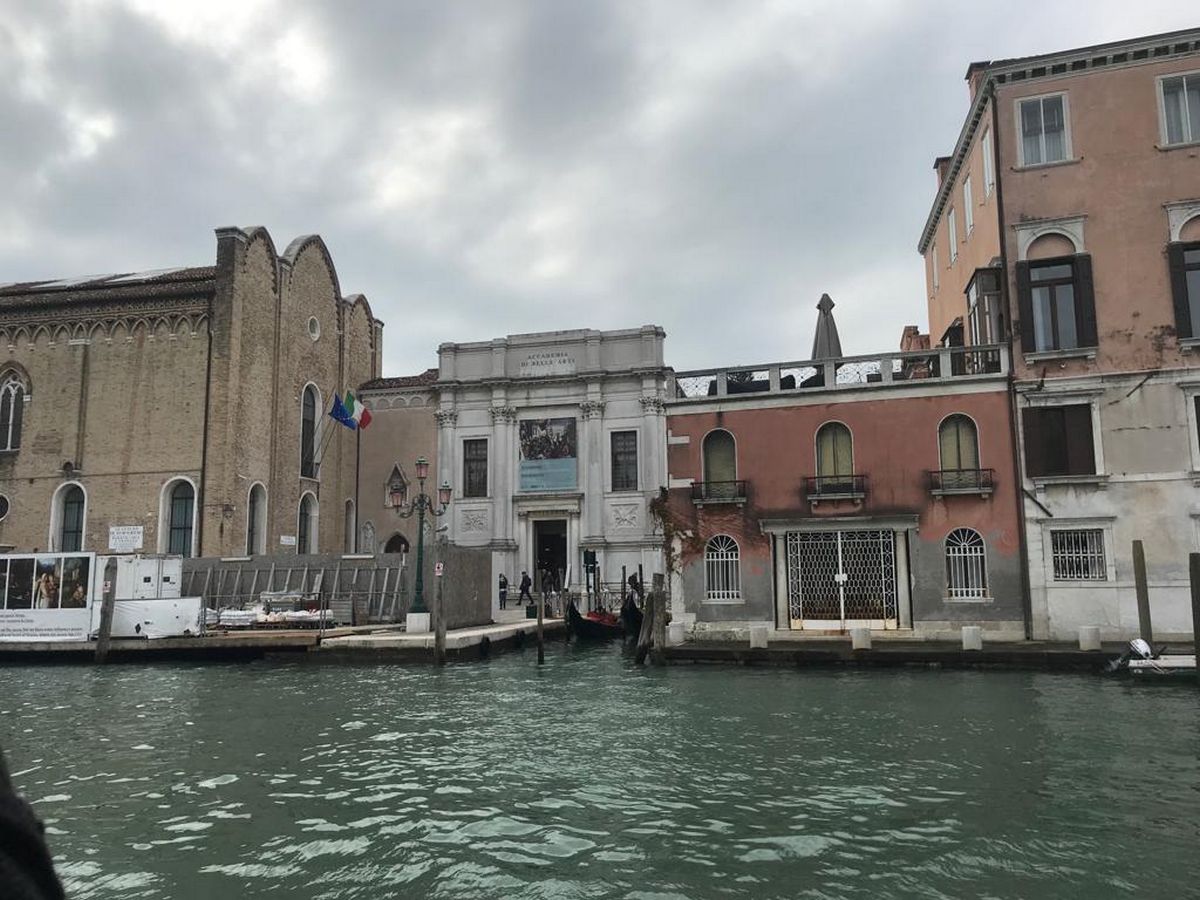 The largest collection of Venetian art is housed at the Galleria L'Accademia and no art lover's trip to Venice would be complete without a visit.
There is a multitude of permanent exhibitions with art by artists including Bellini, Tiziano, Canaletto, Carpaccio, and Veronese. The main theme is traditional Venetian art with subjects mainly including religion, Venetian life, and portraits of important residents.
Hours: Tues-Sun 8.15am-7.15pm, Mondays 8.15am-2pm.
Cost: €15 (€1.50 booking fee online), €2 plus €1.50 exhibition fee for 18-25 year olds, free plus €1.50 booking fee for under 18s, people with a disability, students and academics.
10. St Mark's Campanile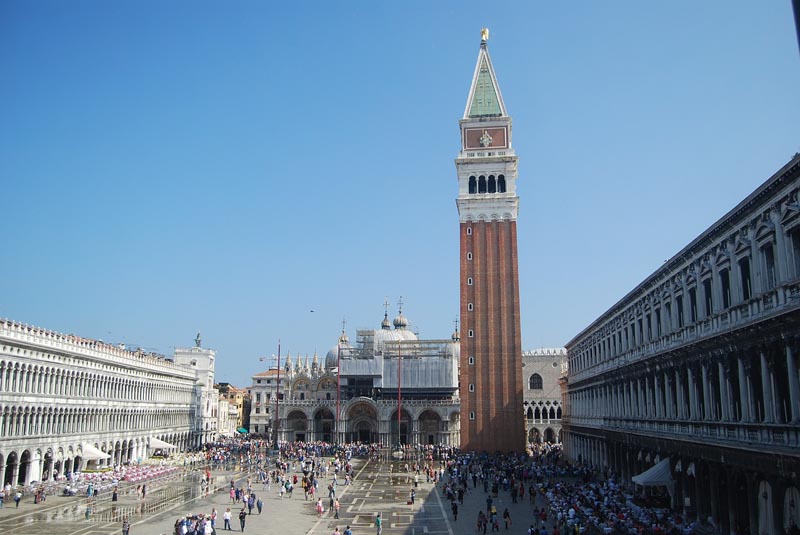 The 12th-century tower of St Mark's Campanile (rebuilt in the 16th century) stands at 323ft tall and gives a commanding view of the famous square from the loggia belfry. Its spire used to be a lighthouse for shipping and it was the prototype for the lagoon area Campaniles.
It still has one of its five original bells as the others were destroyed when the tower collapsed in 1902. The other bells have been replaced, and are still rung. A golden statue of the archangel Gabriel holds court on top of the tower. Go up to the top for a great view of Venice.
Hours: March, April, October 9am-7pm, November-February 9.30am-3.45pm, 13 June-12 September 8.30am-9.30pm.
Cost: €8, €4 for students.
Tour Saint Mark's with your skip the line tickets.
11. Murano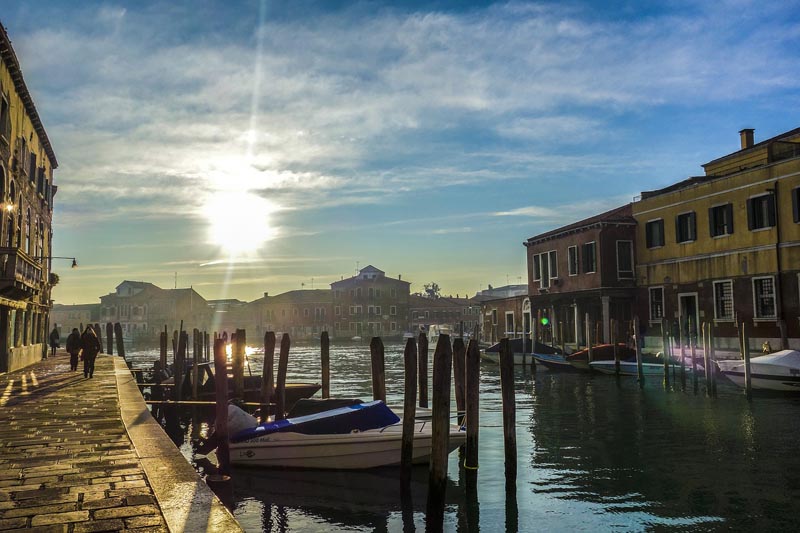 Murano is one of the beautiful islands in Venice full of colorful houses and small restaurants lining the waterfront. Although tiny, Murano has gained worldwide fame, as this is the authentic home where Murano glass is made.
Murano glass is one of Venice's most popular souvenirs, and to be sure you're buying the real deal, you can get at The Museo del Vetro – Museum of Glass. The museum shows tourists how the process is done and afterward, you can purchase some of the goods if you like. There are even glass blowing classes available if you'd like to learn a bit of the art yourself.
Hours: Murano island: Check vaporetto times for first and last landings as this changes frequently. Glass Museum: Summer April 1-October 31 10.30am-4.30pm, winter 10.30am-4pm.
Cost: Vaporetto to island: €7.50 each way, or included in €20 24-hour ticket. Museum: €14, €11.50 children 6-14, students 15-25 and people over 65, under 6 years is free.
Getting There:
It is easy to get there by vaporetto. Just hop on at San Zaccaria if you're near St Mark's Square, and also many other stops connect here.
Tickets are €7.50 each way, or €20 for a 24-hour pass, which you can use to any other stop you like too.
If you're staying on the main island be sure to double check the times of the last vaporetto going back in the evening as they don't run late, and stop earlier on Sundays and holidays.
12. Murano Glass and Glass Blowing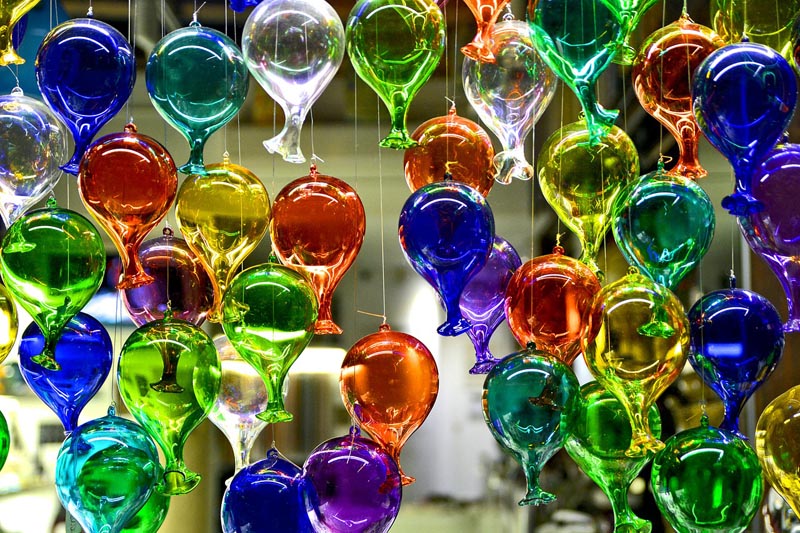 The art of glass blowing is one of Venice's signature crafts. It has been practiced in Venice since the thirteenth century, and in Murano in particular.
Like champagne in France, Murano glass should technically only be sold if it was created in a factory in Murano. There are many, many "fake" Murano pieces available around the world, and even in Venice itself to buy. Shops selling certified Murano glass will have certifications to proudly show you this.
Hours: Original Glass factory 9.30am-4pm. multiple private tours available too at set times between 9am-5pm.
Cost: €5, free for under 14s. Private tours prices vary.
13. Burano
For something different on your visit to Venice, a trip to Burano is the lesser-known sister island to Murano. It is a stunning island to stroll around, admiring the facades of the building in one of the top ten most colorful towns in the world.
A great day trip in Venice is to visit Burano and Murano together. Burano is known for its brightly colored houses belonging to local fishermen.
Things to do in Burano
Its specialty of Burano is lace making. The Museo del Merletto showcases lace-making in the area with exhibitions on how it has been made there for centuries.
Food – Friendly trattoria buranella (Burano taverns) line the waterfront, along with small local shops selling clothes and linens made on the island from lace.
Church of Saint Martin – Chiesa de San Martino – Beautiful churches to visit and there's a leaning bell tower from the 1600s.
Risotto de G0 – Before you leave, sample the local fish risotto "risotto de go" (go means goby, making it with the stock of the fish from the nearby lagoon),
Bussolai Buranei – If you have a sweet tooth try the cookies "bussolai buranei" for some homemade buttery goodness.
Hours: Burano island: Check vaporetto times for first and last landings as this changes frequently. Museum: Nov 1-Mar 31: 10.30am-4.30pm, April 1-Oct 31: 10.30am-5pm.
Cost: Vaporetto to island: €7.50 each way, or included in €20 24-hour ticket. Museo del Merletto: €5, €3.50 for children 6-14, students 15-25, over 65s.
14. Isola di San Michele – The Cemetery Island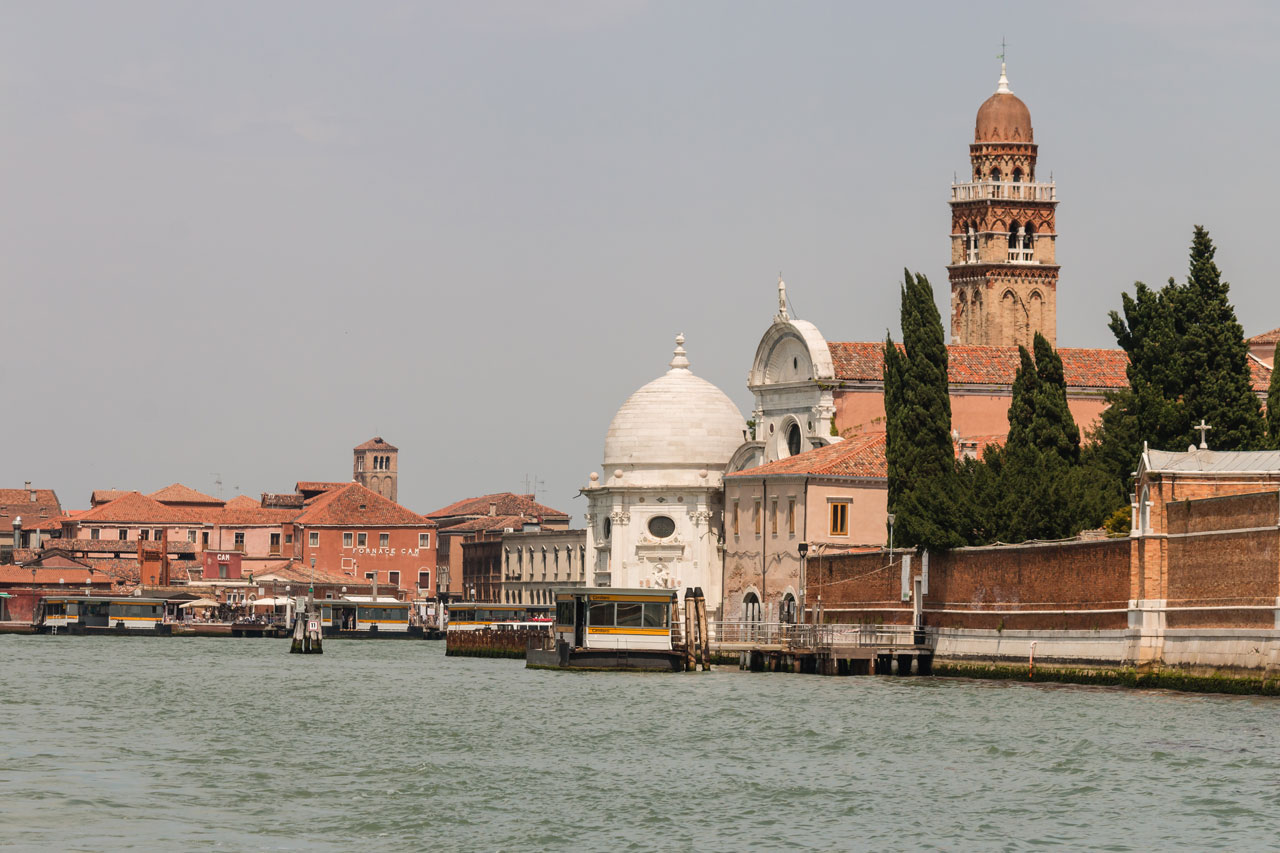 If you've been to Venice before and want to visit somewhere a little different than the usual tourist haunts, you can check out the Isola di San Michele – the cemetery island of Venice.
This is located in the lagoon and has served as the cemetery since the early 1800s. It used to be two islands, which are now joined together. The island is occupied entirely by churches.
Isola di San Michele is dedicated to the dead with their remains interred in high tombs above ground. There are many famous people buried in San Michele such as Russian composer Igor Stravinsky, American Poet Ezra Pound and Austrian physicist Christian Doppler who invented his principle the Doppler effect.
Churches to visit:
Chiesa San Michele di Isola from 1469. It is the largest church and takes time to see.
The adjoining Capella Emiliani
The smaller church San Cristoforo are also charming.
Please remember this is a cemetery that is used frequently by locals. Be quiet and respectful as there could be families there grieving and visiting their recently departed loved ones.
Hours: Summer (April-September) 7.30am-6pm, winter (October-March) 7.30am-4.30pm. Chiesa di San Michele is open on weekday mornings.
Cost: Free for the cemetery in general, €1 for the San Michele church. Vaporetto over to the island costs €7.50 each way or included in a 24-hour pass.
15. San Giorgio Maggiore
On our most recent trip to Italy, we took a private taxi water tour of Venice with Walks of Itay and it was an amazing way to see Venice. After leaving the Grand Canal, our tour ended with a stop at the island of San Giorgio Maggiore where we took an elevator to the top of the bell tower of the church of San Giorgio Maggiore.
Make sure to go here for the most jaw-dropping view of Venice. It's the spot where postcards are made and as the bells rang, we looked out and admired our 360-degree view of all the islands surrounding the city.
16. Classical Concerts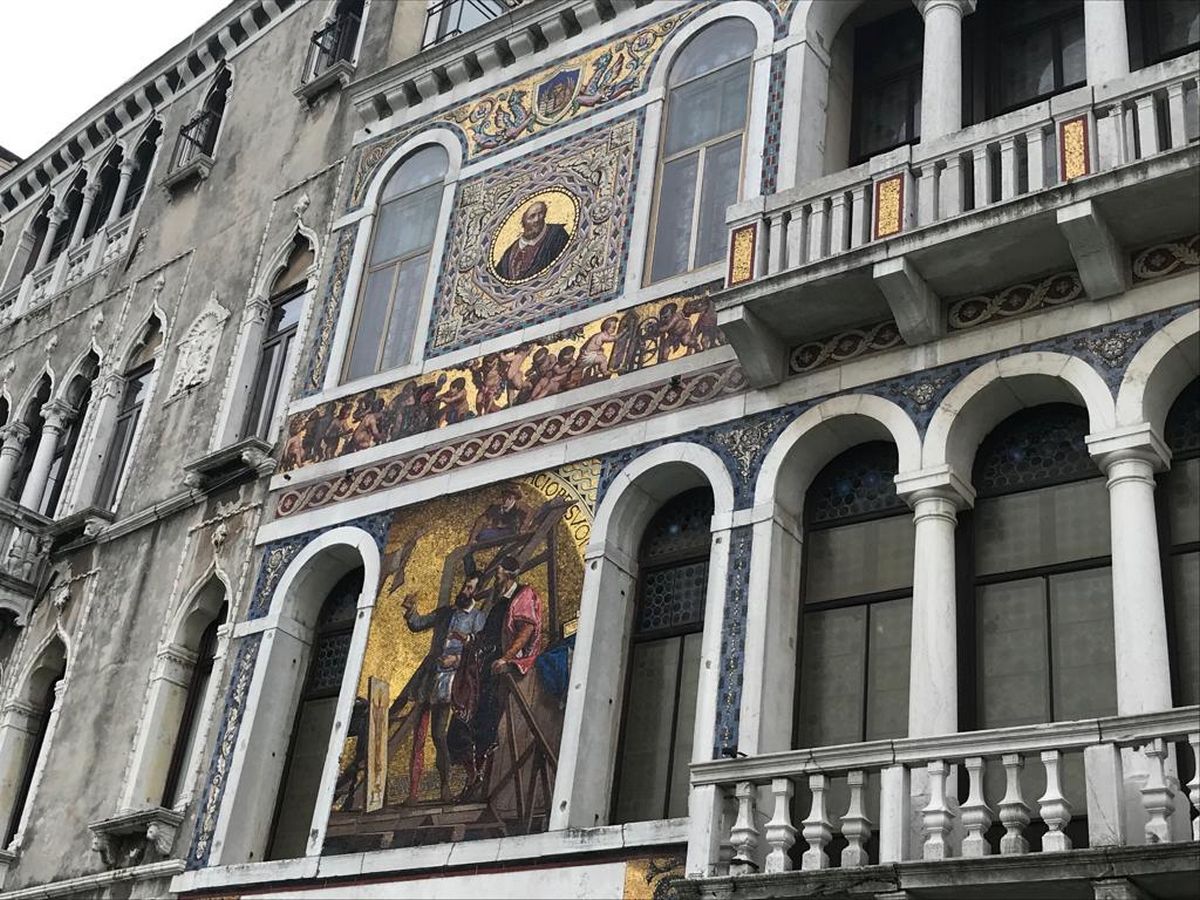 Venice has always been a hub for the arts and still is wonderful place to experience live classical music concerts.
The settings for the concerts can often be almost as impressive as the performance as concerts are held in some of Venice's stunning theatres, old grand palazzos, music school halls, and churches.
Booking online before you go for the Palazzo and Scuola venues is wise as concerts often sell out, especially in summer. However, quite a few of the smaller churches around Venice that don't have websites do have performances on regularly, so it's worth keeping an eye out for these as you walk around.
You can often find some gems of small authentic performances, which are usually also much lower prices. Or better yet, wander the streets of Venice and get lost while following the sound of music.
Best Places to theWatch a Concert in Venice:
The mansion Palazzo Barbarigo-Monotti
School Scuola Grande de Teodoro
Chiesa di San Vidal Church
Santa Maria della Pieta Church
Hours: Concerts usually start between 7-9pm and last 2-3 hours.
Cost: From €20 to €100 depending on performance and venue.
17. Wine or dine along Grand Canal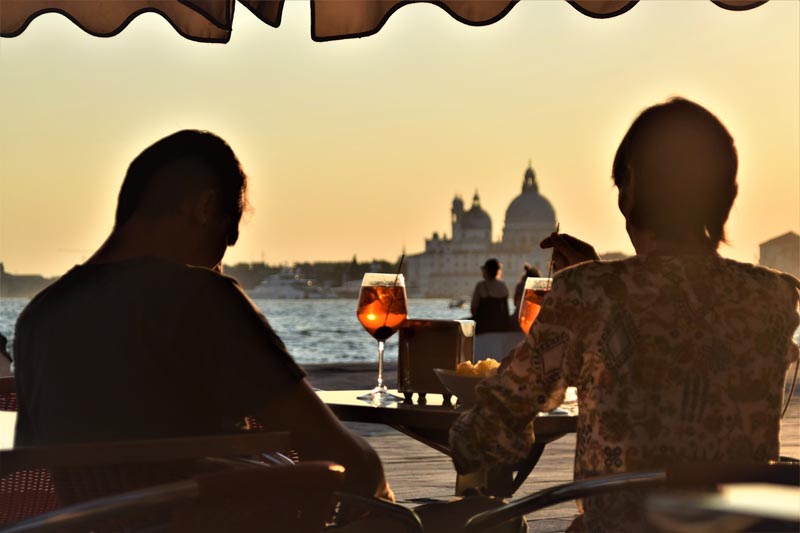 The Grand Canal is the largest canal that weaves through the main island of Venice. Many of Venice's most prestigious hotels are located along its banks. There is a glut of restaurants all along the canal, many with price tags higher than the quality of food should allow.
However, right by the Rialto Bridge on the St Mark's Square side, there are a handful of restaurants with very nice seafood, and reasonably price fixed price "tourist" menus, that actually have good food.
Another way to enjoy the Grand Canal is to simply sit with a coffee by day, or my favorite is to have an Aperol Spritz at the golden hour. This is a great place to watch the sunset as Venice changes from day to night.
18. Pizza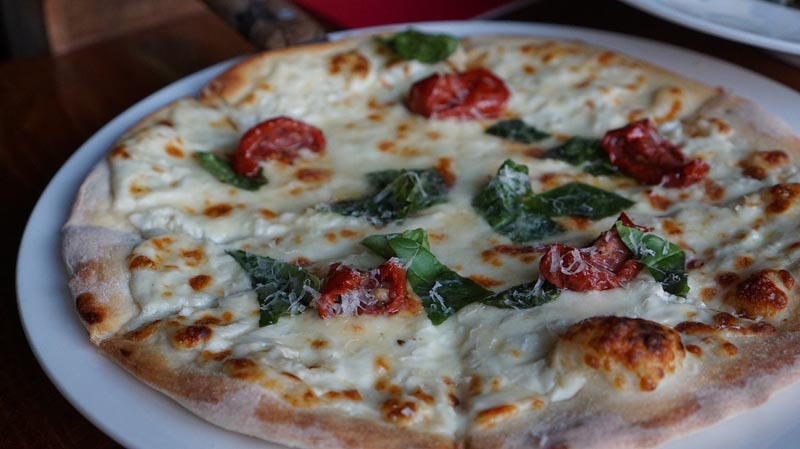 One of Italy's greatest achievements is pizza. The birthplace of pizza is Naples, but Venice also has a lot of fantastic pizza on offer, with some toppings created for the area with local ingredients.
Two of my favorite places to have pizza in Venice are Birreria la Corte in located in Campo San Polo, and has a casual, family feel in an old brick building with a courtyard. And Jazz Club Novecento (900) is tucked into a tiny side street just a 10 minute walk from St. Mark's Square.. The ambiance is a 1940s jazz style with lots of memorabilia around the walls.
Hours: Birreria la Corte 12pm-3pm, 6pm-10.30pm, seven days a week.
Hours: Jazz Club Novecento 11.30am-4pm, 7pm-2am, every day except Monday.
Cost: Around €10-€15 for a restaurant pizza in general in Venice, including in the places mentioned.
19. Taste Venice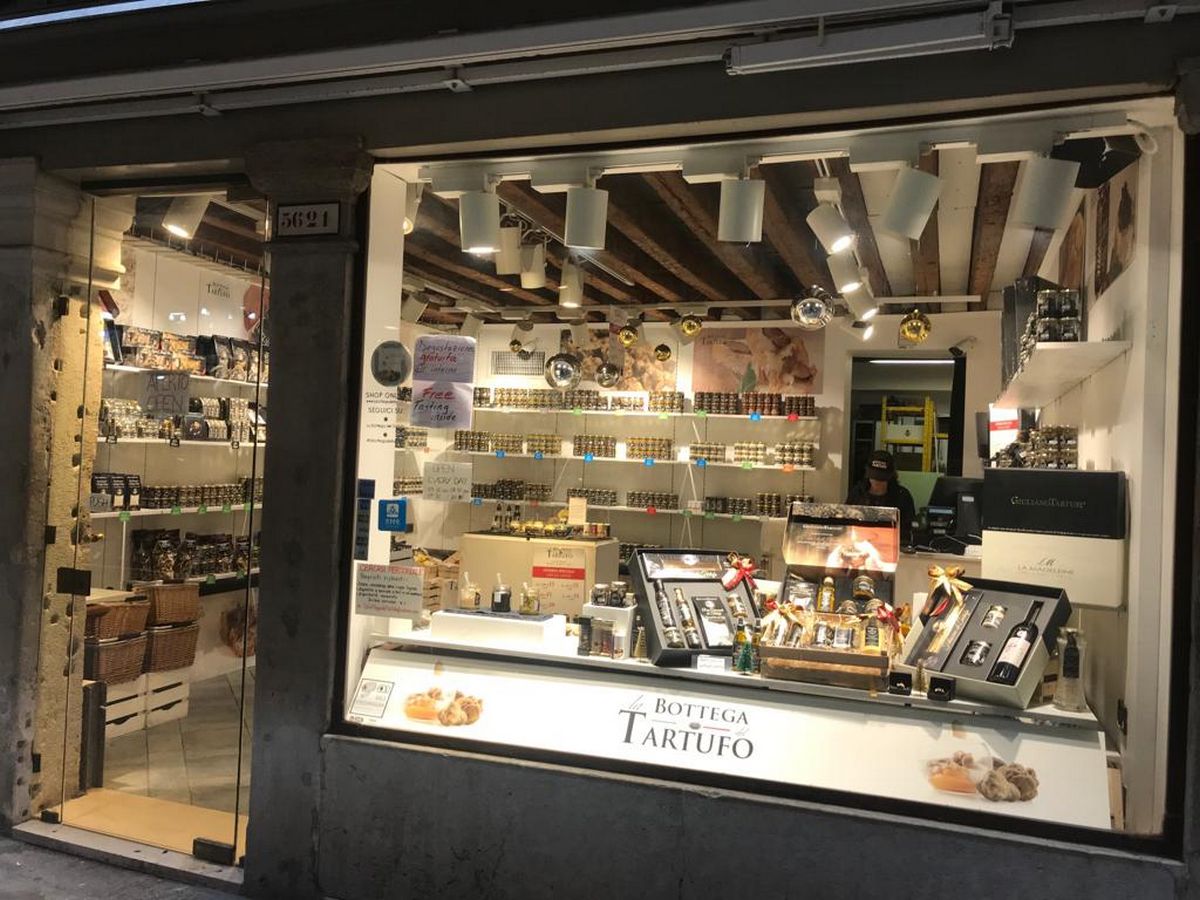 Italy is famous for its food. On my most recent trip to Venice, I discovered some stores that sell lots of local products and give generous tastings!
Nino and Friends has two stores in Venice and in both friendly staff offering you plates of sweets. They even have a corner of the store dedicated to truffle products. The chocolates make great gifts for friends or yourself.
La Bottega del Tartufo: The shop of truffles – is all about, you guessed it, truffles! If you are a truffle fan you'll love this place. If you've never tried anything truffle, then this is a great way to sample various products with them in it for free.
Hours: Nino and Friends 9.30am-8pm. La Bottega del Tartufo 9.30am-8.30pm.
Cost: Tastings are free. To buy varies depending on product, but chocolates are from about €8 a box, and truffle products from about €10.
20. Fondamenta della Misericordia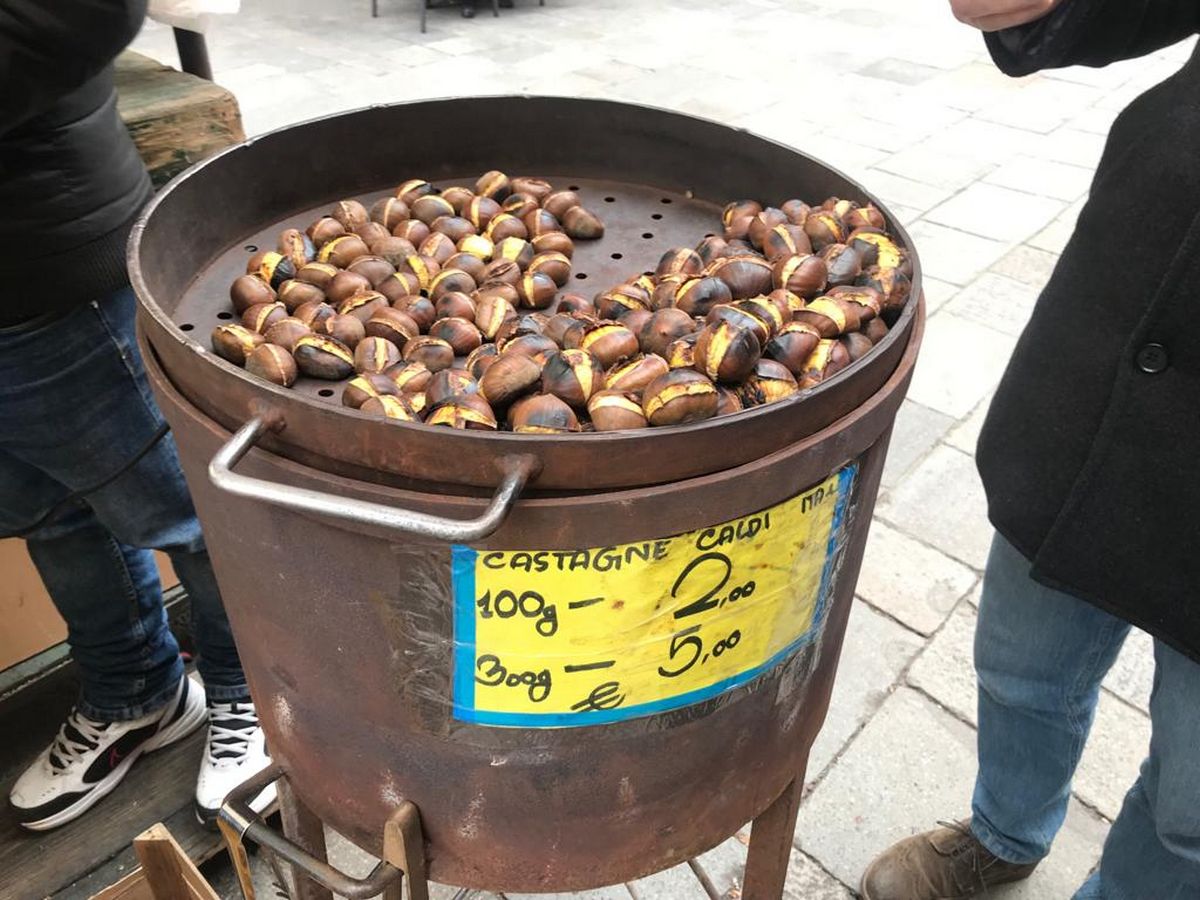 The long street Fondamenta della Misericordia – the Foundation of Mercy – is located in the Cannaeregio area just a few minutes walk from Piazzale Rome. It is full of small family-run trattorias with priced fix price menus, little stores selling many types of limoncello liquor, souvenirs, and of course, several ancient churches.
The market winds along most of this mile-long passageway and sells everything from leather purses and Venetian masks, to roasted chestnuts in winter and homemade fruit popsicles in summer.
21. Venetian Carnivale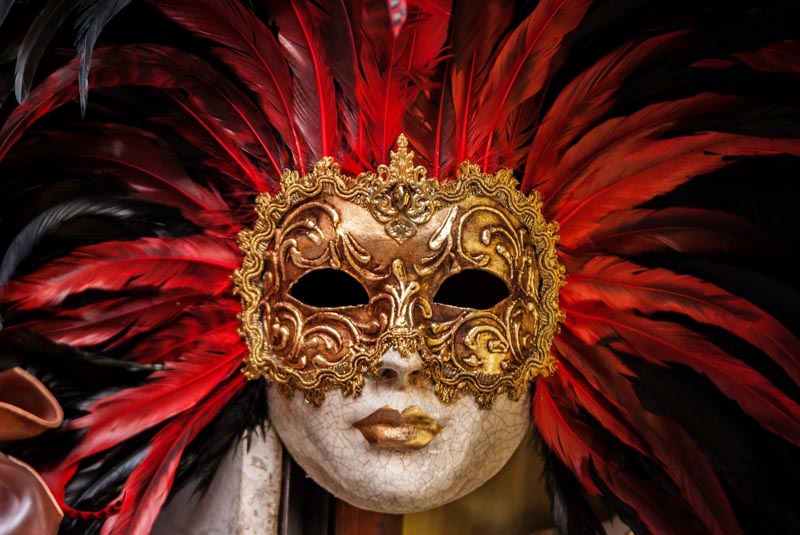 The Venice Carnevale has been held for centuries, with it being the most popular carnival in the world in the eighteenth century. The Carnevale takes place in February every year for almost three weeks.
Throughout the festival, there are many grand balls, parties, and gatherings. Many locals spend all year preparing their costumes for it, carefully tending to centuries-old costumes passed down the generations.
Visitors can join in the revelry and can rent or wear locally bought outfits. Beware! jeans will be snorted at! If you're in Venice while it is on, look up events, dress up and join in! You'll feel like you're back in the days of Casanova and the great Palazzos.
22. Venetian Masks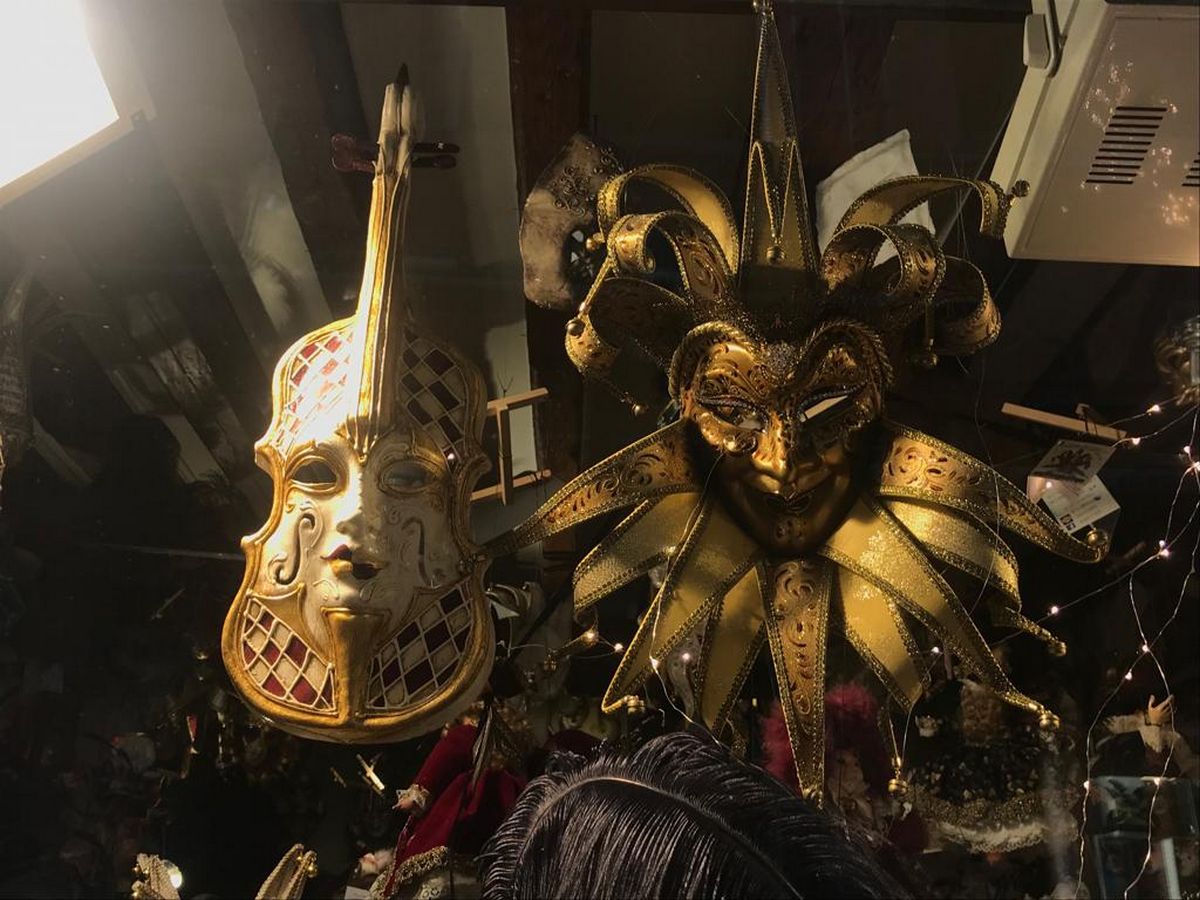 Venetian masks were invented in the city and have been used for centuries. Their principal purpose was to protect the wearer's identity during promiscuous or decadent activities. They re-emerged as the emblem of the Venetian Carnevale.
At a masked ball, servants could be mistaken for lords and vice versa, and people could say their opinions on any topic without fear of retribution.
Commedia dell Arte, and Carnivale masks – The Art of Comedy masks represent trades, characters and ethnic traditions from around Italy dating back to the sixteenth century.
Prices vary dramatically depending on quality with plastic factory-made ones starting at about €6, going up to hundreds of Euros for fancier pieces with more ornate designs and decoration. This would be my top pick of a Venetian souvenir to get.
Hours: Stores and stalls selling masks generally 9am-9pm.
Cost: From €6 up to hundreds depending on quality.
23. Venice Churches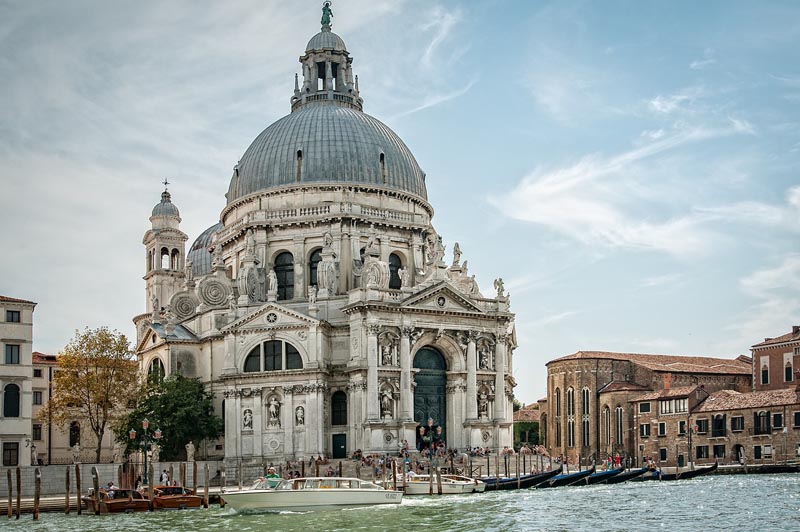 Venice, like all cities in Italy, is full of beautiful churches. As you stroll around the city, you'll come across many of them. My advice is to go into any you see that are open and explore.
The strong influence of Roman Catholicism in Italy is prevalent within their walls seeing the sumptuous décor, windows, domes, and art around them. Even the smallest, most modest looking church is intricate and enchanting.
Some of the prettiest lesser-known churches in Venice to look out for are;
Chiesa di San Zaccaria with its glowing altarpiece by Bellini
Scuola di San Giorgio degli Schiavoni with its Carpaccio paintings
Chiesa della Madonna dell'Orto with its Renaissance art and statue of the Madonna and Child.
Hours: Churches usually open from about 10am-sunset. Closed to visitors during services.
24. Venice Italy Museums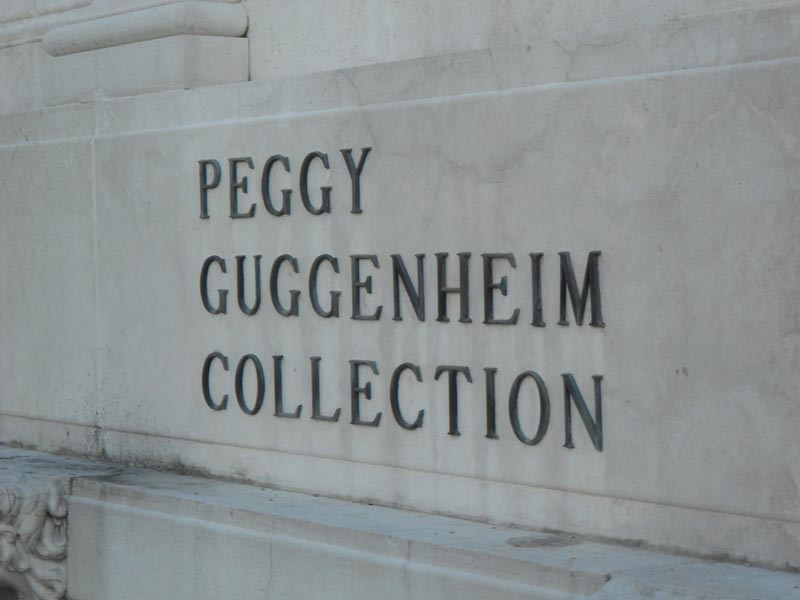 If you have several days in Venice, browsing the museums is a wonderful way to pass some time or avoid crowds when the cruise ships are in.
Not-to-miss Venice museums are:
Gallerie dell accademia
Peggy Guggenheim collection
25. Get Lost in the Streets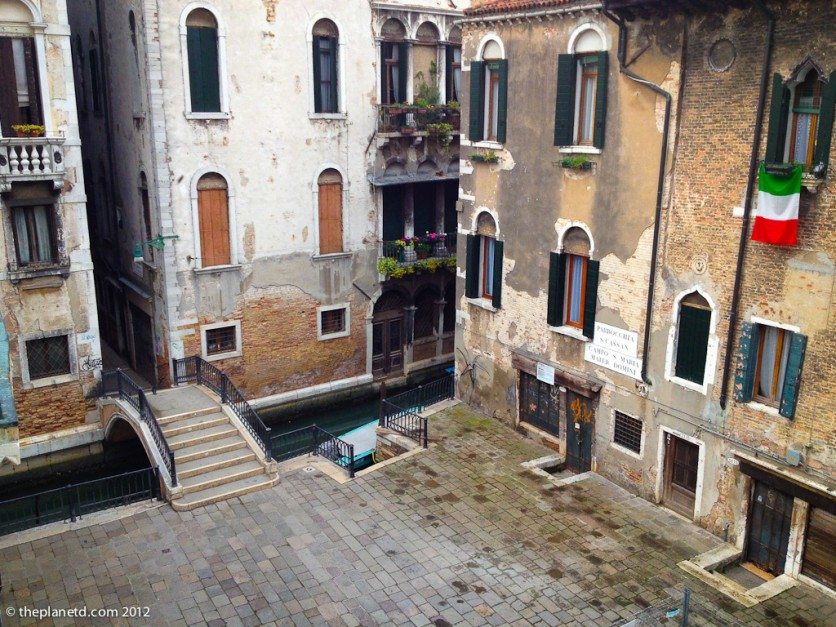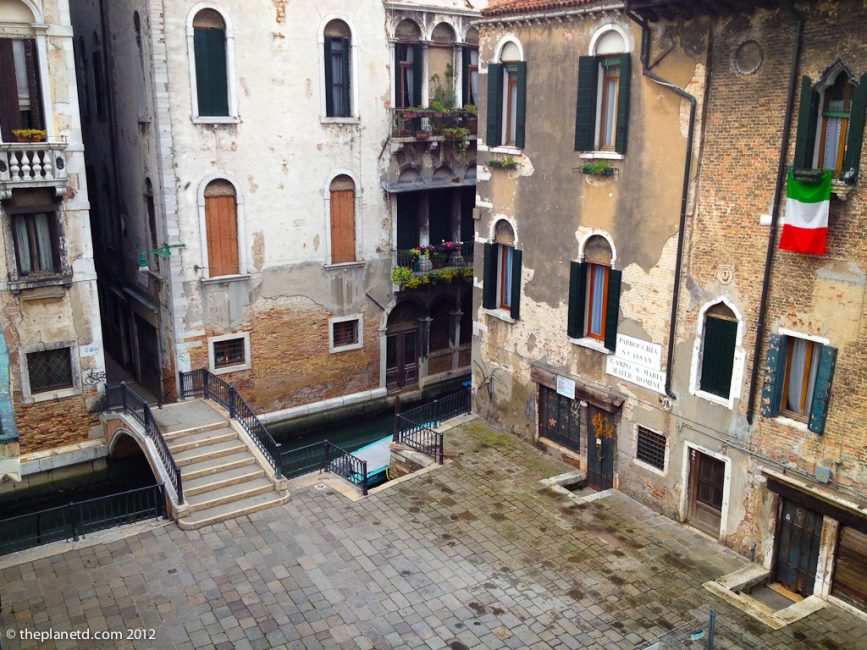 Venice if famous for the Grand Canal and smaller back canals, but the streets are just as impressive. The entire city is a walking city as no cars are allowed. Get lost in the streets while searching for shops and cathedrals. Search for street performers and Venetian Masks. Part of the fun of a visit to Venice is going off the beaten path.
While cruise ships and day tourists will stick near the Grand Canal, you can stay away from the crowds as you walk through the cobblestone streets.
So there are my top things to do in Venice! I hope you enjoyed them and that this helps you find a few more places and experiences to enjoy in the stunning city.
Venice is beguiling and beautiful. It's light has charmed artists for centuries and I'm sure it will charm you too. To me, this quote about Venice by British poet and critic Arthur Symons sums it up perfectly:
"A realist, in Venice, would become a romantic by mere faithfulness to what he saw before him."
Read More About Venice:
Check out more about Italy Travel