Is 3 days in Venice enough? This is something we are often asked. So we put the question to our Venice expert Karen Worrall, who shares her perfect three-day Venice itinerary.
The Perfect 3 Days in Venice Itinerary
THERE ARE SOME AFFILIATE LINKS IN THE POST BELOW WHERE THEPLANETD WILL EARN A COMMISSION IF YOU MAKE A PURCHASE BUT THERE IS NO EXTRA COST TO YOU!
---
How many days should you spend in Venice?
You can see many of the main Venice attractions in 1 day if you only explore the Saint Mark's and Rialto area, but to really appreciate Venice, 3 days is recommended.
What time of year should you visit Venice?
March-May) and September-November provide the most pleasant temperatures plus March and April are good times to visit before the summer crowds. Read more Venice tips.
---
About this Venice Itinerary
Looking for the perfect 3 day Venice itinerary? Well, look no further.
Since it isn't a huge city, you can see its main sites within three days in Venice.
I'll guide you through the best and most interesting sites to see, and how to do it in a way that saves time on traveling around.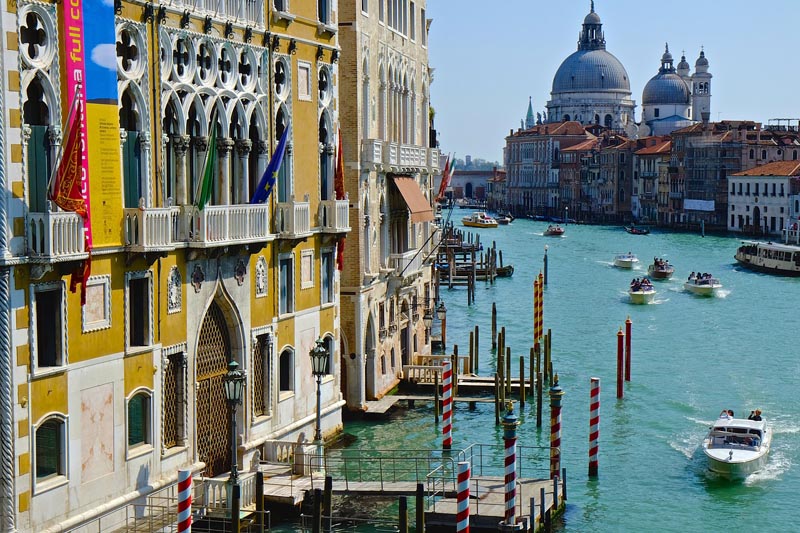 Venice was where we based ourselves on my first trip to Italy at aged two. While I don't consciously remember that, I think it got into my blood then, as I've been back many times since.
As you arrive in a vaporetto sailing in towards Saint Mark's Square, it feels like you are actually IN a Canaletto painting of three centuries past.
That's when its magic hits you, and it never leaves.
Money and Time Saving Tip in Venice
The best way that you can save money and see all of the sites is to get yourself a Venice City Pass from Get Your Guide
You can get it for Your 24, 48 or 72 Hour pass includes all of these and more:
Enjoy free rides on the city's water taxis and buses
Entrance to Doge's Palace, Correr Museum (Museo Correr), Venice National Archaeological Museu, Biblioteca Marciana.
Also, take advantage of entrance to 16 of the city's most beautiful churches.
Instant confirmation with printed or mobile vouchers accepted and free cancellation with up to 24 hours notice
For a more detailed outline see: the Venice City Pass Details here.
I've created this itinerary in a way to maximize your time in Venice and see as much of the fantastic sites in a relaxed way to enjoy quality time there.
Venice is a safe city, with very little crime so don't worry if you get a little lost now and then.
If you have Internet, keep Google maps on hand for finding your hotel, or that restaurant you want to try, or quirky mask store.
One of the things I love most about Venice is finding the tiny streets off the main routes, as that's where you often find the most local character.
Where to Stay in Venice
If you are looking for some more varied areas make sure to check out my Venice neighborhoods guide by clicking the link.
Here is an interactive map (just click on it to open in another window) that will help you see what kind of distances you will be covering as well as where everything is in relation to each other.
3 Days in Venice Walking Tour Map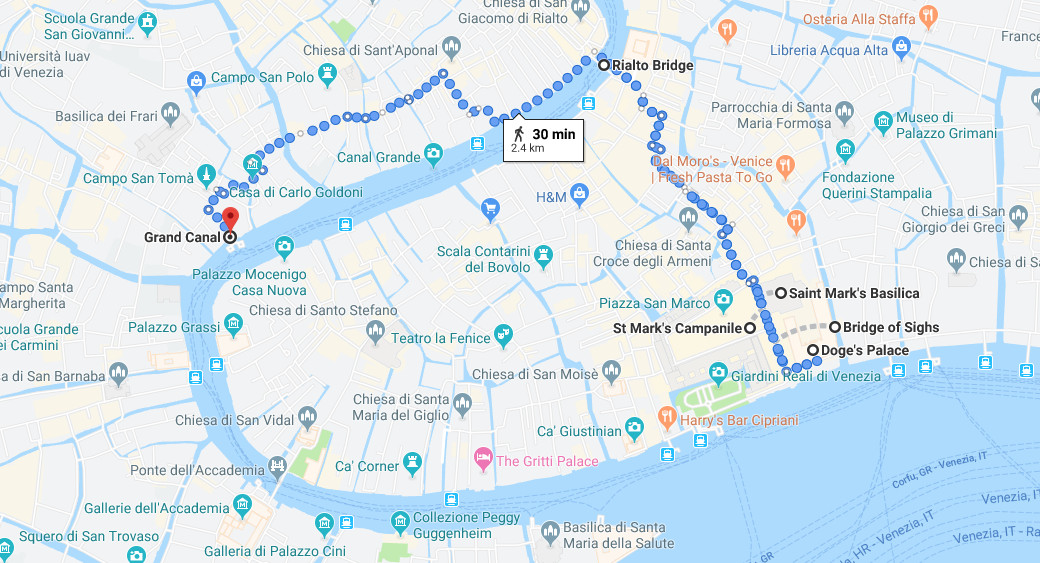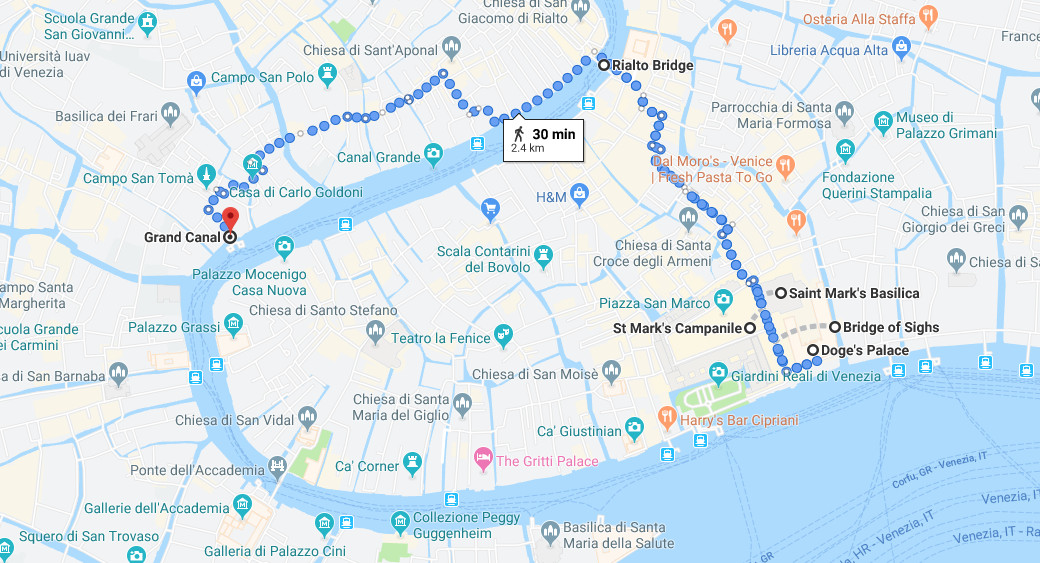 Click here for the Interactive Map
This should make it easier to plan out your 3 Days in Venice Itinerary.
Day 1 in Venice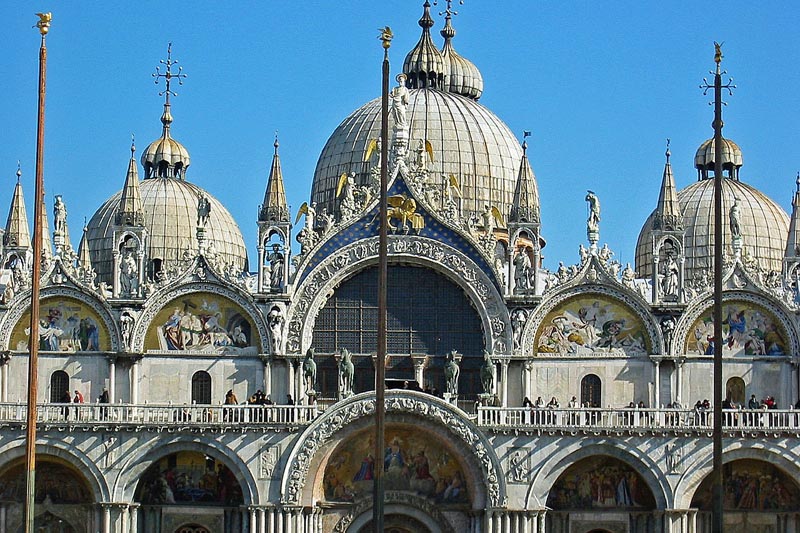 Saint Mark's and Rialto
Saint Mark's Square is the epicenter of Venice. It is where the main gatherings, parties and events have been held for centuries.
Therefore we'll begin our first day exploring the iconic square and the attractions around it.
In the afternoon we'll head over to the famed Rialto Bridge to meander through its shops, and the stalls of the adjacent Rialto Market and end the day with dinner along the Grand Canal.
Suggested Hotel
Just 71 m from Piazza San Marco and 100 m from Harry's Bar, Hotel Casanova is set in an 18th-century building in the center of Venice.
It offers free WiFi throughout.
1. Saint Mark's Basilica – Basilica di San Marco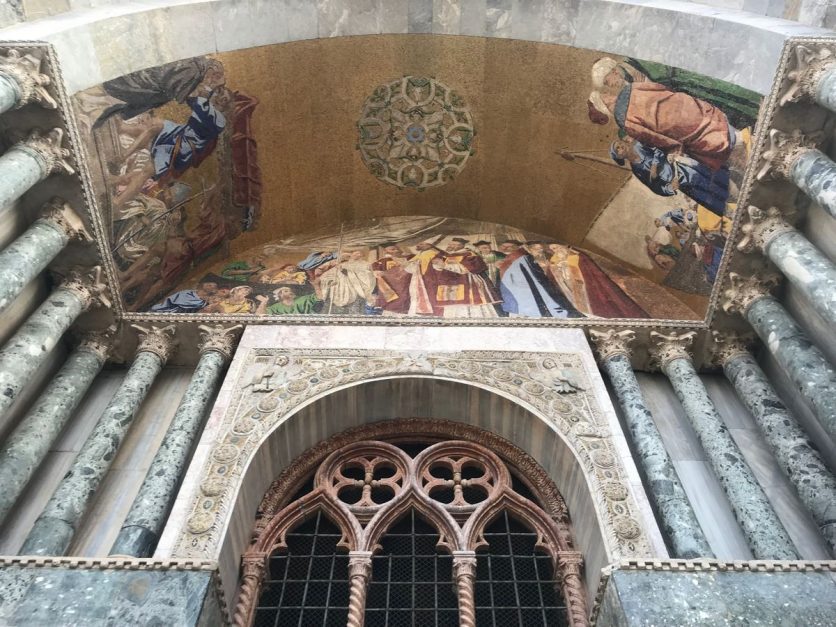 Saint Mark's Basilica holds pride of place at the end of Saint Mark's Square. A visit here is a Venice must.
This intricately designed church is covered with impressive mosaics, gold leaf design and has grand statues of apostles around it and equestrian statues keeping sentry on top.
Some highlights inside are visiting the Treasury, which holds Venice's most important religious relics, and the Pala D'oro, a Byzantine golden cloth.
Tips for visiting Saint Mark's Basilica
Lines are long in summer, but visiting early or late is quieter.
Backpacks and luggage cannot be brought in and bare knees and shoulders must be hidden.
Photography is not permitted inside the church
Hours: Church Mon-Sat 9.30am-5pm (last entry 4.45pm), Sun 2-5pm (after services). Museum, Treasury and Pala D'oro 9.35am-5pm summer (April 16-October 28), 9.45am-5pm winter (October 28-April 15).

Cost: Free for the main church, and €5 for the museum, €2.50 children 6-18 years, free under 6. Treasury €3, €1.50 for children, Pala D'oro €2, €1 for children.

Location: Saint Mark's Square.

Vaporetto Stop: San Marco or San Zaccaria
2. Campanile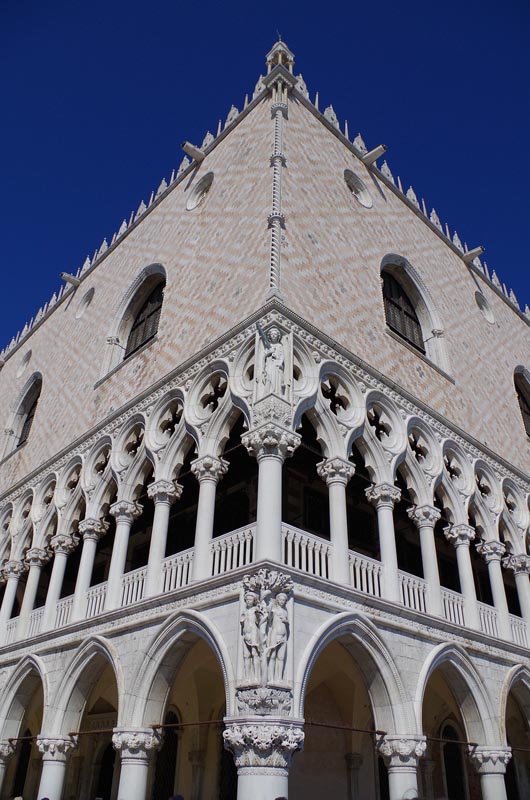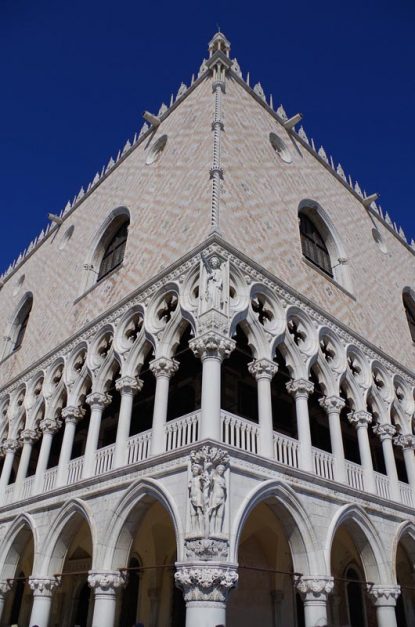 Once a lighthouse for ships coming into Venice, Campanile, the city's most famous bell tower stands at 323ft tall, being the tallest structure in the Saint Mark's Square.
Climb the steps to the loggia belfry for a wonderful view of the square, city and surrounding lagoon.
Originally built in the 12th century, and rebuilt in the 16th century, it still has one of its original bells. All five are still rung daily.
A statue of the archangel Gabriel adorns the top.
This was the prototype for the other campaniles in the city, and is an iconic place to visit and view Venice from.
Hours: March, April, October 9am-7pm, November-February 9.30am-3.45pm, 13 June-12 September 8.30am-9.30pm.

Cost: €8, €4 for students.

Location: Saint Mark's Square

Vaporetto stop: San Marco or San Zaccaria
As you leave the Campanile, you are already in our next stop, Saint Mark's Square.
As you leave the Campanile, you are already in our next stop, Saint Mark's Square.
3. Piazza San Marco with Coffee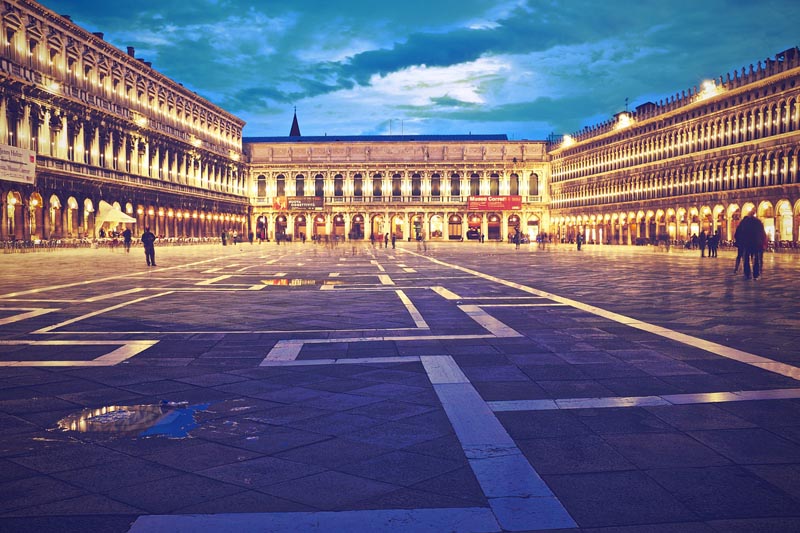 No trip to Venice would be complete without visiting the Piazza San Marco. Often called the world's most beautiful square, it is easy to see why as soon as you lay eyes on it.
Grand buildings, monuments, a clock tower and basilica are all around it, with intriguing porticos sheltering unique art stores and pretty cafes.
The ambiance of just being in this iconic square is something you must experience at least once.
Hours: 24 hours
Cost: Seeing the square is free. A hot drink at a café will be around €10-13.
Location: Saint Mark's Square
Vaporetto stop: San Marco or San Zaccaria
4. Bridge of Sighs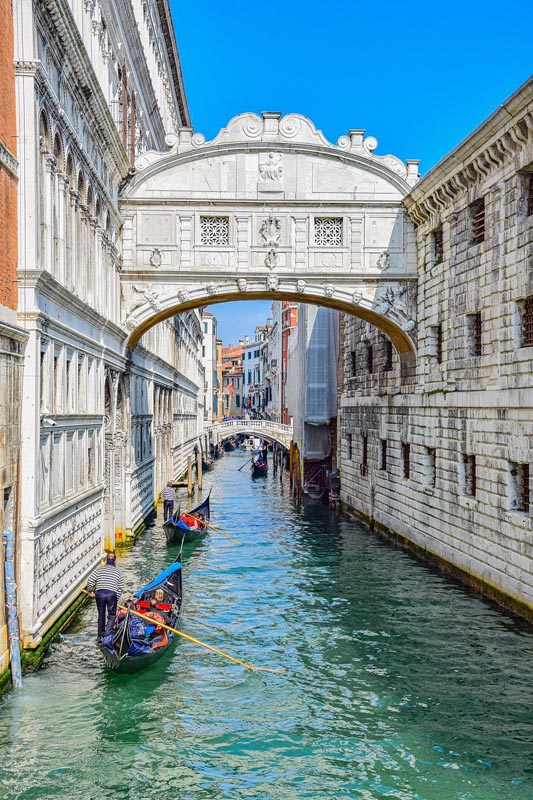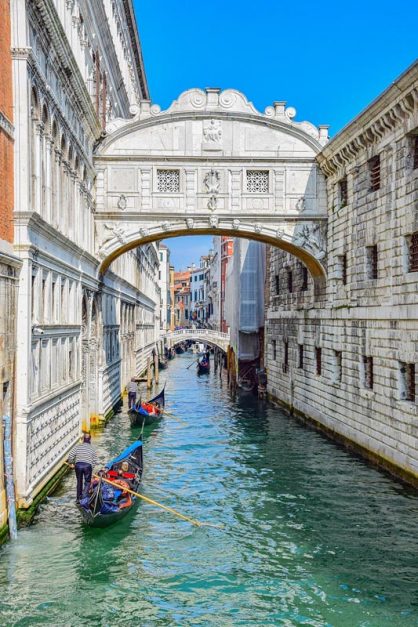 This is probably the most photographed bridge in Venice.
It is a bridge between buildings that you can view from by the San Zaccaria vaporetto stop just around the corner from Saint Mark's Square.
It connects the Doge's Palace and Venice's jail.
The story goes that is got its names as this was the last place that condemned prisoners would taste fresh air before entering the jail for years.
This isn't technically true, but it does make for a good story.
This is a perfect photo stop, for the beautiful bridge itself, and it's setting down a small canal way with the two grand buildings on either side, as well as the fact that many gondolas pass here.
Grab a few photos and then we'll head to our next stop.
Hours: 24 hours
Cost: Free
Location: Waterside by San Zaccaria vaporetto stop
Vaporetto stop: San Marco or San Zaccaria
From here, we walk just around the corner back into Piazza San Marco to the Doge's Palace – the Palazzo Ducale.
5. Doge's Palace – Palazzo Ducale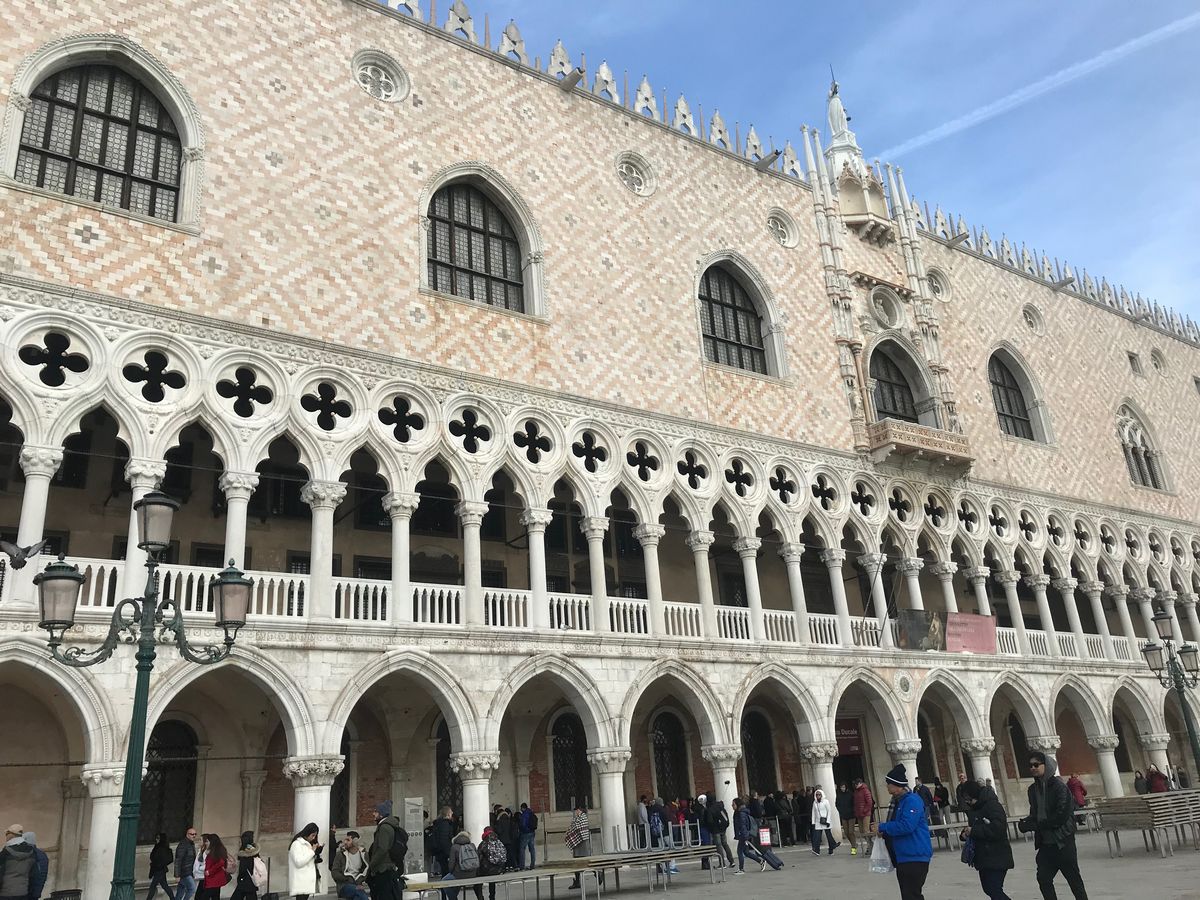 This stunning white stone palace is historically Venice's most important building.
This was the home and headquarters of the Doge – who was the city's head of state as well as religion. You can learn all about this unique powerful position as you walk through the staterooms, galleries, and courtyards..
Important artifacts of Venice's heyday are here, along with an impressive art collection.
Doge's Palace Tips
Your ticket here also allows entry to Museo Correr, Museo Archaologico Nazionale and Biblioteca Nazionale.
Allow at least 90 minutes for your visit to make the most of it.
Hours: Summer (April 1-October 31) Sun-Thur 8.30am-9pm, Fri-Sat 8.30am-11pm. Winter (November 1st-March 31st) 8.30am-7pm. Last entry always 30 minutes before closing.
Cost: €25. €13 for children 6-14, students 15-25 and people over 65.
Location: Saint Mark's Square
Vaporetto stop: San Marco or San Zaccaria
After seeing the impressive palazzo, it's time for something to eat.
6. Snack and stroll to Rialto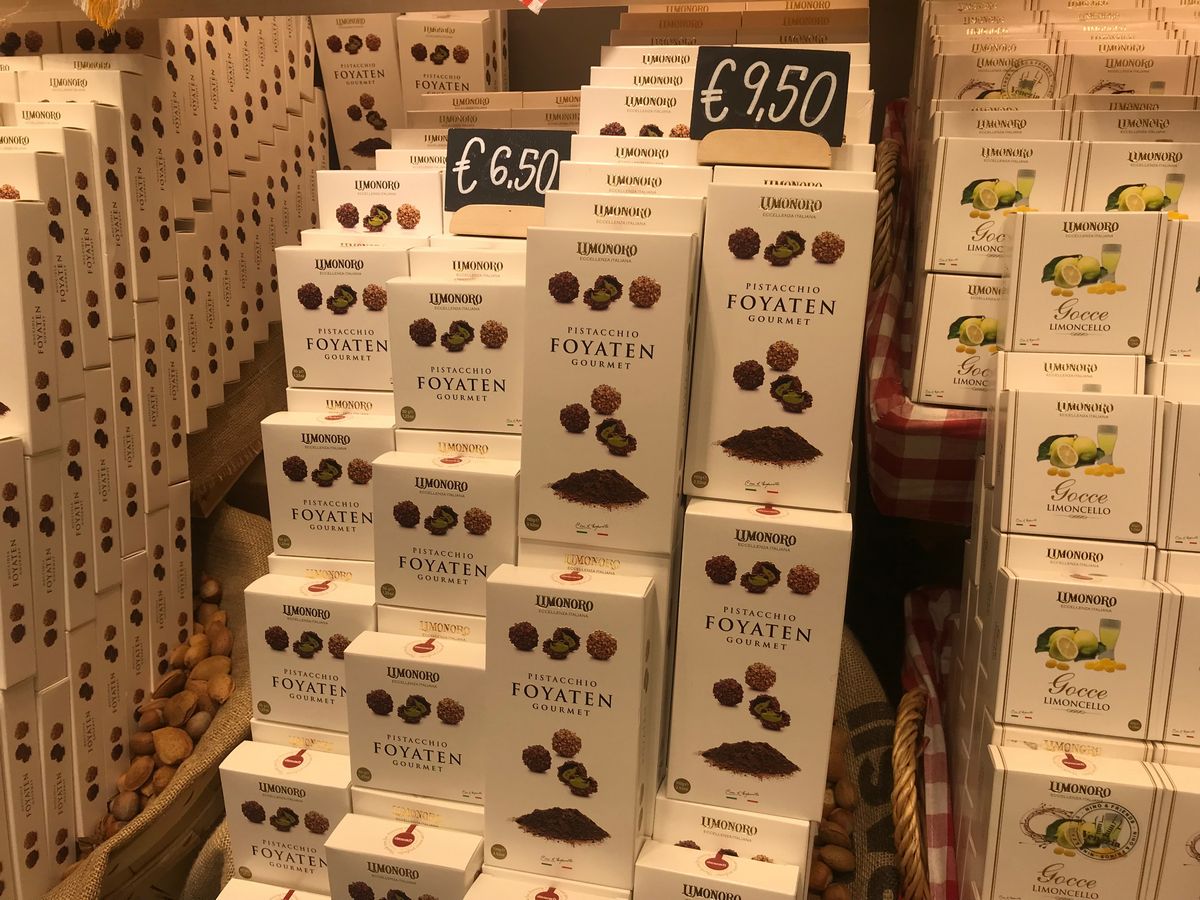 Venice is a city of food – like all Italian cities. You will never have to go far to find something tasty.
Venice Self Guided Walking Tour – for food!
From the palazzo on Saint Mark's Square, follow the signs towards the Rialto Bridge that say – per Rialto.
On this route there are many tiny sandwich vendors where you can grab a hot toasted Panini and cappuccino to keep you going.
Check out Bottega la Tartufo a shop dedicated to products made from local truffles, which offers samples.
Make sure to stop in Nino and Friends too, where they sell all manner of Venetian chocolates and give very generous samples!
Try Venice's best gelato at Gelatoteca Suso. This award winning little ice cream stop has about 30 flavors to choose from. Ask for the crema del Doge – cream of Doge, an amaretto, vanilla and chocolate mix flavor that you can only find in a few places in Venice.
Hours: Snack bars generally 9am-9pm, Gelatoteca Suso daily 9.30am-11.30pm.
Cost: Sandwiches around €3-5. Gelato €2-4. Tastings free.
Location: Walking route from San Marco to Rialto.
Vaporetto stop: San Marco, San Zaccaria or Rialto.
7. Ponte di Rialto (Rialto Bridge)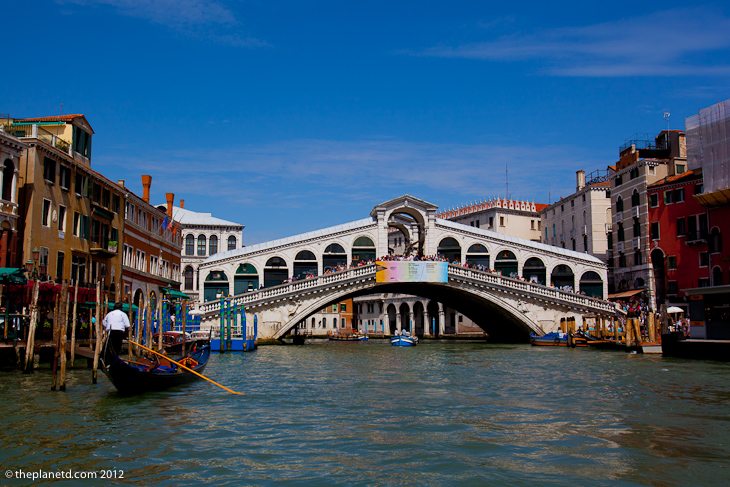 The most famous bridge in Venice and the only one that you can shop on is another Venice must see attraction.
Dating back to the 16th century, this is the oldest of the four bridges that cross the Grand Canal today.
Browse the shops on the bridge itself for jewelry, usually higher -nd souvenirs than other places in Venice and Murano glass products.
It divides the San Marco and San Polo districts of Murano.
There are great photo ops from the middle of the bridge of both sides, the view is exactly like a Canaletto painting from three centuries before.
I love sitting at the steps by the water on the San Polo side just watching the vaporetti and the world go by.
Hours: 24 hours
Cost: Free
Location: Rialto Bridge, Grand Canal
Vaporetto stop: Rialto
8. Rialto Markets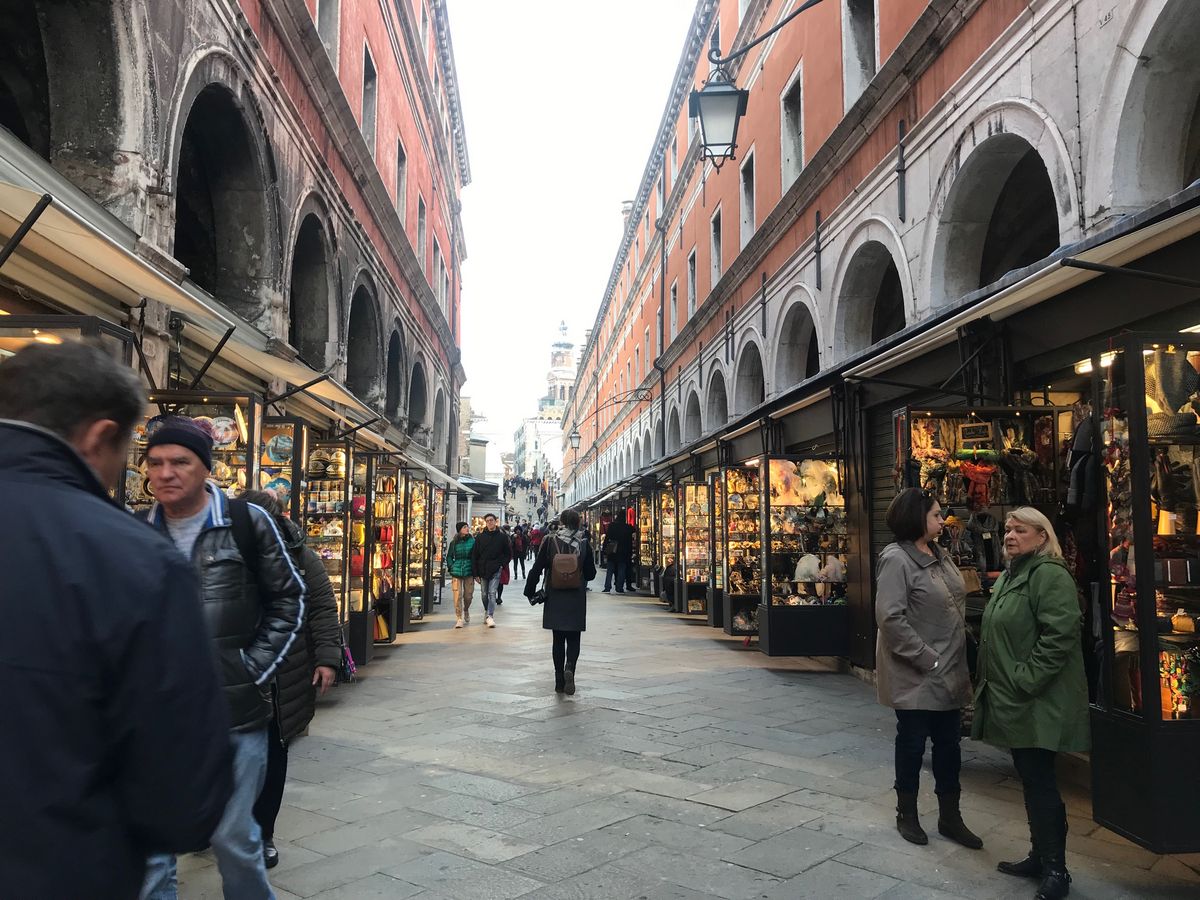 Small but elegant boutique B&B in an excellent location just 5-10 minutes walk from every interest point.
ust after the Rialto Bridge, you can find the Rialto Markets.
These are the oldest markets in Venice.
There are two markets to visit in Venice.
The older of the two is the food market. It sells fruit, vegetables and fish.
The market you'll see first as you walk off the bridge is now a souvenir market.
It is my favorite place to buy souvenirs as has a large collection and is usually cheaper than in the stores.
Clothes, scarves, magnets, anything that says Venice on them.
You can also find Murano products and trinkets.
There are a few food and drinks stalls in case you wish to have a coffee or Bellini.
Hours: Usually 9am until about 9pm in summer, until dark in winter.
Cost: Free to stroll.
Location: Rialto
Vaporetto stop: Rialto
9. Dinner along Grand Canal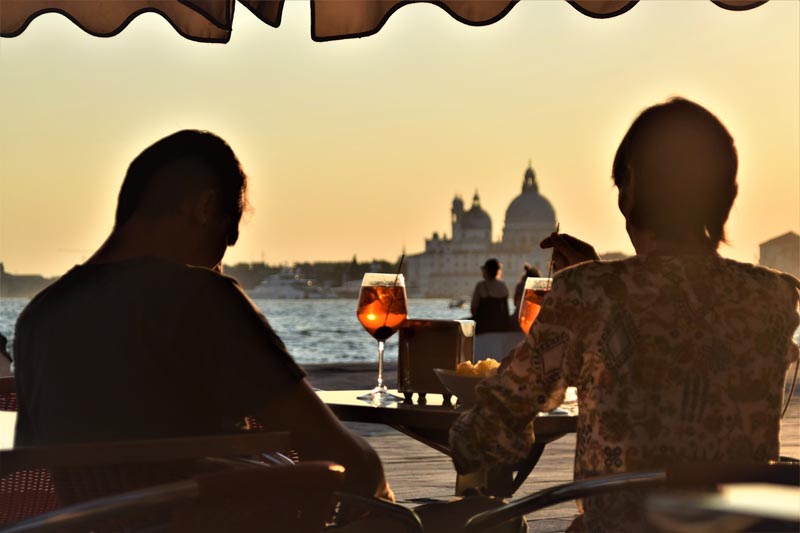 After our first day sightseeing so many of Venice's most important sites, its time to relax for the evening.
Having dinner on the Grand Canal is highly recommended to take in the atmosphere and sunset.
Venice has had a reputation of having some bad restaurants – thinking the hoards of tourists will just accept anything that says "Tourist menu" or "Fixed Price".
Happily, this is no longer the case.
The rise in more food cultured, foodie educated tourists means that you should get a very nice meal pretty much anywhere.
Restaurants along the banks of the Grand Canal close to the Rialto Bridge offer reasonably priced "fixed price" menus.
Sip an Aperol Spritz and enjoy the magic of Venice.
Hours: Restaurants and cafes, most open from breakfast around 9am until last order for dinner around 9pm.
Cost: Varies by establishment.
Location: Rialto
Vaporetto stop: Rialto
Day 2 in Venice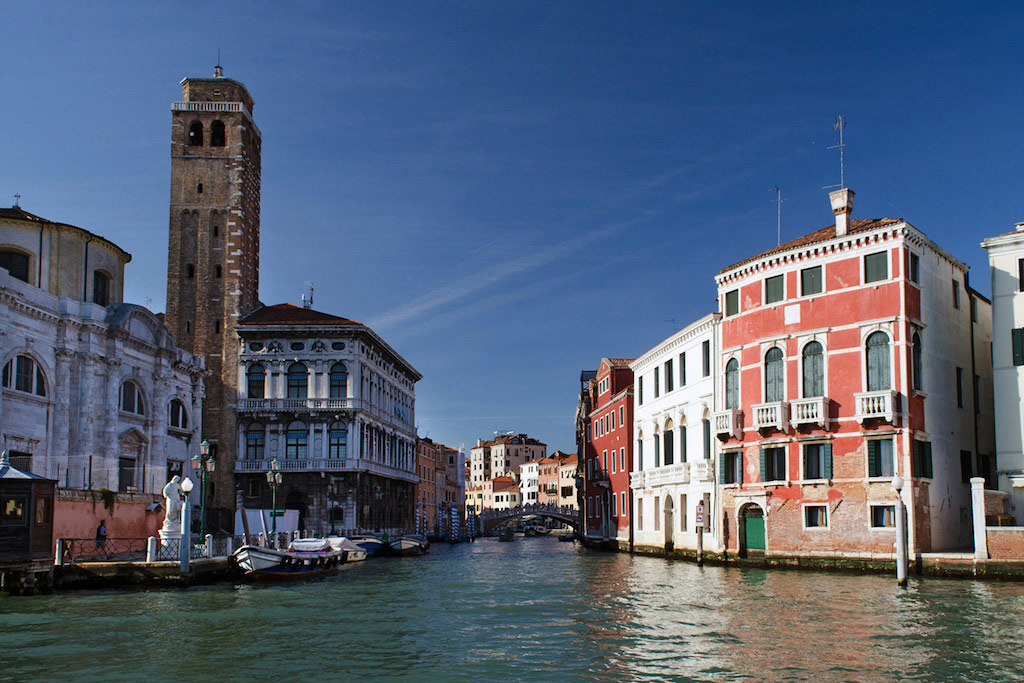 Canareggio and Dorsoduro
On the second day in Venice, we'll visit the religious, artistic and culinary delights of the Canareggio and Dorsoduro sestieri.
Here is an interactive map (just click on it to open in another window) that will help you see what kind of distances you will be covering as well as where everything is in relation to each other.
Venice Itinerary Map Day 2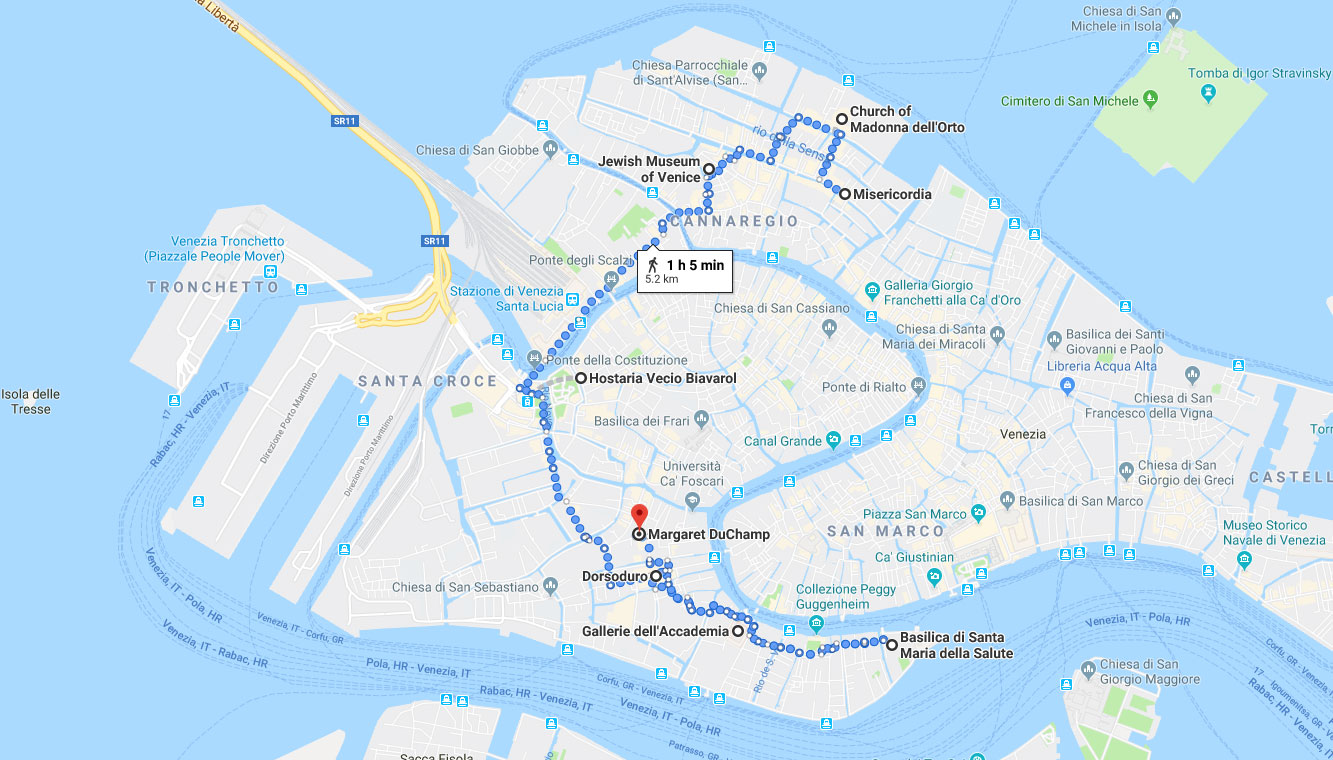 Click here for the interactive map!
Today we'll begin in the historic Canareggio area visiting street markets, artistic churches, learning some Jewish history here, and then sampling local cicchetti.
After lunch we'll admire the astounding collection at the Galleria dell'Accademia, enjoy one of the city's most beloved churches, followed by a lively evening in the cool Campo Santa Margherita.
Suggested Hotel
Modern and stylish 4-star boutique hotel tucked away from the hustle and bustle on the Cannaregio Canal.
10. Fondamenta della Misericordia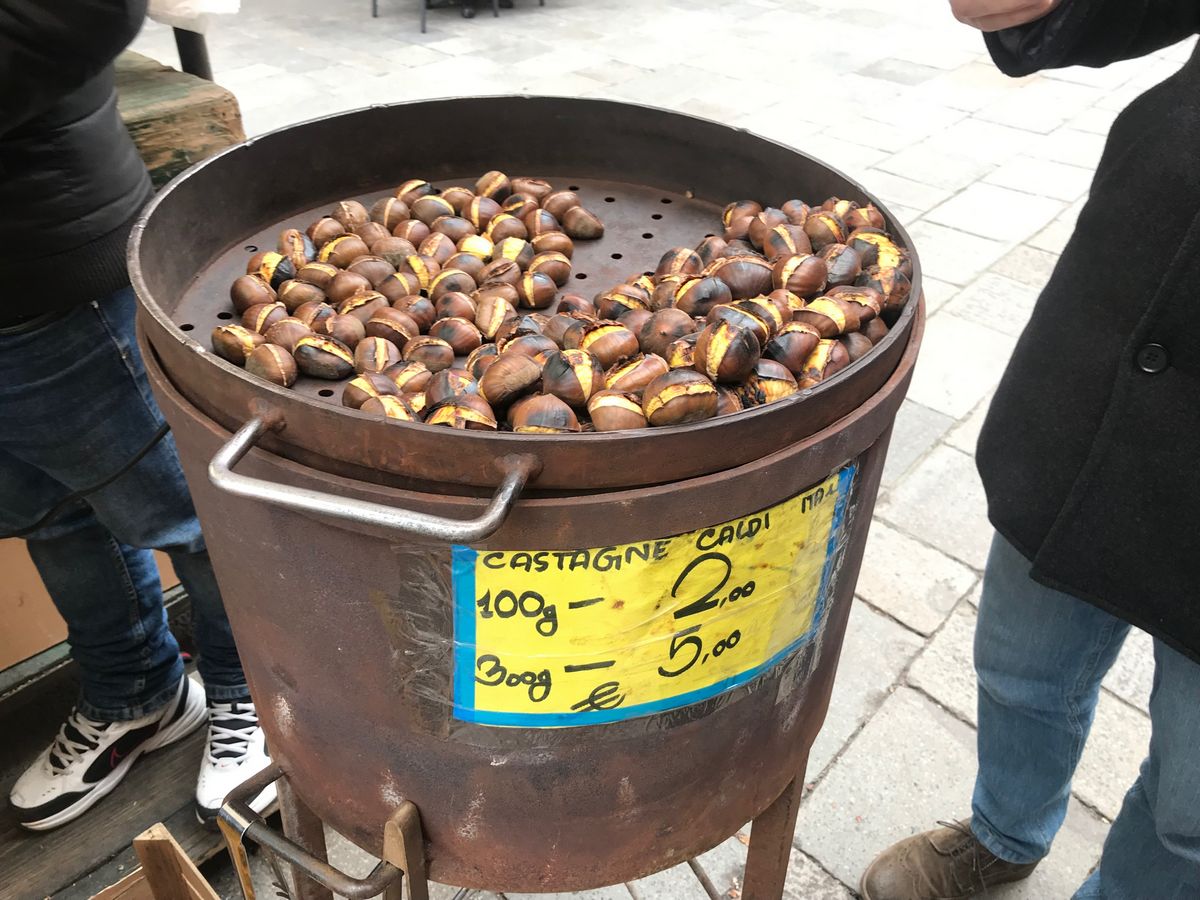 We'll begin our second day on the longest street in the Canareggio area, Fondamenta della Misericordia
This long street whose name translates to Foundation of Mercy, has a long street market that covers most of it. The market sells all sorts of things, from snacks and fruit, to Venetian masks and sweaters saying Italia. It can be a good place to find bargain souvenirs and hotels.
The street is lined with lots of small family run stores and trattoria. This is a good place for lunch or a morning pastry from one of the many pasticceria or a gelato.
Shops selling masks or specializing in lemoncello in multiple flavors are here and they usually offer free tastings.
Hours: Street open 24 hours. Stores and market usually open from around 9am-9pm.
Cost: Free to stroll.
Location: LCanereggio area main street.
Vaporetto stop: Piazzale Roma
11. Madonna dell'Orto Church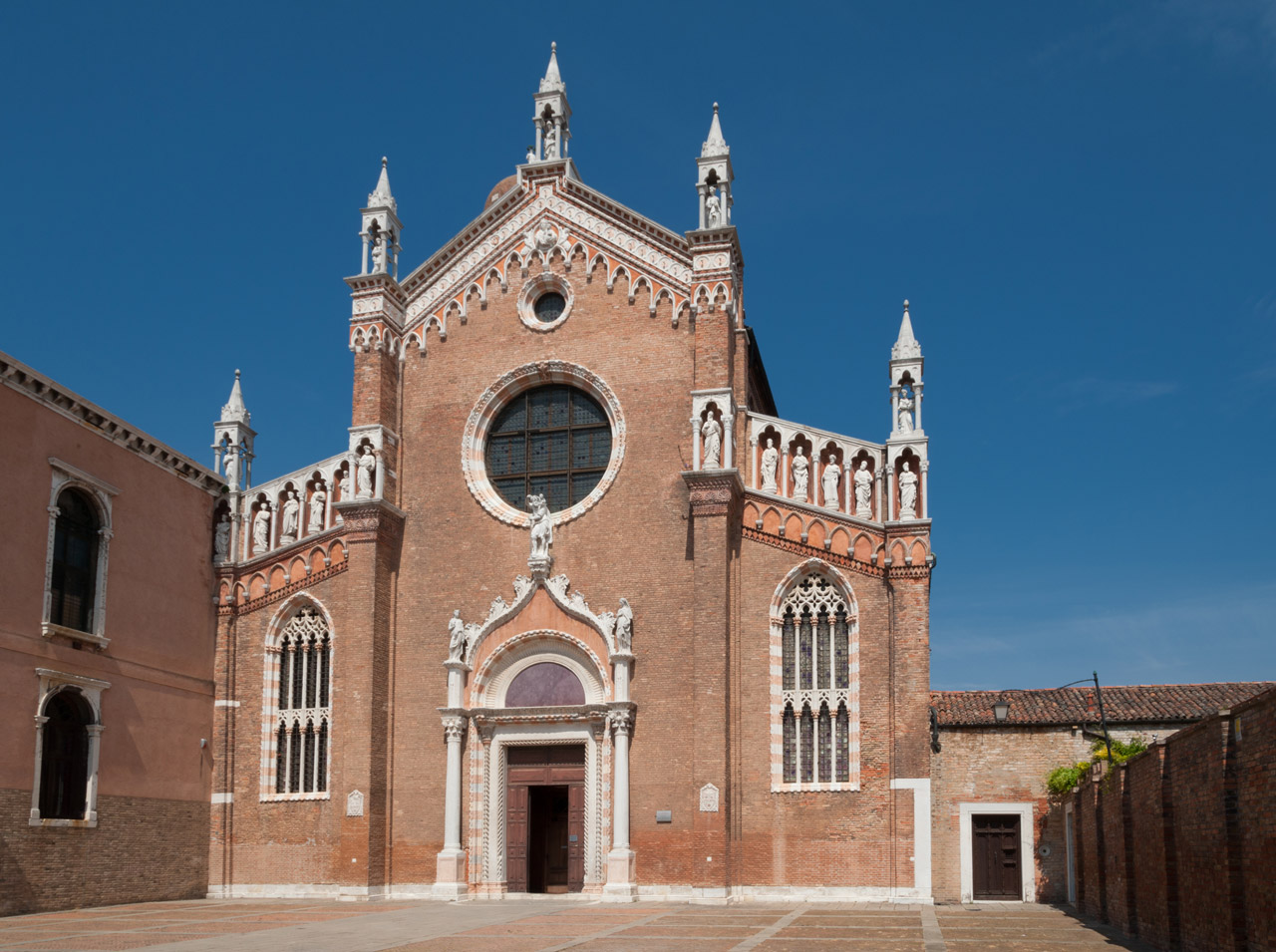 Located on the northern side of the Canareggio Square, Madonna dell'Orto Church is a Gothic 14th century church that is still used today.
It was founded by the Umiliati order and is dedicated to the Virgin Mary.
This church is particularly interesting to art lovers. It contains a moving statue of the Mother and Child as well as works by Venice's beloved artist Tintoretto.
Hours: Monday to Saturday 10am-5pm, Sunday 12pm-5pm.
Cost: Free.
Location: Canareggio 3512.
Vaporetto stop: Piazzale Roma.
12. Jewish Museum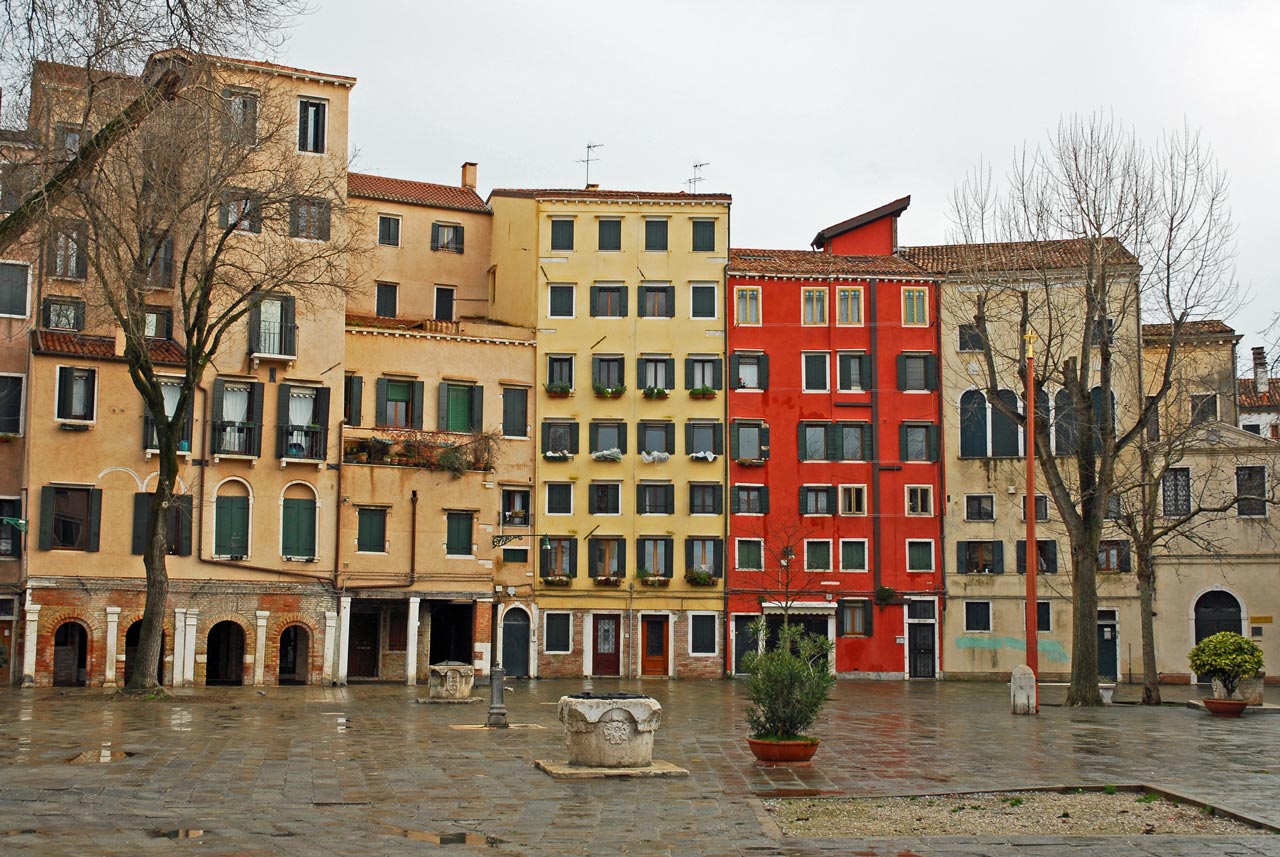 Venice has a long and turbulent relationship with its Jewish community.
At the Museo Ebaico di Venezia you can learn all about this.
This museum protects the area's history and showcases the textiles manufacturing and goldsmith work done here.
It was set up in the Jewish Ghetto Novo (new ghetto) between the oldest two of the five synagogues here in 1953 to educate people on and celebrate Jewish traditions and local art.
You can also take their tours through the ghetto and five synagogues.
Hours: Sunday-Friday: June-September 10am-7pm, October-May 10am-5pm.
Cost: €8, €6 senior/student.
Location: Campo di Ghetto Novo
Vaporetto stop: S. Marcuola – Ghetto or Ponte della Guglie – Ghetto.

13. Cicchetti lunch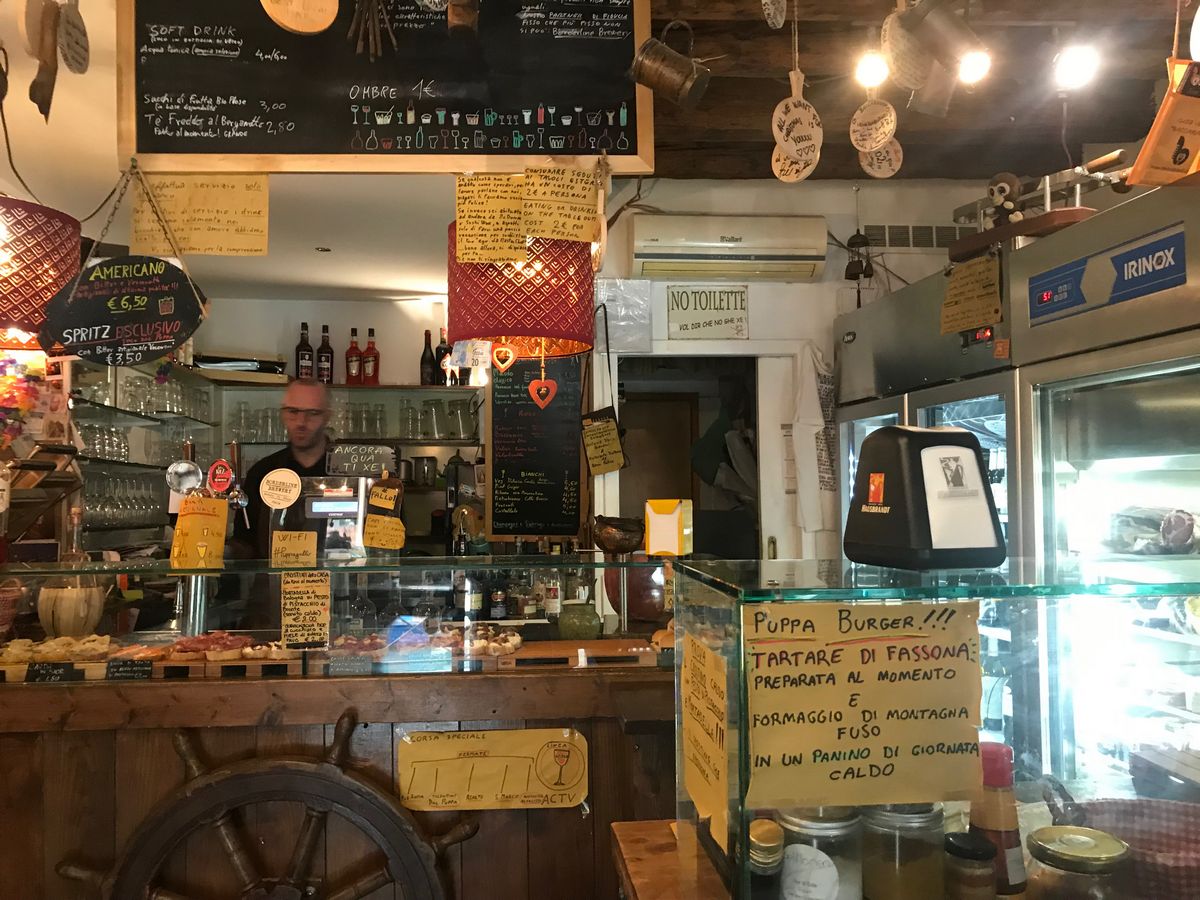 Hostaria Vecio Biavarol dal Puppa
We'll stop for a very Venetian type of lunch today.
Cicchetti – Venice's answer to tapas.
This means you have small dishes, such as bruschetta with various toppings, or little pies or meats, basically like antipasti.
Usually you'd have a glass of wine with this too, or maybe a glass of wine per each cicchetti dish, like you would with tapas.
My favorite is in this area is a tiny place called Hostaria Vecio Biavarol dal Puppa, run by local artisan Andrea.
He provides excellent cicchetti with local produce including locally sourced meats and cheeses, his own home made pesto and freshly baked bread.
Wines from nearby vineyards are on offer, as well as friendly banter and a welcoming atmosphere.
The prices are very low for high quality ingredients, and this is a perfect stop to rest up and fuel up.
Hours: Daily 10am-2.30pm, 5.30pm-10pm
Cost: From €1-3 for wine, from €2-4 for cicchetti dishes.
Location: Santa Croce 225
Vaporetto stop: Piazzale Roma
14. Galleria dell'Accademia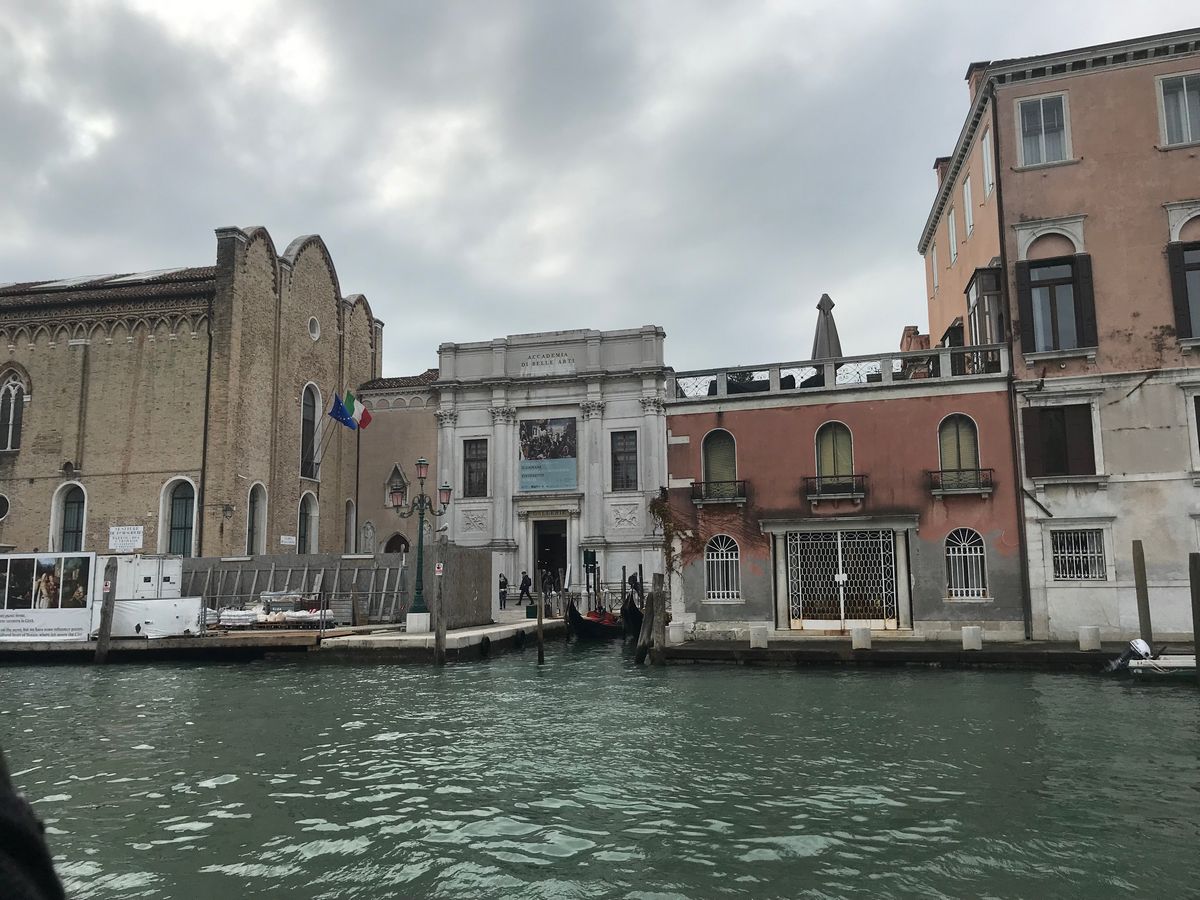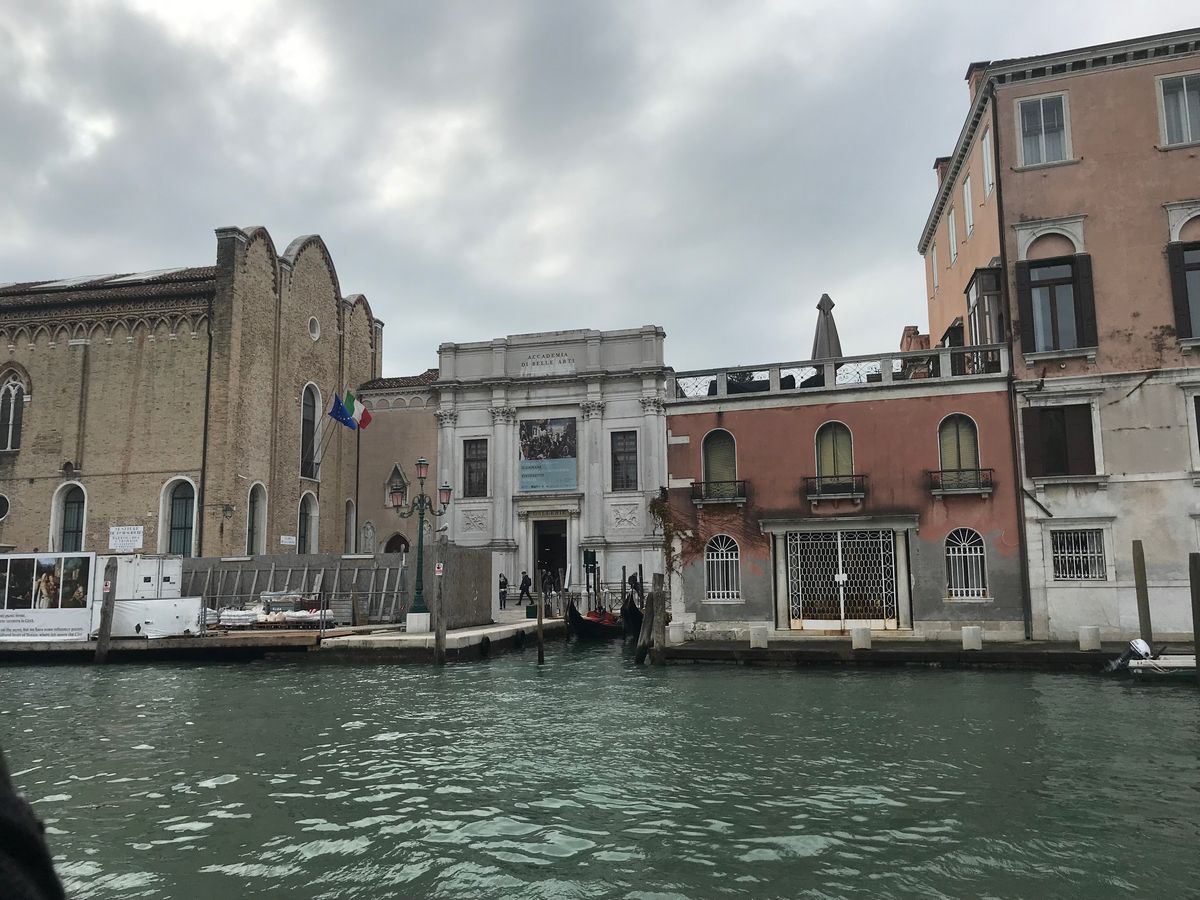 This is Venice's most prestigious art gallery and houses the most comprehensive collection of Venetian art.
Before it was a museum, the three-building complex was used for religious purposes.
The main themes represent Venetian life, historical figures of the city and religion.
Its permanent collection has an impressive array of works by Venetian greats including Tiziano, Canaletto, Veronese, Carpaccio.
My personal favorite is Canaletto, whose detailed, architecturally perfect works made my fall in love with Venice from afar.
There are also changing temporary exhibits included in the ticket price.
Hours: Tues-Sun 8.15am-7.15pm, Mondays 8.15am-2pm.
Cost: April 14-July 14: €16.50 aged 18-25, seniors and children, under 5 free. July 15-April 13 €13.50, €3.50 Free entry first Sunday of every month.
Location: Campo della Carita 1050.
Vaporetto stop: Accademia.
15. Basilica di Santa Maria della Salute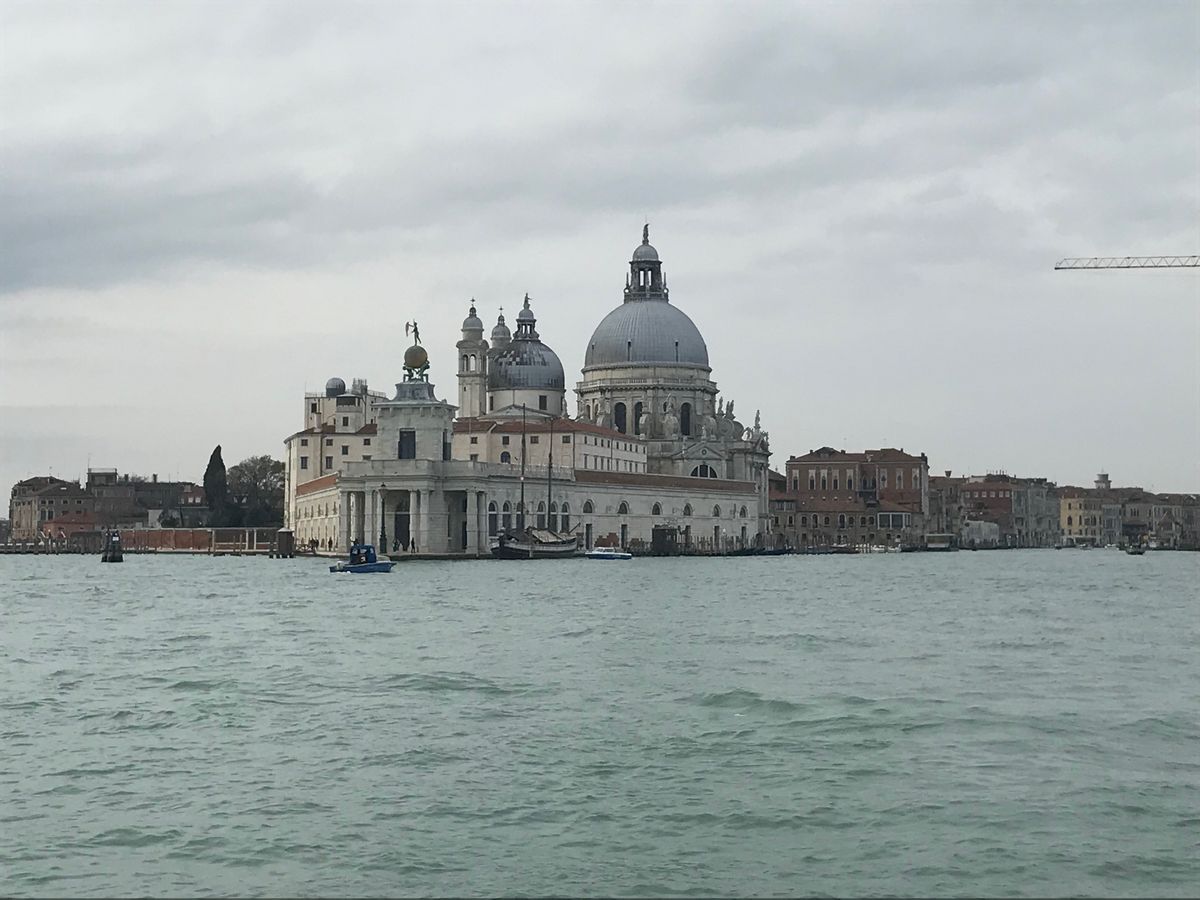 This story of Basilica di Santa Maria della Salute is held close to the hearts of many Venetians, as survivors of the plague built it.
It was designed by Baldassare Longhena and finished in the 17th century.
After 80,000 Venetians died from the plague and a miracle at this church secured the plague would spread no further and others who were ill survived, they wanted to give thanks.
So they built this church.
It sits pride of place at the entrance to the Grand Canal and is one of the most photographed churches in Italy.
Its beautiful facade of white stone and elegant statues and its imposing white dome ensure all who sees it admires it.
Hours: 9.30am-12pm, 3pm-5.30pm
Cost: Free, but donations are welcomed.
Location: Dorsoduro, 1.
Vaporetto stop: Hop aboard public transportation by boat to Salute.
16. Evening in Campo Santa Margherita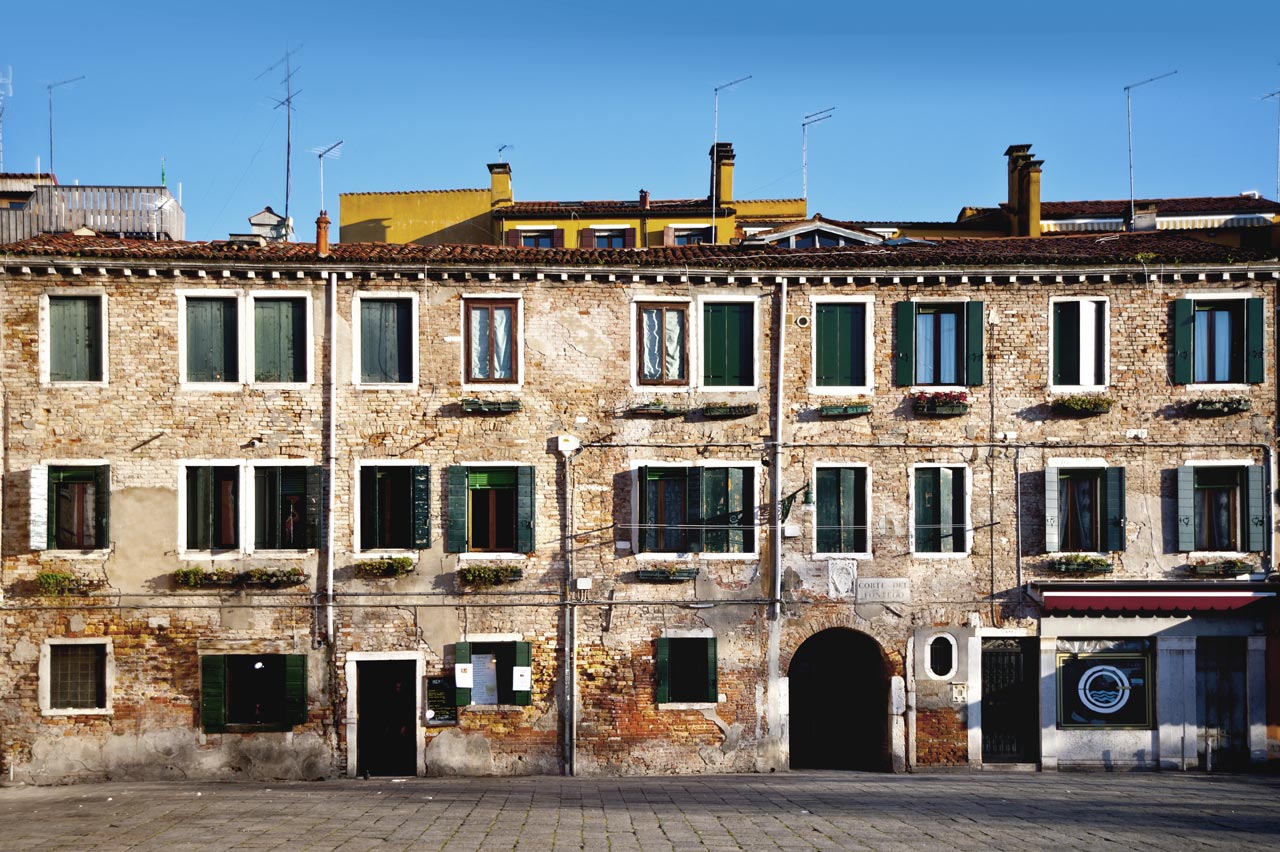 This bustling square has been popular with locals since it was created in the 14th century.
By day it is home to a popular fruit, vegetable and street food market, which sells tasty Venetian treats.
At night it is the place to be in Venice.
Dorsoruro is the main student area of Venice and this square is popular with them as it has plenty small hostaria and trattoria with tasty local food at typically un-Venetian prices.
Recommended Cafés
Margaret Duchamp has low prices and a chilled café vibe.
Al Bochon Divino is a top spot to sip spritzers and snack on more cicchetti at.
Hours: Square 10am-midight-ish.
Cost: Varies per establishment.
Location: Dorsoduro, 1.
Vaporetto stop: Ca'Rezzonica or Piazzale Roma
Day 3 in Venice
Murano and Burano
For our final day in Venice, we're going to island-hop.
We'll visit two of Venice's most interesting islands, which are both known for their own crafts, as well as trattoria culture.
Suggested Hotel
A romantic hilltop hideaway housed in an elegant villa. Located at Piazza Sant'Anselmo 2
Venice Map Day 3 Itinerary
17. Burano waterfront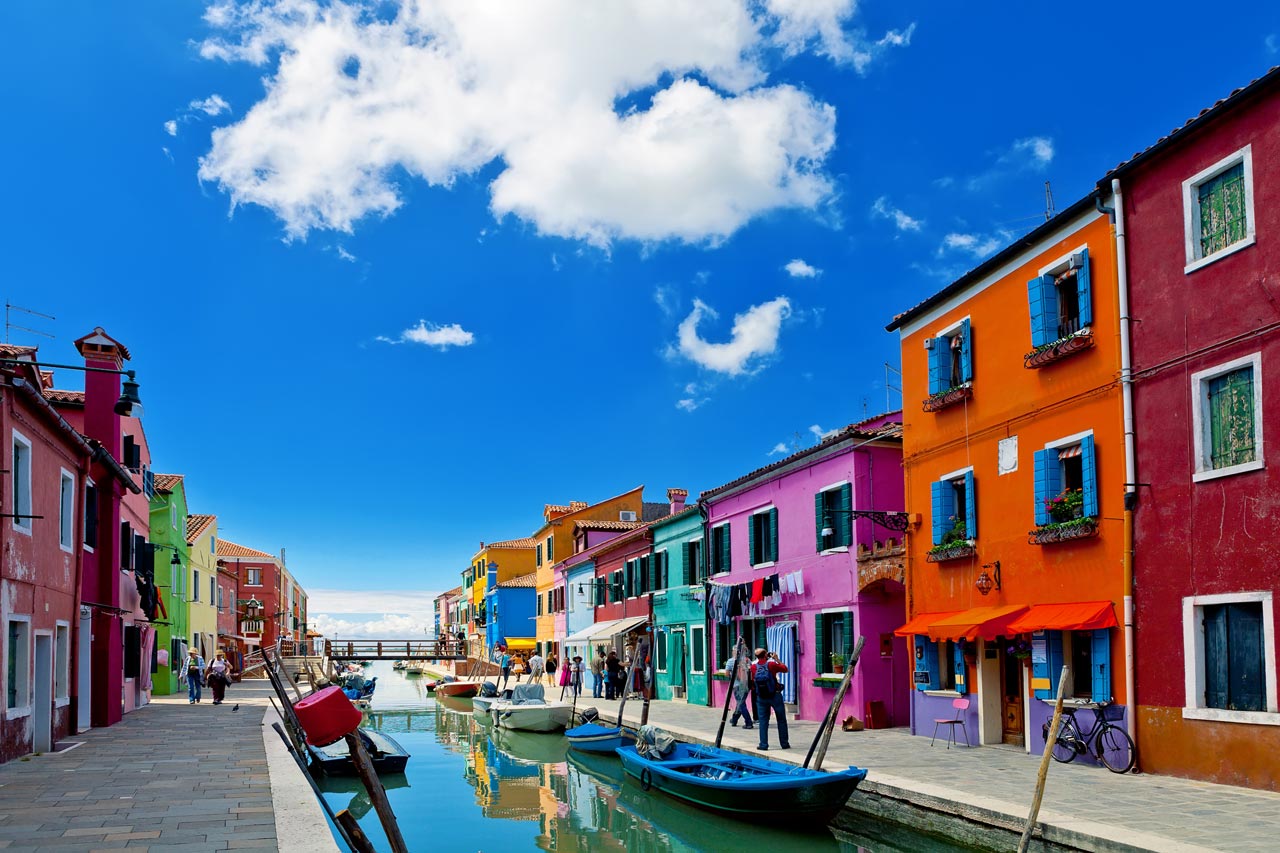 Burano is one of Venice's most beautiful islands.
Its multicolored houses that line the waterfront are picture-perfect and always draw admiration and are consistently voted in the top 10 most colorful towns in the world.
Take a leisurely stroll along the waterfront and take lots of photos of the houses and view out onto the lagoon before heading to some of the island's attractions.
Hours: 24 hours.
Cost: Free
Location: Burano, waterfront
Vaporetto stop: Burano
18. Museo del Merletto (Lace Museum)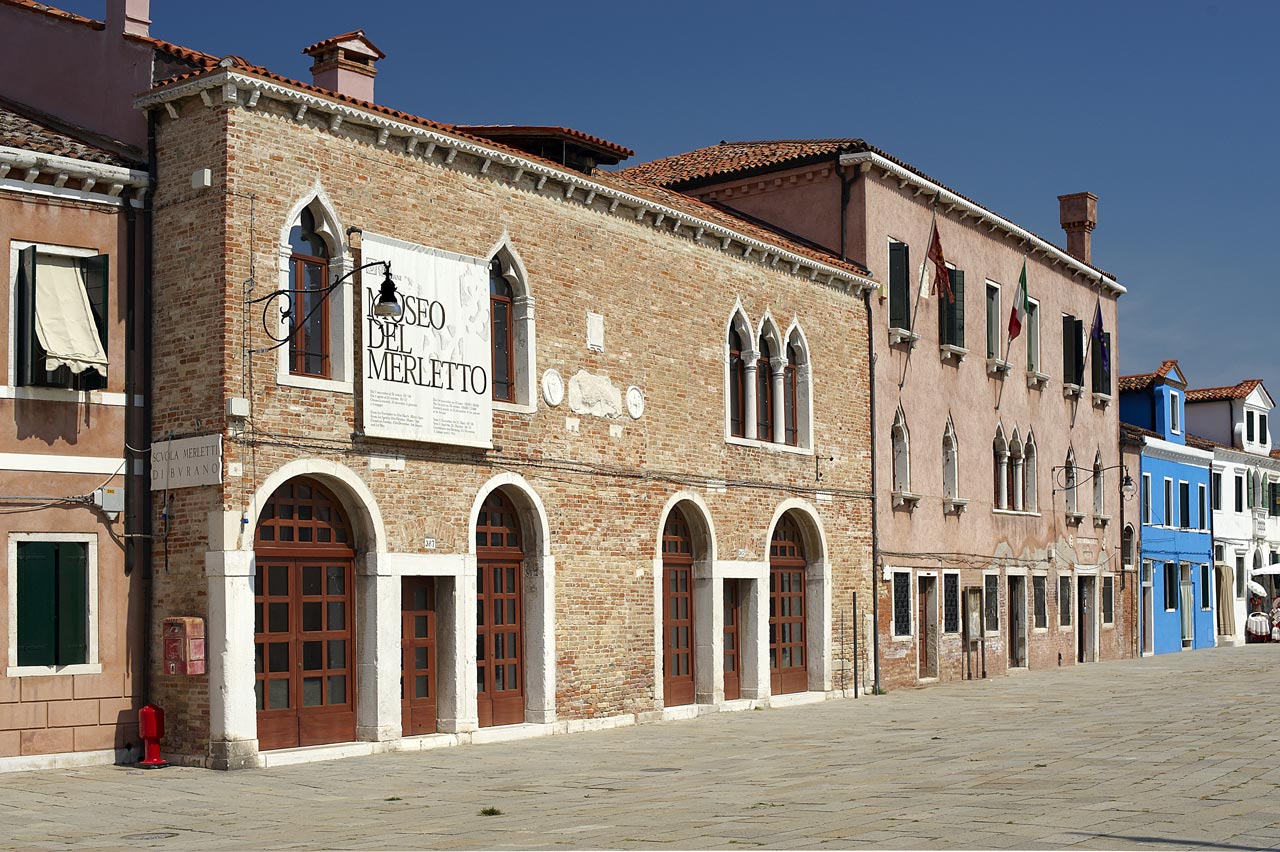 Burano is known for its lace craftsmanship. The Lace Museum showcases the works of the traditional artisans here.
You can see exhibitions on delicate lace works from the 17th and 18th centuries, and layouts of lace from 19th and 20th century.
Explore the museum and watch demonstrations on lace work and admire the precious rare works of lace art.
This craft is passed down from generation to generation, through family members teaching their secrets.
After you've seen the demonstrations, you can purchase lace in the shop here, and in various family-run stores around the island.
Hours: Museum: Nov 1-Mar 31: 10.30am-4.30pm, April 1-Oct 31: 10.30am-5pm.
Cost: Museo del Merletto: €5, €3.50 for children 6-14, students 15-25, over 65s.
Location: Piazza Baldassarre Galuppi.
Vaporetto stop: Burano.
19. Lunch at a Trattoria Buranella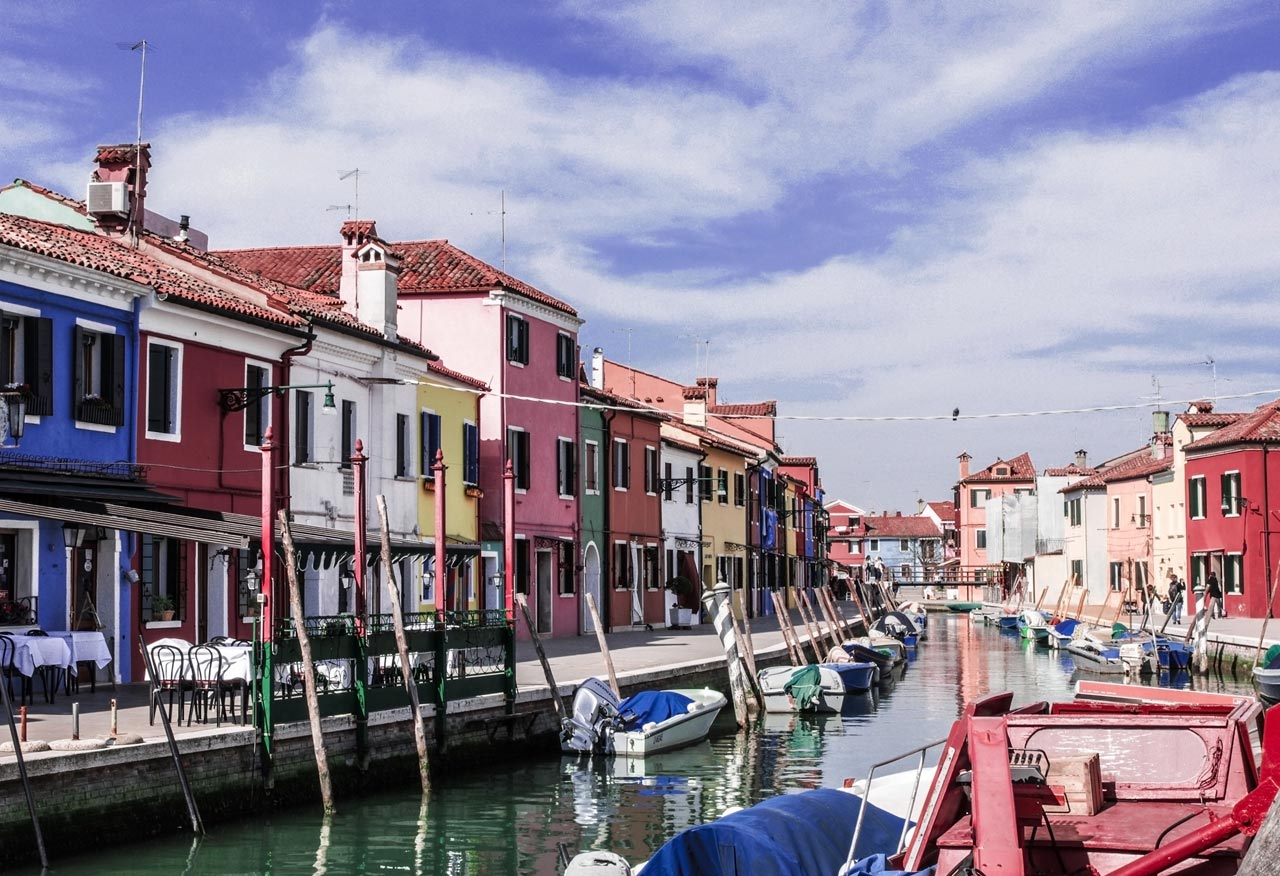 Lunch today will be at a small family-run trattoria on the waterfront of Burano.
Trattoria buranella – Burano taverns – line the waterfront and are great places to sample local dishes that are specialties not only of Venice, but also of Burano in particular.
Seafood is the most popular local food, serving fresh fish caught in the lagoon. Risotto de go – goby risotto, is delicious and available in most of the taverns.
For something sweet, try "bussolai buranei", which are buttery home made Burano cookies.
Hours: Taverns usually open 12pm-10pm.
Cost: Around €7-10 for main courses.
Location: Waterfront Burano.
Vaporetto stop: Burano.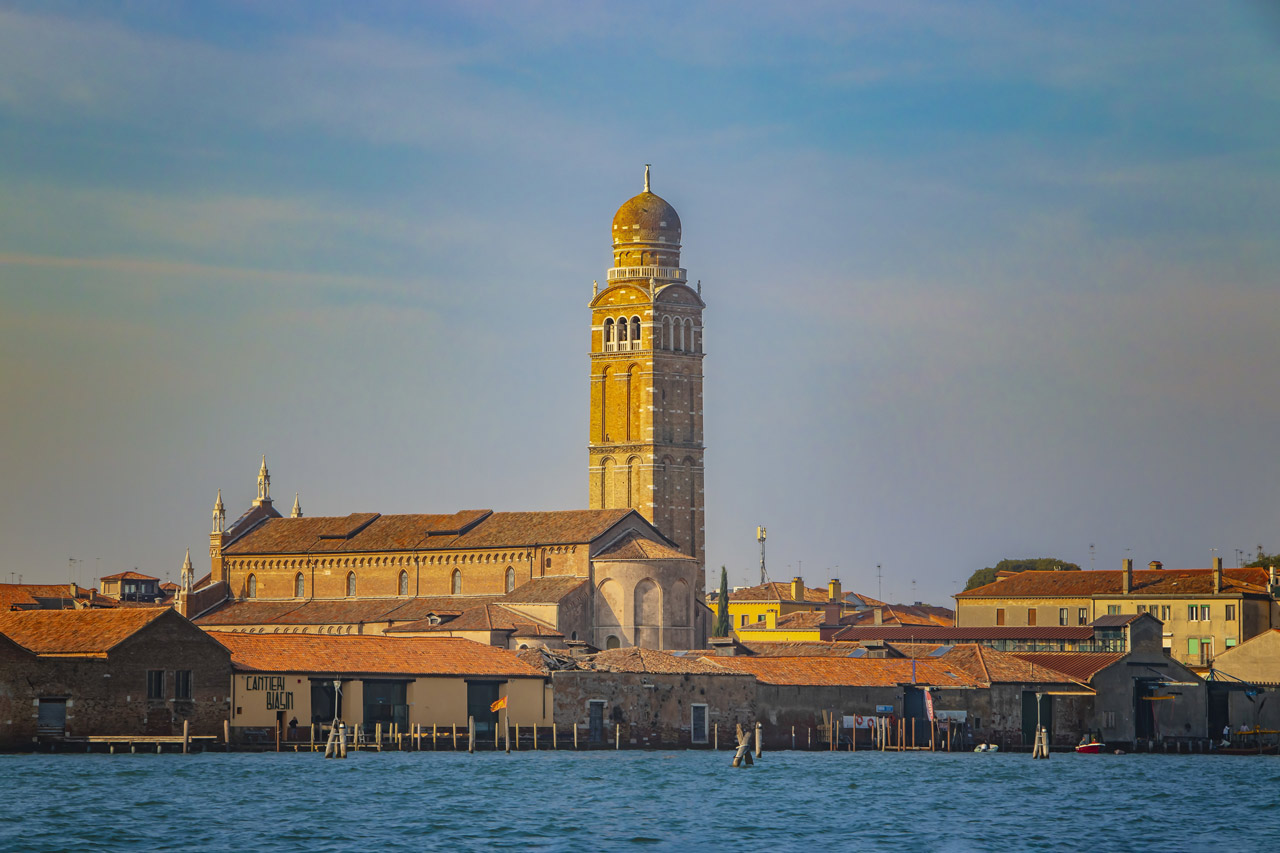 After lunch, hop on a vaporetto over to Murano to see the best of this lovely island.
Murano is most famous for its fine artisan glass products, and in the Museo del Vetro – Museum of Glass, you can see how it's made.
Take a tour of the museum to watch artisans at work and see demonstrations of the intricate art of glass blowing, which they've been doing since the 13th century.
After touring, check out the shop to find something beautiful to take home. This is the most authentic place to get a real Venetian souvenir, from real Murano.
You can even give it a try yourself to see how tricky it is.
ours: Summer April 1-October 31 10.30am-4.30pm, winter 10.30am-4pm.
Cost: Original Murano Glass factory €5, free for under 14s.
Location: Fondamenta Marco Giustinian.
Vaporetto stop: Murano.

21. Basilica di Santa Maria e San Donato
This is Murano's most beautiful church and Murano's Duomo.
It has been here since the 600s and is the most important church on the island and is a Roman Catholic Romanesque architecture church.
It is dedicated to Saint Maria and Saint Donata. Its style is the same as that of Ravenna, with the white and red alternating marble and bricks on the façade.
Take time to walk around it and admire the Byzantine style paintings inside.
Hours: Monday-Saturday 9am-6pm, Sunday 12.30pm-6pm.
Cost: Free, but donations are welcomed.
Location: Campo San Donato.
Vaporetto stop: Murano.
22. Shopping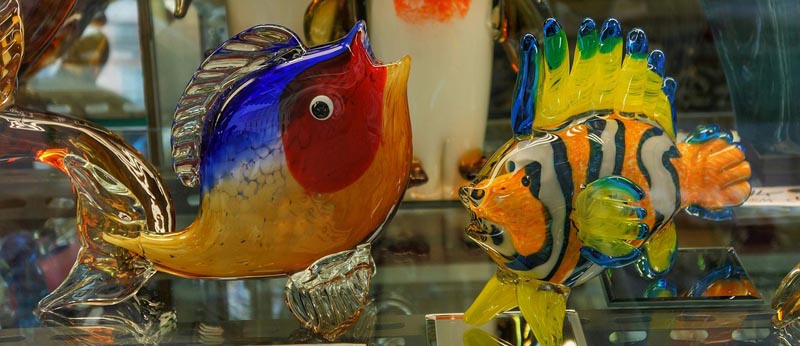 Murano is a great place to shop. It is much quieter than most of Venice, and it is a pleasure to stroll and browse the artisan shops that dot the waterfront of the island.
Most of the shops here are run by artisan families and have been in their families for generations.
Murano glass is the best souvenir here, and all kinds of products are available, from jewelry, to ornaments to large sculptures and trinkets.
Hours: Usually around 9am-6pm.
Cost: Free to browse.
Location: Waterfront Murano.
Vaporetto stop: Murano.
23. Trattoria Dinner and Passegiato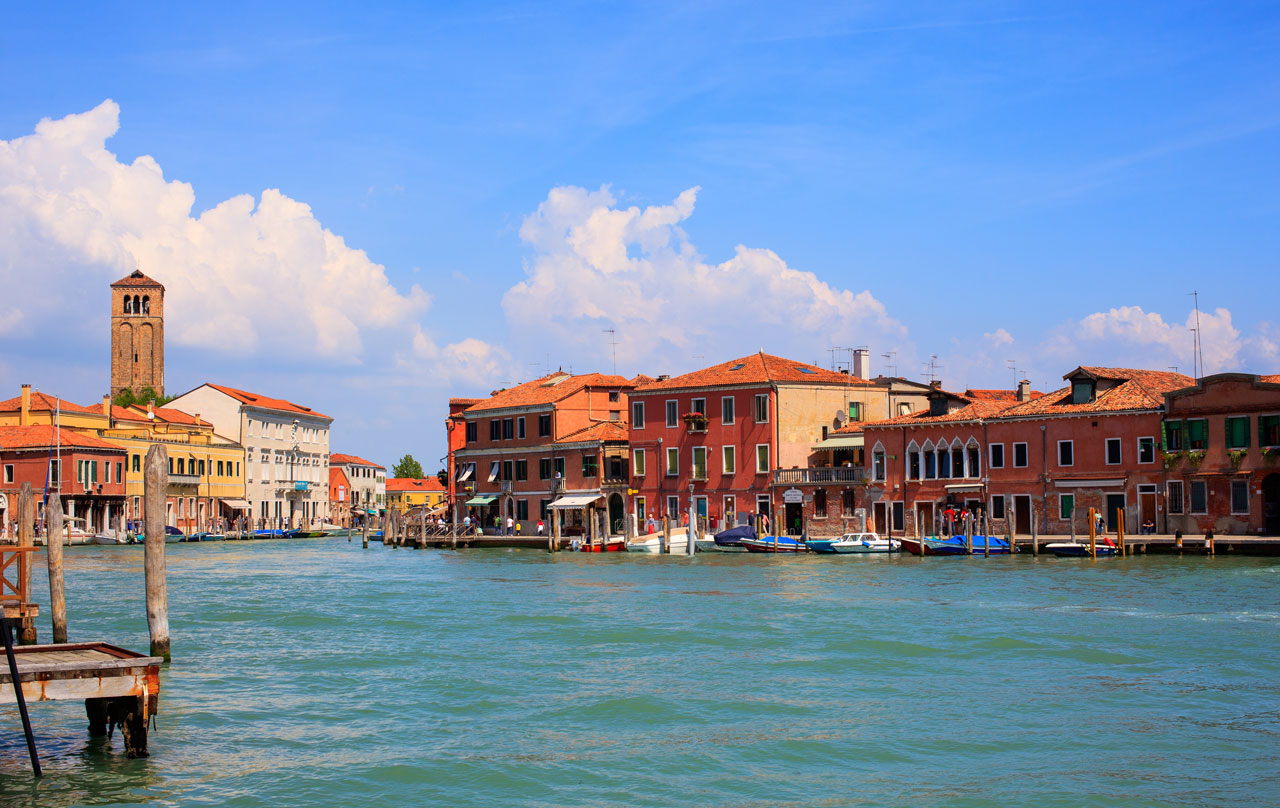 After visiting the sights of the island, relax for a leisurely dinner at one of the charming waterfront trattoria.
Pick a place that looks friendly and has a lot of locals in it, and sit down to enjoy the ambience and local dishes.
All the restaurants here pride themselves on using fine local ingredients.
Suggested Restaurants Murano
Osteria al Duomo, Trattoria busa alla Torre, and Acquastanca are particularly known for this using fish caught in the lagoon.
Trattoria Valmarana and Trattoria bar Serenella dal Coco have tasty and reasonably priced fixed menus.
After dinner take a passegiata along the waterfront and watch the sunset over the lagoon to finish off the evening.
Hours: Restaurants usually around 12pm-10pm.
Cost: Around €7-10 for main courses, €4-7 for starters and desserts, but varies depending on restaurant. May have fixed price set course menus for around €10-20 for two to three courses.
Location: Waterfront Murano.
Vaporetto stop: Murano.
3 Days in Venice Itinerary Resources:
Tips to help plan your Venice Trip.
What Time of Year Should I visit Venice?
When visiting Venice it is important to take int to account, holidays and festivals, plus crowds.
It is popular to visit year-round.
Spring (March-May) and autumn (September-November) providing the most pleasant temperatures of usually around 65-80 degrees Fahrenheit and infrequent rain.
March and April are good times to visit Venice before the summer crowds.
May 1 as it is a holiday and it can be busy, but it isn't quite as busy yet as the summer months.
June, July, and August are high the season in Venice.
The summer gets very sticky, reaching temperatures over 100 Fahrenheit, especially in August, which is when the locals flee for their holiday homes by the Spiaggia (beach).
You'll find many cruise ships in port this time of year.
September and October still have pleasant weather and fewer tourists making bargains on accommodation a possibility.
Carnivale in Late February/Early March is another popular time to visit Venice. It is crowded and expensive during that time.
Easter is also a very busy time to visit Venice.
Winter (December-February) sees cooler temperatures of usually between 45-65 degrees, and more rain, but also a lot fewer tourists to compete for the sights with.
Getting to Venice
Venice's main airport if Marco Polo Airport. It is only 8km (5 miles) north of Venice.
You can get to Venice from the airport by Public Bus. Bus #5 or the ATVO Blue bus will take you Piazalle Roma.
You can also take teh Alilaguna waterbus to Piazza San Marco.
Water Taxis are expensive but will take you directly to your hotel if you have the budget for it.
Taxis cannot get into Venice
Our preferred way of getting to and from the airport these days is to set up a private transfer through Viator. We love getting off the plane and seeing our name held by a private driver that will take us directly to our hotel hassel free.
Getting Around Venice
Venice is tricky to get around, but taking a vaporetto (water bus) is the easiest and most convenient way to get from place to place.
Single ticket: €7.50
If you're only one or two journeys on your stay in Venice, get single tickets when you need them.
24-hour ticket: €20
If you're planning on going on more than two vaporetto trips in 24 hours, this is the way to go for this.
This is particularly useful to get if you're planning on doing island hopping out to Murano, Burano or Isola de San Michele, or back to the Piazzale Roma with your luggage on the way to the airport bus there.
Remember is it a 24-hour ticket, not a day ticket, so you can use it until the same time the next day, so you can time accordingly to get the most out of it.
Walking around:
Venice is like a maze. Even if you've already been down a little side street, it doesn't mean you'll find it easily again.
Other Parts of Italy: If you are continuing your travels to other parts of Italy or taking a day trip, one of the best ways to travel is by train.
The Santa Lucia train station is just a 20-minute walk from the Rialto Bridge or a 30-minute walk from St. Mark's Square.
My advice? Try to have WiFi service on your phone so you can ask Google Maps for advice when you can't find your hotel, or that pizza joint you really wanted to try.
Water taxis are expensive starting at €12 and then they charge €2 per minute.
We took a private water taxi boat tour that was an incredible way to see Venice. You can check out our experience here.
Venice is a very walkable city with many back alleyways to explore.
Water buses (vaporatto) are a good option easy to get from one island to another. One way tickets cost €7.50
A gondola ride is a must at least once in Venice. The iconic gondola rides start at€80 and take you through the canals. Negotiate your price before getting on.
You can rent bikes, ebikes and scooters to get around Venice. This is another affordable option.
If you want to cross the Grand Canal and you are not near a footbridge, a traghetto is a gondola service that crosses the Canal for €2.
We found that we really needed data and Google maps to get around. If you don't have international roaming, we suggest purchasing KnowRoaming. It's an easy data plan that can be turned on and off whenever you are traveling for only $3.99 per day for unlimited data.
SUGGESTED Guided TOURS
We use GetYourGuide for City tours. They offer free cancellation with refund up to 24 hours before the tour starts with professional local guides and they take last minute bookings.
Dive into Venice's history with this 2-hour guided walking tour of Saint Mark's Square. Including skip the line tickets to Doge's Palace. book your ticket here
Saint Mark's Basilica can have very long lines, so purchase a skip the line ticket and take a tour with a local guide. Book here
Book a Gondola Serenade on the Grand Canal for a romantic excursion. Be serenaded by Italian songs in the world's most romantic city. Read more and book your refundable ticket here.
Get Your Venice Museum Pass for entry to Venice museums like Doge's Palace and Murano Glass Museum. Valid for 180 days from the moment you exchange your voucher in Venice for the official Venice pass. Book now.
Tours: For Venice city tours we use Get your Guide.
It's easy to book in advance and most tours have easy cancellation up to 24 hours in advance (check cancellation details before booking) and Get Your guide offers last minute booking too.
And that is your 3 Days in Venice itinerary guide. If you enjoyed this or have other suggestions, leave a comment below. We are always looking for new things to do in Venice!
Save this guide to Pinterest for future travel planning
---