Choosing where to stay in Florence can be difficult because there is so much to see around the city.
Luckily, the city is so compact, no matter which neighborhood you choose to stay, you'll probably be within walking distance to most other sights.
Florence is known as one of the most romantic cities in Italy.
It's full of culture, famous sights, and a layered history that includes being the birthplace of the Renaissance and ties to the powerful Medici family.
The city is small enough to walk from one end to the other within about 30 minutes but has enough attractions, breathtaking views, and famous sights to make sure you're never bored.
In fact, you might not even know where to start with how many options there are for things to do around the city.
Where to Stay in Florence
Looking for where to stay in Florence for one night?
The Duomo/Piazza della Signoria
---
Generally, the more central and historic part of the city is the most crowded and touristy but if you only have one night in Florence, it is the best place to stay.
The Best Florence Neighbourhoods
There are numerous neighborhoods in Florence, but since the city is so compact most of them are within walking distance from one another – including all of the ones on this list.
You will feel the welcoming atmosphere of the city as soon as you arrive to Giotto's Campanile and taste your first chilled Pinot Grigio.
Florence has a way of disarming even the most cynical traveler.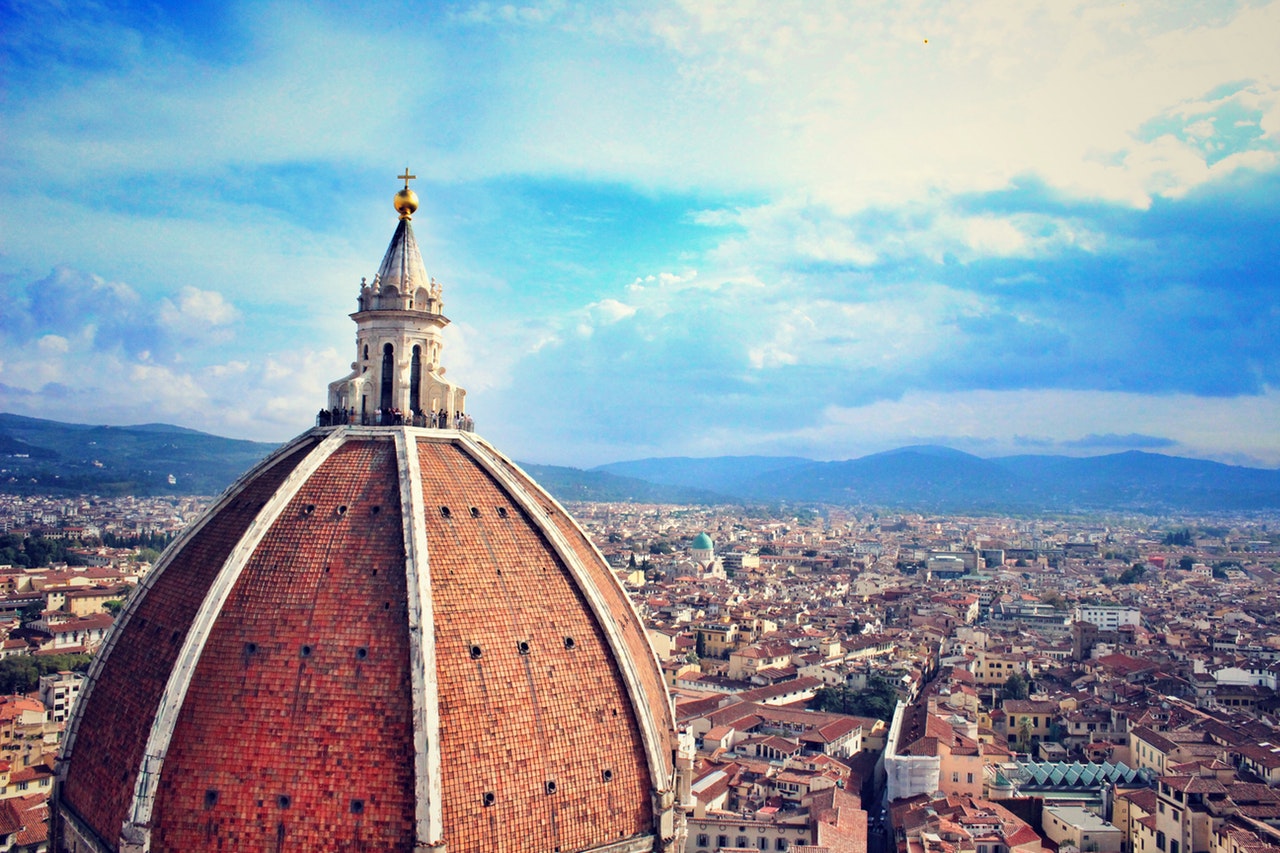 The city will surprise you and remind you to appreciate labella vita, even through the swarms of tourists and humidity that come through the city in the summer months.
Whether you spend your time in the bustling central neighborhoods, or choose a more laid back experience across the river in the Oltrarno district, there's a little something for everyone in Florence.
Here are a few recommended neighborhoods that you could base yourself in, depending on what type of experience you're looking for during your trip to Italy.
1. The Duomo/Piazza della Signoria
Best Place in Florence for Sightseeing & Museums
The Duomo is as central as it gets.
In Florence, they say that every good night starts on the steps of the Duomo, and during the day this area is just as vibrant and energetic.
Just a few minutes walk away, the Piazza della Signoria boasts a plethora of world-renowned museums and cobblestone streets near the Ponte Vecchio.
These neighborhoods are popular for a reason, they're historic, beautiful, and offer a lot to see for a first-time visitor.
Staying in this area might be more overwhelming in the summer months when hoards of tourists arrive in Florence, but if you want to easily walk to the major sights from your hotel, this is the best neighborhood to base yourself in.
Best Hotels Near the Duomo/Piazza della Signoria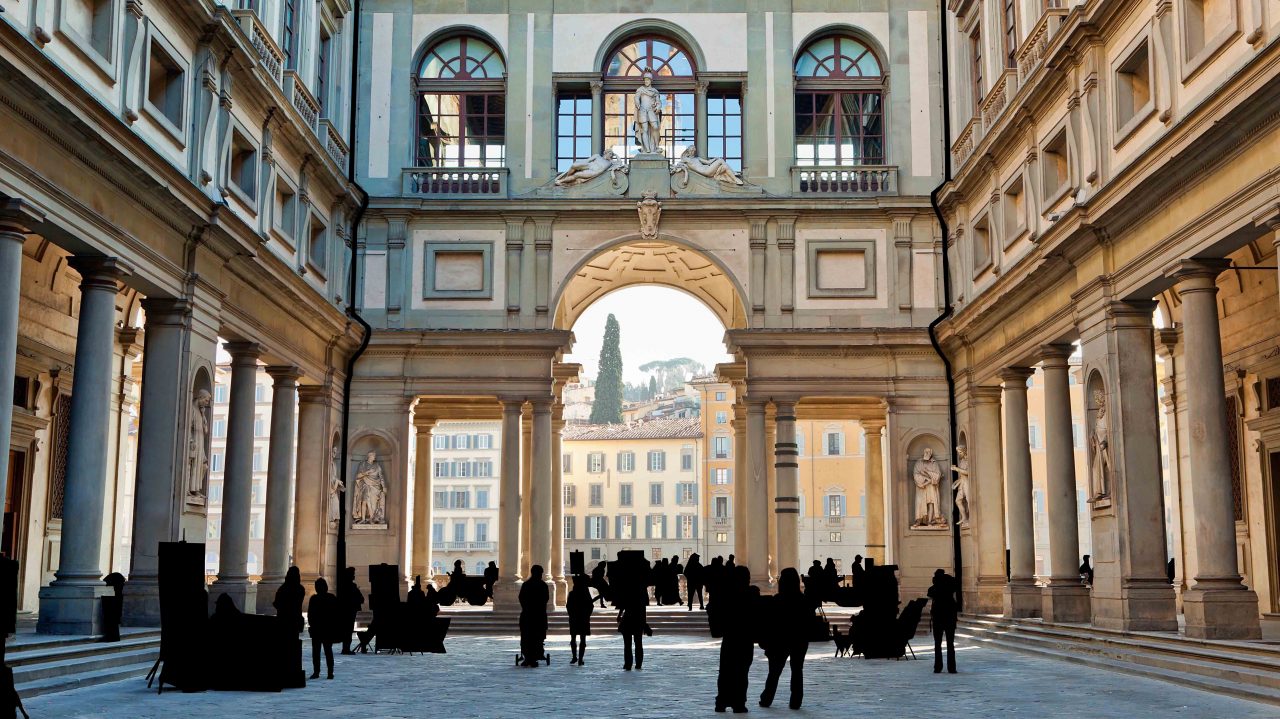 One of the top-rated luxury 5-star stays in Florence. 15th-century building with rooms featuriung antique furniture and Murano glass chandeliers. Minutes from the major sites.
Check out Availability & Prices
Best Mid-Range Hotel in the Duomo Hotel Pendini
Family-run hotel dating back to the 19th century and featuring antique decor and frescoes. Stay includes a continental breakfast, around the corner from the Duomo.
Check out Availability & Prices
Best Budget Hotel in the Duomo Uffizi Harmony
An affordable stay for its central location next to Piazza della Signoria square and the Uffizi Gallery. Rooms feature wooden furnishings and a mix of modern and historic design in an informal setting.
Check out Availability & Prices
Best Airbnb near the Duomo
A superhost apartment located on 2 floors in a typical Florentine house in the heart of Florence. Sleeps 4 with fireplace, historically preserved to feel authentic.
Top Things to see near the Duomo/Piazza della Signoria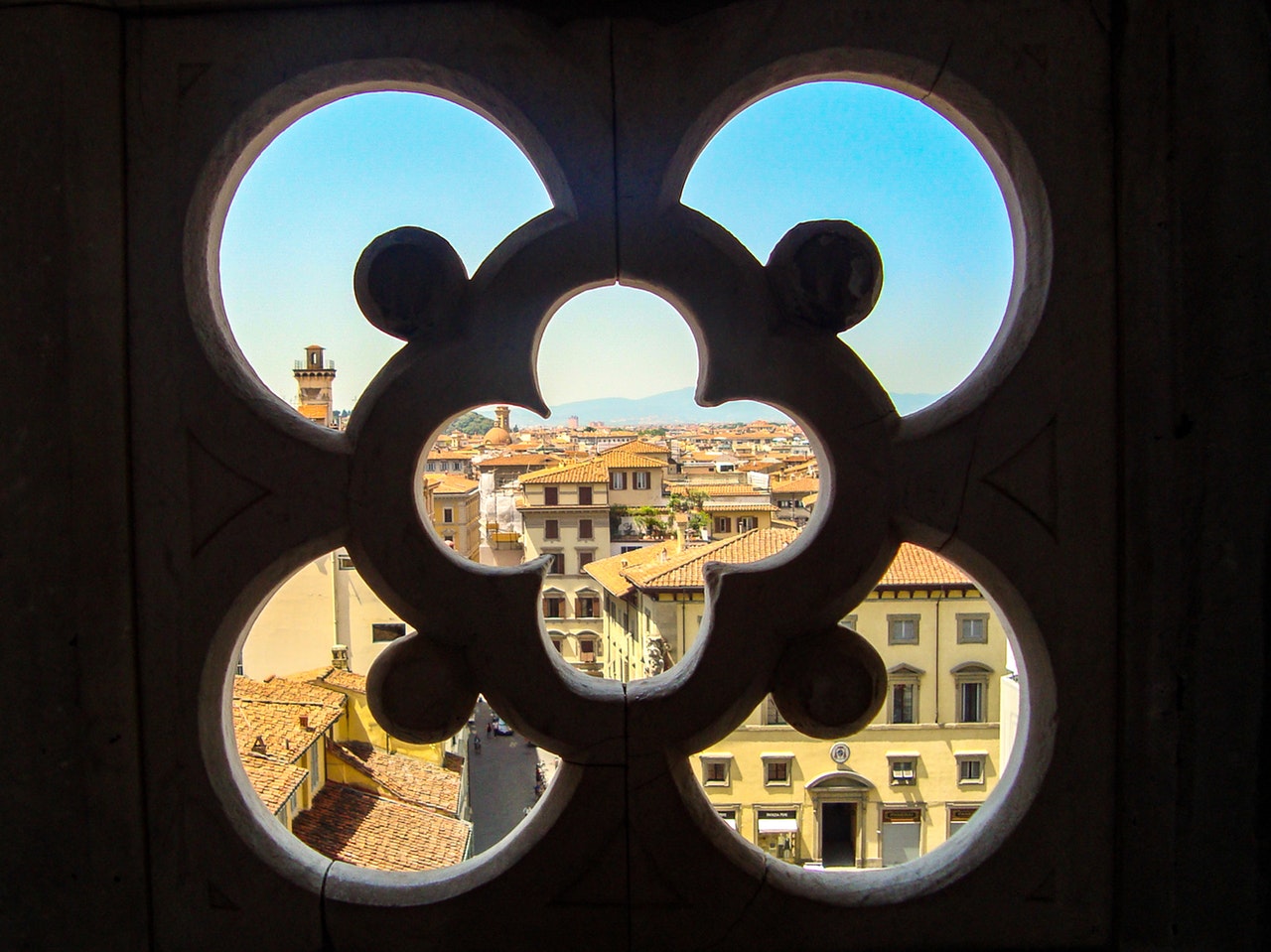 Ponte Vecchio Bridge – The famous medieval bridge in Florence that goes over the Arno River. You can still find shops and merchants along the bridge.
Piazza della Signoria – Main square in Florence that has been the center of political and social life in the city since the 14th century.
Palazzo Vecchio – Town hall of Florence since the Medieval era, located in Piazza Della Signoria. In front, you'll find a copy of Michelangelo's David.
Giotto's Campanile – Also in the Piazza del Duomo, you'll find this 85m tower it's a good spot to hike up to the top for a great view, of the Duomo.
Museo Galileo – One of the largest collections of scientific instruments in the world.
Florence Baptistery – Built in 1128, making it one of the oldest buildings in the city known for its three sets of bronze doors that were designed by famous Italian artists, Pisano and Ghiberti.
Palazzo Strozzi – 15th-century palace originally built as a political statement for Filippo Strozzi the Elder, a rival of the Medici family.
Suggested Tours
The Duomo – Also known as "Cathedral of Santa Maria del Fiore", the Duomo is the most popular and central site in Florence. Buy tickets online ahead of time to avoid the crowds, and hike up to the top for stunning views over the city.
Uffizi Gallery – 2-hour prioroty entrance tour to one of the most visited art museums in the world. Where you can find famous works by Botticelli, Michelangelo, Da Vinci, Raphael, Giotto, and Rembrandt.
Florence Free Walking Tour – In one of the more expensive cities in Europe, it's great to be able to have the option for a free tour (or at least donation-based). This tour takes you around to the main landmarks over the course of 2.5 hours.
Florence Food with Beer Tasting – small group tour to "the other side" of Florence, also called "Oltrarno", where the authentic Florentine life can still to be found
Getting There
The easiest and quickest way to get to the compact historical center of Florence is by foot, however, there are a couple of buses that will take you there as well.
Take the C1 or C2 bus to be dropped off at either the Duomo or Piazza della Signoria.
For more information, go to the AFAF website for updated costs and schedules.
2. San Lorenzo and Santa Maria Novella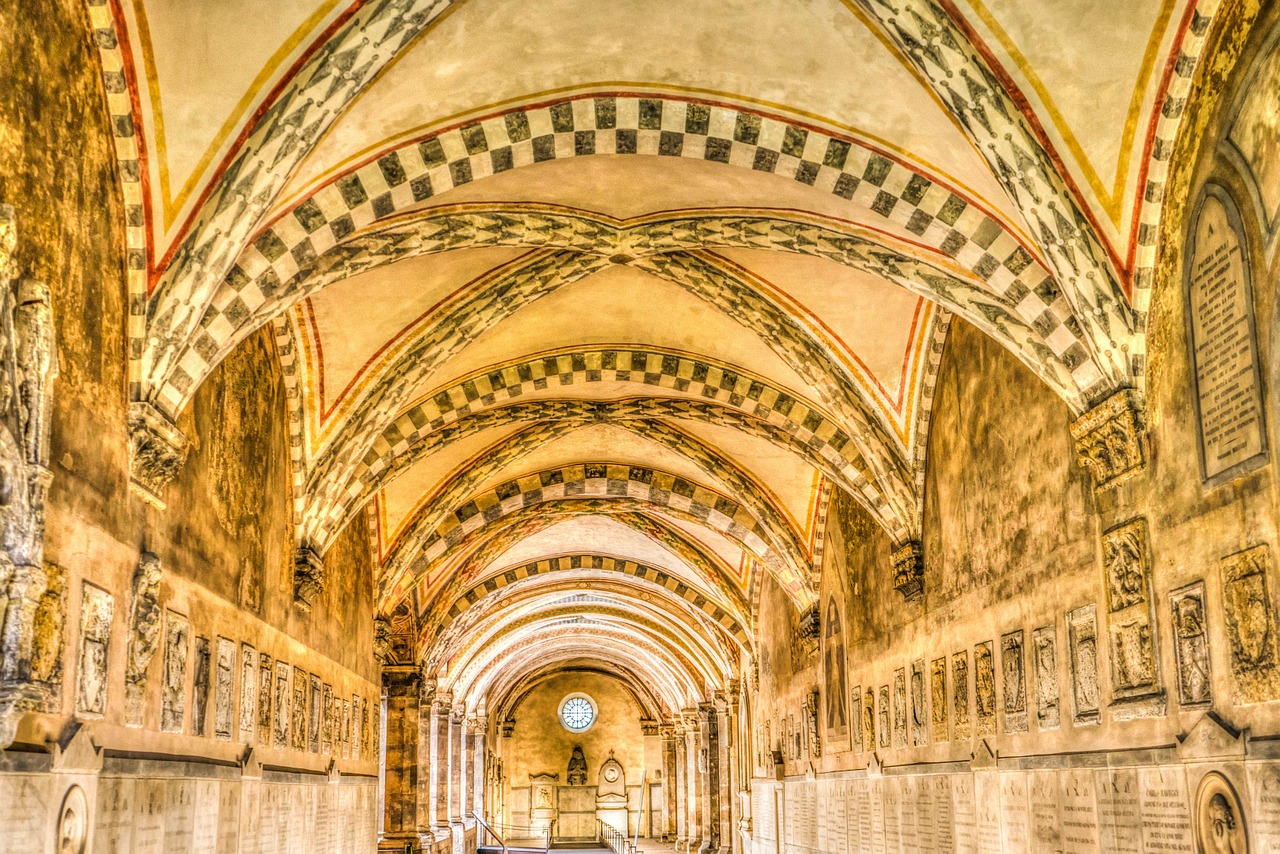 Best Place in Florence for shopping and dining.
Market, Street Food, and Medici History.
Chaotic and colorful San Lorenzo is the main shopping area of Florence, with the outdoor San Lorenzo Market and the multi-level Central Market.
But it's not just shopping that you'll find here, there are also quite a few options to try authentic local specialties within the busy streets to get your fill of Tuscan cuisine.
One of the most popular sights in this neighborhood is the Medici Chapel, where the most famous members of the Medici family are buried.
It's a good place to learn about a family that shaped so much of Italian history and art during the Renaissance era.
Right next door and on the other side of the spectrum, Santa Maria Novella is a quiet neighborhood that is ideal for families and those looking for a more relaxing stay in the center of the city.
This neighborhood is where to stay in Florence near the train station.
These neighborhoods are close to the train station, so they're a perfect jumping-off point for day trips to other parts of Tuscany and Italy if you have more time in Florence.
Best Hotels near San Lorenzo and Santa Maria Novella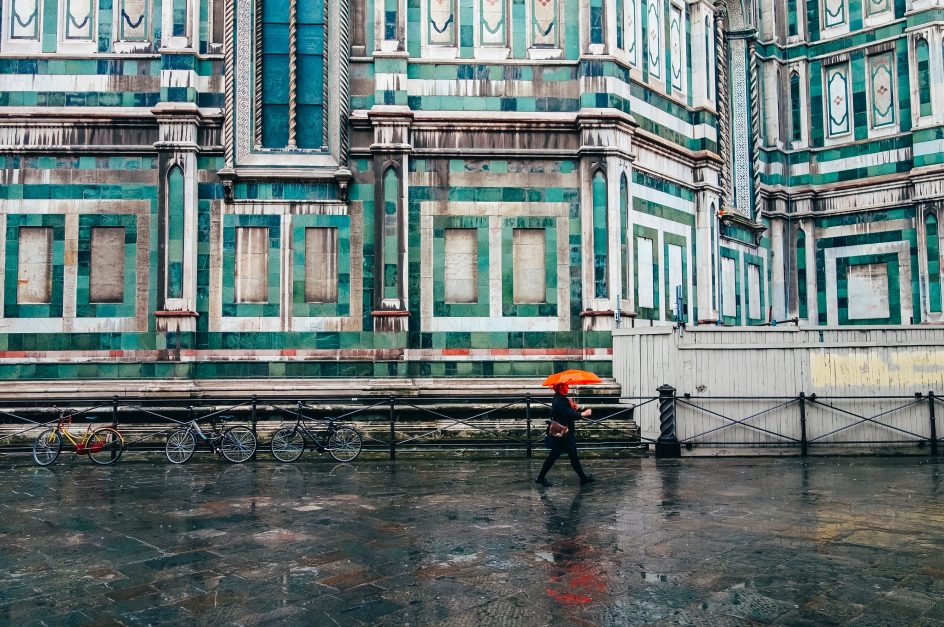 Best Luxury Hotel in Florence near the Train Station Grand Amore Hotel and Spa
An elegant hotel that has a lot to offer. Pampering as well as a relaxing stay in a central location. Offers a wellness center, lounge bar, and cathedral views in select rooms.
Check out Availability & Prices
The most unique hotel in Florence Room Mate Luca
Funky, modern hotel set in a historic part of the city. One of the most unique stays in Florence, with soundproof rooms, parquet floors, and a Mediterranean breakfast served until 12 pm.
Check out Availability & Prices
Cozy option in the heart of the San Lorenzo district. Rooms have a desk, with some including a kitchenette. Continental or Italian breakfast served every morning.
Check out Availability & Prices
Best Airbnb near Lorenzo de'Medici
1 bedroom apartment located on the 3rd floor with a view of the Mercato Centrale. Newly renovated with air conditioning, WiFi and TV. Run by Superhost.
Things to See in San Lorenzo and Santa Maria Novella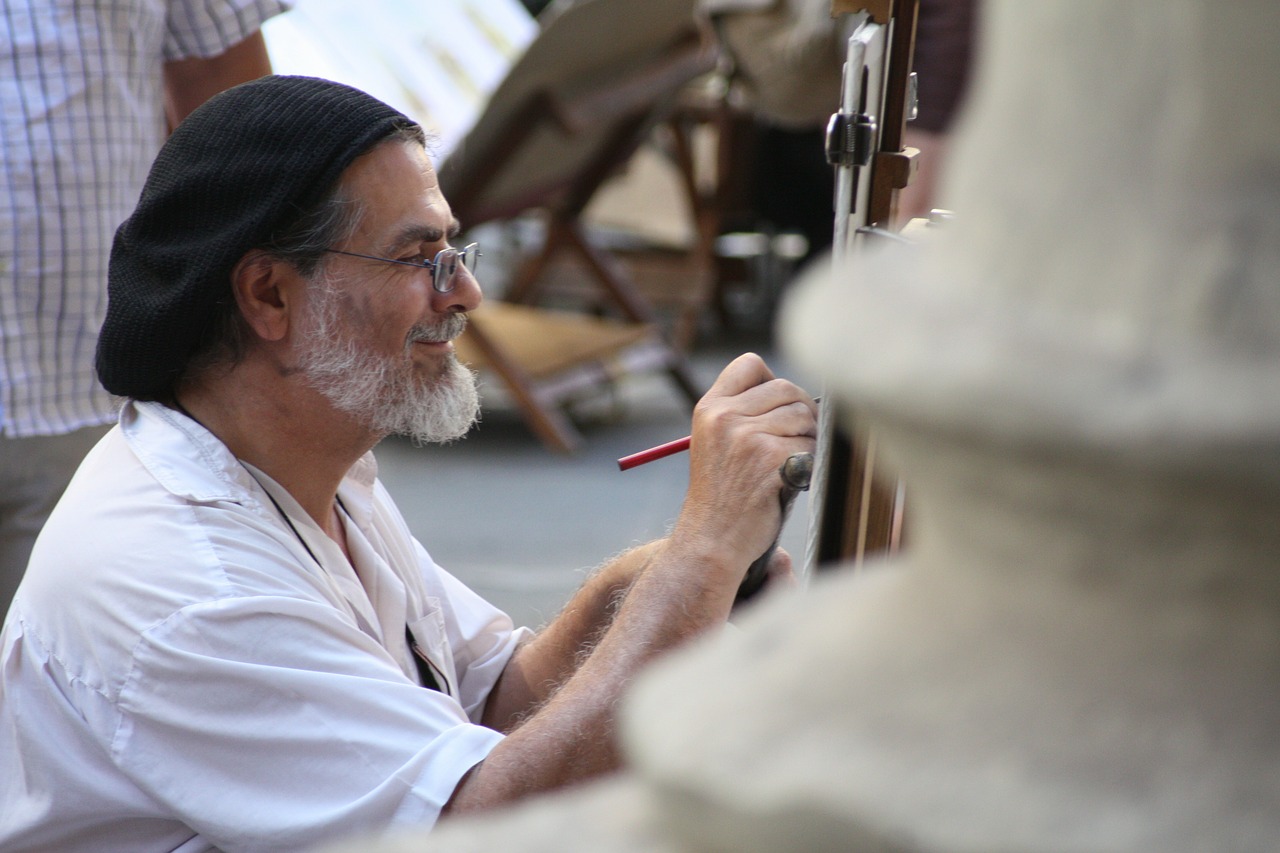 San Lorenzo Central Market – The busiest market in Florence. Where you'll find a range of souvenirs, local goods, and street food.
San Lorenzo Church – The first building in Florence that was built in the new Renaissance style.
Laurentian Library – One of Michelangelo's most impressive pieces of architecture, containing the most prestigious collection of antique books in Italy.
Basilica di Santa Maria Novella – A 14th-century church that was the first great basilica in Florence.
Giardino degli Orti Oricellari – Garden from the 15th century said to be frequented by the most prominent Italian scholars and artists, including Machiavelli and the Pope.
Santa Maria Novella Pharmacy – Founded in 1221, this is the oldest pharmacy in the world and has a stunning interior filled with chandeliers and frescoes.
Suggested Tours
Florence the Medici Experience Tour – Skip the line and Visit the Palazzo Medici and discover family secrets, scandals and conspiracies while you retrace the footsteps of these famous figures.
Cucina Lorenzo de'Medici (Cooking Class) – Enjoy an authentic hands-on-cooking class and learn how to make handmade pasta from a legitimate Italian cooking school.
Medici Chapels Private tour – Designed by Michelangelo, this is the final resting place of the most famous members of the Medici family. A good place to understand more about this powerful family and the effect they had on Florence.
Medici Dynasty Show – Watch an entertaining show that summarizes the life of the Medici family through costumed actors and video. The only English theater in the city.
Getting There
Being the main transportation hub of Florence, there are numerous options to get to and from the San Lorenzo and Santa Maria Novella areas.
Take the C1 or C2 bus to get right to the heart of San Lorenzo, or buses 1, 2, 4, 6, 11, 12, 14, 17, 23, 52, 54, 81, 82 to be dropped off in and around the neighborhood.
Take the 6, 11, 12, 36, or 37 bus to go directly to and from Santa Maria Novella Station, or buses C1, C2, D, 13, 17, 22, 23 to be dropped off nearby.
You can also take the Florence T1 tram from Santa Maria Novella Station, as well as various regional and international trains.
3. Santa Croce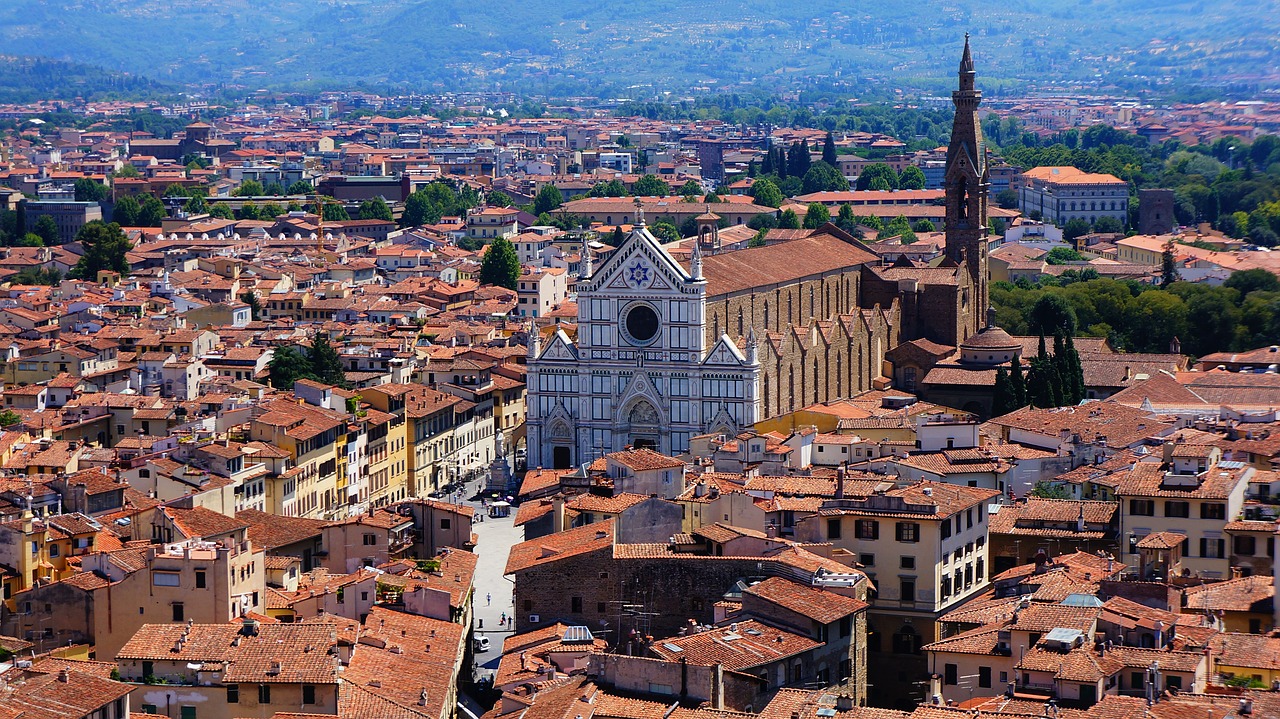 Best Place to Stay in Florence to Feel like a local
Similar to the Duomo and Piazza della Signoria, Santa Croce is also a busy area but slightly less touristy than the former neighborhoods.
There's a more local feel to this area while still being central and convenient to walk to.
Santa Croce offers some of the best restaurants, architecture, and nightlife in the city.
Whether you choose to spend your days people-watching in Piazza Santa Croce or wandering amongst the famous tombs of renowned Italians, this neighborhood has a lot going on.
If you're looking to be immersed in the busy and energetic atmosphere of Florentine culture, and want to have options for both tourists and locals, this is the best neighborhood to stay in.
Because it's such a popular area, there are a variety of hotels for a wide range of budgets.
Suggested Hotels near Santa Croce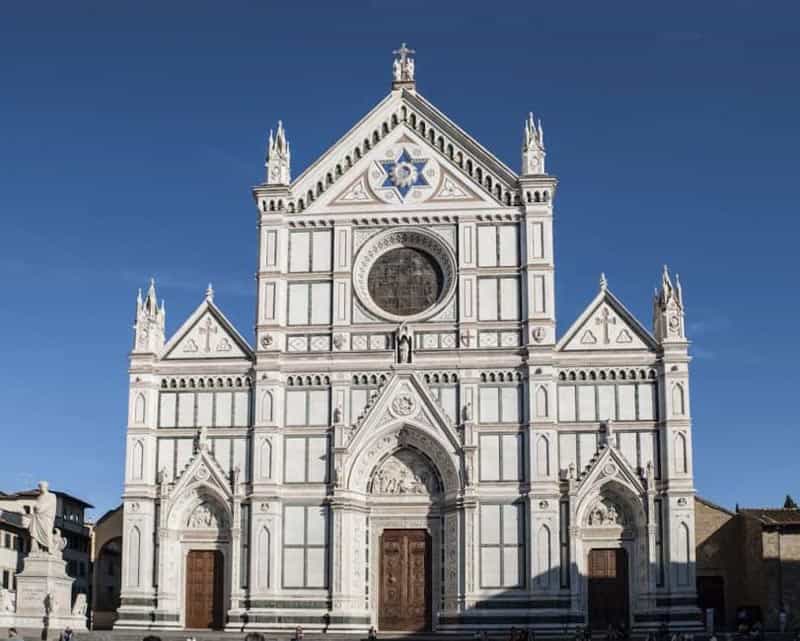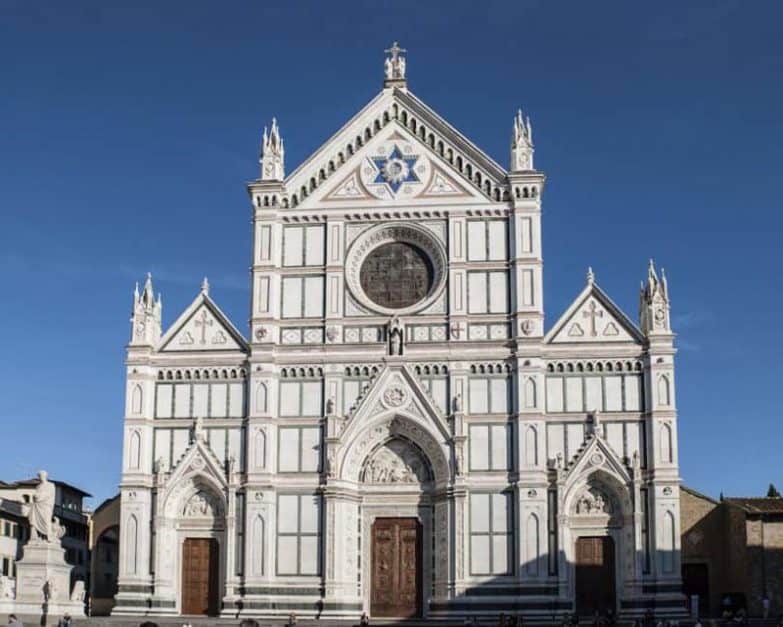 Luxurious and elegant bed & breakfast right next to Santa Croce Basilica, offering spacious rooms and free breakfast served daily. Select rooms feature a spa bath.
Check out Availability & Prices
Best Midrange hotel in Santa Croce A Teatro B&B
Affordable and comfortable option in central Florence with personalized and friendly service. Italian buffet breakfast offered daily, most rooms feature a private balcony.
Check out Availability & Prices
Best Budget hotel in Florence – Santa Croce Benci House
Near Palazzo Vecchio, featuring an on-site restaurant and a beautiful terrace that looks over Bardini Garden. Room decor is handmade by specialized craftsmen to showcase Tuscan nature.
Check out Availability & Prices
Best Airbnb near Santa Croce
Basic 1 bed 1 bath apartment near Santa Croce Square with kitchen, wash­ing machine, TV, WIFI Inter­net, A/C.
Things to see near Santa Croce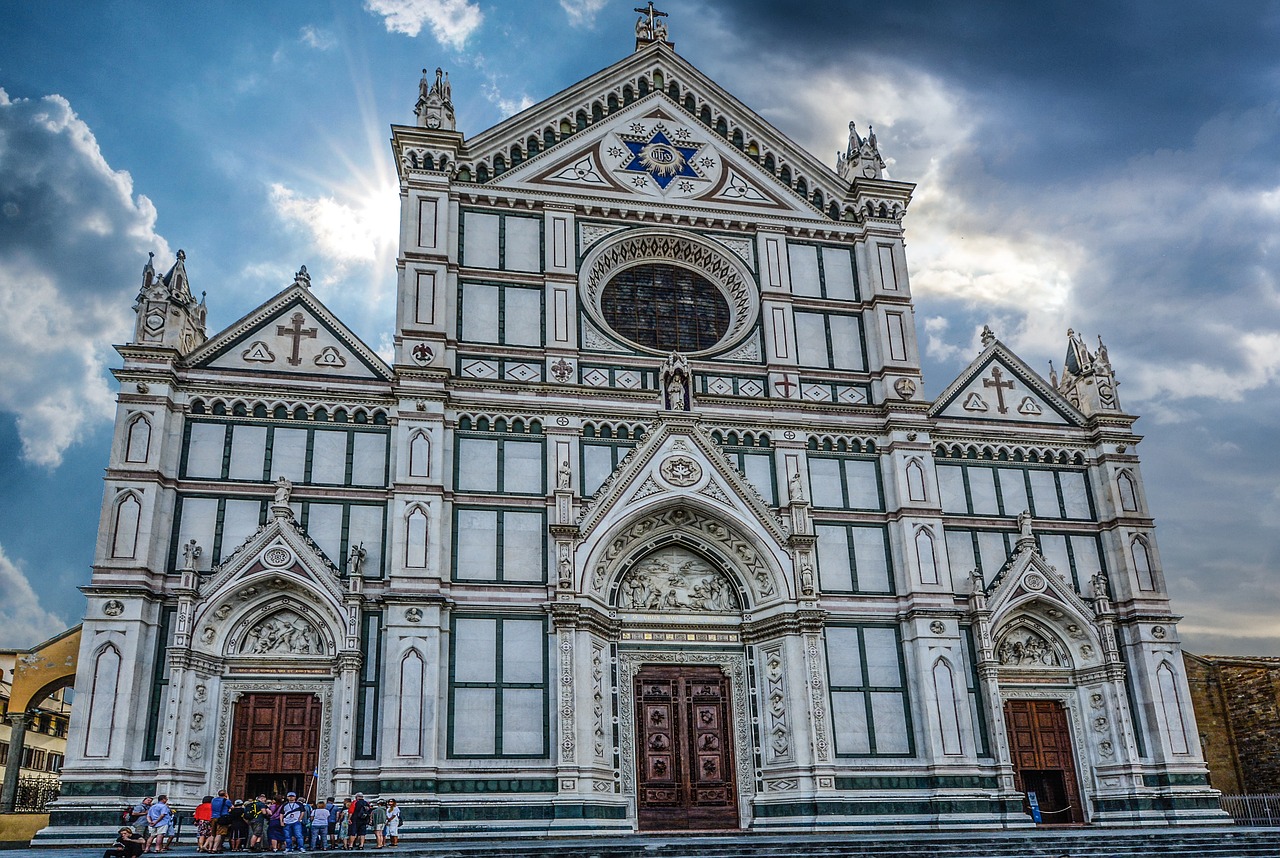 Santa Croce Basilica – Most beautiful church in Florence where numerous famous Italians are buried – including Michelangelo, Galileo, Rossini, and Machiavelli.
Piazza Santa Croce – A busy city square that is perfect for people watching and the view of Santa Croce Basilica.
Biblioteca Nazionale Centrale – The largest public library in Italy for anyone who loves books. datin gback to 1714
Scuola del Cuoio – The largest and most famous leather school in Florence, great area to buy quality leather goods.
German Market – In December, Piazza Santa Croce is taken over by the largest winter market in all of Tuscany where you can shop and eat to your heart's delight.
Suggested Tours
Florence Food and Wine tour – people who want to have a taste of typical, high quality, Florentine food and wine
Florence Bike Tour – An easy, laidback 2.5-hour bike tour to show you some of Florence's hidden gems, starting with the Santa Croce area.
Santa Croce Self-Guided Walking Tour – For the independent traveler who wants to know more about Santa Croce, but doesn't want to be herded around in a group tour. This self-guided tour will give you a good history of the area at your own pace.
Florence Boat Tour – The Arno River and Ponte Vecchio are some of the most scenic sites in Italy, enjoy them from the water through this romantic boat tour on a Florentine Gondola.
Getting There
Take the C2 or C3 bus to get to the central part of Santa Croce, or the 14 or 23 bus to get to the edge of the neighborhood.
4. Sant'Ambrogio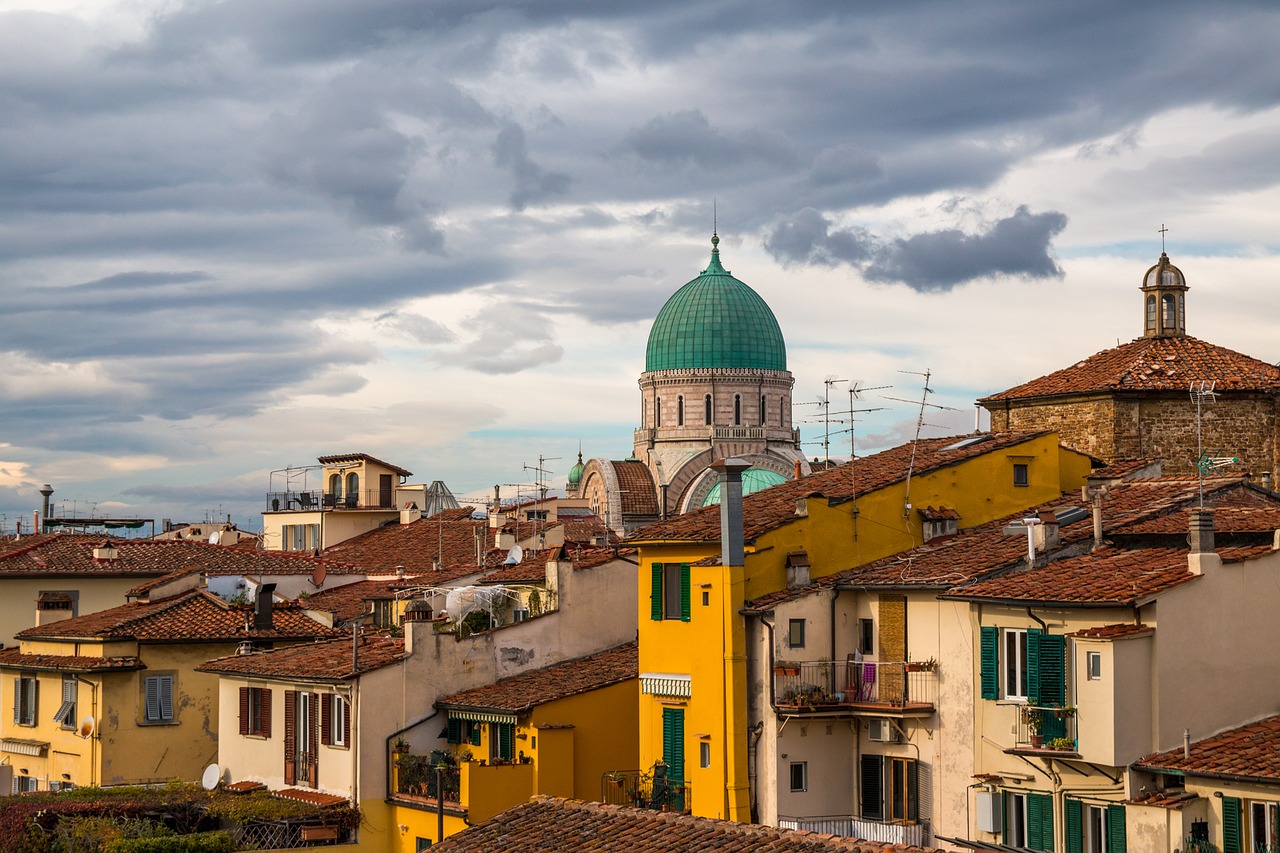 Best neighborhood in Florence for Hip Local Experiences & Student Life
One of the oldest neighborhoods in Florence, Sant'Ambrogio is a student-friendly area that offers a more local and authentic Florentine experience.
Sant'Ambrogio used to where the Jewish community lived, one of the largest in Italy.
Experience the history in the neighborhood through the quality Jewish restaurants, Kosher food, and one of the oldest and largest synagogues in Italy.
Arguably the best local market in Florence is Mercato di Sant'Ambrogio.
This neighborhood is far enough removed from central Florence to get away from the busiest parts of the city, but still only a 10-minute walk from the main attractions.
full of young couples and students who take advantage of the good cafes, museums.
For a city that can be overwhelmingly touristy, this is the place to escape the crowds and feel like a local for a few days.
Suggested Hotels near Sant'Ambrogio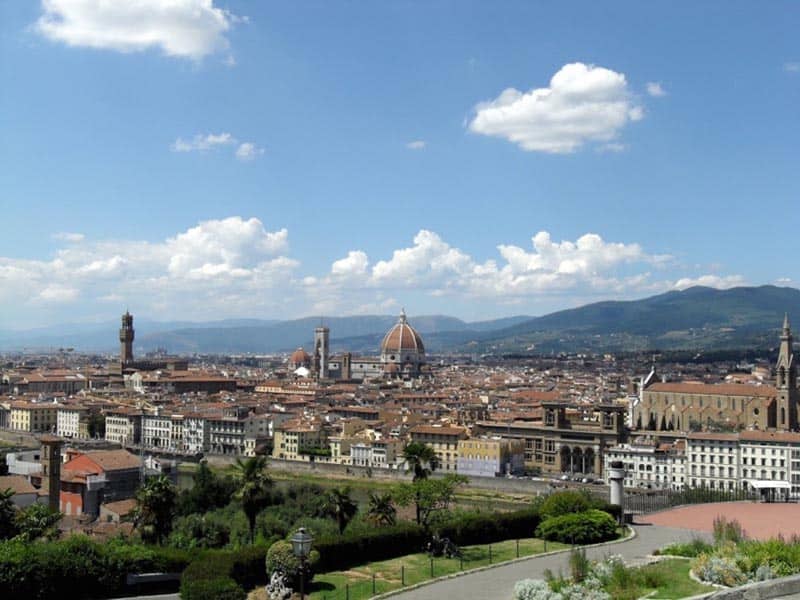 Clean and friendly B&B that offers a welcoming stay a short distance away from major attractions. Perfect if you want to stay in a more local area that's still central.
Check out Availability & Prices
Best mid-range hotel in Florence with a view of Brunelleschi's dome – Hotel Cardinal of Florence
3-star historic hotel offering bright, spacious rooms, and stunning views from a rooftop terrace. Some rooms feature panoramic views of Brunelleschi's dome.
Check out Availability & Prices
Modern hotel only a 10-minute walk from the Uffizi Gallery and Duomo. The hotel features light and welcoming decor, free coffee and tea, newly renovated rooms, and comfy beds.
Check out Availability & Prices
Best Airbnb near Sant'Ambrogio
New and bright studio apartment with an elevator. Kitchen, bathroom, WiFi.
Things to See in Sant'Ambrogio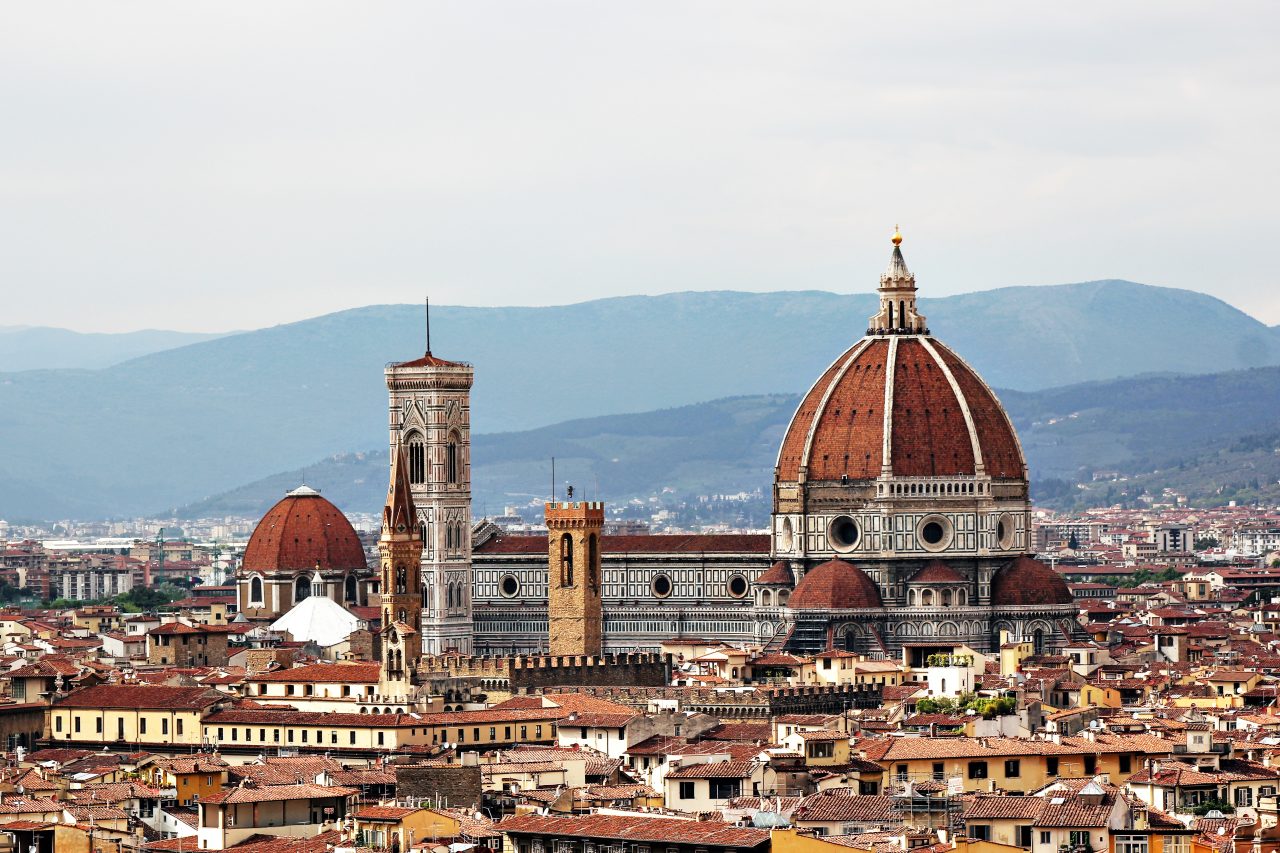 Sant'Ambrogio Market – Arguably the best local market in Florence and much less touristy than the Central Market in San Lorenzo. You'll find vendors selling fresh fruits, vegetables, produce, pastries, and meat here.
Mercato Delle Pulci – Small, daily flea market held in Piazza dei Ciompi. Browse through antiques, old books, and second-hand goods in the open air.
Tempio Maggiore of Florence – One of the largest and oldest synagogues in Italy, and one of the most beautiful in Europe. Appreciate the Moorish architecture and the teal central dome. Don't miss the museum on the first floor.
Piazza d'Azeglio – A great place to hang out and grab a drink on summer nights, this is the square where all the locals go. You'll find the atmosphere buzzing with old and young people alike, as well as students.
Caffè Enoteca – An ideal spot to grab authentic apertivos and quality Tuscan wine. Another place frequented by locals.
Suggested Tours
Timed Entrance to David – Enjoy priority entry to one of Italy's top attractions with a reserved entrance ticket to the Accademia Gallery in Florence.
The Hip Nightlife Tour of Florence: Wine & Bites– Get to know one of the best areas for nightlife and aperitivos in Florence through a local's perspective.
Jewish Florence Walking Tour – Learn more about the Jewish history in Florence through this 3-hour walking tour, including a visit to the historic Tempio Maggiore of Florence and Jewish Museum.
5-hr Market Tour and Cooking Class – Stroll Sant'Ambrogio Market, learn some great typical Tuscan recipes and taste the fruit of your hard work in the city center of Florence.
Take the C2, C3, 6, 14, 19, 23, or 31 bus to get dropped off near Piazza Sant'Ambrogio or the Synagogue.
For more information, go to the AFAF website for updated costs and schedules.
5. Oltrarno – Coolest Neighborhood in Florence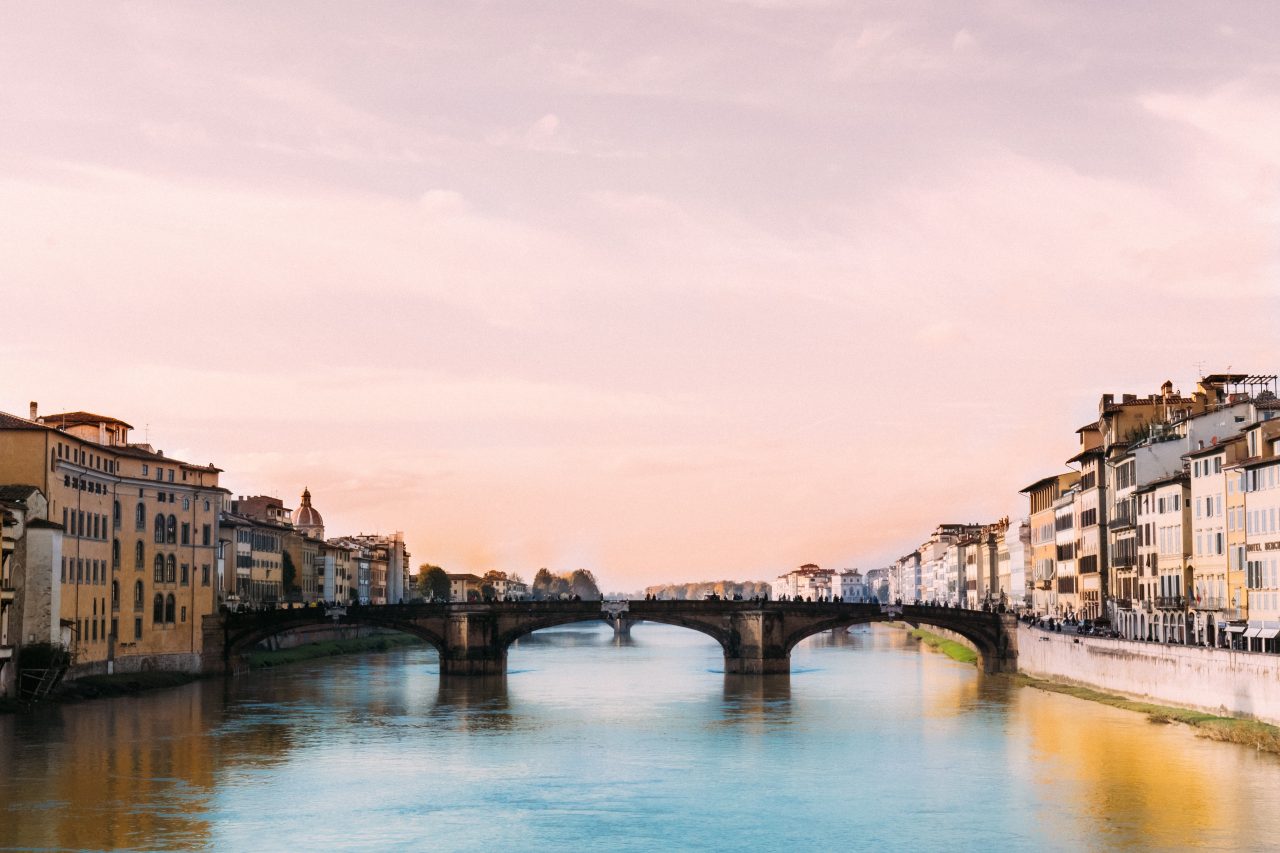 Where to Stay in Florence for a relaxed and artsy atmosphere across the River
Experience another side of Florence on the other side of the Arno River in the Oltrarno neighborhood.
This is where you'll find streets full of artisanal shops, and a bohemian feel that can't be replicated anywhere else in Florence.
Considered to be one of Florence's 'coolest' neighborhoods, Oltrarno offers a variety of hipster cafes, antique shops, and foodie restaurants.
This area used to be where wealthy Florentines would come to escape the unhealthy air and dirty streets of the city center.
That feeling of relaxation and an escape from the crowds can still be felt around Otlrarno.
And the best part about this Florence neighborhood?
It's still relatively unknown to the majority of tourists who come to Florence, meaning you can still find the odd quiet square and easily immerse yourself in the local culture.
Suggested Hotels near Oltrarno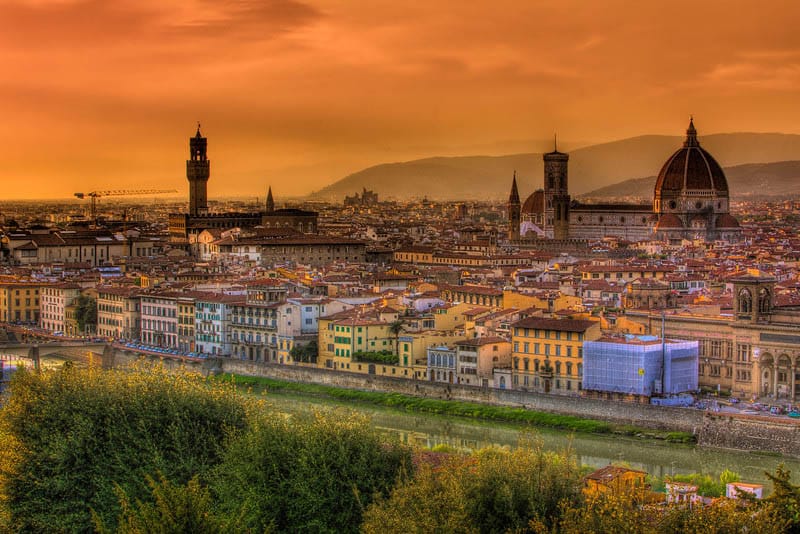 Best 5-star hotel in Oltrarno: Villa Cora
5-star property that feels like you are in the countryside. Walkable to all the main sights. Housed in 19th-century building, featuring a park, outdoor swimming pool, and wellness area with a Turkish bath.
Check out Availability & Prices
Best Mid-range Florence Hotel along the Arno River: Hotel La Scaletta
Housed in a 15th century building and located along the Arno River, offering bright rooms, hardwood floors, and a buffet breakfast. Features a panoramic rooftop terrace that's open all year.
Check out Availability & Prices
Best budget hotel in Florence near the train station: La Fonderia Firenze
Spacious and modern accommodation, featuring a garden and hearty breakfast. The perfect distance from the train station, but away from most of the crowds for a quieter, more local stay.
Check out Availability & Prices
Best Airbnb in Florence near Oltrano
Charming studio located on the third floor with a lift. Run by a super host, with Air Conditioning, WiFi, heat, and kitchen.
Things to see in Oltrarno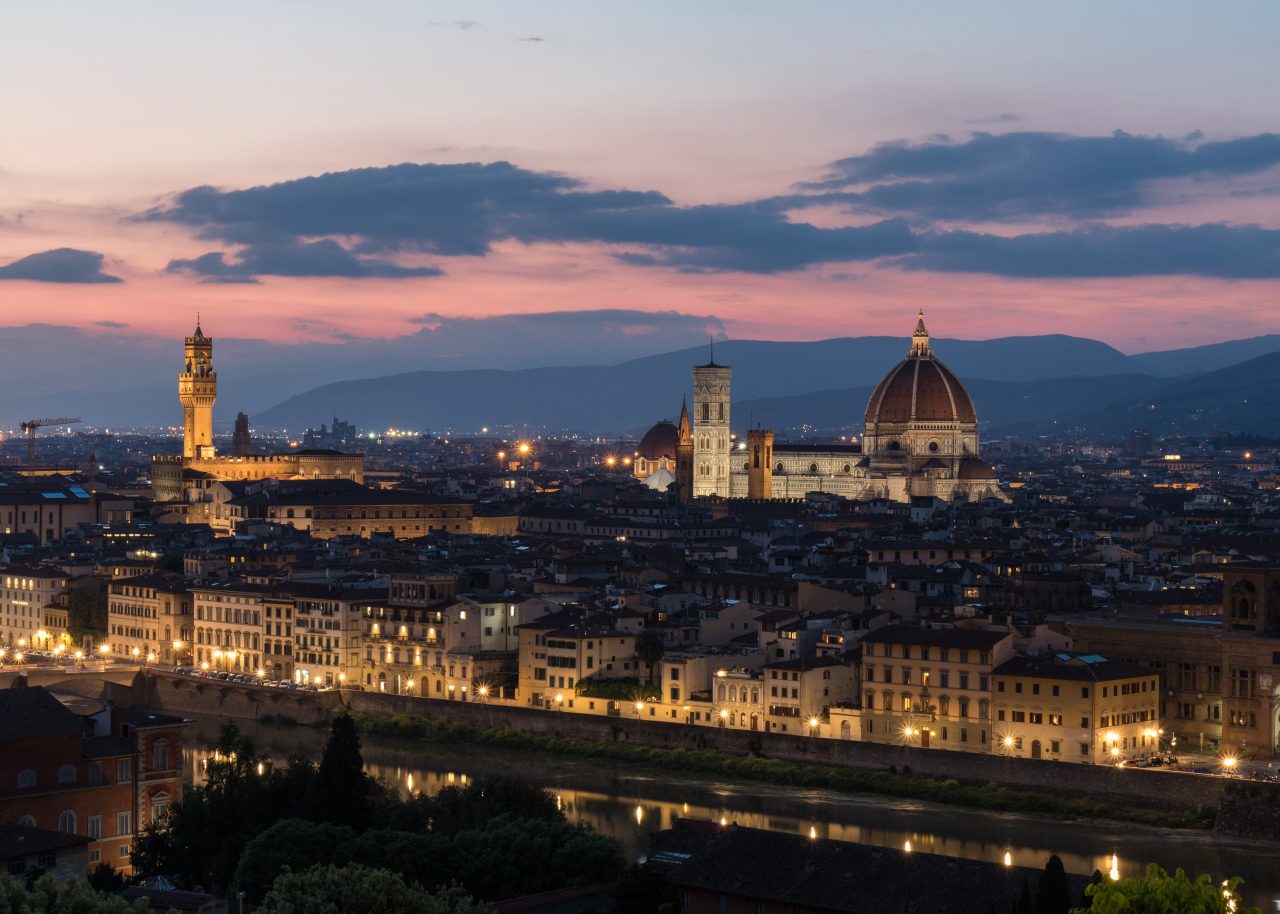 Piazzele Michelangelo – One of the most popular viewpoints outside the city center. It's a hike up a large hill to get there, but worth it for the stunning panoramic views over the city.
Pitti Palace – Palace built in the 15th century. Today it's the largest museum complex in the city.
The Palatine Gallery, Silver Museum, Museum of Modern Art, Costume Gallery, Porcelain Museum, and the Museum of Carriages are all found here.
Boboli Gardens – Huge park that houses various sculptures, mostly from the 16th to the 18th centuries.
Suggested Tours
The Other Side of Florence Food Tour – The other side of the Arno River. Get to know it better through this 4-hour foodie and wine walking tour.
Florence Vespa Tour – 3-hour tour that will take you around Florence's most famous spots. Reach the Piazzale Michelangelo and the San Miniato convent and the Florentine hills.
Florence Artisan Food Tour – This tour takes you to meet local artisans around the Oltrarno neighborhood.
Florence Sunset Tour – Take in Florence's hippest neighborhood through a sunset food tour.
Getting There
Take the C3, D, or 11 bus to get to Pitti Palace or Santo Spirito, bus 11 to get to the Boboli Gardens, and the 12 or 13 bus to get to Piazzale Michelangelo.
Local Insider Tip – Secret Bakeries
Secret Bakeries – All around Florence you'll find 'secret bakeries' that open right as the bars close in the wee hours of the morning.
Be polite, knock quietly, and quickly order your favorite pastry that probably just came out of the oven (ahem, Nutella croissant). It's a Florence experience you can't miss, but they're not the easiest to find because there are usually no signs. You just have to follow your nose.
The largest concentration of these bakeries are around Santa Croce area, one of the most popular ones being Pasticceria Vinci & Bongini. Good luck!
Gelateria Vivoli – Everyone has there own opinion on where to find the best gelato in Florence, but Vivoli is a strong contender as a local favorite. Right around the corner from the Santa Croce Basilica.
Best Time to Visit Florence
Florence has a relatively mild climate, but being situated in a valley means its temperatures vary more than other parts of Tuscany.
Summer The summer months are humid, with the heat generally lasting through the night to create warm summer evenings.
August is generally when the city is at its hottest and when the crowds are at their worst. This is when most locals leave for holidays and close up shop. Summers usually hover around 25-30 C, although it's not unusual for temperatures to get past 30 C in August.
Winter Winter temperatures average out to about 10 C, or as low as 5 C if it's a particularly cold season.
The rainiest month is usually November, with December, March, and April also getting a decent amount of precipitation.
Spring and Fall The most pleasant time to visit Florence for the best weather and fewer tourists is in the spring and fall, around May or September/October. back to top
Getting Around Florence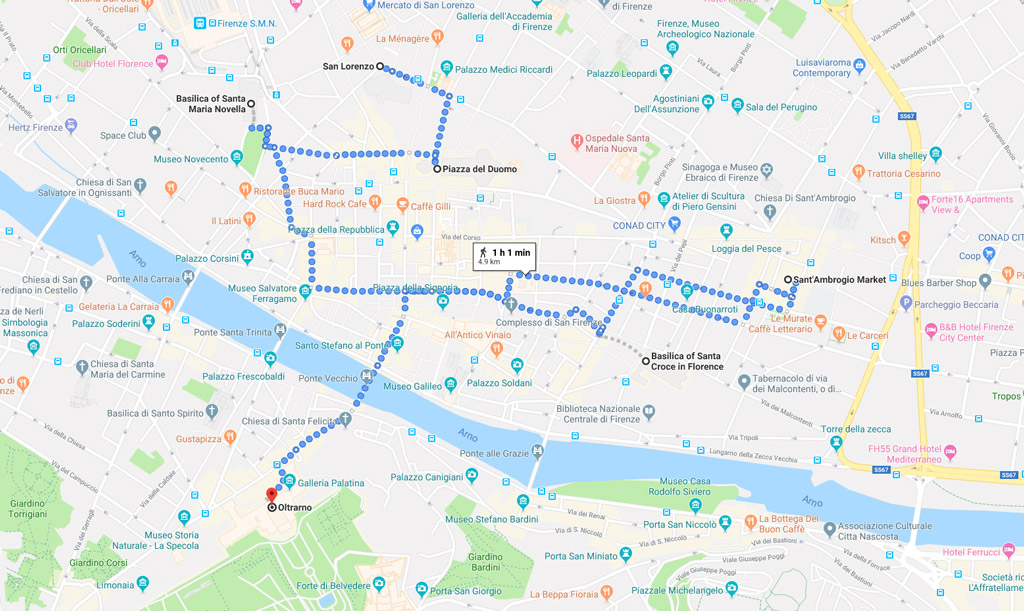 Click here for your map of the top Florence neighborhoods.
Besides walking, options to get around will mostly be by bus, but there is also one tramline that runs through the city.
You can buy a Unica Toscana card at authorized ticket points.
You can purchase and reload Unica Toscana cards at ATAF Points, Ticket Points, or from over 1,000 authorized dealers around the city (here).
You can also find automatic ticket machines at stations, universities, and hospitals (here) or T1 tram stops (here).
Tip: If you're using the pre-paid Unica Toscana card, it's €1.50 for 90 minutes of travel. Make sure to validate your trip as soon as you get on.
On-board bus tickets cost €2.50 for 90 minutes of travel but drivers don't always have tickets on them and they're not required to give you back change.
Firenze Card – This is a 72-hour tourist card that gets you into all of the main attractions, and if you add 5 euros you can have unlimited travel on ATAF buses during the time the card is active.
Purchase the Firenze Card online here or buy one in person at the InfoPoint across from Piazza della Stazione 4.
For more information on ticket prices and transit timetables, you can find the AFAF website here.
You can also download their app to map out more specific routes and see live bus arrival times.
Enjoy this post on where to stay in Florence? Be sure to pin it for future reference.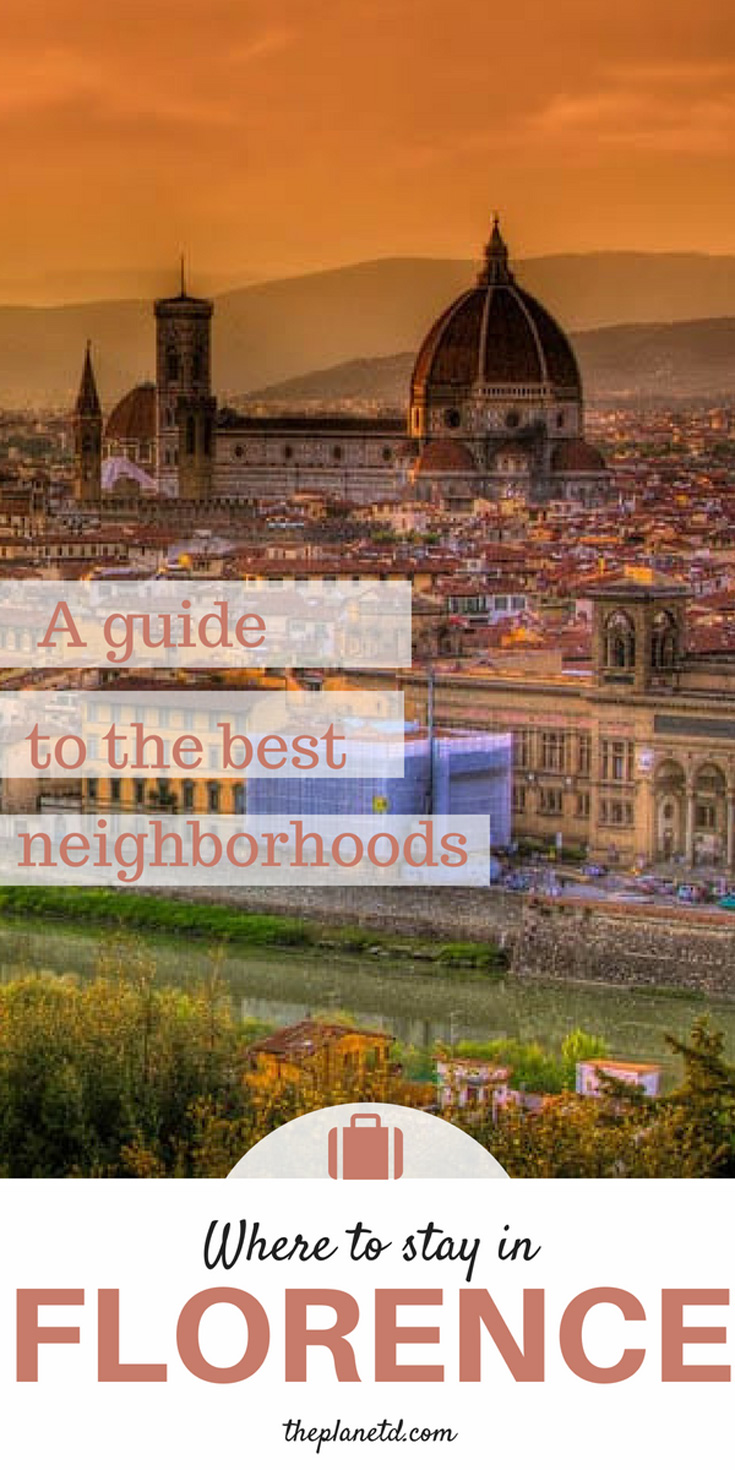 As you can see, Florence is a city that has inspired countless dreamers and artistic geniuses throughout the centuries and continues to do so today.
So, grab some quality shoes to tackle the cobblestones, and get ready to spend hours in museums and at dimly lit trattoria tables that serve up the best home-cooked Italian meals.
Once you discover the secret bakeries, taste the gelato, watch the sunset over the Ponte Vecchio, and get lost in the irresistible Tuscan romanticism that is so prevalent in Florentine culture, you may never want to leave.
Your Tuscan adventure awaits!
Disclosure: There are some affiliate links in the post above, but these are all products we highly recommend. We won't put anything on this page that we haven't verified and/or personally used.