There are so many things to do in Tokyo, it's difficult to know where to begin.
Tokyo is an enormous city. I know we were overwhelmed when planning our trip. But don't worry, we are here to help!
It was my second time in Tokyo and I was excited to see how the city had changed.
It was still crazy busy, but there was a calmness to it all. You could take in the excitement of Shibuya Crossing at one moment then enjoy the serenity of the Nogi Shrine at another.
Combine that with some incredible food, unforgettable shopping and I knew why I wanted to return to Japan.
This time we were lucky enough to have some time to discover more of Tokyo and in turn want to help you decide what to see in Tokyo, where to stay and how to make the most of your visit.
Just remember, the more you do, the longer you will want to stay.
First-timers Tip: A great way to get your bearings when visiting any city is to start with the hop on hop off tour bus Get Your Guide offers advance tickets online.
What to do in Tokyo
Skip Directly to these Tokyo Districts and Quick Tokyo Tips
What should you not miss in Tokyo?
You should not miss seeing the Shibuya Crossing to witness the world's busiest intersection, you must visit the skyscrapers, nightlife and robot restaurants of the Shinjuku District. Tokyo Sky Tree and the Hie Shrine.
Is Tokyo Safe?
Tokyo is a very safe city, but like when visiting all large cities, proper precautions should be taken. Don't go out late at night alone, keep an eye on your personal belongings, and don't make yourself a target by overdrinking.
What are the things you should do in Tokyo?
Visit one of their unique cafes like a robot restaurant or cat cafe, view the Tokyo Tower from Shiba Park, go up the Tokyo Sky Tree, the tallest tower in the world and take in the view from the Tokyo Metropolitan Government Building
1. Shibuya Crossing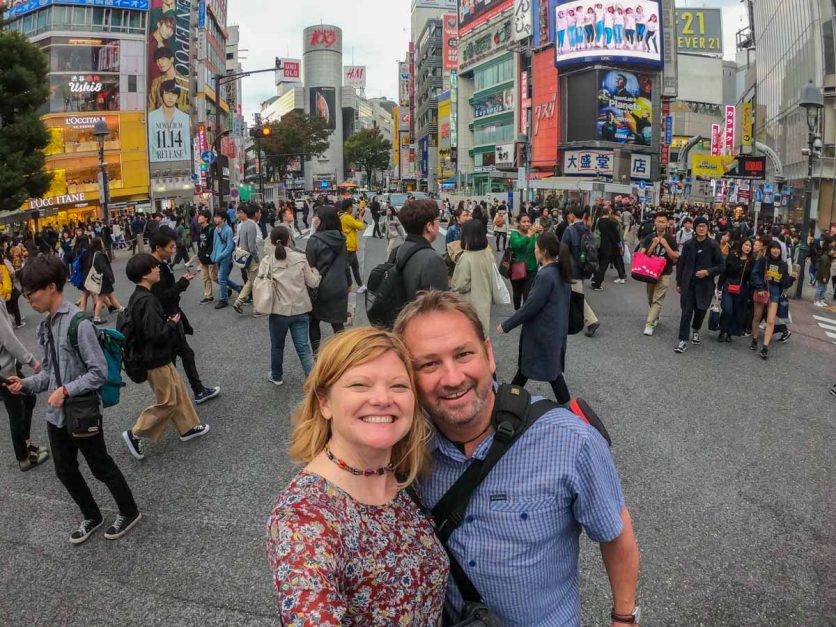 Shibuya Crossing is a spectacular spot to take in the crowds of Tokyo. It is considered the busiest intersection in the world.
Surrounded by billboards and neon lights, thousands of people make this all-way pedestrian crossing every few minutes.
Cars stop to let the hoards of people through in an orderly manner.
It gets crossed by over a quarter of a million people every day. That is roughly 2500 people every time the lights turn green.
Getting There: Metro Stop Shibuya Station
2. Magnet's MAG7
To really get a sense of the crowds of Shibuya Crossing, make your way to the top of Mag 7.
Take the escalators or elevators up to the 7th floor for the viewing platform.
You'll have to walk through restaurants and shops to the rooftop lookout, but it is free and you can order drinks outside.
The glassed-in viewing area looks right over Shibuya Crossing and you will have the perfect view to take in what looks like an army of ants crossing the street from all directions.
3. Meiji Shrine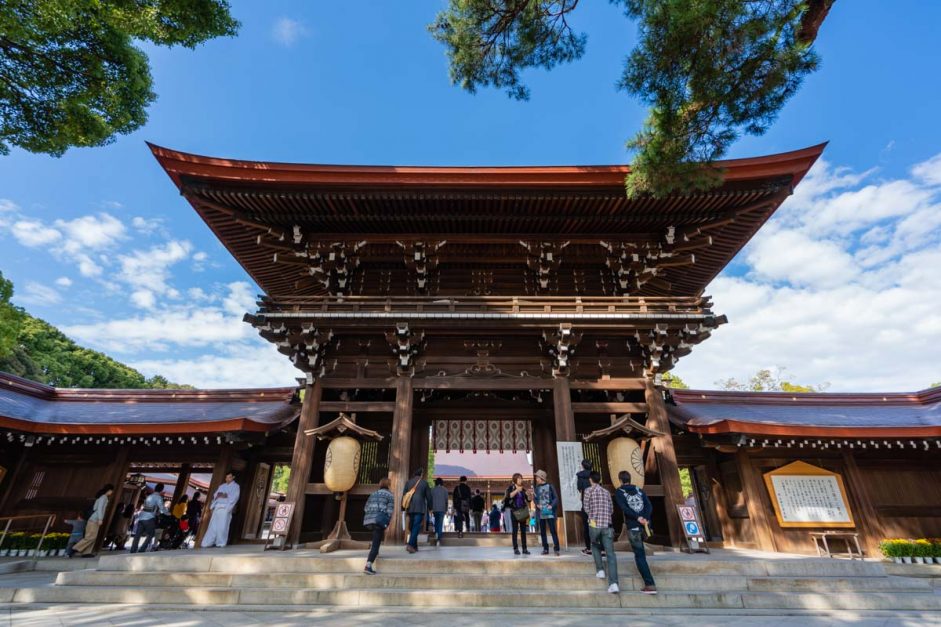 One f the most popular shrines to see in Tokyo is the Meiji Shrine. This shrine is dedicated to Emperor Meiji and is one of the most popular things to do in Tokyo.
He was considered the first modern emperor of Japan. During his reign, Japan had opened up and modernized to join the world at the turn of the 20 century.
Japan modernized and westernized herself to join the world's major powers by the time Emperor Meiji passed away in 1912.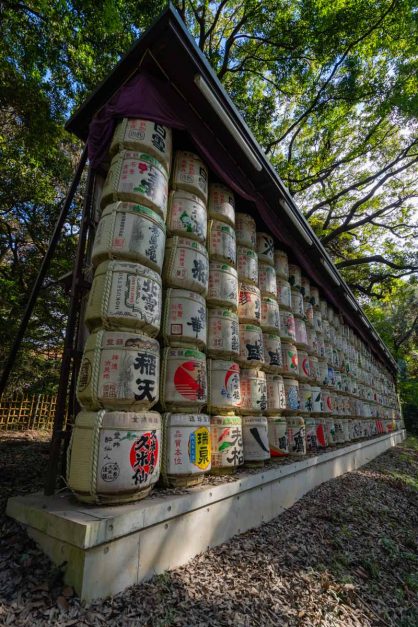 An interesting attraction walking into Meiji Shrine is the wall of barrels lining the forest path towards the temple.
Our guide Yoshi told us that these are sake barrels donated to the temples and shrines.
Sake is said to bring people closer to the Gods. Sipping sake at a shrine is a symbolic gesture to bring people closer to the Gods.
Barrels are donated by brewers and blessed to bring prosperity.
Getting There: Metro Stop is Harajuku Station
4. Love Hotel Hill (Dogenzaka)
Tokyo not only has weird and whacky shops it also has weird hotels. This hill is dedicated to romantic getaways.
You can stay for a few hours or overnight. Many hotels won't allow foreigners though, so be prepared to look around.
5. Hachiko Statue
This little statue is a tribute to man's best friend.
The story goes that Hachiko used to meet his owner every day at the subway station coming home from work.
When his owner died the dog kept coming back every day for years until its own death. It is now a popular meeting spot.
Getting To Shibuya: Take the Yamanote Line direct to Shibuya Station.
Where to Stay in Shibuya: Check out TripAdvisor for reviews and places to stay near Shibuya
Shinjuku
Shinjuku is another very popular tourist area in Tokyo.
This is the place where all the nightlife, karaoke bars, cat cafes and other zany things to do in Tokyo occur.
It's great to visit at night, but it is even happening during the day.
6. Golden Gai – Izakaya Alleys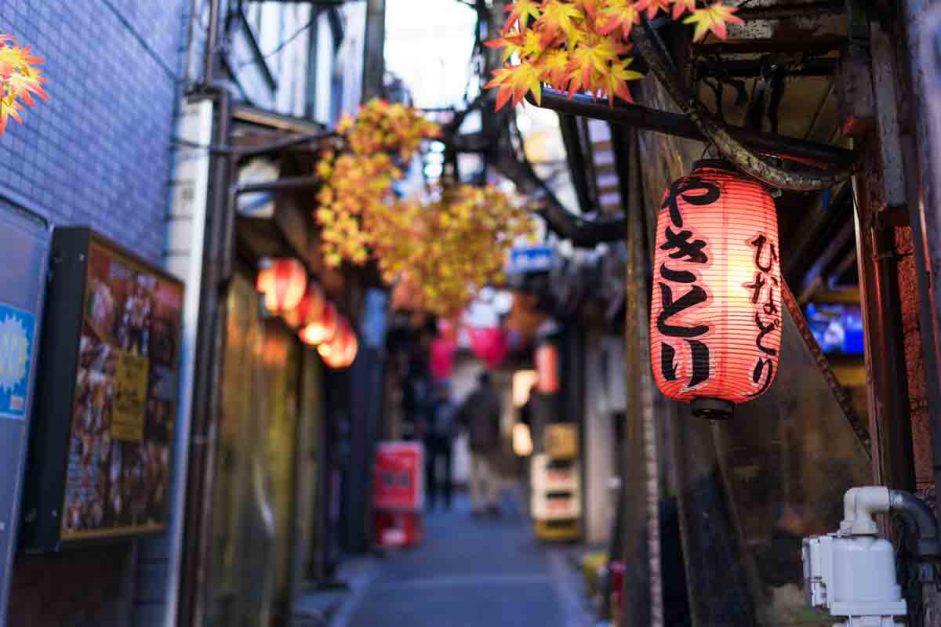 All around Tokyo you'll find alleyways filled with pubs and bars known at Izakaya Alleys.
They are tiny stalls serving food and drink and are popular after-work meet up points for locals.
It has caught on with tourists too, and in the Shibuya and Shinjuku areas of the city, you'll find these crowded alleyways filled with people.
In Shinjuku, you can wander through the alleys of Golden Gai in search of the perfect bar.
There are more than 200 tiny bars to choose from. They only seat a few people and entry is at the owner's discretion.
It can be overwhelming and intimidating choosing which bar to enter, so instead book a Shinjuku Golden Gai food tour with Get Your Guide.
It can also be difficult getting a seat and there is usually a time limit. Get Your Guide offers tours in Tokyo's Shinbashi area to check them out thoroughly and to be sure you get a seat!
7. Tokyo Metropolitan Government Building
One of the best views of Tokyo is from the Metropolitan Government Building. It's free to enter and offers a panoramic view of the city.
If its a clear day, you can even see Mount Fuji!
There's also a tourist information centre in the building.
8. Robot Restaurant
When I first visited Tokyo in 1994, it seemed so much farther ahead than the rest of the world. And now it just keeps pulling away from the rest of us!
The Robot Restaurant is one of Tokyo's most popular attractions.
Located in Shinjuku, the Robot Restaurant runs a high tech show with dancers and technology takes place three times a day.
Snacks are sold, not a full meal. And it is advised to book ahead.
9. Cat Cafe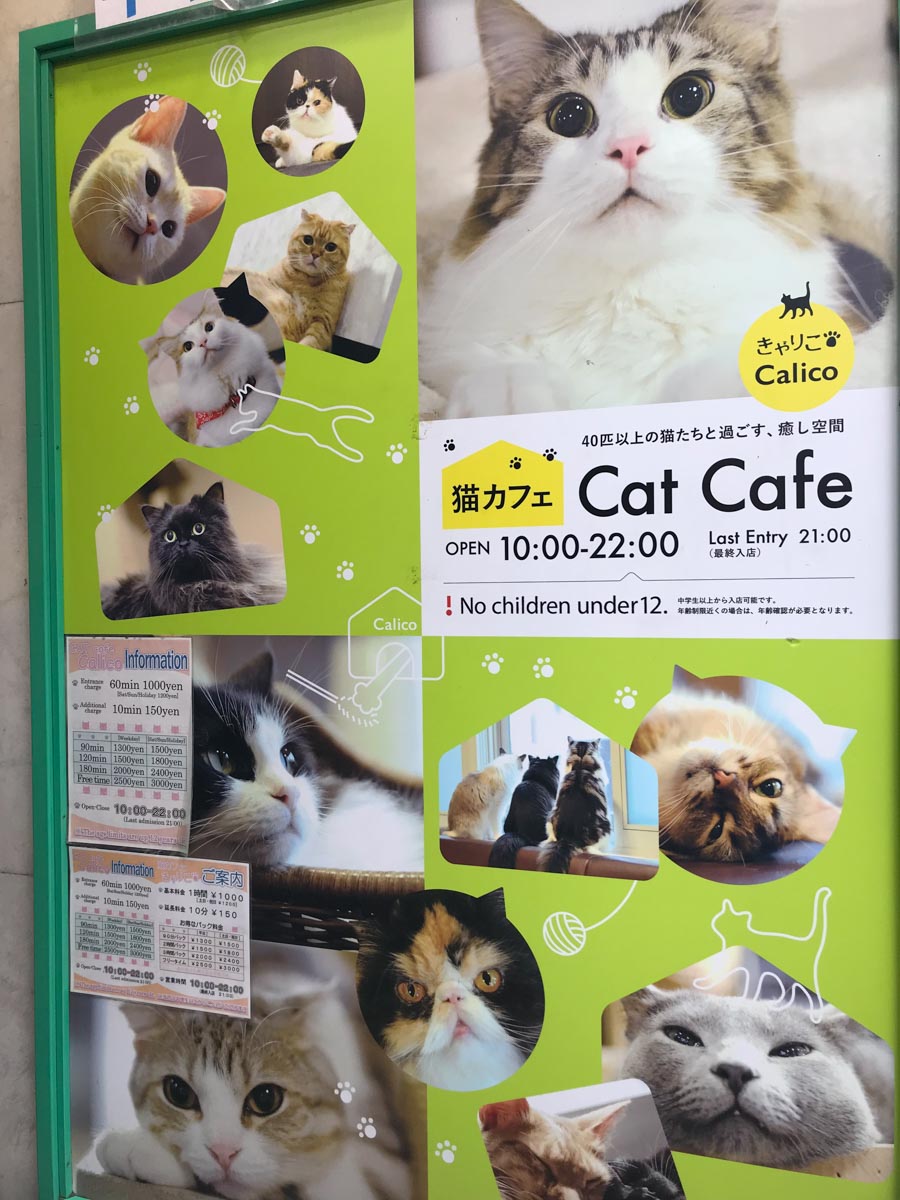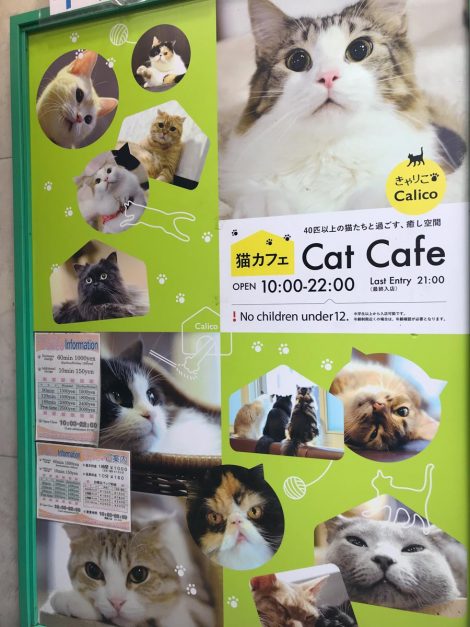 Tokyo is known for its unique cafes. There are fishing restaurants, owl restaurants, ninja cafes, and famous cat cafes.
The Calico Cat Cafe is the biggest and probably most famous of the cat cafes. Located in Shinjuku up five flights of stairs, it is not quite what you think.
When you go inside, it feels like you are checking into a veterinarian office instead of a cafe. I was happy to see that they are well taken care of.
Being a previous cat owner, I love cats and can understand why people would want to cuddle with some kitties if they can't have one at home, or if they are traveling for a long time and miss interaction with animals.
It's pricey and you pay hourly, plus you pay for treats.
10. Godzilla Street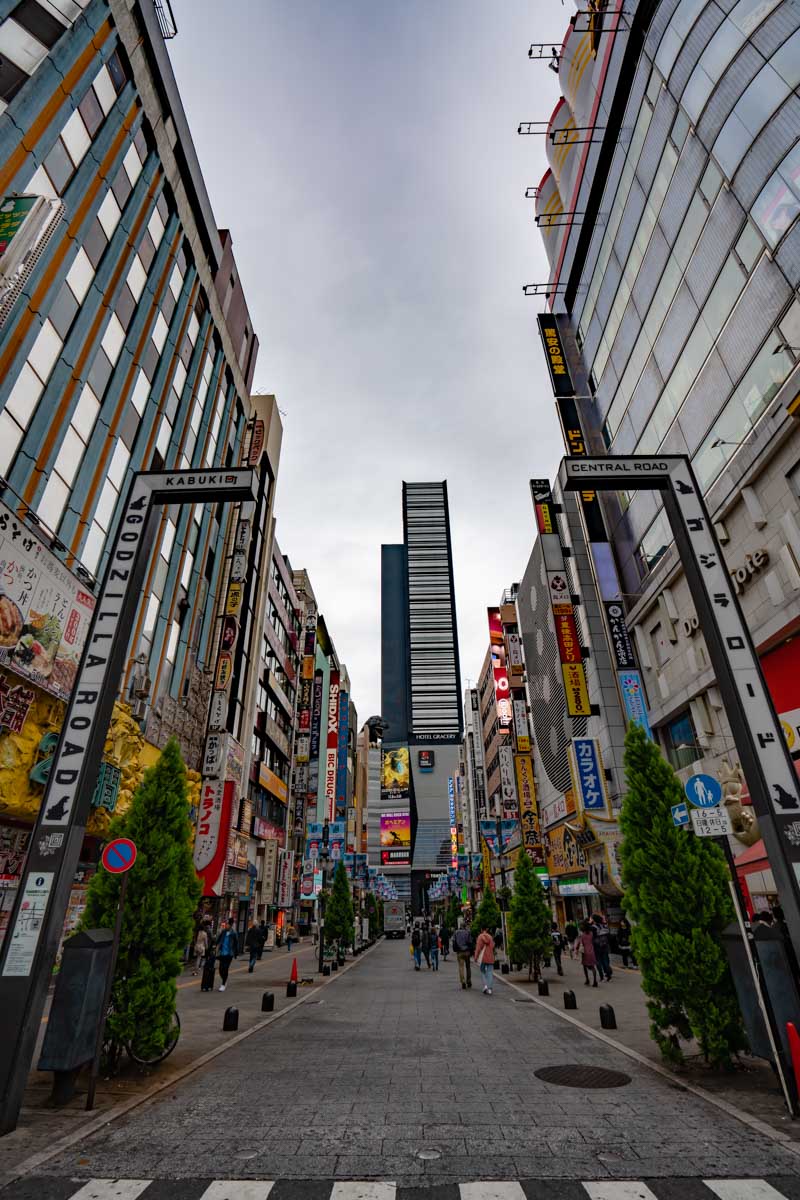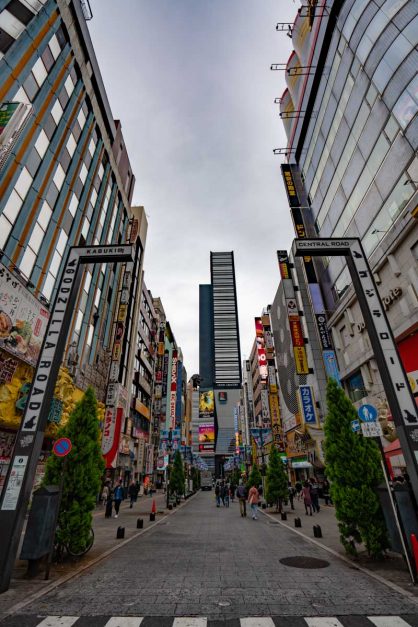 When thinking of Japan, who doesn't think of Godzilla. The people of Tokyo have a sense of humor and in the Shinjuku district, there is a street named Godzilla Street.
This is a happening street filled with bars and nightclubs.
The Godzilla head towers over the Toho Movie Theatre (Toho is the movie studio behind the Godzilla movies) promoting the entertainment complex.
This is a place to walk around, people watch and get lost in the alleyways. Don't worry, Tokyo is very safe to walk around and get lost in.
While there we saw a woman that was clearly strung out on drugs from the night before, and several locals approached her to help her out. That was something that warmed my heart.
In other cities around the world, she'd be left alone crying on the sidewalk.
11. Shinjuku Gyoen National Garden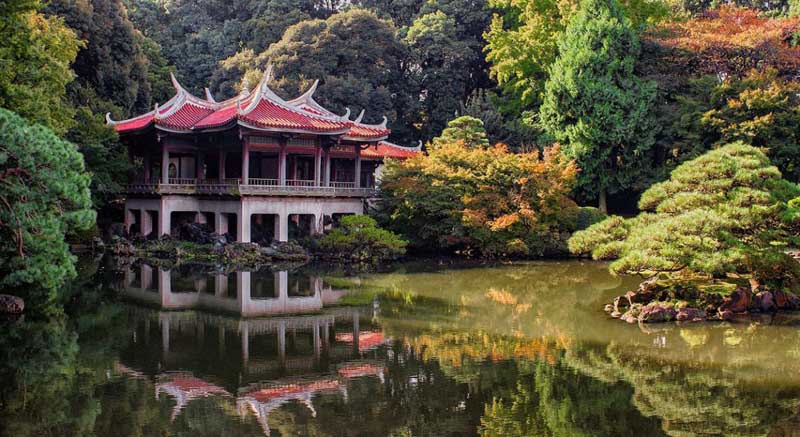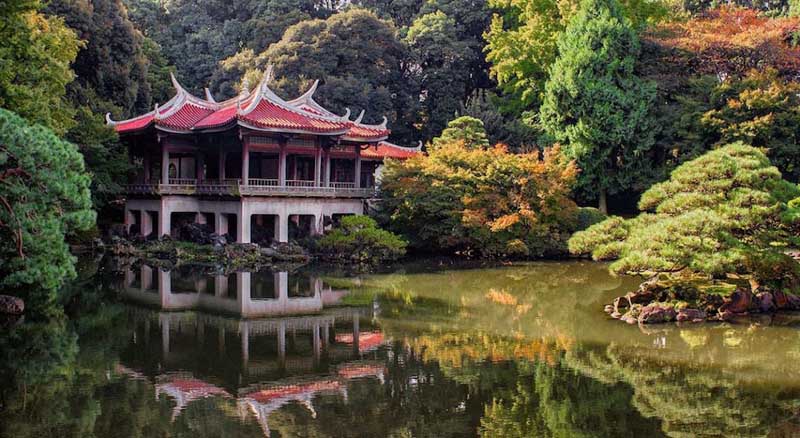 We weren't in Tokyo during cherry blossoms season, but Tokyo's largest park is the best place to see them bloom.
Located in Shinjuku, it is a great escape from the crowds.
Getting There to Shinjuku: Take the Metro to Shinjuku Station, the world's busiest railway station.
Where to Stay in Shinjuku: Check out TripAdvisor for reviews and places to stay near Shinjuku
12. Tokyo Skytree
The Toyo Skytree is the tallest tower in the world and is second only in height (at the moment anyway) to the Burj Khalifa in Dubai.
Going up the tallest building in the city is always a favorite for us.
Tallest Tower in the World
We've visited the Burj Khalifa, the CN Tower, and the Shanghai Tower, so why would Tokyo be any different?
Standing 634 meters (2080 feet) high, it is an impressive sight. There are two enclosed observation decks and a restaurant.
Like the CN Tower, it has a glass floor, but it's not quite as dramatic as ours here in Toronto.
But, there were enough people with us in line that were freaked out by the glass, so I think it did its job okay.
You can purchase combo tickets to see both floors for 4000 Yen ($35USD)
Getting there: Directly connected to Tokyo Skytree Station on the Toei Asakusa Line.
Where to Eat: Lunch in Asakusa at Aoi Marushin (Tempura)
13. Jiggen Bridge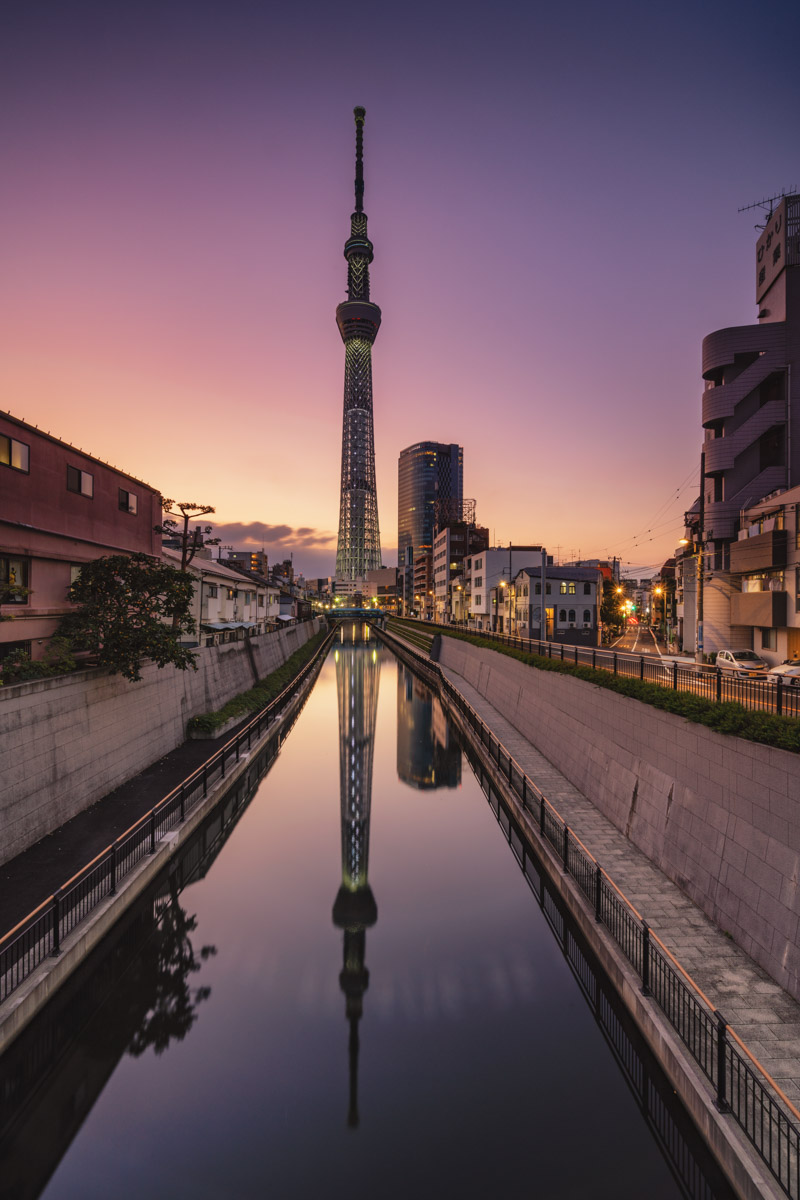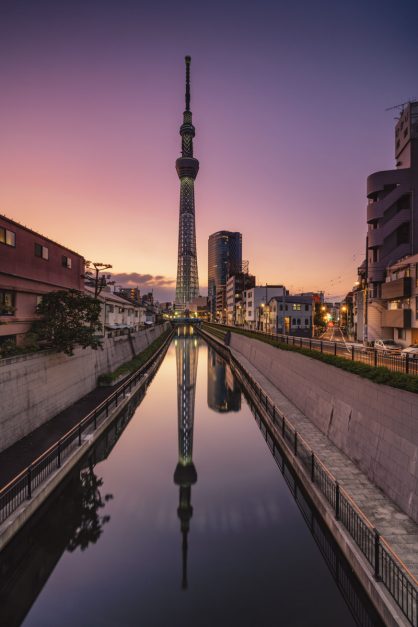 If you are anything like us, you visit a city to capture photographs that you may want to hang on your wall.
We have seen many posts on where to take photos of the Tokyo Skytree and had to search long and hard to find any reference to the Jikken Bridge.
This location makes for a beautiful view of the tower with its lights reflecting in the river.
Tips to Photograph the Jiggen Bridge
It's walking distance from the Skytree and we suggest getting there well before sunset to save your spot.
There were a lot of local photographers on the bridge once the sun went down jockeying for position. So you know it is one of the top things to do in Tokyo.
Lucky for us, we have a lot of patience and set up shop early capturing sunset and another at night when the lights change color.
**Note: There is a lighting schedule each evening that you can check to see what colors they will be showing.**
Google Maps coordinates: Walk from Skytree to here.
14. Solamachi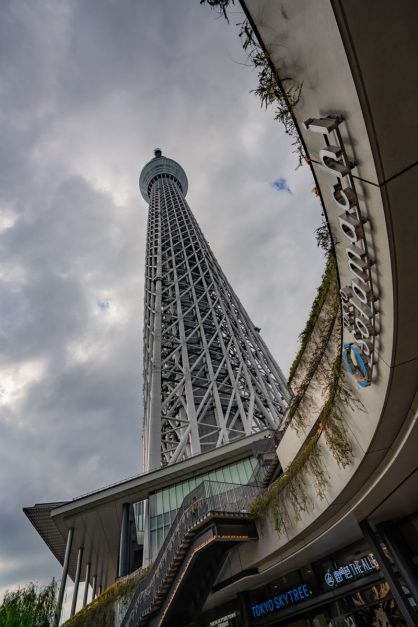 While visiting the Tokyo Skytree, make sure to spend time browsing the stores at Solamachi. It's a massive shopping center at the base of the tower.
With 300 stores, there's shopping for everyone.
When you arrive, go directly to customer service with your passport to receive a coupon book. It's filled with savings and great deals.
15. Solamachi Kunimi – Dine with a View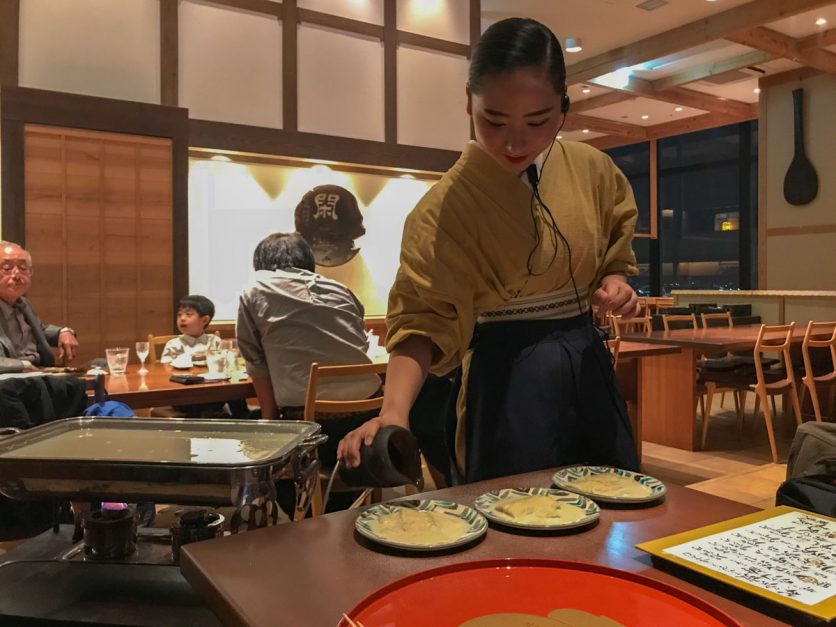 When visiting a city, we always look for a restaurant with a view.
Located on the 31st floor of Solamachi looking directly at the Tokyo Skytree, this is the place to eat!
If you are going to have one traditional meal in Japan, splurge and do it here.
We had the Matsu Course that costs 10,800 Yen per person but it is totally worth it. If you want to sample some of the best food in the city, this will give you an overview of Japanese food at its finest.
Getting to Solamachi: From Asakusa Station go one stop on the TOBU SKYTREE Line.
Taxis weren't too pricey to attractions in nearby Asakusa.
16. Sensoji Temple
Sensoji Temple is without a doubt Tokyo's most popular temple to visit. It is usually at the top of people's things to do in Tokyo list.
We went in the middle of the day, but if you go first thing in the morning you can avoid the crowds.
Entering through the Thunder Gate takes you to a walkway lined with souvenir shops.
The vendors have been on this street for centuries, but today it definitely feels like a tourist attraction.
After shopping at the many stores buying Japanese souvenirs, you'll enter the temple complex.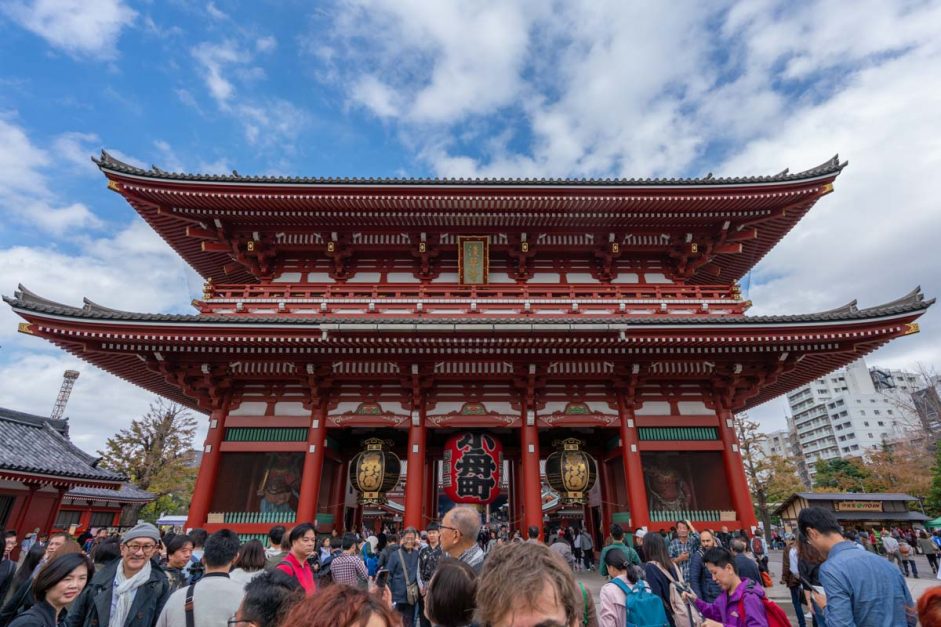 It is Tokyo's oldest temple dating back to 628, but it has been rebuilt. There is one gate that still stands that our guide Yoshi pointed out.
He said it had recently been repainted and it's a shame because it is one of the few original pieces on the grounds.
Sensoji Temple is a Buddhist temple but there is a Shinto Shrine adjacent to the complex that you can visit as well.
17. Sumo Wrestling – Ryogoku Kokugikan
Want to catch a sumo wrestling match? This is the place where the grand slam tournaments of sumo occur.
If the main event isn't happening you can enter to check it out and there is a sumo museum to check out.
Book a Sumo experience in combination with Tokyo Skytree at Get Your Guide.
18. Tempura at Aoi Marushin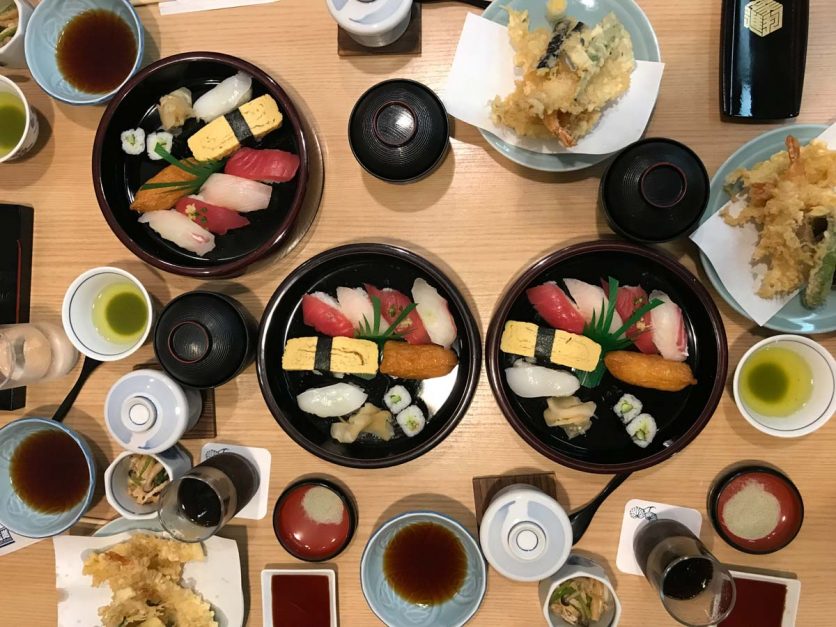 Aoi Marushin for Tempura – For some authentic Japanese Tempura head here. It's busy with both locals and tourists and is located just a few minutes from the temple.
Address: 1-4-4 Asakusa, Taito 111-0032 – It's kitty-corner to the Tourism Information Building, just down the street.
19. Sensoji Temple View – Tourism Information Building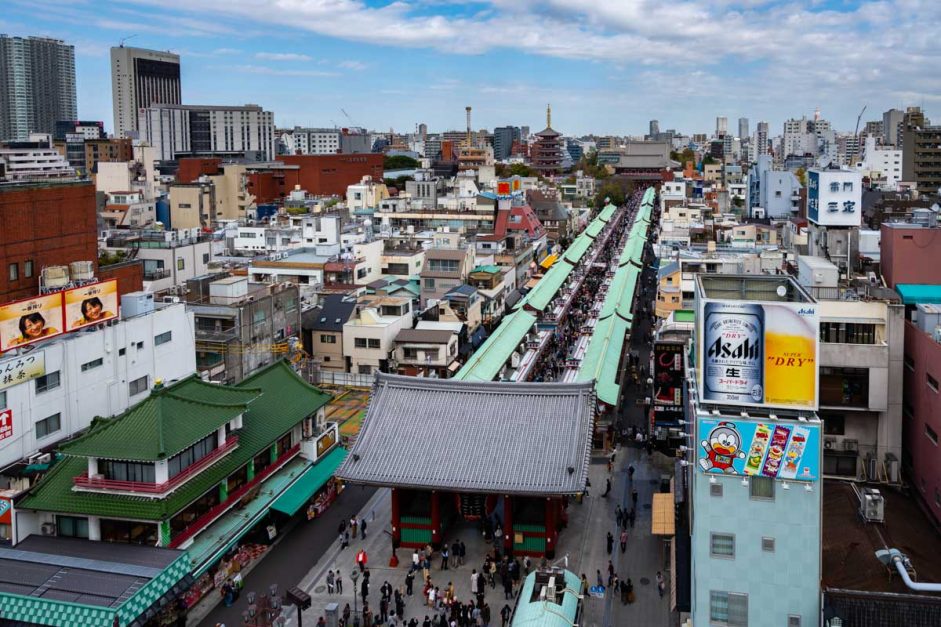 As you know we like to go up for city views. Right across the street from the Sensoji Temple is the tourist information centre.
Go inside for tourist information, but also, catch the elevator to the top floor for an overhead view of Asakusa.
You'll see the long roof of the Sensoji temple, the Tokyo Skytree, and the Sumida River.

The Sumida River offers an excellent walk along the water through the city.
It is lined with cherry trees making for another great place to see during cherry blossom season.
20. Asahi Beer Headquarters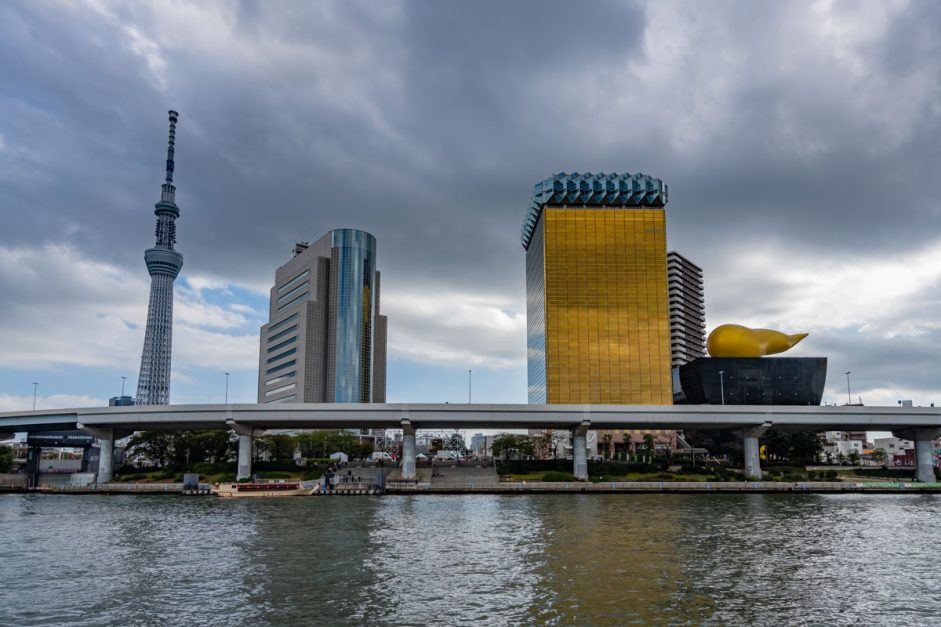 The Asahi Beer Headquarters is located along the Sumida River and is a very intriguing building.
It reminds me of King Midas or something. It is supposed to represent a golden flame. I couldn't' really picture it, but that yellow top made me want to go in and explore more.
On the 21st floor, visitors are welcome at the Asahi Sky Room to enjoy an icy glass of Asahi.
21. Sumida Park
Sumida Park is the quintessential place to view the Tokyo Cherry Blossoms. There are an astounding 500 cherry trees in the park.
Located on the water, it offers great views of the city including the Tokyo Sky Tree.
Watch our video: The Very Best Things to do in Tokyo
Subscribe to our YouTube channel for weekly videos from our travels around the world.
This 6-hour tour takes you to the top highlights of the city.
Including Asakusa, Meiji Shrine, Fish Market, Harajuku and Omotesando
Other things to see on Sumida River
Azumabashi Bridge – One of Tokyo's first bridges.
River Cruise – Catch a cruise to explore the waters of Tokyo.
Getting to Asakusa: Metro Stop – Asakusa. Take JR Yamanote or JR Chuo Line to Kanda Station, transfer to Ginza line and take the subway to Asakusa station.
22. Tokyo Tower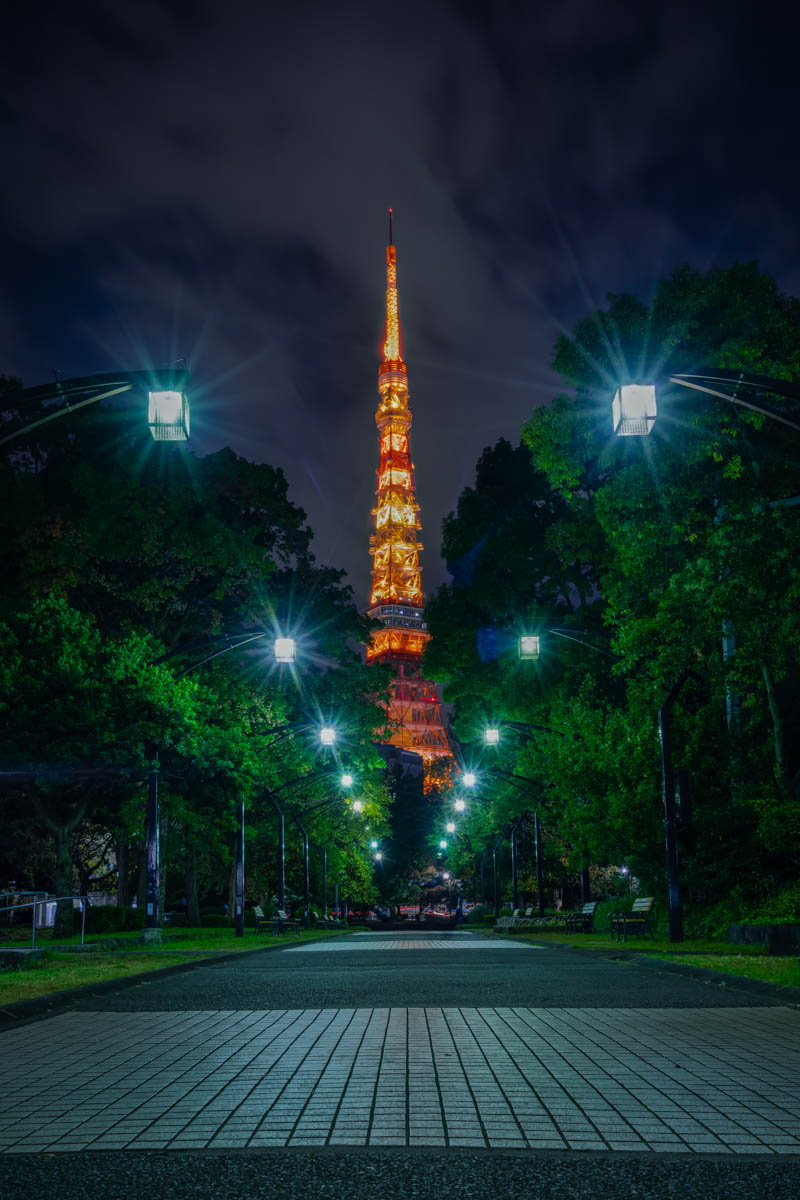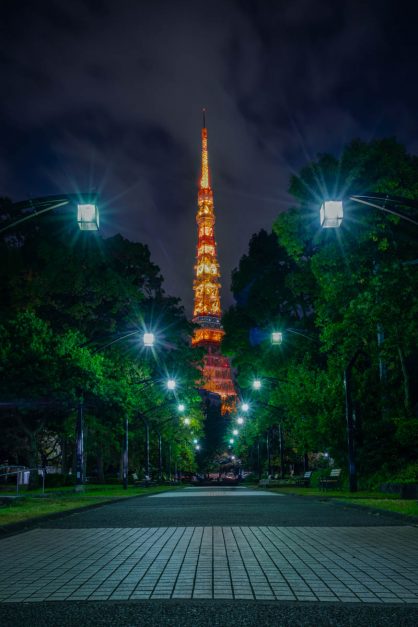 Tokyo has another tower, an older and probably more famous tower than the Tokyo Skytree. This is due to the fact that it has been standing since 1958!
Located in the Shiba-koen district, it stands at 332 meters (1092 feet) high.
It looks a lot like the Eiffel Tower (except that it is red and white) and we suggest visiting it at night. Its golden glow is beautiful.
23. Shiba Park
After exploring the Tokyo Tower, take a stroll across the street to explore Shiba Park.
It's a giant green space and there's a temple to visit too. The Zojo-ji Temple dates back to 1622.
The temple complex has been here since 1393 and is the main branch of the Jodo sect of Japanese Buddhism.
24. Hie Shrine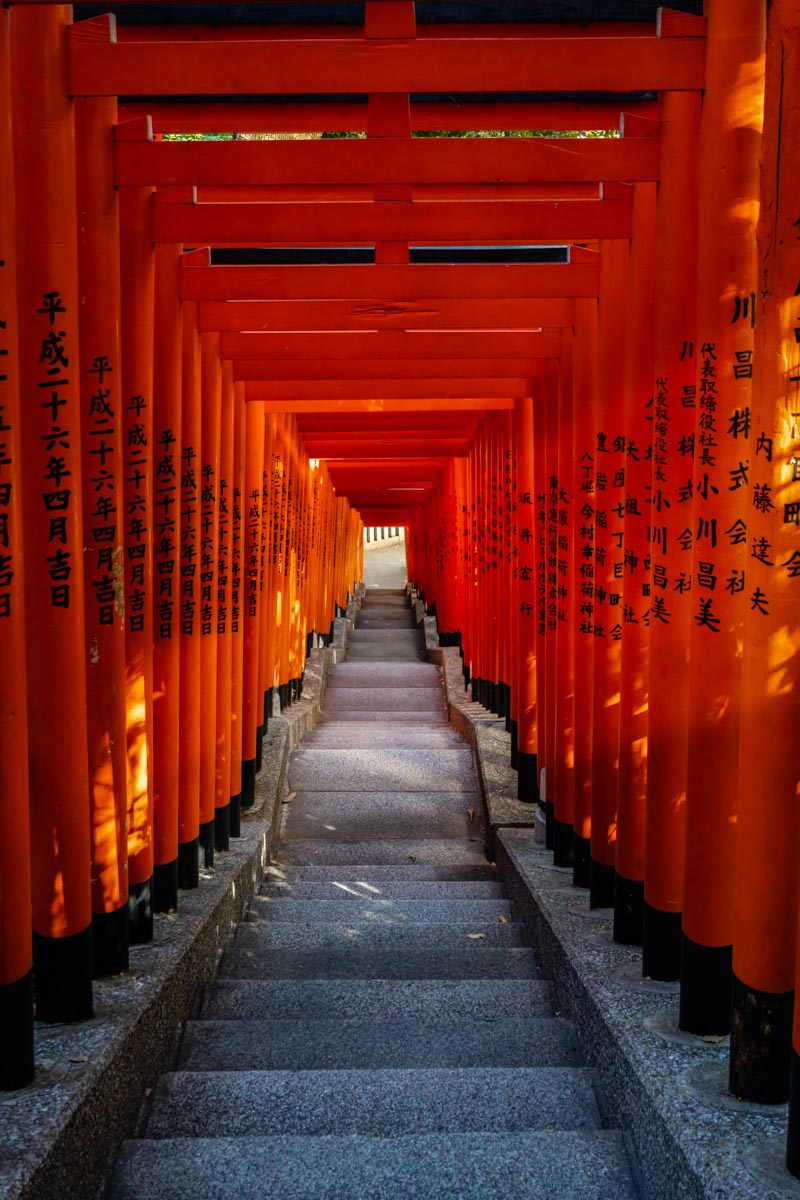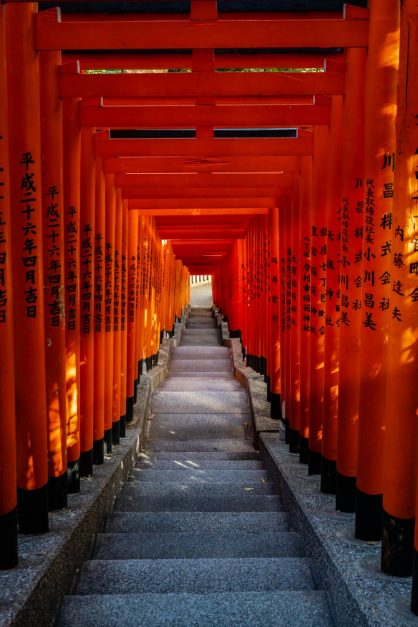 Okay, so if you are looking for that iconic row of red Torii Gates in Tokyo, this is the spot!
Hie Shrine is located right in the heart of Akasaka and it's very easy to get to.
Take the escalator up to the shrine on one side and then walk down the gates on the other.
This Shinto Shrine has several photography possibilities with massive white Shinto gates, temples and pagodas, and the Torii Gate.
It also has the guardian statues like Nikko dressed in red to ward of spirits. Hie Shrine's spirit (kami) is Oyamakui.
When visiting you just might come across a lot of locals celebrating an event.
25. Nogi Shrine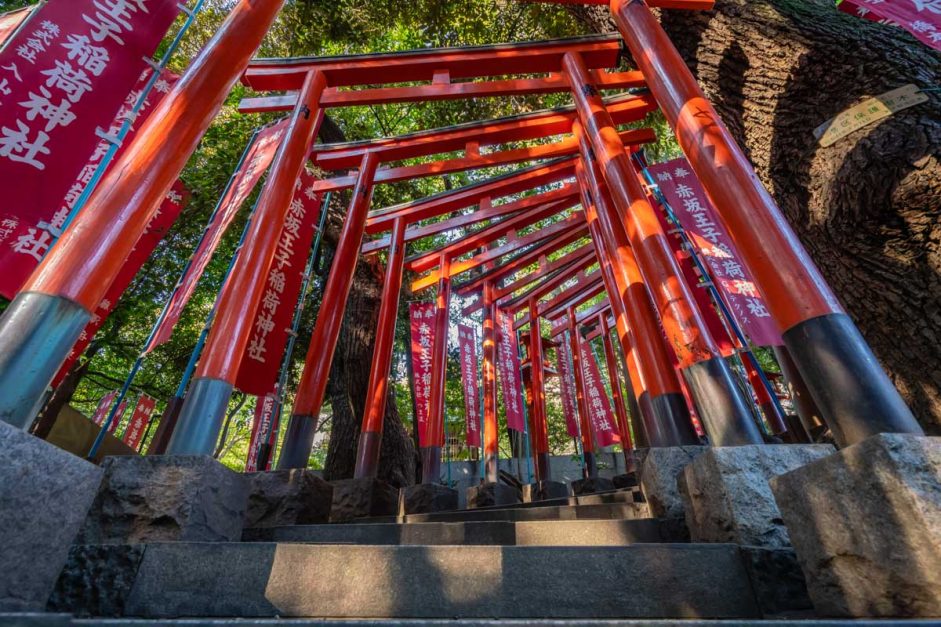 Nogi Shrine is a peaceful Shinto Shrine in Akasaka. It took us a while to find it on foot. Our Google maps didn't do justice to where it is.
But after asking a few women sweeping the sidewalks along the route, we finally found it.
This shrine is dedicated to a man that is considered the Last Samurai of Japan. He and his wife committed ritual suicide after Emperor Meiji died.
his was the way of the Samurai but wasn't practiced anymore at the time of his death, so it is very peculiar.
The shrine is open year-round, but the house is only open two days per year in September.
You can walk around the outer walkway to glimpse inside where you can see the sword he used, a bloodied shirt and photographs.
26. Imperial Palace
Just north of the Minato/Akasaka area is the Chiyoda Ward. This is where the Imperial Palace is located in a park in the center of Tokyo.
It was walking distance for us from our hotel.
You can view the palace from afar through the bridges, but it is open to the public twice a year – December 23 and Jan 2.
27. Ginza Street
Ginza was once home to a silver coin mint in the 1800s.
Today it is Tokyo's most chic and upmarket street with high-end shopping and dining.
28. Tokyo Fish Market
If you want to see fish being sold, the Tsukiji Fish Market is the place to go.
It's for early risers to see the local sellers trade their wares starting at 5:00 am. Visitors cannot visit the inner market reserved for wholesalers but can visit the outer markets.
You can have fresh sushi here, but it is also a market selling produce and other household items.
29. Tokyu Plaza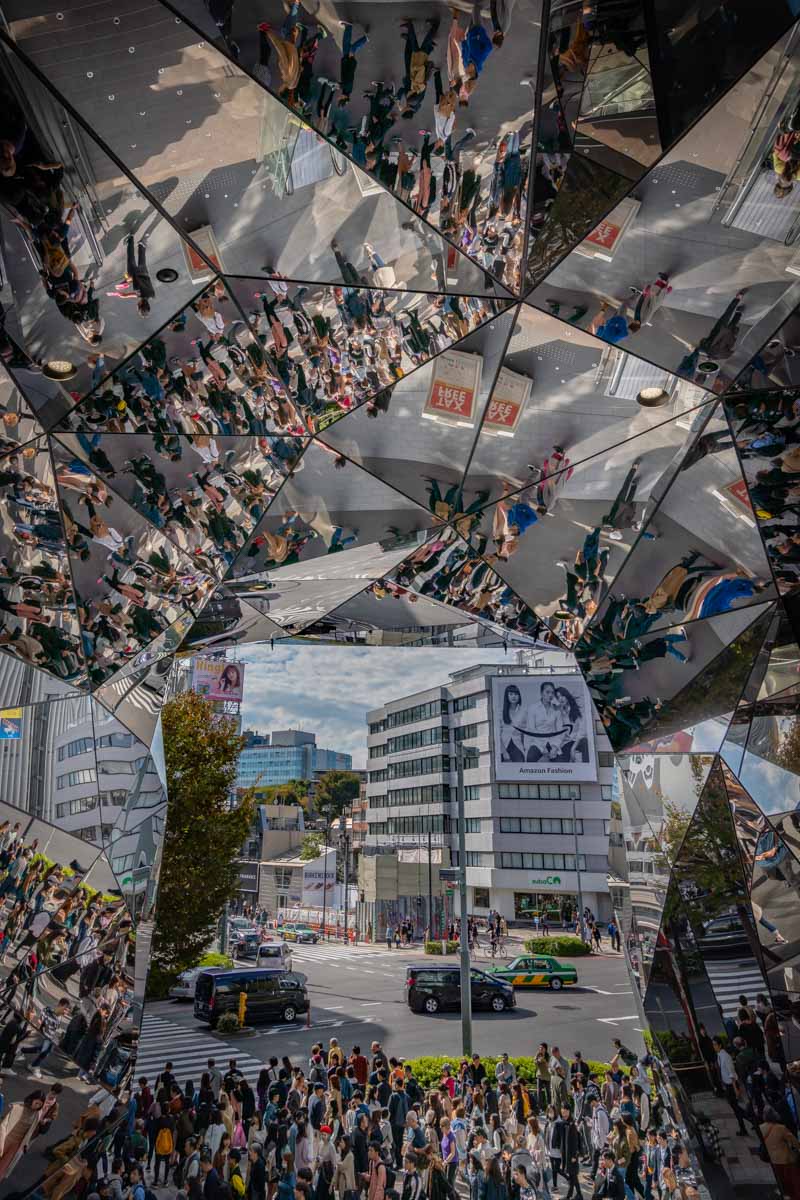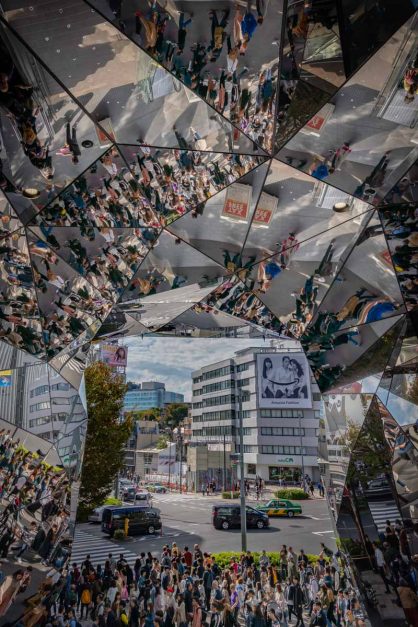 Have you ever seen photos on the Internet of mirrors reflecting hundreds of people? This is the spot.
There are a few Tokyu Plazas around Tokyo, this one is located on Omotesando Avenue. This is another of the most expensive areas in Tokyo.
The Tokyu Plaza entrance is located on a busy corner and a must stop when walking this street. Take the escalators up, stand in the middle of the staircase and watch the hexagonal mirrors reflect the masses of people walking by.
Museums of Tokyo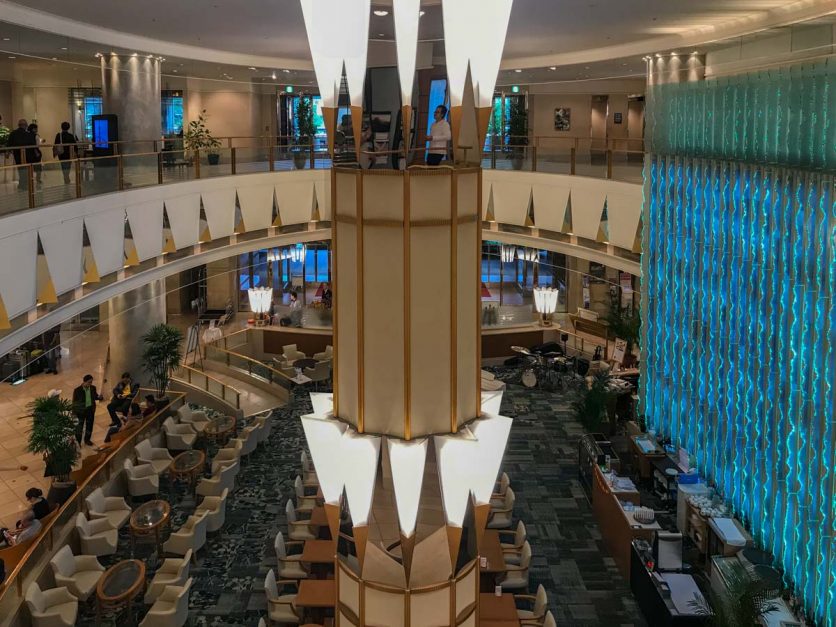 If you like Museums, Tokyo has plenty to check out. Here are a few recommendations.
30. Edo Museum
The Edo Museum is a reconstruction of Tokyo's history with recreations of the Edo period of Japan.
It is one of the most popular museums in Japan with interactive exhibits, miniature recreations of life in the city 400 years ago.
31. Ghibli Museum
We all know how popular Japanese animation is and the Ghibli Museum celebrates animation from the Ghibli Animation Studio.
32. Tokyo National Museum
Tokyo National Museum is Japan's oldest museum dating back to 1872. Travel through ancient Japan discovering Japanese antiquities, tools, pottery, and clothing.
The museum also houses other Asian artifacts.
Check out the website for entrance and prices.
Unique Things to do in Tokyo
33. Geisha Transformation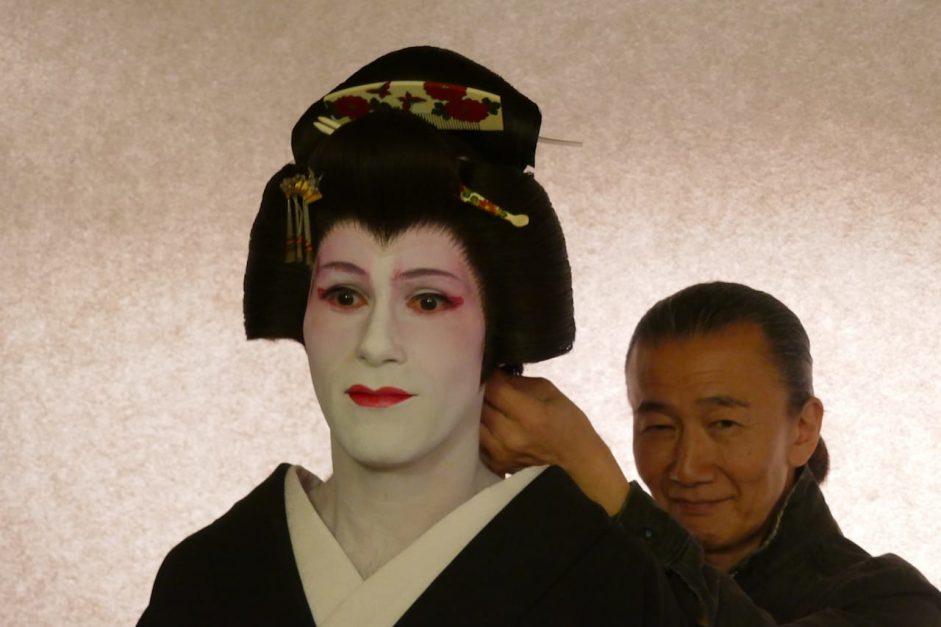 One would argue that many things on this list of things to do in Tokyo are unique.
From going to a robot restaurant to relaxing in a cat cafe, but one of the most unique experiences was had by Nomadic Boys when they transformed into a Geisha.
You can read all about the experience at Male Geisha Transformation in Tokyo.
Where to Stay in Shinjuku – Park Hyatt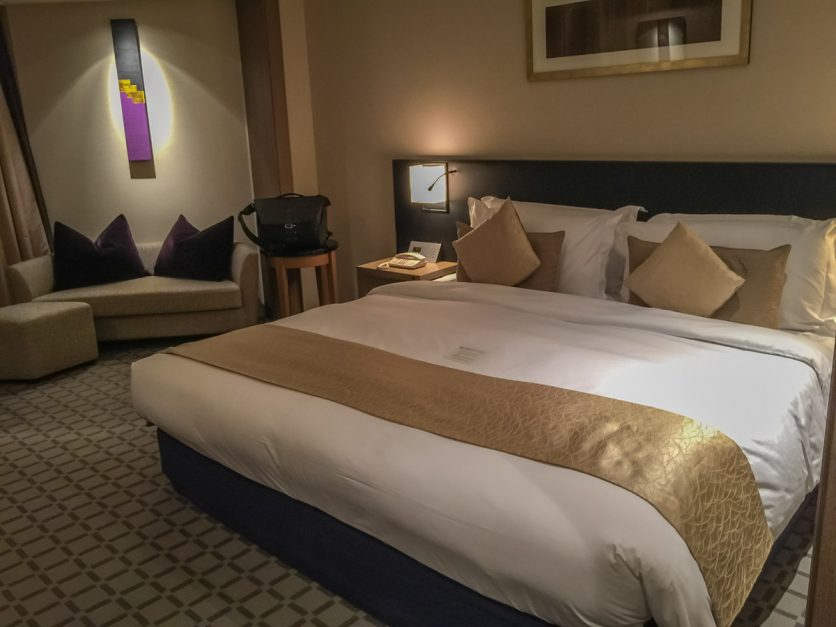 Visit the Park Hyatt Tokyo and recreate scenes from the movie Lost in Translation.
The hotel is famous for its amazing view of the city.
If you stay at the iconic hotel you'll have access to a beautiful indoor pool and elegant rooms.
Hey if you are going to splurge, you might as well do it in Tokyo.
Check it out on Trip Advisor
Where to Stay in Akasaka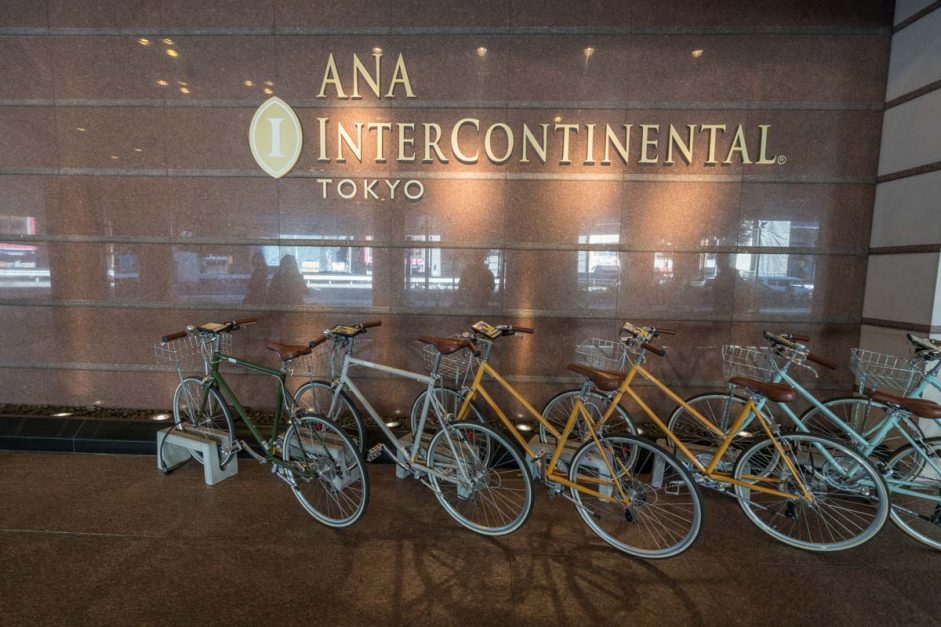 We stayed at the Intercontinental Akasaka was a great central location for exploring all these districts. Located right beside the subway, it was a central location with modern rooms and outstanding views.
You can book it, find rates and read reviews on TripAdvisor
Where to Stay Near Solamachi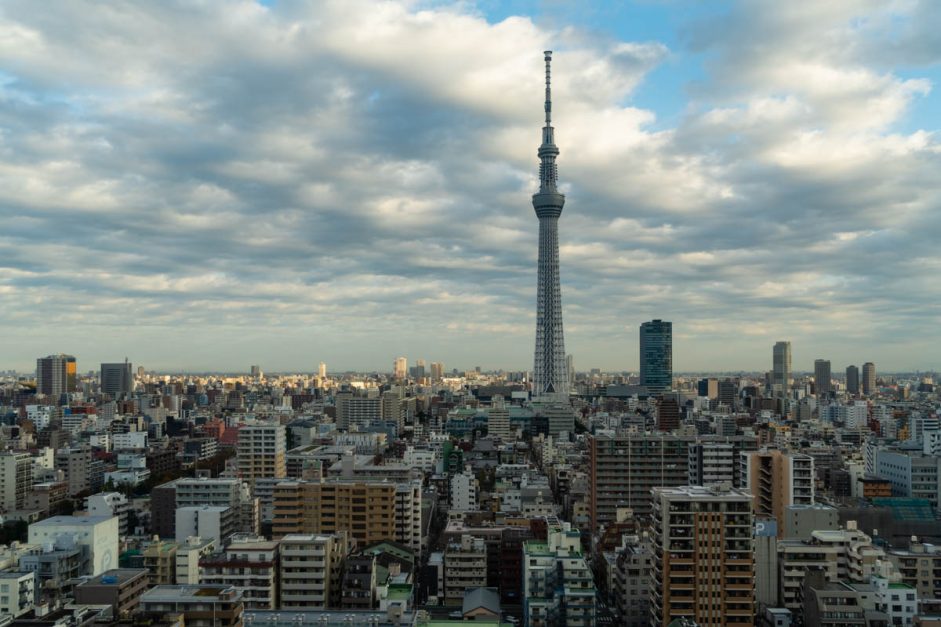 Tobu Hotel Levant Tokyo: We stayed at the Tobu Hotel Levant and it was a very good location for the Skytree. Excellent breakfast buffet and spacious lobby.
It seemed that a lot of package tours, businessmen and locals stayed here, so it's a good choice.
Other hotel recommendations:
Mandarin Oriental for a luxury experience.
Hotel Celestine Ginza for mid-range
APA Hotel Shintomicho-Ekikita for budget (rated the best deal in Tokyo)
Note: we did not stay at the other three hotels, but they do come highly recommended.
About Tokyo

Map of Tokyo Wards
There are 23 Wards in Tokyo.
The main Tokyo wards we suggest visiting are Sumida, Asakusa, Minota/Akasaka, Chuo, Omotesando, Shibuya, Shinjuku,
1 USD = 112 Yen (subject to change check XE Currency Converter for up to date rates)
Voltage – Japan has a different voltage than North America. Get a travel adapter before flying.
Getting Around Tokyo
Tokyo has two separate subway lines. You can buy tickets at the machine. Costs are very reasonable starting at ¥200. You can purchase 24-hour, 48-hour, and 72-Hour passes.
Taxis are expensive and traffic can be brutal, it is much better to use the subway.
Tokyo has two different airports, Narita International and Haneda Airport.
There are rail lines that will take you from the airports to downtown.
From Narita Airport, The JR Narita Express will take you to Tokyo Station for 3000 Yen. ($30 USD) one way.
There are shuttle buses that will take you to Tokyo station for approximately 1000 Yen (10 USD).
Taxis can be very expensive to the Airport, Narita Airport can cost nearly $200 USD and to Haneda, you are looking at much more reasonable fares (since it is closer to the city) costing around 7000 – 8000 Yen ($65 – $75 ISD)
WiFi and Data in Tokyo
You can rent a wireless wifi router from Get Your Guide to help navigate and book tours in Tokyo.
We used Knowroamding for International Data Roaming – Unlimited data/cellular for $3.99 per day. Easy application sticks to your existing SIM Card. Save 50% using promoDDSave50
And those are our tips and suggestions for all the things you can do in Tokyo. Tokyo is a huge city filled with cultural experiences, unending nightlife, dining experiences and things to see.
This Tokyo guide just scratches the surface of all the things Tokyo has to offer, so what are you waiting for?
Book your Tokyo trip today!
Check Flight Deals to Tokyo
Did you enjoy all of these things to do in Tokyo? Pin this post to Pinterest for future reference
Read More:
Japanese Ryokan – What It's Like to Stay at a Japanese Inn
7 Unique Japanese New Year's Traditions
You Might Also Enjoy