Looking for the perfect 3 Day Paris Itinerary?  Well, we have got it for you.
Having spent a lot of time in the city we feel that three days in Paris gives you more than enough time to take in the top sites it has to offer.
To help you in your planning we put together this Paris Itinerary to help you plan your stay and get the most out of your 3 days in the city of love.
The Perfect 3 Days in Paris Itinerary
You can do a lot with three days in Paris.
While it would take years to really experience everything that Paris has to offer, you can see many of its sites in a short time.  It will be a busy three days but it can be done.
About this Paris Itinerary
Paris itself can be an overwhelming city. There are so many things to do and you need to make sure you take advantage of all the time-saving ideas you can.
When putting this itinerary together we wanted to give you a good balance of seeing the best of the city and not being run off your feet.
By taking advantage of Skip the Line tickets and Easily accessible transit you can have the Paris dream in 3 short days.
We usually base ourselves in Montmarte as it is a great balance of budget and charm.
If you are looking for some more central areas make sure to check out our guide below.
Our #1 Money Saving Tip in Paris
The best way that you can save money and seeing all of the sites is to get yourself a Paris Pass.
You can get it for 2-6 days and it includes all of these and more:
Free entry to more than 60 top attractions
Free travel on the metro
A 1-day hop-on, hop-off bus tour ticket
A guidebook in 6 languages
Skip-the-line entrance to many of the sights, like Centre Pompidou, Arc de Triomphe, Louvre Museum, and more.
Bateaux Parisiens River Cruise
Wine Tasting - O Chateau
With only having a short amount of time this will help you get around quickly and skip the line at a bunch of places. Definitely worth it.
Day 1 in Paris
Don't overdo your first day in Paris, you will need your energy to see as many sites as possible.
But it is wise to stay up as long as you can to try to work through your jet lag if you are coming from North America.
In 3 short days we managed to pack a lot of sites in to our itinerary.
Day 1
½ Day Arrive late morning.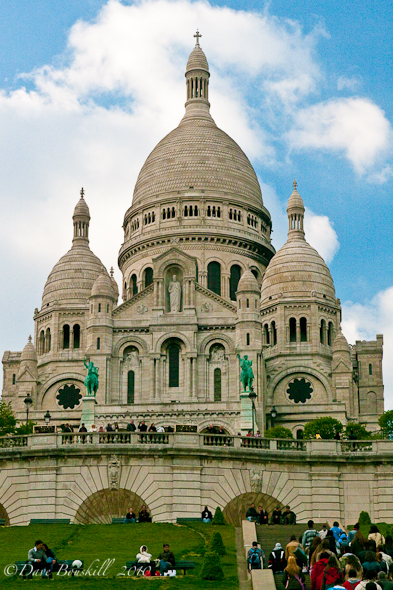 Arrive at Charles De Gaulle Airport and hop on the Air France Shuttle to Mont Parnasse Paris.  Enjoy a coffee in a café before heading off to your hotel in the Montmartre area.  Take the bus it's cheaper.
Grab your metro and bus maps from the metro ticket office and purchase your 10 ticket metro pass.
Once you settle in, walk around Montmartre and explore the Molin Rouge area.  Have lunch at the Place du Tertre before heading to The Basilique du Sacre Coeur for sunset.  It has an amazing view of the city and it is alive with street vendors and people
Day 2
Full Day Paris Sightseeing
To make the most of your Paris sightseeing. Start far away and work your way home.
The Catacombs – They are the farthest south of the major sites in Paris. Spend 1-2 hours checking out the bones of Parisians past. It is a must see attraction in Paris for spooky fun.
Read all about it at our post The Catacombs of Paris, exploring this underground Labyrinth 
Walk to the Mont Parnasse Cemetery- once you are finished at the Catacombs, you can walk through the cemetery and explore a few of its famous graves en route to...
Jardin du Luxombourg for a picnic lunch. Jardin du Luxombourg is Paris' most popular park. It is green, large and filled with gardens and sculptures. It is an attraction in itself and worth a visit just to walk around and enjoy its beauty.
After Lunch
Hop on the Metro to the Eiffel Tower – Enjoy the view from every angle and make sure to go down to the Seine for a good photo opportunity from a vantage point without people in the shot. Line ups are long at the Eiffel Tower and if you don't have many days in Paris, you may not want to go up. Then again, a trip up the Eiffel Tower is on the top of mosts peoples lists of must do activities in Paris. So you may want to ignore this piece of advice.
If you really want to go up consider getting a Paris City Pass. this can get you Front of the Line access among other discounts.
Walk to Rue Cler for a coffee and a snack. This is a beautiful Parisian street.  Outdoor cafés line the sidewalk and restaurants offer reasonable fixe prix meals.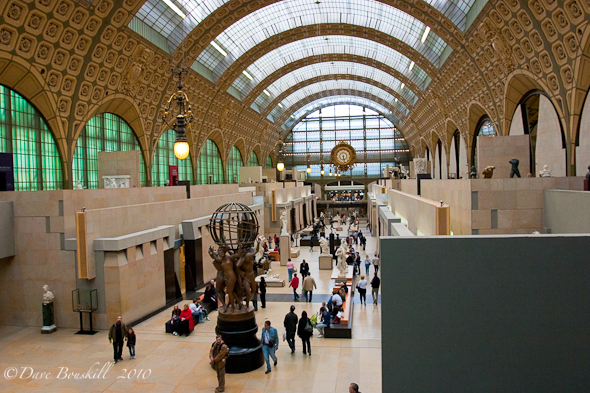 Make your way to Musee d'Orsay for the final 2 hours of the day to enjoy French Impressionism at its best.
Every day after 4:30, you can get a discount to enter the Musee d'Orsay and witness the great Impressionist Art of the world.
It is a museum that commands more time, but if you only have a short time in Paris (like say 3 days) 2 hours will do just fine.
Grab a quick shot of Notre Dame at sunset before heading to…
Dinner at the Latin Quarter – Enjoy a cheap fixed priced dinner in this lively area.
At night, go for a walk along the Seine and enjoy the lights of Paris.
Day 3
Full Day Sightseeing in Paris
Buy yourself a day pass for 13 Euro on the hop on hop off boat. - you will be able to enjoy the sites of Paris in a shorter amount of time than walking and you will have the romance and relaxation of cruising on the River Seine.

Morning is a beautiful time to make your way to Notre Dame. Go around back for the perfect photo.  The sun is in the right spot and there are few tourists walking around.
Then make your way inside to be awe-inspired by its size and beauty.
Hop on the tourist boat and hop off at the Louvre.  Explore the outside of the Louvre and its gardens.
(Note; we are not including going into the Louvre in our three-day itinerary because it takes much more time to fully appreciate the inside. It is massive)
The outer grounds of the Louvre are incredibly beautiful and it is a tourist destination in its own right.
The garden is filled with sculptures, the glass pyramids are fun to explore and the architecture is splendid.
Walk along the Louvres impressive gardens towards the Champs Elysees. You will pass through two gorgeous gardens filled with sculptures and the Place de la Concorde.
You can either choose to picnic in these gardens or make your way to the Champs Elysees for lunch.
The Champs Elysees is filled with excitement and decadence. Boutiques and bistros line the wide lanes.
Street performers shine on the sidewalks and you will marvel at one of the worlds most famous streets.
Take your time to explore the shops and splurge on a café au lait at a sidewalk restaurant.

After enjoying the Champs Elysees walk towards the Arc Du Triomphe – Witness the worlds largest roundabout from the inside.  Pay your respects to the unknown soldier and marvel and the grandness of this impressive monument. Go up to the top of the Arc Du Triomphe for a spectacular view of Paris.
Hop on the metro and make your way to Hotel Les Invalides and see Napoleon's Tomb. You don't need to spend too much time at the war museum, but Napoleon's Tomb itself is impressive.
End your day at Montmartre for a fixed price dinner.
Day 4 – ½ day Morning before Leaving
I know, you are seeing Day 4 and wondering what we are talking about. Wasn't this post supposed to be about 3 days in Paris? Well you see, Day 1 is only a half day and Day 4 is only a half day. Add them both together and you have 3 full days in Paris to see it's top sites.
Go to the Cemetiere du Pere Lachaise and explore the graves of Jim Morrison, Chopin and Moliere to name a few.  Housing 800,000 souls, it is the most famous cemetery in France.
The end. Hop in your rental car or take your train to your next destination.
Believe it or not, the main attractions and sites of Paris can be seen in three short days.
If you plan your route well and take the metro or bus where needed, you can see a lot of Paris' best sites in a short amount of time.
Paris is a large city, but its main tourist sites are very close to one another.
To visit museums and really take in the culture and vibe of the city, you will need far more than 3 days, but to see its highlights and its most famous sites, you can do it.
You will just need plenty of caffeine and luckily Paris has a lot of that.