We have never gone on a food tour before, but when in Rome, I think that it is something that is not to be missed.
So when our old Mongol Rally teammate Sherry of Ottsworld hooked us up with Kenny of Eating Italy Food Tours in Rome, how could we resist?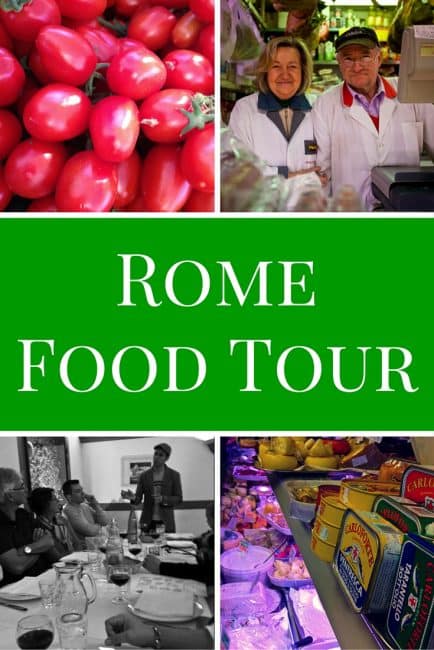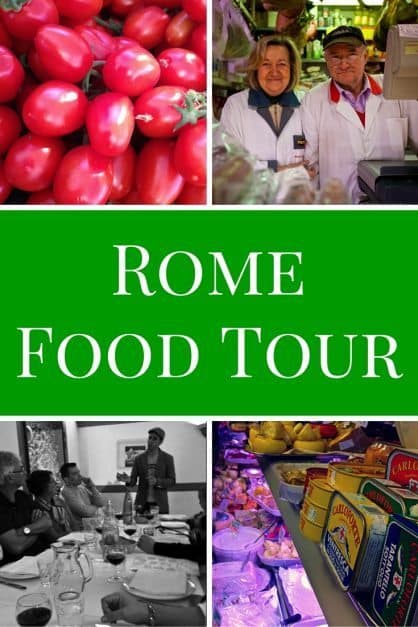 Rome Food Tour – Our First Culinary Journey
We awoke to a beautiful morning with the sun shining as we walked from Trastevere to Testaccio.
We were surprised to see just how popular this tour was, 11 other people were joining us on our culinary and cultural journey through one of the last remaining "old" neighbourhoods in Rome.
We definitely got a feel for the real Rome here and thought it was the perfect kick-off to our trip in Italy.
Are you heading to Rome this Year?
Check out our post …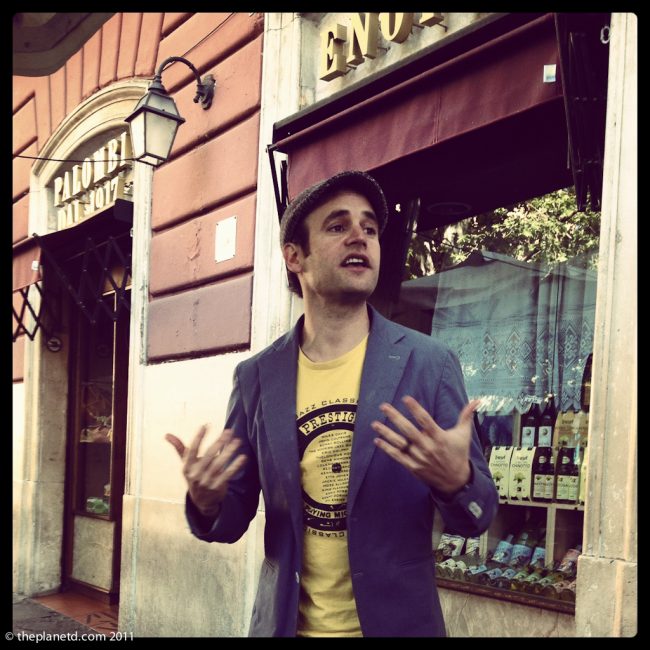 Our day started off at a traditional 98-year-old food market where we met some colourful characters whose stalls have been passed down through generations.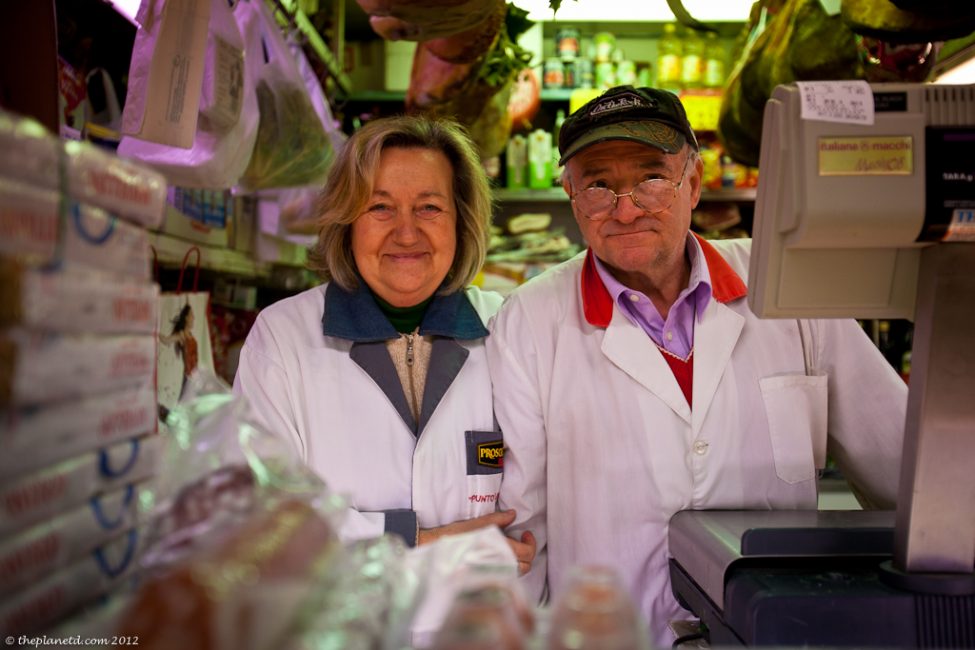 Enzo and Lina
There were Enzo and Lina, a couple who've been married for 40 years and working together in a tiny stall serving the creamiest water buffalo mozzarella cheese I have ever tasted.
For 30 years they have run this market stall with very high standards, Enzo is the prosciutto man and Lina is the cheese expert, together they make magic.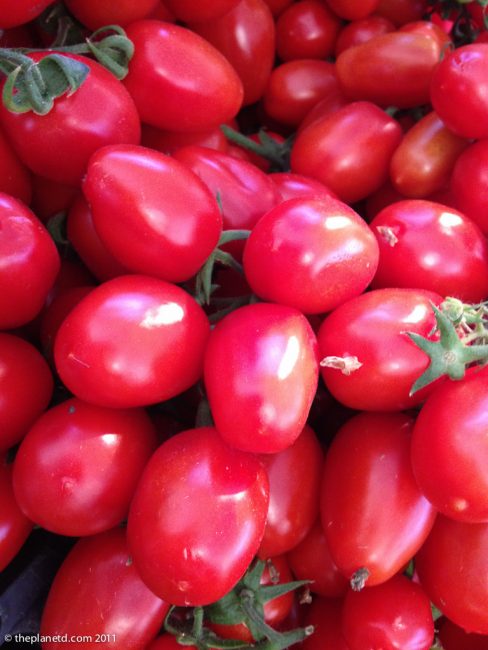 Next stop was the tomato stand owned by Carmelo ."The Tomato Poet" has been written up in Magazines all over the world for his expertise.
When you buy tomatoes from Carmelo, you don't tell him which tomatoes you need, you tell him what you are cooking and let him decide. He is a tomato genius!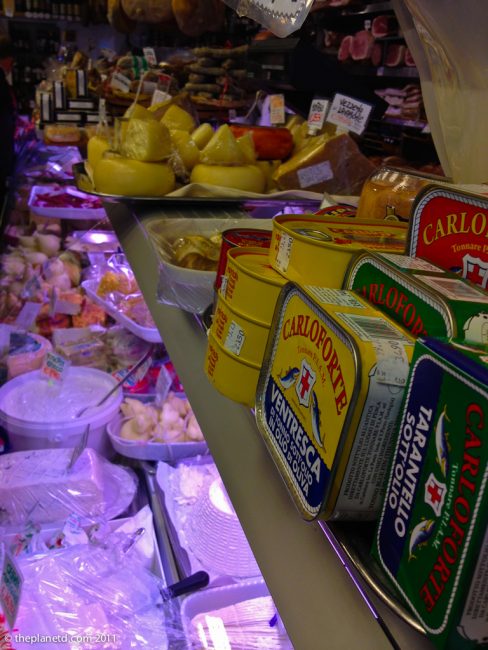 Testaccio Neighbourhood Rome
It was then off to explore more of the neighbourhood and taste more food.
One of the first shops of it's kind, E. Volpetti sells cheese and cured meats to die for.
We sampled a large chunk of pecorino cheese with Black Truffle, plus delicious melt in your mouth prosciutto as well as some delicious Barolo salami.
The sampling didn't stop there. We tried some 15-year-old balsamic vinegar that was surprisingly sweet, yet smooth.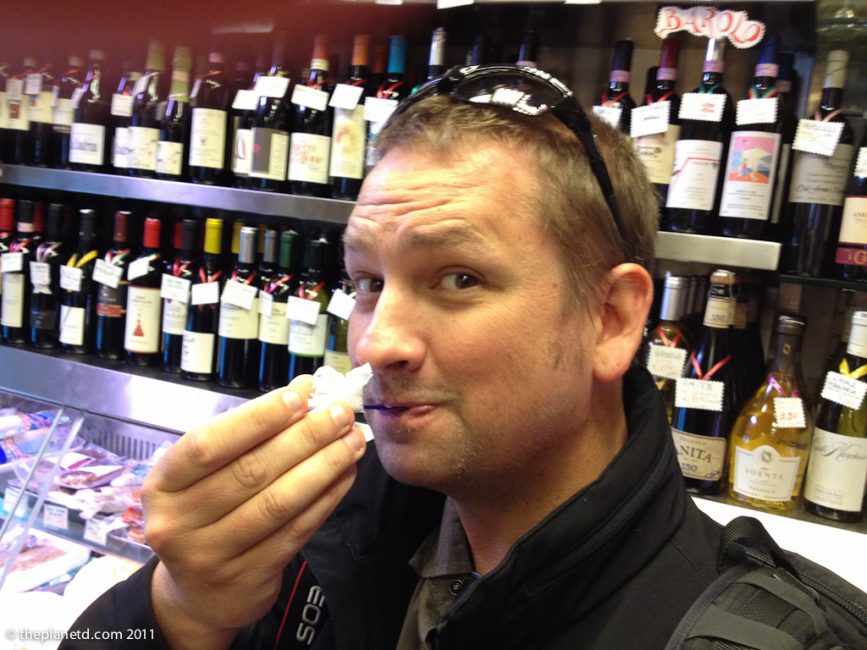 I can only imagine what the aged 100-year-old vinegar tastes like.
I won't tell you what it sells for because it's a surprise.
You'll just have to take one of your own Rome Food tours with Kenny to discover it for yourself!
Sweets on our Food Tour in Rome
It had been a lot of salty and savoury foods thus far, so Kenny made sure to take a moment to enjoy some sweets.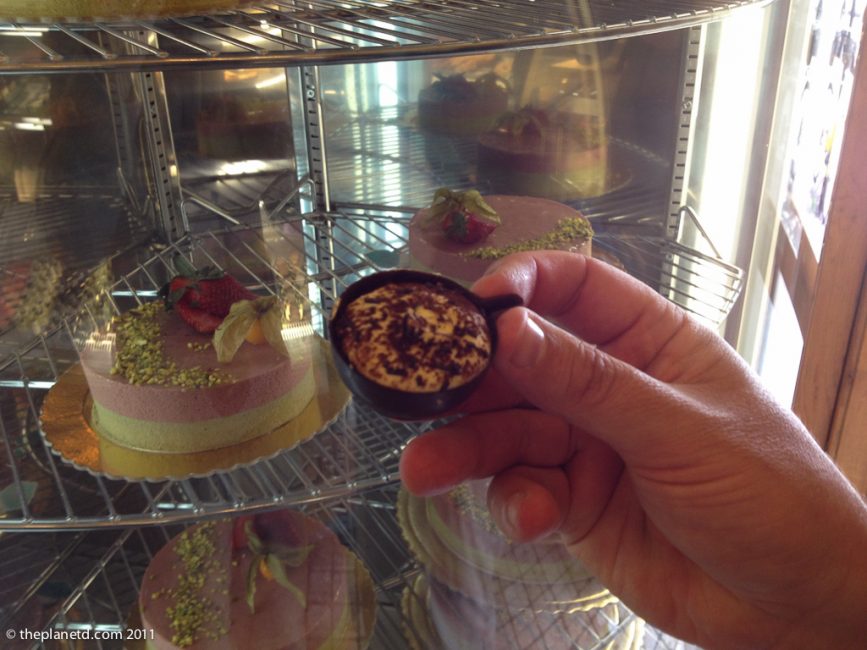 Typical Roman Breakfast
We tried the typical Roman breakfast, a cornetti. It's is like a croissant but oh so much better.
As if this wasn't decadent enough, we had some tiramisu in a chocolate cup. Barberini was voted the best tiramisu in Rome and I can understand why!
About Eating Italy Food Tours
Kenny had great stories about every location that we visited and about the area of Testaccio, his home of the last 4 years.
His wife was transferred to Rome and he started this business only last June.
It has grown immensely being named #5 as the top things to do when visiting Rome on Trip Advisor.
We can understand why. It is the perfect blend of food, culture, history and humour.
Not Just a Food Tour
One thing we loved about the tour was the diversity.
We expected to walk from market to market and shop to shop, but oh no, Eating Italy Food Tours is so much different than other food tours. (Or so we understand, we haven't been on a food tour before, but after today we'll be doing a lot more!)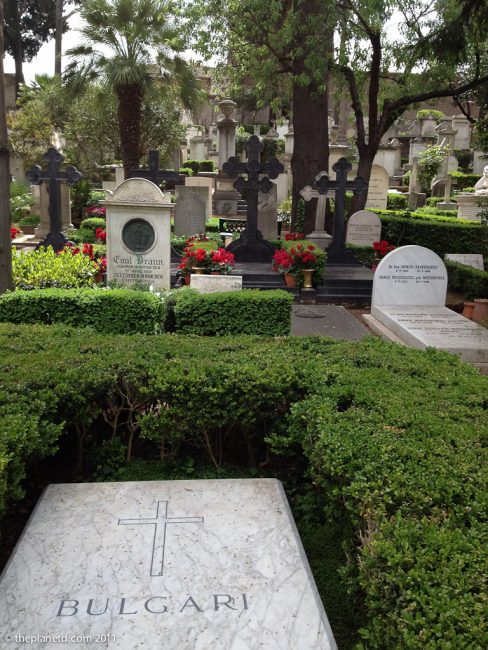 We stopped at Rome's most famous cemetery, the Non-Catholic Cemetery for Foreigners.
With famous residents such as Keats, Shelly and Bulgari it's website claims that it quite possibly has the highest density of famous and important graves anywhere in the world.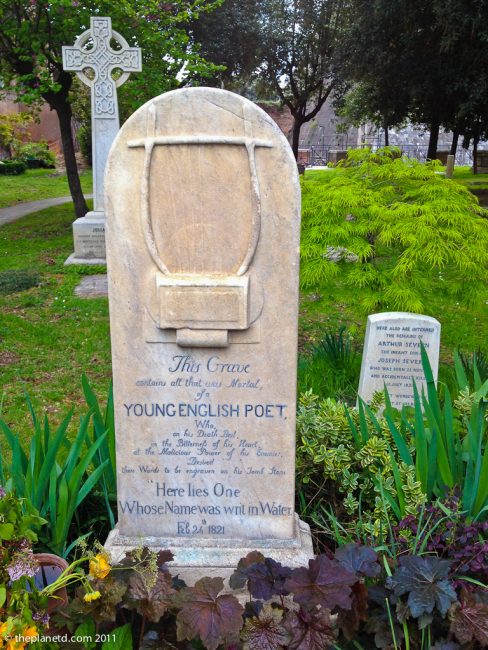 We just found it to be exquisite. We wrote a separate post about it, but I could have spent the afternoon perusing it's tenants and photographing its grounds.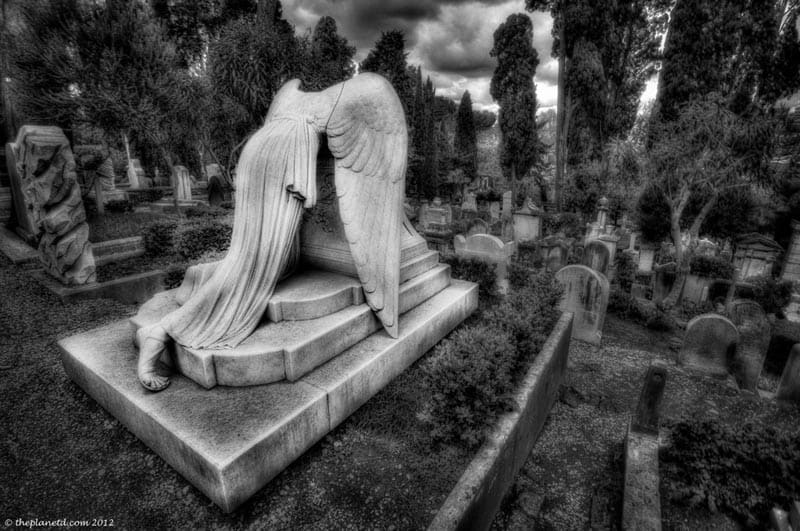 The Tour Keeps going, We Keep Eating
It was now time for the main meal of the day.
We had a tasting of three different types of pasta served with wine of course. This was in one of the most unique restaurants on the planet.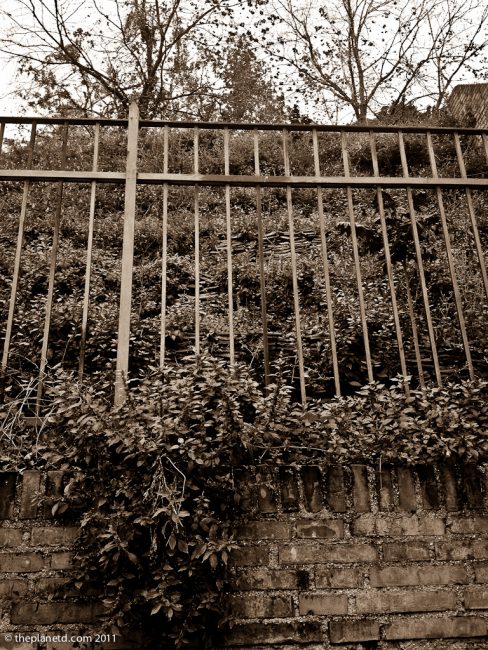 Built inside the artificial mountain of clay pots stacked perfectly upon one another by the ancient Roman's this is a place that is not to be missed!
What is this artificial mountain we speak of? At 35 metres high (100 feet) it is the largest pile of junk in the world.
But like all things Roman, this pile of junk is a work of art.
Leftover pots containing olive oil were broken down and stacked upon one another to create a giant mountain in the middle of the city.
Since it's core temperature was noticed to be between 40-50 degrees Fahrenheit, (5-10? Celcius) people decided that it would make for a perfect place to store wine.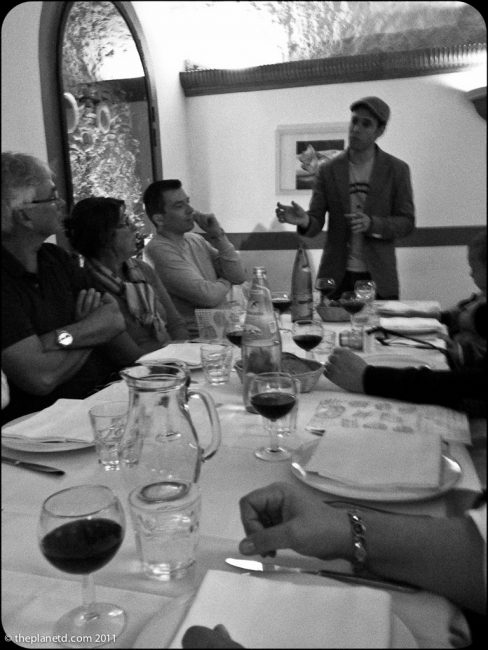 Long story short, the wine cellars of the past, have been turned into Trattorias and Osterias of today!
Italian's Eat A Lot and This Tour Makes Sure You Do Too!
Feeling thoroughly satisfied, we were shocked to hear that we still had two more tastings before the end of our tour.
Luckily, we had a little walk before our next meal and were ready for the mouth-watering "Suppli ala Genovese" at 00100 Pizza.
Who would have thought that boiled rice blended with slow roasted beef and onions, mixed with romano cheese, rolled in breadcrumbs and deep-fried could taste so good!
But it really did!
So much so that 00100 Pizza has been written up in magazines and newspapers all over the world!\
Gelato in Rome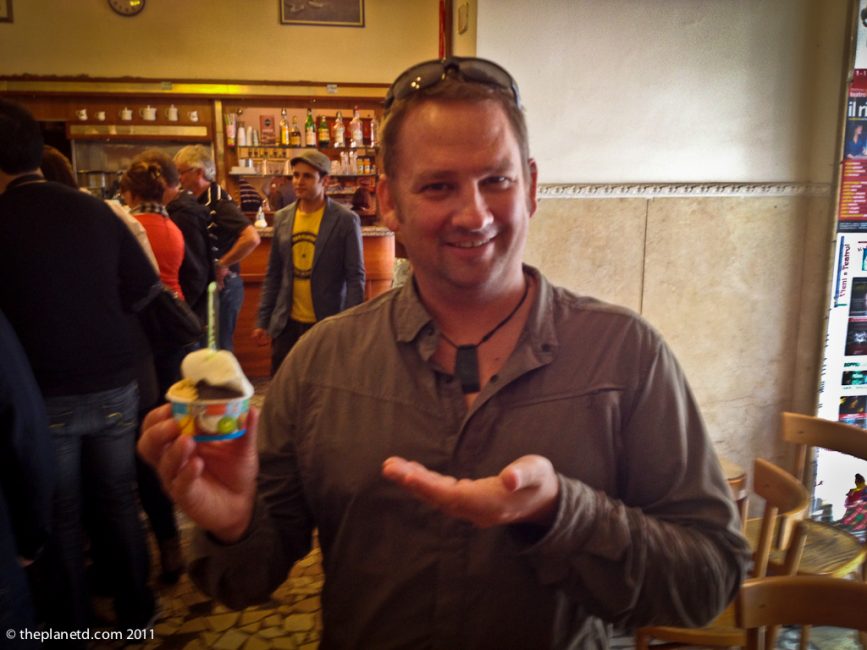 We saved just enough room for the best Gelato in Rome where Kenny gave us a lesson on how to spot true Gelato and avoid the imposters found at so many tourist spots.
There are a lot of points to remember and it is an elite club to be a part of to know the difference.
We received our certificates of graduation from Gelato school after this tour so I can't give away all the secrets.
But to help you out for your future travels to Rome…
How to Order Gelato in Rome
If the banana gelato is yellow, it's not the real deal. (it should be off white)
If the pistachio gelato is glowing a fluorescent green, it's not the real deal. (it should be an earthy green)
If the mint gelato is green, it's an imposter. Mint should be white.
There you have it, you too can now pick out the impostors from the true Gelaterias.
And our day came to an end. We loved our food tour of Rome with Eating Italy Food Tours.
Kenny has a passion for all things Roman, especially the food and it shines through.
If you visit Rome, be sure to go on a food tour to understand the Roman culture and its food.
Eating Italy Food Tours: The Details
For more information on booking your own Food Tour, check out Eating Italy Food Tours website: Rome Tours.
It was one of the best days we've ever had in a city during our travels.
At 59€ for all food and wine with pasta.
Duration: 4-hours.
Great stories and company it's a steal too!
We can't say enough about it, and we're not even foodies.
Kenny just may have inspired ThePlanetD.com to change from Adventure Travel Blog to Dining Travel Blog. Mmm, I like the sounds of that, ThePlanetD, your place for delectable and decadent meals.
Read More
Where to Stay in Florence – Insider Tips to the Best Areas
10 Most Romantic Italian Coastal Towns for Couples