The beauty of Rome is well known, but few know of its surrounding many villages. These places near Rome are forgotten by tourists and obscured by the brightness of the Italian Capital. Let this local guide take you to off the beaten path places to visit near Rome.
10 Places to Visit Near Rome
There are several places for a perfect day trip away from the bustling city of Rome.
You can go hiking, dig into archeology or relax at the beach.
And you'll find plenty of beautiful scenes and stunning locations to snap photos and share with friends and family.
No need to be a professional travel photographer! here, just let the Italian landscape do the work for you.
1. Tivoli: Villa d'Este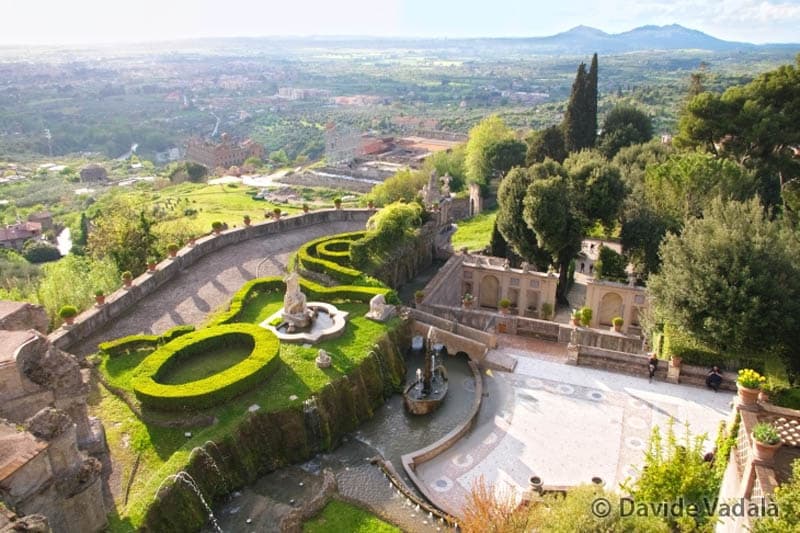 The town of Tivoli is just 30 km far from Rome
and easily reachable by bus or train for the price of a Cappuccino.
You'll be amazed of so much beauty concentrated in a small town: the natural park of Villa Gregoriana, the Renaissance style Villa d'Este with its garden, and the ruins of the rural retreat of Emperor Adriano, Villa Adriana.
Tivoli is also famous for its thermal baths: the smell of its sulfurous water is so strong that sometimes it's perceivable even from Rome.
Villa d'Este was build during the 16th century for the famous and wealthy family of "Este" and its mansion and gardens are part of the UNESCO world heritage list.
The garden will make you drop your jaws: it is decorated with a series of allegorical fountains, cascades and pools, with up to 100 water sprays in the same tank.
The big amount of water required is naturally supplied by the river "Aniene" without the use of any mechanical pump.
The garden is built over a slope, thanks to the use of several terraces, overlooking the city of Rome.
Recommended Hotels in Tivoli
Check out Availability & Prices Trip Advisor / Booking.com
Check out Availability & Prices Trip Advisor / Booking.com
2. Tivoli: Villa Gregoriana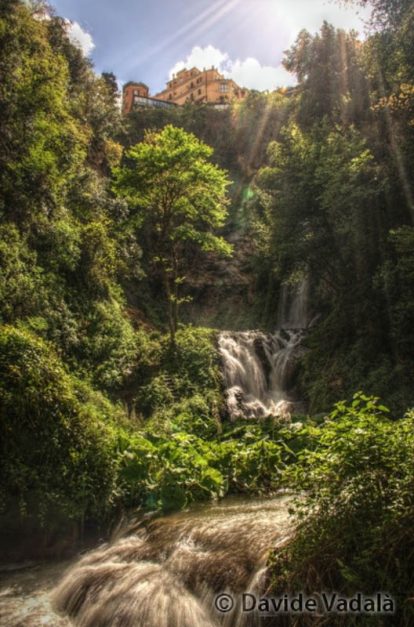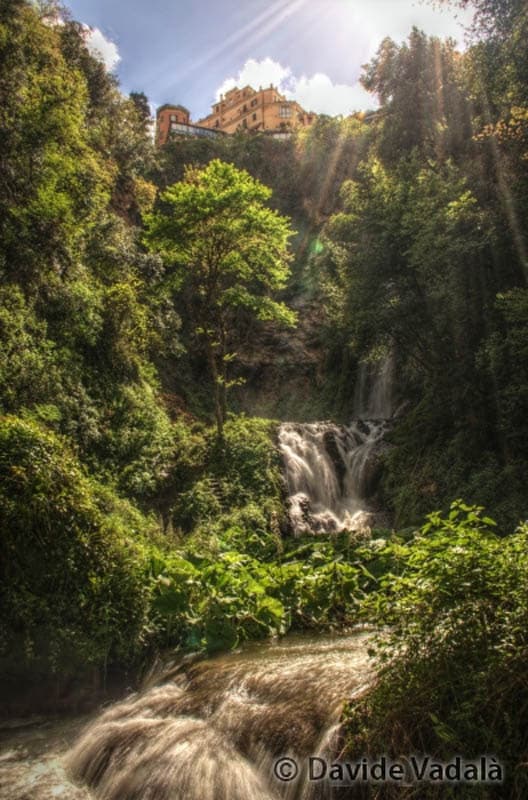 Compared to Villa d'Este, Villa Gregoriana has a much more natural feel: imagine luxurious vegetation growing on the steep slopes going down into the valley.
It owes its existence to the river Aniene that passes close to town, before falling down with a 130 m (390 feet) waterfall.
The river was the cause of several floods in the 19th century but in the 19th century was diverted and transformed into one of the best examples of "romantic garden".
Eventually, Villa Gregoriana sunk into oblivion for a long time, until it was restored, brought to its original splendor.
It only reopened a decade ago.
At the top of the park, it's still possible to see the ancient ruins of the temples from the Roman Acropolis.
Selected Day Tours from Rome
Get Your Guide is a great site for day tours from Rome and discounts
Day Tour of Villa d'Esta and Hadrian's Villa, Tivoli – A full day tour to one of Italy's most impressive villas. Hadrian's villa dates back to the 2nd century, built by Emperor Hadrian. You'll see imperial palaces, temples, theaters, and more. Villa d'Esta dates back to the Italian Renaissance and is renowned for its spectacular gardens and fountains.
Private Limousine Tour – See Rome in style with this four-hour guided tour of the highlights of Rome. This premium limousine tour is also available from Rome to the Tyrrhenian sea between Ostia and Anzio/Nettuno.
Ostia Antica Ruins – are a large archaeological site at the harbor city of Ancient Rome. There is time to explore the medieval neighborhood near the ruins as well.
3. Anzio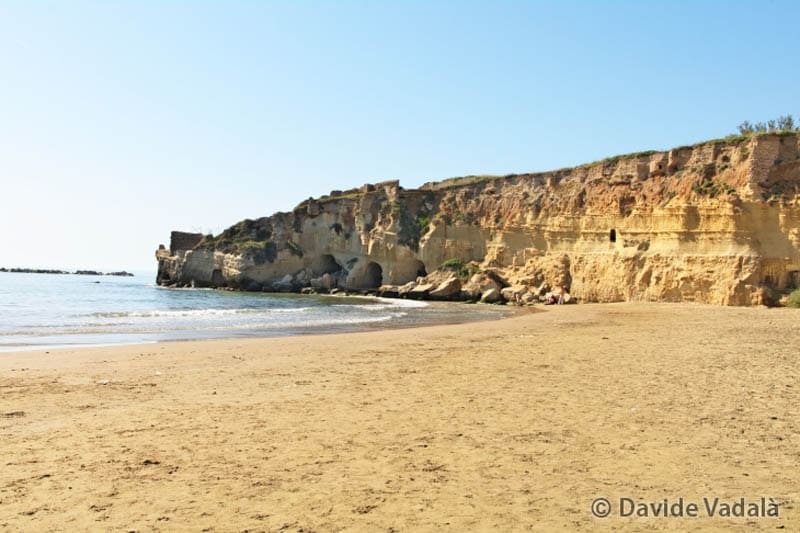 Rome is definitely not famous for his beaches and (non) crystalline water.
But the closest beach is Ostia, about 30 km away.
During summer, local inhabitants invade the beaches of Ostia to escape the 40°C (104 Fahrenheit) temperatures.
But if you are craving a dip in the sea, a good option is to go a little bit further to the town of Anzio.
Anzio is a more picturesque setting with small cliffs, caves and plenty of Roman ruins directly on the beach.
After some beach time, you have the option to stroll to the center of the city, famous for its fish economy or even better the WWF nature reserve of "Tor Caldara"
Tor Caldara is about 8 km far away from Anzio.
Recommended Hotels in Anzio
Check out Availability & Prices Trip Advisor / Booking.com
Check out Availability & Prices Trip Advisor / Booking.com
4. Genzano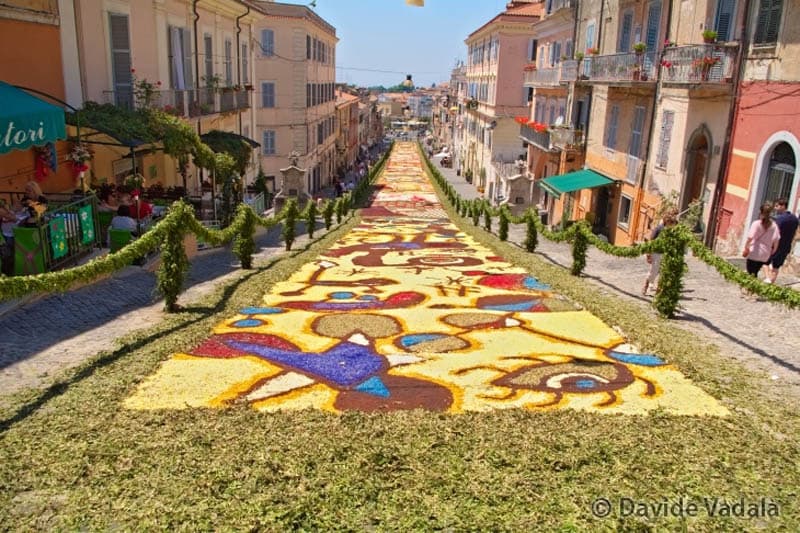 Genzano is a little town on the edge of a volcanic lake called "Lago di Nemi".
It has a nice historical center with tiny alleys and cobbled streets.
The highlight is the massive palace from the 18th century with a beautiful view over the lake.
But the main reason why you want to go there is the "Infiorata di Genzano".
It's a religious festival that takes place every year during Corpus Domini celebration, in June.
The main street of the town is covered with 13 carpets of flowers representing religious or civil scenes. It is an event not to be missed!
During the last day, the event ends with a parade of traditional costumes.
Then it all ends with kids and revelers alike destroying the carpets, and starting a petal fight!
5. Lago della Duchessa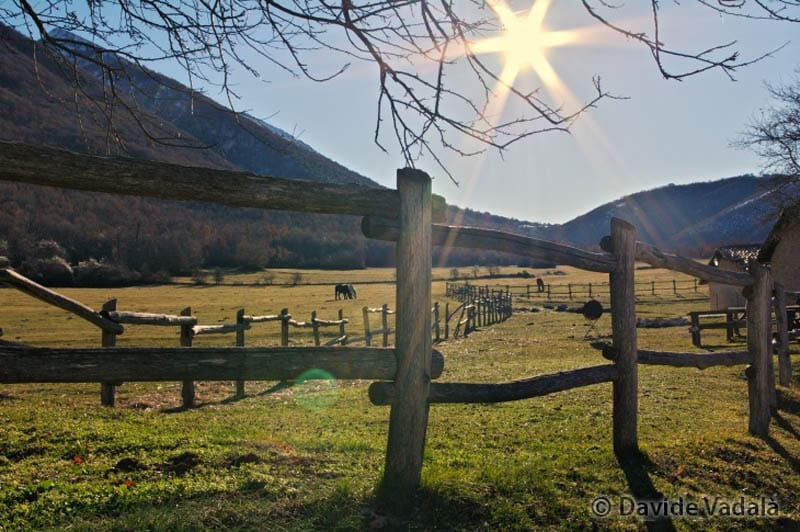 Literally, the "Lake of the Duchess", Lago della Duchessa is a popular destination to go hiking not far outside of Rome.
It's a mountain lake at an altitude of 1788 ( 5866 feet) meters above sea level, settled in a protected area that can be visited hiking during the warm season, or with snowshoes in winter.
It's an easy hike suitable also for not too experienced hikers.
6. Lago del Turano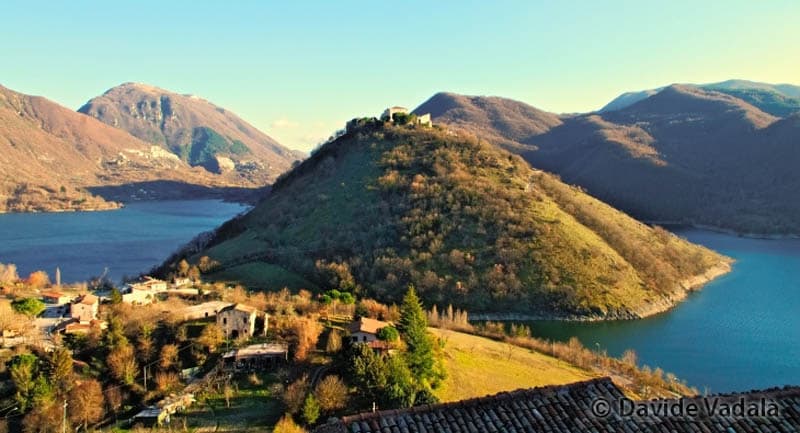 Lago del Turano is an artificial lake, built in 1939 as a reservoir for a hydroelectric plant.
It's a good destination for a summer day trip, sunbathing and relaxing on its shores.
It's a perfect choice for a lazy day.
A visit to the scenic villages of Castel di Tora and Colle di Tora is not to be missed.
Get lost in the small alleyways and terraces until you find a beautiful view over the lake.
7. Ostia Antica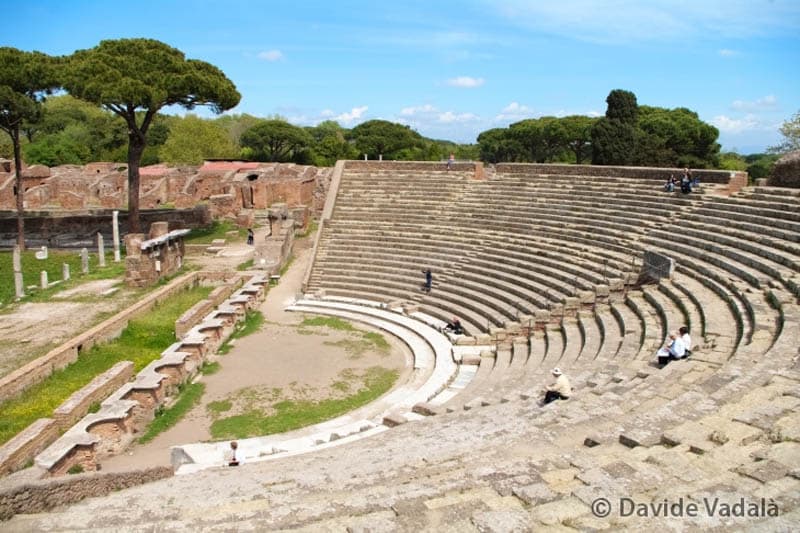 A smaller Pompei, but in the proximity of Rome, Ostia Antica was used as a seaport during Roman times.
The first colony of the Roman Empire, it was an important commercial port center.
During its biggest expansion, it had a population of 75 000 inhabitants.
Today it is located 3 km from the sea on the Tiber river.
It's very well preserved and it's still possible to see many residences and public buildings.
When you tour Ostia Antica, you'll see thermal bath, amphitheater, gym, and the forum.
I was most impressed with the beautiful mosaics decorating the floors of the city.
Hot tip: walk looking at your feet!
8. Allumiere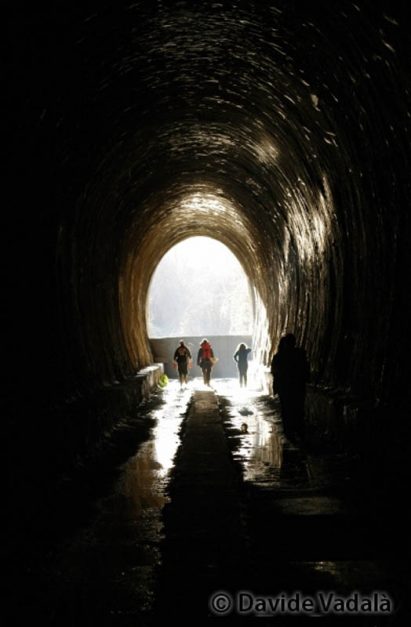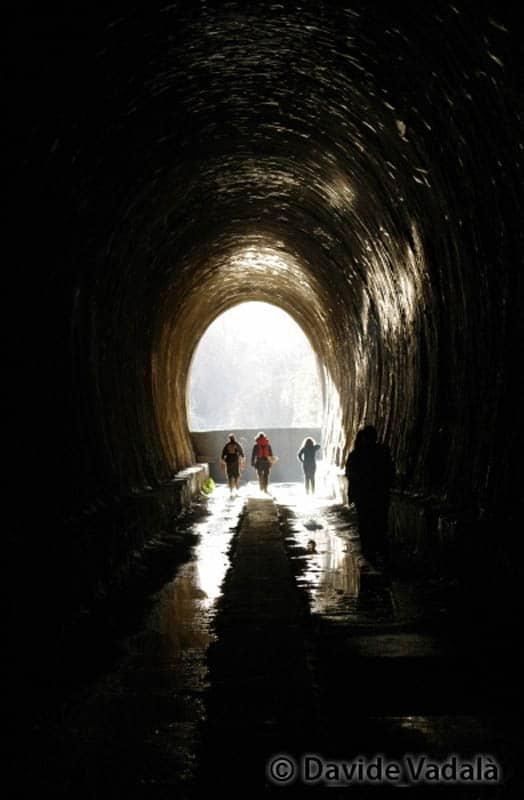 Allumiere takes its name from the potassium-alum extracted in the local mines.
From here is an easy hike on a flat track following an abandoned railway that was blocked in 1961 by a landslide.
The rails were never removed making it an easy hike. Just follow the rail.
It's a good hike through nature taking you through abandoned train stations.
You'll pass through a tunnel with a peculiar micro-climate and fauna before walking over a big metal bridge.
Being a flat route, it's also a good option for cyclists, that can follow the whole abandoned railway track, that in this case is starting in Monteromano, and ending after about 50km in Civitavecchia.
Cerveteri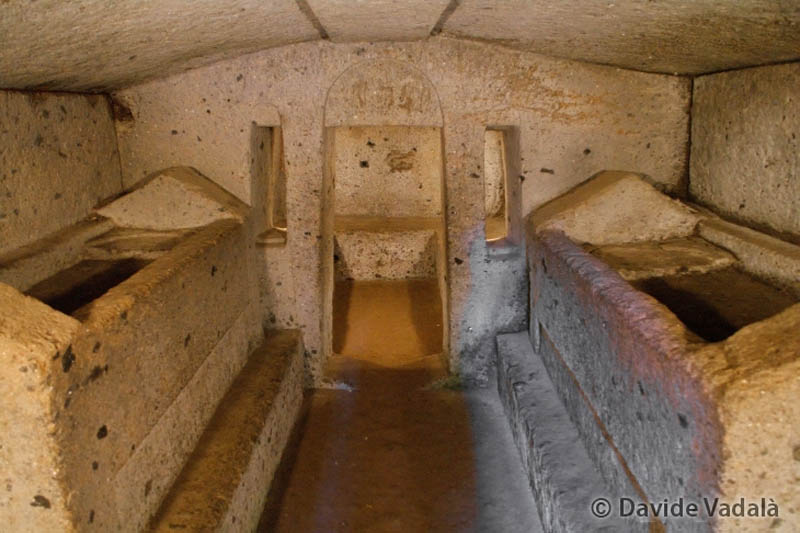 Even if in Rome everything is talking about the Roman Empire, there were populations established in the area way before the Roman Empire.
One of the most important is the Etruscan civilization. It was active in the north of Latium and in the south of Tuscany.
In Cerveteri you must visit the UNESCO site of the Necropolis of the Banditaccia.
This complex has more than 1000 tombs, dating back to the 9th century BC.
Many of the graves are mound shaped, and some burrow several stories underground.
The jewel of the Necropolis is the Tomb of the Reliefs, built in the 3rd century BC.
Here you can peruse the interesting frescoes.
A 3D video, that is part of the visit.
It's worth checking out to see a visual depiction of its history and the Etruscan population.
Calcata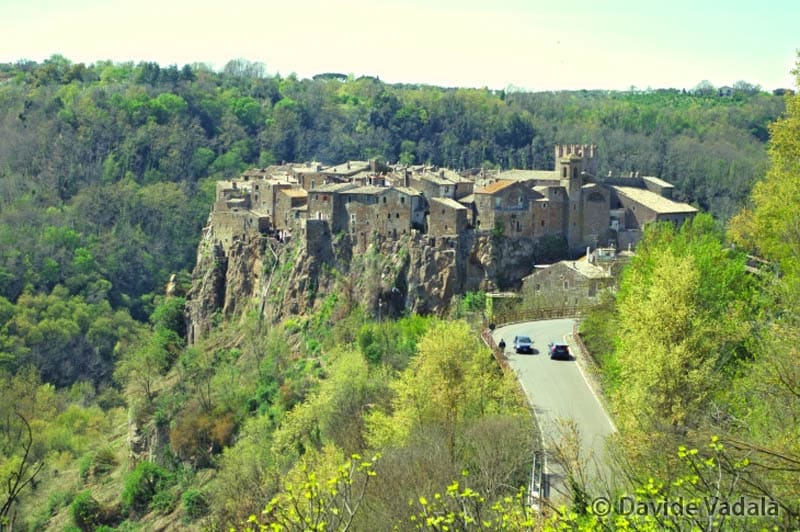 Calcata is one of my favorite places around Rome.
Not only is it set in a scenic environment, standing over a cliff made of volcanic rock surrounded by green forests, but it houses a community of artists that took possession of the village.
Not long ago, this place was nearly abandoned because of stability issues and the risk of collapses.
In 1960, some artists began to squat in the area and then began to buy and restore the properties in the historical center.
A visit to Calcata is all about the experience of getting lost in its winding streets and alleys and entering every single atelier.
Nowadays the village is quite popular, some would say it's "commercial."
So, if you want to experience the real spirit of Calcata, avoid the holidays when it's packed with people.
Recommended Hotels in Rome
If you plan on just doing day trips from Rome, here are some hotel options for staying in Rome and visiting the cities mentioned above.
Check out Availability & Prices Trip Advisor / Booking.com
Check out Availability & Prices Trip Advisor / Booking.com
More Information for your trip to Rome
Read all of our articles on Italy in our Italy Travel Guide
You Might Also Enjoy:
Disclosure: There are some affiliate links in the post above, but these are all products we highly recommend. We won't put anything on this page that we haven't verified and/or personally used.