When we were told that we'd be spending the morning at Gladiator School during our visit to Italy's capital, we immediately said, "Sign me up!"  We love a new adventure and who doesn't want to learn a little about the Ancient City's past while getting the chance to wield a sword?
Gladiator School Rome
7:00 am came early and we had to check out of our apartment in Rome by 7:30 as we were heading to Umbria that afternoon.
We wouldn't be finished in Gladiator school until after check out, so it was a late night packing our things after rolling ourselves home after our 7-course dinner that Ryan and the House Trip folks booked us into with Context Travel.
We arrived early at the school and nobody was there, so we sat in the tent feeling anxious as if a real gladiator. Although we were simply waiting for a lesson, the gladiators were waiting to fight to the death.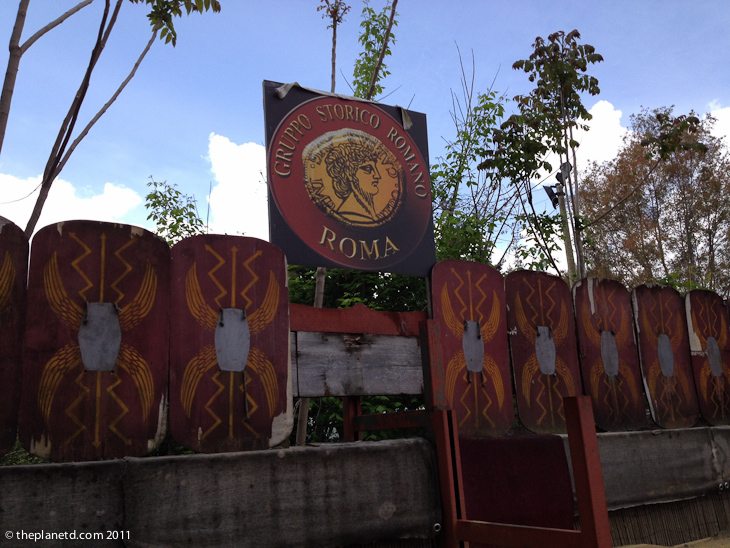 Our guide came in like a true slave handler and yelled at us and mocked us whenever we answered his questions.
He never wavered from his character and it was entertaining to watch him speak even though he wouldn't allow us to take a photo of him. (We had to sneak photographs whenever he wasn't looking) "What is this contraption?" He said, "is it from the future?"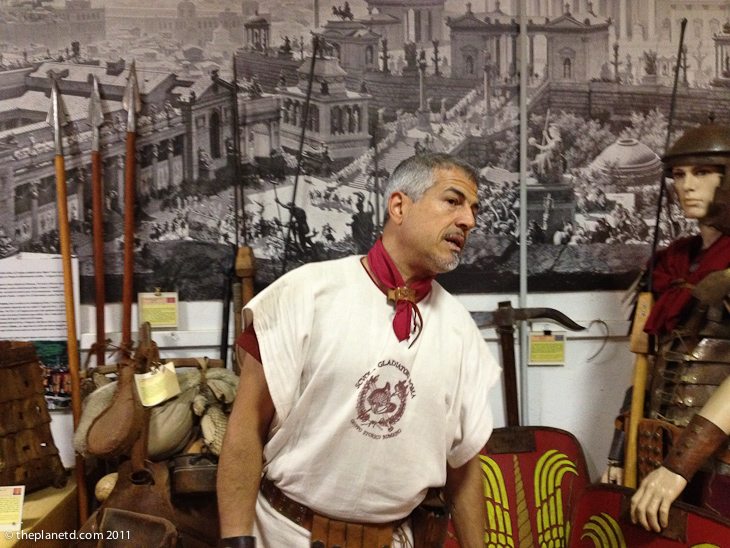 We all received our smocks and looked almost like a true slave about to enter the ring of death before heading into the museum for a talk about the Colosseum and the ancient celebrities.
What to Expect from Gladiator School
I didn't know what to expect from Gladiator School and as the days' events unfolded, I realized that I had something else in mind.
I was expecting some hardcore workout and fight to the finish, but it was a pretty mellow morning of listening to "Marcus Aurelius" tell us about the history of Rome while staying in the character of Gladiator.
We stood in the cold museum for nearly an hour as he told us the history of the Gladiator and truthfully, it was so long and cold and I had trouble understanding most of what he said. I found myself zoning off into space and when he asked us questions I yelled out incoherent answers.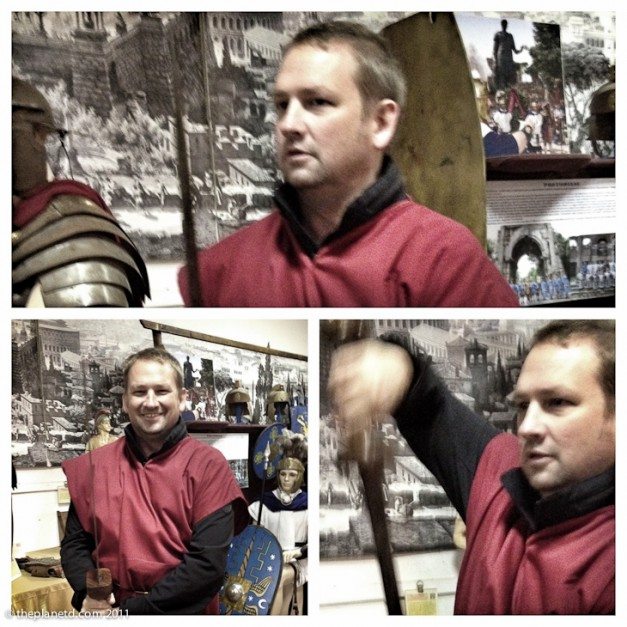 It was fun to handle the swords though. We learned the proper way to take the sword out of its sheath without chopping off your fellow soldiers head or your own hand. Who knew taking a sword out could be so complicated!
We then looked at a few more artifacts and tried on some helmets. They were extremely heavy and took away all your peripheral vision.
I have no idea how these gladiators managed to fight in the ring with heavy metal helmets, heavy metal swords and a constant fear of death.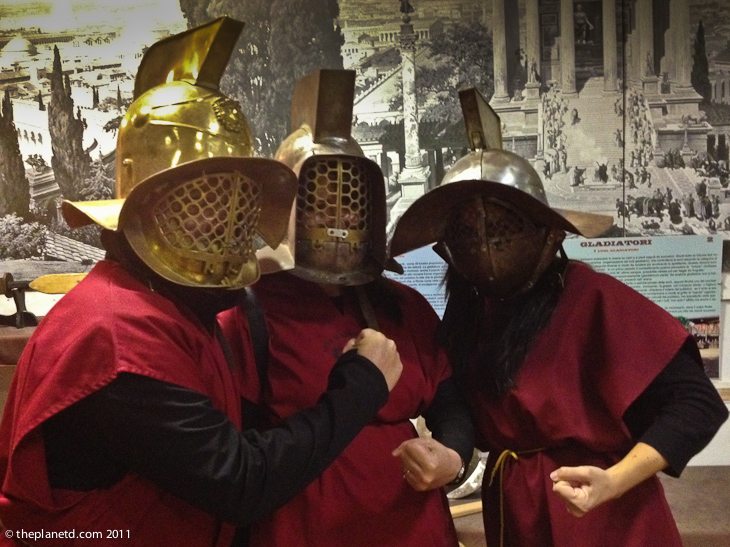 I guess I'm going to have to rent Russell Crowe's Gladiator again to get a sense of what he was talking about.
What Was the Reason for Gladiators?
I did learn that the reason for Gladiators was to clear out the overcrowded jails. Instead of executing criminals, they gave them the opportunity to fight for their lives. Most men said yes since it gave them a second chance at living.
Gladiators who won match after match were eventually given their freedom to retire. They became celebrities and even though they had their freedom, most went on to become professional gladiators. I guess they got used to the glory.
It was then back outside where we thankfully didn't have to run through the obstacle course or jump around on the bleachers. I think that we were all expecting to do some sort of training that involved getting dirty and pushing us to our limits.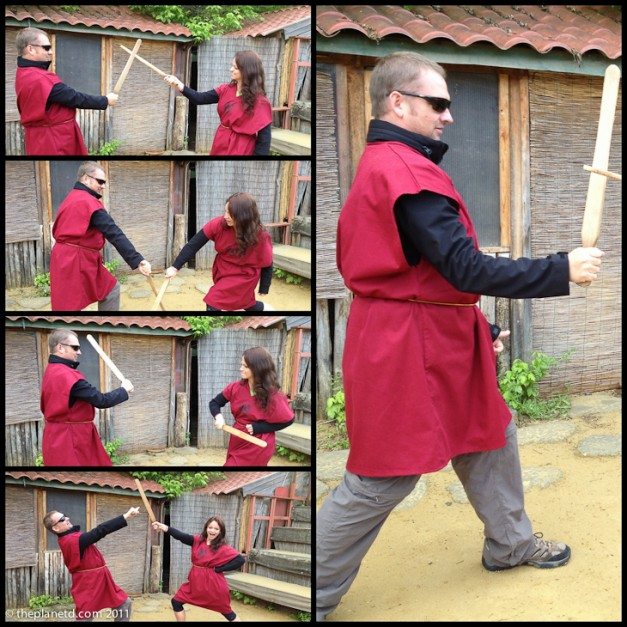 Instead, we were given wooden swords where we practiced 5 moves of attacking and blocking.
It was when we finally got into the ring to fight that I started to have some fun.
The Gladiator Match
I had finally warmed up from the cold of the concrete museum and I was finally feeling like we were in Gladiator School.
Angie of Angie Away and I kicked off the tournament and fought each other with the moves we had learned.
Whenever someone made body contact they won a point. First one to three wins and goes on to round two. I have to say Angie and I were a good match and it came down to the final wire.
I lucked out when Angie stepped out of the ring and lost by default.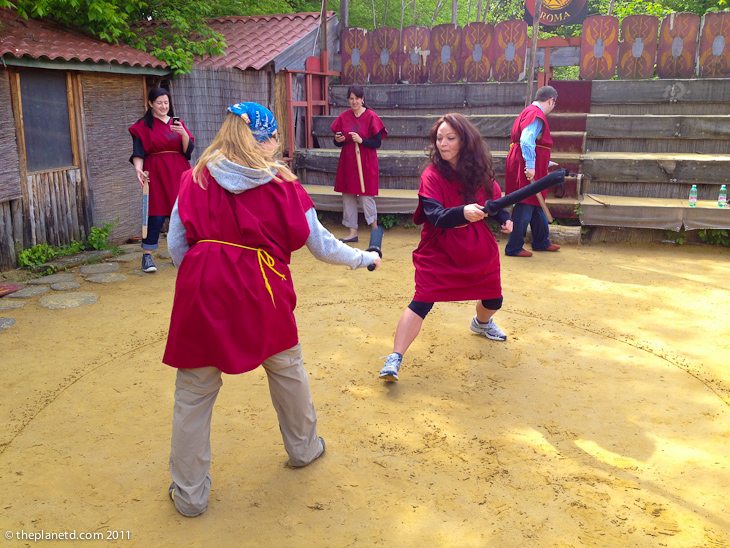 This went on for a few more rounds until the finale came down to Dave who had just barely beat Ryan in an intense match-up against Kirsten of Aviators and a Camera.
Dave narrowly beat Kirsten which totally upset Marcus Aurelias as I am sure that he wanted to give Kirsten a victory kiss.
After the tournament was over, we all got our diplomas to state that we had graduated from Gladiator School.
We were full-fledged gladiators and licensed to fight in any ring around the Roman Empire.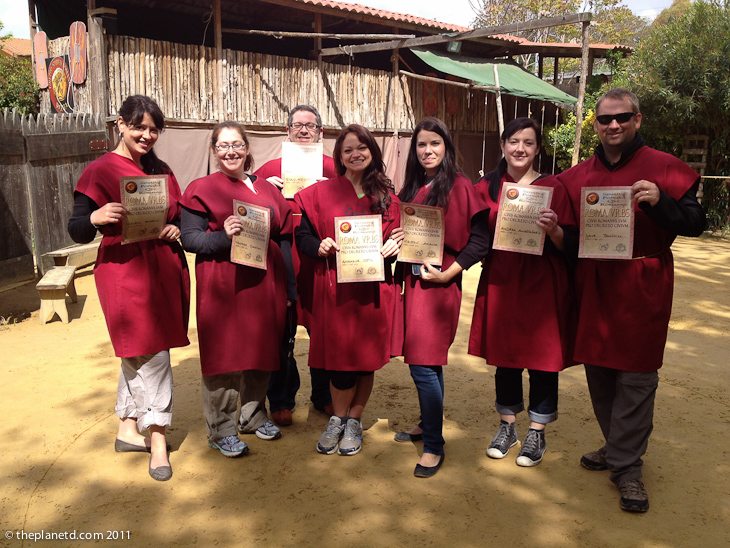 In the end, it was a fun morning with a great group from House Trip.
I think that less time could have been spent in the museum and more time could have been spent on the field taking part in different Gladiator activities. I would have loved to try to fight with one of those helmets on!
For more on The Rome Gladiator School  check out Get Your Guide and book your own Private Tours in Rome, check out Get Your Guide for more Roman Holiday ideas! 
Read More
10 Most Romantic Italian Coastal Towns for Couples
7 Unforgettable Reasons to Visit Tuscany Right Now