A person cannot visit Barcelona without checking out some of its most interesting architecture designed by the famous architect Antoni Gaudi.
Gaudi's Barcelona
1. La Sagrada Familia
The most famous site in all of Barcelona is La Sagrada Familia, so that is where we started.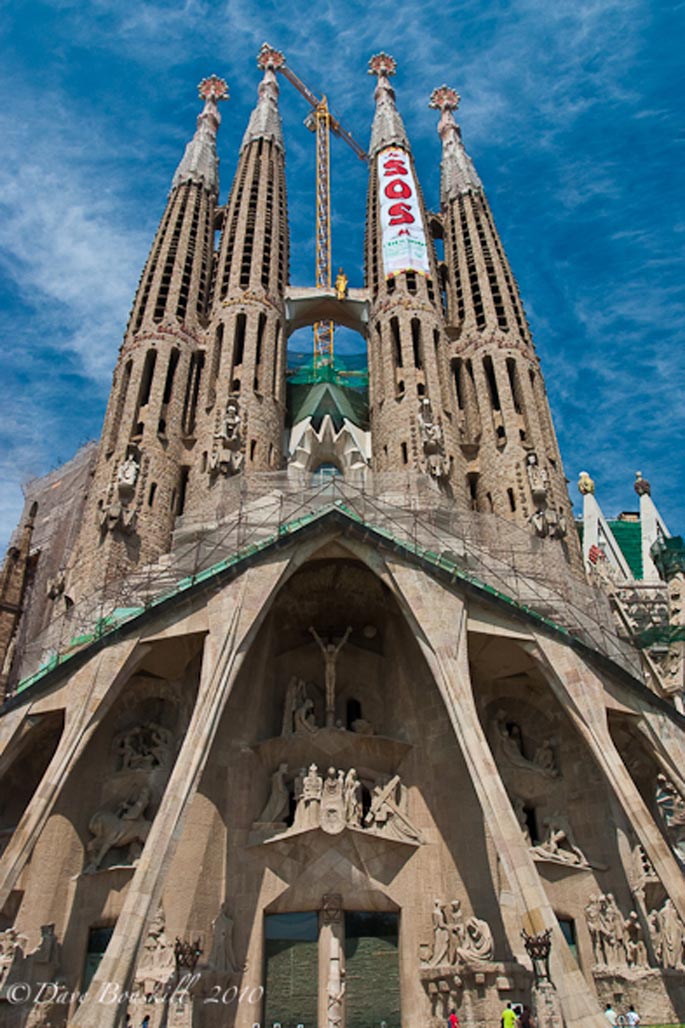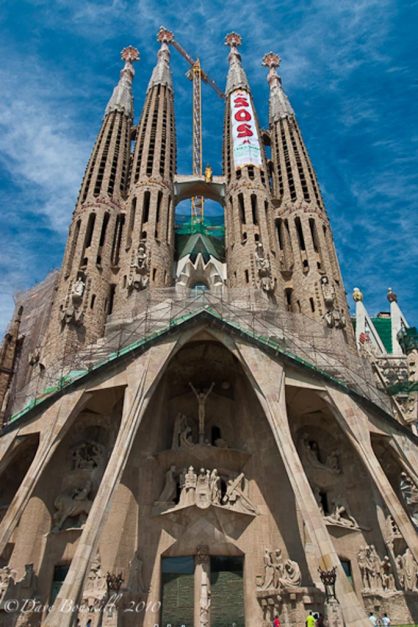 This is an interesting mammoth church that began its construction in 1882. What is so interesting about it? Well, it has yet to be finished.
Surrounded by cranes and scaffolding, it is a the centerpiece of the city of Barcelona.  It is scheduled to be complete by 2026, but we doubt they will ever finish this "work of art" 130 years in the making.
Why would anyone come to see Gaudi's finished church when they have been swarming to see his unfinished La Sagrada Familia for so long? And now why would we care to see a building finished with modern machinery and technology.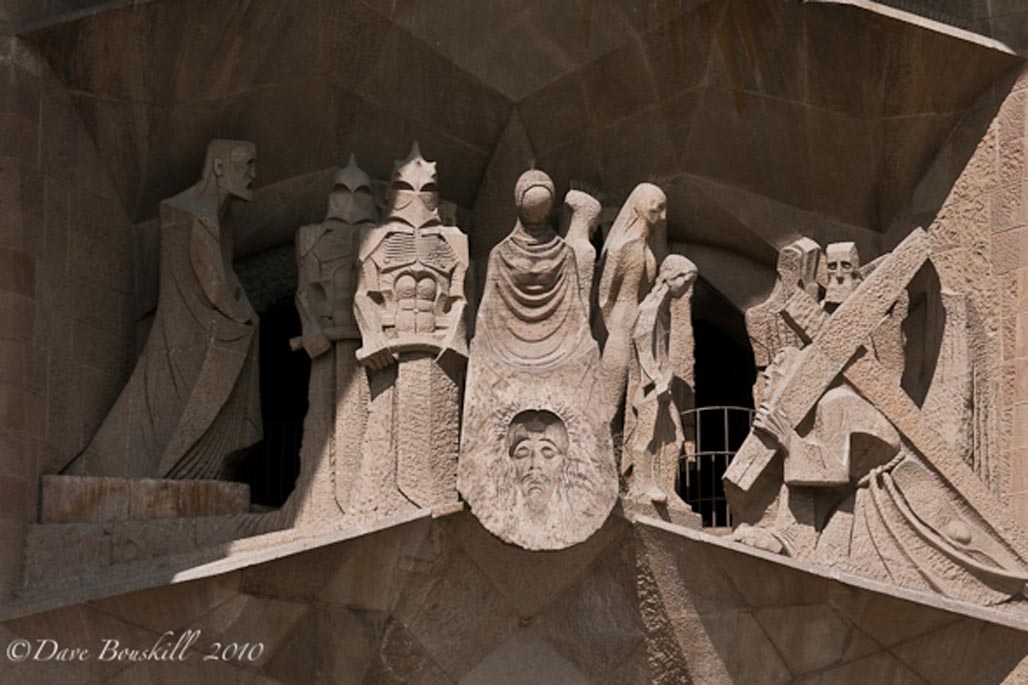 It is a mishmash of old and new. Some of its outer stones are smooth and polished while others are old and weathered after years of facing the elements.
How will they blend it all together when it is done It is giant, it is incomplete and it is well, gaudy.
Following the Gaudi tour through Barcelona, we made our way down the street to see the rest of his buildings he designed. Things got much better after Sagrada Familia.
2. La Pedrera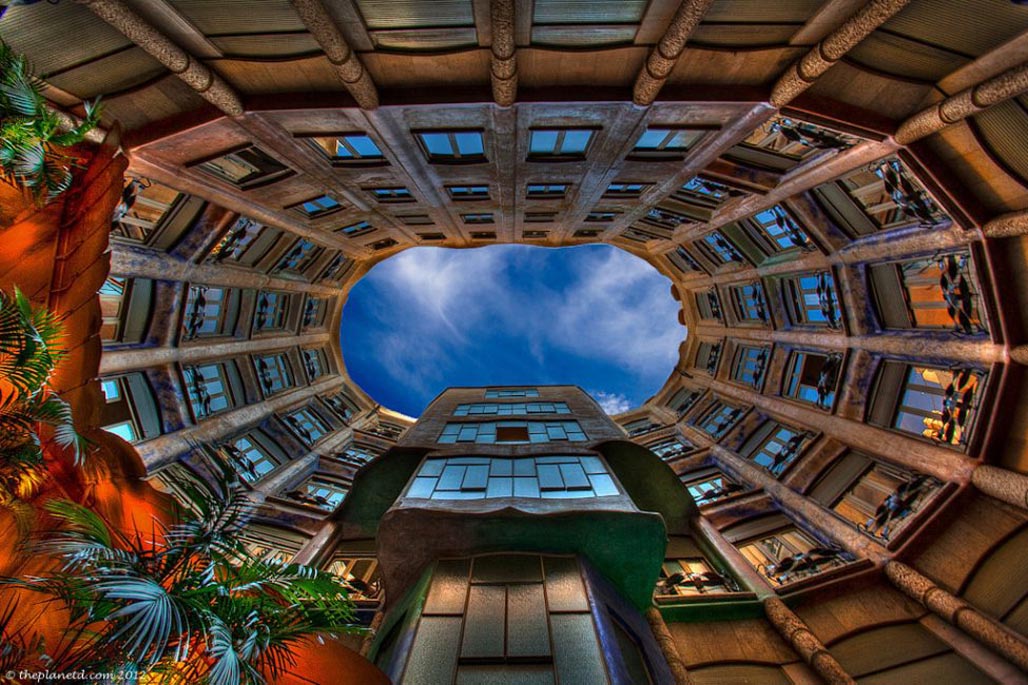 La Pedrera is also known as Casa Mila. Casa Mila was our favourite Gaudi building to explore. We marvelled at the oval-shaped courtyard reaching up to the sky upon entrance.
We toured the rooms and made our way to the rooftop.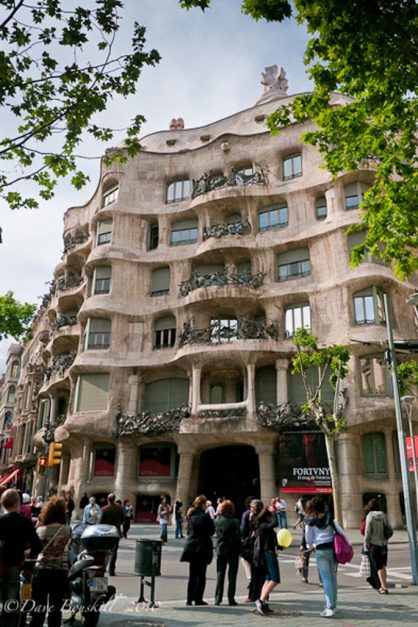 The roof offers beautiful views of Barcelona, but it's the design that is striking. We wove our way through chimney's, staircases and spires.
I can only imagine the parties that were hosted up here.
3. Casa Batllo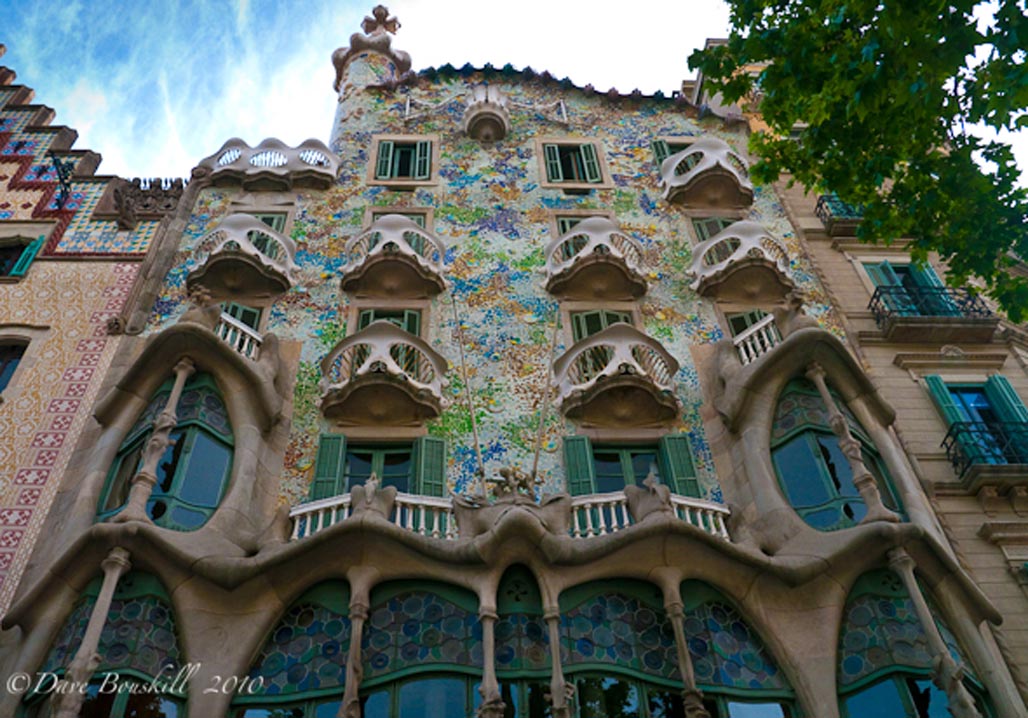 You know instantly when you have arrived at a Gaudi work of art by the large crowd milling around out front.
Casa Batllo is another impressive structure. It located on the street Passeig de Gracia alongside several other impressive buildings designed in the art nouveau genre.
Take a close look at the balconies of Casa Batllo, they look like they are skulls.
The entrance fee for this one is 16.50 Euro! 33 Euro for two people to look at the inside of a building was a bit much for us so we skipped this one too.
We could go broke looking at the works of Gaudi in Barcelona.
But if you are a true fan, entrances are not to be missed. Gaudi was just as inspiring inside as he is out.
4. Casa Calvet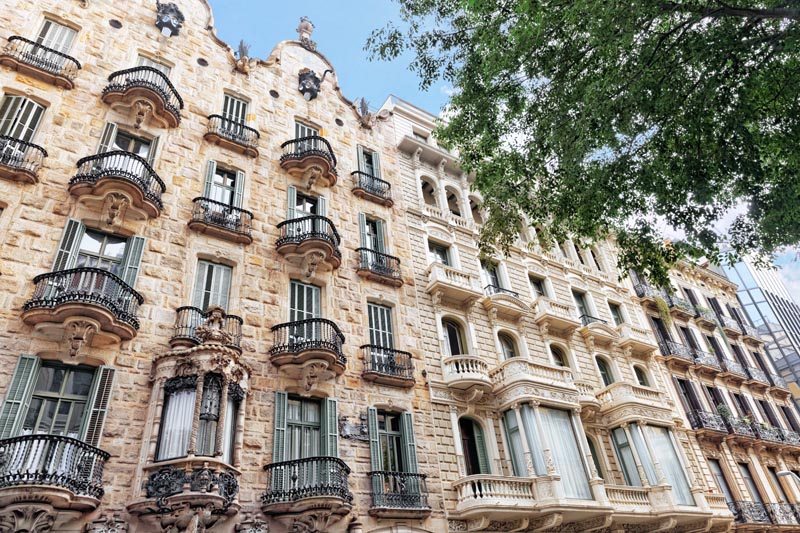 Casa Calvet is one of Gaudi's earliest works in Barcelona. It's not the most innovative, but when you see it, you'll notice the distinct Gaudi flare.
5. Casa Vicens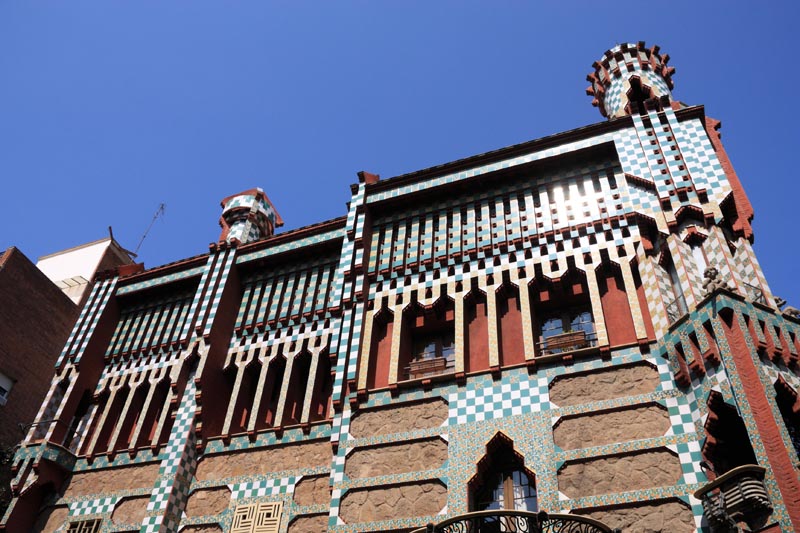 Casa Vicens is the first house designed by Gaudi. It is also the newest tribute to Gaudi. It's been newly restored and opened as a museum.
Details:
Opening Hours: 10 am to 8 pm
Rates: General Admission 16€
6. Guell Palace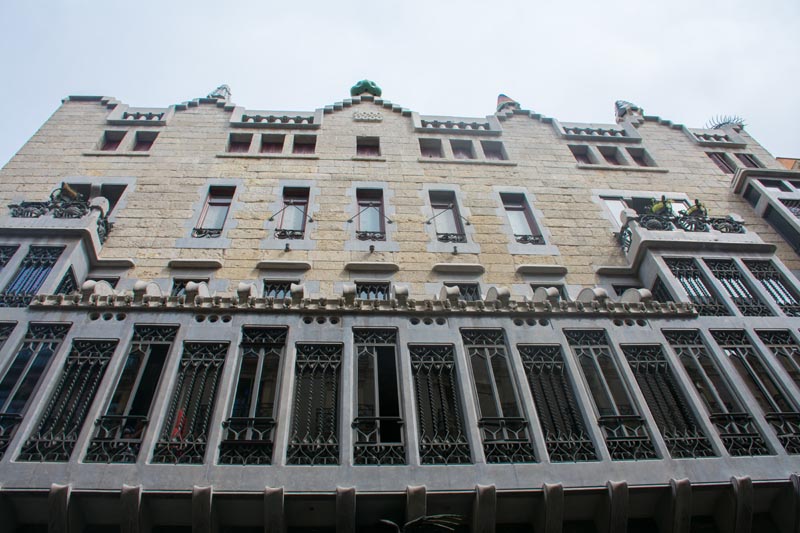 Guell Palace is another Gaudi work of art that you can tour. From the outside, it doesn't look that impressive, but when you go inside, and it is the lavish Gaudi design that you would expect.
7. Park Guell
Park Guell is an enchanting garden designed by Gaudi just outside of Barcelona on Carmel Hill.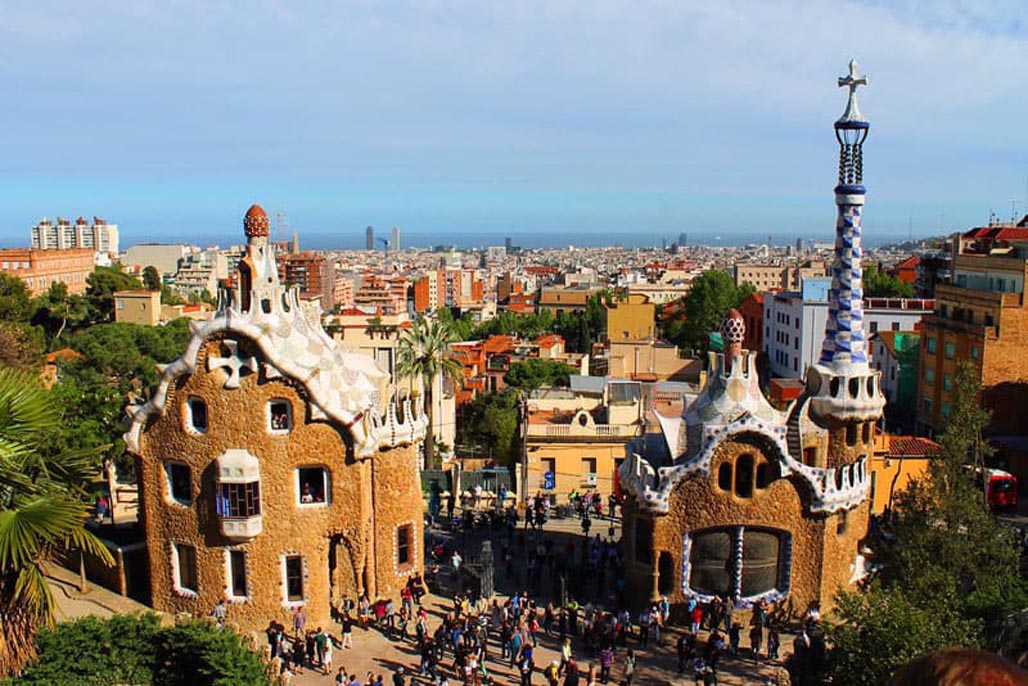 It is a fairytale land with greenery and interesting architectural designs by Gaudi.
As Crazzzy Travel wrote in here Romantic Things to do in Barcelona Post:
"The place not to miss is a terrace with a spectacular view of the city. When looking out over the city me and my partner remembered those sweet high school first date moments when we were kissing non-stop and doing nothing much else. Let's just say the butterflies were in the stomach!"
8. Pavellons Guell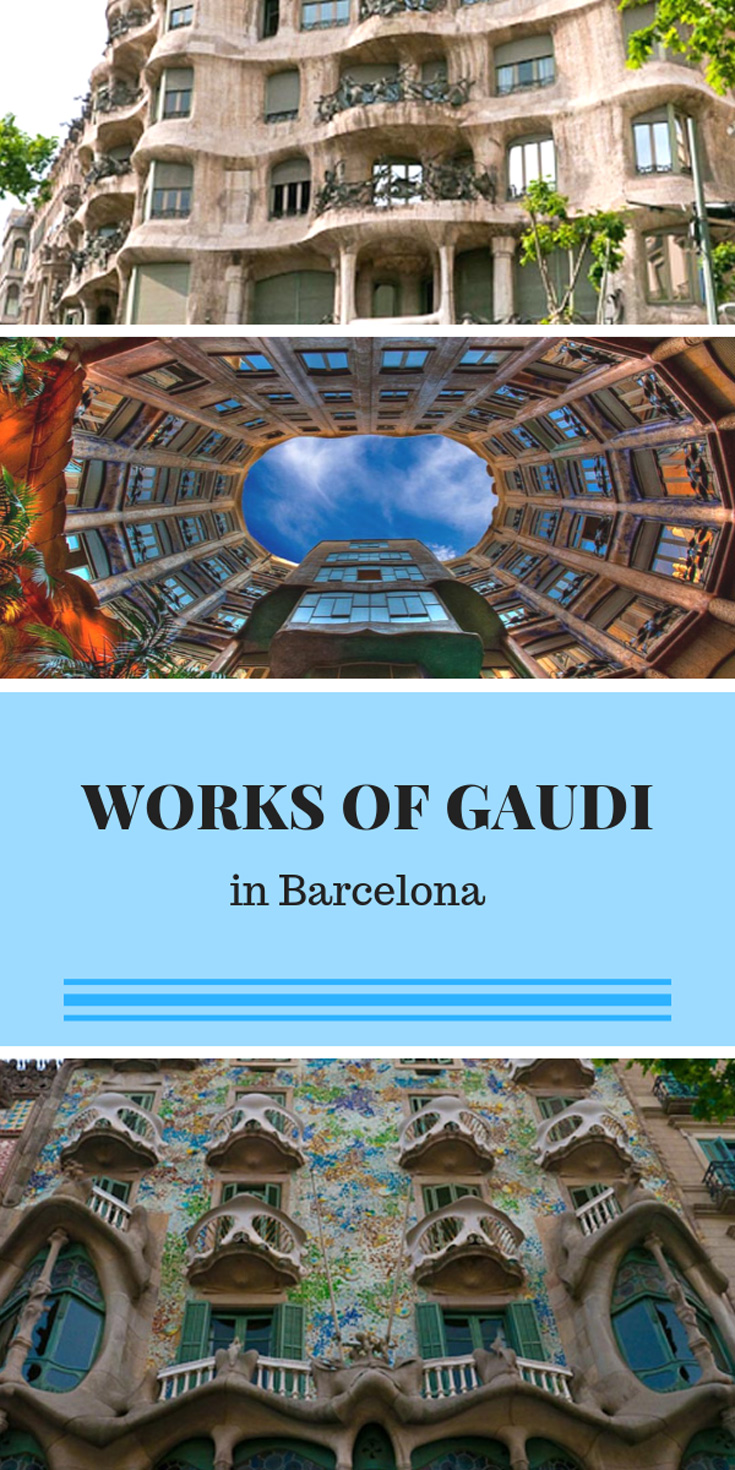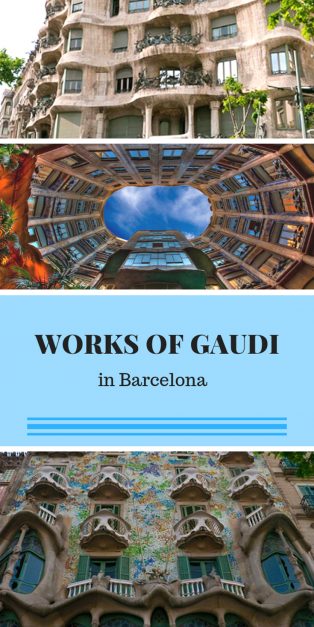 Guell commissioned Gaudi for many works in Barcelona. The Pavellons Guell was the first of many!
Gaudi built the entrance way and pavillons to Guell's estate.
We are very happy that we saw the works of Antoni Gaudi though because they are the most famous sites in Barcelona. We feel that you shouldn't miss anything that is the top attraction if you are anywhere.
Like we always say "You never know if you don't go."
But we were happy to go out and enjoy the rest of Barcelona. It is the city's vibe that will keep us coming back. The streets are alive with energy, the tapa bars are filled with great food and wine and the rest of the architecture is extraordinary. You don't have to be a Gaudi fan to enjoy Barcelona.
Placa Reial
Placa Reial is a popular meeting spot for walking tours and you can see some of Gaudi's work here. He designed the street lamps in the square!
Read More
Toledo, Beautiful Spanish History Awaits
Ola Spain, We Have Arrived in Barcelona