Looking for things to do in Rome? This comprehensive travel guide will give you all the tools you need to make the most of your time in Italy's Eternal City.
Travel writer and past Italy resident Karen Worrall of Cruise Ship Karen shares the information she's learned over the past two decades frequenting Rome to give you insider information on the best things to do.
Whether you're visiting Rome for the first or fifteenth time, these travel tips will help you create the best Rome itinerary possible.
Top Things to do in Rome
I love Rome! It's gregarious, grand and glorious.
There are so many historical sites that it can be overwhelming.
So, I'm here to help.
I'm going to give you my top tips of things to see in Rome, things to do, and what to eat in this perennially popular city.
Regardless of whether this is your first trip to Italy, Rome will inspire you to visit even more of the country.
What are the must things to do in Rome?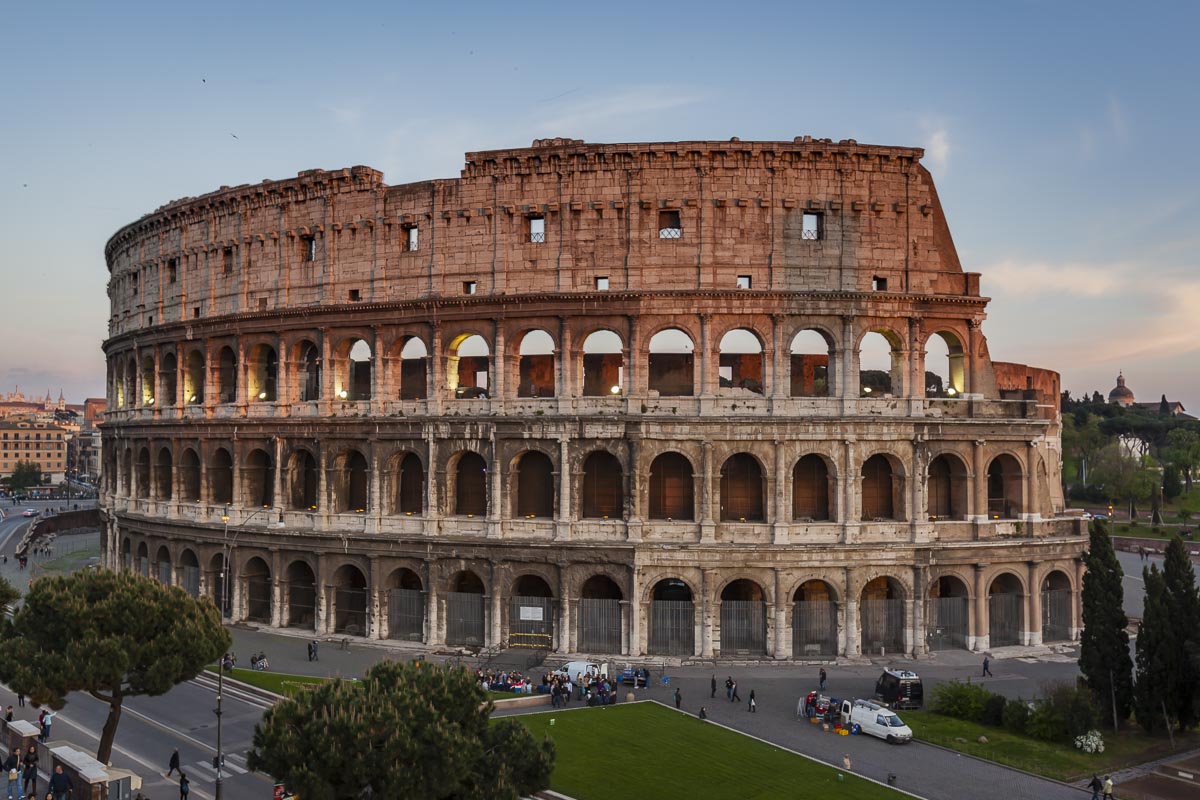 There is no city like Rome.
No city has its ancient past so well preserved as here, with visitors being able to literally walk around part of Rome of antiquity.
The vanity of its rulers created an incredible legacy which means the Roman Empire may have fallen, but the glory of Rome is alive and well.
Its history is, of course, the main reason for its consistent popularity, but Rome is also a thriving modern city known for its gastronomy and artisans.
Whether you're drawn to the archaeology, religion, art, food or hipness of Rome, there is truly something for everyone.
If you are looking for a day trip from Rome check out our post Places to Visit Near Rome.
The best way that you can save money and seeing all of the sites is to get yourself an Omnia Multi Pass/Roma Card
You can get it for 3 days and it includes all of these and more:
Enjoy fast-track entry to Rome's historic sites, such as St. Peter's Basilica, the Vatican Museums, and the Colosseum, with a 3-day combined city pass.
Also, take advantage of FREE UNLIMITED PUBLIC TRANSPORT.
With only having a short amount of time this will help you get around quickly and skip the line at a bunch of places. Definitely worth it.
For a more detailed outline see the How to Skip the lines and Save Money in Rome section below.
1. The Colosseum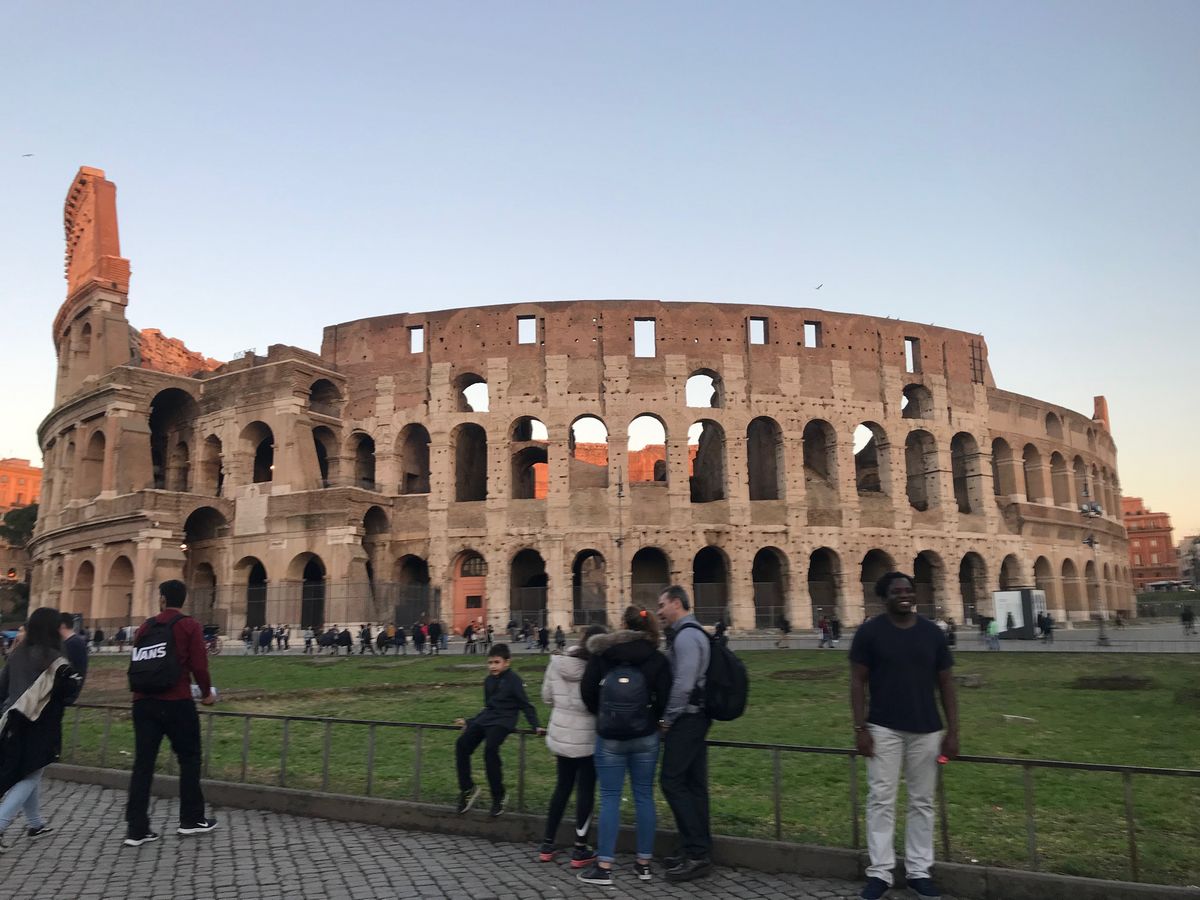 "The beating heart of Rome is not the marble of the Senate, it's the sand of the Colosseum." (Senator Gracchus in movie Gladiator).
So don't just view if from outside, go in and feel it.
It's the best time to visit, as the ancient amphitheater has recently been restored.
A new and interesting museum on the second floor opened after restoration.
It offers tours to Belvedere and Underground, which go up to the fourth floor and down to the gladiator pits.
The Colosseum bookshop is an excellent spot to pick up a book on all things Rome.
Your ticket is also valid for the Roman Forum and Palatine Hill and can be used for two consecutive days.
Hours: Daily: Last Sunday of October until February 15th open 8.30am-3.30pm, then until March 15th open until 4 pm, then until last Saturday of March until 4.30pm, then until August 31st15pm, then until September 30th until 6 pm, and until last Saturday of October until 5.30pm.
Price: €12 (including Roman Forum and Palatine Hill) plus €9 for optional Belvedere and Underground tour.
If you have the Omnia Rome and Vatican Card this is included in the price.
2. Domus Aurea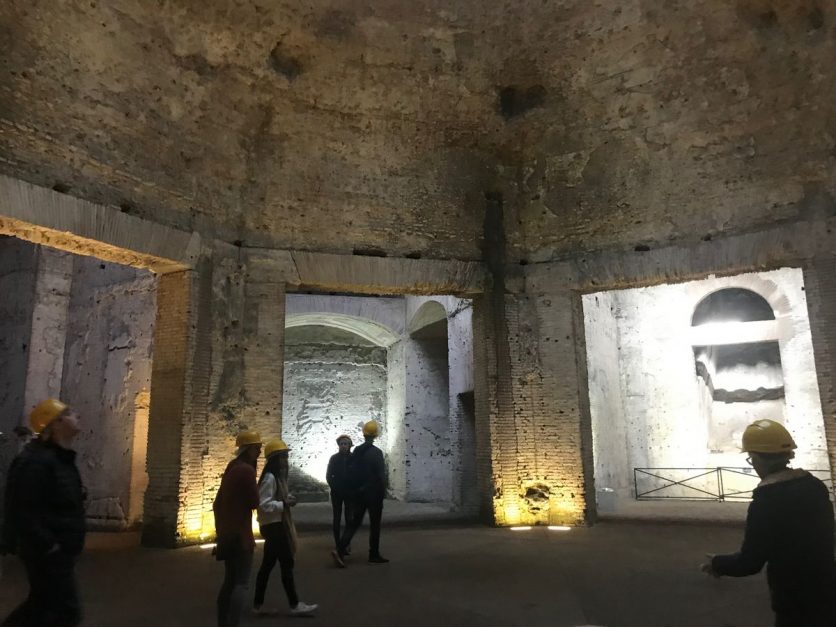 In 64AD Emperor Nero used the great fire of Rome as an excuse to have an extravagant palace built.
The 300 acre complex on the Esquiline Hill had three buildings with 300 rooms decorated in gold leaf, semi-precious stones and frescoes painted by the day's greatest artists.
Lavish gardens, an oculus topped octagonal room, fountains galore, and a colossal 120ft bronze statues of himself in the vestibule completed the ostentatious design.
2002 saw archaeologists begin excavations in earnest and has been regularly open for tours since 2015.
Due to the excavation being an ongoing process – as still only about 1/3 of the mansion has been unearthed – tours are only available on weekends while digs continue on weekdays.
Seeing two-millennia-old frescoes, the stunning octagonal room, and using virtual reality headsets and multimedia installations to help you literally see what it was like when built, makes this a very special site to see.
3. Palatine Hille
Walk up from the Roman Forum to enjoy some peace and quiet in the center of the city in Rome's original elite neighborhood.
A short walk up from the Roman Forum is the oft-overlooked extensive archaeological site that is my favorite spot in Rome.
The hill first became sought after for its mystical connections, because it is thought that Rome's founders Romulus and Remus were found in the Lupercal, a cave beneath the hill. It has since been home to luxurious villas, and mansions for emperors.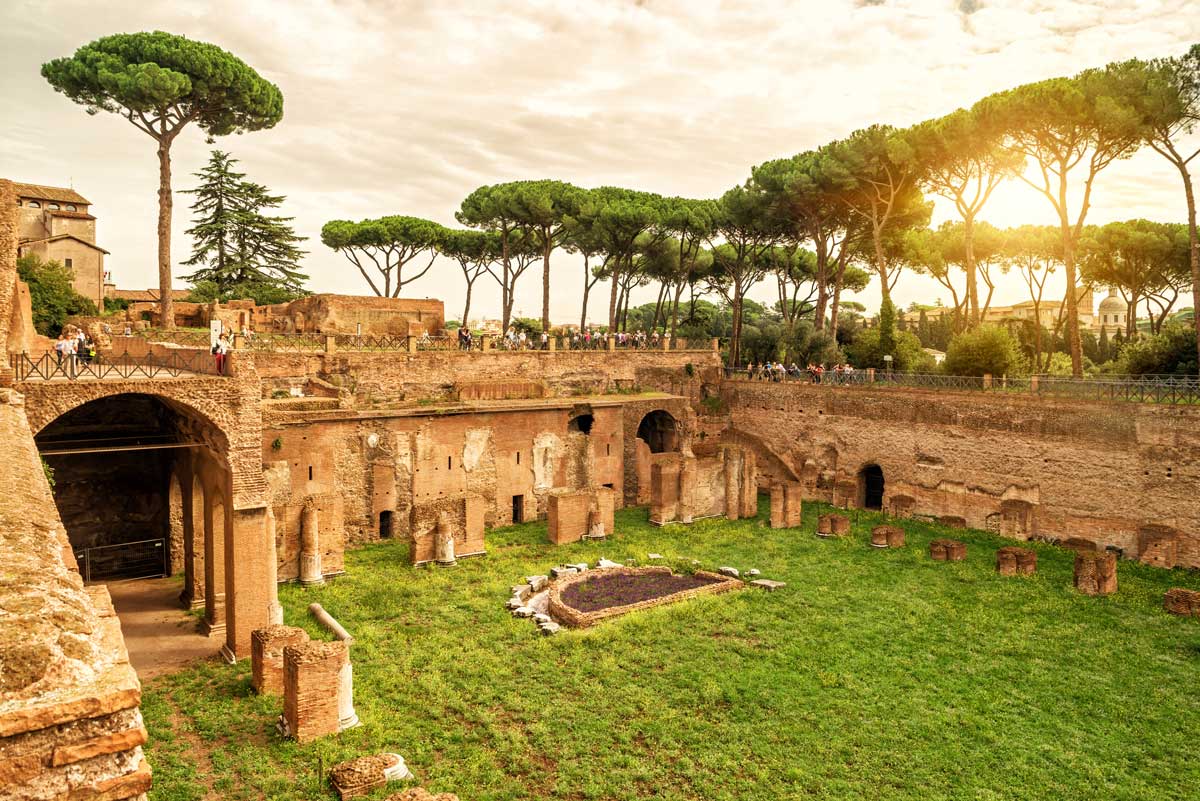 There are a lot of lesser-known but very interesting sites to visit here: the Palatine Museum, House of Augustus (the first Caesar), House of Livia (his wife), Flavian Palace (ruins), Neronian Cryptoporticus, and the Stadium of Domitian.
It is also an ideal spot for a picnic and to watch the sunset.
Hours: 8.30am-4.30pm (Jan 2-Feb 15 and last Sunday of Oct to Dec 31), until 5.00pm (Feb 16-Mar 15), until 5.30pm (Mar 16-last Saturday in March), until 6.30pm (Oct 1-last Saturday in Oct), until 7.15pm (last Sunday in Mar-Aug 31), until 7pm (Sept 1-30).
Cost: €12 for entrance into the Palatine Hill, Roman Forum and Colosseum. Entrance is free on the first Sunday of every month reduced to €7.50 for students and 18-25s from the E.U, and free for under 18s.
This is included in your Omnia Rome and Vatican Pass!
4. Roman Forum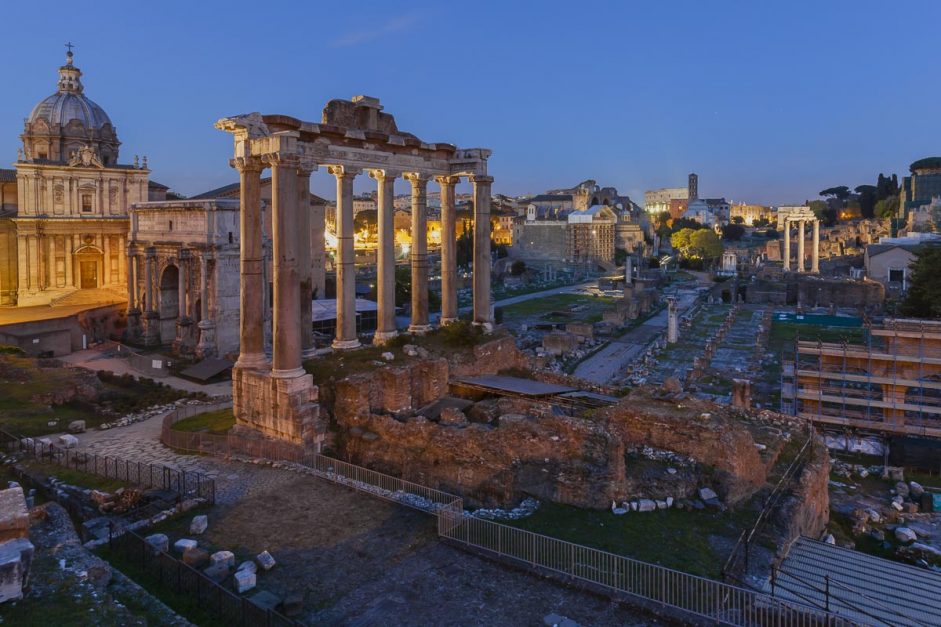 The epicenter of ancient Roman life congregated around the Roman Forum.
Plebs, politicians and preachers alike would connect here to buy or sell wares, worship in its many temples, or plan the Roman Empire's next military move in the Curia.
Take a guidebook, such as Lonely Planet's Pocket Rome, or join a guided tour – to learn all about the significance of each of the sites and ruins.
There is a reason this is one of the best things to do in Rome.
Look out for the remnants of the Temple of Castor and Pollux, aqueducts (as they are some of Rome's first), the Curia where the Senate met, and the Temple of the Vestal Virgins built into the hillside on the edge.
Hours: 8.30am until one hour before sunset.
Cost: €12, which includes entrance into the Roman Forum and Palatine Hill.
This is included in your Omnia Rome and Vatican Pass!
5. Imperial Forum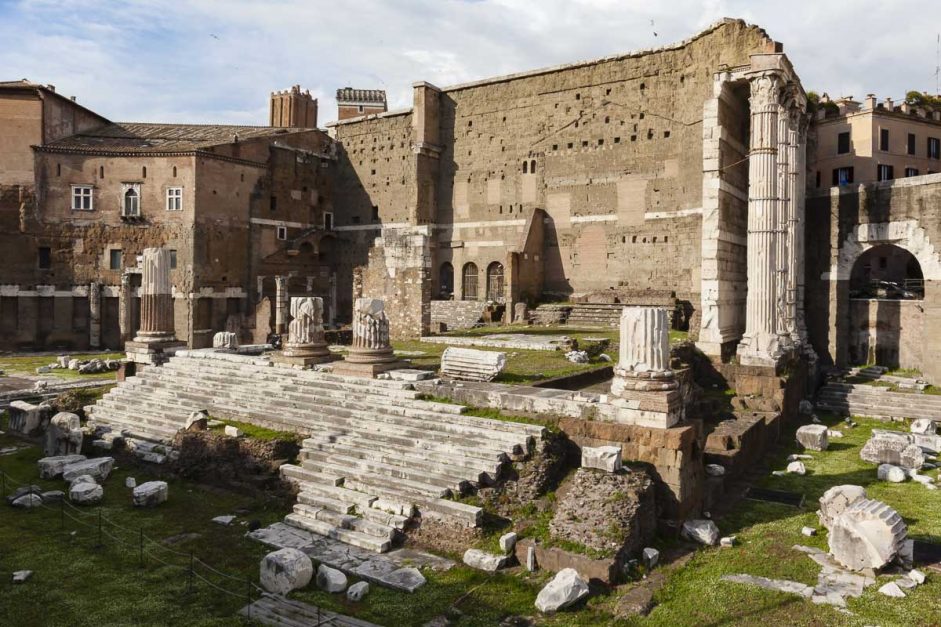 What used to be linked to the Roman Forum, is now separated by the Via Dei Fori Imperiali.
The Roman Forum for everyone is on one side, and the Imperial Forum – named for its association with Rome's elite using it – on the other.
The Via Dei Fori Imperiali provides the perfect viewpoint to see all the remnants of the forum's temples, buildings and Trajan's Market.
Plaques along the walkway provide information on each part for free.
On the first Sunday of the month, the passageway through from the Roman Forum is opened for visitors to go through (in limited numbers) to walk around it. This is free as is the Roman Forum and Colosseum's entrance fees that day. Authorized tours can access it month-round.
Trajan's Market (Mercati de Traiano) Imperial Forum Museum (Museo de Fori Imperiali) is situated just behind it and gives more in-depth information on the Imperial Forum, as well as a close up look at some of its artifacts.
Hours: Imperial Forum, to look at from Via Dei Fori Imperiali, 24 hours. To go inside, first Sunday of the month 9am-2pm, or with an authorized tour. Imperial Forum Museum daily 9.30am-7.30pm.
Cost: Free for Forum and museum. Guided tour independent cost.
6. Capitoline Museums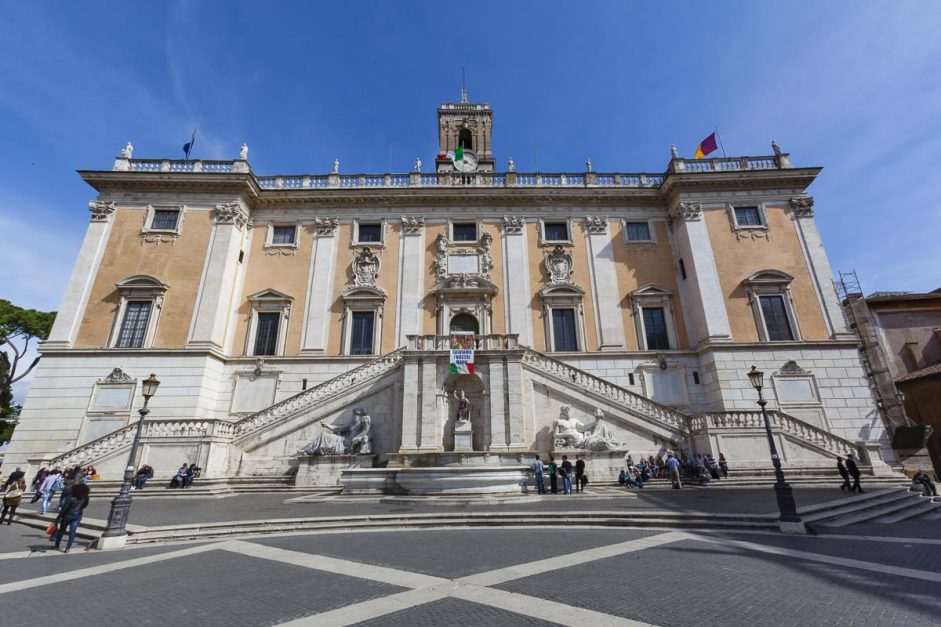 One of Rome's seven hills – the Capitoline Hill – is home to the fantastic Capitoline Museums, which have been there since 1471.
A copy of an equestrian statue of Emperor Marcus Aurelius takes pride of place in Michelangelo's majestic Piazza del Campidoglio.
The museum's collections are housed in the beautiful buildings flanking the square – the Palazzo Nuovo (new palace) and Palazzo dei Conservatori (palace of curators).
On the right, the Palazzo Senatorium is the seat of the Rome city council.
Most of the museum's contents are from Rome itself.
Highlights not to miss are; the bust of Commodus as Hercules, Bust of Medusa by Bernini, Hall of Hannibal and the bronze masterpiece The Capitoline She-Wolf.
The original equestrian statue of Marcus Aurelius – that you've already seen the copy of outside in the square – was moved inside the museum for fear of looters, and can be found in its own special glass hall.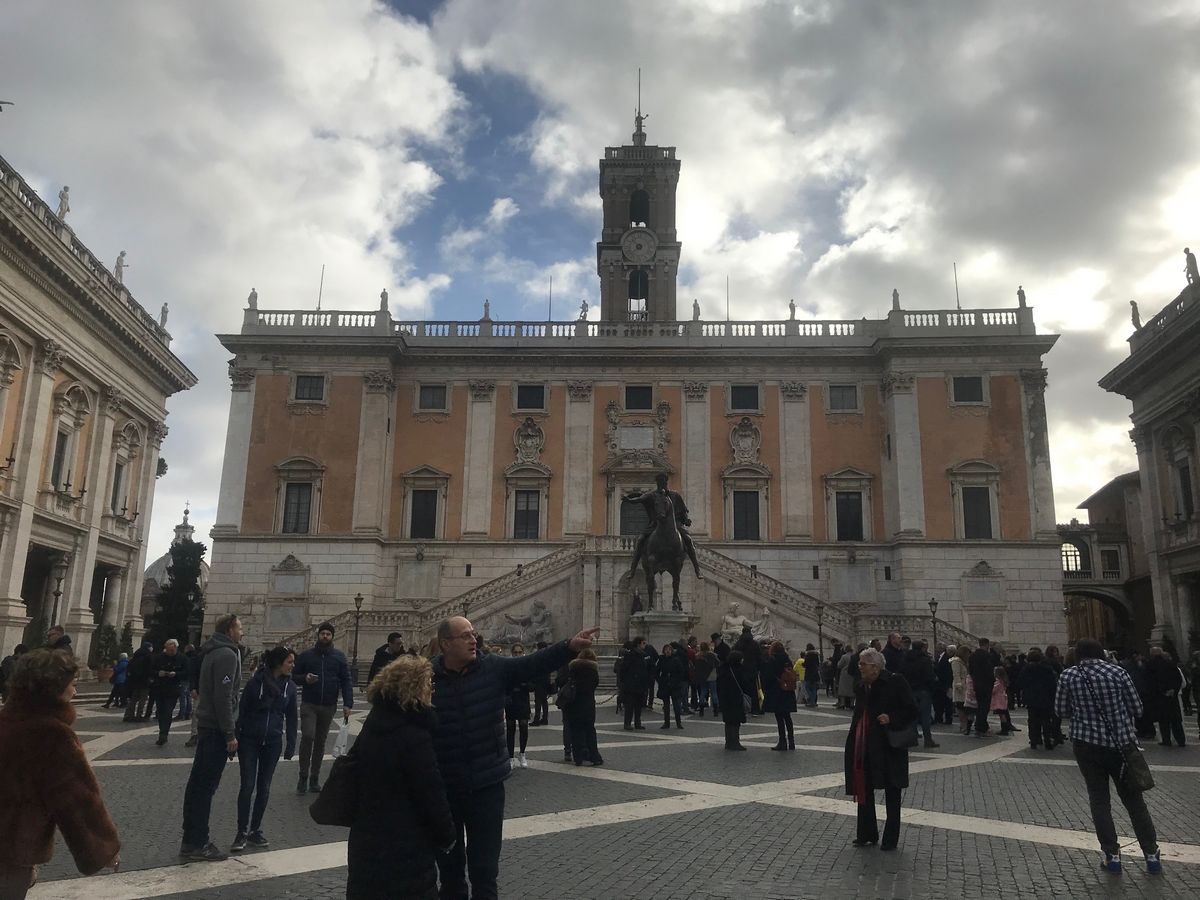 It was built to celebrate his victories in Germania.
The entire Piazza del Campidoglio was designed by Michelangelo on the request of Pope Paul III in 1538 to give the statue a suitable setting.
How do I get Around Rome
Rome's city center is mostly walkable, but public transport is widely available and pretty easy to navigate.
Bus day pass:
If you are planning on visiting several areas in a day, getting a 24-hour bus pass for €7 is a good move.
Single bus tickets cost €1.50 and last 100 minutes, so they can be used for more than one stop if it isn't too long.
The Metro system is also efficient, but mostly serves the east side of the city, so taking the bus or walking can often be faster in other areas.
For going outside the city center, the train system is very good.
You can find full information and timetables for:
Rome buses, trams and Metro: Run by ATAC
Train system
Taxi: Roma Capitale is Rome's official taxi company. Cars are white with an ID number and Roma Capitale written on the sides.
OMNIA Vatican & Rome Card: This 3 Day card gives you free entry to top attractions in Rome and the Vatican City as well as a Fast Track Entry, a hop-on-hop-off bus tour, free guidebook, and travelcard. Tailor-made for visitors to the city, tourists can save both time and money during their time in Rome.
Other upsides include it beginning from the time activated, rather than being a regular two or three-day pass, plus it can allow you to skip lines at certain busy museums.
The Hop on Hop off Bus is another option. If you get the Omnia Multi Pass/Roma Card the Hop on Hop off bus is included for 3 days.
Moovitapp (free) is great for getting around Rome.
Getting to and from the Airport: Rome has not one, but two, airports — Fiumicino (FCO) and Ciampino (CIA) — and they're both international. We recommend taking either a private transfer or the train. Or you can opt to take an Uber.
The normal, regionale train leaves from the station at Fiumicino, it takes half an hour, and costs just €8 each way.
But be warned, it doesn't go to Termini. Instead, it makes several stops in Rome, including at Stazione Ostiense—probably the most useful if you're staying in the Centro Storico.
The Private Transfer will cost about $17 USD one way and an Uber will run you a minimum of 40 Euros.
7. Roman Food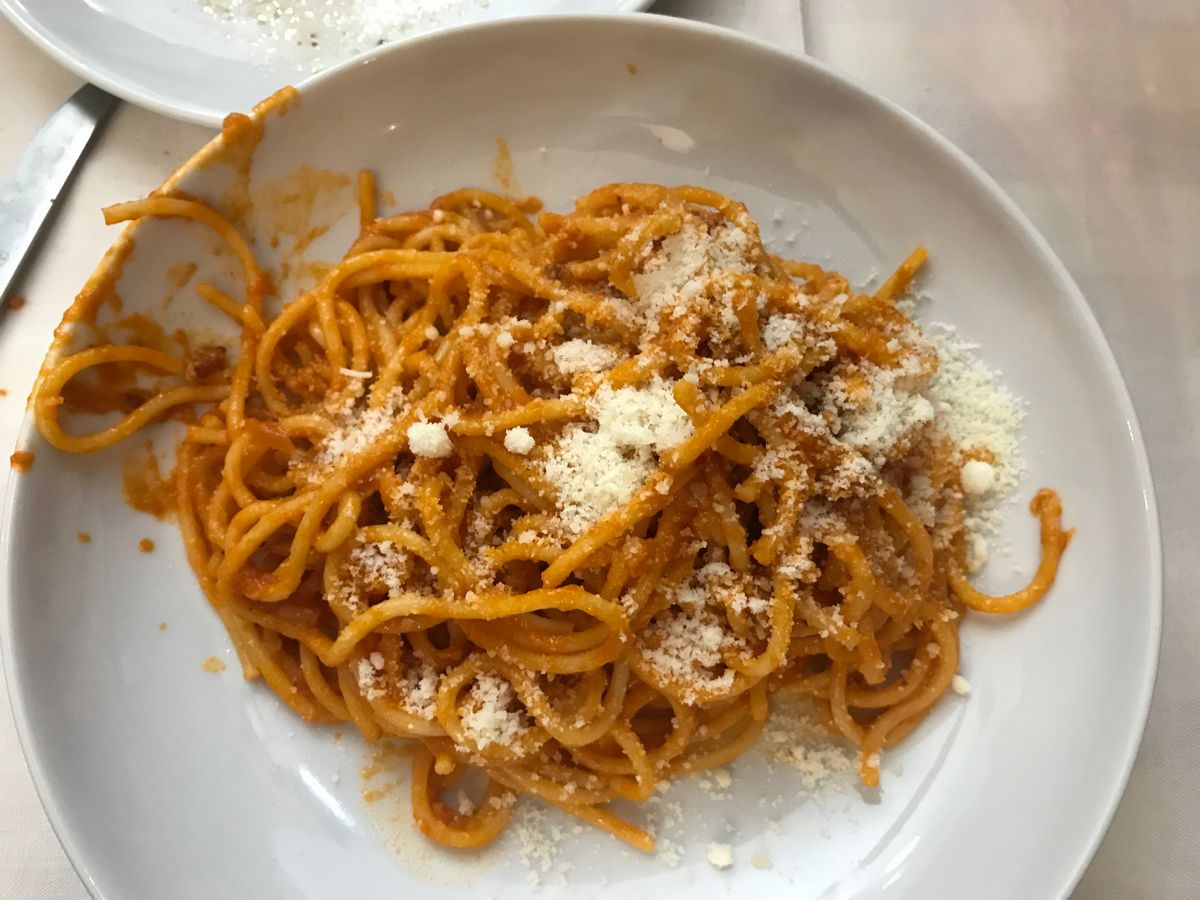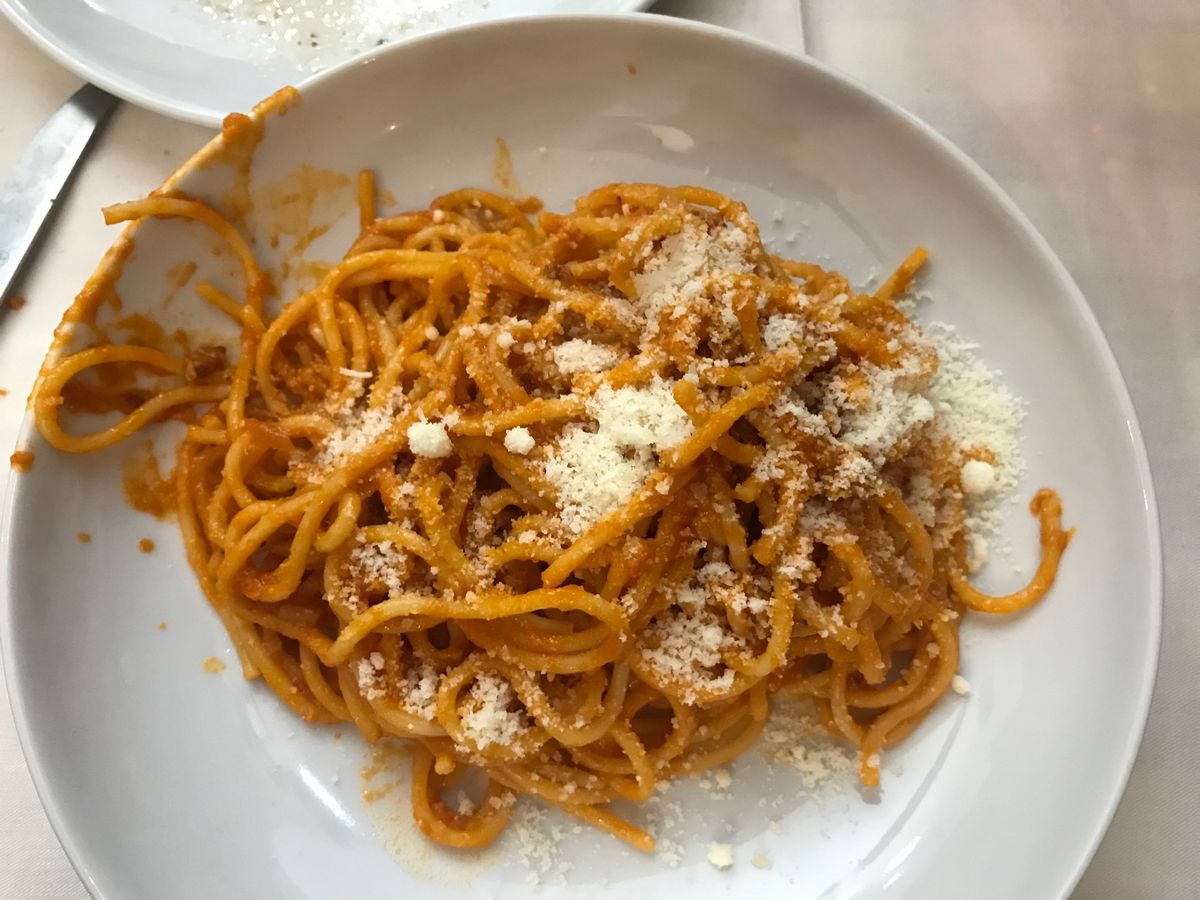 I think there are few people in the world who don't know of Italy's reputation for wonderful food.
So naturally, on your trip, you'll likely be eating some fantastic Italian fare: such as pizza, pasta, gelato and drinking coffee.
Italian food is so popular because of its ethic of simple, fresh, good quality ingredients.
While you're in Rome if you really want to do as the Romans do, here are a few Roman dishes to try:
Bucatini all'Amatriciana: One of Rome's most famous dishes is made with Bucatini pasta with tomato, pork (either guanciale – the cheek, or pancetta – the belly), garlic and onions.
Spaghetti Carbonara: One of Rome and Italy's most famous pasta dishes is Carbonara. Usually made with spaghetti, the sauce is made with egg, hard cheese (usually pecorino Romano, but it can vary), pepper and guanciale. Guanciale is pork cheek and is the true Roman ingredient, but often pancetta (belly) meat is used instead as it's a lot cheaper.
Cacio e Pepe: a Roman pasta dish with pecorino romano cheese and pepper sauce. This dish is usually served with homemade long, fresh pasta such as linguini, tonnarelli or spaghetti.
For a change from pasta, try these Rome foods: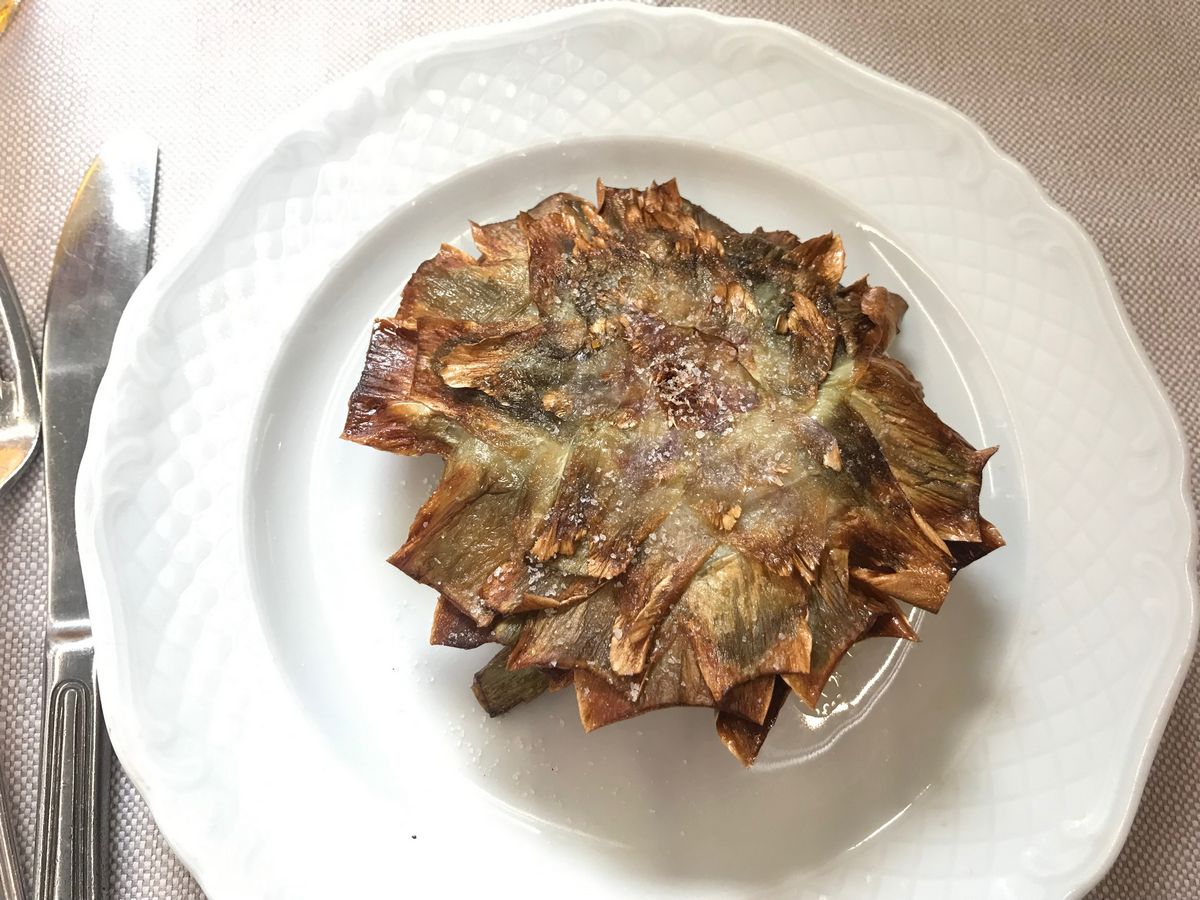 Carciofi Alla Giudia (Jewish artichokes): Italy loves artichokes – as do I – and you can find them prepared very differently depending on the region. The way to have them in Rome is Jewish style – deep-fried artichoke, arranged like a flower, coated in garlic, olive oil and chicory. Jewish Roman cuisine is great, and this is my very favorite dish.
Coda Alla vaccinara (oxtail): For meat lovers, this Cucina Povera (poor kitchen) classic has been popular with Romans for centuries. It is oxtail cooked with tomato sauce, pine nuts, raisins, herbs, and bitter cocoa.
Hours: Most Roman restaurants will offer at least two of these choices, and are open usually from at least 12pm-10pm.
Cost: Varies per restaurant, but a decent pasta dish in Rome starts at about €8, artichokes from €5 and oxtail from €10.
Try a food tour with Rome Food Tours to sample it all!
8. See the Pope
If you're Catholic, any denomination of Christian or simply interested, one of the unique things to do in Rome is to see the Pope.
As long as he's in the Vatican, the Pope addresses the people every Wednesday at his weekly audience at 10 am in St Peter's Square, and gives the Angelus Papal blessing on Sundays at 12 pm.
On Wednesdays, his service begins at 10 am and is very popular, so it's recommended to arrive up to three hours before to get a good seat.
The service lasts around 90-120 minutes and will be in various languages.
The main languages are Italian, German, English, French, Spanish, Polish and Portuguese, and English is usually the third.
Tickets are free, but must be booked online for the Wednesday audience on the Prefecture of the Papal Household website and can be picked up the Bronze Door on the right Colonnade in St Peter's Square the afternoon before 3-7 pm or on the morning of the service from 7 am.
On Sundays, he appears from the window of a Vatican apartment to the right of the Basilica as you look at it, usually the second window in from the right on the top floor.
The Angelus and a blessing will follow a short speech then he imparts the Apostolic Blessing at the end of the prayer.
At the end of both services, the Pope gives a blessing to the crowd, which covers any sick family back at home, and any religious artifacts on your person, such as Rosary beads.
There are also special services for religious occasions such as Easter and Christmas, which are very popular, so check the same website for details and book these well in advance.
Hours: Wednesdays 10am-11.30/12 (arrive early for a seat), and Sundays 12pm-12.15/20pm.
Cost: Free for all services. For Wednesdays, tickets must be booked on the Prefecture of the Papal Household website. Sundays no booking needed.
9. Keats-Shelley House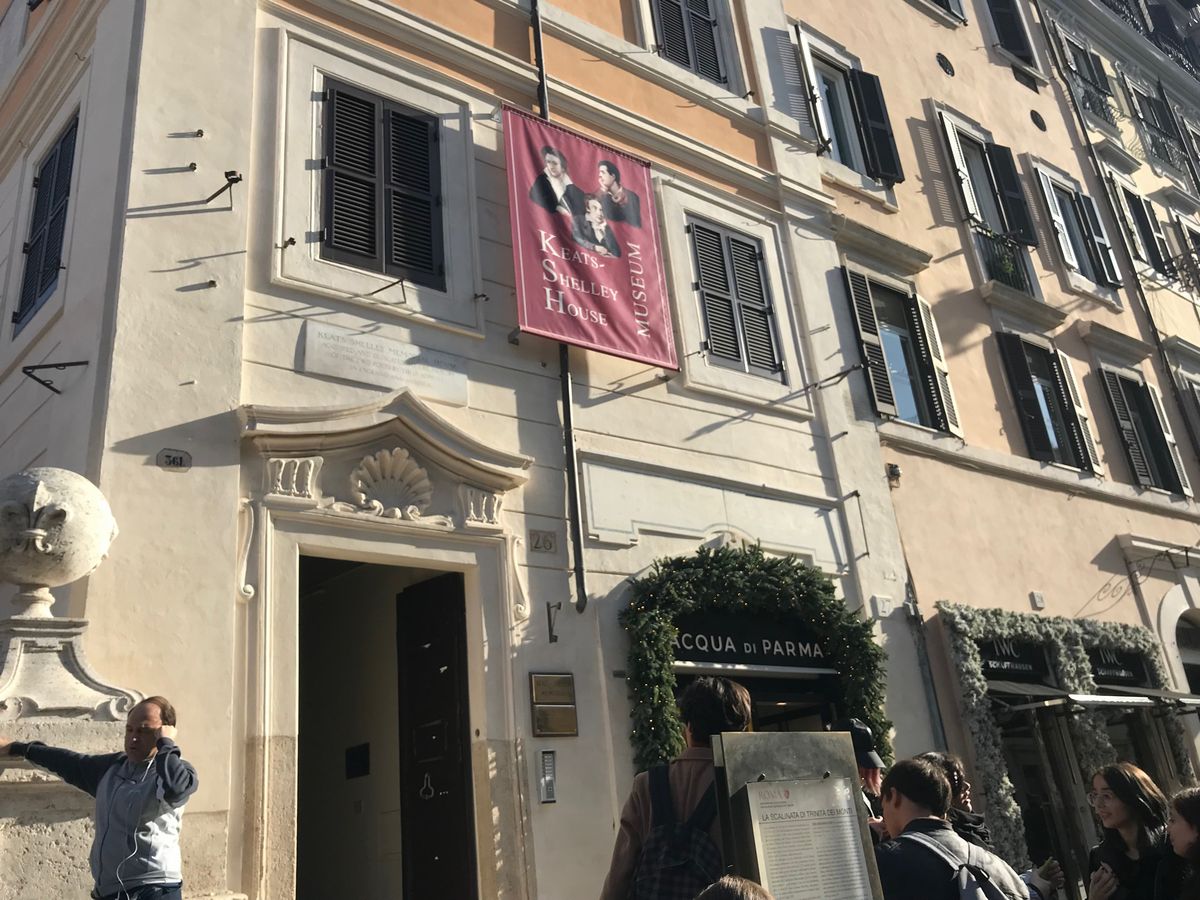 In the Piazza di Spagna, directly to the right of the bottom of the Spanish steps is one of Rome's most charming museums and hidden gems.
The Keats-Shelly Memorial House is dedicated principally to poets John Keats, who lived and died in the house in 1921, and Percy Bysshe Shelley who spent much of his short life in Italy.
This small museum is also a library with 8,000 tomes, which pays homage to these poets and English Romanticism in general.
It contains one of the finest reference libraries to Romantic literature in the world, along with many paintings, manuscripts, sculptures, and memorabilia.
The house is also a culturally important venue in Rome hosting concerts, poetry readings, contests, talks and viewings of first edition books and documents. Check their website for events happening while you're in Rome in case you'd like to partake.
Hours: Monday-Saturday 10am-1pm and 2pm-6pm.
10. Trevi Fountain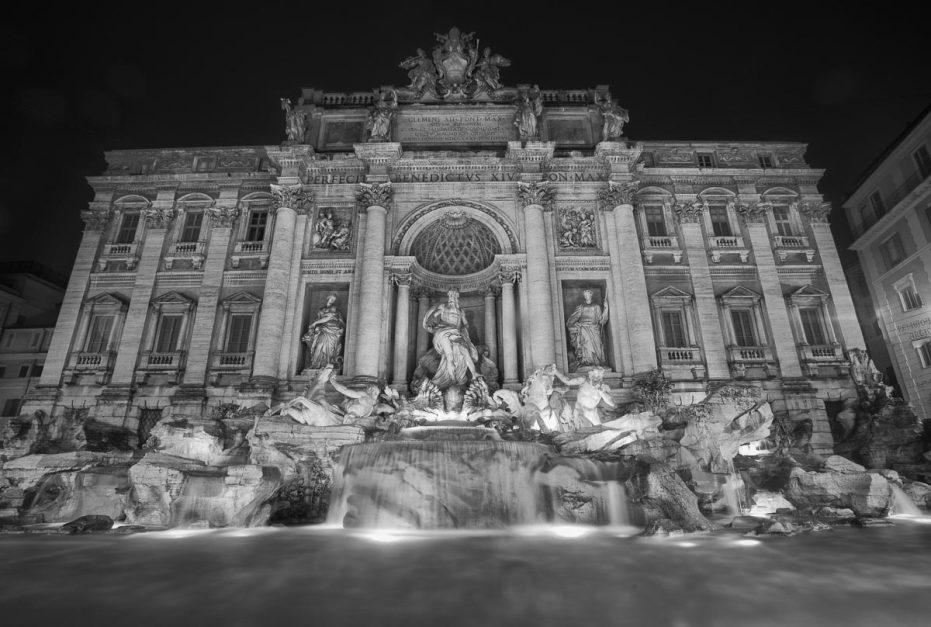 Rome's most famous fountain, designed by Nicola Salvi, has been one of the most popular Rome attractions since it's unveiling in 1743.
Its recent sandblast facelift – paid for by Roman fashion house Fendi at a cost of $2.4 million – sees the fountain's gorgeous white travertine stone statues of Oceanus with his chariot pulled by two Tritons and two seahorses shining like new. (Travertine is also the material used for building most of the Colosseum).
Most roads in the Centro Storico lead to it, as it converges at three roads – tre vie – hence its name Trevi.
Take your obligatory selfie before throwing a coin over your shoulder into the water to ensure your return to Rome.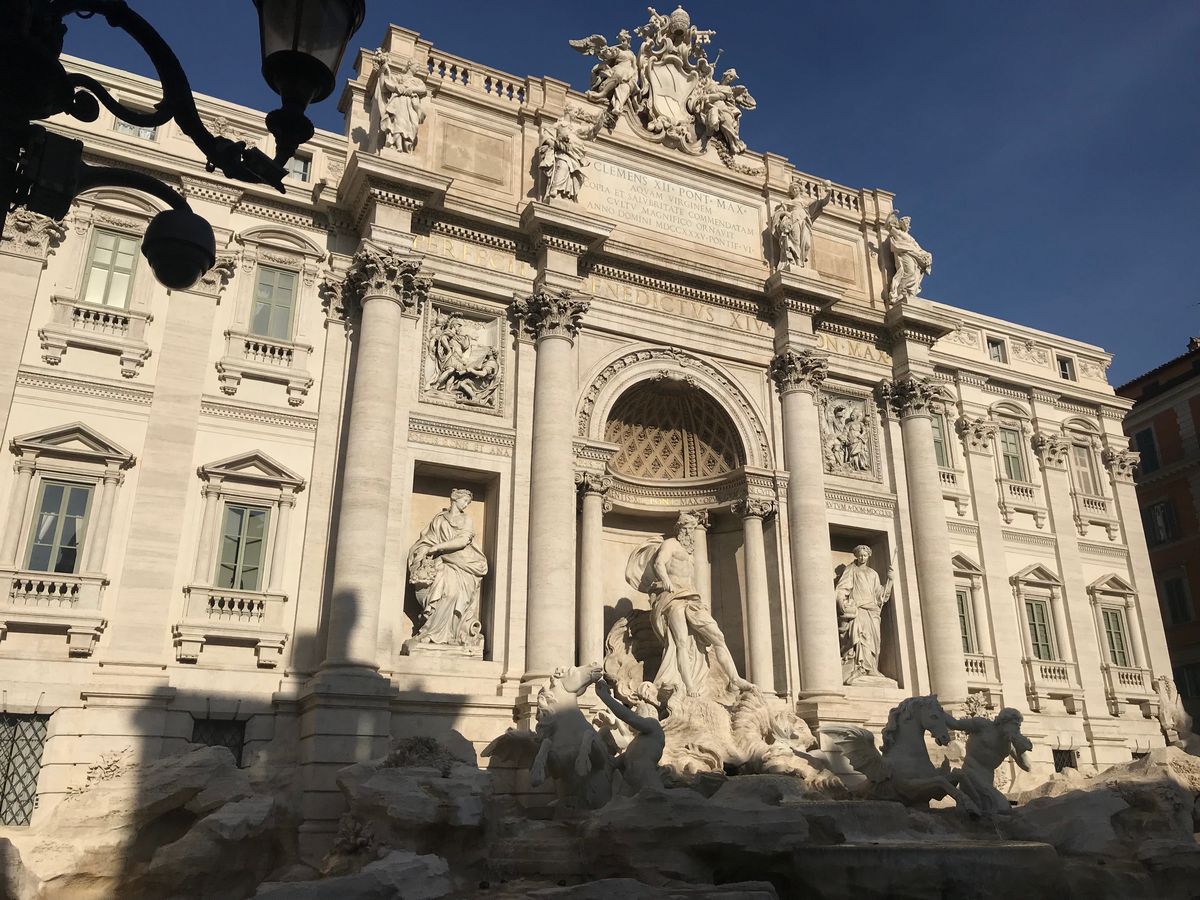 Note: However much you'd like to enhance your experience here by hopping in and wading through the fountain a la Anita Ekberg in La Dolce Vita, the watchful carabinieri around the square (who are there mainly to scare potential pickpockets) will not be amused if you try.
Hours: 24 hours.
Cost: Free.
11. Bocca della Verita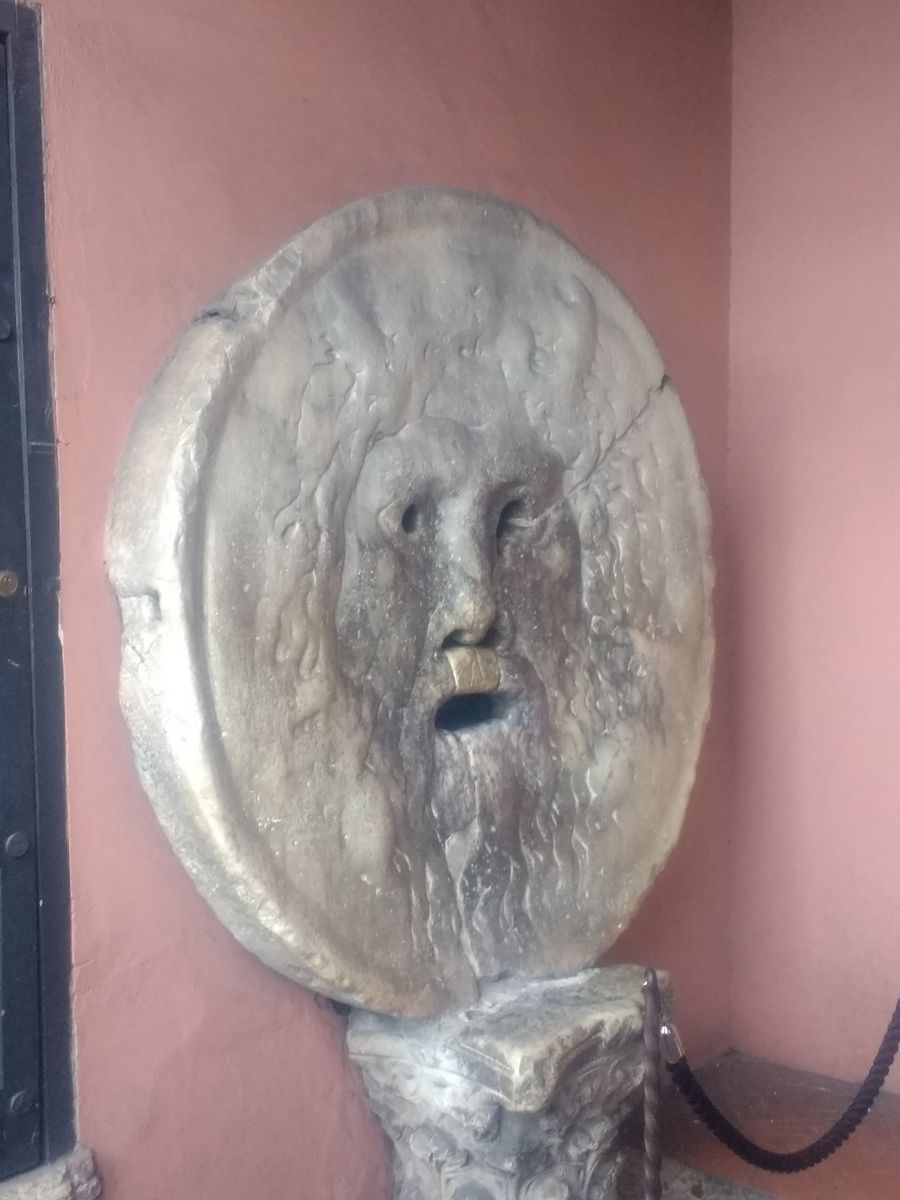 This large marble mask has been intriguing visitors and Romans alike since 1632, and even more so since 1953 when Audrey Hepburn and Gregory Peck visited it in the romantic classic Roman Holiday.
Its name literally translates as "mouth of truth".
The most popular of several legends about its origins is that Roman merchants used it to swear honesty about their trades when bringing them into Rome.
Anyone who must show a truth – marriage or business fidelity etc. – puts their hand inside speaks their piece, and if they lie, the "mouth" eats their hand.
Now you have to also feed it a little of your money (€2) to have a photo taken with it.
This is definitely one of the most fun things to do in Rome.
But all money given goes to help renovate the 8th century Santa Maria in Cosmedin Church that it is literally on the side of, so it is for a good cause.
Hours: Daily, winter 9.30am-5pm, summer 9.30am-6pm.
Cost: €2
12. Monti Market – Mercato Monti Urban Market Roma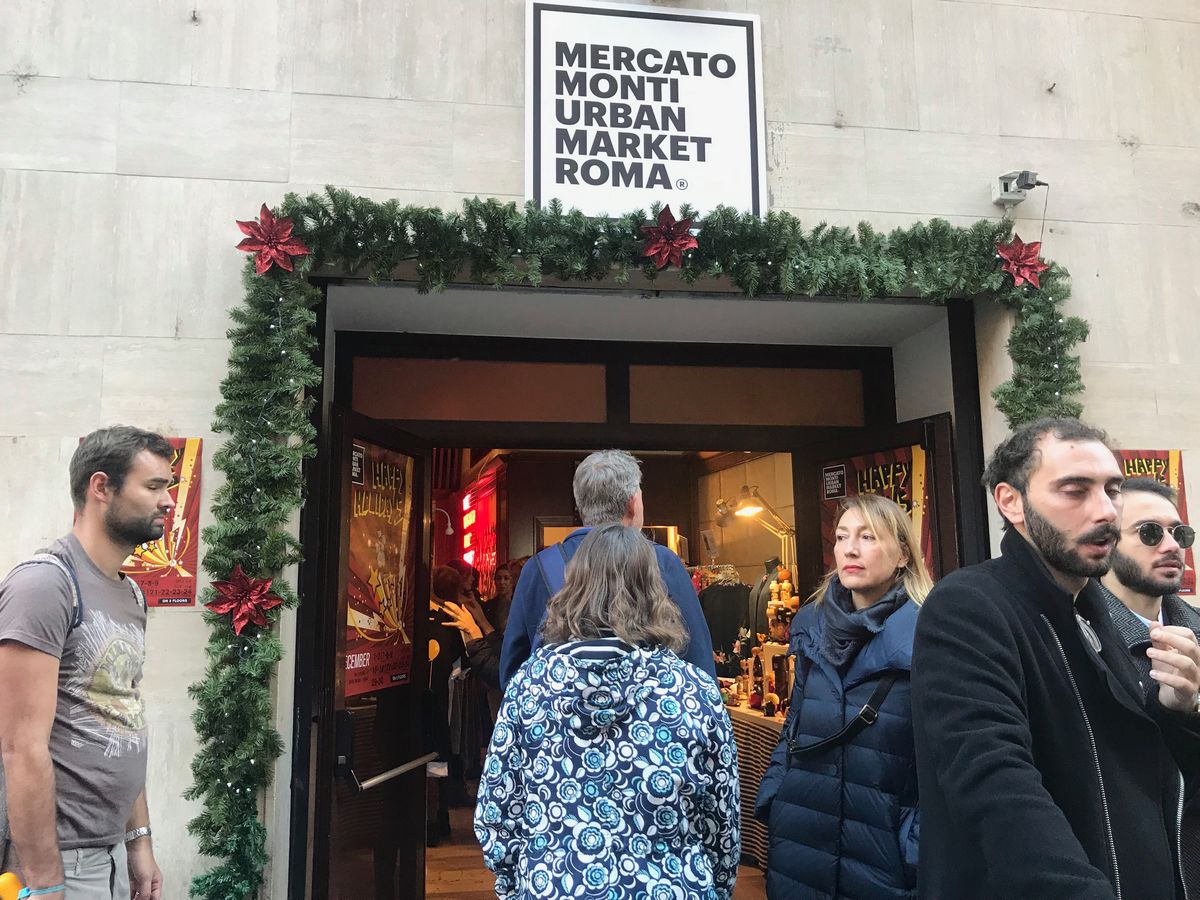 Rome's central area of Monti started its life two millennia ago as the city's main slum area. The start of the 2000s saw it as the Red Light District, but now it is one of the coolest spots in modern Rome.
If you want a break from all the history and have a little retail therapy combined with a hipster vibe, Monti's vintage market is the place to go.
Situated in the old meat market building, each weekend now plays host to the most fashionable market for up-and-coming designers of clothes, art, jewelry, household items, and artisan food.
Located over two floors you'll find various merchants selling all number of things you'll never need, but might have to have.
Kitsch stalls selling Japanese dolls and kimonos, hand-sewn jackets made of patches, lamps fused with baby-dolls, and hilariously overpriced plexiglass jewelry.
Make sure to look for the Ciocco stall on the upper floor, which sells delicious artisan pistachio and other nut and chocolate pastes.
It's a place as much fun to browse and people watch as to actually shop in. Stalls do sometimes rotate and so it's not always the same array.
Hours: Saturday-Sunday 10am-8pm
Cost: Free (except what you buy of course)
13. Spanish Steps
The Spanish steps were not designed by a Spaniard, but by Italian architect Francesco de Sancti.
Their name comes from their proximity to the Spanish Embassy.
It's one of the best places in Rome to sit and relax with a gelato and people watch.
Artists have been coming here since the early 1700s to find muses and models, and nowadays it's a selfie-taking hub.
Two charming squares top-and-tail the 138 steps.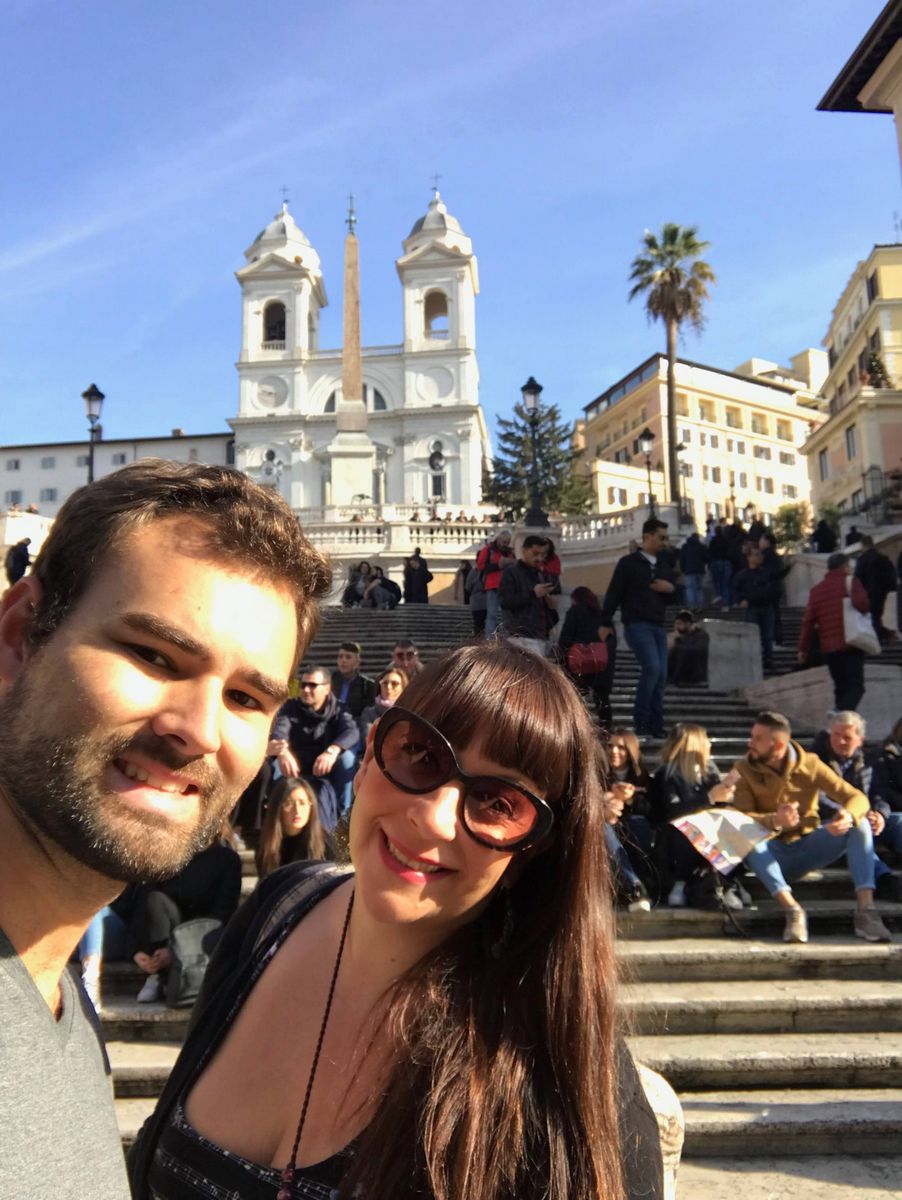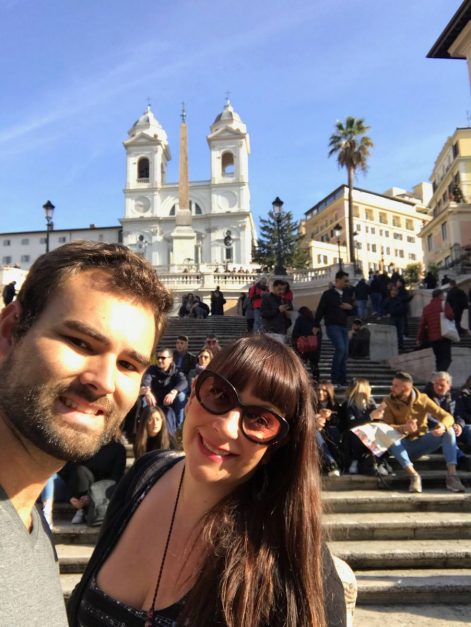 The Piazza Trinita de Monti above with the twin tower church outlining it, and the lovely Piazza di Spagna below.
The latter has impressive fountain Fontanta della Barcaccia (Fountain of the old boat) by Pietro Bernini (father of Gian Lorenzo Bernini whose sculptures pepper Rome) takes center stage.
14. Catacombs of Domitilla
Rome has a lot of underground cemeteries, which are home to thousands of the Christian dead from the first century on.
People were buried in these cemeteries in such vast numbers, not because they were hiding them – as is the popular belief – but due to space. They wanted to have a place large enough to have the final resting place of entire communities together.
The Catacombs of Domitilla is my choice of catacombs to visit, because it is the largest – with 7.5 miles of tunnels of graves, goes down 45ft underground, and has over 26,000 souls entombed there, and the quality of the tours.
Book your guided tour online or when you arrive, and in high season, definitely book in advance.
If you are really into history make sure to check out the Catacombs and Basilica San Clemente Guided Tour.
You can't go in by yourself, and with good reason – 7.5 miles of tunnels is very easy to get lost in!
The tour lasts 45-60 minutes and begins in the underground Basilica dedicated to martyrs, and then you descend into the actual catacombs.
Other highlights include the fresco that isn't the Last Supper but looks quite like it, the 62 skylights used for entrances and the small museum next door.
The guides are wonderful, very knowledgeable and interesting, especially Francesca. If you meet her, please say hello to her from me.
Hours: Monday-Sunday 9am-12pm, 2pm-5pm. Closed Tuesdays.
Cost: €8
15. Villa Borghese Museum and Gardens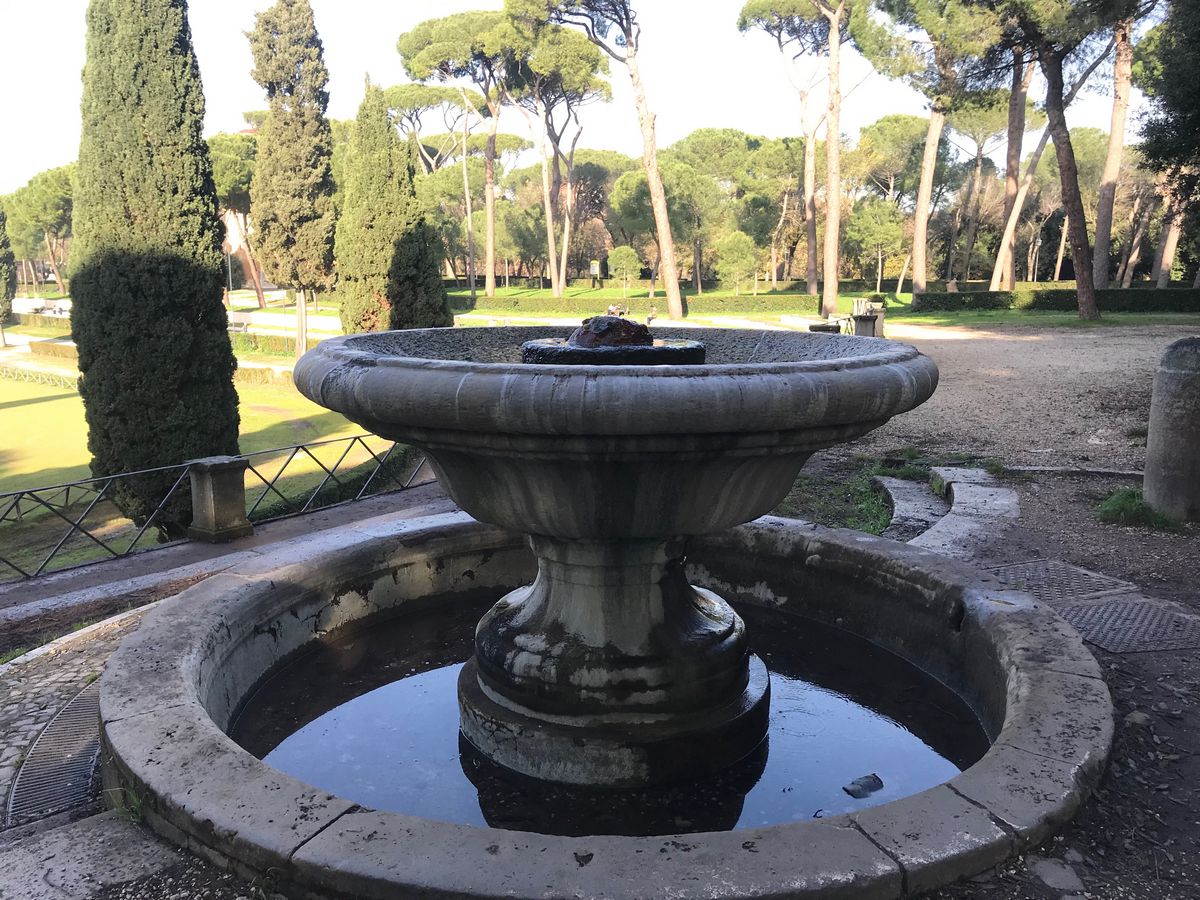 One of Rome's most influential family legacies was the Borghese.
Originally from Sienna, they moved to Rome through connections to the Papacy.
Scipione Borghese, nephew to Pope Paul V was made cardinal and used his position and wealth to build and furnish the Villa Borghese with incredible ancient, Renaissance and contemporary art.
He helped many artists flourish by buying and commissioning works from his favorite sculptor Bernini, and painters and Caravaggio and Raphael.
Works by these artists are some of the highlights of this grand villa museum brimming with masterpieces.
Rome acquired their vast gardens – the largest private gardens in the city – in 1901.
The free park is a great spot for a picnic, and along with the lovely gardens and fountains, the Bioparco (Rome zoo), Pincio's water clock, and Silvano Toti Globe Theatre (which is a replica of Shakespeare's globe Theatre) are worth a look.
Hours: Garden 24 hours. Villa Borghese Gallery
Cost: Garden free. Galleria Borghese €19.50 plus €2 reservation fee, with a guided tour. €2 every first Sunday of the month (plus €2 booking fee). Included in the Roma Pass.
16. Altare della Patria – Altar of the Fatherland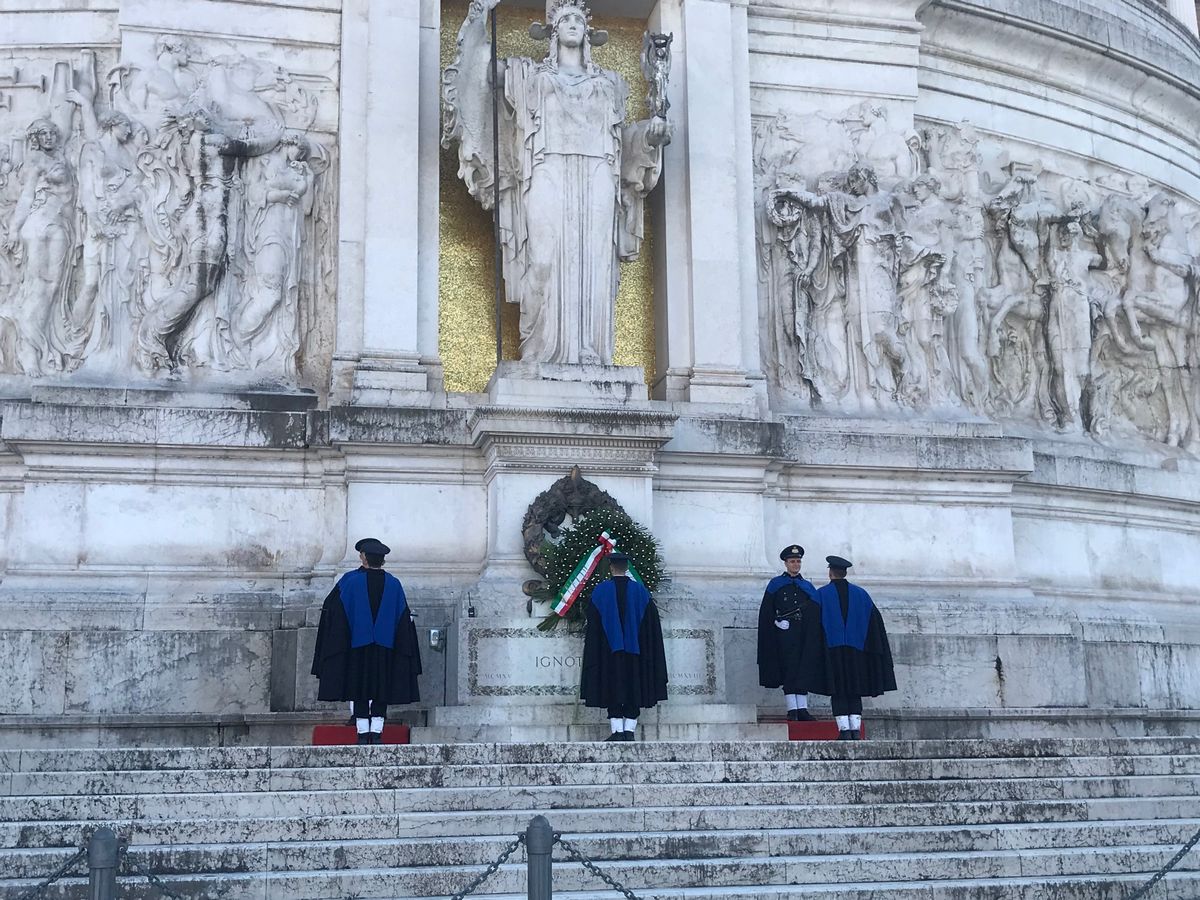 The imposing marble building has the nicknames "the wedding cake" or "typewriter" and is a monument to Italy's first king Vittorio Emmanuelle II, situated at the bustling Piazza Venezia.
There is more to it than its controversial reputation would have you believe. (its construction destroyed a large Medieval neighborhood and a huge area of Capitoline Hill. Many also think it is pompous and too enormous)
Above the grand staircase sits the grand equestrian statue of the king, with statues of two chariots being driven by the goddess Victoria behind him atop the building.
The white marble stands out in a sea of earth-colored buildings, which is why it isn't popular with too many locals.
The view from the stairs is lovely, but you can go further by taking the platform lift to the top of the building to appreciate a full vista of the Centro Storico from a viewing platform between the two chariot statues.
Below is the lesser-known Tomb of the Unknown Soldier, which is at the top of the steps, which is available to go in and view.
The anonymous soldier who died in World War I is the symbol of unknown Italian soldiers who perished in any war.
The eternal flame is kept lit outside it and is constantly guarded by two guards.
Hours: Viewing the monument 24 hours. Inside the gates and lift Monday-Sunday 9.30am-7.30pm.
Cost: Monument free. Platform lift €7/3.50.
17. Vatican Museums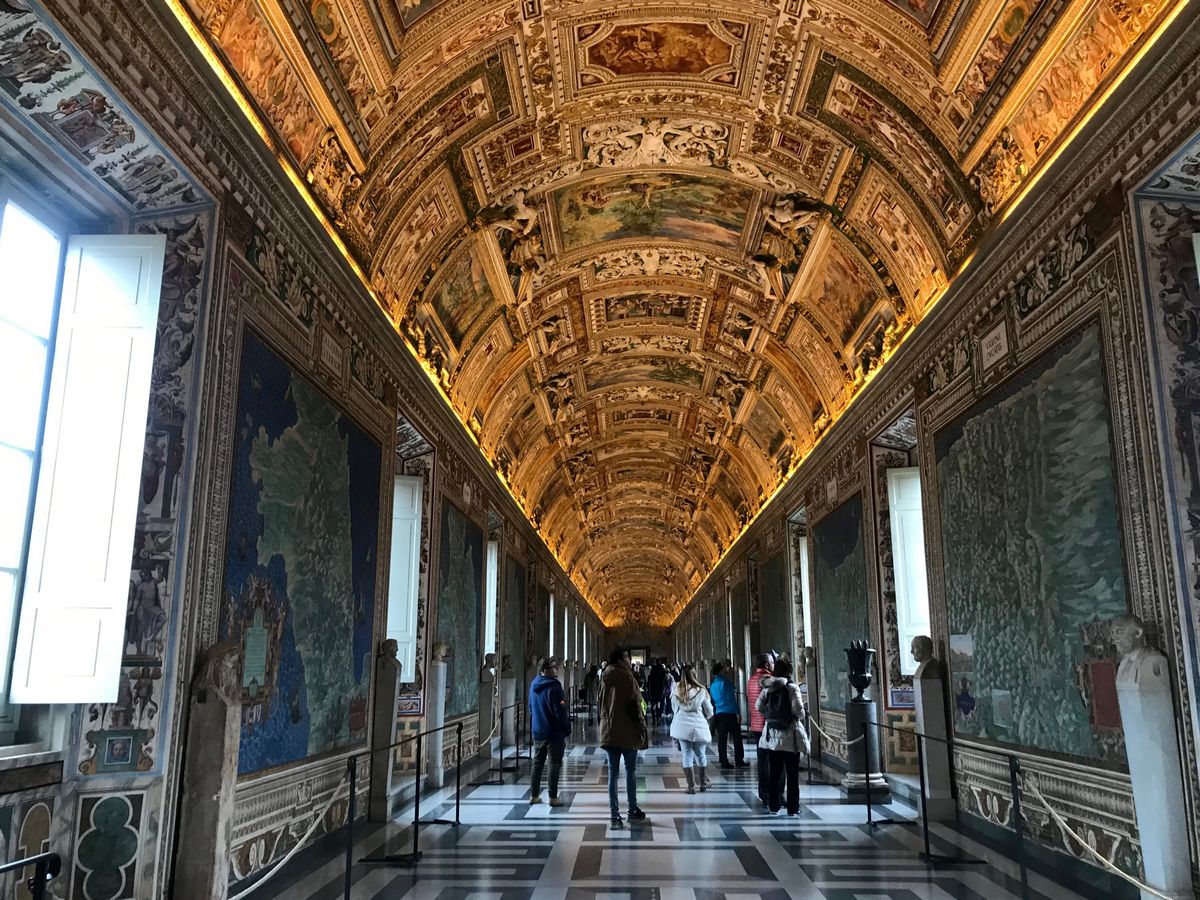 A must-see in Rome for any art-lover, this world-renowned museum, located in Vatican City, has over 2 million pieces in its collection and is truly magnificent.
I've spent six days in it and got nowhere near seeing everything.
Instead of trying to arrive early – unless you want a full day there – wait until about midday to avoid the morning lines, or book your tickets online in advance to skip the line.
Michelangelo's Sistine Chapel is the crowning glory, but take time to do the museum justice.
My recommendations for a route to follow that will take around two and a half hours and incorporate main exhibits not to miss are: Pio Clementino Museums (sculptures), Hall of Tapestries, Maps Gallery, Raphael Rooms, Sistine Chapel (of course), and Pinacoteca (Picture Gallery), and admire the famous Bramante spiral staircase on your way out.
Hours: Monday-Saturday 9am-6pm (last entry 4pm). Every last Sunday of the month 9am-2pm (last entry 12.30pm).
Cost: €15, €8 for concessions. Last Sunday of the month free from 9am-2pm.
Entry is included and Skip the Line privileges with your Omnia Rome and Vatican Card!
18. St. Peter's Basilica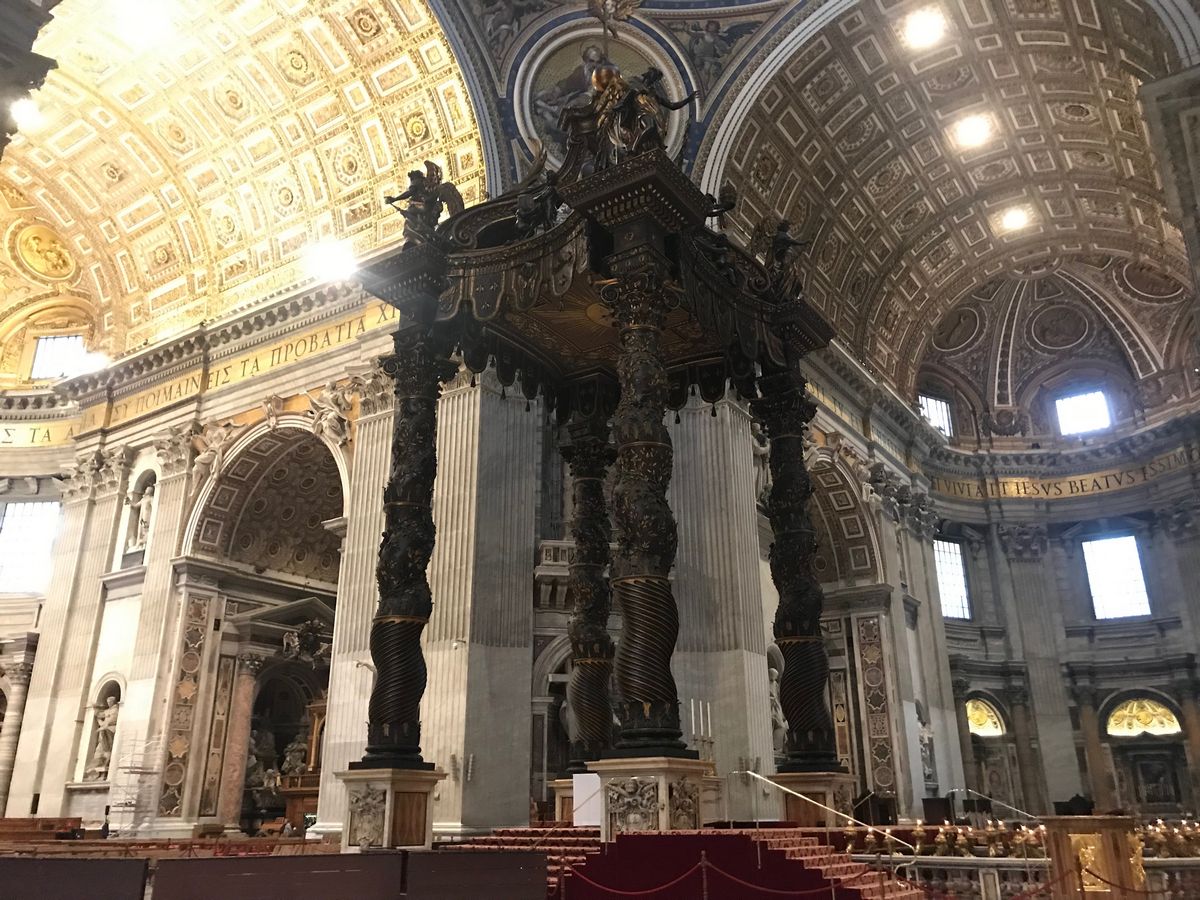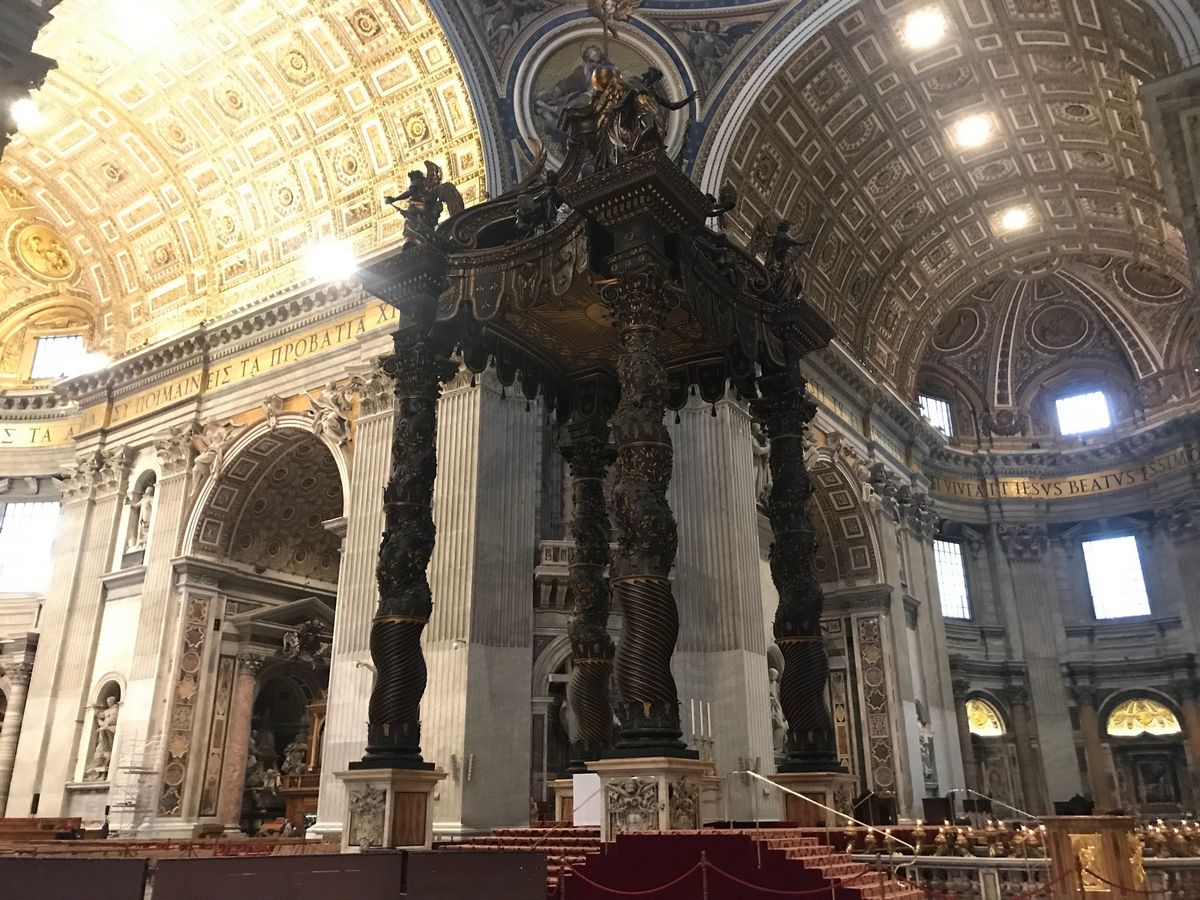 After being welcomed in to St Peter's Square by the welcoming "arms" of the statues of 140 saints, line up to the right of the basilica to go through security, then enter.
The basilica is truly breathtaking. Wander and enjoy the serenity of it (even when it is packed).
If you wish to pray there are areas reserved for this.
Make sure to look for Michelangelo's Pieta on the right as you enter, the statue of St Peter's father to the right where his toe is worn away from devotees touching it in prayer.
Bernini's intricate Baldachin is the centerpiece, with St Peter's actual tomb right beneath it, and Michelangelo's famed dome above.
To get closer to the dome and see the inspiring view from the terrace, and above near the actual dome 447ft up, take the stairs or lift up.
Across from the Baldachin are steps going down into the crypt where popes have been interred and you can see their sarcophagi.
Hours: Daily: October-March 7am-6pm, April-September 7am-7pm. Dome 7am-one hour before Basilica closes.
Cost: Basilica free. Dome €6 taking steps, €8 taking the lift to terrace then steps.
19. Museum of the Risorgimento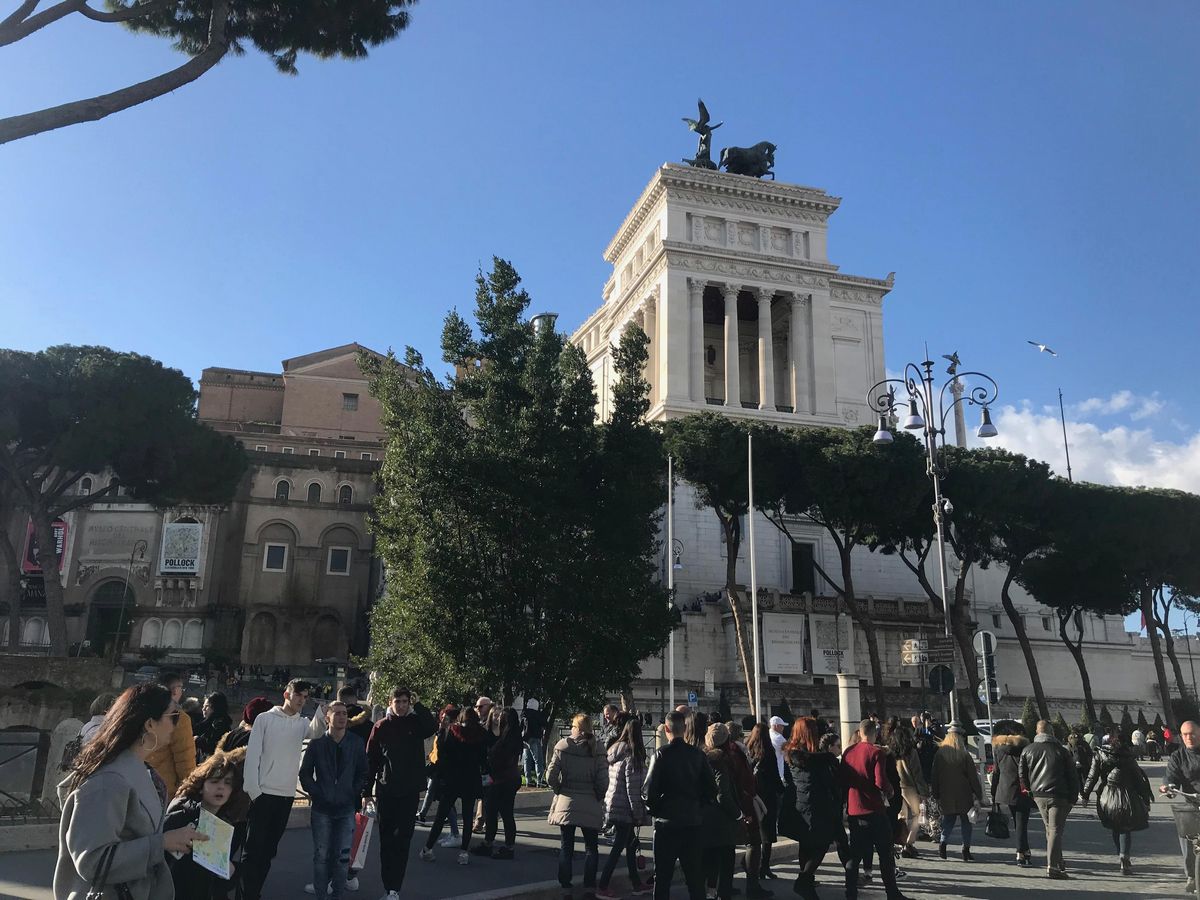 This museum, which is situated just behind the Altare della Patria, is dedicated to the unification of Italy.
Be aware it has two names. On the sign outside it says Museo Centrale del Risorgimento, but is also called Complesso del Vittoriano.
This small, free museum tells the history of how the seven states of Italy were united, and it's first king, Vittorio Emmanuelle II, focusing on weapons, statues, papers, busts, engravings and texts that led to this historical event.
It also often hosts temporary art exhibitions, currently one on Andy Warhol and one on Jackson Pollock and the school of New York (until May 2019).
Tickets can be bought separately for these special events.
This is an interesting visit for someone who has been to Rome before or has a particular interest in this period of history, but I wouldn't necessarily recommend it for a first visit if time were limited.
Hours: Monday-Thursday 9.30am-7.30pm, Friday-Saturday until 10 pm and Sunday until 8.30pm.
Cost: Museum free. Warhol exhibition €13 or €11 for concessions. Pollock exhibition €15 or €13 for concessions.
20. Leonardo Da Vinci Museum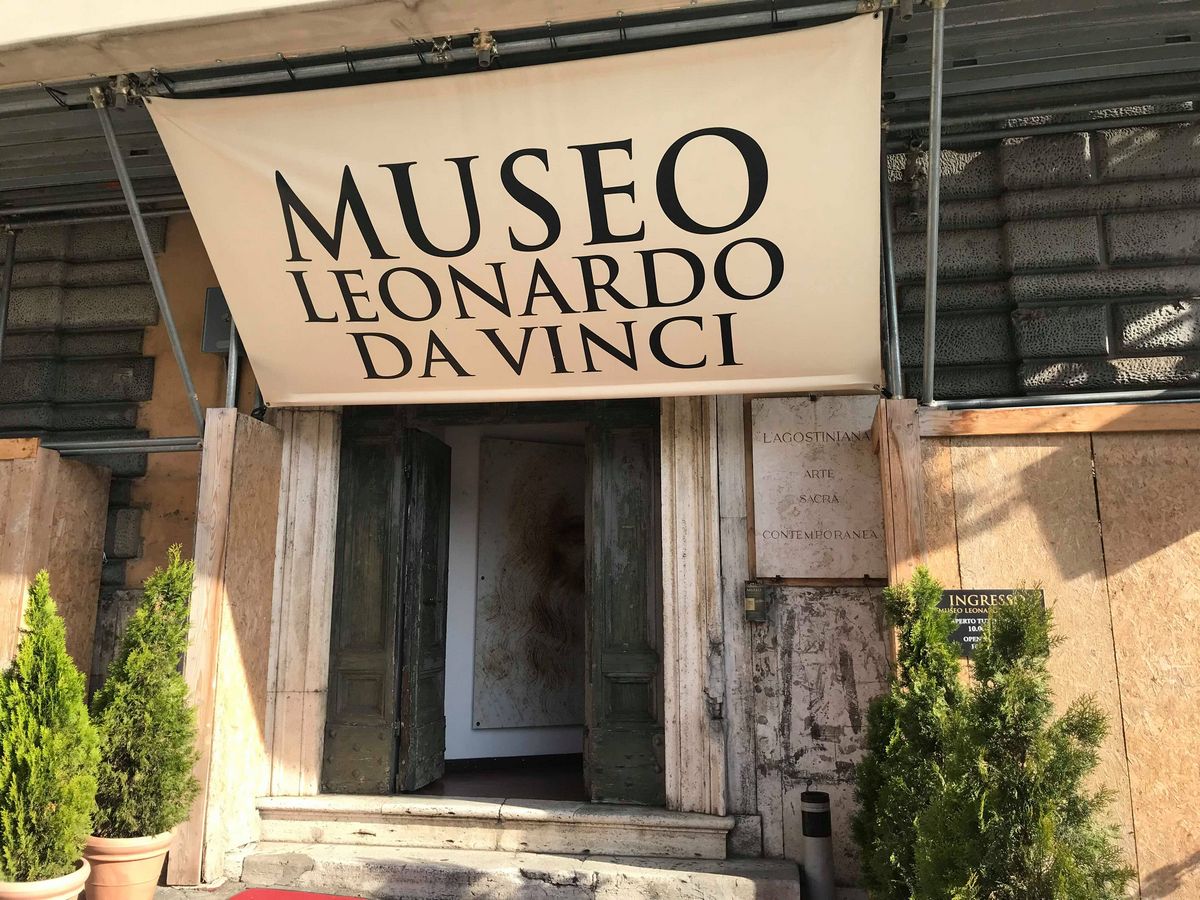 Rome is now home to a permanent museum celebrating the life and staggering achievements of Leonardo da Vinci in engineering, painting, sculpture, and science.
The exhibit has 50 inventions made to Da Vinci's original sketches, 23 full-scale productions of his most famous paintings including The Last Supper and the Mona Lisa.
By creating his inventions to his specifications and recreating his paintings with the same materials, visitors are brought back five centuries to when Da Vinci passed away in 1519, to relive his genius.
The interactive, multimedia journey complete with holograms and audio recordings is a fascinating tribute worth seeing if you're a fan of the greatest Renaissance man.
Hours: 9am-7.30pm
Cost: €12, and €10 for concessions.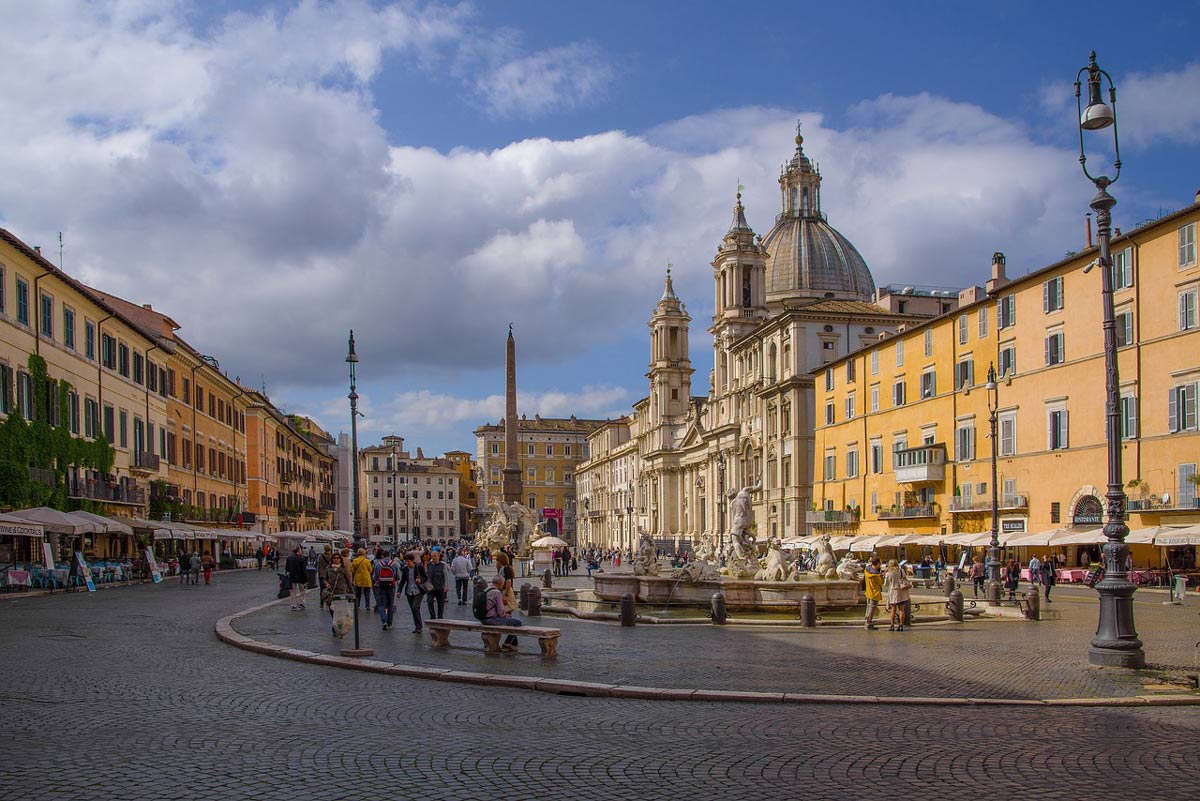 This is probably the most beautiful Piazza in Rome.
Built on top of what was originally a stadium in ancient Rome and accented by The Four Rivers Fountain by Bernini that is at its center, this is not to be missed on your list of things to see in Rome.
Based on the Danube (Europe), the Nile (Africa), the Ganges (India) and Rio de la Plata (Americas), which were the most known rivers of the four corners of the world at that time.
Right behind it is the stunning church Sant'Agnese, which is dedicated to St Agnes who was martyred in this very Piazza.
Built by Bernini's rival Borromini, and Rainaldi, it is gorgeous and well worth going inside to take in the impressive gold dome, Borromini sacristy, and crypt.
From December 8th – January 6th, it is home to Rome's prettiest Christmas Market.
Hours: Square and fountains open 24 hours. The Church weekdays (except Monday) 9am-7pm, weekends 9am-8pm (closed from 1pm-3pm every day.)

Cost: Donations are appreciated in the church.
22. Castel Sant'Angelo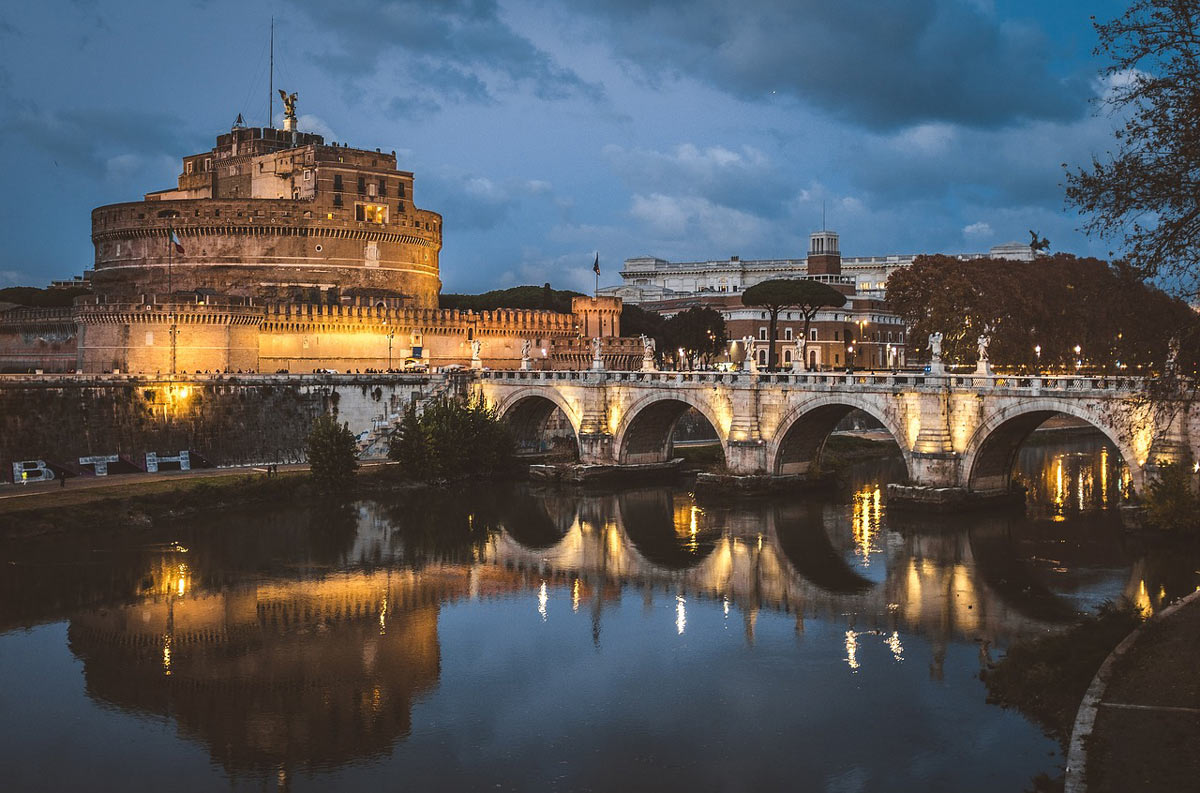 The Castel, which was built in 135 AD by Emperor Hadrian, is not only a great museum but also a great place for sunset.
The view from the top is simply stunning and worth taking in.
The museum itself is 5 floors and inside you will find catapults as well as the papal residence that was used by the Pope when there was a deadly plague in 590 AD.
If not then it is a great photo op. you are really into history I would suggest spending some time here. I
Don't forget to take your time approaching the castel. The Ponte Sant'Angelo is a sight to behold.
When the sun goes down and the bridge and castel light up it is one of the most beautiful sights in Rome.
Hours: Bridge 24 hours. Castel Sant'Angelo Tuesday-Sunday 9am-7pm.

Cost: Bridge free. Castel Sant'Angelo €10.50, €7 for concessions. This is also included FREE with your Omnia Rome Pass
Things to do in Rome Resources
How to Skip the Lines and Save Money in Rome
There is no doubt that Rome can be expensive.
But luckily there is a pass that will allow you to get free or discounted admission as well as skip the lines at most attractions listed in this post.
The Omnia Rome and Vatican Card is the one we recommend. This pass allows you to get the most bang for your buck while helping you save time by skipping the lines.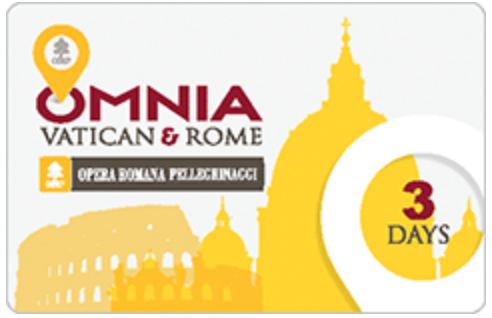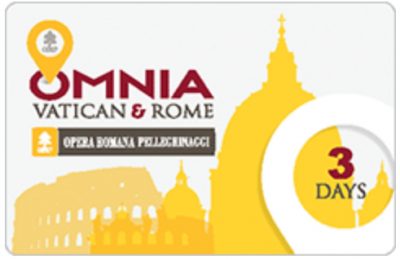 Free entry to Vatican Museums & Sistine Chapel – plus a free Wi-Fi downloadable audio guide for St Peter's Basilica
Free entry to your choice of 2 out of 6 top Rome attractions: See which ones are included here.
Fast Track Entry to St Peter's Basilica, Sistine Chapel & The Coliseum – save over 4 hours at each attraction during busy periods.
Free hop-on-hop-off bus tour ticket of Rome for 3 days.
Free travelcard for unlimited access to Rome's public transport system.
Free detailed Guidebook to help plan the perfect trip.
Discounted Entry to another 30 plus sights, attractions, and museums in Rome.
Now you can see why we recommend this card. It includes a lot. For us, the most valuable part of the pass is the Skip the Line access.
There is nothing worse than spending hours standing in line to see what you came for.
Trust me, when it is the peak of summer, it is hot and Rome is packed with tourists you will appreciate the value of this perk.
So, how will this pass save you money?
In order to get the most out of the Omnia Rome and Vatican Card, we recommend using it for the most expensive entry fees on your itinerary.
When we totaled up the entry fees on this itinerary (almost €100), added in the value of the Hop on Hop Off Bus (€32) and the Public transportation Card (€18) and compared what is covered in the Omnia Rome and Vatican Card (€113), we came up with a savings of almost €50.
In our opinion that is a great amount of savings.
If you only want to visit a couple of things while in Rome, then it might be worth it to just purchase individual entries.
But bear in mind, not a lot of them include Skip the Line privileges which you will definitely want at the Colosseum and The Vatican.
While the cost savings is worth it on its own merit, it really is the time saving and convenience elements that you will love the most.
In order to make the most of your 3 days in Rome, you will definitely want to get this card. You can purchase it from the official site here.
*Note* As of March, 1st, 2019 both the Vatican Museum and the Coliseum now operate on a timed entry system.
This means you will have to reserve your time in advance.
This applies to everyone, even Skip the Line entries that are included with the Omnia Rome and Vatican Card.
What Time of Year Should I visit Rome?
It is popular to visit year-round, with spring (March-May) and autumn (September-November) providing the most pleasant temperatures of usually around 65-80 degrees Fahrenheit and infrequent rain.
The summer gets very sticky, reaching temperatures over 100 Fahrenheit, especially in August, which is when the locals flee for their holiday homes by the Spiaggia (beach).
Winter (December-February) sees cooler temperatures of usually between 45-65 degrees, and more rain, but also a lot fewer tourists to compete for the sights with.
Before You Go
Where to Stay in Rome?
Karen gave an in-depth breakdown of all the neighborhoods in Rome:
To find the best Place to Stay in Rome by Neighbourhood, click on the links below. They will take you to a break down of each are of Rome and suggested hotels.
Recommended Tours in Rome
We've taken a few amazing tours and Rome and highly suggest having a guided experience or two when visiting the city.
If you want to see the Vatican a good way to avoid crowds is the private VIP tour Waking up The Vatican offered by Viator. It's expensive, but if you've always dreamed of it, you get access to the Sistine Chapel and other rooms alone with your guide, before it is open to the public. Breakfast is included.
Our favorite tours revolved around food.
Eating Europe offers an excellent food tour of the Testaccio neighborhood. Don't eat a thing before you go, you are in for a feast of pasta, olive oil tasting, local cheeses, and gelato just to name a few.
We took several tours in Rome with Get Your Guide and enjoyed them immensely.
A Vespa Tour of Rome with a private driver was a highlight of our time in the city. I felt like Audrey Hepburn in Roman Holiday as my skilled driver whizzed through the streets showcasing all the highlights of Rome.
Our Rome cooking class and market tour really made us feel like a local. We shopped for fresh ingredients at a local market and then learned to cook a traditional Roman meal. Cooking courses always give us the chance to relive our holiday once we are back in Canada.
Read about our tours in Rome at Gladiator School, A Vespa Tour of Rome, Protestant Cemetery Tour and our Rome Food Tour
I will never tire of Rome because there's always something new – well often old that is new to me – or actually brand new to see.
The ancient sites never fail to impress, and the fact that it is such a trend-setting innovative modern city as well makes it so impressive, and I think appealing to everyone.
Ciao bella Roma…for now.
More Information for your trip to Rome
Read all of our articles on Italy in our Italy Travel Guide
You Might Also Enjoy: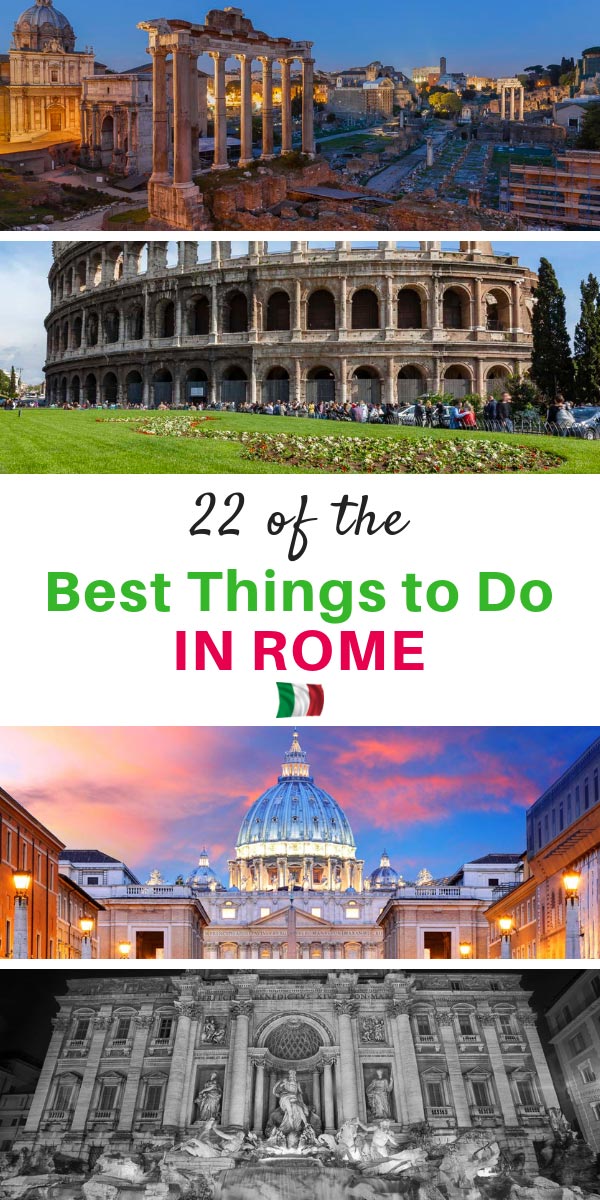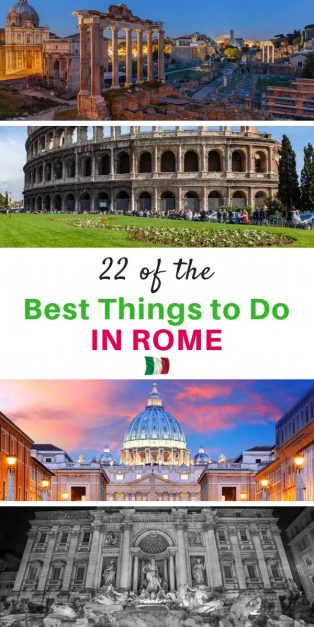 Disclosure: There are some affiliate links in the post above, but these are all products we highly recommend. We won't put anything on this page that we haven't verified and/or personally used.