Dave and I have been dreaming of Europe this past month. It was this time last year we were in Bologna enjoying time in Italy's quiet countryside. It made us think of beautiful things. Which led to us wanting to share our list of the Most Beautiful Cities in Europe.
17 of the Most Beautiful Cities in Europe
Oh how we miss Balsamic Vinegar with fine Parmesan Cheese, creamy gelato, rich coffee and of course Italian wine and Prosecco. All our reminiscing got us talking about the most beautiful cities in Europe. We most certainly haven't seen all of Europe and I know that there will be some cities that we'll have left off our list, but we wanted to do a round up of Europe's most beautiful cities….that we've seen so far.
So without further adieu, enjoy our photos and memories of the most beautiful cities in Europe according to us!
Paris
It may seem cliché, but Paris will always be the most beautiful city in Europe to us. No matter how many other cities we see, we still come back to the City of Lights and gaze upon it with wonder and awe. Walking through the city streets at night is one of our favourite things to do.
Get your Lonely Planet Paris Travel Guide
Venice
Many people don't love Venice, but we think it is because they have never stayed there long enough. We would watch cruise lines and bus tours come in for a day and zip right back out before they had a chance to really explore Venice. We spent six days total in Venice and loved getting lost in its back alleys, taking boat trips through the canals and enjoying quiet drinks on a bistro terrace.
See what it's like to see Venice by Private Water Taxi, it was our favourite tour we've ever taken
Get your Rick Steve's Pocket Venice Travel Guide
Budapest
Budapest is probably the most beautiful city by the water. Walking over the chain bridge to witness the beauty of Buda and Pest looking back at one another across the Danube is pure perfection. When the lights come on in Budapest, make your way down to the river and take in the splendour of the two cities.
See our video on Tips for Seeing Budapest like a local
Copenhagen
Copenhagen holds a special place in our hearts. We weren't there for long, but each day was a treat to explore this enchanting city. With Tivoli Gardens, Nyhavn, The Little Mermaid and an endless stream of canals, Copenhagen definitely deserves to be named one of Europe's most beautiful cities.
To see more of it's beauty, check out 12 Terrific Things to do in Copenhagen
Santorini
I debated whether to put Santorini into this post or not. Is it a city or is it a destination? Should Athens be ahead of Santorini instead? The thing is, we didn't find Athens to be a beautiful city over all. There are beautiful parts to the city, but a lot of it is disjointed. However, Santorini took our breath aways. So when choosing a Greek city to add to our most beautiful European Cities list, it was the first place to come to mind. Santorini is heavenly. I don't think there is a more beautiful spot on earth than overlooking the Caldera from the white washed buildings of Oia. With blue domes, marble walkways and incredible cave hotels and dwellings, it is a place like no other.
See our Santorini Photography Guide
Prague
We had often heard that Prague was beautiful and when we first laid eyes on her, she didn't disappoint. Yes it is busy and crowded, but if you step out of the main trail, you'll find quiet spots to grab a bite or a pint. If you wake up early and walk around the city, you will have it all to yourselves. Dave and I were amazed to see that people didn't really get started until after well after 9:00 am giving us plenty of time to enjoy the beautiful architecture in private.
Book a City Tour Near You
See more about Prague at Ottsworld. We raced through Prague with her during the Mongol Rally.
Florence
Florence is truly a city of art. With every turn you make you will run into sculptures or intricate etching in the architecture. It's a city that you can walk slowly through and enjoy each and every building you lay eyes upon. The Duomo stands proud in the centre of the city and endless cobblestone streets weave around allowing you to get lost and simply enjoy.
See more at Florence in Photos: A City of Art
San Marino
San Marino is a city and an independent republic in the middle of Italy. It sits high on a hill overlooking possibly the most beautiful view we've ever seen from a city. It overlooks the Italian Apennines, rivalling the beauty of Tuscany. San Marino is the oldest surviving sovereign State in the world and it's known as the Serene Republic. Serene it is indeed.
Buy the Book: Secrets of the 7 Smallest States in Europe
Bern
Bern, Switzerland is a UNESCO World Heritage Site and the political centre of Switzerland. It doesn't feel like a political hub though, this city was made for walking. The walkways of Bern are all covered making for pleasant shopping in any type of weather. Seeing Bern from the river reinforces our decision of why we included it in our list of the most beautiful cities we've ever visited.
Get your Complete Guide to World Heritage Sites
Barcelona
The more we visit Barcelona, the more we love it. At first we weren't fans of the works of Gaudi, but as we got to know him a bit more, we fell in love with his innovative, colourful and playful architecture. With a beautiful waterfront, quiet parks, downtown walking streets and bustling markets, Barcelona is definitely up there as one of the most beautiful and vibrant cities we've visited in Europe.
Inspired by Europe: Enjoy our list of the most Romantic Getaways on Earth
Bologna
When we found out we were spending three weeks in Bologna, we were excited. But we didn't know much about it. It turns out, that Bologna should be added to everyone's Italian Itinerary. It's just as beautiful as Florence or Rome but it's quieter. It has a more local vibe and as you can see it's absolutely stunning. Bologna even has the highest leaning tower in all of Italy. Move over Pisa, this leaning tower is the real deal. (note, we took this photo from the top of Bologna's leaning tower.)
Bergen, Norway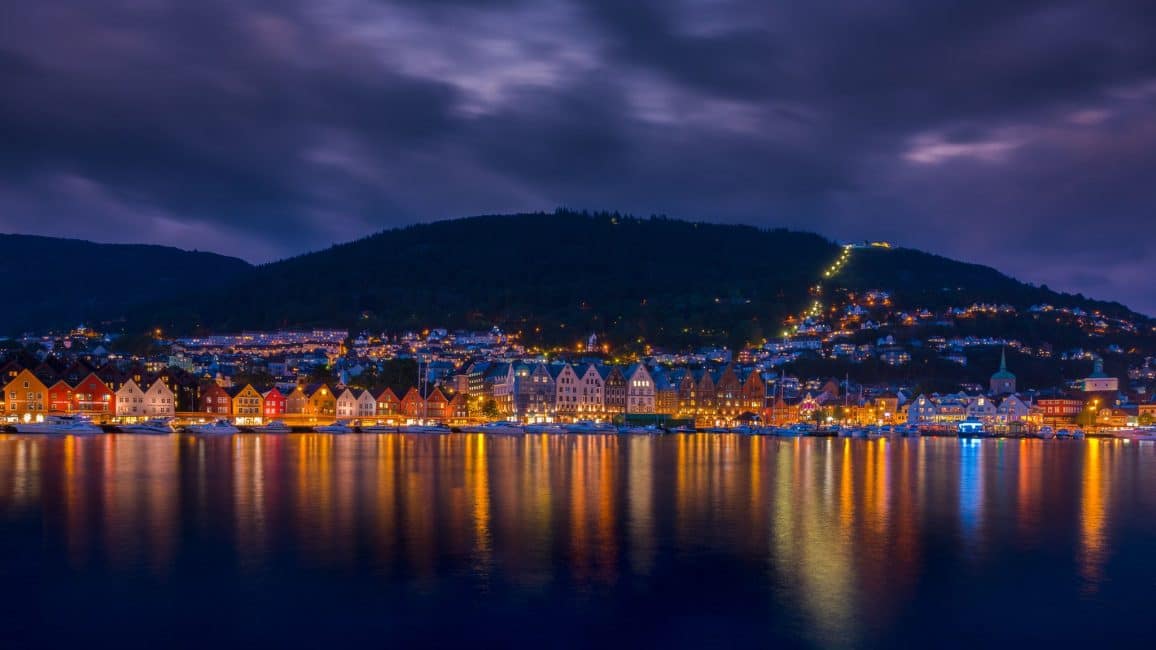 Well, since we're in the b's. Yes, if you look, there was a b theme going the past few cities. We think Bergen Norway is one of the most beautiful cities in Europe Period. I just want you to know, these cities are not in order. There is no way to choose which one is the most beautiful, but I must say, while we were visiting Bergen, we kept commenting on just how scenic it is. I believe it is definitely the most beautiful city in all of Scandinavia.
We even named our original post: Things to do in Norway's Most Beautiful City
Istanbul
When gazing upon the city of Istanbul from our rooftop terrace at night, it is set afire with light. Istanbul is a city with two personalities. One foot in the West with a European flare and the other foot in the East. It is the Eastern influence that makes this city so beautiful. Mosques dot the cityscape as spires peek out from above the skyline. It's an enormous city yet it is easy to walk and navigate. If you can make it up the Galata Tower to witness it from above, make sure that you do. You'll understand why we say it is one of the most beautiful cities in Europe.
Brussels
Brussels was one of the first European cities we've ever visited and I will never forget the feeling we had when we finally found the square. We rounded a corner and the sight took our breath away. We visited it again a couple of years ago and the feeling did not fade. We still think that the square of Brussels is one of the most beautiful squares in all of Europe. It's an absolutely beautiful city filled with history and charm.
For more information on Belgium, Check out Cheeseweb, Expat Life in Belgium
London
I know we will probably get some flack for putting London in as a beautiful city, but we find it to be stunning. Our favourite part of London was hanging out by the river. We took water taxis and ferries and took in the beauty of the city from the water. It is filled with memorable and notable architecture. It's colourful, massive and beautiful. Do you agree?
Have you been to the Balkan's? Check out 8 Unforgettable Things to do in Slovenia
Tallinn, Estonia
We only managed to pop over to Estonia for a day, but I am so happy that the city we visited was Tallinn. Tallinn was surprising. We didn't really know what to expect when visiting Estonia, but what in interesting country with a very rich history. We can't wait to go back and see more! With it's medieval square, high lookouts and ancient wall, it has everything you need to see when visiting a European City. If you are traveling through Scandinavia, make sure to add Estonia to your list.
Love beautiful things? You'll enjoy our best travel quotes in Photos
Rome
Rome made the list of beautiful cities, but we put it last because although much of the ruins in Rome are impressive, it's not the most uniformed city on the list. However, it's the ruins intertwining with the modern architecture that makes it beautiful to us. Rome is a city that has left the Roman history in tact. They haven't really renovated it or incorporated the old Roman architecture into the plans of the city. Modern building spring up between ancient monuments and we love it!
Rent or Buy Roman Holiday starring Audrey Hepburn
We know we left many cities out of the list.  We hear Krakow, Poland it beautiful, but we haven't had the chance to lay eyes upon it yet. But we're looking forward to adding more beautiful European Cities to the list in the near future.
Do you have a favourite beautiful city in Europe? Do you think some of our suggestions are downright crazy? We want to know!