These are all the things to do in Istanbul to make the most of your stay. If there is one city that can truly claim the title of being the gateway to both Europe and Asia, it's Istanbul.
Straddling two continents, Istanbul is a city divided by the narrow waterway known as the Bosphorus.
The city embraces its mixture of European and Asian culture and visitors will sense the contrasts with each turn.
What to do in Istanbul
To really explore and understand the culture and energy of the city one would need months or even years but we've highlighted our favourite things to do in Istanbul.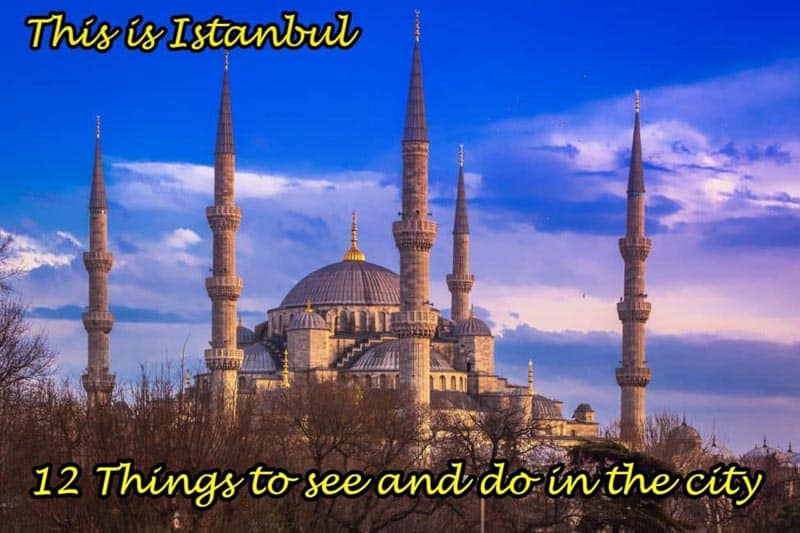 During three visits to Istanbul, we witnessed young urbanites embracing the modern world while others cling to traditional values of the Byzantium period and the Ottoman Empire.
While we can't say that we walked away with a clear vision of the direction Istanbul will take in the future, we can say that this is one of the most fascinating, contrasting, and interesting cities we've ever visited.
Where old meets new and history meets the future, this is Istanbul.
1. Hagia Sophia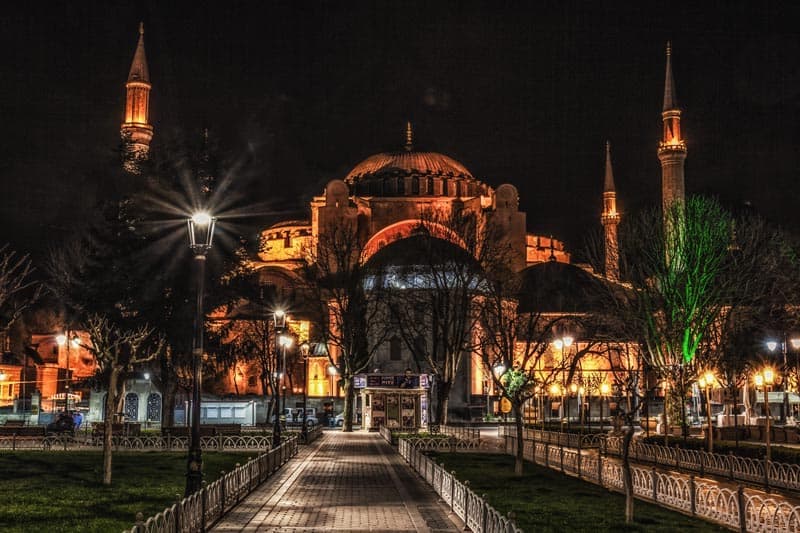 Hagia Sophia is considered one of the most beautiful buildings in the world and is definitely one of the most popular things to see in Istanbul.
It was once a church and a mosque but is now one of the most visited museums in the world.
For 916 years it was a church and then following the conquest of the Sultan Mehmed, it was converted into a mosque and remained so for 482 years.
In 1935 it was converted into a museum and visitors can enter daily to see the mosaics, calligraphy, tiles and Sultan's lodge.
2020 Update: Hagia Sophia was just converted back into a mosque. Like all mosques it is open to all.
2. Grand Baazar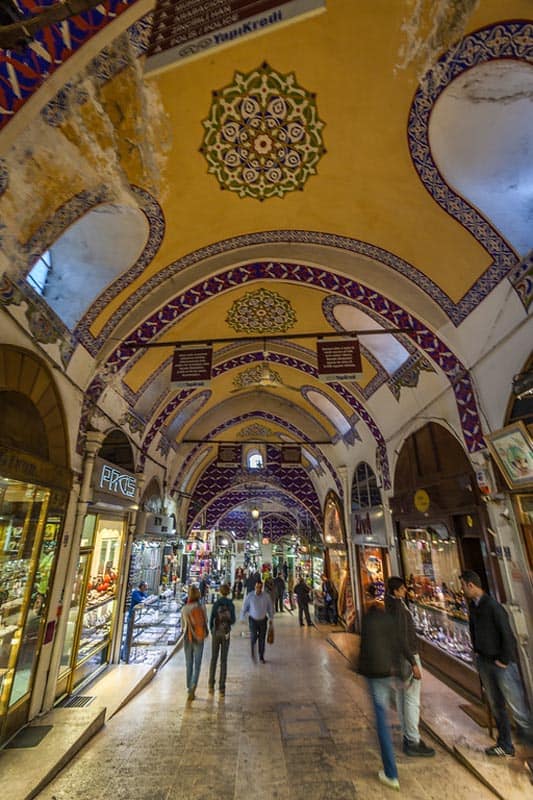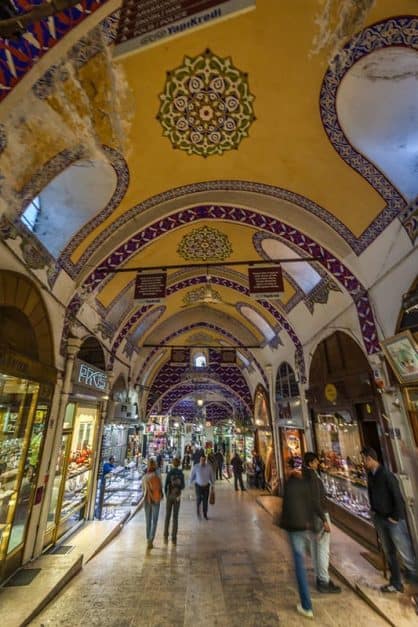 A short walk down the street takes you to the Grand Bazaar for the most exciting shopping experience you'll ever have.
There are more than 5,000 shops in the Grand Bazaar covering 60 streets.
It was an important trading center dating back to the 15th century.
I can only imagine how it once was with traders coming in from Asia and Africa bringing their exotic items for merchants to peruse from Europe.
Spending a day losing yourself in the giant labyrinth that houses Mosques, hammams, cafes, and jewelry stalls makes this one of Istanbuls top attractions.
3. Galata Tower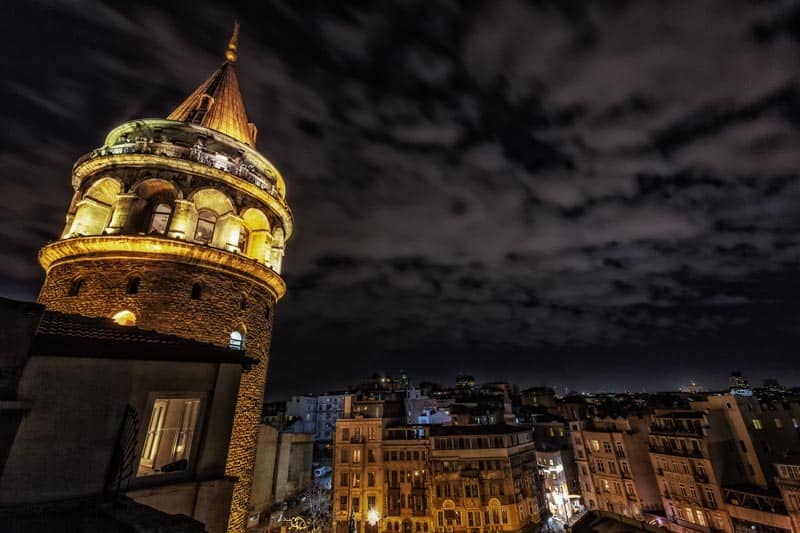 The Galata Tower offers beautiful views of the city. It is located just North of the Golden Horn in the Galata Quarter.
We stayed in an apartment looking right up at this tower and it was breathtaking.
It is 9 stories high with a restaurant café and nightclub. You can take tours up to view the city.
There's a great square at the base of the Galata Tower where you can enjoy some Turkish Coffee and Turkish Delight while people watching on the terrace.
4. Blue Mosque
The Sultan Ahmed Mosque is Istanbul's most famous site and is the top thing to do in Istanbul. A visit to the city would not be complete without laying eyes on its beauty.
It's known by its more common name, The Blue Mosque because of the blue tiles surrounding the walls of its interior.
It is still a functioning mosque but visitors can enter if they follow the rules. Long pants should be worn and women must have their shoulders and heads covered.
Located in the old city, it's the perfect way to start your day before moving on to the other sights nearby.
Across the Galata Bridge crossing the mouth of The Bay of Istanbul you'll find the Galata Tower on the North Bank of the Golden Horn.
It offers the best panoramic views of the city and an excellent vantage point to gaze upon Old Istanbul.
Until the 1960's it was watch tower for city fires, but today it is open to tourists to walk around its balcony near the top of the 67 meter (220 feet) high tower.
Read our tips for visiting Istanbul's Blue Mosque.
5. Istiklal Avenue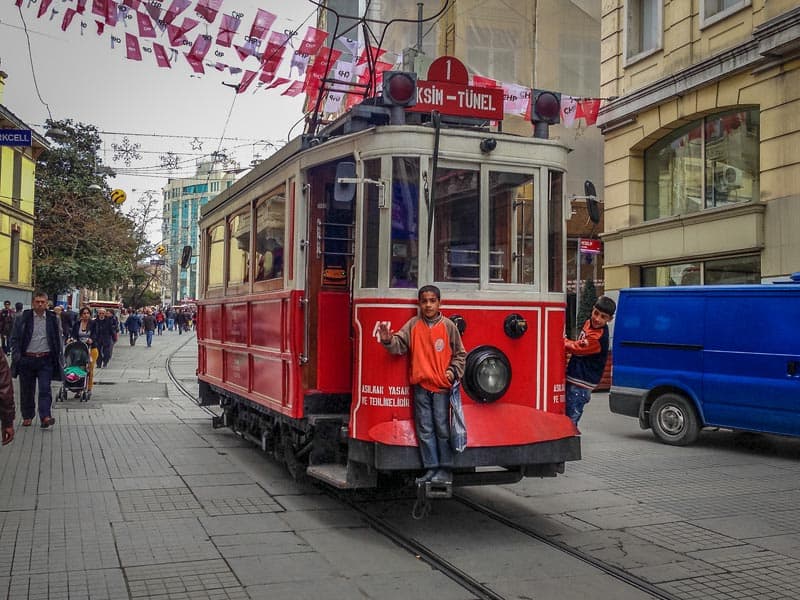 Visited by nearly 3 million people daily, Istiklal Avenue is the beating heart of the city of Istanbul.
This 1.4 km long pedestrian walkway houses everything from cinemas to nightclubs and boutiques to cafés.
It's also here that we tried our first Turkish Delight treats and bought some much-needed medication from the pharmacies.
If you don't feel like walking, you can take the historic tram all the way to Taksim Square to view the monument of the republic.
6. Eat with the Locals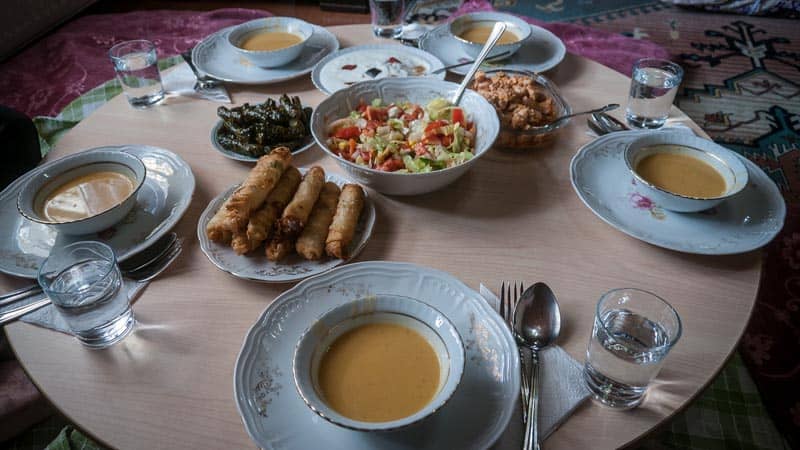 You can book many dining experiences in Istanbul and the best way is to spend time with a local family.
Often you will meet friendly people that invite you for dinner and become fast friends, but you can also book dining experiences where you go to a home and eat traditional food, learn about the local's way of life and have lively conversations.
The Best Istanbul Tours
7. Where to go in Istanbul for Nightlife: Ortakoy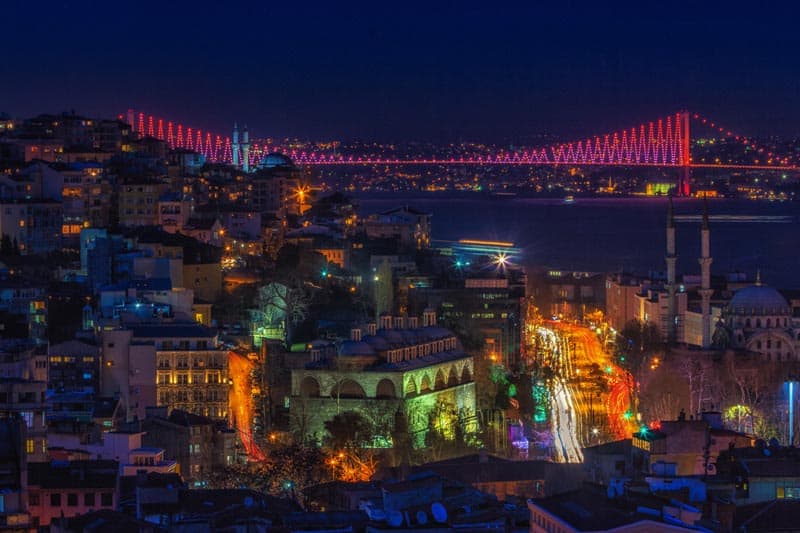 Our guide told us that Madonna and other famous celebrities love to party in Ortakoy. Once a fishing village, this district is now the area for upmarket chic looking for a place to party.
The waterfront is filled with bars and clubs and this is where the hip young professionals of the city hang out.
Dave and I clearly didn't hang out here as we're neither hip nor young, but we did take a stroll through the city and had a glass of wine!
A Walking tour map of Things to do in Istanbul
Click on the link for the interactive Istanbul map
Eating in Istanbul is a feast for the senses and to truly appreciate the cuisine, you must join a family for an authentic local experience.
Start with an array of small dishes known as mezze, such as pita bread with hummus, cacik, and tabbouleh salad.
Main dishes include kebabs and believe it or not pizza! The feast ends with Turkish delight and sweet tea.
Many tours offer a local dining experience including the Other Tour and Get Your Guide.
8. Sip Turkish Coffee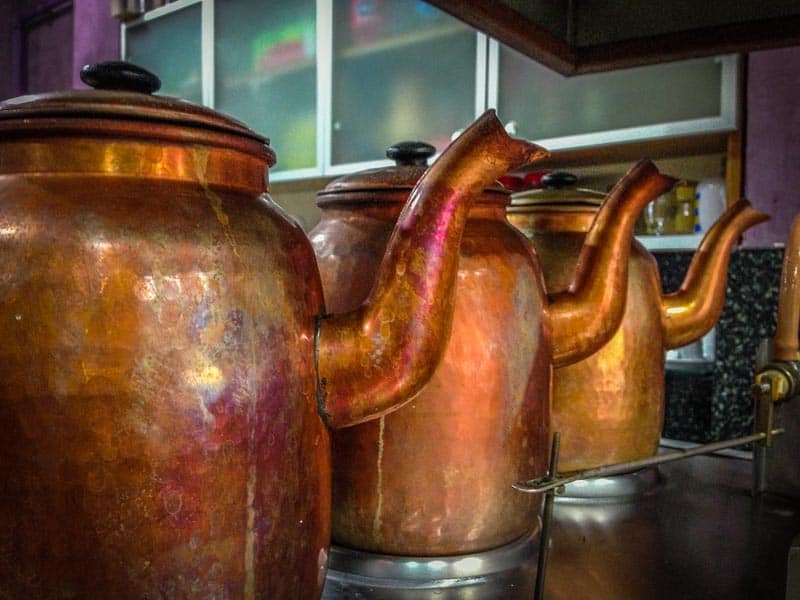 If there is one thing that we wanted to try in Turkey was Turkish Coffee.
We'd had it all over the world, but to have it in its country of origin was beyond heavenly.
It takes great preparation to make this tiny little cup of caffeine, but the effort is worth it as it's one of the most delicious and rich blends of coffee you will ever have.
Don't drink it to the last drop though, the bottom of the cup is filled with coffee grinds. (the secret ingredient perhaps?)
9. Cruise the Bosphorus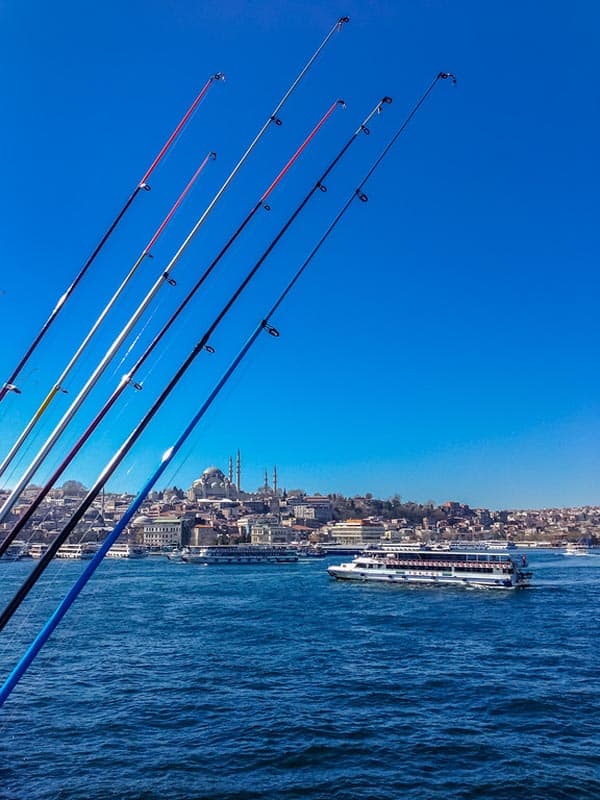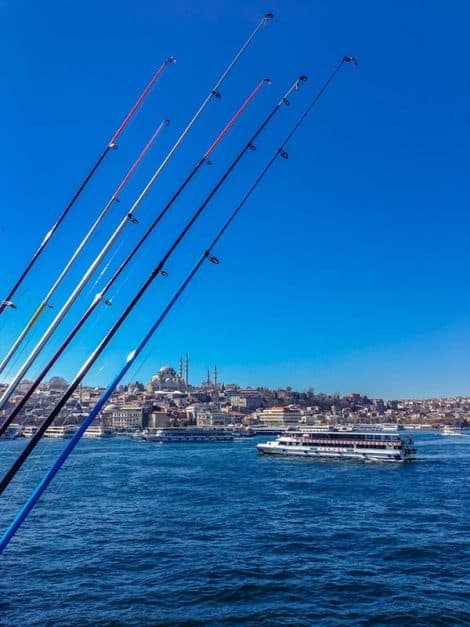 You must visit the Asian side of the city when visiting Istanbul. How often can you visit two continents in a matter of minutes and not even have to go through customs!
We popped over to Asian Istanbul after a scenic cruise checking out the shores of both North and South.
A good stop is Kanlica, famous for its thick yogurt.
10. Play Backgammon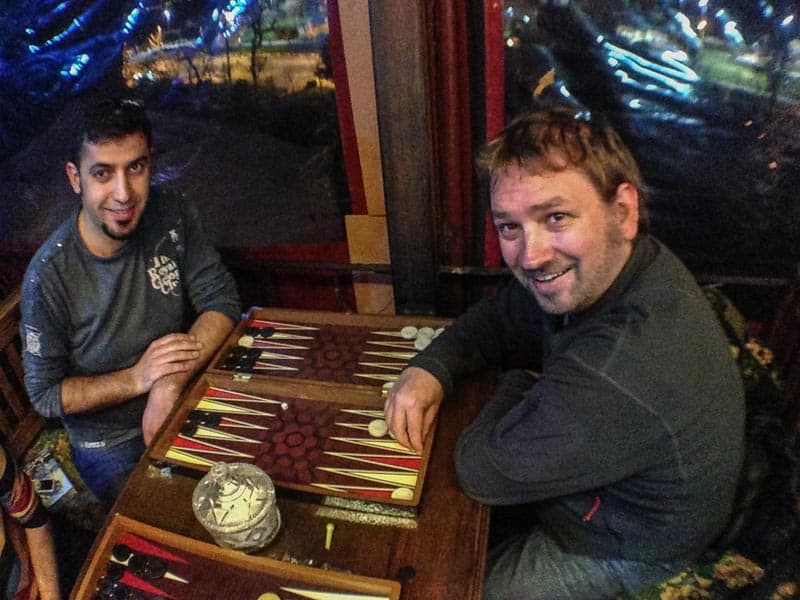 When strolling through the city, you'll see many older gentlemen playing games. The game of choice is Backgammon and you must give it a try.
Look for a local café offering boards to use, sit down and order a coffee or tea and play until your heart's content.
This popular game dates back 5,000 years in the Persian empire and is going strong today in the city of Istanbul.
11. Smoke a Hookah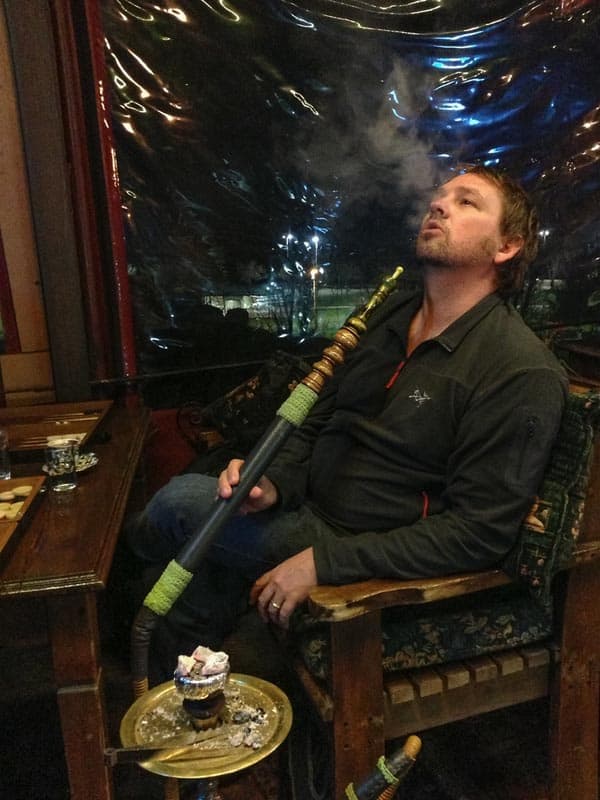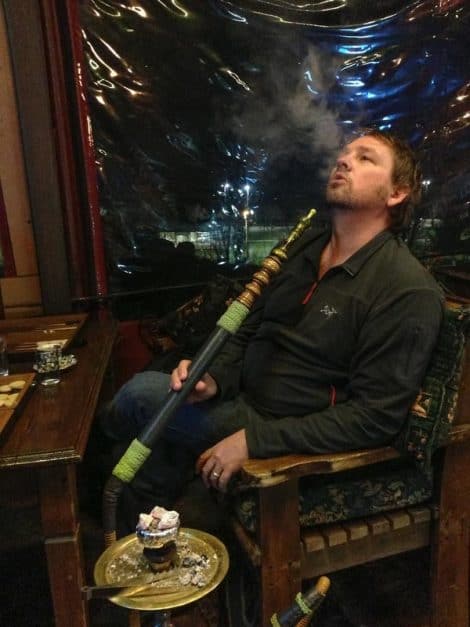 Also known as Shisha or waterpipe, Hookah lounges are very popular in the city.
Dave and I are ardent non-smokers, but to visit Istanbul without giving a Hookah a try would be criminal.
Hookahs are flavoured tobacco smoked through a water pipe. It became popular in Turkey in the 17th century and was a status symbol for those in the city.
If you need someone to play with Get Your Guide it includes an evening out in their tours.
13. Visit a Turkish Bath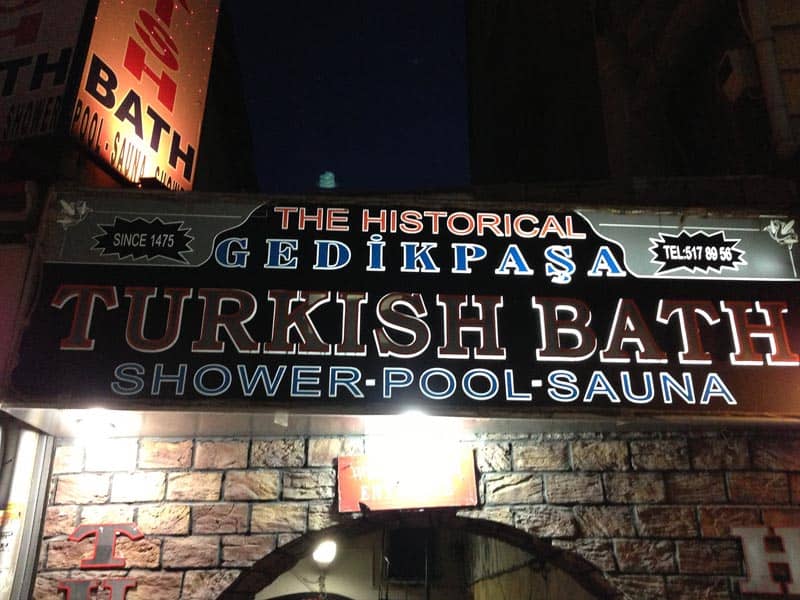 You cannot visit Istanbul without experiencing the weird and wackiness of a Turkish Bath, also known as a traditional hammam.
Be prepared to strip down to your birthday suit and have strangers vigorously bath and massage your entire body after a hot steam bath.
It can be painful, strange, and heavenly all at once. You may or may not like it, but I can tell you one thing for sure, you will never forget it.
And that's all the things to do in Istanbul that we recommend.
Istanbul is a busy and vibrant city and the best way to get around is by tram. It's affordable, fast and easy.
We hopped on the tram to take us everywhere from the old city to Taksim Square, took Ubers and booked Transfer Expert from the airport.
But in our opinion, the best way to discover Istanbul is on foot.
Lose yourself in Sultanahmet, explore the streets of Constantinople, and get lost in the Grand Bazaar.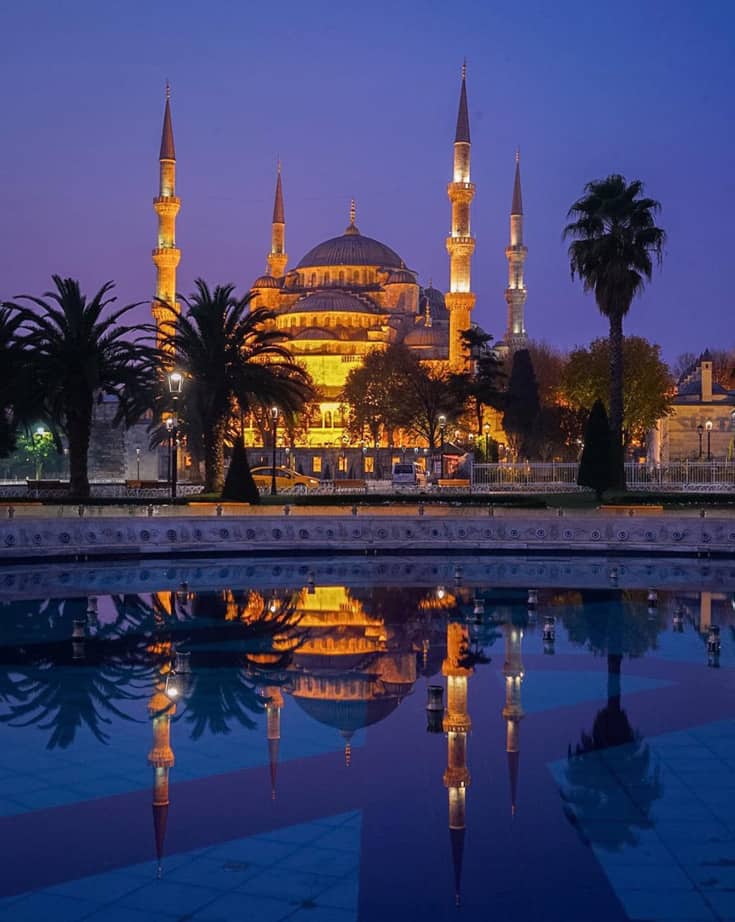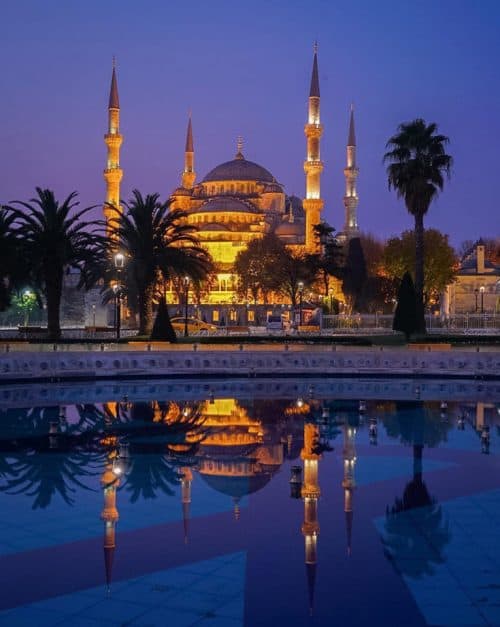 There are so many things to do in Istanbul, you will want to go back again and again.
What did we miss? We only spent 7 days in the city and I know there is so much more there, I'm sure you have some favourite things to do in Istanbul that we didn't get a chance to do ourselves.
Where to Stay in Istanbul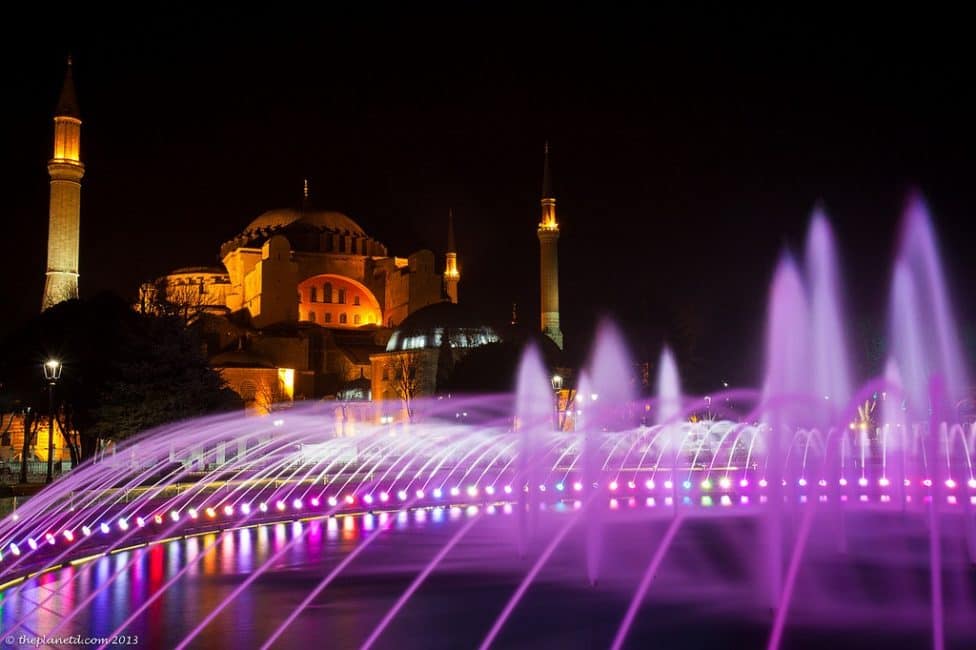 Swissotel The Bosphorus – This five-star luxury hotel right is in the centre of Istanbul on the European banks of the Bosphorus. It is a perfect location for exploring Istanbul with a rooftop pool and free WiFi. Check out Availability & Prices at Booking.com/Trip Advisor
Sura Hagia Sophia – Located in Sultanahmet, this 5-star hotel is perfectly situated to all the main attractions. The hotel also offers a well-designed garden with an attractive pool area and Free Happy Hour. Check out Availability & PricesBooking.com/Trip Advisor
Elite World Europe Hotel – Situated close to the airport, this newly-opened hotel offers luxury at budget prices. Perfect for a layover or to avoid Istanbul traffic if you have a flight leaving in the early morning hours. Check out Availability & Prices Booking.com/Trip Advisor
Airport Transfer: For transfers to and around Istanbul, check out TransferExpert.com their services were professional and friendly!
Read More:
Blue Mosque of Istanbul – Tips for Entry