Garmisch-Partenkirchen is the perfect place to base yourself when exploring the Bavarian Alps of Germany. We spent almost a week here exploring the southern part of Germany.
We hadn't even heard of this town, which is home to Germany's highest mountain, before planning our trip to Germany.
But once we arrived, we quickly learned that it is the best place to make a home base in the Bavarian Alps. There are so many things to do in Garmisch-Partenkirchen. We will never forget our time there.
What to do in Garmisch-Partenkirchen
The owners of Gaestehaus Maria were friendly and welcoming. We expected a lovely stay, but when we saw the view from our balcony staring directly at Germany's highest peaks, our jaws dropped. What a view!
We couldn't wait to get out and explore the surrounding mountains.
There are many day trips from Garmish Partenkirchen, so we highly recommend renting a car for your stay. You are going to want to have the freedom to see it all.
1. Alpspix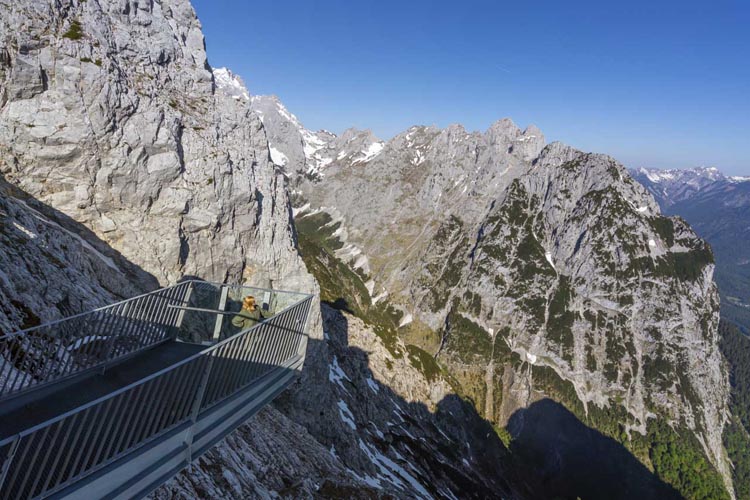 One of our favorite things to do in Garmisch-Partenkirchen is to take the gondola up the Alpspix to take in its breathtaking views from two steel walkways jutting out over the abyss.
Two steel beams cross each other as they reach out 25 meters (82 Feet) from the edge over a 1000 (3280 feet) meter vertical drop.
After you take in the views, you can spend the day in the Alps hiking from peak to peak.
If you purchase the Garmisch Classic Ticket, you can catch a gondola to Hochalmbahn to do some hiking at a lower elevation. We walked directly to catch the next gondola down which was about 30 minutes.
It was a lovely walk over a beautiful valley to our final gondola ride back to the parking lot where we had the car to ourselves to enjoy the scenery.
This area is also very popular for alpine skiing in the winter. So if you want views and great winter sports this should be high on your bucket list.
2. Zugspitze – The Highest Peak in Germany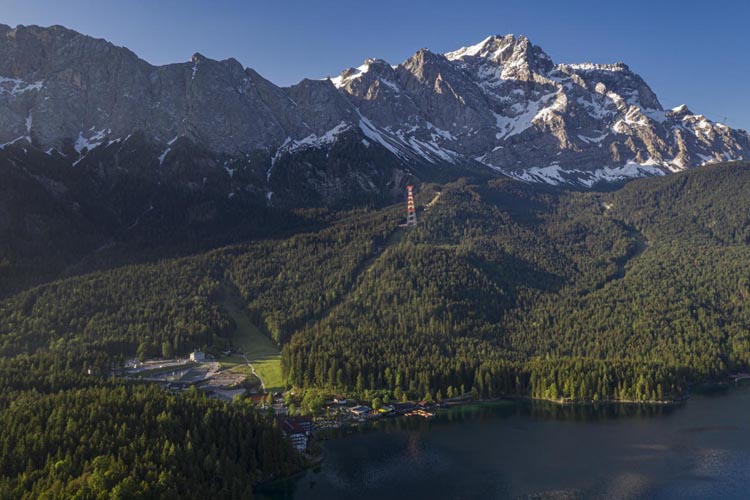 If you want to go to the top of more peaks, Zugspitze is a must. It's Germany's highest peak at 2,962 meters (9717 feet) above sea level.
Make a day of it and catch the cogwheel train from Garmisch-Partenkirchen to Lake Eibsee where you will then take the train to the glacier plateau. Then you catch a cable car to the top station for a one of a kind views of the Alps.
If you want to see it all, purchase the Zugspitze Ticket for 58€.
It includes one mountain ascent and descent, either in the form of a round trip on the cogwheel train, a ride on the Gletscherbahn cable car and the Cable car Zugspitze. You can use the Gletscherbahn cable car as often you like on the day of your visit.
3. Partnach Gorge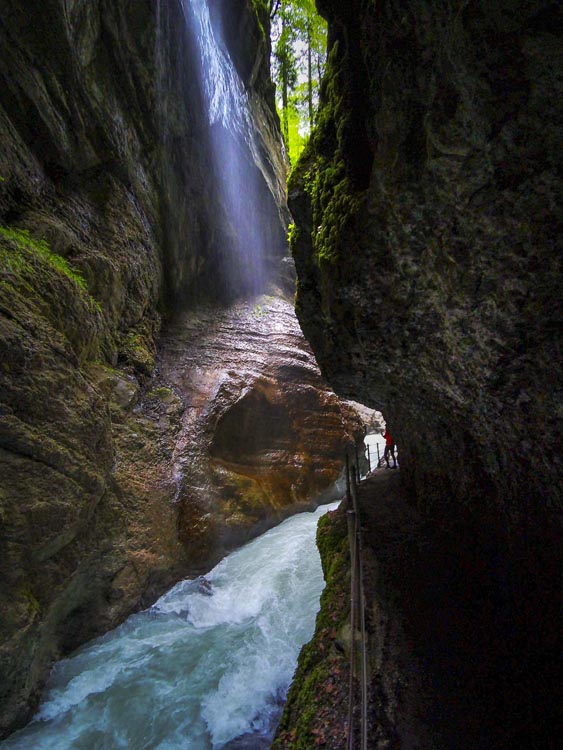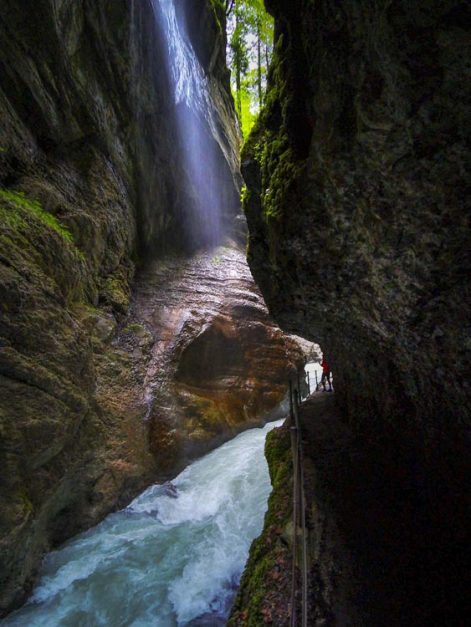 Partnach Gorge was the most surprising adventure we had in Garmisch-Partenkirchen.
We didn't know what to expect, but when we entered the gorge, we were completely blown away. The water was so powerful as we walked along a 750 meter (2,460 feet) narrow path clinging to the side of a rocky cliff.
As we wove our way through tunnels, over bridges, and along the stone path, our hearts raced as rushing water cut through the 80 meters (260 feet) deep gorge. Water fell all around us.
It was exhilarating and daunting all at once. I imagined one small slip causing me to topple into the rapids below. It is completely safe if you pay attention (dogs are even allowed on a leash), but my imagination got the best of me.
It was exciting to finish. And although I was stressed, I loved every minute of it.
Tips for hiking Partnach Gorge: Be sure to bring a flashlight, (we used our phone), a rain jacket, a sweater (it can be chilly in there) and wear good hiking shoes.
4. Linderhof Palace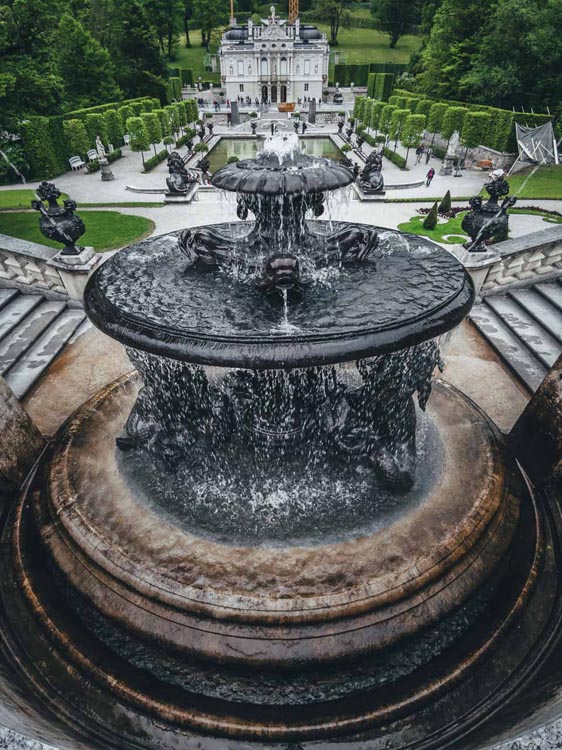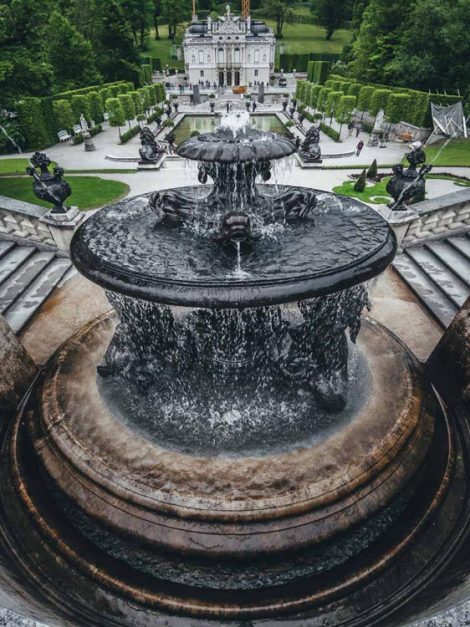 King Ludwig II commissioned three separate palaces but Linderhof Palace is the only one that he actually saw completed.
It is the smallest of his palaces, but its fairytale setting is an enchanting place to explore.
Set within the rolling Bavarian countryside, the palace contains sculptures and statues, a fountain that reaches 25 meters high from pressure alone and gardens.
Ludwig idolized French King Louis XIV and like Herrenchiemsee, much of Linderhof Palace is modeled after Versailles.
5. Church of Grainau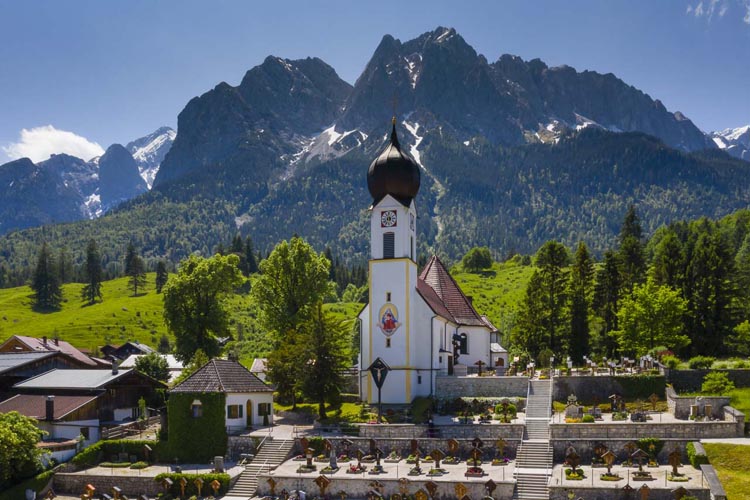 The nearby village of Grainau houses one of the most photographed churches in Bavaria. The Church of Grainau sits at the base of Zugspitze and is a beautiful site.
It looks like any other Bavarian Church but the setting makes it stand apart with a dramatic cemetery lining the front, as the Alps tower over the back.
The cogwheel railway goes right by here as well.
6. Eibsee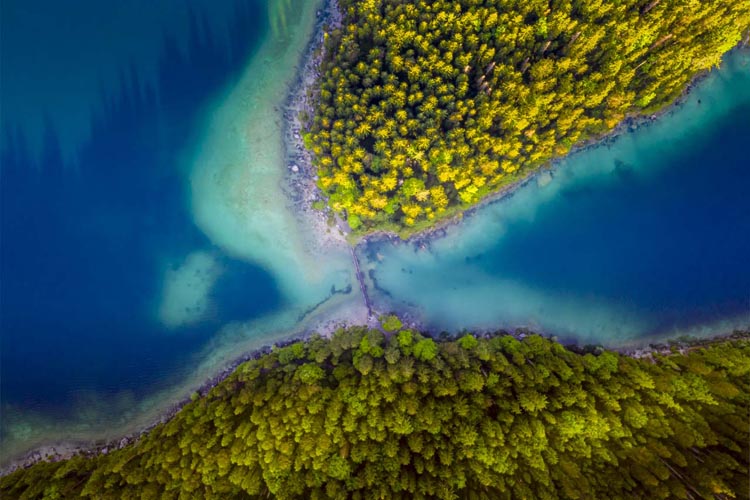 One of the most popular places in Garmisch for sunrise is Lake Eibsee. And with good reason.
The lake offers unobstructed views of Zugspitze making for the perfect Instagrammable picture.
When you are finished up with photos, take a hike around the lake. There is a 6.5 km (4 miles) walking path around the lake.
The trails are well marked and easy to follow.
7. Sunrise at Geroldsee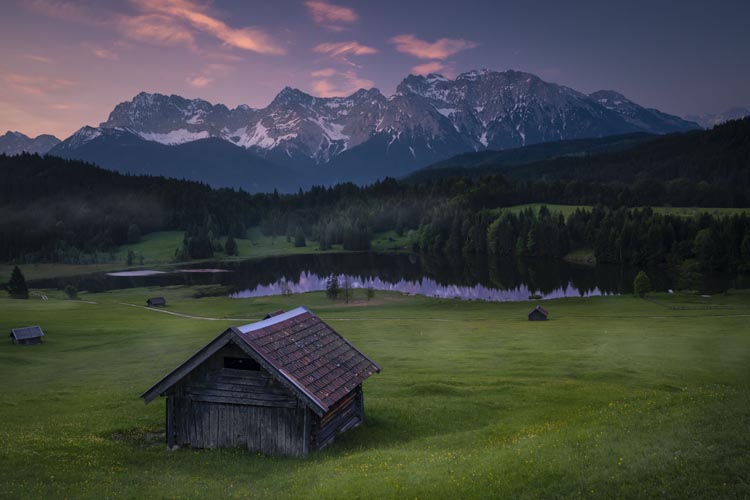 If you browse photos of Garmisch-Partenkirchen, you may spot a picture of wooden huts dotting the landscape in front of a lake.
This is Geroldsee. We were told it was one of the busiest photo spots in town, but when we arrived for sunrise in June, only one other person was there.
When sunrise is at 4:30 am, chances are you will have it all to yourselves.
Once you find the spot, it's a bit of a hike through long grass up a hill to the perfect photo spot.
So be sure to give yourself ample time to arrive before the sun rises as it takes a bit of time to find the perfect position.
Go inside the Abbey and admire its ornate dome ceiling. It's worth a stop to tour the grounds.
8. Ettal Abbey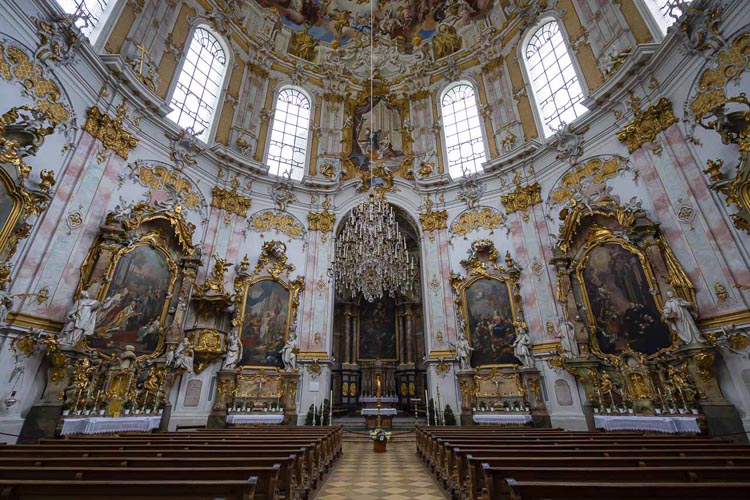 While driving out to Linderhof Palace a short distance out of town, a domed abbey caught our eye. This wasn't on our itinerary or radar, but I am so glad we pulled over for a closer look.
Ettal Abbey is a Benedictine Abbey founded in 1330 by Ludwig IV. Today it is still in operation with 50 Monks residing in its grounds.
9. Olympic Village – Olympiaschanze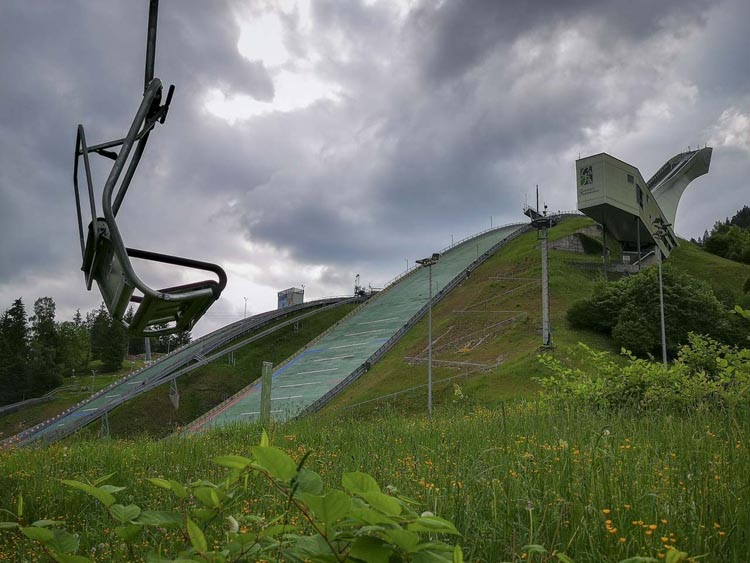 Garmisch-Partenkirchen first caught the eyes of the world when it hosted the 1936 Winter Olympic Games. The two towns united in 1935, just in time for the big event.
Today the ski jump stadium is still in full operation hosting world cup events. It was rebuilt in 2007 and has become one of the most significant ski jumping arenas in the world cup.
When seeing the incredible peeks surrounding Garmisch-Partenkirchen, it's no wonder it hosted the Olympics. This is winter wonderland heaven.
But there are plenty of things to do in Garmisch-Partenkirchen in the summer too.
We spent most of our time in Bavaria based in Garmisch-Partenkirchen and had the most incredible time touring the sites around the picturesque twin town in the Alps.
10. Never Ending Story – Michael Ende Kurpark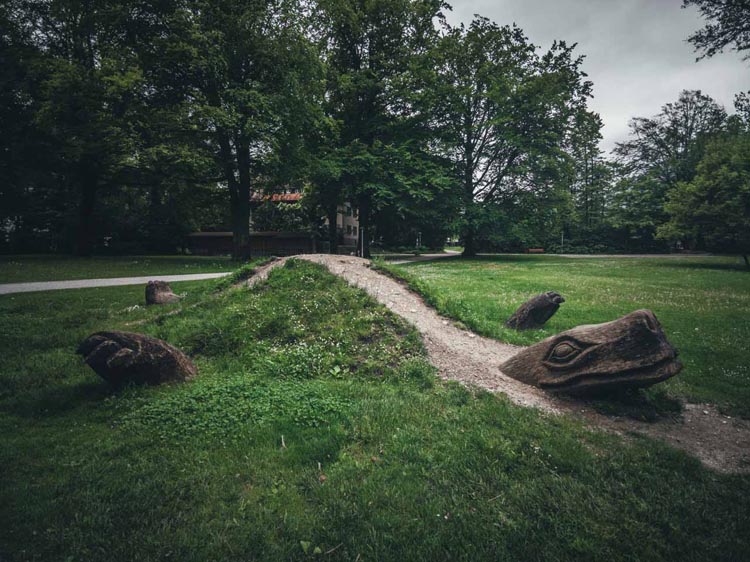 When I was young, I loved the movie Never Ending Story. Little did I know that one day I'd be visiting the hometown of the man who created it.
When walking around Garmisch-Partenkirchen be sure to spend some time in Michael Ende park to celebrate his work.
The park is dedicated to his writings with the turtle from Neverending Story, the amphitheater from Momo, and see the lime tree that was planted by Michael Ende himself!
The park is a quiet retreat where you can walk through a Labyrinth quietly meditating or watch giant goldfish swim in a fountain of waterlilies.
It is a lovely place to visit.
11. Epic Hikes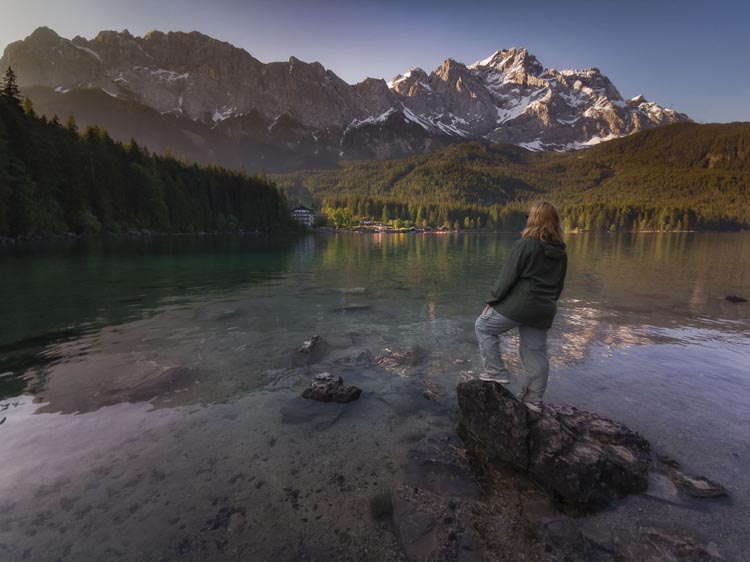 If you love hiking, Garmisch-Partenkirchen is the place to be. There are hikes around lakes, cross country from town to town and up in the Alps.
There are several day hikes from Garmisch. If you pop into the visitor's centre in town, they'll be able to recommend one for you!
12. Stroll Through Old Town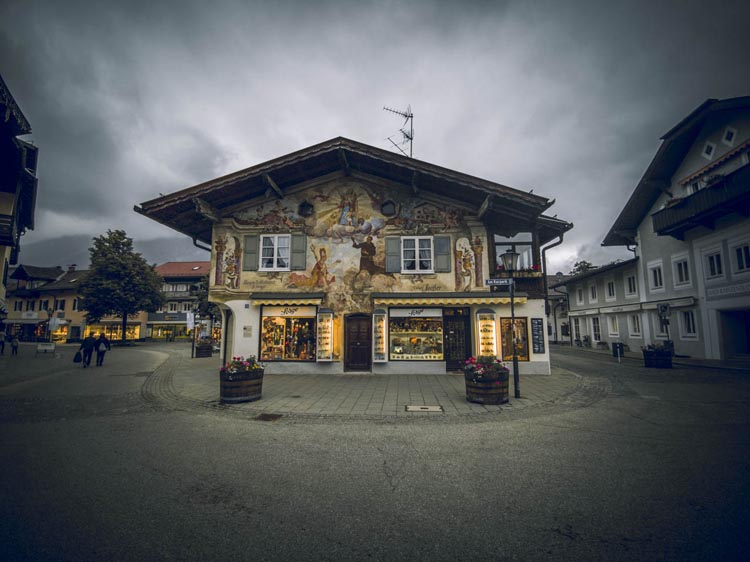 Garmisch-Partenkirchen is a photogenic town. A walk through the historic old town is a must.
Houses and restaurants are adorned with religious murals, fairytale paintings, or frescos depicting the profession of the house.
These facades make the traditional homes look as if they have shudders and window boxes hanging on the outside.
Walking around town offers one picturesque view after another.
Between the traditional houses, and ornate streets set in the backdrop of the Alps, you'll love sitting outside in a beer garden taking in the relaxed atmosphere.
13. Gondola Rides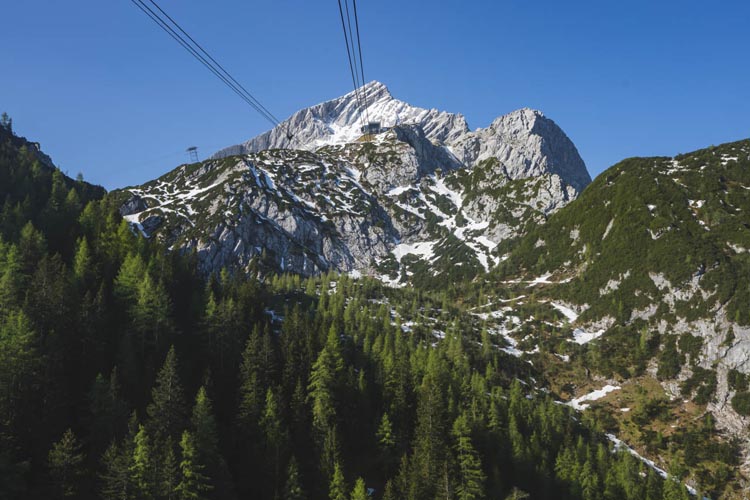 If hiking isn't your thing, you can still venture into the Alps.
Besides the gondolas leading up to the Alpspix and Zugspitze, there is also the Eckbauerbahn at Olympic Stadium.
Gondolas seem to be clinging to the Alps all around. This is the premier ski spot in Germany and you have many to choose from in both summer and winter. Other gondolas are the Hausbergbahn and the Krewuzeckbahn that we took down from the AlpspiX hike.
14. Richard Strauss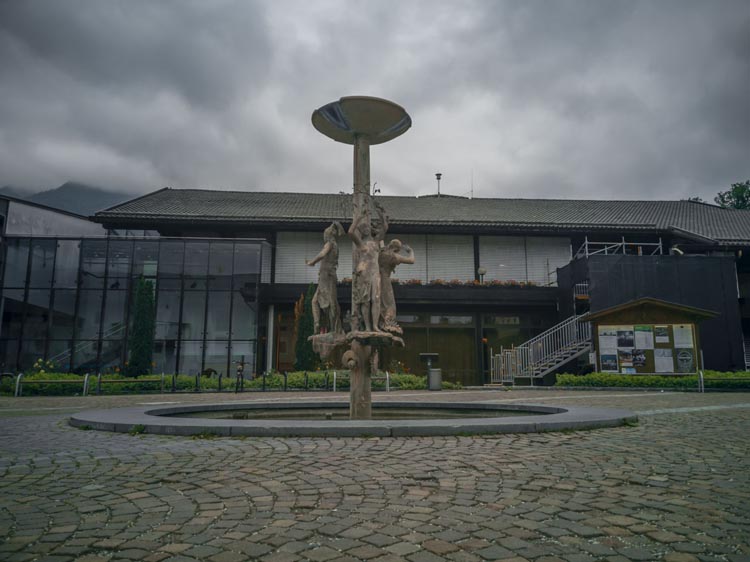 Another famous resident of Garmisch was the composer Richard Strauss.
Garmisch-Partenkirchen has a couple of spots dedicated to his memory. He lived in Garmisch from 1908 to his death.
There are two buildings dedicated to Strauss, the Richard Strauss Institute and the Strauss Villa.
It is difficult to get into the villa but if you are a fan, the Institute is open to the public. There is a multimedia exhibit taking you through the life journey of the celebrated composer.
Where to Stay in Garmisch-Partenkirchen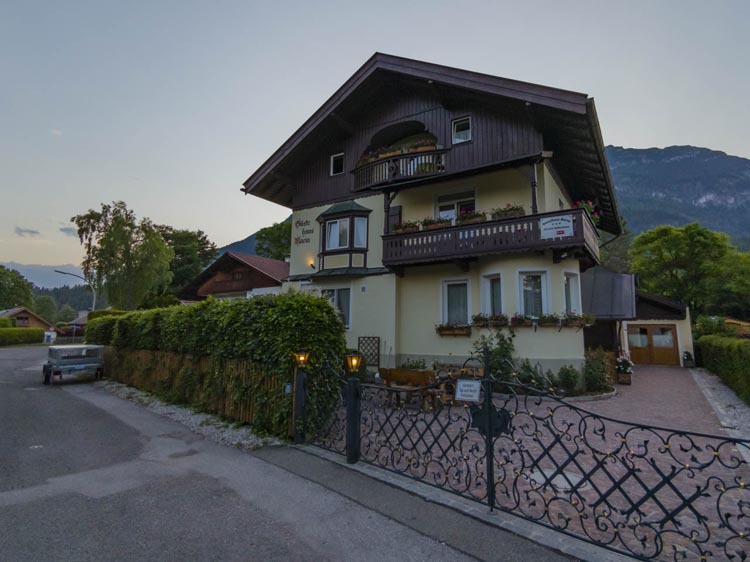 We stayed at the welcoming Gastehaus Maria that is just a few minutes walk from downtown.
We had a beautiful view from our room where we enjoyed 2€ beer from the honor bar on our terrace as we took in the beauty of the Bavarian Alps.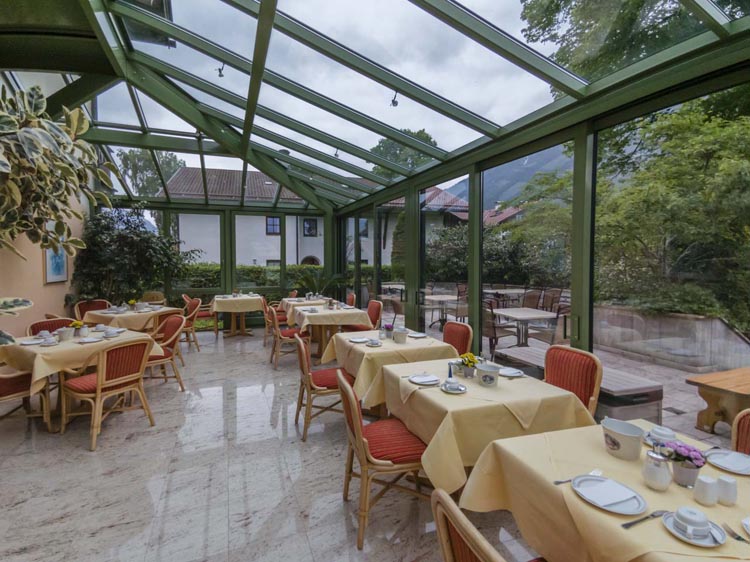 We were up long before breakfast each day, but they made us a packed lunch for the road that was waiting for us in the refrigerator each day.
It's a great B&B to make a home base while exploring the area.
If you are looking for a fantastic vacation destination filled with outdoors and adventure, jaw-dropping views and fantastic cuisine, Garmisch-Partenkirchen in Germany is the place to be.
Watch our video to see all the amazing things to do in Garmisch-Partenkirchen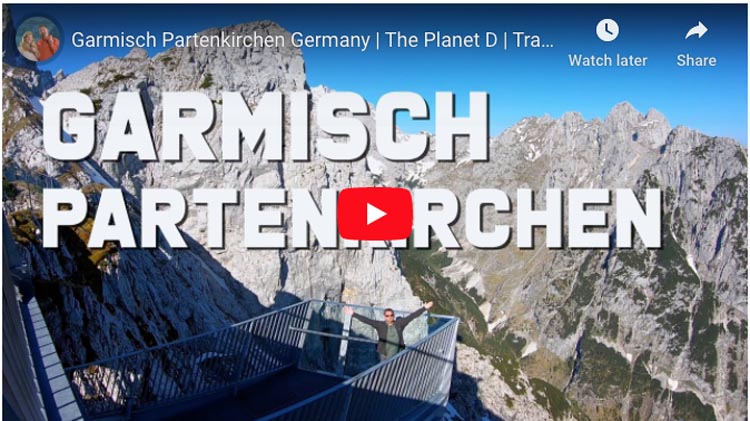 Our trip to Bavaria was sponsored by the Germany Tourism Board, for more information on Travel to Germany visit their website for ideas.
If you enjoyed this post, save it to Pinterest for future travel planning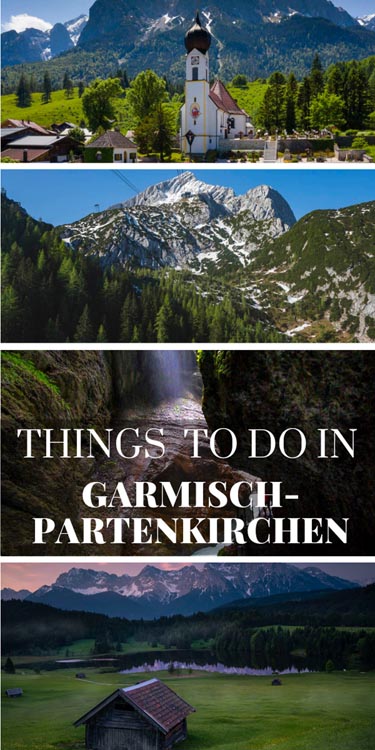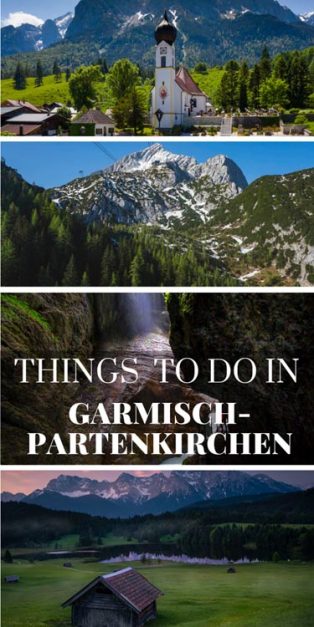 Read Next:
Top Historical Places to Visit in Berlin