Berlin resident Thomas Carney shares his recommendations for the top historical places to visit in Berlin. Berlin, the capital of Germany, has a rich, storied past stretching back through the Cold War, the two world wars to the swinging 20s and beyond.
Today it is the second-largest city in the European Union after London. At the same time, you'll find that Berlin is surprisingly affordable when compared to other larger European cities.
Historical Places to Visit in Berlin, Germany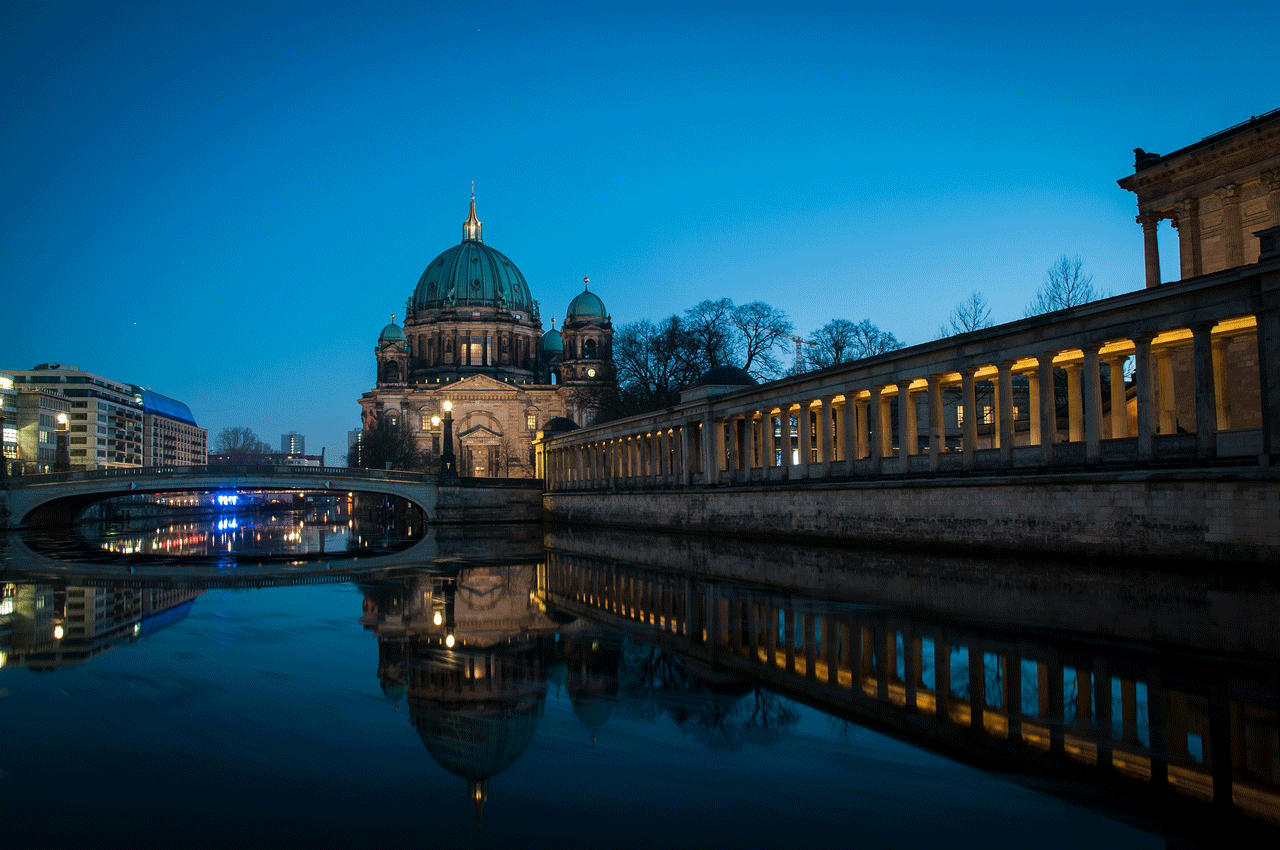 In this article, we'll run through some of the best historical sites and Berlin attractions to see in this sprawling city of almost four million inhabitants based on my experience of living on and off in the city since 2008. As Germans say, "Los geht's!".
Looking for a place to stay in Berlin. Check out Booking.com for hotels and reviews.
1. Visit the Reichstag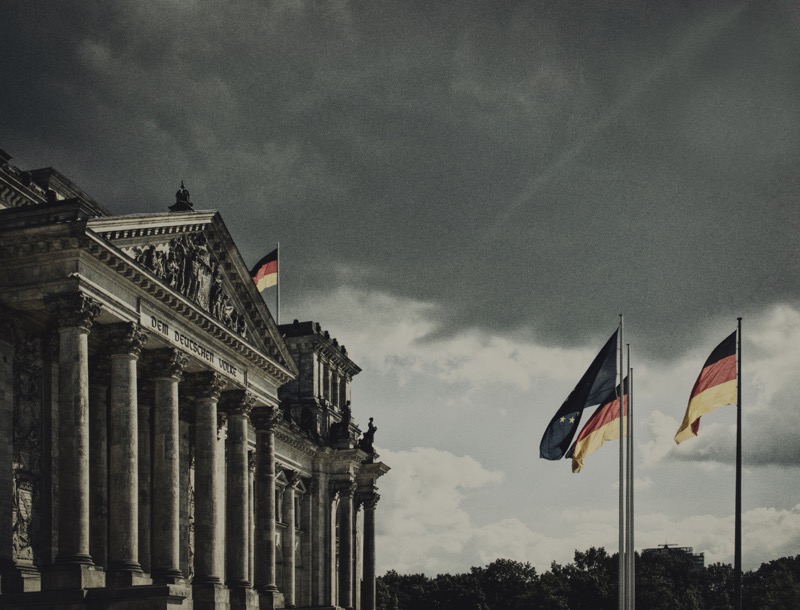 The Reichstag building is the home of the German parliament. Famously, it's burning in 1933 was a trigger for the Nazi's consolidation of power. Today it's one of the most popular sites in all of Germany thanks to free entrance to the glass dome on top that gives spectacular views of Berlin.
You'll have to register ahead of time to book a visit, and it's important to bring your ID. Personally, my favourite time to visit is just before closing when you get a view of Berlin at night.
Hours: 8 to Midnight daily
2. Stop by Brandenburg Gate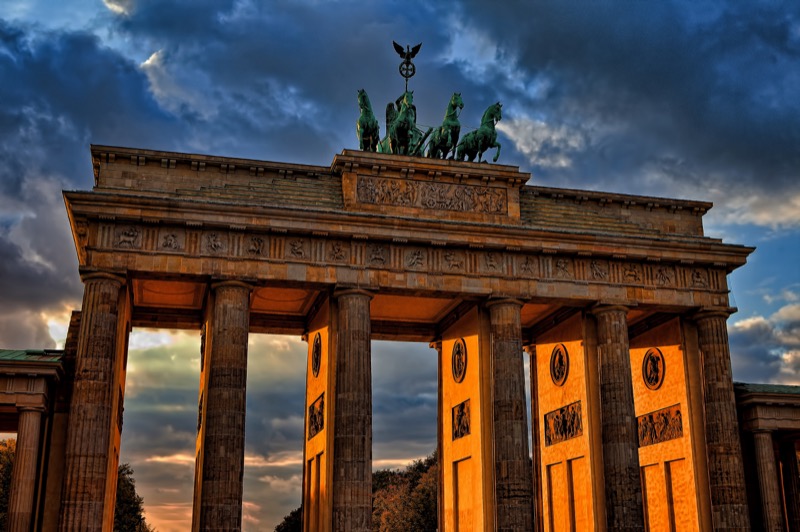 Just five minutes' walk away from the Reichstag building, you'll find the famous Brandenburg Gate. It was in front of this monument that Regan issued an ultimatum to the Soviet leader, Gorbachev, to tear down the Berlin wall.
To the east of the gate, you'll find the Pariser square which leads on to "Unter den Linden", a wide boulevard leading down towards Museum Island, which is lined with embassies, five-star hotels and high-end boutiques.
3. Memorial to the Murdered Jews of Europe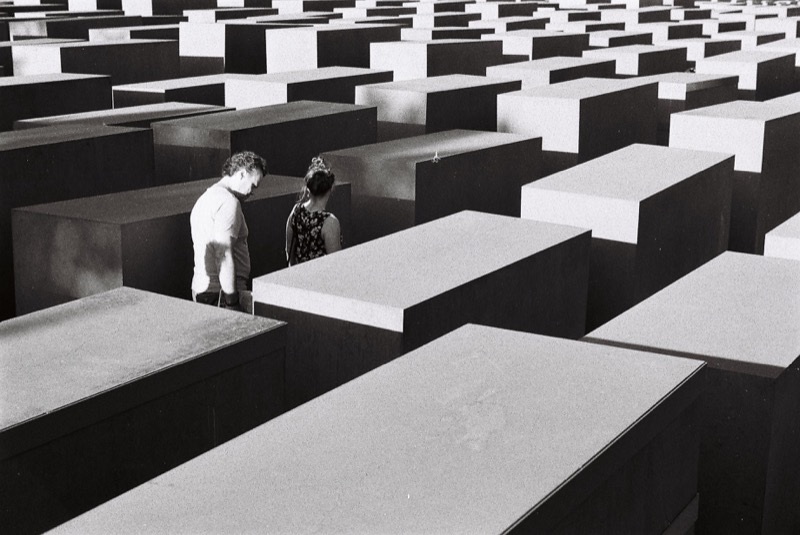 Berlin is full of reminders of the crimes of the Nazi era from the brass-plated stones you'll find in the sidewalks marking the last residence of victims on the Nazi regime to monuments such as the Memorial to the Murdered Jews of Europe. This monument is located centrally just beside Brandenburg Gate. It's made up of 2711 rectangular blocks that descend deeper as you walk further into the memorial, giving you a sense of isolation and unease.
Located underground beneath the memorial you'll find an information center on the Holocaust with free entrance almost every day. Read: Top 16 Fun Facts About Germany That You Probably Didn't Know
4. Stop by Gendarmenmarkt for a Coffee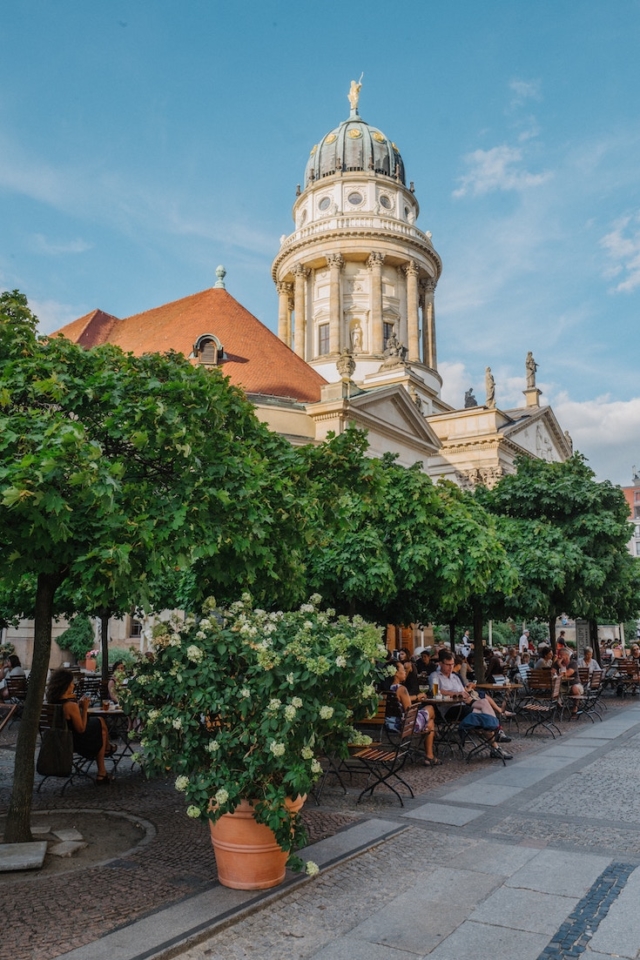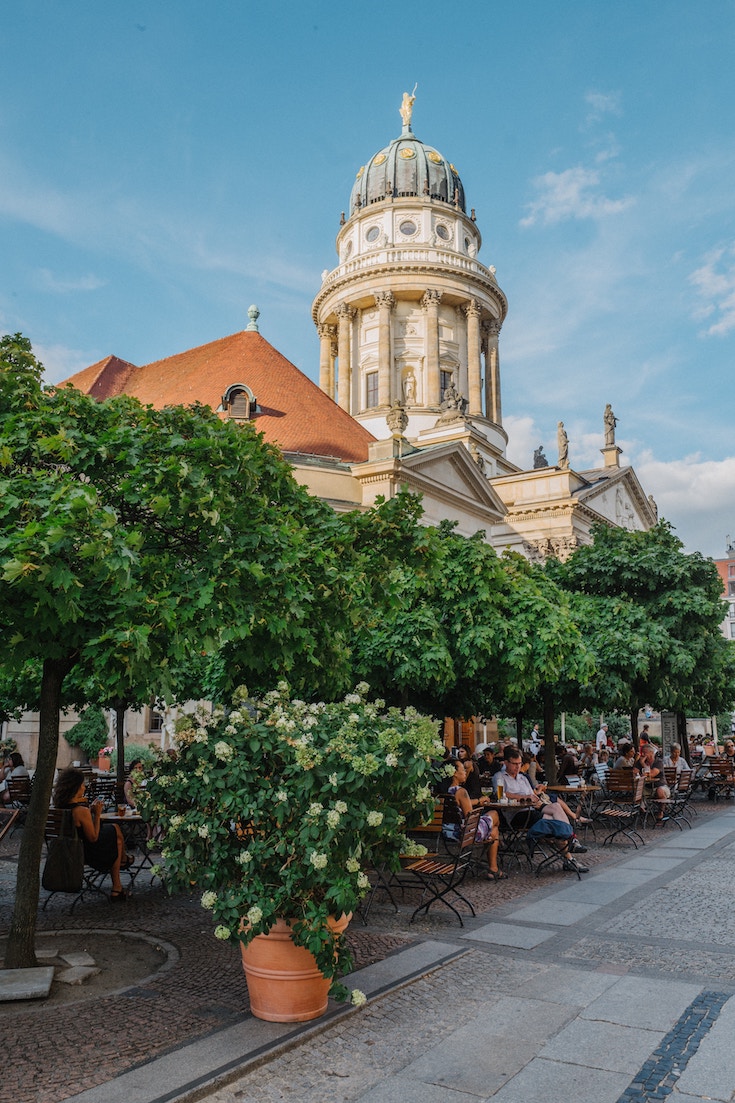 Berlin was largely destroyed in the second world war, so many parts of the city lack the historical buildings of other European capitals. One exception is Gendarmenmarkt, a market square situated between Under den Linden and Checkpoint Charlie. It's perfect for sitting out on a cafe terrace and enjoying a coffee before your next stop of the day.
Over the holiday season, you'll find one of the best Christmas markets in Berlin here, where you can sample mulled wine and German Christmas biscuits.
5. Checkpoint Charlie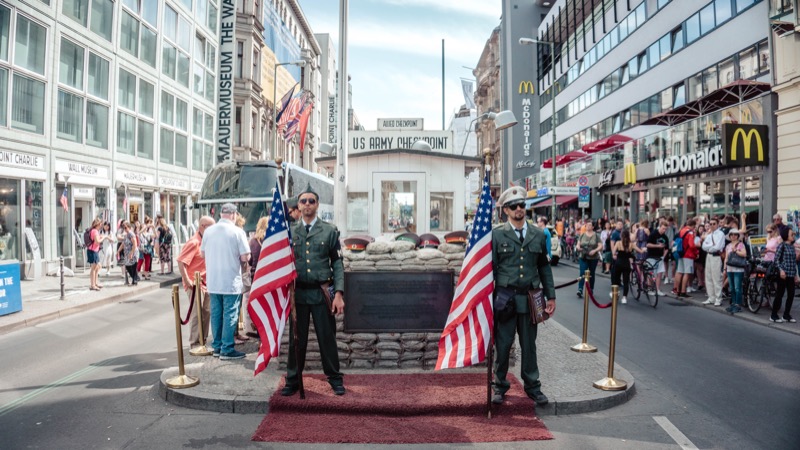 Checkpoint Charlie is the most famous of the border crossings between East Berlin and West Berlin featured in countless films such as Bridge of Spies. The Wall Museum at Checkpoint Charlie, which provides information on the Berlin wall, is worth a visit.
Looking for Hotels in Berlin?
6. Museum Island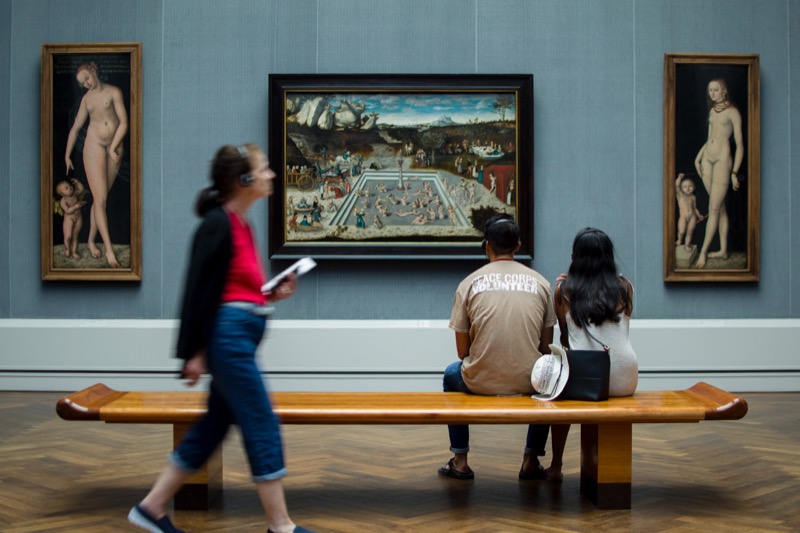 Berlin is home to some amazing museums. Conveniently, you'll find five world-class museums situated on Museum Island right in the center of Berlin.
The Altes Museum has an amazing collection of Greek antiquities. Highlights in the Neues Museum include an Egyptian collection with notable pieces such as the famous bust of Queen Nefertiti. Inside the Pergamon Museum, you'll find entire historical buildings such as Ishtar Gate of Babylon.
As these museums have large collections, I personally would choose one to visit rather than trying to take in all five on one day.
7. Take a Trip to the Top of the TV Tower at Alexanderplatz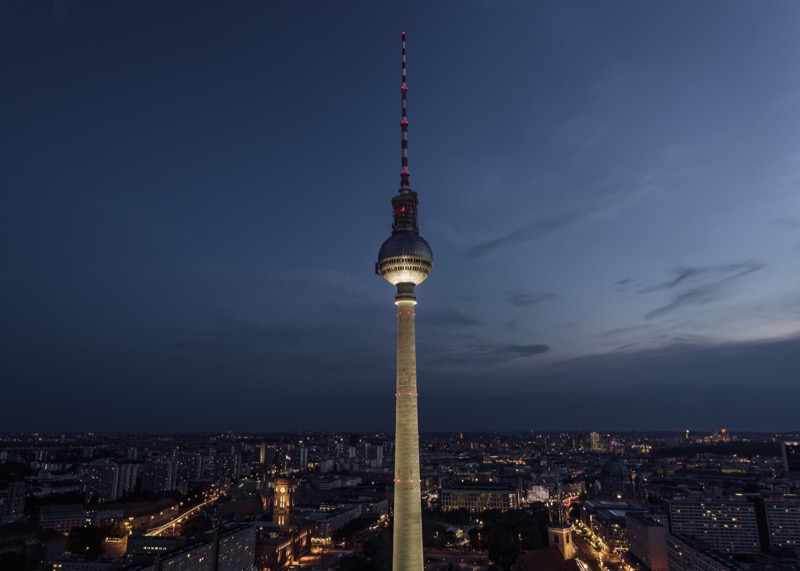 East Germany built the TV Tower to be a symbol of the technological advances of the Eastern Bloc in 1969. Today it is the highest vantage point in Berlin. You can take an elevator up to the 203-meter high viewing platform where you'll get the best view in all of Berlin. This being Germany, you can also enjoy a beer at the top at the bar or even eat at the restaurant that slowly revolves around to give you a 360-degree view of Berlin.
8. Visit a Remaining Piece of the Berlin Wall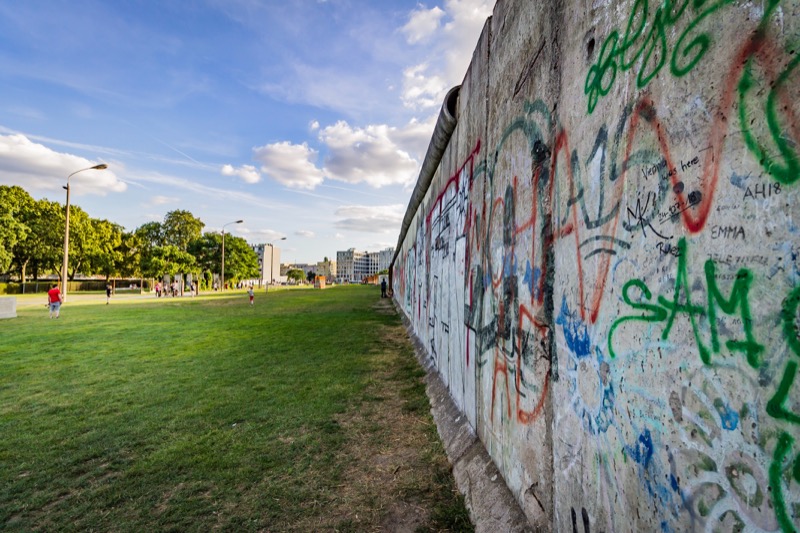 Remnants of the Berlin Wall that separated East Berlin from West Berlin still exist around the city. One such place is the Berlin Wall Memorial, where you'll find a visitor center along with a remaining section of the wall. Another section that is popular is the East Side Gallery on the Spree river, which has many famous graffiti sections.
9. Where To Stay to Make the Most of Your Berlin Trip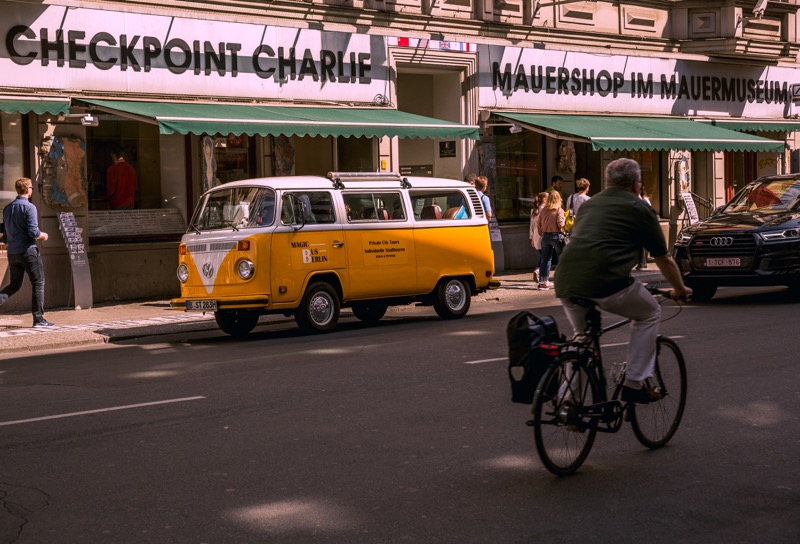 If you're excited about Berlin and want to make a trip out of it, you then have the question of where to stay. Berlin is a sprawling city, so making sure you choose the right location to stay will make a big difference. As you may have noticed, many of the popular historical sites of Berlin are found in "Mitte", literally "Center" in German. Hotels along the "Unter den Linden" Boulevard are very centrally located but also among the most expensive in Berlin.
Accommodation around the "Volkspark am Weinberg" offers an excellent mix of location as well as great surrounding restaurants and bars.
When's the Best Time to Visit Berlin?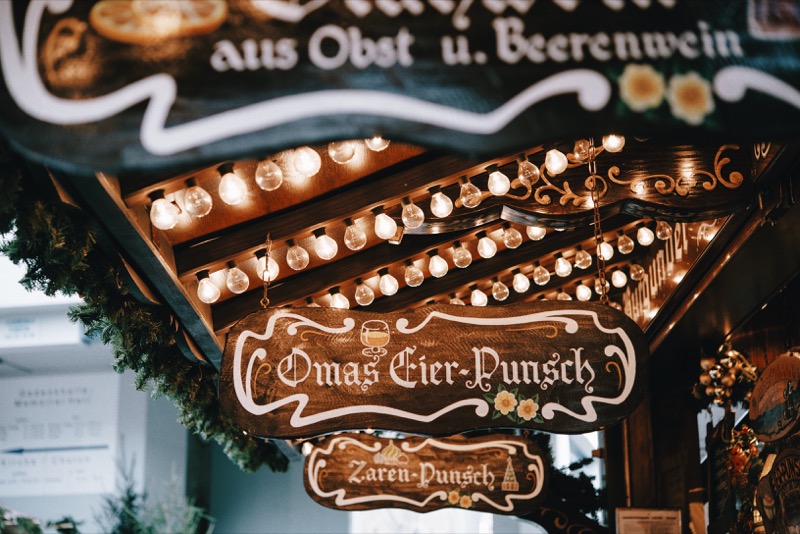 Berlin winters are long, cold and dark. In mid-December, the light will start to fade around 3:30 pm. However, the Christmas markets with mulled wine and holiday decorations do offset the dreary winters. In my opinion, the month of May is the best time to visit Berlin, as you'll enjoy warm weather without overheating (Germans don't do air conditioning as a rule). The city also feels incredibly vibrant as people awake from the long winter.
Berlin Tours
Dave and I took two tours in Berlin with Get Your Guide. It is our go-to tour company when traveling.
Street Art and Workshop– Graffiti has a strong history in Berlin and is entrenched in its history. Learn about its origins and then have a lesson on how to make some street art of your own.
Berlin Private Tour – We took a private tour of Berlin and it was a highlight of our time. We learned so much and to be able to visit on our own with transportation really gave us the chance to see it all and learn abou tits history.
Berlin Also offers free Walking tours (which we took and it was great). You can book in advance on Get Your Guide, or show up. Tips are appreciated.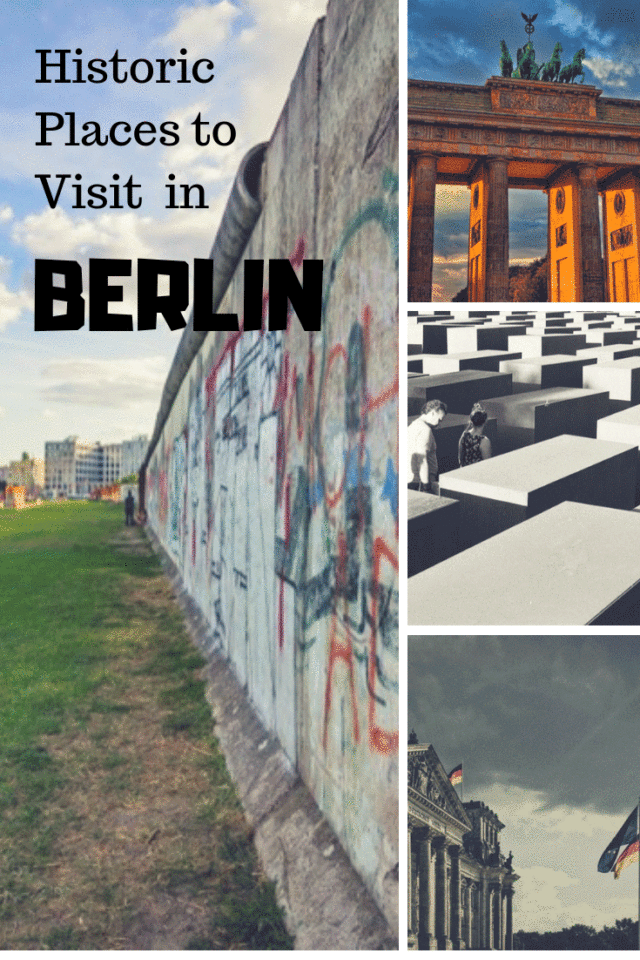 And there you have it, the best places to visit in Berlin to discover its history. Have you been to Berlin? Share your Berling travel tips and advice in the comments below.
Author BIO:
Thomas is an Irish resident of Berlin who loves travel, hiking and the outdoors. As a fan of minimalist backpacking, he writes about minimalist packing list and merino gear at MerinoWoolRocks.com
Read More: