Dave and I tried foraging for our food once. It was a morning spent searching for mushrooms in Spain with Michelin Star Chef, Francesc Rovira.
These mushrooms were going to be used as the main ingredient for our lunch. After a quick lesson of showing us which mushrooms were good, which were poisonous, and which were just plain terrible we spread out with our reference pictures in hand searching for our meal's ingredients in the woods.
Canada's Greatest Explorer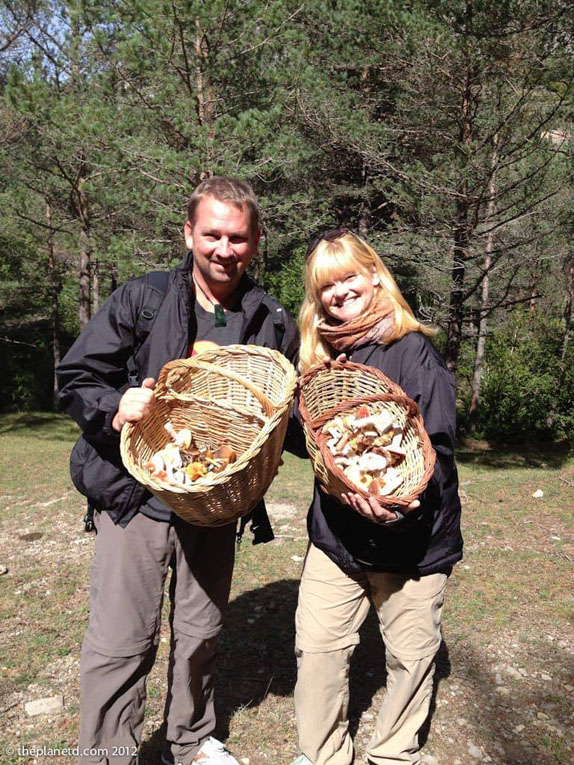 We came back an hour later feeling really good about our haul with a basket full of mushrooms.
But when the chef finished rummaging through our spoils, we ended up with exactly zero edible fungi. Luckily he had back up mushrooms at the restaurant and we ate a delicious gourmet meal anyway.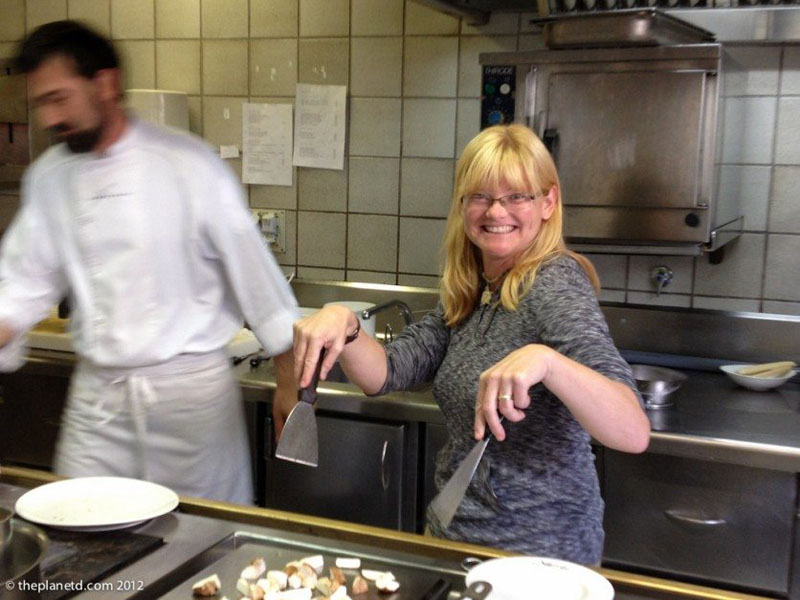 In Search of Canada's Greatest Explorer
If you're following the Woods Canada's Greatest Explorer competition, you'll know that the latest challenge is all about food.
The Quick Fire Cookout challenge, contestants were faced with the task of preparing a full meal in 60 minutes using only foraged items, freshly caught whole fish, and easily transportable camping fare like rice and pasta.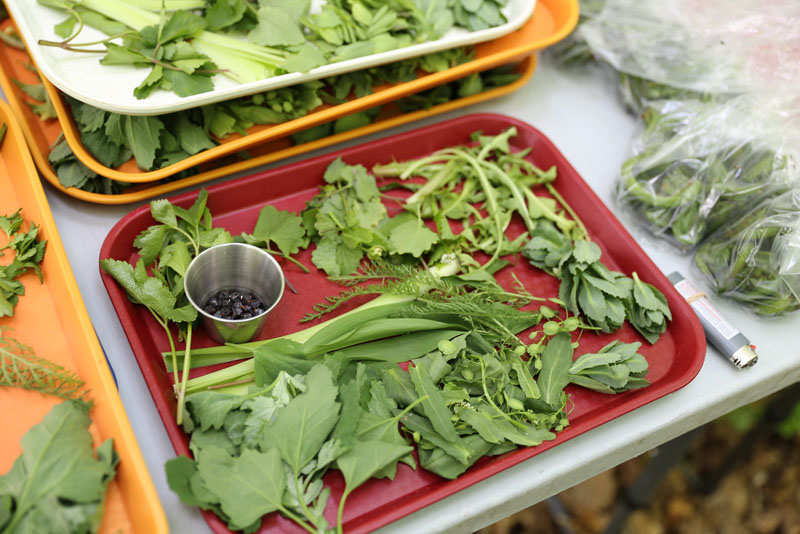 Usually when most people think of backcountry camp food they picture bland rice and soggy beans. But these competitors learnt that wilderness cooking doesn't have to be boring.
It can be delicious. Dave and I have had some of our most memorable best meals ever in the backcountry.
Slate Islands
I'll never forget our guide Jen making gourmet multi-course dinners while paddling around Lake Superior's remote Slate Islands. She told us that all guides at Naturally Superior Adventures go through meticulous training to learn how to cook great food for guests.
The 21st-century adventurer knows that you don't have to suffer from bad food even if you are trekking deep into the wilderness.
When hiking the Pukuaskwa Coastal Trail; one of Canada's toughest coastal routes Dave and I couldn't wait for dinner each night. After pushing our bodies to the limits each day on the demanding terrain we were exhausted.
Burning calories can zap your energy, and it's important to replenish those nutrients. But if the food doesn't taste good, you can sometimes not eat enough. However, when it's a tasty treat, you'll look forward to eating every night.
Woods Canada Greatest Explorer Competition: Campfire Cookout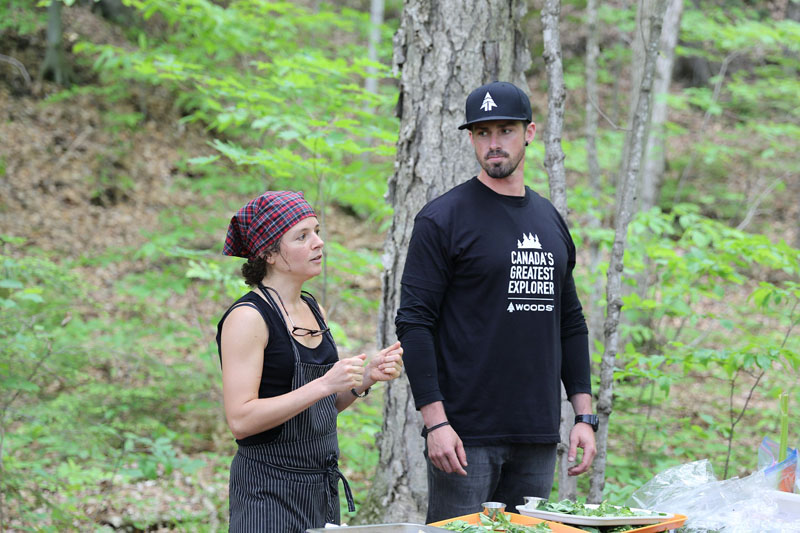 The Woods Canada's, Greatest Explorer competition has been taking place all summer long where 12 highly skilled Canadian outdoor adventurers were put to the test. So far four challenges have already been published and only 6 contestants remain for the remaining challenges.
The Challenge
Cooking experts Chef Nancy Hinton and her partner Francoise Brouillard joined the competitors. They'll lead the charge as they gave two hours of instruction on outdoor cooking techniques and foraging knowledge.
Brouillard is an organic farmer and forager who has 29 years experience and currently supplies Montreal's top restaurants with wild edibles. Something tells me; they'll fare better at their future foraging ventures than Dave and I did.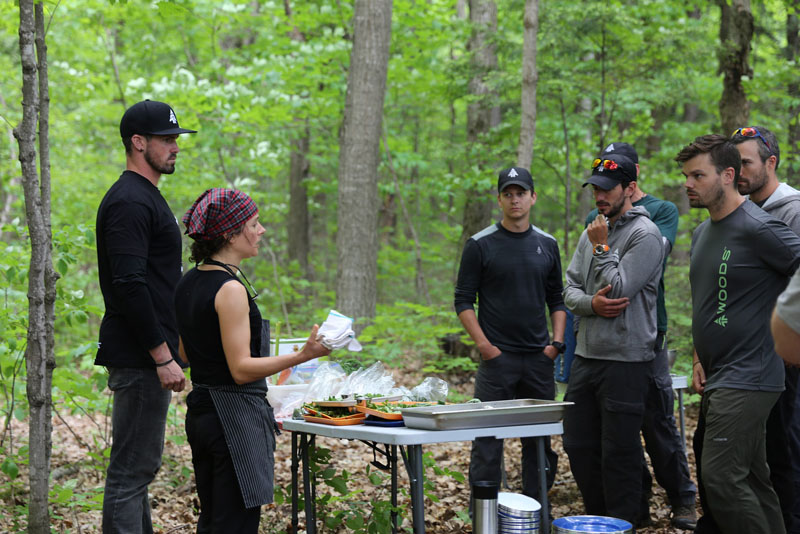 Chef Hinton; winner of the University of Guelph Innovation Award, gave competitors outdoor cooking tips on how to make the most of their ingredients and use of their equipment supplied by Woods Canada.
All meals were cooked on a choice of camp stoves made by Woods Canada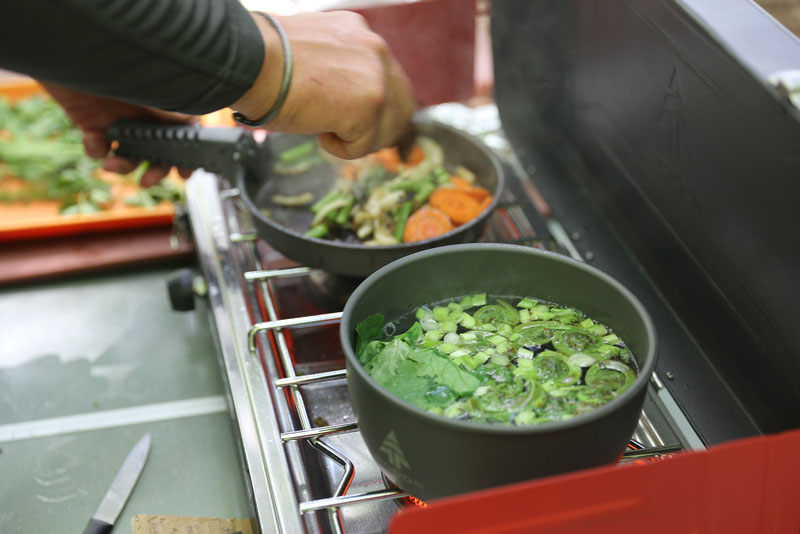 Aside from the foraging, I think Dave and I would have smoked this challenge.
Being Creative
Dave is excellent in the kitchen and I am a champion chopper. Plus, we've had plenty of time perfecting our outdoor cooking skills while camping our way from England to Mongolia.
You'd be surprised what we could do with canned meat and rice we found in the supermarkets of Siberia.
Unlike the rugged backdrop of the Gobi Desert, this challenge took place behind the highly acclaimed restaurant, Les Jardin Saugaves in St Roch de L'Achigan, Quebec.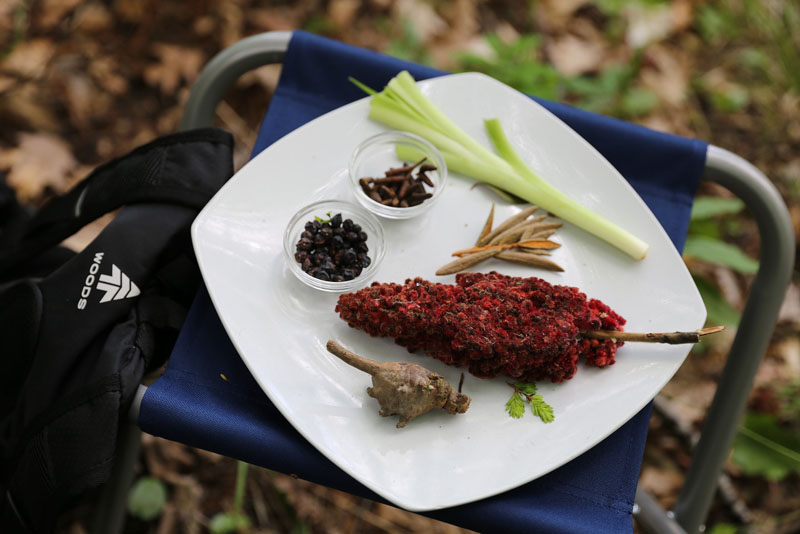 Within the picturesque setting, contestants cooked their outdoor meals in the stick-resistant Woods Nootka Cook Set over the Woods Radiant Heat Stove.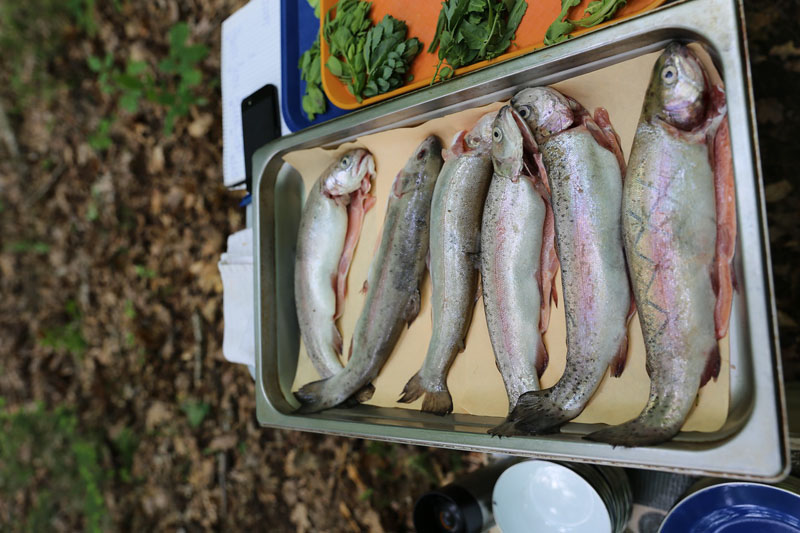 Once time was up, Chef Hinton and Brouillard judged the adventurers on taste, presentation, originality and creativity.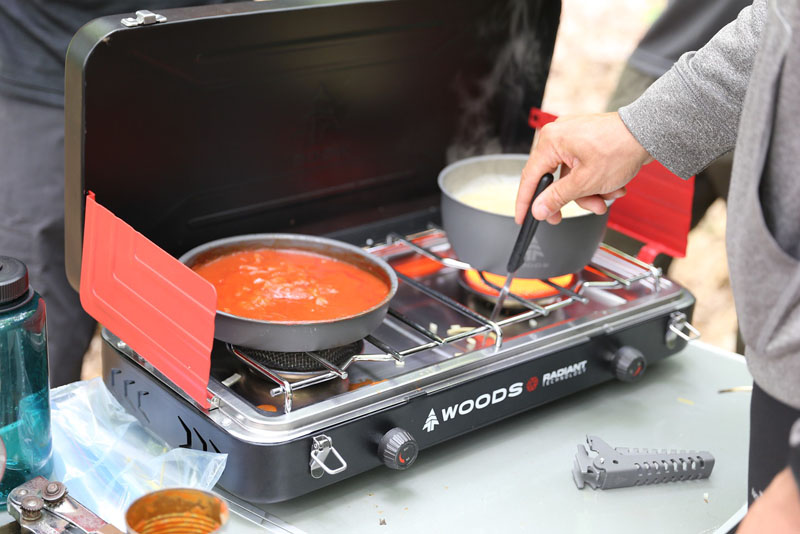 Dave and I have done a lot of extended epic trips from camping down the continent of Africa to traditional winter camping and trekking in the Arctic watershed. We know the importance of a good meal.
Believe me, while camping through Africa the food was terrible and we were miserable.
We may have frozen in the Arctic, but the food was delicious and we went to bed each night with a warm and fuzzy feeling in our stomachs even while sleeping on spruce boughs on a frozen lake.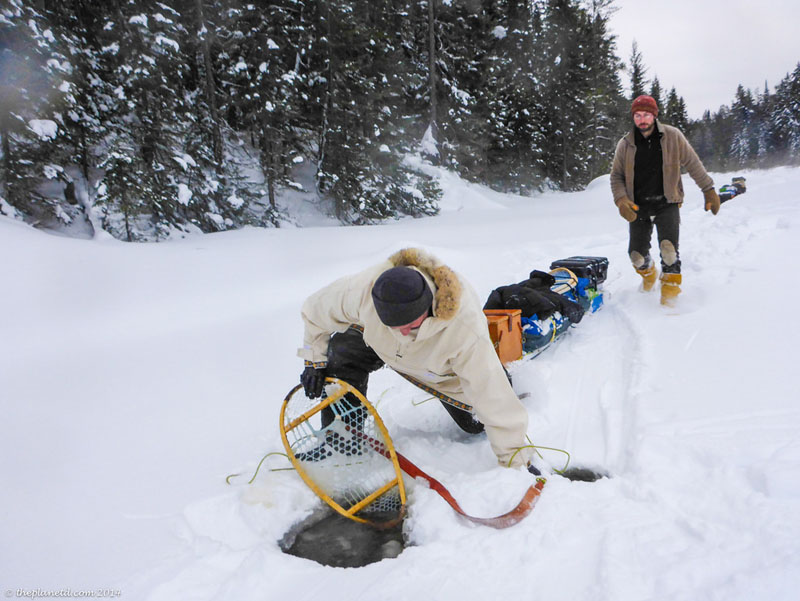 The challenge of backcountry camping is making food nutritious while keeping it delicious. When you're working hard outdoors each day, variety is key to keeping everyone happy.
There's nothing better than completing a challenging hike or climb and settling in at camp to a hearty, mouth-watering meal.
You would be surprised to see what the contestants came up with.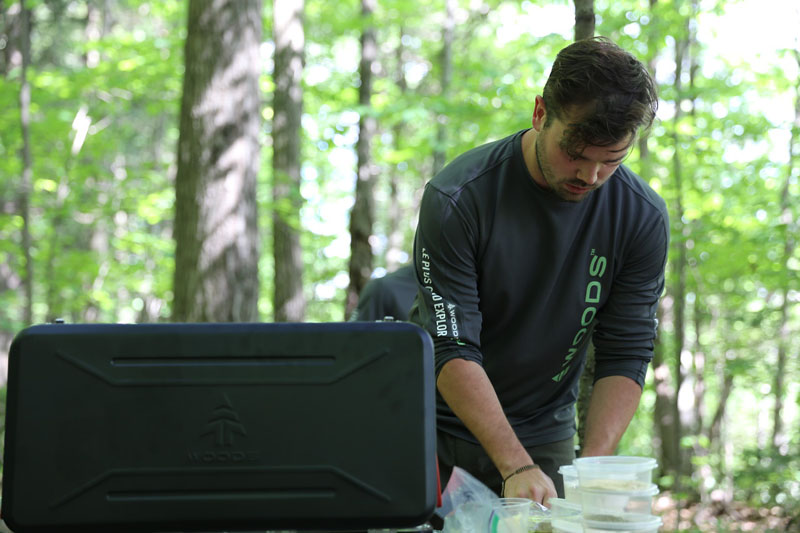 At the end of this challenge, only four contestants move on to the orienteering challenge at the Kootenay Plains Ecological Reserve in the Alberta Rocky Mountains. Things are getting exciting.
Who will be crowned Woods Canada's Greatest Explorer? Go to WoodsExplorer.ca to follow along and cheer on the remaining contestants.
Read More
In Search of Canada's Greatest Adventurer with Woods
The Perfect Getaway on Lake Superior's North Shore
You Might Also Enjoy