Emilia Romagna is a beautiful region of Italy. We never would have known that had we not taken part in Blogville started by Melvin of TravelDudes and Kash of BudgetTraveller. These guys and Nicholas Montemaggi of the Emilia Romagna tourism board decided that it's time the rest of the world sees how beautiful this region of Italy is. So they invited a group of travel bloggers to come and experience it by staying in an apartment in Bologna over the course of 2013. Using it as our home base, we set out for three weeks to different parts of the area to explore all there is to see and do.
Emilia Romagna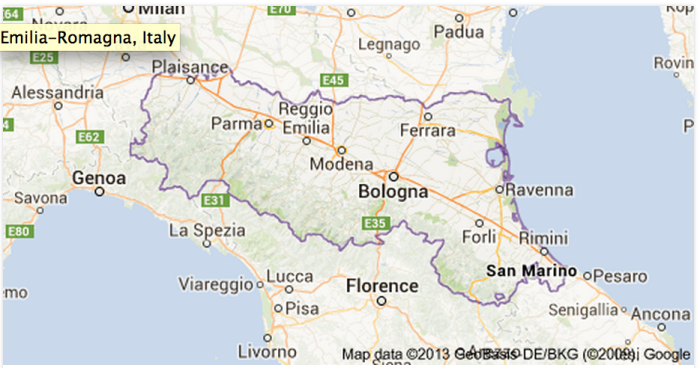 If you are planning a trip to Italy, may we suggest making Bologna your home base. It's a short train ride to anywhere including, one-hour to Florence, two-hours to Venice and two-hours to Rome. Bologna is more reasonable to stay in than the other cities, it's quiet and laid back and it is the gateway to the gorgeous countryside of Emilia Romagna. Don't believe us? Take a journey through everything we did in Emilia Romagna as we share our Instagram photos with all.
The Apennines rival Tuscany. Tuscany is just over those hills, but here in the Apennines you have crowd free beauty where the locals are so happy to see you, that if you walk by a fruit stand, the owner will ask your name and send you on your way with fresh peaches and strawberries for free!
Everyone flocks to the Leaning Tower of Pisa, but Bologna has the tallest leaning tower in all of Italy. Here you won't have to deal with crowds and the view of Bologna is outstanding showing off the ancient city.
We took the train from Bologna to Pisa to compare the two towers. The Pisa tower is the more famous of the two, but we're partial to the view of Bologna. What do you think? Either way, it's awesome to be able to see both and a big thanks to Walks of Italy for taking us on their wicked tour of Pisa.
Rimini is one of those towns where we could live. There aren't many cities that we've visited that we've said "I could live here" but Rimini is one that made us say that phrase. It's so beautiful, that Felini made Rimini his home.
Just a short drive from Emilia Romagna, is a tiny country that I'll bet you didn't even know existed! It's only 61 km2 (24 sq mi) big with a population of about 30,000 people. But what makes San Marino so incredible is the view. Our entire party agreed that it was probably the best view we've ever seen from a city overlooking the mountains of Italy.
Ferrara is a city not to be missed when visiting Emilia Romagna. This Unesco World Heritage site is known for its Renaissance architecture and commanding castle. They're so proud of the Renaissance history, that each year they have a giant festival.
Bologna makes for a beautiful home base not only because it is so central to everything, but because it is a gorgeous city. It even has a canal system once as large as Venice. This is one of those canals sans water.
Maranello may be home to the Ferrari manufacturer but it is also known for its wine, parmesan cheese and traditional balsamic vinegar. It's a town that everyone should spend a few days in.
Bologna is known for it's famous Porticos. It has 40 km of covered walkways. These were facades built to house students flocking to the university – the oldest in the Western World. The city didn't have a lot of extra space, so they built out into the streets. They needed to leave room for horses and buggies to pass, so the portico design was born. We love the fact that you can walk through the streets regardless of weather. The porticos keep you dry in the rain and cool in the hot sun.
Comacchio is known as Little Venice and the name fits. There are beautiful canals through this fishing village known for its eel and anchovy fishing industry. Make sure to stroll through the streets and cross its many bridges. It's a stop to remember.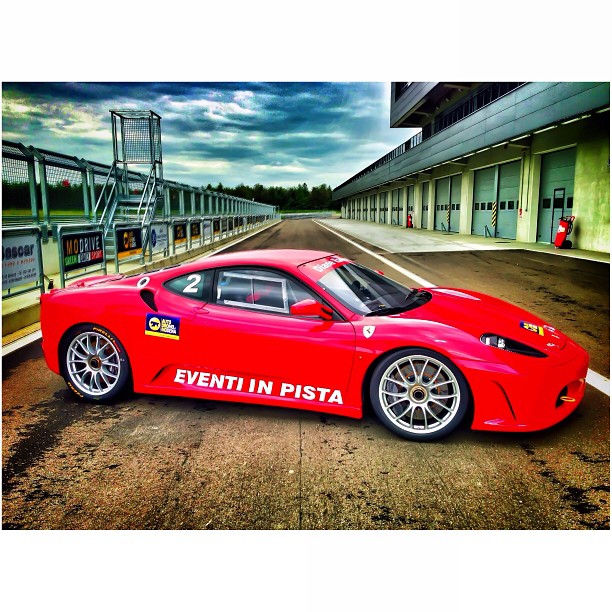 Emilia Romagna is known as the land of motors and it is here that you can experience everything Ferrari, Lamborghini and Ducati. A highlight for us was taking a racing Ferrari out on the track.
Another was getting the chance to see a lot of Lamborghinis. From visiting two different Lamborghini museums including the private collection of Enzo Lamborghini and the opportunity to see over 300 classic lamborghinis in the square of Bologna during the 50 anniversary of the manufacturer.
Bologna is known for its fine cuisine and it is here that you'll be able to eat traditional Parmigiano-Reggiano until your hearts content. Drizzle some balsamic vinegar over this decadent cheese and you'll instantly be in heaven. Oh how we miss Parmigiano-Reggiano.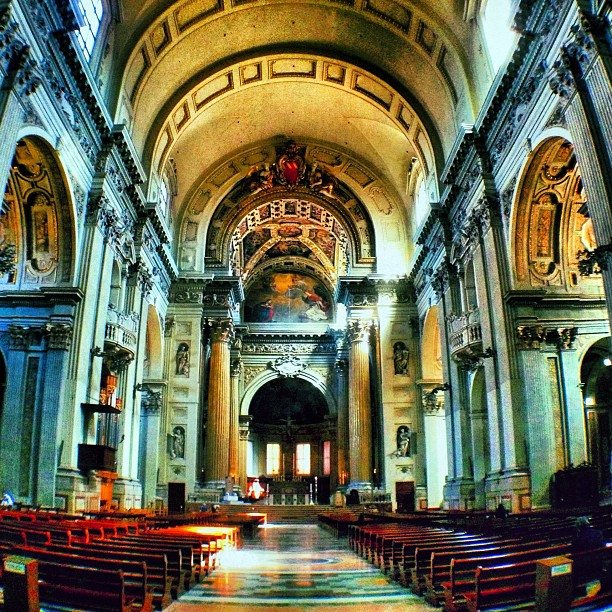 It's impossible to go to Italy without seeing a church and in Emilia Romagna you'll be able to explore many churches like this one, Bologna's main church on the main street of the city.
Take time to hike through the countryside. Emilia Romagna has rolling farmland, rich forests, is filled with vineyards and olive groves and the Apennine Mountain range. The Apennines cut through the centre of Italy and offer incredible hiking opportunities.
You must eat gelato when in Emilia Romagna. It's best if you have it two to three times a day. We've been told that gelato is good for you and can replace a light lunch. That's all we needed to hear.
Like Instagram? Follow us on Instagram for more photos from our travels around the world.
For more about our time in Emilia Romagna check out these posts:
For more information on travel to Emilia Romagna, visit
Emilia Romagna Tourism – For more information on this are of Italyz
Blogville Emilia Romagna – Follow Travel Bloggers through 2013 as they explore the Emilia Romagna Region of Italy.
This is a Blog Ville campaign, created and managed by iambassador in partnership with the Emilia-Romagna tourism board,