Have you ever faced the never ending crowds in Tuscany?
Have you ever hiked along the Cinque Terre to witness the beautiful scenery but have the experience dampened due to the throngs of sightseers?
Have you ever felt like just another tourist that nobody cares about while visiting Italy?
If you visit the Apennines in Emilia Romagna you won't have to worry about any of this.
The Italian Apennines
Emilia Romagna is one of those places where the locals are still happy to talk to foreigners.
Where you'll still experience excellent service and where you can witness some of the most beautiful scenery on earth without having to share it with thousands of others.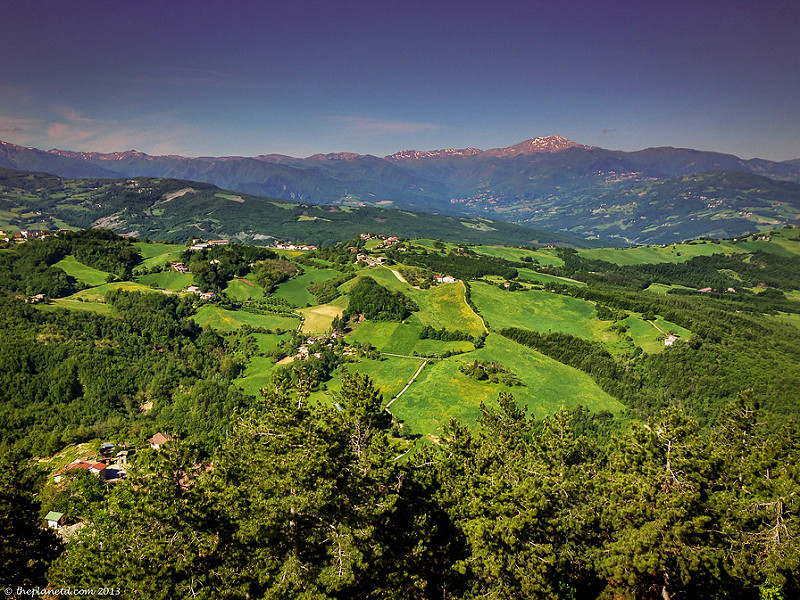 Italian Hospitality in the Appenines
I will admit though, before staying in the region, I didn't know anything about it. I was like the rest of the world.
I'd visited the usuals like Venice and Florence and Rome and didn't really look beyond the tourist traps.
Lucky for us, we work in travel and have the opportunity to let people educated us.
Thanks to Blogville, we had the chance to stay in Bologna for three weeks and step out to enjoy beautiful ER.
Montese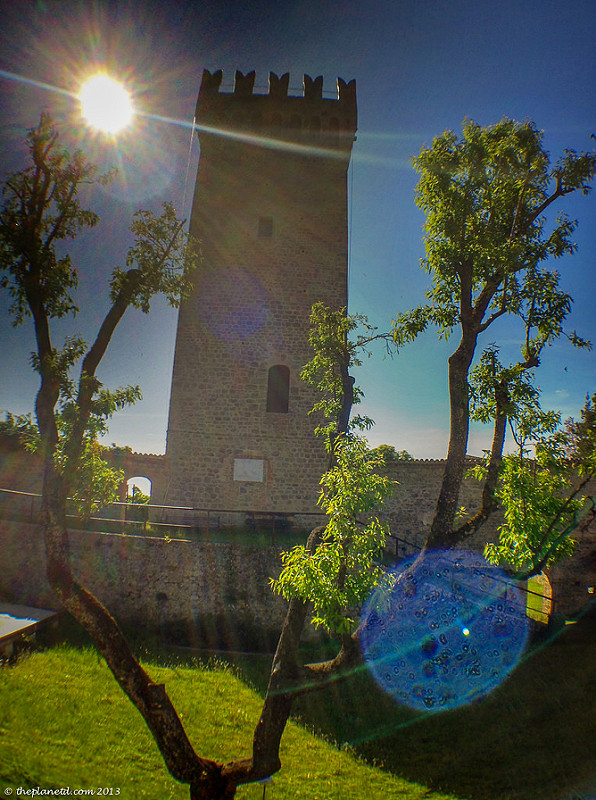 Our favourite location in all of Emilia Romagna was the Apennine Mountains.
We caught the train from Bologna to Vignola where we transfered to the quiet town of Montese in the Apennines.
This small town was actually a key location during World War II as it was a location for one of the final battles in Italy.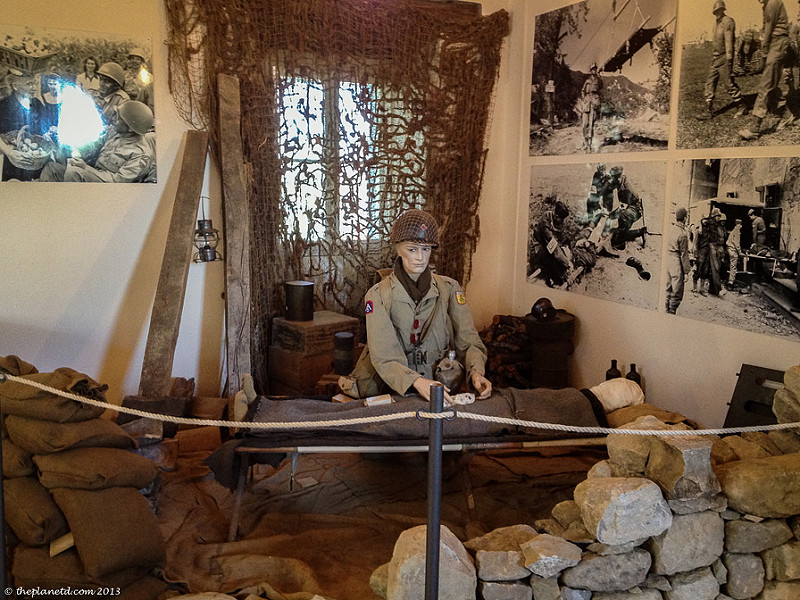 The Village dates back to 600 BC and is located along the route of the Roman Road.
You can still walk on this ancient trail today and that is exactly what we were here to do. Hike in the Apennines.
In typical Italian fashion, our trek didn't start until we had a feast the night before.
We met Riccardo, the owner of Trekking Italy and his family for dinner at the wonderful Belvedere Hotel.
Now, I know that everyone says that Bologna, the capital of Emilia Romagna has the finest cuisine in Italy, however, The Belvedere Hotel had the best meal we had during our entire stay in the region.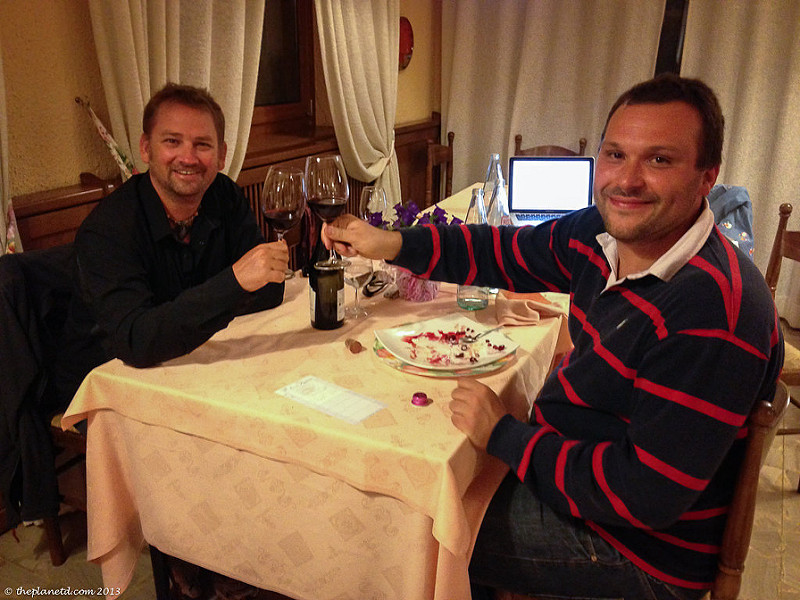 I cannot tell you how flavourful and delicious this meal was.
We had Truffel Pasta, Grilled Vegetables, stuffed Tortoloni and Balsamic infused Chicken.
Since we were hiking the next day, we thought that we should lay off the wine, but also in typical Italian fashion, they wouldn't hear of it.
When we ordered sparkling water with no wine, the hotel owner gave us a stern look and said, no.
You must have wine! She was the typical Italian mama who knew what was best for us, so we dutifully listened and ordered a bottle Lambrusco. (sparkling red wine of the region.)
Hiking Apennines
I'm halfway through the article and I haven't even mentioned the hiking yet! That's the way it goes in Italy, nothing is rushed and food comes first.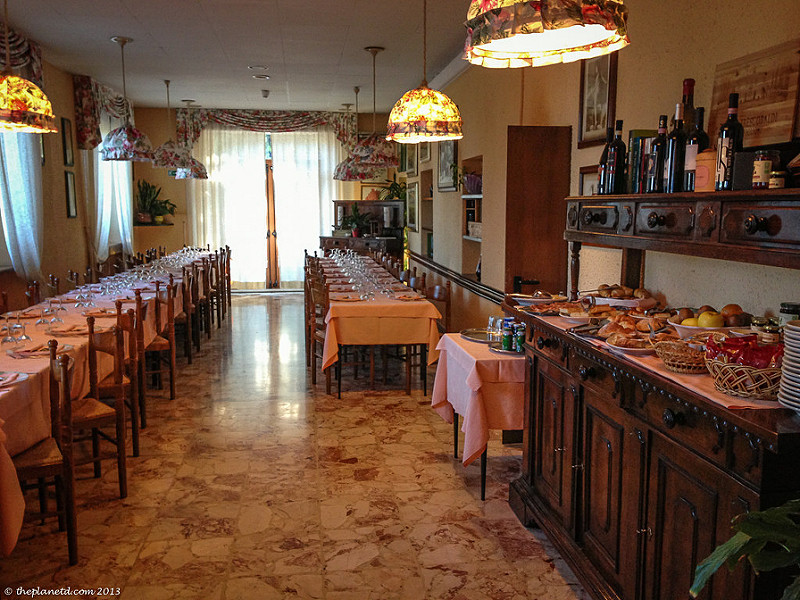 So after a hearty buffet breakfast at the hotel, we set out for our hike. Our guide Stefano met us at the hotel and we became fast friends.
What we love about hiking with a guide is how quickly you bond. Y
ou are out in nature without a care in the world for hours on end with nothing to do but talk and enjoy.
It's an amazing way to make new friends.
We talked about everything from politics to history and travel to cruises. Stefano is a well-traveled guy and he spent years living and working in the States before returning home to his family.
The bond of family is great in Italy.
Today was all about taking our time and enjoying the scenery as we hiked along the Percorso Belvedere track.
One thing about hiking in the Apennines is that there are a lot of short and steep hills.
They may look beautiful and rolling from a distance, but be prepared for a lot of up and down.
No need to worry though, there is no reason to rush and all the time in the world to soak up the view.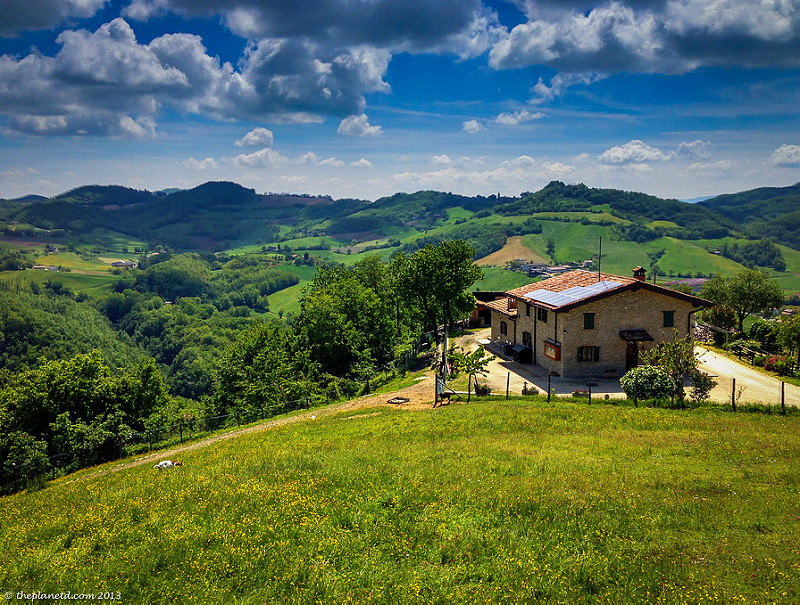 This part of the world used to be known for its chestnuts. Before the war, people used to gather chestnuts to make bread out of them.
It was their staple food.
During the war, the forests were cut down, but now they are back and thriving and the countryside is all lush and green and full of life.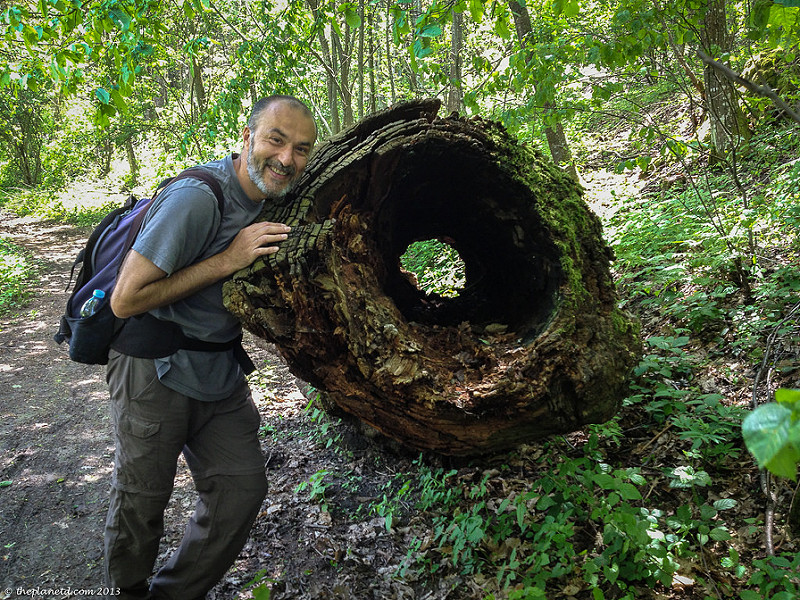 We hiked for hours through forests and fields as Stefano told us about the history of the area.
We passed cows and donkeys and cottages and it felt like we were in the middle of a postcard setting. We hiked well into the afternoon and never saw another soul.
There are so many tracks to choose from, that even at the busiest times, you will be hard pressed to see anyone else on the trail.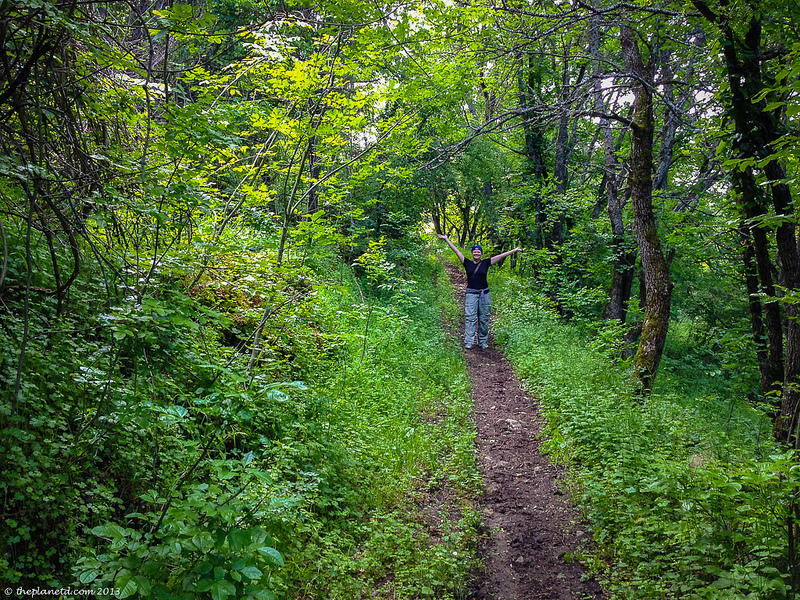 These trails used to be the only way that villages were connected.
People have hiked these tracks of the Apennines for centuries today they are now used for hikers on weekend getaways.
Stefano tells us that it is mostly locals who hike here, they don't get a lot of foreign tourists in these parts, but they are working on creating an infrastructure that will entice more tourists to the area.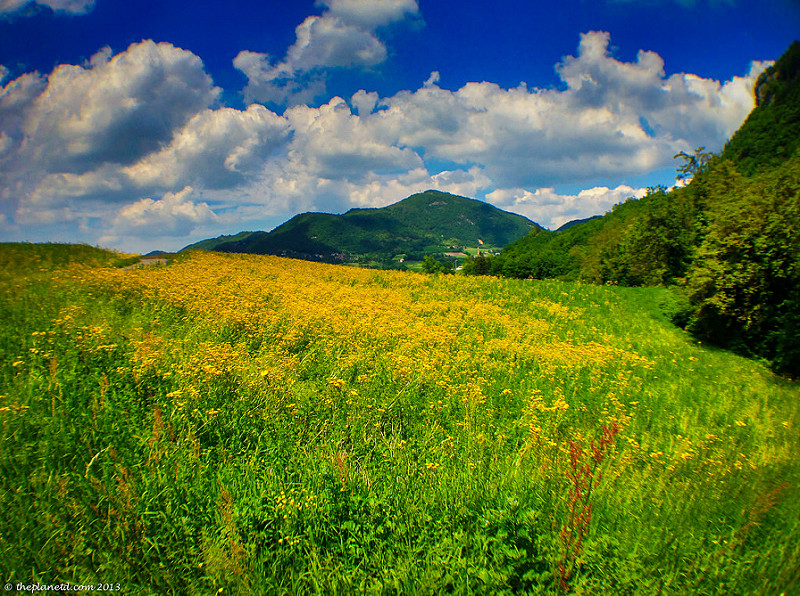 At the moment, you can make your way out to Montese and start hiking on your own following the tracks signs and a map, or you can book hikes with Trekking Italy.
Their hikes range from one to seven-day trips.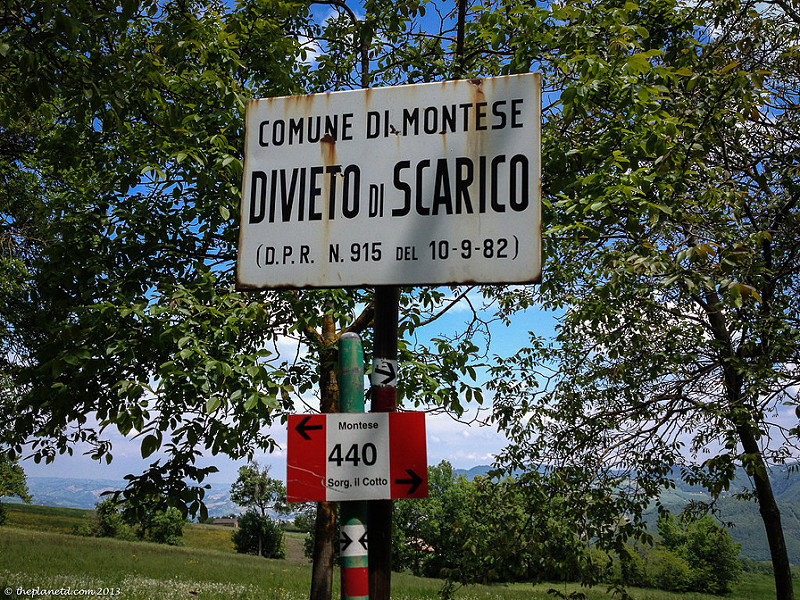 Trekking through the Apennines isn't only about hiking though.
There is a rich history and culture to the area and you can stop to see the Montese Tower, taste balsamic vinegar, visit a Parmesan factory or stop to meet a local family.
Life remains unchanged in the Apennine Mountains and many people are living as they have for decades.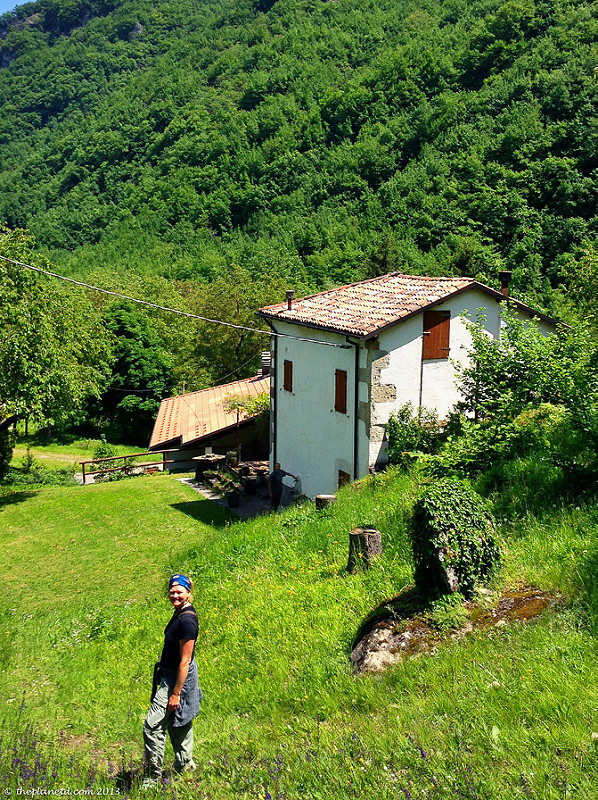 It's in places like this where families make their own wine at their own vineyards, grow their own olives and age their own balsamic.
Ah, life is good. Why did we have to change our lifestyle so much in the 20th century?
Wouldn't you just love to be surrounded by family while living in a beautiful region, sipping wine and eating fine parmesan drizzled in aged balsamic vinegar.
Excuse me while I go and dream of the Apennines.
For more on our experiences from Emilia Romagna
Traditional Balsamic Vinegar Tasting and Making
For more information on hiking in the Apennines, visit Trekking Italy
For hotels in Montesa visit Hotel Belvedere
Trains from Bologna to Vignola are one hour and cost about 6 Euro booking can be made at Trenitalia.com

This is a Blog Ville campaign, created and managed by iambassador in partnership with the Emilia-Romagna tourism board, ThePlanetD maintains full control over what we choose to write.
---
Read More
The Tower of Pisa – It Really is Leaning
Tuscany Dreams – A Luxury Tuscan Villa Escape
Top 10 Most Beautiful Things to do in Florence