When we found ourselves in Italy after four months of intense travel we were ready to relax. But how can one relax when they're visiting one of the most beautiful regions in Italy? There's so much to see and do, you want to be out every day! So, we went took the train to Spa Rimini.
Spa Rimini
And not just any spa, a spa that sits on the Adriatic Sea. A spa on a beautiful beach, a spa where were could turn off our brains, soak in the soothing atmosphere and finish off with the most luxurious massage we've ever had. (and we've had a lot) We went to the Riminiterme Spa in the coastal town of Rimini, Italy.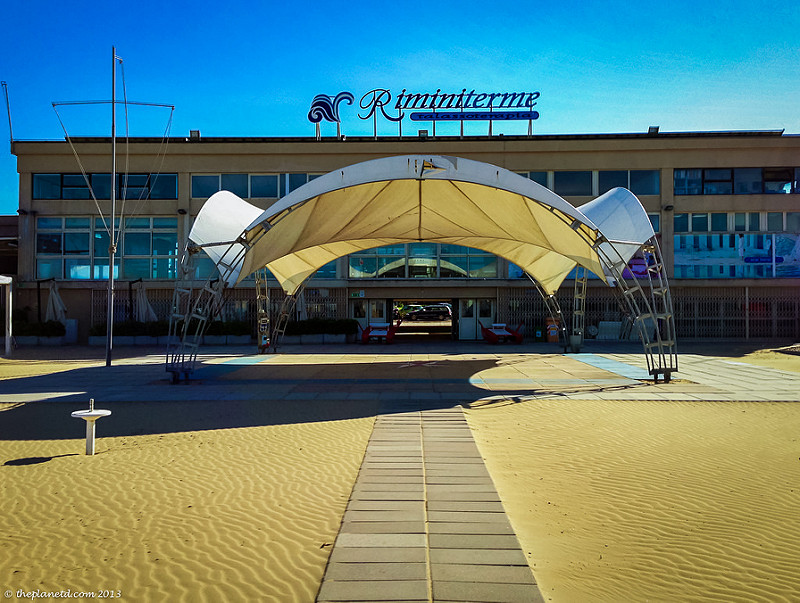 The Riminiterme spa is possibly the best spa we've ever been to, but we didn't feel that way at first. While walking up from the bus stop, it didn't look like much. The building looks like it was built in the 70's and we had a feeling it had seen better days. Even when we went inside we weren't sure what to expect. You see, Rimineterme is also a community centre and the lobby feels more like a public pool than a luxurious spa.
We love visiting Spas. See how we liked the Iceland Blue Lagoon
We went up to the reception, gave our names and were promptly sent to the doctors office. I thought they'd be asking us about our aches and pains since we had a massage booked later in the day, but it was actually to check out blood pressure. We were about to enter a lot of hot rooms and hot water, and they needed to make sure that our system could take it. That's pretty cool. They care, they really care.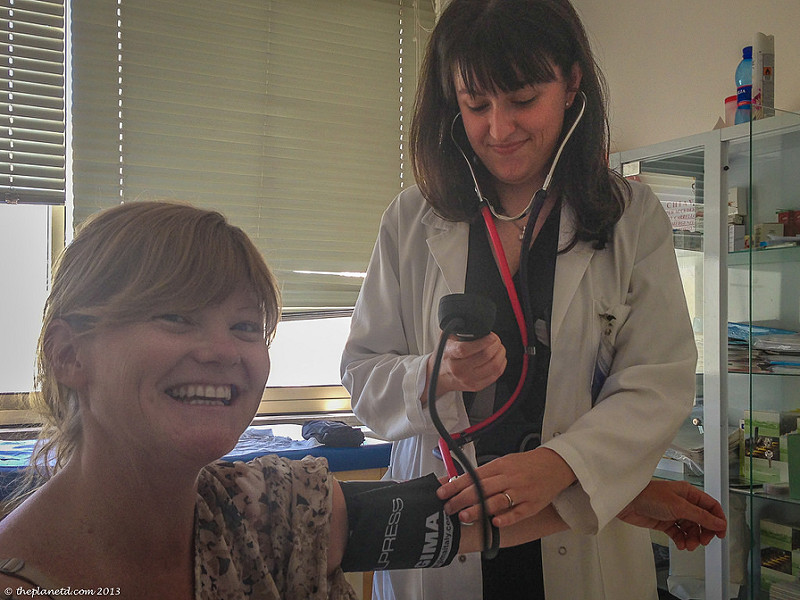 Once we had all our paperwork done, we were brought downstairs to serenity and beauty. Riminiterme Spa is completely different from the rest of the building. It's exactly what you'd want in a spa – luxury, privacy, a million dollar view and beauty. We had the entire afternoon booked at Rimini and we had no intentions of leaving one second before we were finished.
The Spa Experience
We changed into our bathing suits, had a quick shower and immediately set off to enjoy peace and quiet for a few hours. I mentioned a million dollar view above, and it was difficult to pull our eyes away from the windows.
The spa is built over looking the Adriatic Sea and  a giant sandy beach that stretches for miles and miles. Kitesurfers were taking advantage of the afternoon wind and a few sunbathers were braving the early summer sin soaking up a few rays.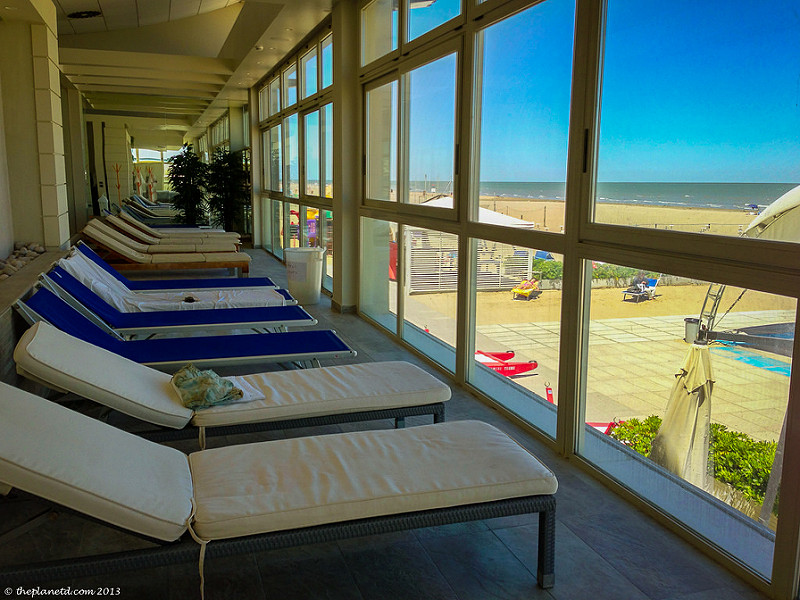 We laid on a lounge to take in the scene for a few minutes, but temptation gave in and the jacuzzi was calling. We had a couple of hours before our massage, so we decided to do 20 minute rotations in every therapy room. We started in the jacuzzi to lay back, relax and get our minds in 'turn off' mode. We barely spoke, but we felt so connected.
It was then off to the sauna. 20 minutes of pure bliss. It was a wet sauna so we kept pouring water over the rocks to build up the steam until it was unbearable. 'Just hold on for a few more minutes,' we  told ourselves as we took deep breaths to eventually relax in the heat.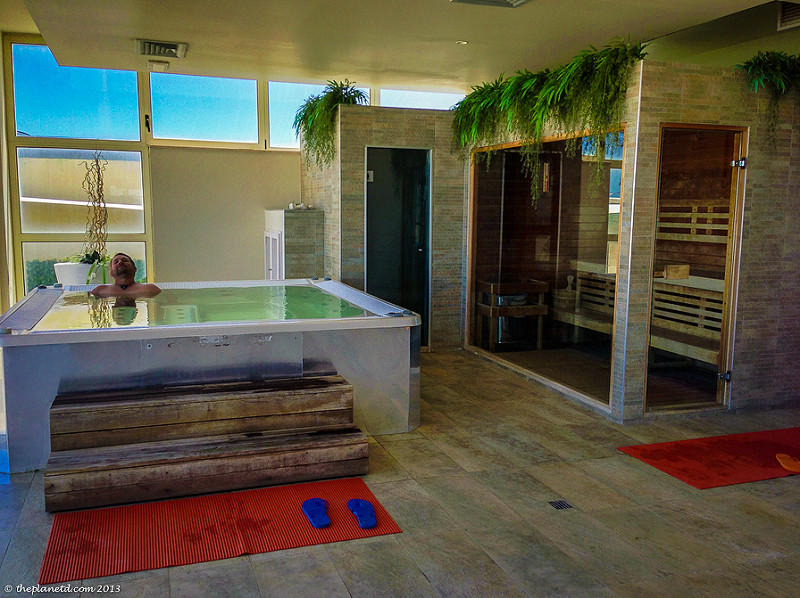 After a while, we couldn't bare it anymore, so out we came for a quick rinse in the shower and another soak in the hot tub. We couldn't get enough of the hot tub. The tub also looks out over the sea and if you want a view to help you stop thinking about work, this is the view for you.
It was then off to the Turkish Bath. A Turkish Bath in Turkey is an entire experience of being bathed, being sent to a steam room, getting a public massage on a marble slab, getting scrubbed and hosed off, followed by another steam room. This Turkish bath was simply a steam room.
It was a nice steam room though and once again, we worked at staying inside for 20 minutes. At first it's difficult to sit in a scorching hot steam room, but after a few deep breaths, a close of the eyes and a little mind over matter, it feels great.
Feeling completely drained and ready to sleep, we left the steam room, had another cool shower and went back to the hot tub – do you see a pattern here? We love the jacuzzi.
Salt Cave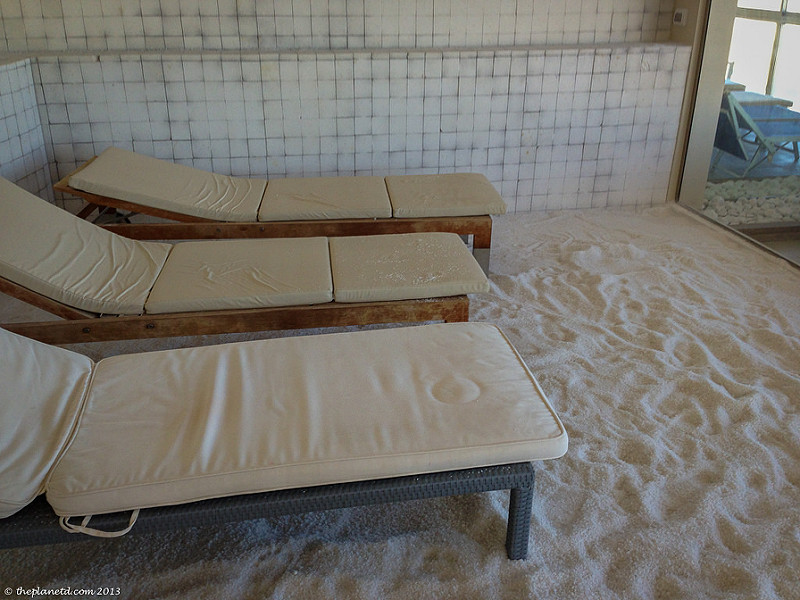 So what does one do when they feel exhausted from all that heat? They go and sit in the salt cave. A salt cave is a room made of salt. There is salt on the walls, salt on the floor and even the air has a salty consistency. Salt caves are believed to rejuvenate a person because of the negative ions of the salt. They are known to relieve congestion, allergies and asthma.
It also boosts immunity, the respiratory system and improves the condition of teh skin. We've been told that a half hour in a salt cave is equivalent to the cleansing effect of a three day fast.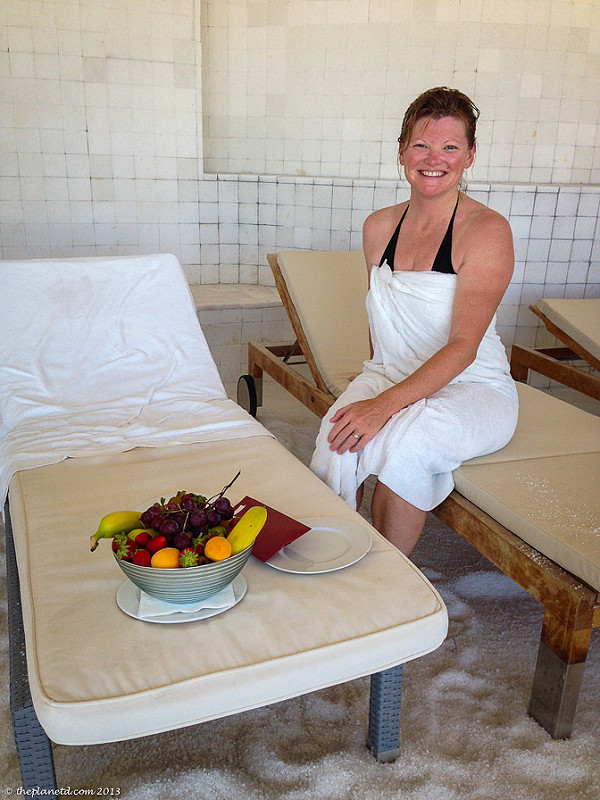 We've been in a salt cave before and what we loved about this one was that it was warm, the last salt room we were in we needed to use a blanket to keep warm, this one had heated floors and was comfortable to sit in. Oh yes, we could easily spend a half hour in this salt room. The staff brought us a delicious plate of fruit and as we sat together munching on our mix of treats, we said to ourselves, 'life is good.'
But it wasn't over yet.
It was time for our massage. 90 minutes of pure bliss.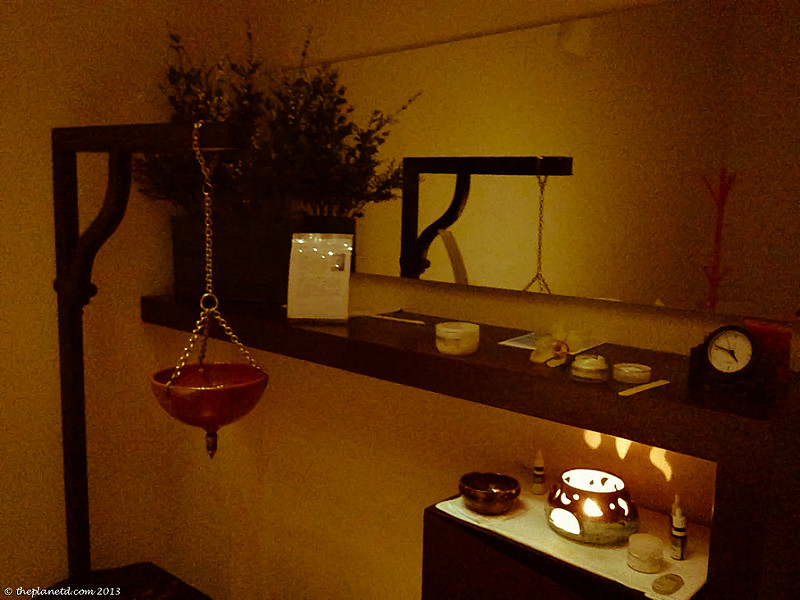 We had an Ayurvedic massage. It was better than what we had in India! Hot oils, chillaxin' music and repetitive strokes put me into a trance. I thoroughly enjoyed this massage and didn't want it to end. I could feel any lingering stress drain away. We had a full facial too. Even Dave loved wearing a mask and having cucumbers put on his eye lids.
Everyone should go to a spa
After our spa treatment we went for a walk on the beach and couldn't believe how long the sandy coast is of Rimini. We were a fair bit from downtown, but the beach continued on forever. I can understand why this was such a popular spot for decades for German tourists. As we walked through the town of Rimini, we said to ourselves.. "Yep, I could live here."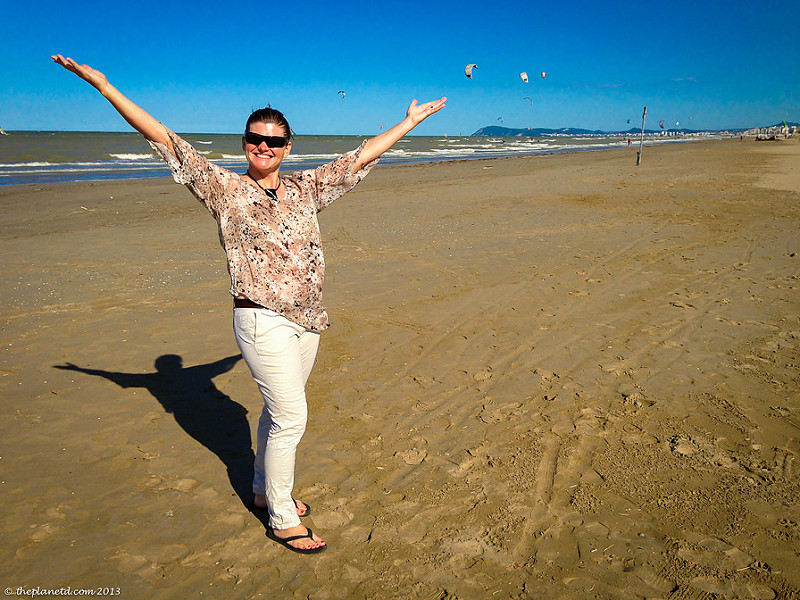 The Details
How to get to Riminiterme Spa
Rimini is 1 hour by train from Bologna, Italy and costs 9 Euro one way.
From the Rimini train station go to the bus stop to a little stand that sells the bus tickets.
€2 for bus ticket to Riminiterme on Bus Number 11 – Every six minutes.
The bus stop number of the Rimini Spa is the n°34, but you can ask th driver.
Massages start at €18 Euro for 15 minutes
Day spas start at €35 Euro – Includes all of the above, plus salt water pool, use of beach and more.
For more information on Riminiterme spa visit their website here. 
We went to Rimini while working with the Emilia Romagna Tourism Board in Bologna. Bologna is a central location to base yourself as you take day trips to other regions of the Province or Italy.  Follow the Fun on Twitter at #Blogville
This is a Blog Ville campaign, created and managed by iambassador in partnership with the Emilia-Romagna tourism board.
---
Read More
Apartment Rentals vs Hotel Stay in Venice
Tuscany Dreams – A Luxury Tuscan Villa Escape