We were told we were going bird watching in the Pyrenees during our tour through the region of Catalunya, Spain. We had seen a lot of birds over the past couple of months and were starting to think of ourselves as birding experts. Could the vultures of Catalunya be as impressive as the vultures hanging on cliffs in Croatia or the sea birds of the Galapagos and Antarctica?
You bet they can!
We arrived at the top of a mountain in the Spanish Pyrenees expecting to have a liesurely stroll through the woods while we spied different species of rare birds. Imagine our surprise when we came out to a cliff and discovered hundreds of vultures circling overhead.
The smell was overwhelming as we approached the edge of the cliff. The stench of rotting animal meat was thick in the air and I choked back each breath as I tried to snap the perfect photograph.
There was no couples adventure for us today, Dave was on his own excursion, paragliding over poppy fields so it was up to me to capture the perfect bird photograph. I had big shoes to fill.
We were all impressed enough with the amount of birds overhead, but the real show was just about to begin. We were here to witness a feeding!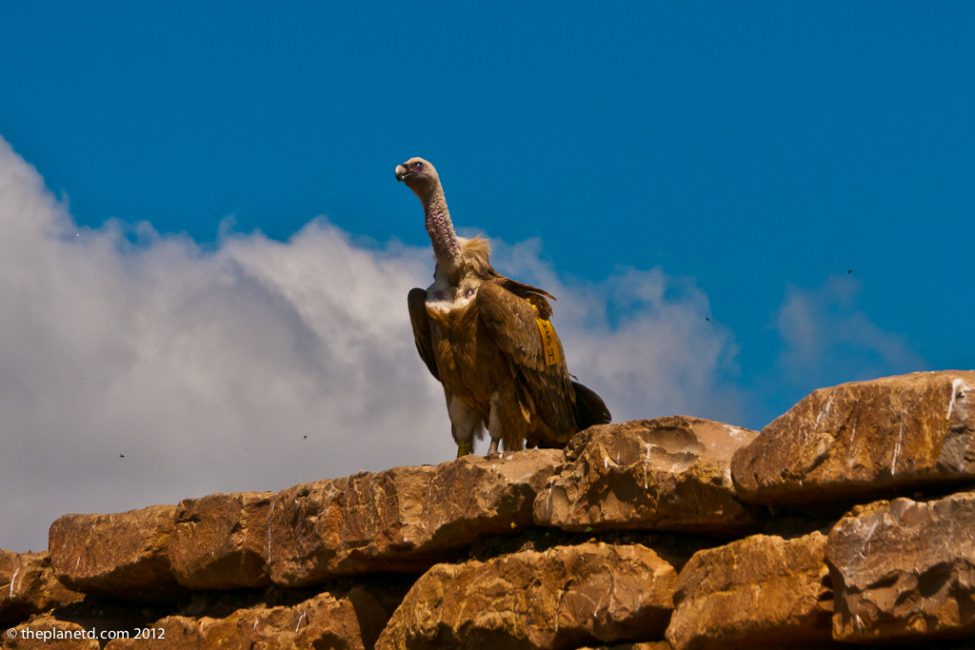 This land is a sanctuary for the vulture and we were visiting one of their feeding stations. The black and Egyptian vultures are a threatened species and projects like this are need to help preserve their numbers.
Photo Logistics
It is companies like Photo Logistics that help to fund the conservation efforts of the Catalonia conservation project by allowing photographers to book wildlife photography trips into the hides to capture photos of the birds in their natural habitat. By collaborating with the conservation projects, they run tours and donate a portion of their proceeds to help the conservation effort.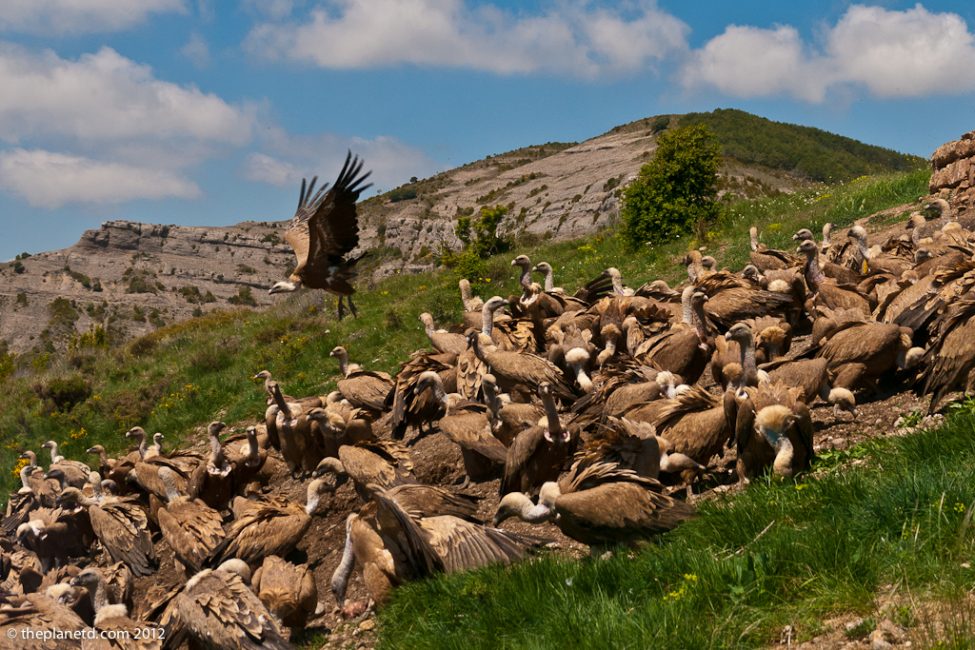 Our guide herded us quickly into a hide so we could get a better view of he feeding while not disturbing the birds. They were about to feed the vultures and in a few minutes, hundreds would be swooping down to peck at the goat and sheep flesh laid out for their lunch time feast.
At first things were quiet.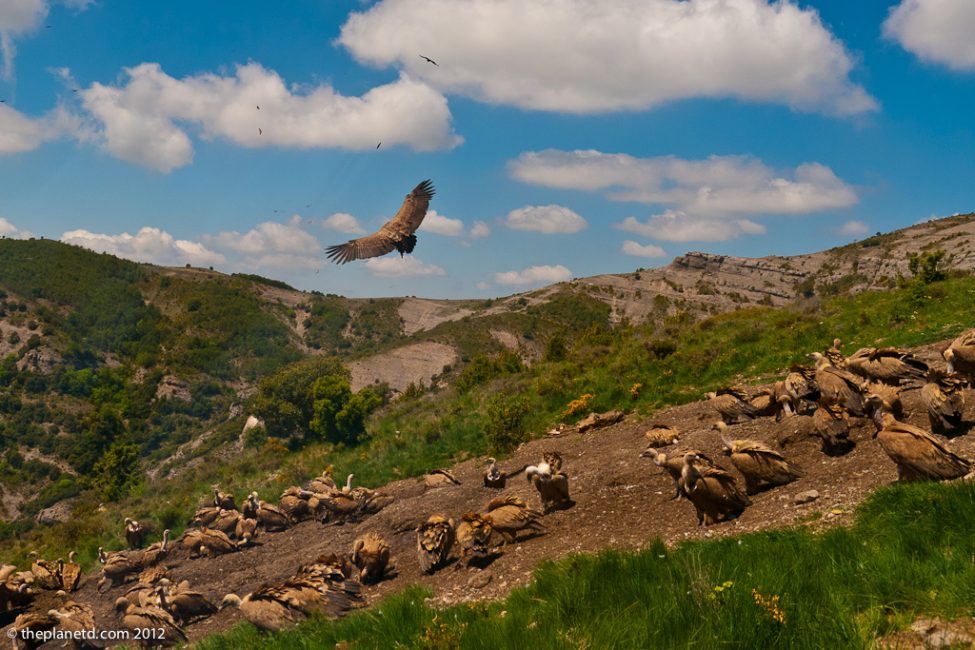 I assumed that as soon as the food was put out, the birds would swoop down, but instead they took their time. It didn't take long for the birds to devour the entire meal. We all thought that birds would swoop down one at a time, or in small groups, I was caught off guard when suddenly all at once, the pack of vultures landed together in one brisk move. It was overwhelming. There were so many of them and yet everything happened in an orderly fashion.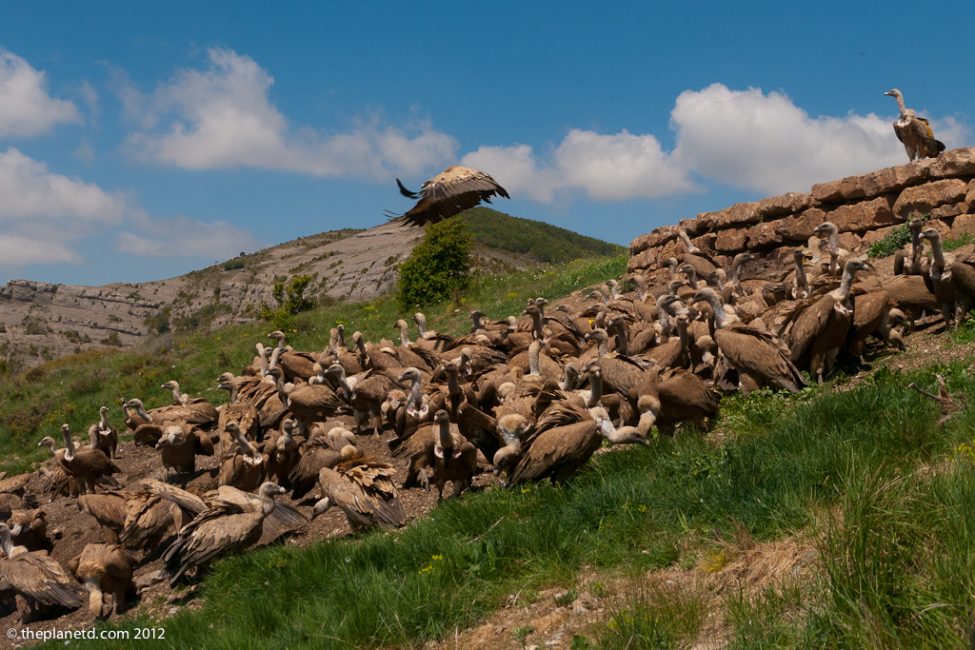 No birds seemed to fight over food or miss out on eating. They fed in harmony. Some birds watched the action from above while others kept on scavenging until every last piece was eaten.
Now that we watched the birds eat, it was time for us to move on to our lunch too! In Spain, lunch is a several hour ordeal and we were about to enjoy a treat at a 12th century Winery. But that is another story…
Looking for exciting vacation ideas? Book your own wildlife photography tour with Photo Logistics in Spain.