They are the goodwill ambassador of China and official image of the Beijing Olympics. When visiting the Panda Research Center in Chengdu, all we could think of was how cute they are. 
Giant Panda Research Center
When thinking of China it is almost impossible not to picture the Giant Panda.
It was another early morning in the city of Chengdu.
We were going to the Giant Panda Research Center and we had to beat the crowds.
Sundays in China
Sundays are a Family Holidays and it seems as if everyone in China is out enjoying the sites.
With a dense population, you can be sure that the crowds would be thick.
Informative Guides
Lucky for us, we have smart guides on our Intrepid Travel Grand China Tour.
We like to comment that we get the cream of the crop, the best of the best when it comes to local guides. And it's true.
We have hired many a guide in our 10 years of traveling and we know a good one from a bad one.
The guides we have been getting in China are definitely at the top of their game.
About the Panda Research Center
We arrived at the Giant Panda Research Center at 8 am sharp in time for the opening.
Being China, we were expecting the pandas to be in small enclosures on display for tourists to snap their many shots.
But like everything in China so far, we were proven wrong.
The conditions were the exact opposite.
These pandas were in wide open spaces enjoying the good life.
We walked along a wide pedestrian path and looked out into giant grassy enclosures filled with live bamboo for the pandas to munch on.
Our first panda spotting was a mature panda sleeping soundly while curled up in a giant ball.  He looked like a fuzzy stuffed toy.
Pandas Living Happy Life
Started in 1987, the Giant Panda Research Base originally only had 6 pandas in the compound.
It has grown to over 90 of the cuddly black and white cuties with 6 new pandas born this year!
A Tour of the Panda Research Center
We started our walk in the mature adult section.
It was early morning and pandas are lazy animals so they were mostly sleeping in balls on their high wooden platforms.
Pandas like sleeping in trees, so the platforms mimic the height of the tree.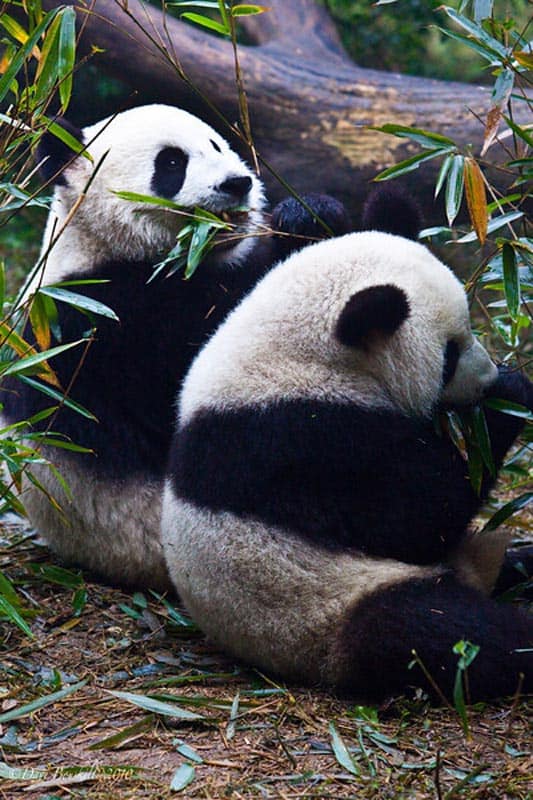 As we walked along we saw more pandas that were more awake and munching on bamboo.
Pandas don't move much and they spend most of the day eating.  Up to 40 kilos of bamboo for each bear.
The Panda has an interesting history.
Most species only have a lifespan on 3 million years.
The panda has already been around for 5 million years and has certainly outlived its expected lifespan.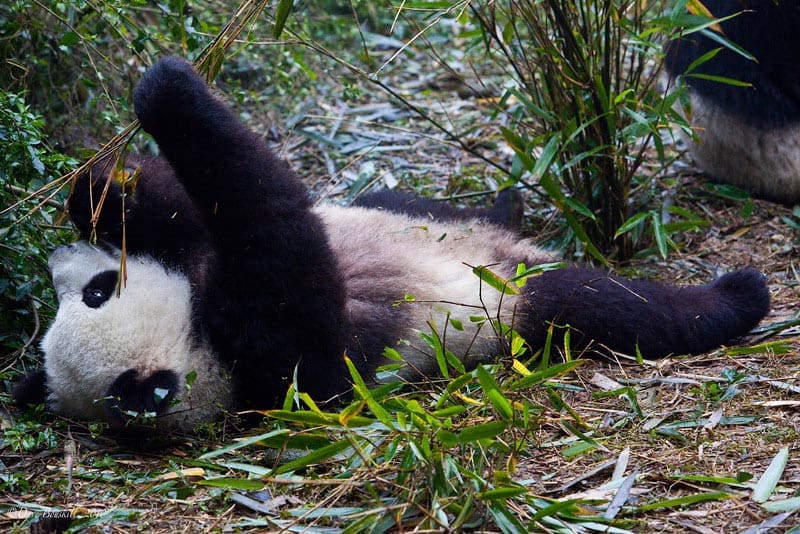 It seems as if mother nature is telling us something. Here is why.
Over time they have switched their diets.
Originally carnivores, the panda now only eats bamboo that is low in nutrients and calories.
There are also breeding problems.
Pandas have a difficult time finding a mate due to their solitary lifestyle.
When they do conceive all babies are born premature weighing only 1/1000 of their mothers weight.
Mothers don't have the instinct to take care of their baby and many times end up injuring or killing it.
It could just be me, but maybe the panda knows that it has been on earth for far too long.
There isn't much hope for the panda in the wild due to habitat loss and dwindling numbers, but China is doing it's best to keep them alive and well in the Panda Breeding facility.
Whatever the case, the giant panda is just about the cutest animal on earth and it is a shame that there are less than 2000 left in the wild.
The Baby Pandas
We had the chance to walk through the nursery where the babies were being taken care of by human caregivers.
No Photos Allowed with Baby Giant Pandas
4 were fast asleep, but one little panda saw us all through the glass and tried to climb out of his crib to take a closer look.
We weren't allowed to take photos and a nasty guard was there to keep a close eye on our extensive camera gear.
The energetic panda never did manage to make it out of the crib although he came dangerously close.
The nurse didn't seem to mind too much and smiled and laughed as he kept on climbing.
She clearly knew something that we didn't. (maybe his bum was just too heavy to make it over the railing)
Red Pandas
After the Giant Pandas we stopped to see the red pandas.
These little guys were so cute that I felt bad for them. The Giant Panda has stolen all their thunder.
They are like miniature pandas only red with a long tail.  They resemble a raccoon and are just as mischievous.
Our guide told us that they are often missing a part of an ear or tail because they are always fighting with each other.
While we were there we didn't see any fights, but they definitely remained active running back and forth through their paths.
We were very impressed with the Giant Panda Research Center.
The pandas seem to have all the room in the world, they are put inside in air-conditioned rooms when it is too hot and they have all the bamboo they can eat.
These pandas seemed very content and happy. I
am not a fan of zoos and I am more a fan of conservation rather than preservation, but for these 90 guys, I would say that they are living the high life.
I only wonder about the fate of the giant panda in the wild.
I think it won't be long until the only place we will ever see them again is in a zoo.
Read More:
Where to Get off the Beaten Track in China
The Best Things to do in China
5 Tips to Travel China on a Budget