A visit to Yangshuo, China would not be complete without a bamboo cruise on the Li River.
Booked through Lucy's restaurant, our driver picked us up bright and early to beat the rush of tour boats.
It was 6:30 am when we departed for our 1-hour drive to Yangdi to catch the boat to XingPing. We were the first ones there and the mist had barely started to rise above the numerous limestone cliffs.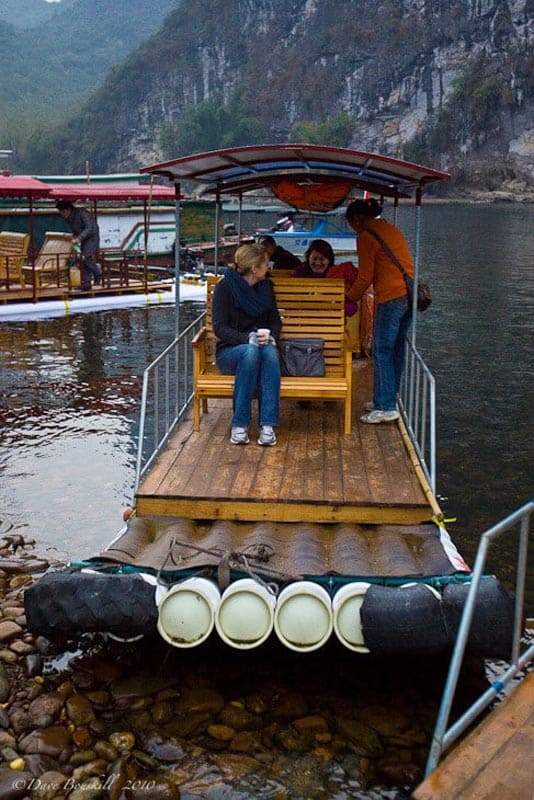 Our boat was more modern than we expected. I had visions of men using bamboo poles to push us down the river as we teetered on a thin hull. Instead, we boarded a large raft of plastic piping in the shape of bamboo that easily seated 4 people.
The engine started up and put an end to the quiet dawn.
Bamboo Rafting Down the Li River
As we sipped our very strong coffee in paper cups we took in the scenery and waved to other boats captained by men heading to work for the day.
We weren't disappointed to be on a motorized boat. It is a long way between Yangdi and Xinping, the Li Rivers' most picturesque stretch and I couldn't imagine how long a traditional bamboo raft would take to float from one town to another.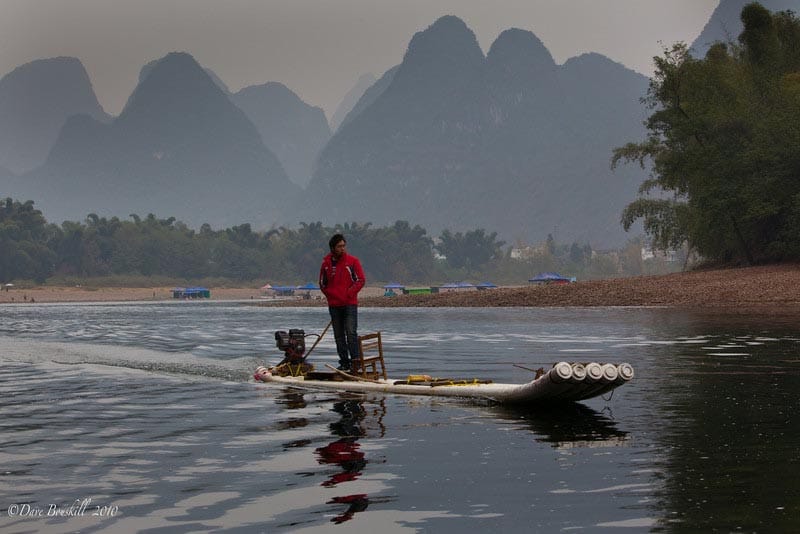 Lucy was right to have us leave early. We didn't see another tour boat until an hour into our trip.
We watched life on the river with little obtrusiveness.
The scenery of the Li River lived up to its reputation.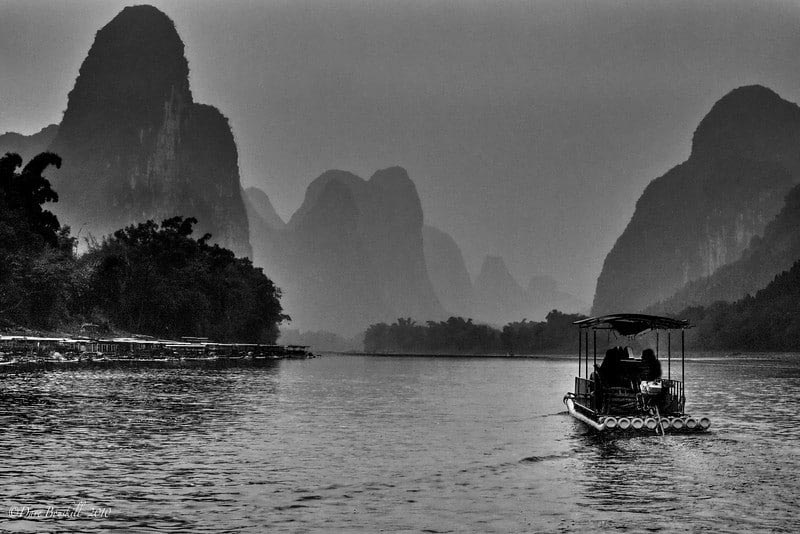 Much of this part of China is shrouded in fog year round, but that added to the mystique of the river. Looking around I could envision farmers and fishermen navigating these waters thousands of years ago.
Stepping Back in Time on the Li River
Other than the addition of engines, people are living their lives the way they have for centuries. Laundry is done on the rivers banks, people washed their pots and dishes in these waters and women collected seaweed by hand.
We couldn't communicate with our captain, but he was a friendly man that called to us regularly to show us sites. He held up a Kleenex box with the exact picture of the mountain range that we were viewing right now. Another spot showed the image on the 20 Yuan bill.
We were definitely in one of China's most beautiful locations.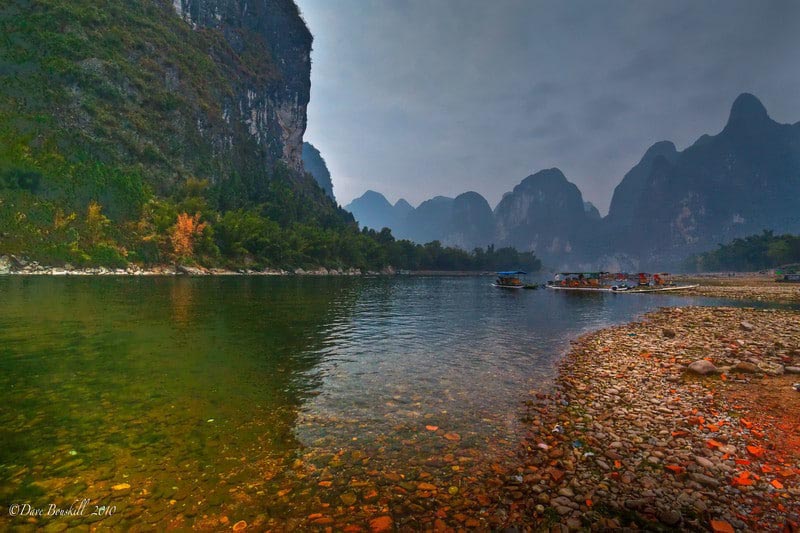 Foreigners have been attracted to Yangshuo for over 20 years. It is clear to see why it was one of the first places to open up to tourism. Yangshuo and the Li River offer some of the most extraordinary views on the planet.
The calm waters snake through giant karst formations rolling off into the distant mist. Around each bend a more enchanting sight came into view.
It is clear as to why this is the most photographed region in all of China.
We spent 2-hours on the river on a cool morning.
But with our down vests, waterproof jackets and woolen hats, we stayed toasty warm. As the other tour boats started to rush pass, we were grateful for our early start and just as we had enough of our time on the river, it came to an end.
We pulled into a busy little port filled with bamboo rafts waiting to take the throngs of tourists that were about to arrive. People were friendly as usual and an old man happily posed for Dave's camera. He was even more happy when he saw the photo.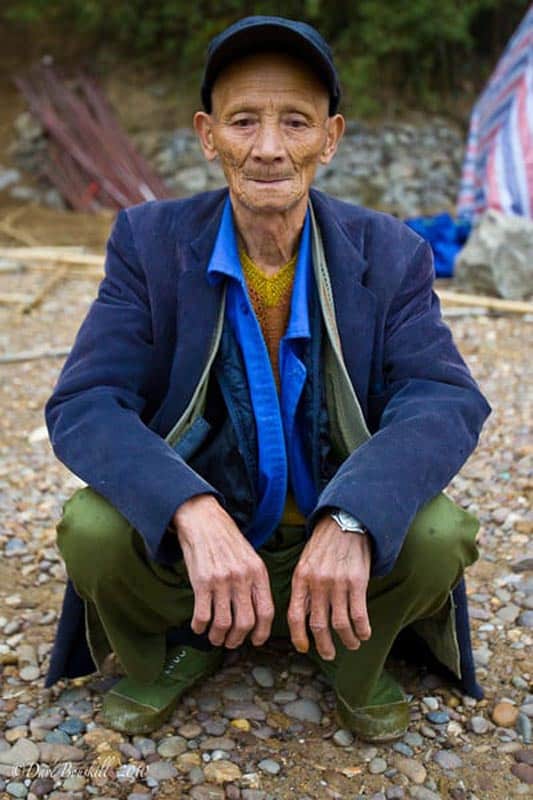 As we drove back to Yangshuo in our private minivan, we saw the lines of other vans and buses pulling in and we were satisfied with our solitary trip on the Li River.
We were back at our hotel by 11:00 am and free to get out to explore more of the delightful town. It is nearing the end of the tourist season here and things are slow and laid back. With a mellow atmosphere and well established backpacker infrastructure, Yangshuo is a place that we could easily hang out in for days on end.
But that will have to be another trip.
Fast Facts of Bamboo Rafting the Li River.

You can book a trip to the Li River anywhere in town.
Prices range from 50 to 200 Yuan
We paid 150 Yuan for transfer and boat trip
Make sure to book a trip between Xingping and Yangdi. There are bamboo boat tours in town, but the Xingping stretch is the most beautiful
1 USD = Y6.6
1 CAD = Y6.6
1 UK£ = Y10.3
---
Read More:
Cycling the Countryside of Incredible Yangshuo
Where to Get Off the Beaten Track in China
Top 10 Things to Do in Shanghai, China
Spectacular Mutianyu Great Wall – Your Travel Video Coffee Break
SaveSave