The Three Gorges is a must do trip when traveling to China. It goes along the Yangzi River where you will witness ancient history meeting rapid high tech development.
I hadn't really thought of our Three Gorges trip as a proper cruise, but when an older English woman approached me in the lounge to ask if I cruise often, it hit me that this river excursion is part of the cruising society.
Three Gorges Tour
It was only 3 days, but yes, it definitely felt like a cruising environment.
Our Intrepid Travel Group of seven seemed oddly (and happily) out of place on a boat filled with giant bus tours of retirees.  One group had 41 people in it!
Our Yangzi River Cruise through the Three Gorges was an enjoyable break.
About the Three Gorges
We floated lazily down the river, but the Three Gorges themselves are quite unspectacular.
The flooding of the Three Gorges Dam has submerged ancient cities to the deepest depths of the Yangzi River and turned the formerly great cliffs into diminutive hills on the side of a riverbank.
Day one of the Three Gorges Cruise, took us to Chengdu, The City of Ghosts. Buildings were under construction and nothing was authentic or even remotely old.
City of Ghosts on Three Gorges
Everything has been rebuilt and replicated.  The original City of Ghosts is underwater and the Chinese don't even try to pretend that the new city has anything original in it.
I was ill during this day, so you are going to have to read more about Fengdu, the City of Ghosts by Dave.
He soldiered on without me and shares his story about the tour here at The Three Gorges Ghost City.
Little Three Gorges
Day two took us to the Little Three Gorges.
This has far more attractive scenery and everyone should make an effort to see them.
They are usually the included excursion on from the cruise and are definitely worth a look.
The trip to the lesser three gorges moves to a smaller boat with a tributary of the Yangzi River.
The Gorges are quite high and still impressive even after the flooding.
It used to be that the water was very low and men would have to pull you through the river, but now it reaches 70 meters deep and boats fly through the vast river.
You will see ancient hanging coffins, shiny new bridges, farmers, villages and newly built cities.
The tour offers contrasting views during its three hours.
I talked to a guide that said he had been coming here since 1992 and finds the Little Three Gorges cruise better now because we can go much farther up the river.
He showed me the original turn around point that was only half as far as we now go.
The tour was informative as our guide spoke over a loud speaker strapped to here waist telling us about life in the villages.
Displaced People Due to Three Gorges
Many people have been relocated and have lost their livelihoods.
But, tour guides keep telling us, that they are happy and that life is better being relocated in to the generic cities that now line the Yangzi.
Farmers were given 200,000 Yuan (30,000 CAD) in compensation if they had 10 or more people in their family, less for smaller families.
They had to buy their new houses or apartments with that money.
Tour boats never seem to stop in these towns and there isn't a lot of industry besides coal and fishing.
80 percent of the 30 million people that live in the area are farmers and now they are relocated to large apartment blocks built beside the river.
Their children have gone off to the cities to work and the parents are left to live out their days in small boxes with unfinished windows and second floors.
Construction and Development on The Yangzi
Our guide on the larger Three Gorges pointed out a village whose people were relocated to over 1,000 km away.
The inhabitants didn't adapt well to their new life and returned a year later to form another village on the river.
They have a smaller plot of land, but at least the government allowed them to return.
There is no running water or electricity, but it is the only life they have known and to be relocated so far away from the land that had been in their family for generations was too much for them to handle.
China is embracing the new and doing away with the old at lightening speed.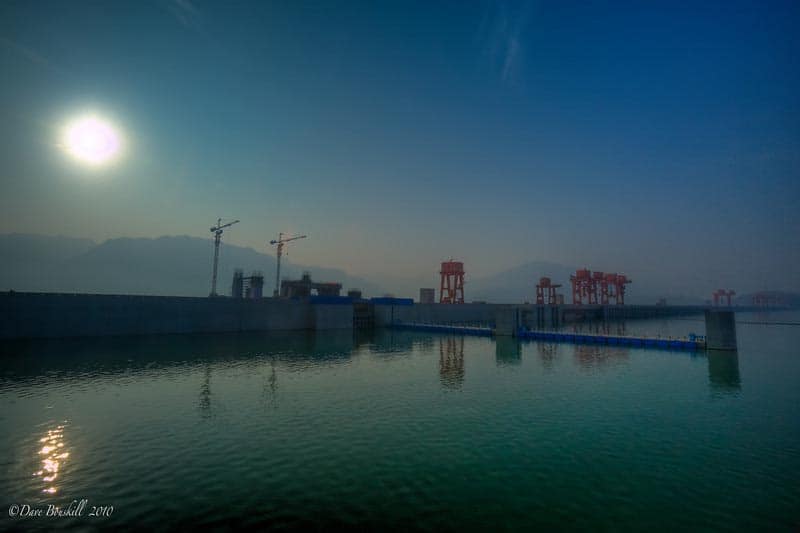 While some people are suffering from the change, others are thriving. Roads and highways are being built connecting these new cities with the rest of the China, Tourist are flocking to the area and buildings are rapidly being constructed.
While life is tough for those in the middle of the transition, it might be more prosperous for the future generations.
Flooding of the Three Gorges for a Better Future?
While I can't understand why a country would flood cities with thousands of years of history and I can't even imagine the environmental impact, I can understand why China went ahead with the Three Gorges Dam project.
There is a large divide between East and West.
The West had its industrial revolution a century ago and has reaped the rewards for decades.  We have lived a life of comfort and prosperity.
It is China's turn now.
And while we would like for them to learn from our mistakes and look into ways of growing without the environmental impact that they are creating, who are we to keep people from having heat and air conditioning and driving cars and having the creature comforts of life?
In the next few years, China will be building 12 more dams and 30 nuclear power plants.
The Three Gorges Dam was expected to supply 10 percent of China's power when they first started building it in 1994.  With the rapid growth of China's energy consumption, it is now only supplying 3 Percent.
When the other dams are built, it will only give China 1 percent of its energy.
However, the Three Gorges has also opened up an entire shipping lane to the heart of the country.
While it was going to be a large energy source, it is now an avenue for trade and industry.
The world is changing and as much as we would like it to stay the same, it is impossible.
Whether it is good or bad, that remains to be seen.
Read More:
Where to Get off the Beaten Path in China
The Best Things to do in China