Looking for the very best things to do in Beijing to make the most of your stay. Whether you are passing through and taking advantage of the 144-hour visa-free transit policy or visiting China Beijing a part of your itinerary, this guide showcases all the things to do in Beijing plus tips and advice for places to say.
We show you how to get around Beijing, where to stay and how to avoid Internet censorship.
22 Things to do in Beijing
Follow our interactive map to see all the things to do in Beijing plus their locations.
Get your interactive map of our Beijing Itinerary
1. Great Wall of China
There is no doubt that the star attraction for people visiting and looking for things to do in Beijing is the Great Wall of China. It's a wonder that has fascinated the world for centuries.
Badaling Great Wall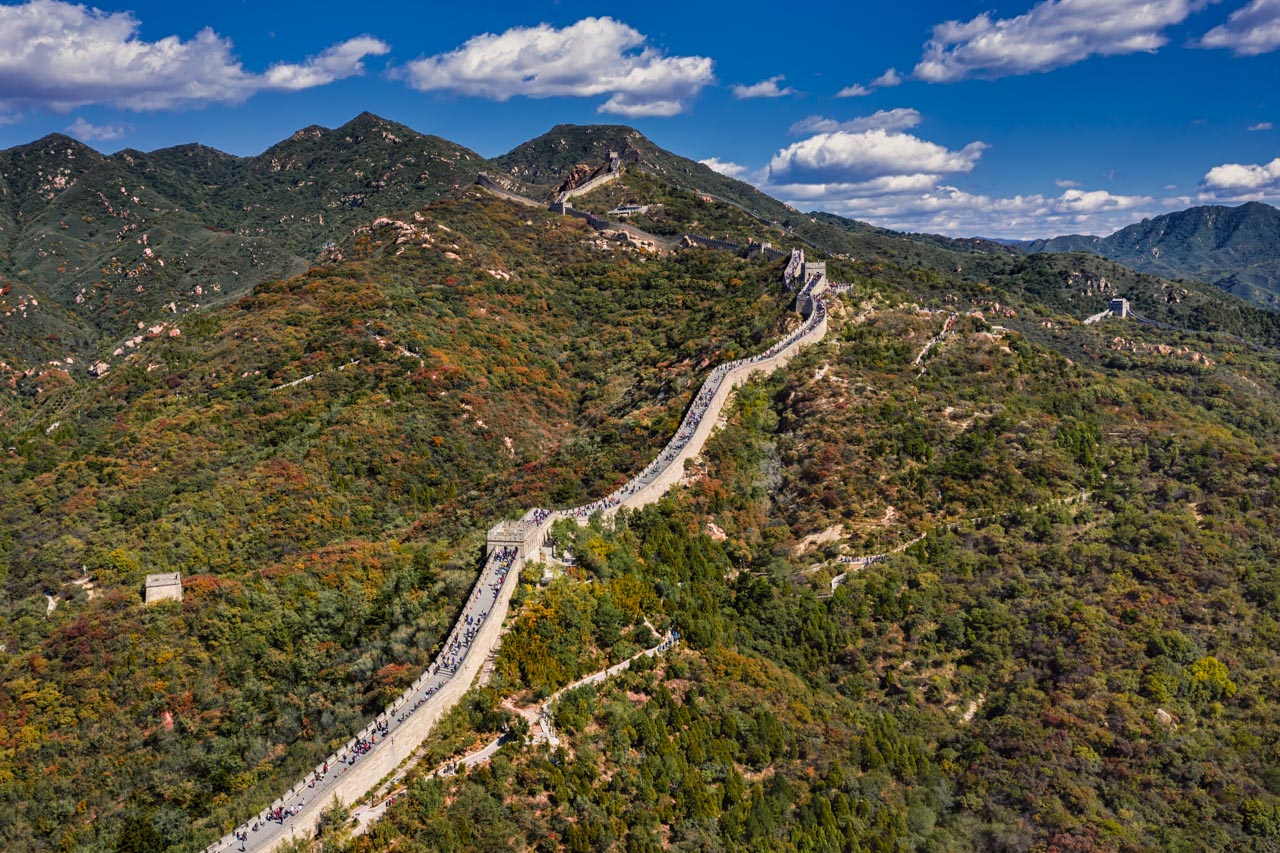 There are several different walls to visit but the Badaling Great Wall is the closest to the city at only 70 km. This is where the majority of Chinese tourists visit the Great Wall.
It is beautiful and impressive, but expect large crowds.
It is accessible by local bus, tourist bus. Line 877 from Deshengmen or tourist bus line 1 from Qianmen.
Mutianyu Great Wall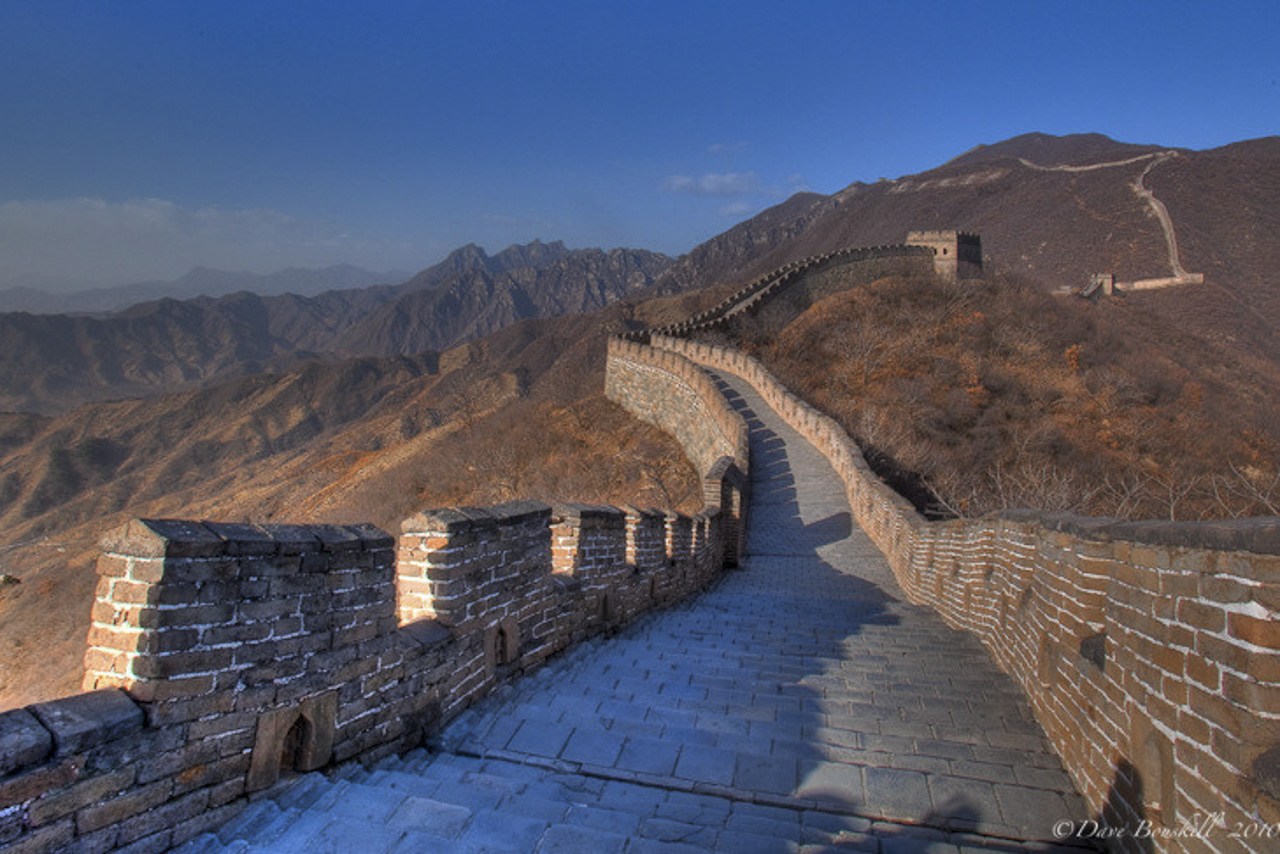 The Mutianyu is another hour farther from Beijing, but you will see far fewer crowds and it is just as impressive and stunning.
Mutianyu isn't as easy to access and it is recommended to hire a driver or take a tour.
Search what Great Wall tours are best for you.
These are easily canceled should you change your mind as long as it is within 24 hours of departure.
And they can be easily booked last minute as Get Your Guide sets aside several last-minute tickets.
2. Forbidden City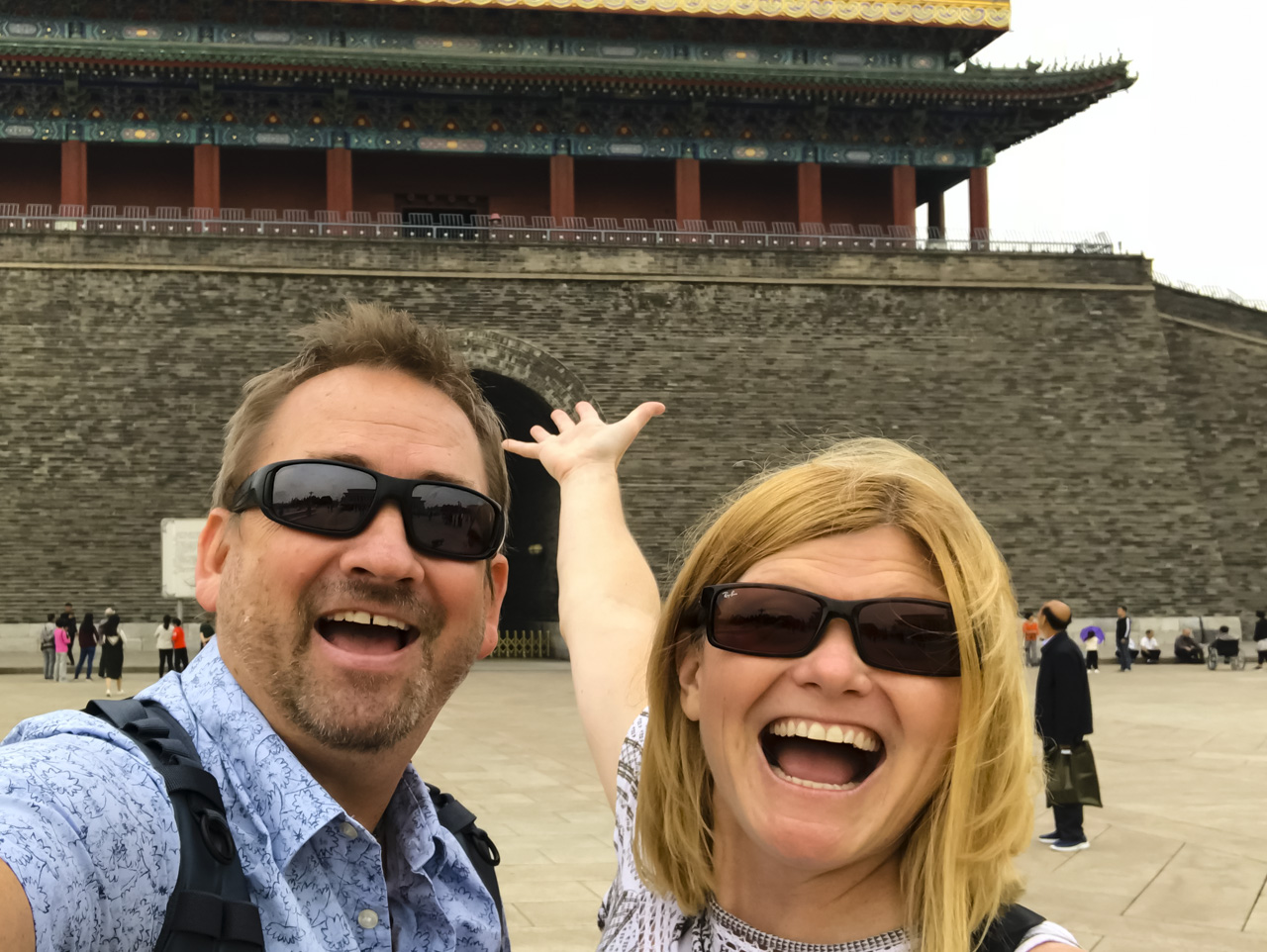 It is the number one attraction in the city of Beijing and with good reason.
Built in the 1400s during the Ming Dynasty, the Forbidden City housed the ruling Emperors and their households for 500 years.
It spans 180 acres housing a whopping 980 buildings and over 8000 rooms.
Only the Emperor and his subjects stepped foot in the Forbidden City until 1925 when it was turned into a museum after the fall of the final Emperor.
It takes at a minimum of two hours to tour the Forbidden City, but it can easily be enjoyed all day.
This is something you don't want to miss when you are planning out all your things to do in Beijing.
You can book skip the line tickets in advance that can be easily canceled within 24 hours.
3. Tiananmen Square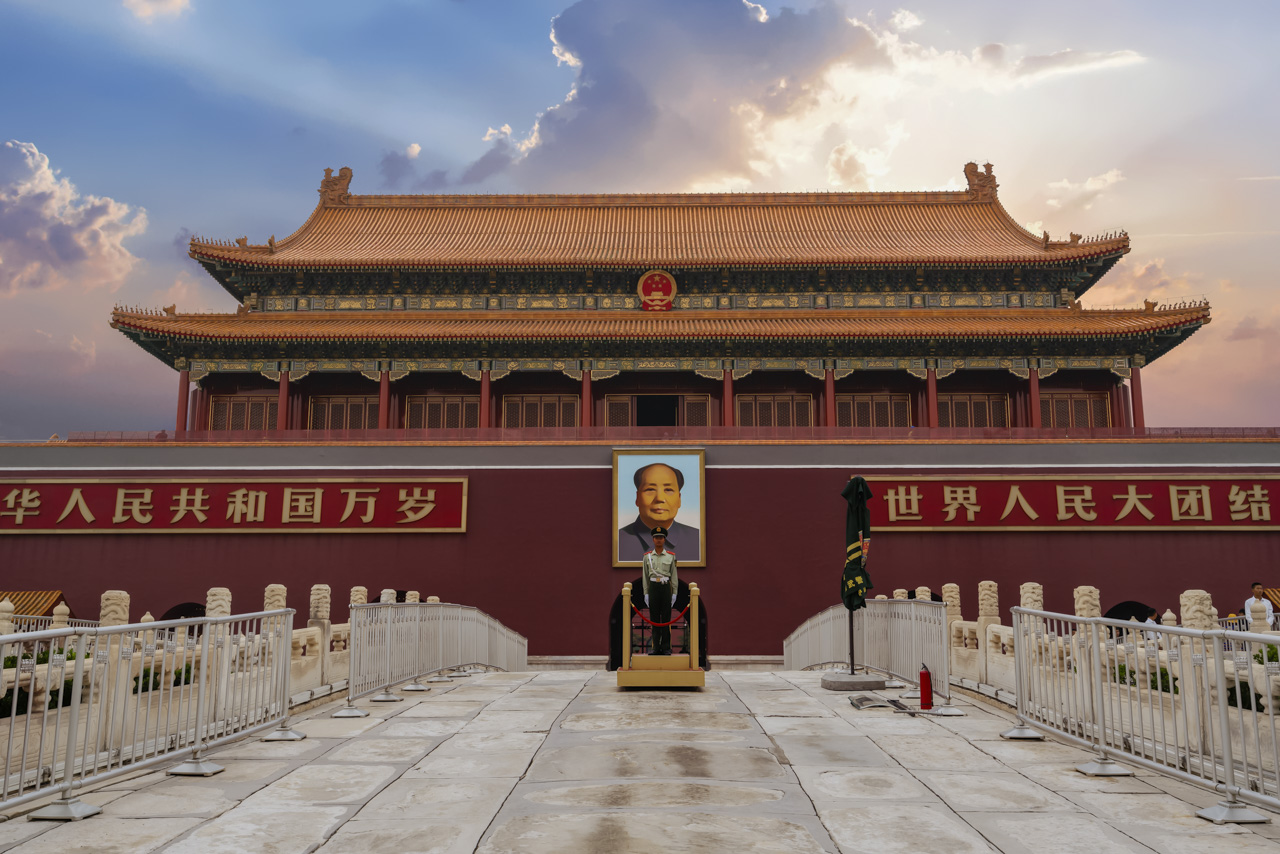 Tiananmen Square is often toured at the same time as the Forbidden City because of its close proximity.
It is the largest square in the world covering 100 acres of land and there are many things to see.
Chairman Mao's tomb is located in the square. There's the National Museum, People's Monument, Railway Museum and views from the gates.
Tiananmen Square houses the only two ancient city gates left in Beijing.
4. Hutong Tour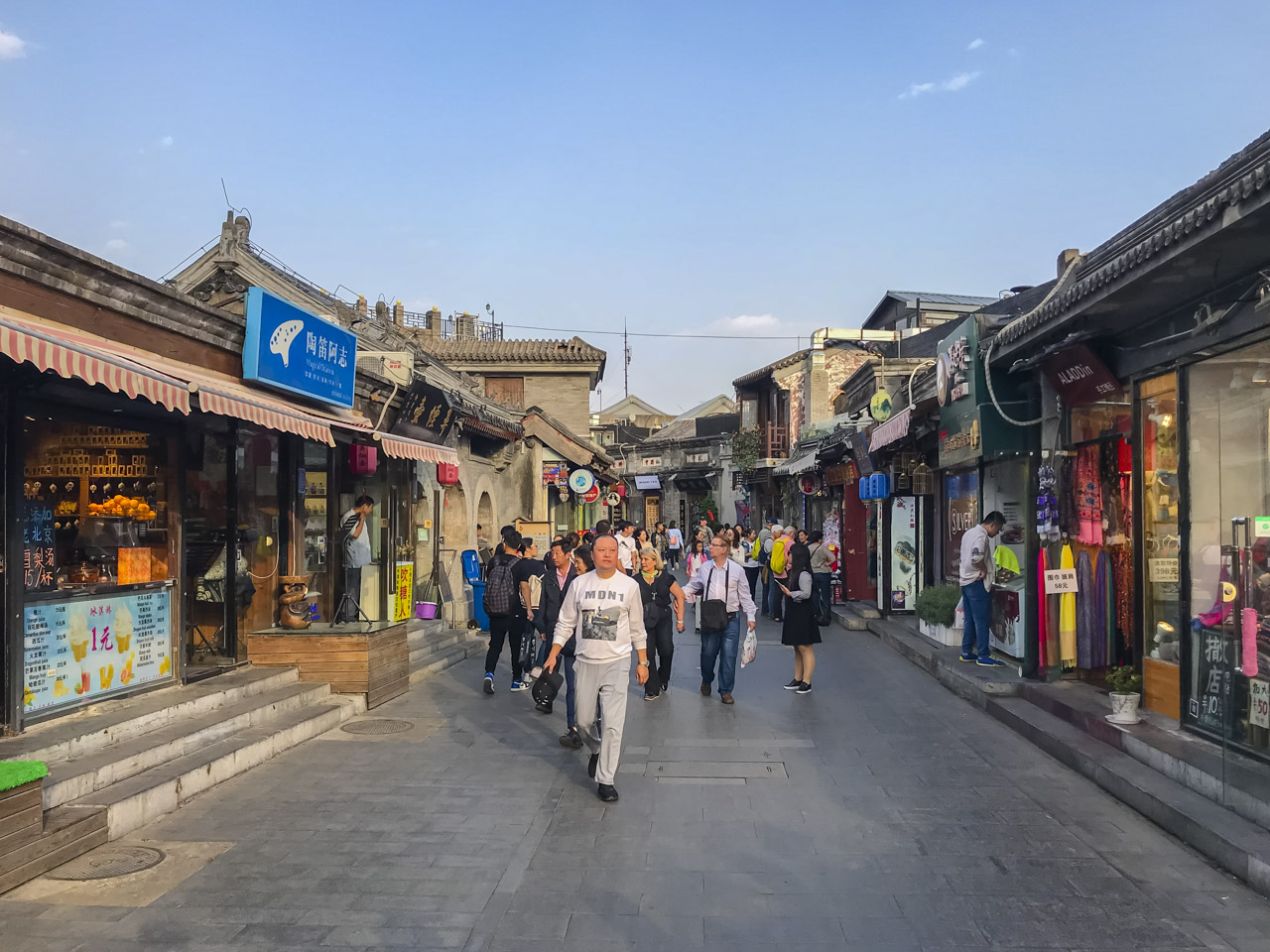 Located in the Sichahong District of Beijing, visiting the Hutong's of Beijing is a must.
They were nearly destroyed to make way for skyscrapers and newer developments, but they were finally spared and the last of the Hutongs are sitting on protected land waiting for tourists to explore.
Get lost wandering the streets. They weave their way to the lake and there are many eateries, hotels, and museums scattered throughout the hutongs.
5. Rickshaw Ride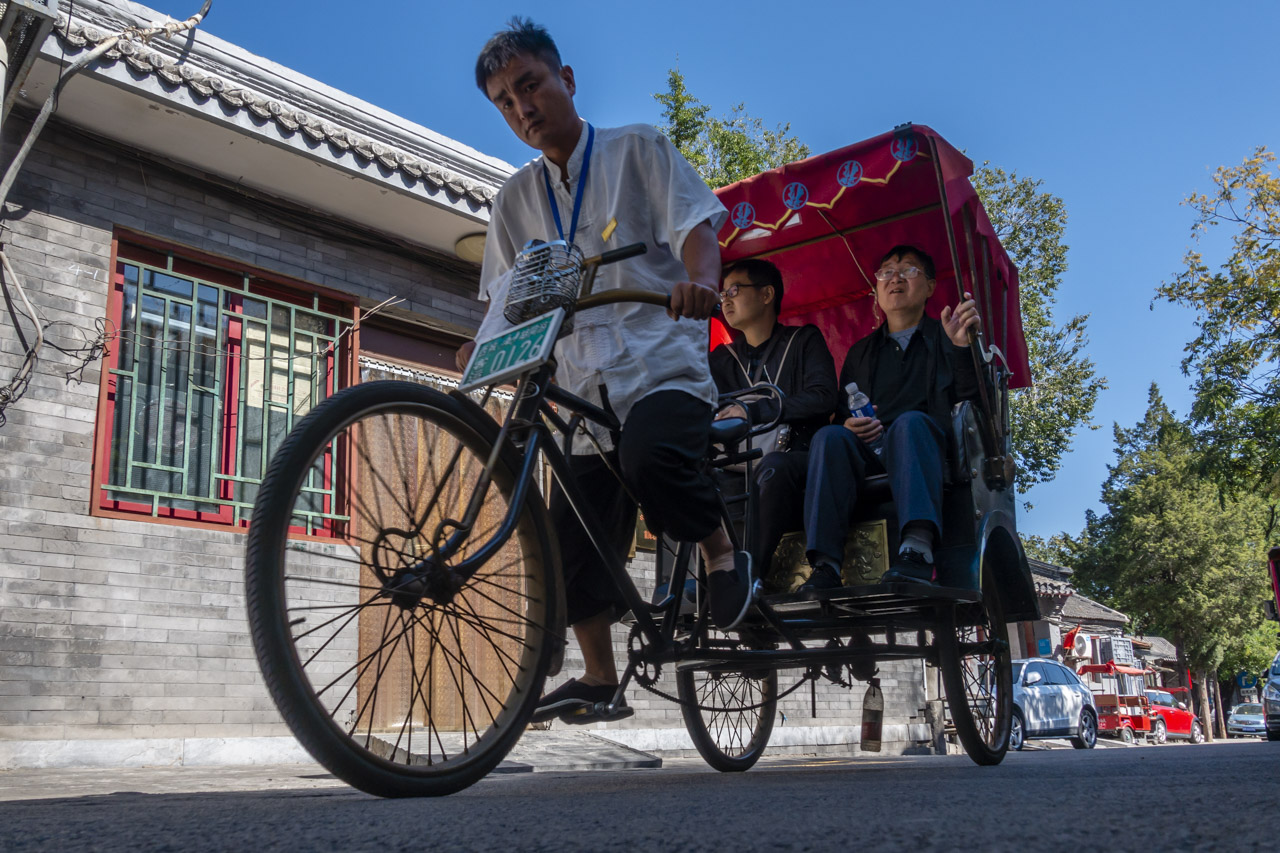 If you really want to see a lot of the Hutongs, a rickshaw tour is a must.
There are very popular and you can book in advance or you can hire one at the lake or on the main street.
Step back in time and travel the traditional way by pedal power as you take in the daily life of the Hutongs.
Book a Rickshaw tour through the Hutongs to feel what it was like centuries ago and for a fast overview of the area.
6. Back Sea – Houhai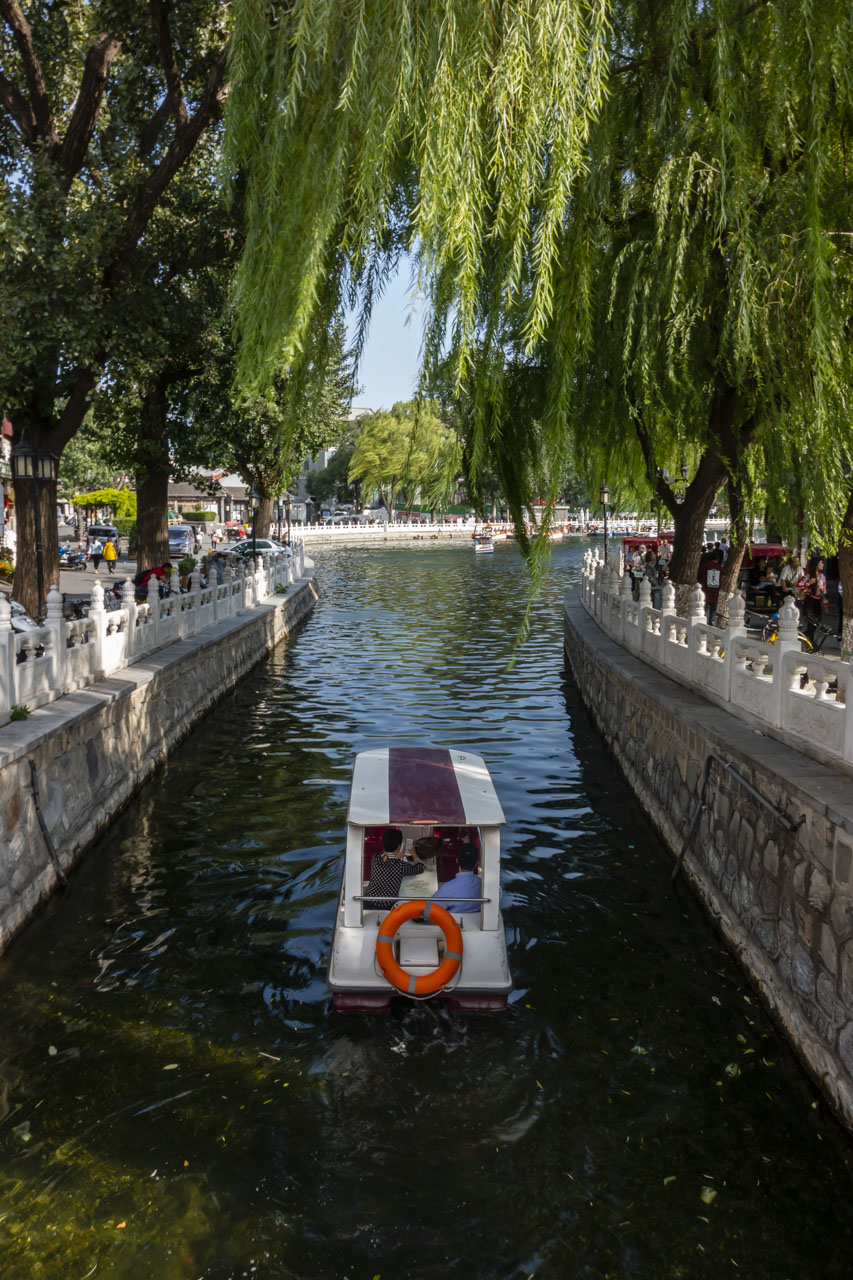 A man-made lake in Beijing, Houhai (or Back Sea) is a picturesque lake that is very popular among locals.
This artificial lake is surrounded by shops and tea houses.
You can take boat tours or simply stroll along the walkway taking in the energetic atmosphere.
From here you can easily reach Pipe Street, the Drum and Bell Tower and easily explore the hutongs.
7. Pipe Street – Yandai Xiejie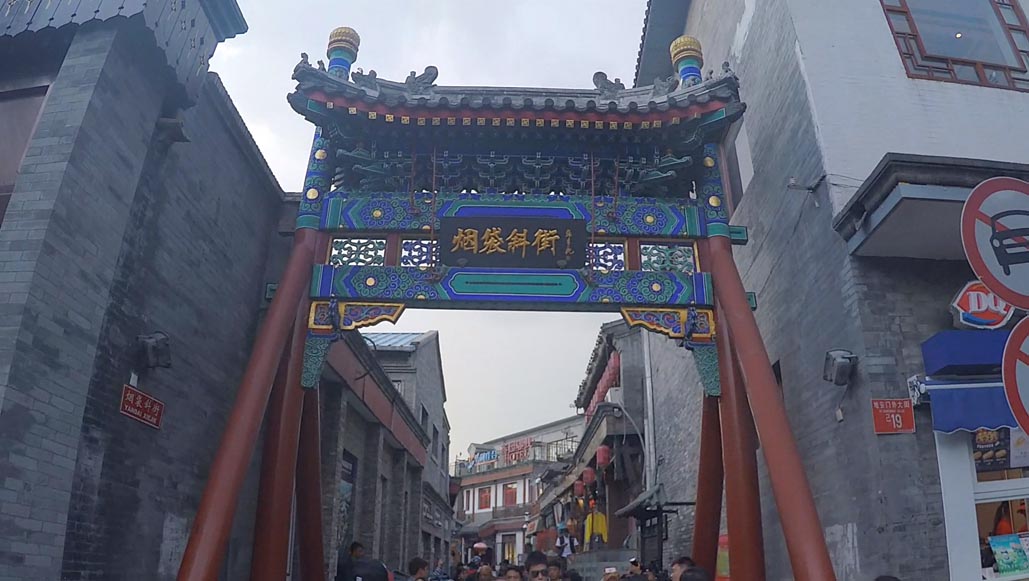 Walk along Pipe Street for shopping and snacking Beijing Food.
Known as Yandai Xiejie Street in Beijing, it is one of the oldest Hutongs in the city of Beijing.
Pipe Street was named so because it is shaped like a pipe. This is the busiest section of the Hutongs with snacks and thrift stores lining the street.
It is located just steps away from the Houhai (or Back Sea).
It'a busy street, but a must-visit when you are exploring the hutongs.
8. Temple of Heaven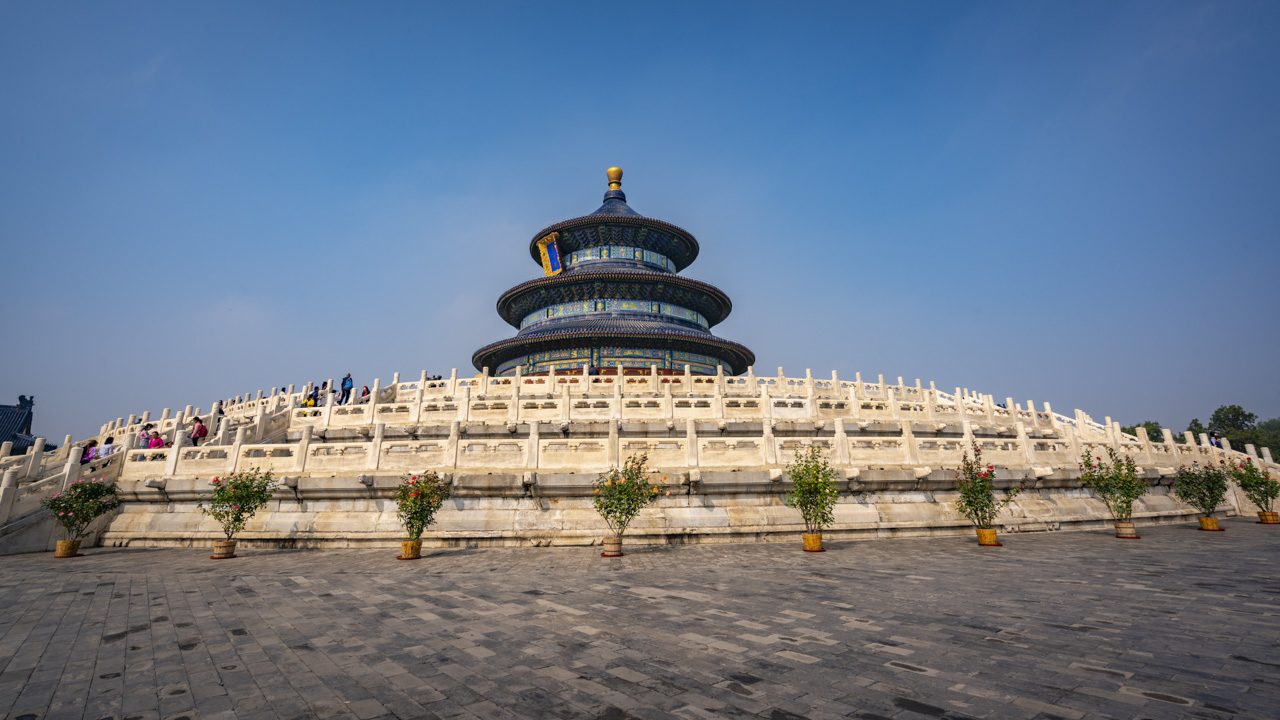 The Temple of Heaven is a wonderful stop in Beijing covering a massive area of 2,700,000 square meters.
Take a walk through the complex to see the mount prayer altar, the echo wall, The Imperial Vault and much more.
Be sure to spend time in the park to enjoy some Tai Chi or Chinese yo-yo.
9. Lama Temple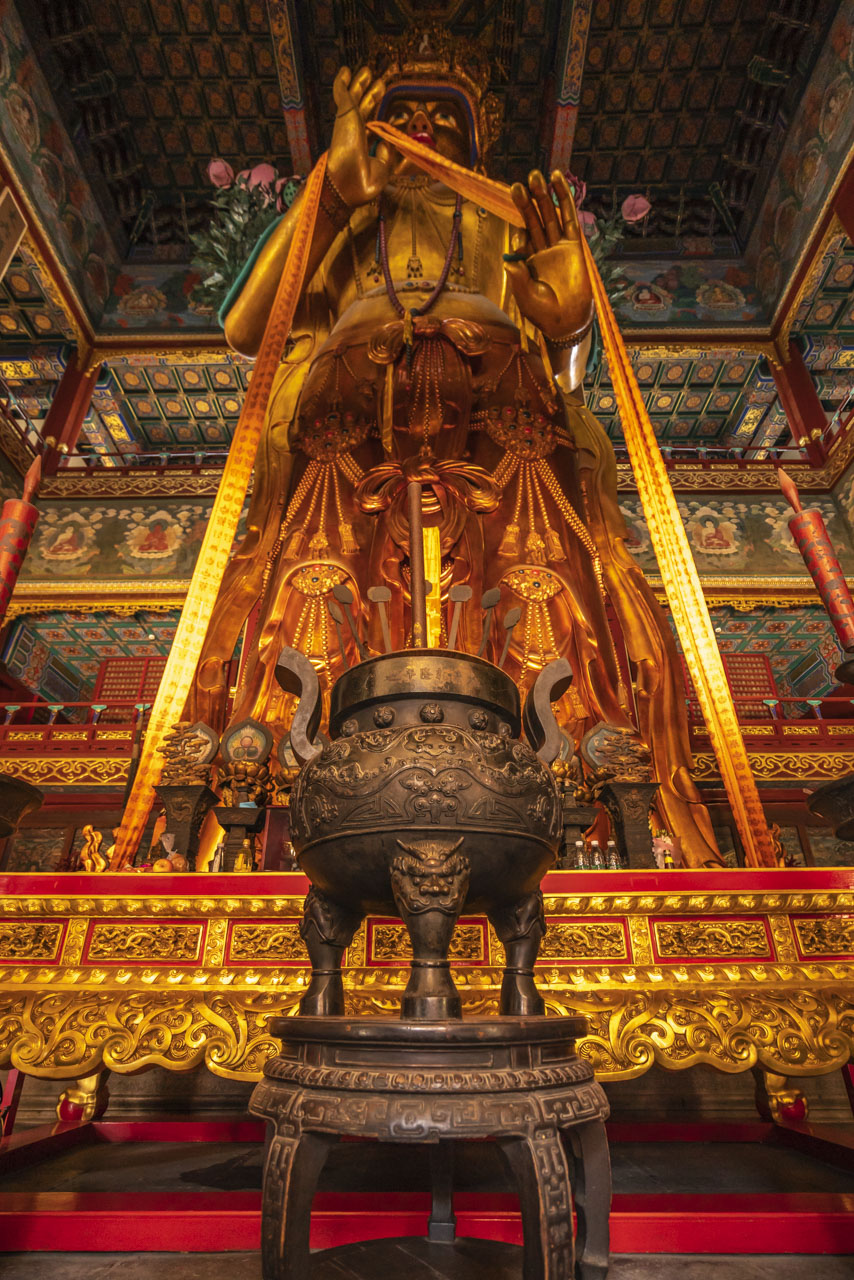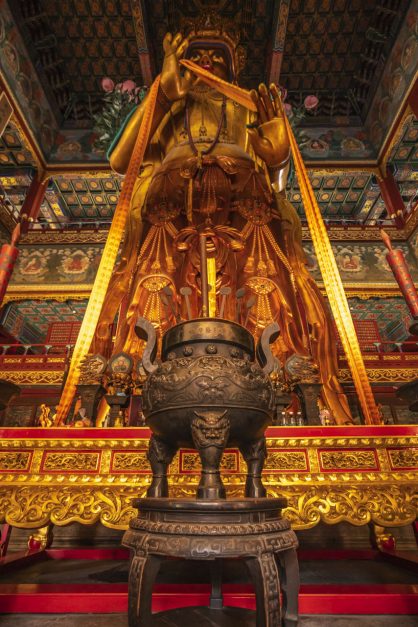 This was one of our favorite temples to visit in Beijing.
Built in 1694, it was an official residence for Eunuchs of the Qing Dynasty.
Today it is a functioning school of Tibetan Buddhism. It was closed for 32 years after the Cultural Revolution, but it re-opened in 1981.
Today monks study and take care of the grounds as tourists come to see the massive sandalwood Buddha standing 18 metres (69 feet) high. It holds the Guinness Book of World Record's for the tallest Buddha carved out of a single tree.
10. Jingshan Park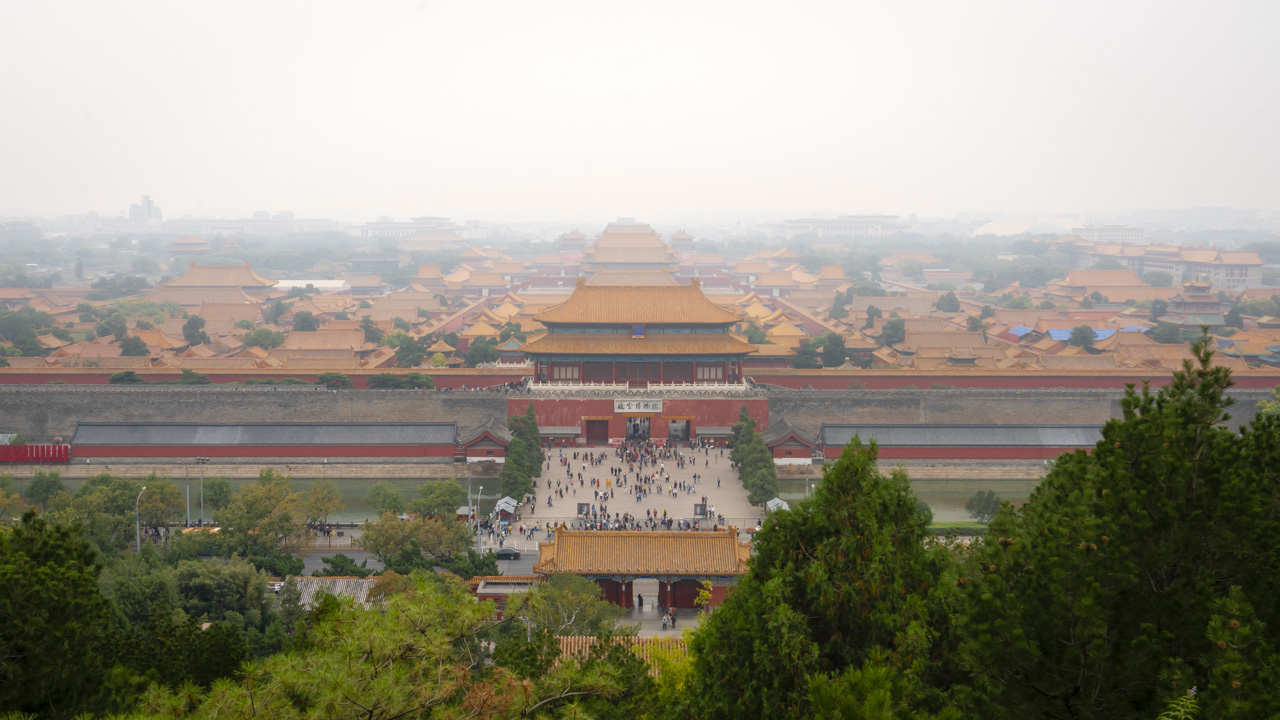 This is a pleasant park to visit where locals take badminton lessons, practice tai chi or simply relax in the bonsai tree gardens.
Tourists frequent Jingshan Park to climb to the top of the mountain for an overhead view of the Forbidden City.
The mountain was made from the soil taken from the moat that surrounds the Forbidden City creating a 45.7 meter high (150 feet) artificial mound that was previously home to the Imperial Gardens.
It is worth the walk up the steps to view the rooftops of the Forbidden City and take in the Panoramic views of Beijing.
11. Silk Street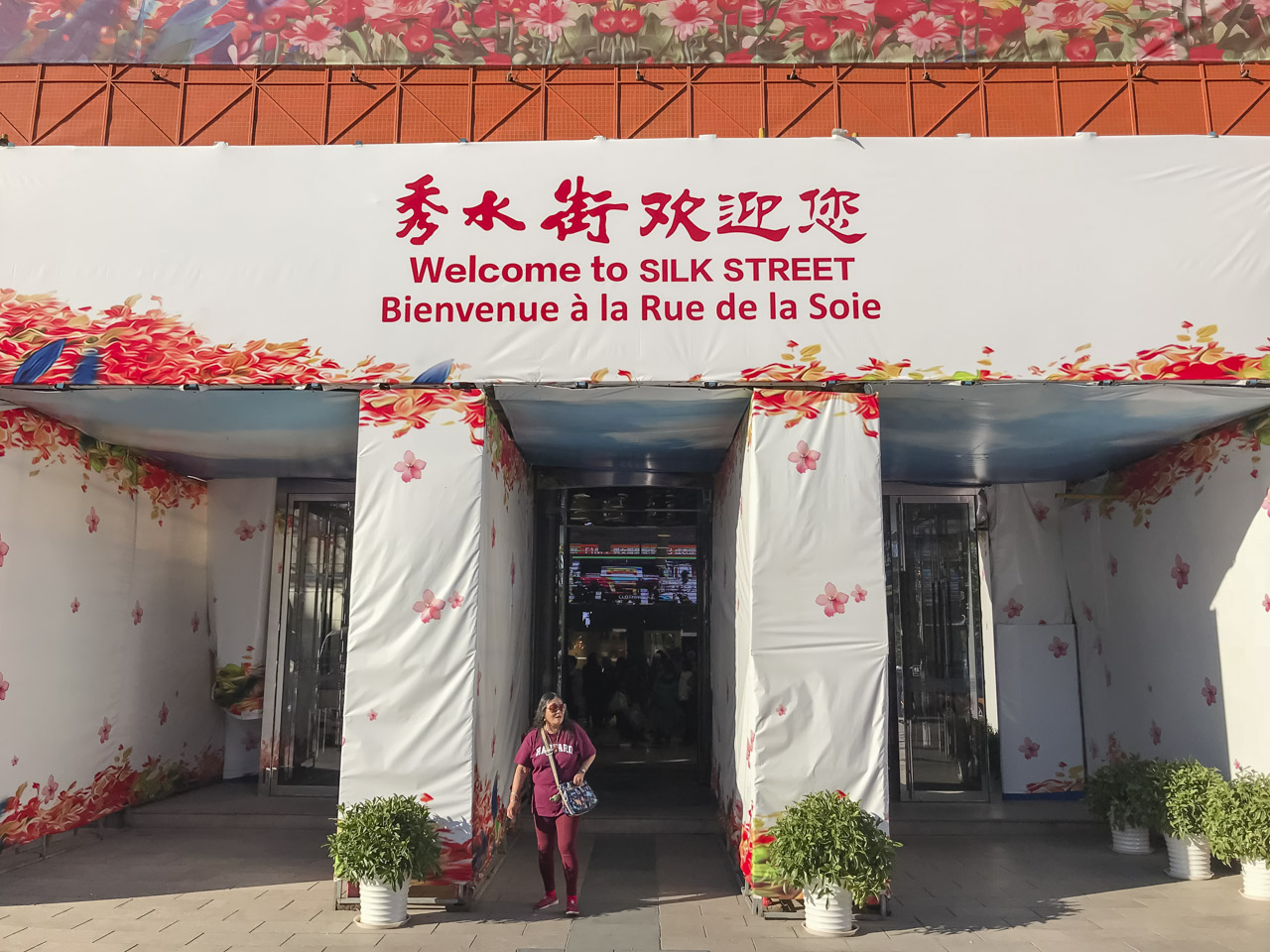 This shopping mall used to be an open-air street filled with markets.
Silk Street is located in the lively Chaoyang District of Beijing and is not to be missed.
The vendors have been moved indoors, but it is no less fun to visit!
If you want to buy immaculate knock-off handbags, watches or sunglasses, this is the place to come.
Be sure to bring your wallet and a be ready to barter. You can walk away with bargains more than half their asking price if you know what you're doing.
Silk Street goods are considered some of the best and most authentic fakes of name brands in the world.
12. Wangfujing Street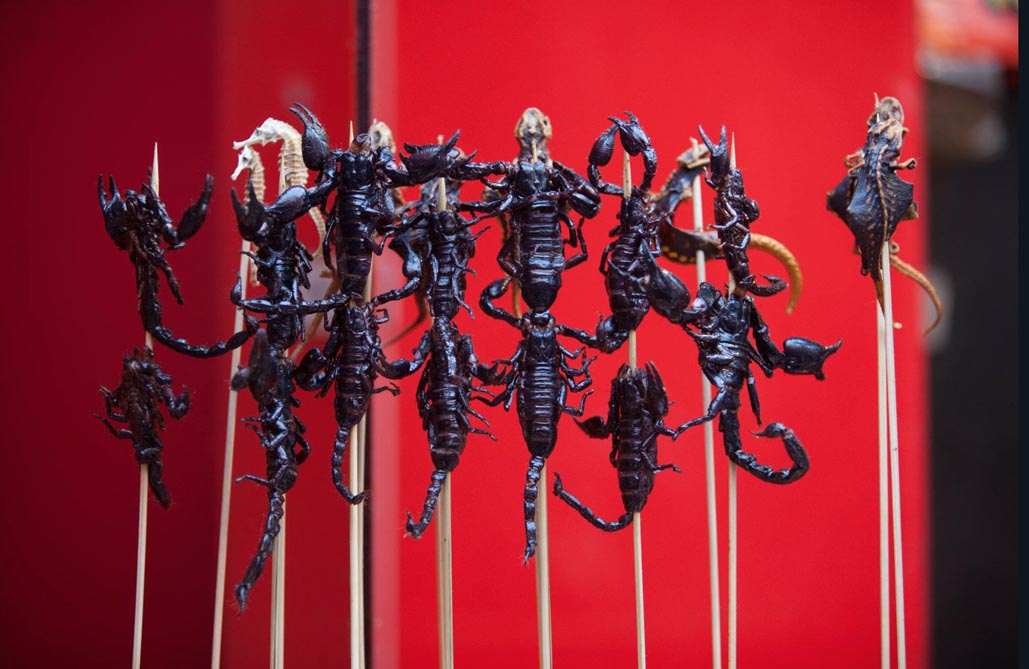 It's a busy bustling street, especially at night. During the day it is a popular shopping district but at night it turns into a very busy market.
This is the place where you'll see the weird and wacky of Beijing. Sea horses, scorpions and starfish are served on skewers.
Some scorpions are still squirming and it's not for the faint of heart.
We couldn't bring ourselves to eat anything and instead opted for dumplings at one of the many food stalls. But for a taste of the odd side of Beijing, this is an interesting visit.
You'll definitely be dealing with crowds and remember to bargain for your shopping.
13. Bell and Drum Tower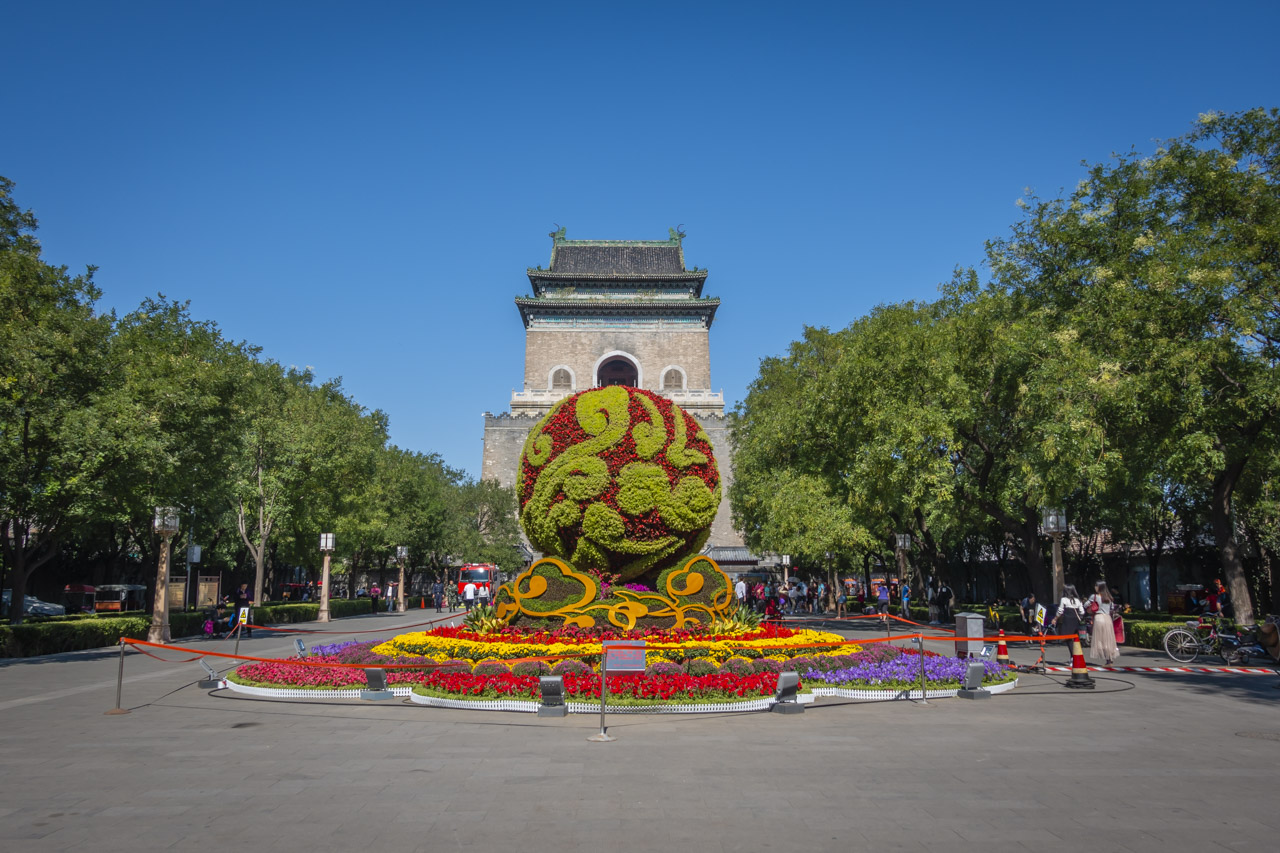 These two structures stand above the Hutongs to represent the symbol of the Old City.
You can walk up for an overview of the area and see the largest and heaviest bell in China.
Built across the square is another tower standing 47 meters (157 feet) high containing one very large drum.
The drum and bell towers were used to tell time for centuries but was abolished after the cultural revolution. But in 2001 the drum and bell rang out the new year and have been used each year since to bring blessing to the people.
14. Bird's Nest Stadium – National Stadium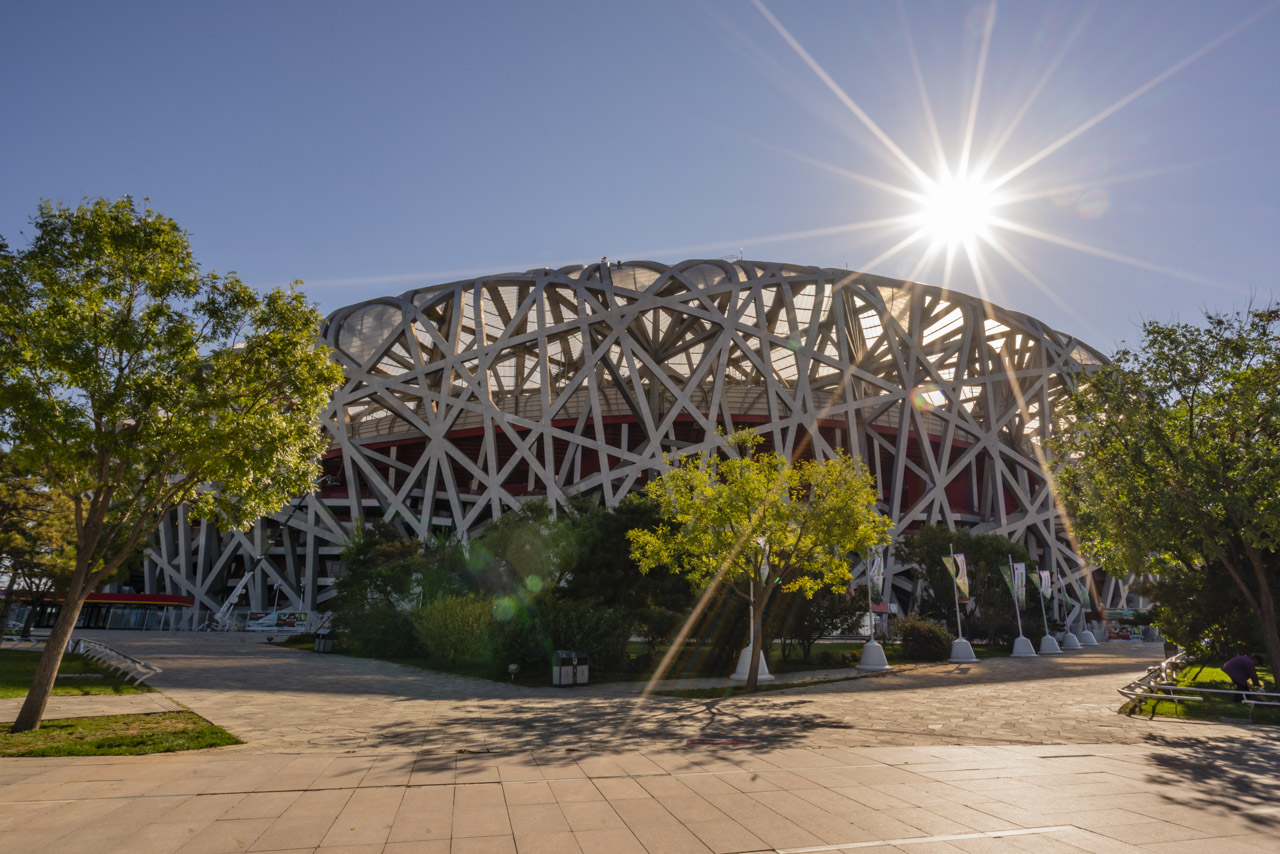 The Beijing National Stadium was designed for the 2008 Olympics and is worth a visit to admire the architecture created by Swiss firm Herzog & de Meuron to represent a bird's nest.
The surrounding architecture is just as impressive with the Cube Watercentre.
And the 7-star hotel and condo complex shaped as a Dragon's head.
Football events and concerts take place at the stadium, but you can take an architectural tour of Beijing to enjoy the modern designs of this growing city.
15. Peking Duck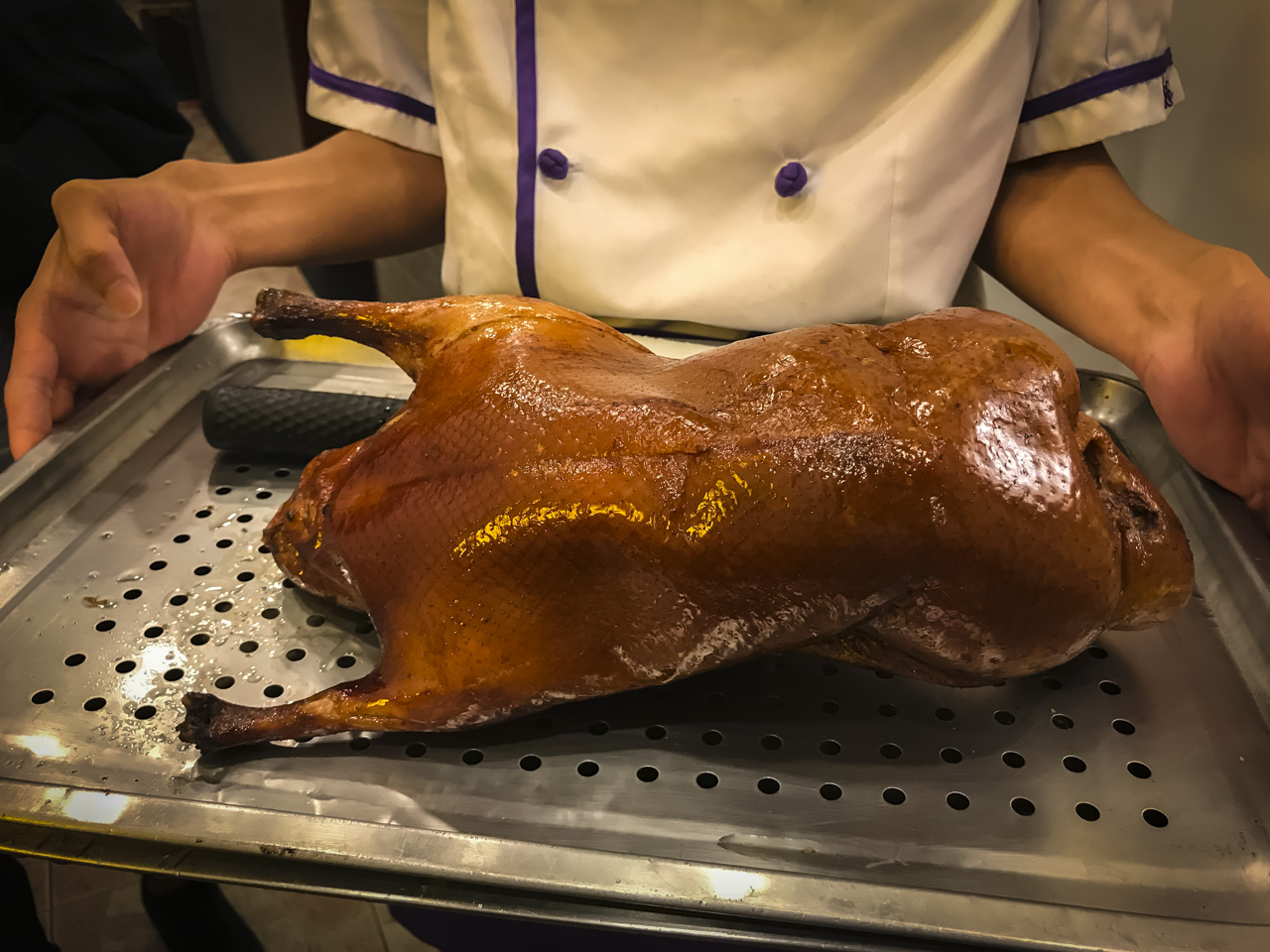 No trip to Beijing would be complete without tasting its most famous dish.
Peking Duck is roast duck that is sliced to perfection and served at your table.
Hua's Restaurant is one of the premier places to sample Peking Duck with four locations throughout the city.
Even if you are not a fan of duck, Peking Duck is something you must sample once.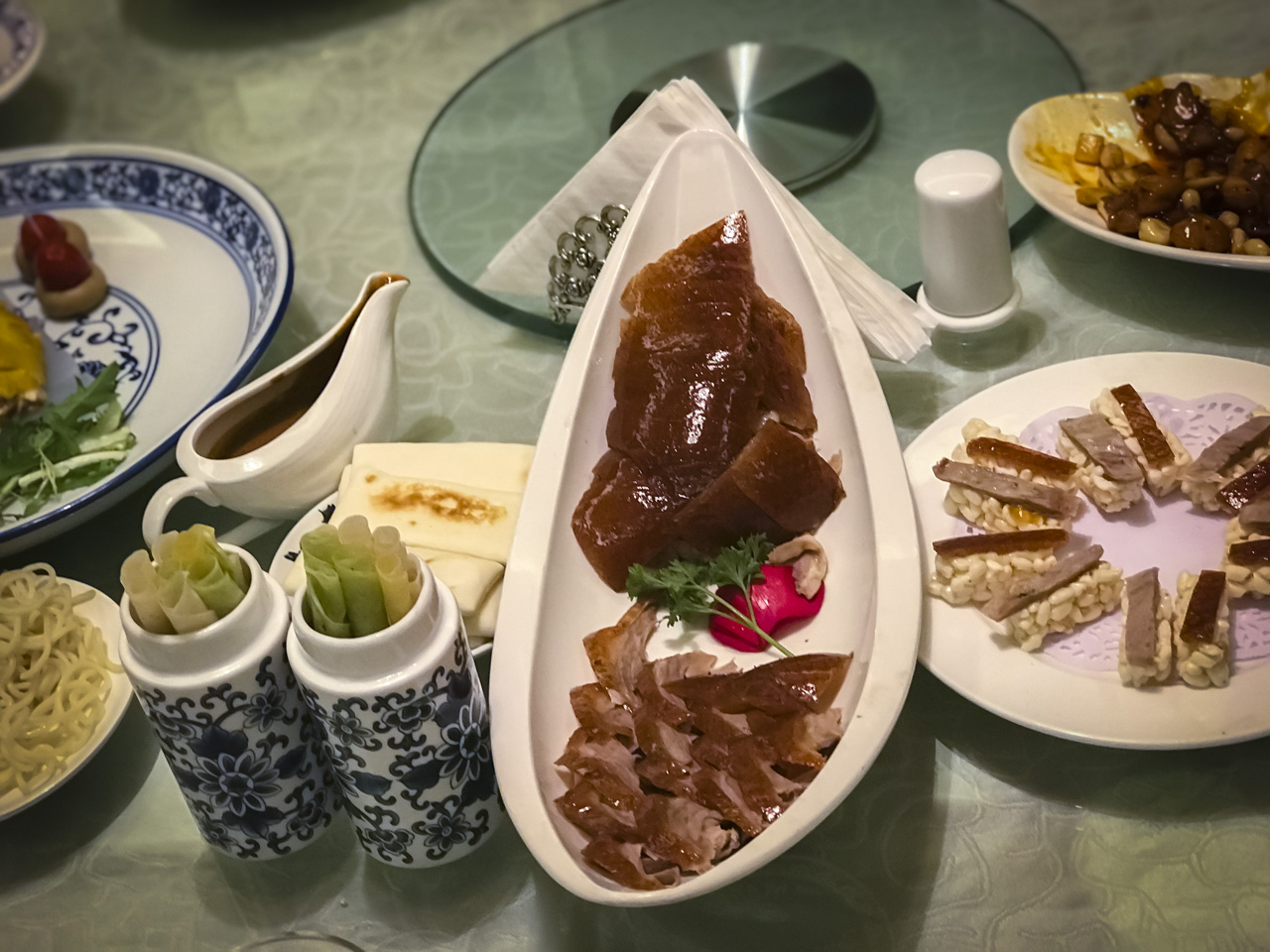 Serving of the Peking Duck is an extravaganza as the chef brings out a large duck cooked to perfection and then slices it up with precision and artistry.
You are then shown how to eat it by creating a tortilla-like sandwich with all the fixings.
I don't normally eat duck, but when in Beijing, I always do!
16. Have a Beijing Hot Pot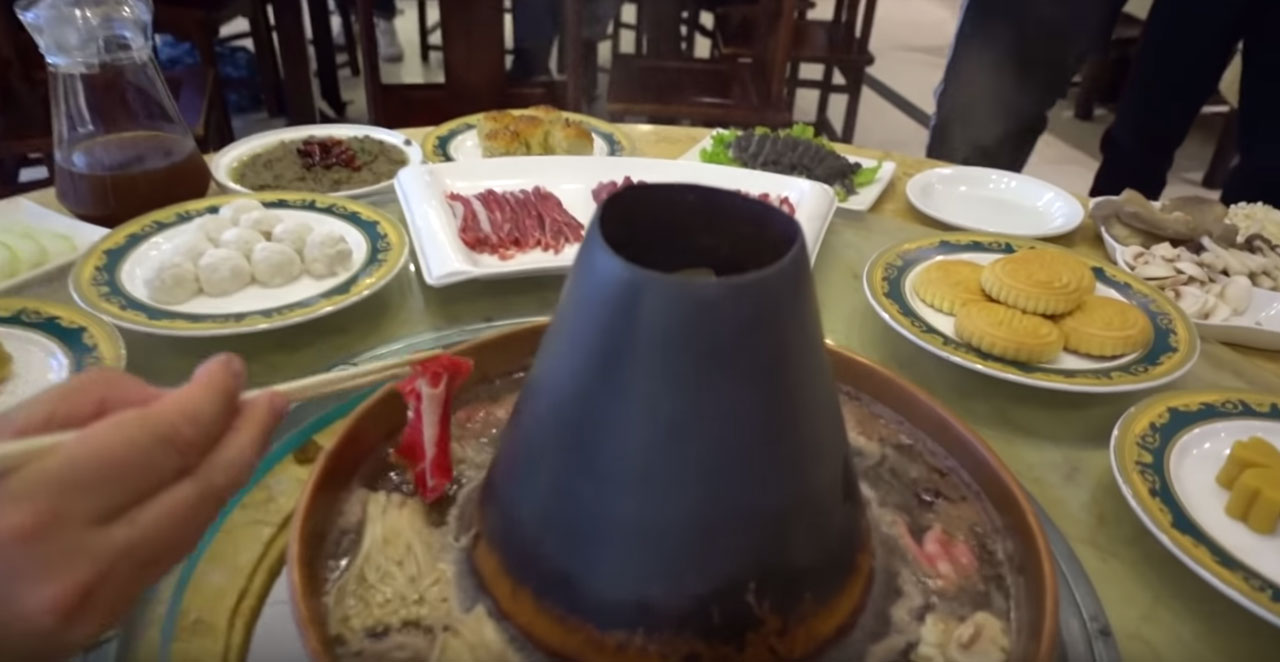 Food glorious food. When in Beijing, delve into the food scene. A visit wouldn't be complete without a hot pot meal.
17. Learn Calligraphy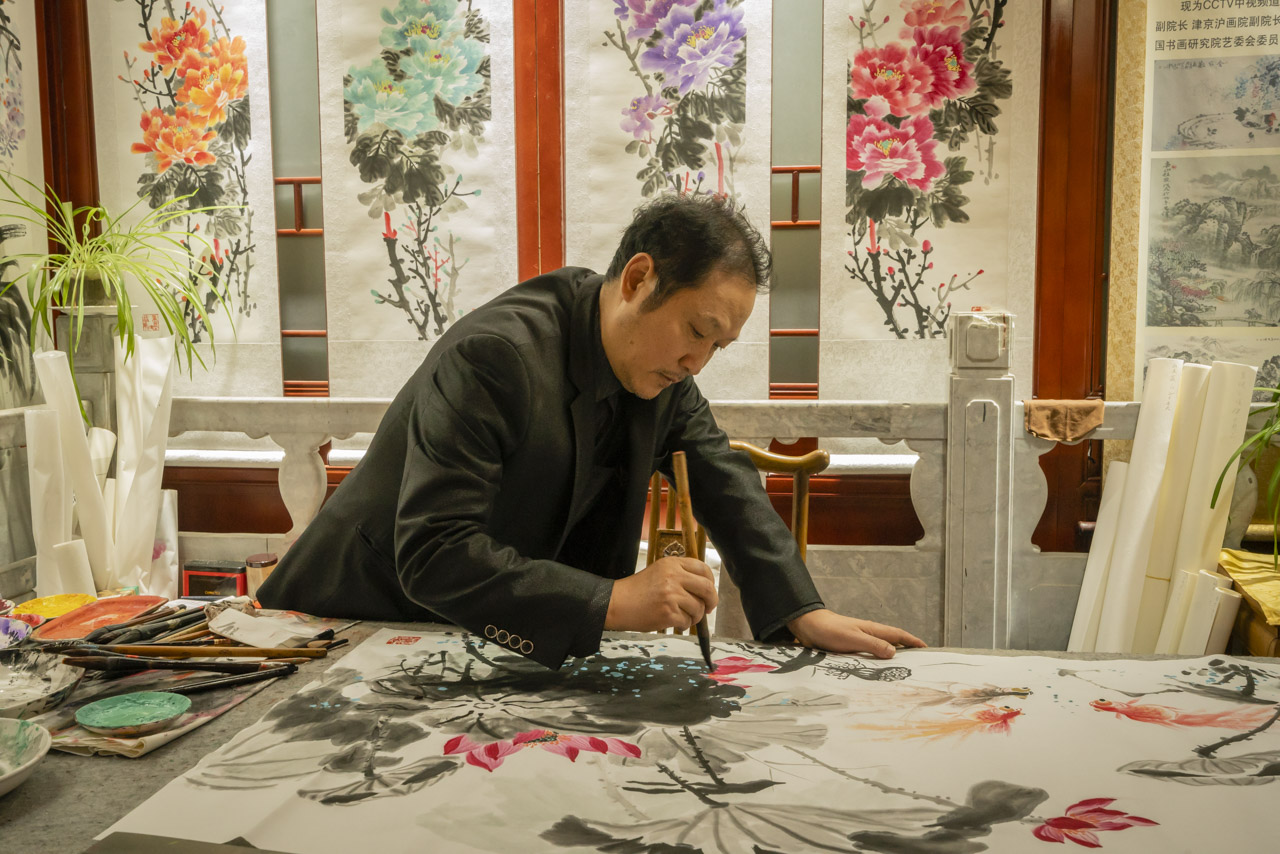 Set up a Calligraphy Class. Calligraphy is offered at many places in Beijing and it is a relaxing way to immerse in Chinese culture.
We did our class at a museum where professional artists practice their skills. I admit, I think we had special privileges because we were in Beijing shooting a video for the 100 hour Visa, but you can book it easly.
Just as your hotel concierge.
Our hotel offered classes at the Sandalwood Boutique Hotel hotel in the Hutong district. It was an excellent place to stay right in the heart of the action walking distance to many top Beijing Attractions.
18. World Tourism Festival
The International Tourism Festival is an event that has been going for 20 years and celebrates the tourism industry in China.
It brings delegates from around the world showcasing tourism from their own country.
It is definitely a good will even that brings countries together.
19. Chinese Royal Gastronomy Museum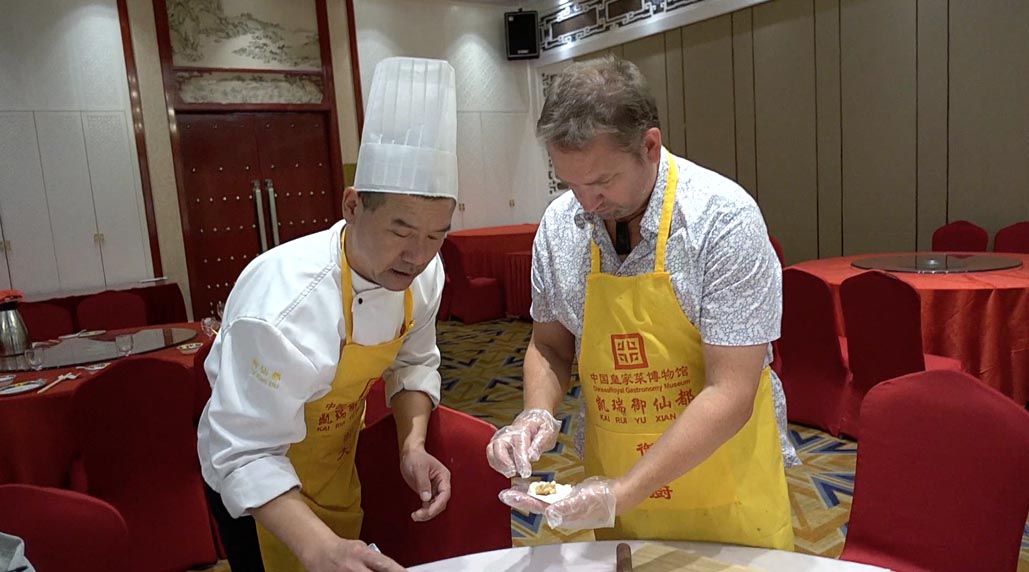 A restaurant extravaganza with fine dining, Dumpling making, dinner shows and a museum dedicated to food.
You can also learn to make your own dumplings and then while they cook up your masterpiece, you can watch a traditional show and have your dinner!
20. Take a Tai Chi Lesson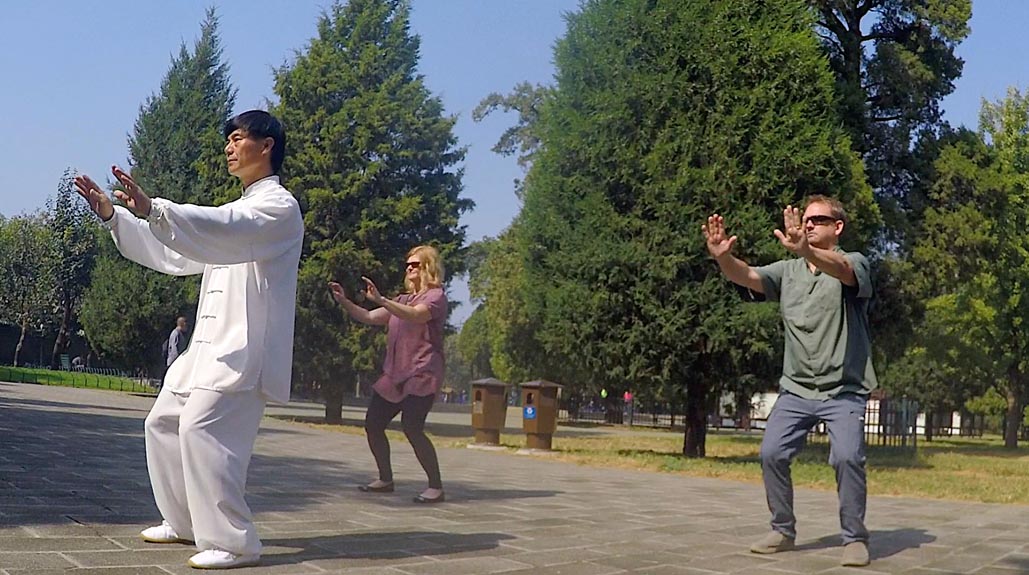 Go to the park and join a Tai Chi Class. The locals are very friendly.
Tai Chi classes take place in Beihai Park, Beijing's largest park and if you join a group, you will be welcomed with open arms.
21. Visit the Central Business District

Marvel at the five-star hotels scattered among skyscrapers, high-end shopping, and fine dining.
There are walking streets, shopping streets and malls to explore. It's not quite as impressive as Shanghai or Hong Kong, but the CBD of Beijing is worth a stop for a bit of shopping and dining.
22. Take a Tofu Workshop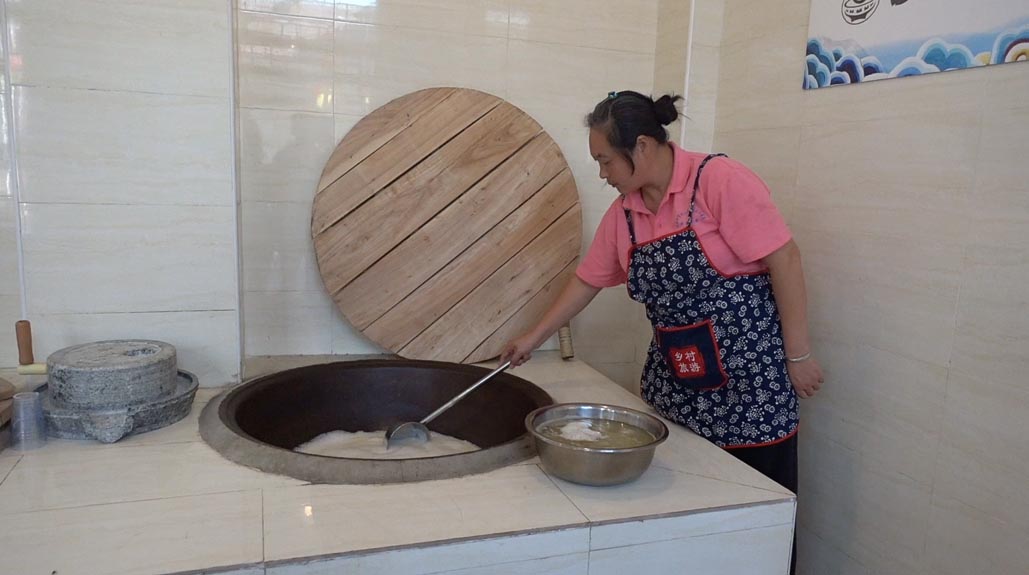 I honestly can't remember where we took this class. I've searched the Internet and can't find it.
But our tofu workshop was a day trip from Beijing. It wasn't in the centre and turned out to be further out of town near the Badaling Great Wall.
But there is a school in Beijing where you can learn to make bean curd (tofu) from start to finish.
It was very cool to see how one of China's staple dishes is made and we had our hand in grinding the soybeans to boiling the bean curd to finally eating and enjoying our hard work.
About Beijing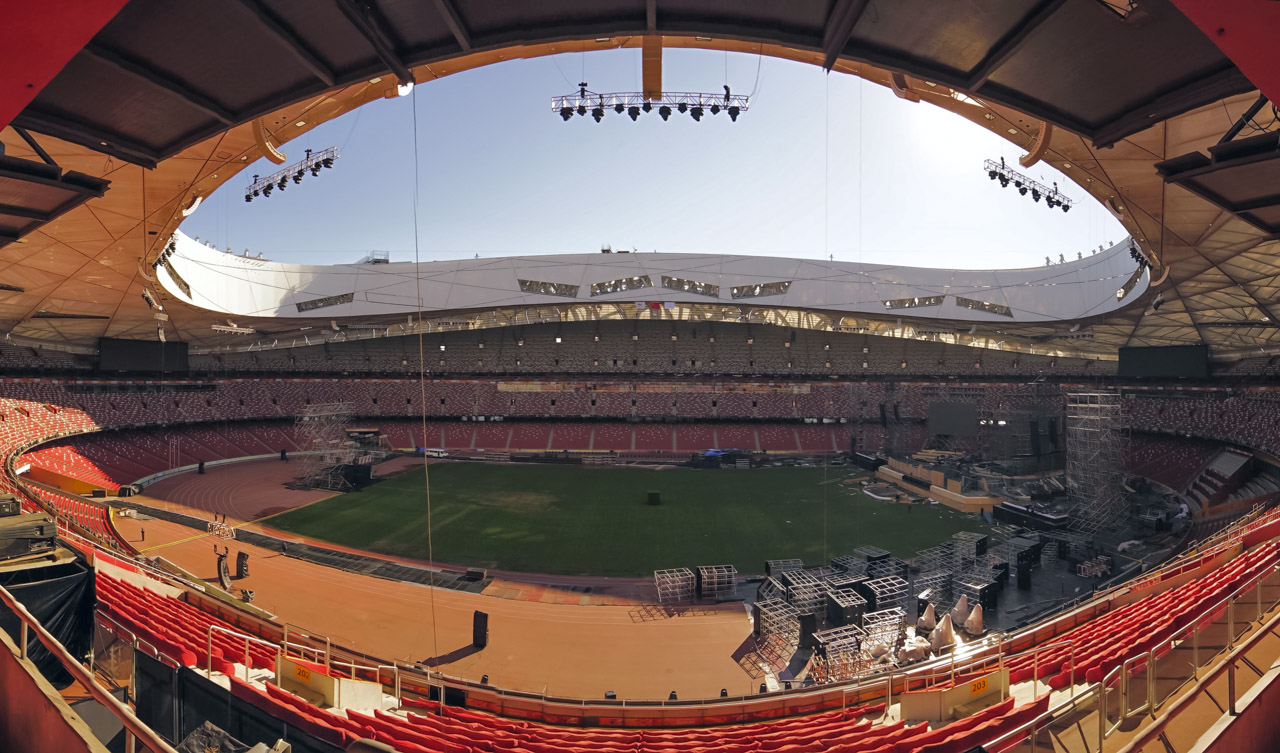 Beijing is a massive city with a population of 21 million people. It is the capital of China filled everything from ancient monuments to modern skyscrapers.
The host of the 2008 Summer Olympics, Beijing will once again be welcoming the world in 2022 for the Winter Games. 2019 will see the World Expo.
There are many direct flights to Beijing from cities around the world including Toronto, London, New York, and Sydney.
Beijing is filled with UNESCO World Heritage Sites, World Wonders and some of the best shopping in Asia.
Where to Stay in Beijing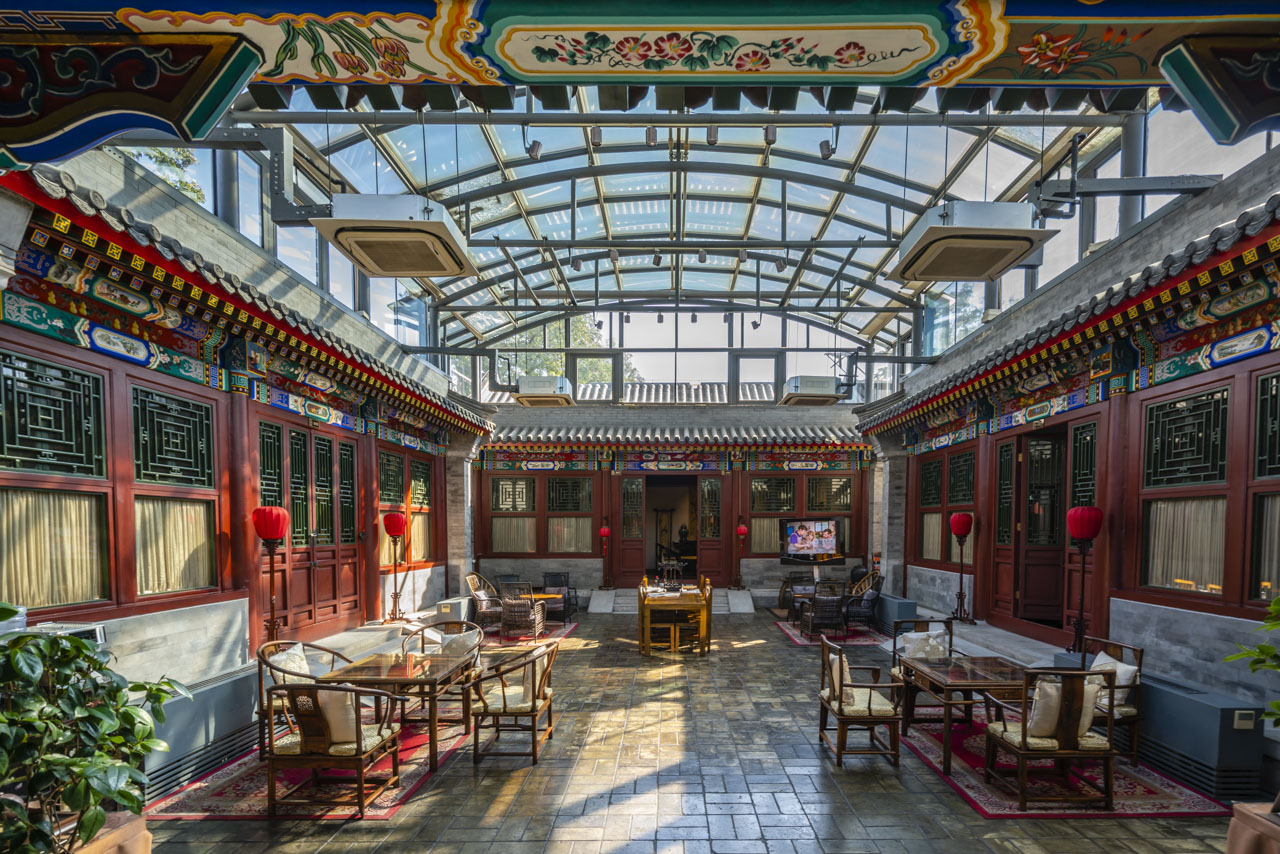 There are many neighborhoods to stay in Beijing. But the three main that we recommend are near the Hutongs; Shichahai Sandalwood Hotel is an authentic hotel set in a former palace.
Downtown in the Business District right in the heart of skyscrapers and shopping malls. There is a beautiful Ritz Carlton. in the area and you can never go wrong with The Ritz!
Near the Forbidden City in the Dongcheng District an excellent choice hotels Beijing to be near the sites and plenty of dining options. You can check out reviews and book hotels on TripAdvisor, Beijing.
We stayed in this area a few years ago and loved it. It was walking distance to many attractions and there were many things to do in Beijing at night here.
Getting Around Beijing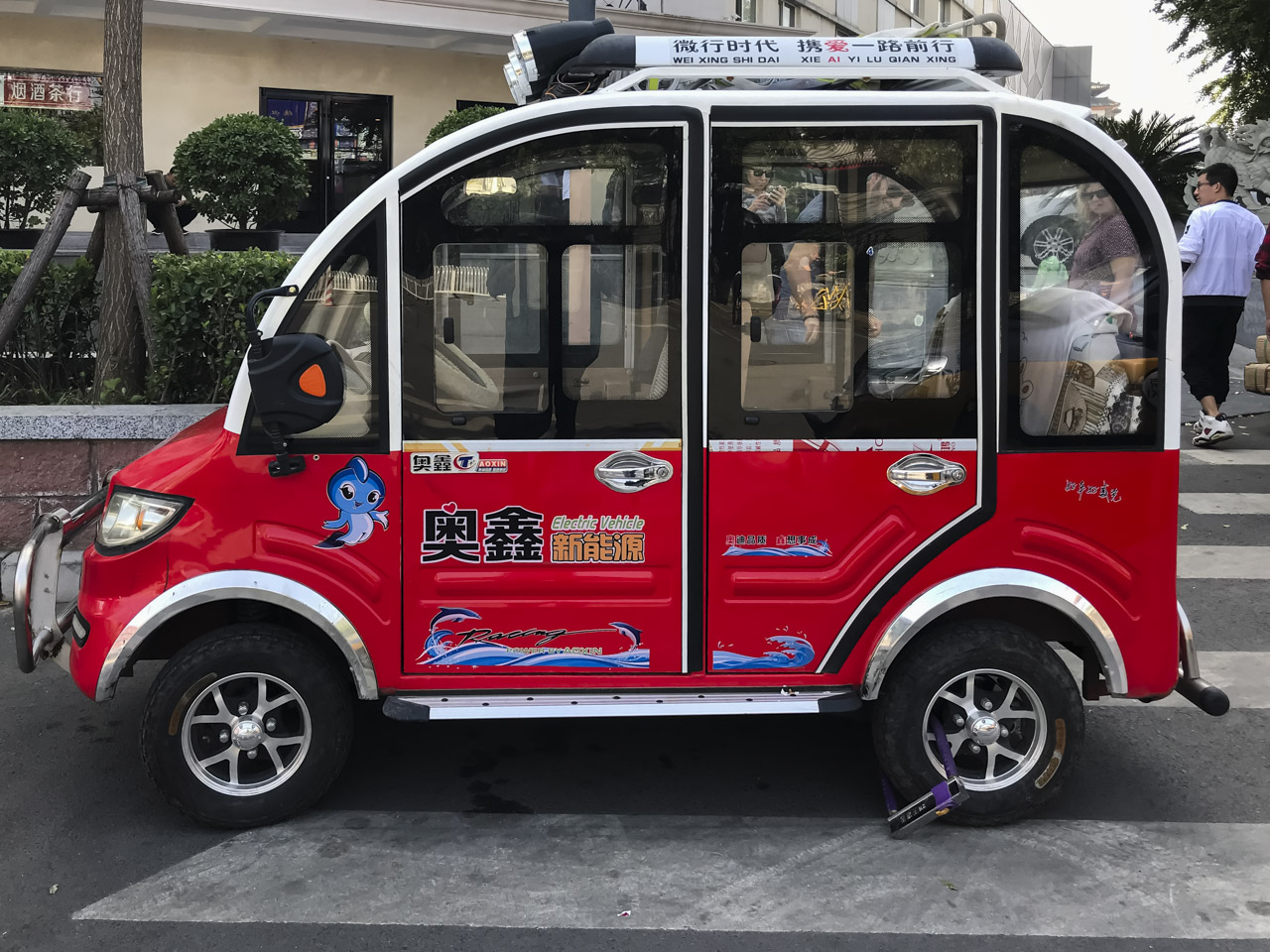 Beijing is a huge city that is spread out over 16,807.8 km2 (6,489.5 sq mi)
Traffic can be heavy and most people do not speak English, so we suggest hiring guides to take you to the top sights of Beijing.
Get Your Guide is a great tour company that offers many day tours within and around Beijing.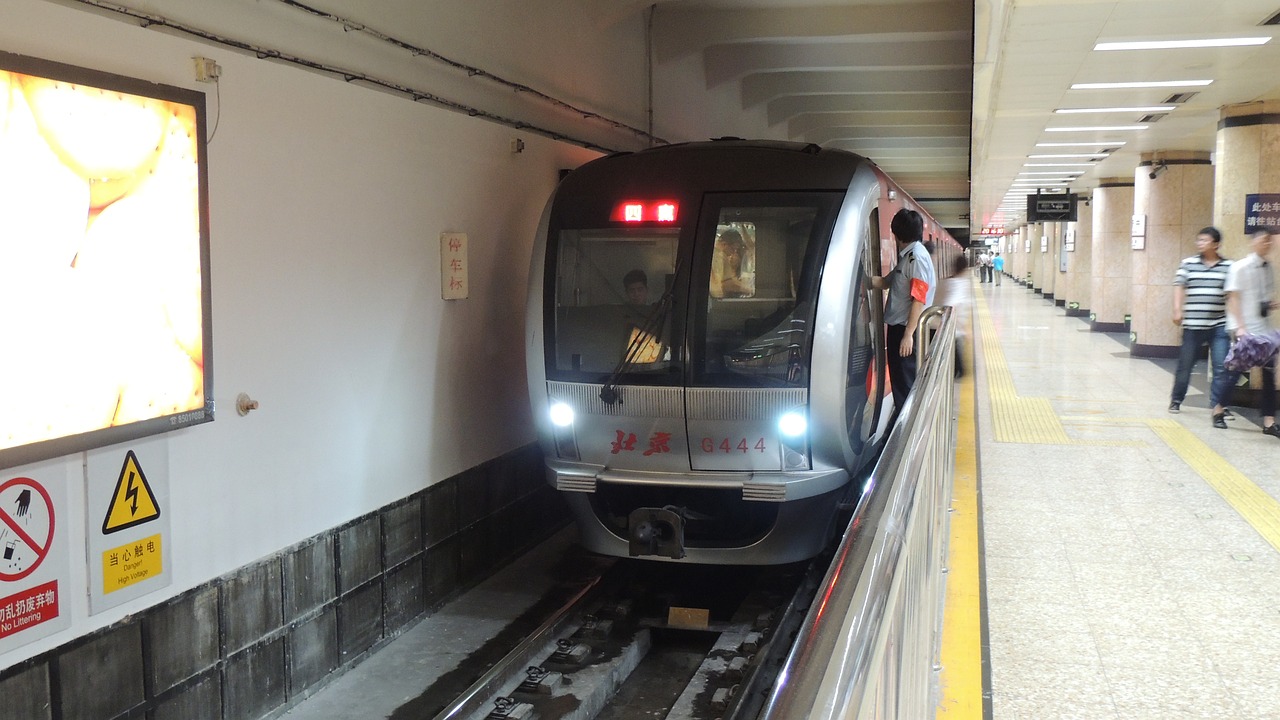 There is no Uber or Lyft and the Chinese ride sharing is complicated without a local number and being able to speak Mandarin. But Taxis are cheap.
Tip: Keep a business card from your hotel so you can give it to taxis to get home at night. If you need to go somewhere, have the Concierge at your hotel write down the address in Mandarin for you.
The subway is easy to navigate and is very reasonable, but it is crowded and closes at 11:00 pm. Cost is cheap at 3-7 Yuan
Navigate the Beijing Subway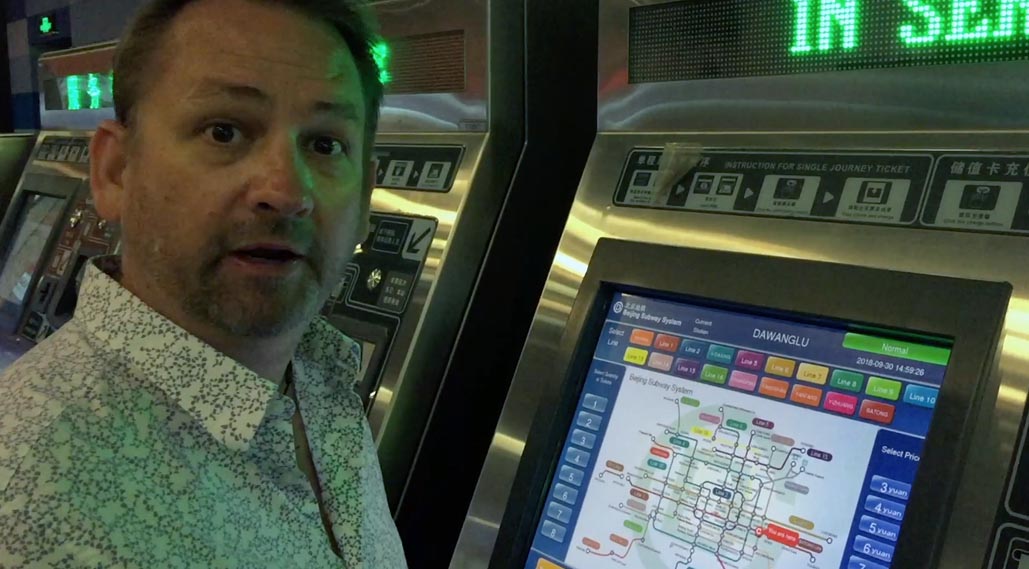 Taking the subway in Beijing is very easy.
If you are going to a specific tourist attraction, ask your concierge or at the hotel desk what stop you need to go to.
Once you know the subway stop you need, it's very easy.
Go to a machine, and choose the stop you want.
Don't worry, you can choose English to navigate the menu.
Before you go, know what line you want and what your final destination is on and know what the final stop of that line is.
That will help you know what line to get on once you get into the subway. And then when you get ot the platform, look for the final stop to know which side to stand on.
When you click the destination you want, it will ask for cash.
Note: Be sure to have small change as the machines only give back small denominations so you could be stuck with a lot of coins.
There are money changers in some subways but I wouldn't count on that.
Make sure to keep your card handy, you will have to swipe yourself in and out.
The subway charges by distance and is very cheap.
Check out these alternative things to do in Taipei
Plan Your Trip to Beijing
Internet Censorship in China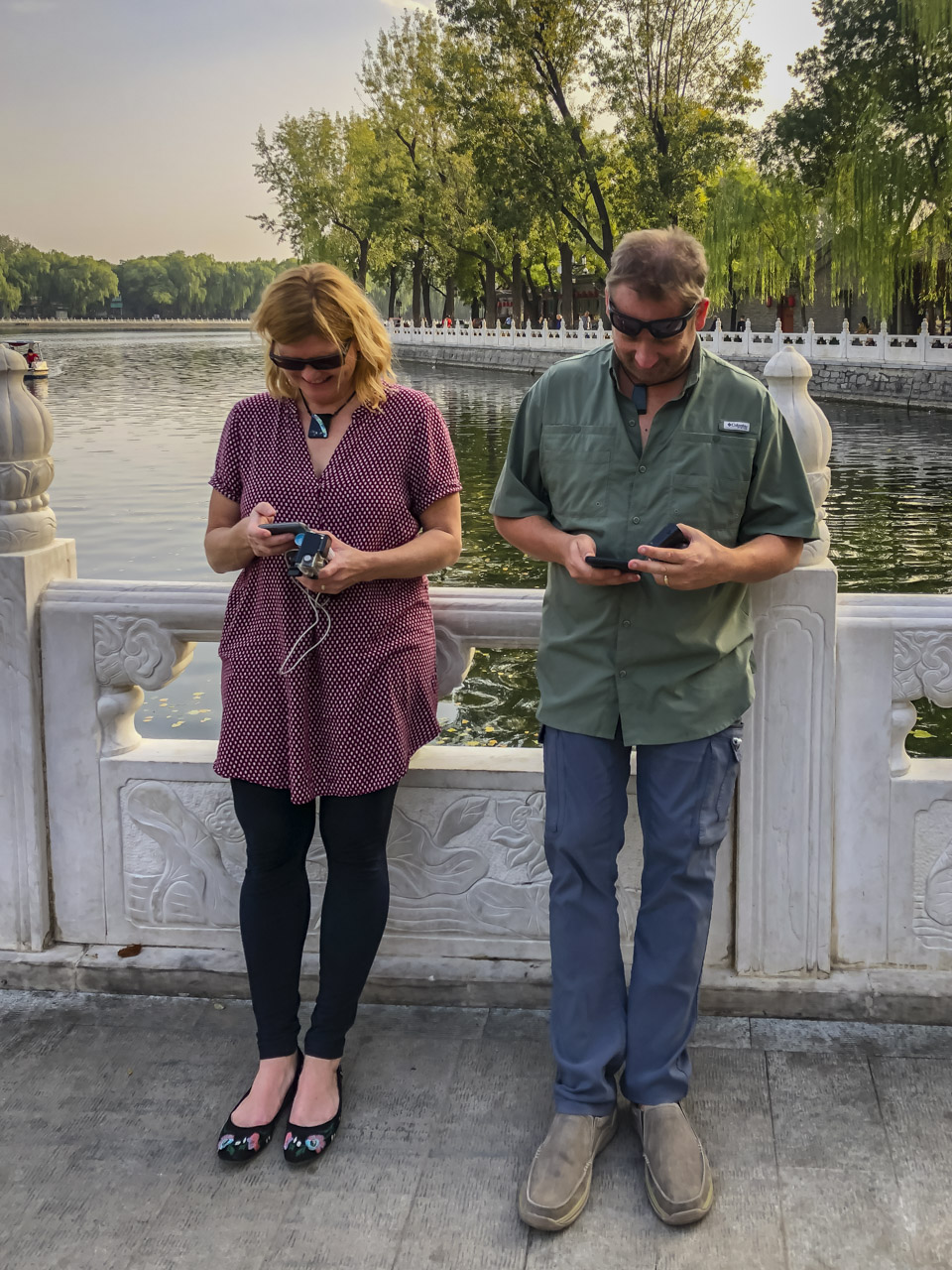 You cannot access Google or social channels like Facebook or Twitter. We used KnowRoaming SIM cards on our phones and it worked better than our VPN on our computer.
The KnowRoaming SIM is hosted outside the country giving you access to Gmail and all other social channels with ease. PlanetD readers receive 50% credit when ordering with promo Code DDSave50: Visit KnowRoaming for details.
Plus for a limited time, KnowRoaming is offering a free Global SIM Card with the purchase of a Global SIM Sticker or SIM Card.
We know many don't travel alone, so it's great to have two phones working overseas. How many times have you gotten lost and need to text one another?
If you don't use KnowRoaming, you must use a VPN. It is impossible otherwise to access your accounts.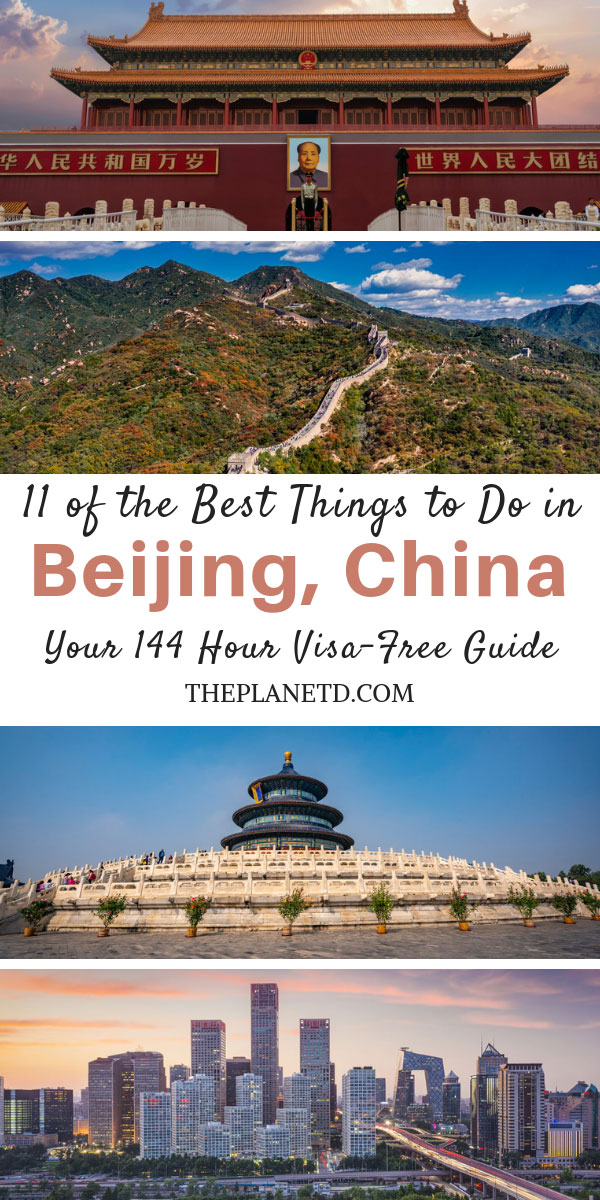 Read More: China and City Guides