We loved getting to know our tuk tuk driver. Here are some questions that we asked him.
Have you ever met an honest Tuk Tuk Driver?
We did, and we never let him go.
His name is Ajith and we lucked out on our first day back to Hikkaduwa.  We needed to go to the ATM, and when we walked out of our guesthouse Ajith was there.  We asked him a price, he quoted a fair one and we were off.
What is so special about this meeting?
We have since gone to two charities with Ajith, had dinner at his house and watched him donate shoes to a school from money that he has raised with his friends from Italy. We talk to him everyday on the telephone. (our iphone that we are so happy that we brought)

Ajith has become our friend.
We have met his wife and children and it will be a sad day when we have to say good-bye.
Ajith came with us to Lotus Hill, another project that we visited run by people from Finland to help disabled children in Sri Lanka.  When he saw that we were interested in charities, he invited us to come to Dimboldua School in Kuleegoda Village.
It is a small school on the jungle side of the tracks in Ambalagoda Township.   He was bringing shoes to the students.
For weeks he had this in the works.  He had gone to the school to take their measurements and then drove 20 km to Galle to have the shoes made.  He had made several trips on his own dime and the day had come that children were getting their shoes.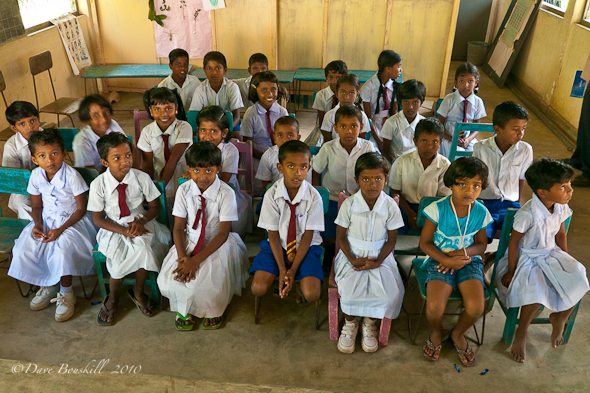 Learning About the School
This school is a poor school and many of the students come from large families of up to 10 children.  Most of them have never had a shoe on their foot in their life and now, they would have durable handmade shoes to go with their uniforms and give them protection.
Ajith raised the money through his contacts in Italy, Sergio and Vera. A wonderful couple that has been coming to Sri Lanka for years and have taken an active stance in the community.
What is it about this place that makes everyone want to come back?  What is it that makes everyone want to help and give?
I will tell you, it is the people.  Never in all our years of travel have we met people so genuine and good.
This country deserves peace and prosperity and everyone that comes here just wants to help them get it.
Sergio and Vera raised some funds before coming to Sri Lanka and brought them to Ajith to have shoes custom made for poor students going to a tiny school in the jungle.
They were so humble and giving letting Ajith shine when he presented the shoes to the children.  Ajith took care of all the logistics, and it was Vera and Sergio's fundraising a work in Itay that made it all happen.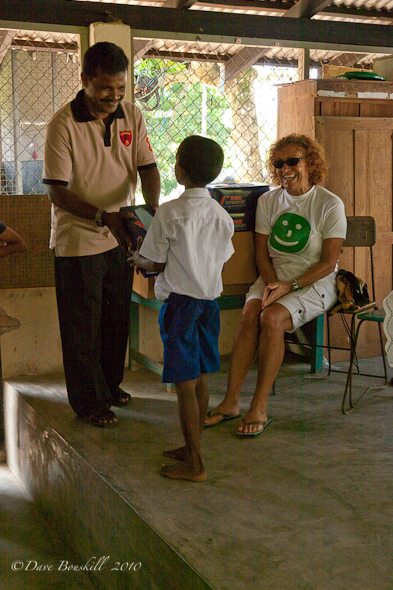 Ajith is not only giving shoes to this school but many others as well!
The school is small.  27 students attend grad 5 here and they were all smiles upon our arrival.
Tsunami Touches Everyone
Like so many other places, this school was hit by the Tsunami.  Luckily it was Poya Day (full moon holiday) so school was closed, but the story is still devastating.
The water came up to the roof for 1 hour.  Two children were playing in the schoolyard and died and one many climbed up on the roof.  He died too.
They tell us like they have told the story a thousand times.
As in life, things go on and in the next breath they hand us a coconut and ask us to see the office.
They laugh at how small it is and show us the desk.
They are happy and grateful.
They are Sri Lankan and we love them.
Our Small Part
Dave and I were merely observers.  We hadn't given money, we hadn't helped with the shoes, Ajith just invited us because he wanted us to see and we were honoured to be there.
It is Vera and Sergio that deserve the accolades along with Ajith, the teachers and the volunteers at the school.  They are doing important and meaningful work.
We can only do one small thing and that is to take their photo and make a print to put up on the school wall.  Everyone loves having their photo taken.
They love looking at Dave's screen once he is finished. We give one to Ajith, Vera and Sergio as well.  A memory of the great work that they have done.
If you are going to Sri Lanka, email us and we will give you Ajith's phone number.  We call him for every trip that we need to make and he could use the work.
He is a giving man, but also a poor man. He hangs out in his blue tuk tuk at his inlaws house right beside Top Secret guest house and restaurant.
Read More
Temples of India and Sri Lanka: A Photostory
Sri Lanka Safari – The Best of Yala National Park