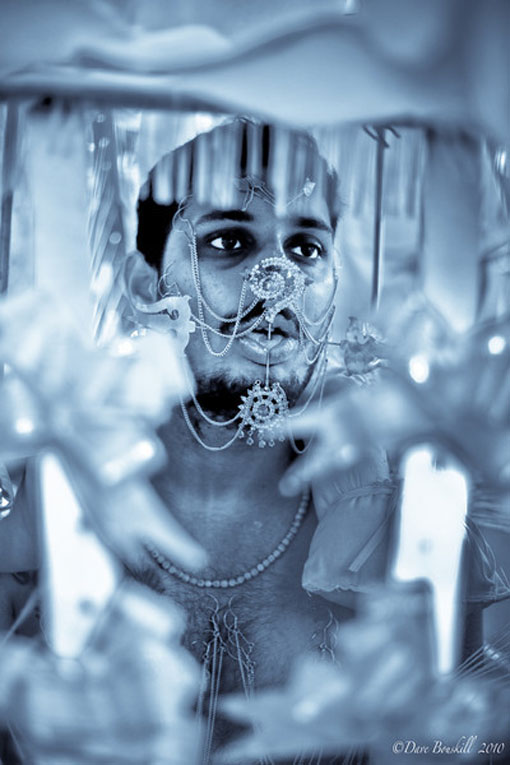 It is the most fascinating festival you will ever witness. Thaipusam is a Hindu Festival that happens every January or February.  It is celebrated by the Tamil community in Sri Lanka, India, Singapore and Mauritius. But nowhere celebrates it as big as Malaysia.
Celebrated during the full moon of the Tamil month of Thai, Thaipusam draws thousands of devotees paying their respects to the Lord Muruga.  It is a colourful and shocking Hindu festival where devotees pierce themselves with pins and spikes, hang pots and fruit off of their chests with hooks and pull chariots or people hanging onto heavy rope attached to their backs by hooks.
Thaipusam Festival Malaysia Asia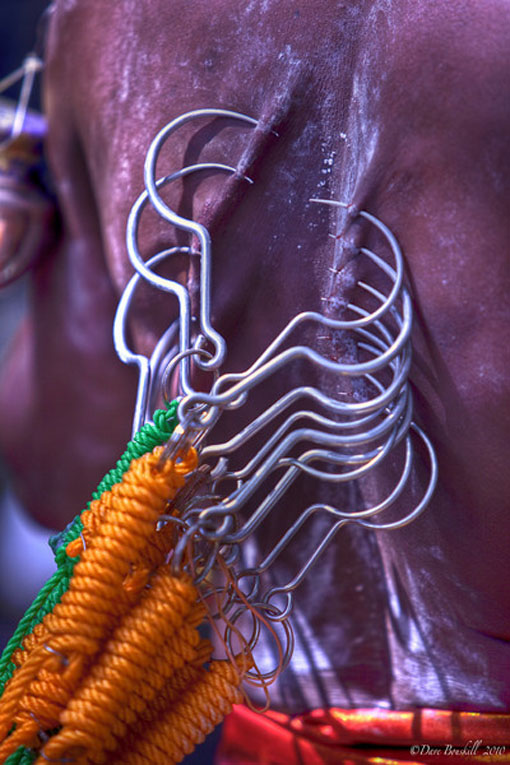 It is a day of celebration as devotees pray to the Lord Muruga for good luck in the coming year.  They thank him for a wish that was granted this past year or as I read in the paper, for the good grades they received in school.
Shocking Asia, Malaysia's Thaipusam
The ages range from the very young. Babies have their heads shaves and piercings were as young as a 13 year girl to old men well into their 70's.  They are offering penance to Lord Muruga for their own and various reasons.
We have had the privilege to experience two Thaipusam Festivals.  Our first was at the Batu Caves near Kuala Lumpur in 2004, our second was Penang's Celebrations in 2011.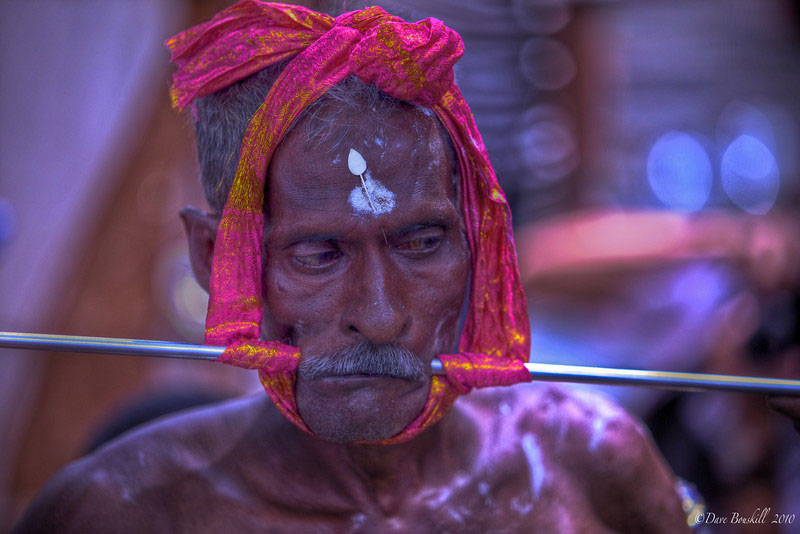 There weren't as many people in Penang as there were in Kuala Lumpur.  Over a million people make their way to the Batu Caves where as 20,000 people visit the waterfall temple in Penang.
Different But Shocking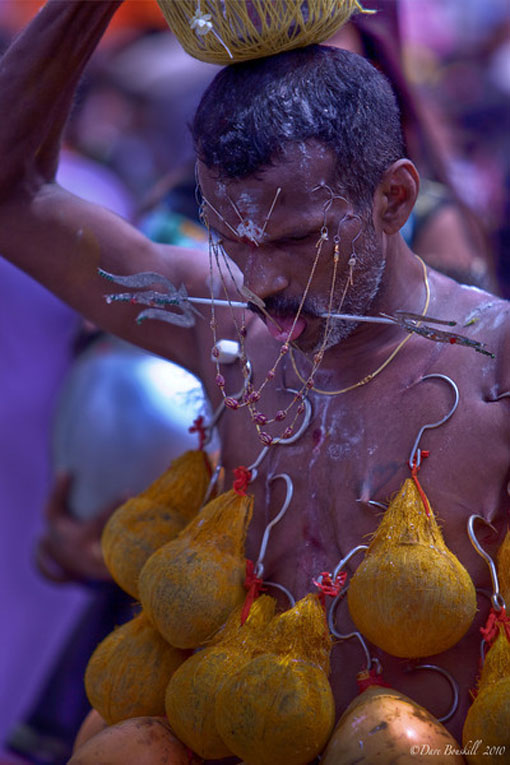 For a first time Thaipusam attendee, we would suggest going to the Batu Caves.  It is far more exciting and energetic.
The crowds are bigger and the devotees are far more outlandish and flamboyant.  At the Batu Caves, people seemed to be in a more crazed state of trance. Their eyes were wild and void of recognition.  The energy is more animalistic and frenzied.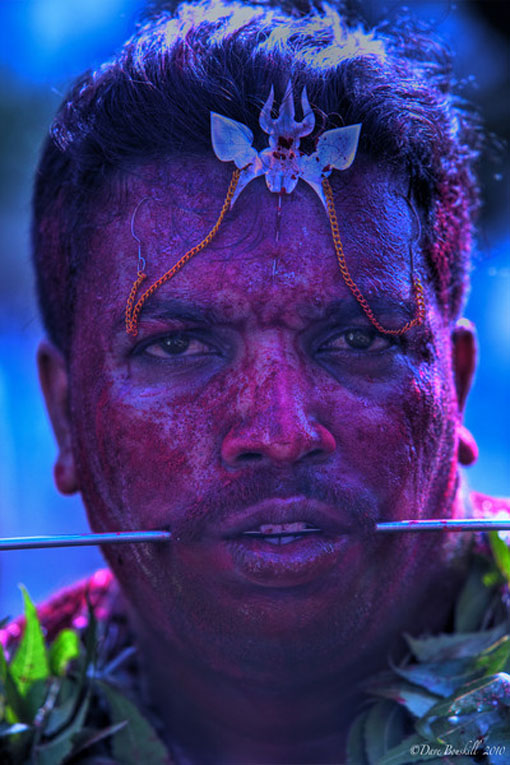 In Penang, it is more reserved. The crowds are smaller, the devotees are calm and relaxed.  You feel as if you could walk up and talk to them, to ask them how they are feeling. They are in a trance, but seem to be very aware and present at the same time.
Watching Thaipusam from Penang
We could walk right up to devotees and take extreme close ups of their faces and backs.  We didn't have to fight the crowd of a million people to catch a glimpse of a worshipper.
We enjoyed the quieter energy.  The devotees were just as devoted and impressive, there were just fewer and farther in between.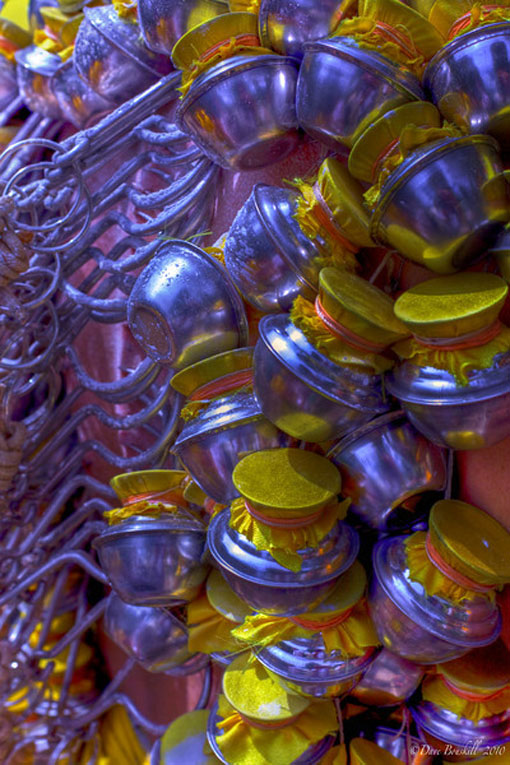 The pilgrimage route to the temple was shaded by trees and the steps to the top of the temple was shorter and less crowded.
We stood right beside a group from China and watched their handlers take care of their open wounds.  They bathed them with water and guarded the long spikes sticking out of their cheeks.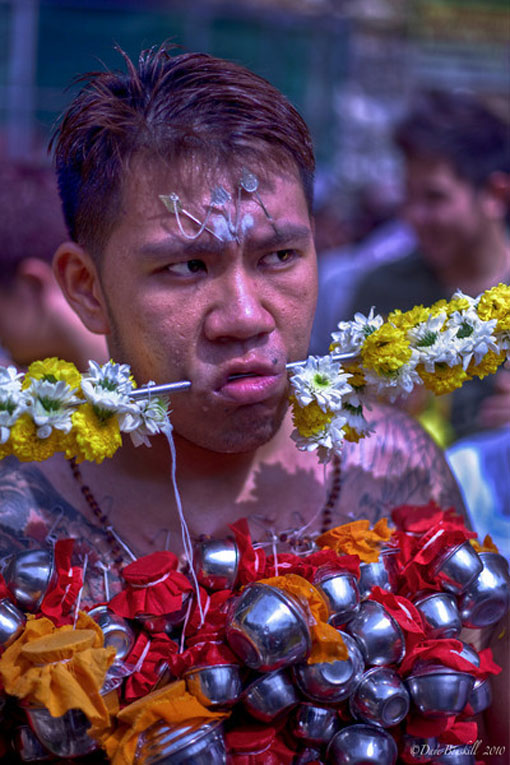 We felt that we could study Thaipusam and felt more a part of it rather than the far away observer that we were in Kuala Lumpur.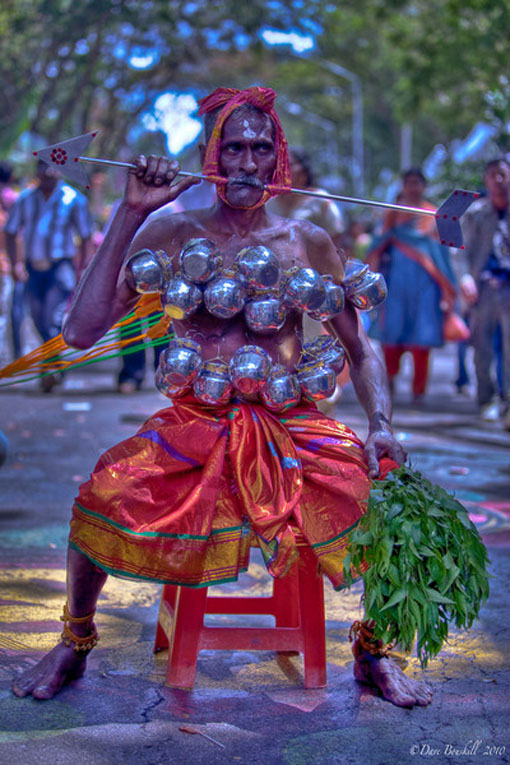 While I would never change my first experience of Thaipusam at the Batu Caves, I was grateful to be a part of the procession, the breaking of coconuts for good luck in the year ahead and an up close and personal observer of Amazing Thaipusam in Penang.
Here is our video from 2004. When we get some time 2011 will come out too.
Read More
Witnessing the Gory Vegetarian Festival in Phuket
Top 6 Places to visit in Kathmandu, Nepal
Sea Kayaking in Thailand and Island Camping with John Gray's Sea Canoe
You Might Also Enjoy