We love food! When JB and Renee of Will Fly For Food suggested breaking down some of their favourite Hawker Stall in Penang, we knew this was the post for us. Malaysia is one of our favourite countries to visit and now we can't wait to go back to eat! 
Hawker Stalls in Penang
There is much to discover in Penang. We visited this Malaysian island city not too long ago and became enamoured with its labyrinth of heritage houses and street art. Walking along its narrow streets, there was always this feeling that around the corner, hidden behind a wall, was something surprising and colorful.
I remember getting up early on our first morning in George Town to explore the back alleys around Muntri Street. Few people were awake at that time and the city was still cast in a dreamy, bluish haze. I was lost in the time warp of colonial era buildings feeling completely transported, when I turn the corner to find a two-story mural of an old man rowing a boat, staring down at me. Apart from a few scratches left perhaps by motorbikes, it looked fairly new.
A modern statement juxtaposed against an historic backdrop, it's this intriguing blend of cultural heritage and contemporary street art that makes Penang so much fun to explore.
Penang Food Stalls
Finding these urban canvases became a game for us, something we would play while seeking out the best examples of what we truly came to Penang for – its food.
Like its heritage houses and street art, Penang is renowned for its street food. It was recognized as one of Asia's top street food cities by CNN and a top culinary destination by Lonely Planet. In 2004, it was proclaimed by TIME magazine as having the best street food in Asia.
You are never far from a hawker stall in Penang. 
No matter where you are on this island, you'll never be too far from hawker stalls dishing up the most delicious street food. Local favorites like curry mee or char koay teow can be heard (and smelled) sizzling on woks at the front of long queues of eager customers. Traveling on a shoestring? Not to worry, many of these dishes can be had for less than two dollars a plate.
Though there are countless street food vendors to choose from in Penang, not all bowls of asam laksa are created equal. Taste may be subjective but if longevity is any indicator of quality, then these 7 stalls should satisfy even the most exacting of palates. They've all been serving their signature dish for no less than 30 years.
If you're like us and food is every bit as important to you as heritage houses and street art, then these are 7 legendary hawker stalls in Penang that you absolutely cannot miss.
1. Kheng Pin Café
Uncle Lau of Kheng Pin Café has been frying up some of Penang's best lor bak for almost 40 years now. Lor bak is a dish consisting of different types of meat, seafood, tofu, and vegetables. They're seasoned with five-spice powder and rolled in a thin beancurd skin before being deep-fried and served with a duo of sweet and spicy sauces.
Essentil Information:
Address: 80, Jalan Penang, George Town
Expect to spend: Around $1.60 for two people
2. Sister Yao's Char Koay Kak @ Macalister Lane
This humble pushcart along Macalister Lane has been serving some of Penang's most delicious char koay kak for over 40 years. Char koay kak is stir-fried radish cake with bean sprouts, eggs, and preserved radish drenched in a thick black soy sauce. The Eoh sisters inherited their father's business about 30 years ago and have kept his recipe largely unchanged.
Essential Information:
Address: 94C, Macalister Lane, George Town
Expect to spend: Around $0.75 per order
3. Seafood Popiah at Gerai Gerai Padang Brown
Popiah is a type of fresh spring roll. It's made by filling a thin, paper-like crepe with a mix of ingredients like finely grated turnips, carrots, bean sprouts, fried tofu, pork, seafood, peanuts, fried shallots, and omelette strips. What makes this stall at Gerai Gerai Padang Brown so special is that it's one of the few places in Penang that makes it with crab meat. Soft and savory sweet, they've been making their delicious rolls of seafood popiah for over 60 years.
Essential Information:
Address: Medan Selera Padang Brown food court (Dato Keramat Stalls)
Expect to spend: Around $1.50 for 2 rolls
4. Ping Hooi Coffee Shop
Char Koay Teow is arguably Penang's most iconic street food dish. It's made by stir-frying flat rice noodles with soy sauce, prawns, cockles, fermented shrimp paste, bean sprouts, chives, and egg. The Yeow family has been serving a sinfully delicious version made with duck eggs at Ping Hooi Coffee Shop for 3 generations now.
Essential Information:
Address: 179, Carnarvon Street, George Town (corner of Lebuh Carnarvon and Lorong Carnarvon)
Expect to spend: Around $2 per order
5. Air Itam Asam Laksa
Asam Laska is another of Penang's most popular street food dishes. Unlike coconut-based curry laksas, asam laksa is made with tamarind so it tastes more sour than creamy. Air Itam Asam Laksa, a hawker stall at the foothills of Kek Lok Si Temple, has been serving some of Penang's best bowls of asam laksa for over 30 years.
Essential Information:
Address: Ayer Itam, Jalan Pasar (corner of Jalan Pasar and Jalan Paya Terubong, beside Air Itam Market)
Expect to spend: Around $1 per bowl
6. Sister Curry Mee
If longevity is the only criteria, then Sister Curry Mee has to be one of Penang's most legendary hawker stalls. Run by two sisters, they've been serving some of Penang's best bowls of curry mee for over 70 years now. Known as curry laksa anywhere else in the world, curry mee is an egg noodle dish typically made with bean curd puffs, bean sprouts, cuttlefish, shrimp, and cockles in a coconut-based curry soup.
Essential Info:
Address: Jalan Air Hitam, Pekan Ayer Itam
Expect to spend: Around $1.10 per bowl
7. Mr. Por's Duck Koay Chap @ Restoran Kimberly
One of Penang's most popular hawker stalls, you'll always find a long line of people waiting for Mr. Por's duck koay chap at Restoran Kimberly. Duck koay chap is a noodle soup made with flat, wide rice noodle rolls. It's served in a dark soy sauce broth filled with ingredients like duck, pork, offal, fishcakes, vegetables, and hard-boiled egg. Mr. Por has been making all the components for his koay chap in-house for the past 30 years.
Essential Info:
Address: 137, Lebuh Kimberley, George Town
Expect to spend: Around $1.80 per bowl
For more street food recommendations in Penang, check out our video of 15 delicious things to eat in Penang and where to try them.
15 delicious things to eat in Penang
About the author: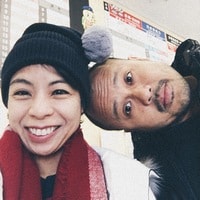 JB and Renee are the Traveleaters behind Will Fly for Food, a travel blog for the gastronomically inclined.
Food is a major reason why they travel so they've made it their quest to try every country's national dish.
Traveleat with them on Facebook, Twitter, Instagram, YouTube, and Pinterest.
---
You Might Also Enjoy