We have yet to visit Colombia. We want to, but there are so many countries in the world, we just can't visit them all…yet. That's why when Di of Slight North suggested writing about her favourite must see cities in Colombia we knew you'd want to know about them too! Enjoy. 
Tops 5 Must See Cities in Colombia
Forget what you've heard – Colombia is the go-to country for South American travel now and tourism is booming. It's only a short flight away, the cost of living is cheap, and the food, nightlife, and nature is absolutely amazing.
Cities in Colombia
Beaches, jungles, big cities? Colombia has it all! Plan your trip today, and make sure you hit these top 5 must see cities in Colombia while you're there!
Medellin
Medellin has a bad rap as the home of Pablo Escobar, but the city has totally transformed itself in the past 15 years. The vibrant city of 2 million boasts some of the best nightlife in the country in the Poblado neighborhood, as well as a large and easy to access National Park on the surrounding mountainsides. A day trip to the colorful lakeside town of Guatape is also a must. All in all, Medellin is amazing and the history and comeback story of this city can't be missed!
Medellin essentials
Stay: Poblado
Drink: Happy Buddha Bar, Craft Beer Bar, Chupa Shots,
Eat: Querido Food & Love, Bonhomia
See: Cable Car, Parque Arvi, Guatape, City Tour
Bogota
Bogota, a city of 9 million, has something for everyone. Explore the old cobbled streets of the colorful Candelaria district and take a refresher history course at the imposing senate and presidential buildings. Breweries, clubs, and good eats dominate the hip Zona Rosa zone and guarantee an amazing (and maybe somewhat hazy) night out any day of the week. Just make sure you pack a jacket – at 8,600 feet, the altitude keeps the city cool all year around.
Bogota essentials
Stay: Chapinero
Drink: Zona Rosa
Eat: La Puerta Falsa, Quatro Mesas, Andres Carne de Res
See: Monserrate, Candelaria, Simon Bolivar Square
Cartagena
Cartagena is another Colombian city you must visit. It's steeped in beauty, mystery, and tropical heat. The beachside city was built with a colonial flair, and the brightly covered houses of the old town are draped in flowers and greenery. Spend your days soaking up the sun wandering the cobbled streets, shopping the street vendors, and drinking mojitos. Just make sure you don't miss a day trip to Playa Blanca, the gorgeous white sand beach stretching across Cartagena's Caribbean islands. Paradise!
Cartagena essentials
Stay: Getsemani or Old town
Drink: El Arsenal, Cafe Havana, Trinidad Square
Eat: La Cevicheria, Porton de San Sebastion
See: Playa Blanca, Coral National Park, Old Town
San Andres Island
This little known Caribbean island is nestled near Nicaragua and about a 3 hour flight from Colombia's mainland. If you love seafood, beaches, and lounging in the sun – the pace of this laid back island is definitely for you. Visit to dive the clear blue waters or just enjoy the year round perfect weather and get away from it all.
San Andres Island essentials
Stay: Rocky Cay or El Centro
Drink: Grab a bottle of liquor or wine and enjoy it laying on the beach
Eat: Rosa del Mar
See: Rocky Cay Island, San Luis Beach, West View
Jardin
Jardin really is a town that time forgot. Step back in time in this little farming town untouched by modern time. Wander the wholesome market streets of the main square, visit the Basilica, and enjoy the many cafe's spreading their tables out into the sun. Spend your days hiking the nearby mountainsides and waterfalls, and your nights sipping coffee with the locals. I promise, you'll never see Colombia the same after this.
Jardin essentials
Stay: Main Square
Drink: Coffee in the many cafe's surrounding the square
Eat: Cafe Europa
See: Hike to nearby waterfalls, horseback ride to la Cueva del Esplendor
If this country is not already on your bucket list, make sure you add it today! And when you do visit, don't miss these top 5 must see cities in Colombia!
About the author: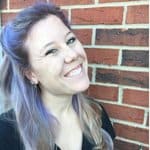 Hey, I'm Di! Digital marketer and world traveler. I spent two years teaching in the Middle East before I started my own business so I could work remotely and travel indefinitely.
I'm passionate about traveling as much as possible, and I started my blog Slight North to celebrate the nomad lifestyle, and to show the good (and the bad) of living out of a suitcase while I travel through South America. I live my life by the motto "But, what else?" What else is there to see and do?
What else is there to try, explore, and discover? Well, come along with me and find out! Follow along on Instagram, Twitter, and Facebook.
---
You Might Also Enjoy