Cory Lee shares his tips on how to travel the world in a wheelchair. Having been to
Unlimited freedom. No cares in the world. Peaceful relaxation. These are some of the thoughts that may run through your mind when deciding to travel, and they do run through mine as well. Even though I travel in a wheelchair.
How to Travel in a WheelChair
Traveling for me isn't exactly a blissful walk in the park. It takes countless hours of planning and even more hours are spent hoping that everything goes smoothly during the trip.
You see, I am in a wheelchair and travel in a wheelchair requires a lot more preparation and work for me, but it still happens to be the love of my life.
I was diagnosed with Spinal Muscular Atrophy, a form of Muscular Dystrophy, at the age of two. The doctor immediately said that my muscles would gradually weaken over time and I would never be able to walk.
I can only imagine how my mother felt when she learned that her first and only child would never walk, but after the initial shock, she swore to never let the disability hinder me from anything, including traveling.
I credit her fully for instilling this sense of wanderlust in me and raising me with the mentality that anything is possible with a little determination. I am proof that you can see the world and travel in a wheelchair.
When I was younger, we would go to Disney World every Summer, a ten hour trek from where we lived in Northwest Georgia, but this annual trip was everything to the four year old version of myself.
While Disney is still one of my favorite places in the world, we eventually sought further exploration and went to the Bahamas when I was fifteen. This was my first time in a foreign country and I was fascinated with the cultural differences.
Catching the Travel Bug
Something changes inside of you when you see an 80 year old woman working hard to sew straw, making a measly income, and she has had the same job since she was a teenager. Yet, she still has a smile upon her face and is happy to talk to anyone and everyone walking by.
This was a bit of a culture shock, but it was then that I realized that the world is a huge place and there are so many different ways of life. I instantly wanted to see everything that the world had to offer, wheels and all.
Where I've Travelled
Within the next few years, my mom and I went to Canada, Mexico, and even Germany and Austria upon my high school graduation.
While most of my schoolmates were going to Florida beaches on their graduation trips, we were jetting off to a rather cold and rainy Munich and I wouldn't have it any other way.
Drinking beer in the Hofbräuhaus is one of my greatest memories. I had studied German for 4 years in school, so being in the country for the first time was surreal to me. This trip was a lot of fun, but also brought about new challenges.
The Challenges of Traveling in a Wheelchair
Since we traveled to Mexico and the Bahamas via cruise ship, Germany was our first time dealing with a different power voltage. Most people would think that this is no big deal if you just carry a converter, but with an electric wheelchair it's a huge deal.
We took a converter and thought that it would work, but as soon as we plugged my wheelchair battery charger into the wall it blew up. Literally. The power in the hotel even went out. We single-handedly managed to blow out the power in an entire hotel. "Embarrassed" doesn't even begin to cover it, but luckily the hotel was okay about it, the power soon came back on, and we found a repair shop that sold us a new 240 volt charger.
Overcoming Fear
Many wheelchair users that I know are scared to travel because they only think of what could go wrong instead of looking at what all can go right.
There is always a solution to any problem and with my blog, Curb Free with Cory Lee, I want to show that anyone can travel, regardless of what obstacles life has thrown their way. After all, they are called "obstacles" and not "stoppers" for a reason.
Any time that I go somewhere new, it is always an adventure. There are new obstacles to overcome, new places to explore, and new lessons to be learned.
While traveling in my wheelchair does present challenges sometimes, I will never let it hold me back from exploring the world. Growing up, my mom always told me "If you can't stand up, stand out" and I try to live up to this motto every day.
Through traveling, I feel like I have truly found my way to "stand out".
Author Bio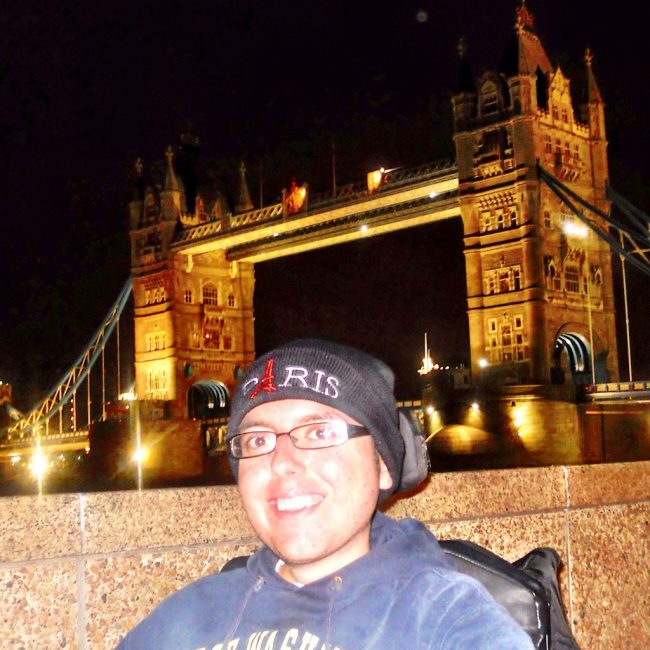 Cory Lee is a 23 year old travel addict and college Senior.
He started his travel blog Curb Free with Cory Lee with the aim to inspire others to step out of their comfort zone and see all of the beauty that the world has to offer.
You can follow Cory's adventures on Facebook, Twitter, and Instagram.
You Might Also Enjoy