We have received a few emails lately asking us how we travel the world.  People want to know what we do in our day to day lives to save and budget and people want to know how we afford it.
How to Travel the World
We have actually talked about this subject in an earlier post in our advice/long term travel section called How to Live your Life to Travel the World but we thought that we would give you some other references as well.
Other Sites to Check Out
Travel Writers exchange has an excellent post written by Shannon O'Donnell called Learn How to Plan A Round the World Trip.  Shannon also has an excellent post at her site ALittleAdrift where she shares her budget in What I paid for my Round the World Trip.  Both of these posts are filled with very useful information.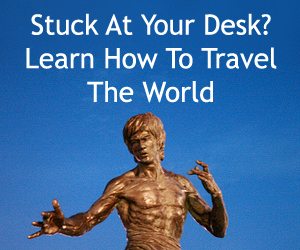 If you are looking for a very comprehensive guide on how to travel the world and what you need to do in your life to make it happen, nobody goes into depth as much as Anil Polat of foXnoMad.  His book Overcoming The 7 Major Obstacles to Traveling the World is an excellent guide on how you too can travel the world.
What it's About
He discussed the obstacles that people face and easy solutions to overcoming them.
World travel doesn't have to be budget breaking.  There are many ways to save money on the road and at home.  The 7 Major Obstacles talks about easy lifestyle changes that you can do to be able to get out there and explore this great world.
In our opinion, this book is also godd solid advice for anyone looking for ways to reduce clutter, debt and stress.  You don't necessarily have to become a world traveler, but even if you are looking for more freedom and a chance to break free from a negative cycle in your life, this book will inspire and show you how to get started.
People come up with excuses time and time again as to why they can't live a better life.  Fear holds many people back from letting themselves enjoy a rich and beautiful life.
Many people are so afraid to take a chance to follow their dreams that they forget to live.
As travelers, we view life as living, not the amount of things that you have in your possession.  If you are feeling the same way, you just may want to check out the links that we have listed above.
Disclosure: We enjoyed Anil's book so much that not only contributed we signed up as an affiliate.  The links to the ebook above, do make us some money, but like everything here at theplanetd, we would never recommend something if we didn't believe it it's value.)
Read More
Best Travel Quotes – 61 Inspiring Quotes in Photos
Best Travel Blogs – The Complete List of Who to Follow in 2019
5 Things my Two-Year Sailing Journey Taught Me About Life
You Might Also Enjoy