What is it like to do the Everest Base Camp Trek? It's amazing, it's exciting and it's exhausting.
We share everything you need to know from planning, packing and what it's like trekking Everest.
Take a journey with us through Nepal's legendary Sagarmatha National Park.
About Everest Base Camp Trekking
Trekking to Everest Base Camp takes hikers through the incredible Khumbu Region of Nepal starting in the town of Lukla.
For 8 glorious days, we trekked through the Himilayan Mountains towards Mount Everest Base Camp staring in awe at the scene before our eyes.
Hiking through Sagarmatha National Park, we walked through the Khumbu Valley marveling at massive 8000+ meter peaks standing like Mount Lhotse, Mount Makalu, Cho Oyu and, of course, the mighty Everest herself standing 8848 meters high.
Book your Everest Base Camp Trek with Simrik Real Nepal – The guide we used on our trek to base camp.
What You Can Expect from This Everest Base Camp Itinerary
Start: Flight from Kathmandu to Lukla
The Tenzing-Hillary airport stands at an altitude of 2800 meters (9100 feet) in the middle of the Himalayas.
The flight from Kathmandu is an hour-long scenic thrill ride through the Himalayas, landing in the village Lukla where the Everest base camp trek begins.
We left Kathmandu early in the morning to have plenty of time to land in Lukla and have a short rest before beginning our hike.
We were quite nervous on the tiny plane as we flew through the Himalayas. It's a beautiful flight, but it is intimidating.
We sat at the front of the plane and saw the pilot's instruments constantly flash "obstacle ahead." We were surrounded by mountains on every side!
Watch our Flight to Lukla on YouTube
The Lukla airstrip is a short landing strip built at a steep grade to slow the planes down quickly.
The steep grade is needed because if you don't stop, you are going straight into a mountain.
It is not the landing I was nervous about as much as having to take off in 2 weeks time. It looks terrifying, but I don't have to think about that for a while.
There was no time to stop and think about it though. Once we landed, we had to trek for 3 hours from Lukla to Phakding.
So, after a quick breakfast at a restaurant in Lukla, we set off to begin our adventure. We had been awake since 4:00 am.
Day 1: Trekking Everest – Lukla to Pakding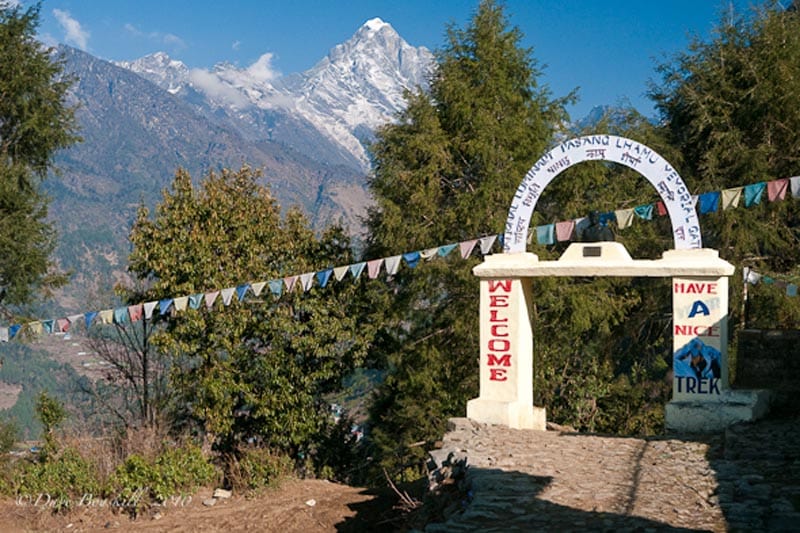 It is awe-inspiring to hike through the Khumbu region be surrounded by the Himalayas.
The hike to Everest Base Camp takes us through the Sagarmatha National Park, a UNESCO World Heritage Site since 1976.
At 1148 square km (443 square miles) the park is one of the most beautiful places we have ever visited.
Like any national park around the world, we needed a permit to enter, and we had to check in with the park headquarters to be able to hike to Everest Base Camp.
Dipendra had that all in order, so all we had to do was start walking and let him take care of all the paperwork.
When booking with his company we had an all-inclusive fee that covered our flights to and from Lukla, food, lodging, and guiding.
When leaving Lukla, Dipendra pointed out jagged white peaks named Kwangde, Mumbu, and Kishumkongara.
At 6000+ meters, (19,000 feet) these are the "little guys" of the world's highest mountain range. It wouldn't be long until we were among the famous 8000-meter (26,000 feet) peaks.
For the rest of the day, we followed the Dudh Koshi River Valley at a steady but leisurely pace to the village Pakding where we spent the night in a teahouse.
Our first day was filled walking while learning about the region and culture of Everest from our guide "Deep"
Prayer Rocks and Prayer Wheels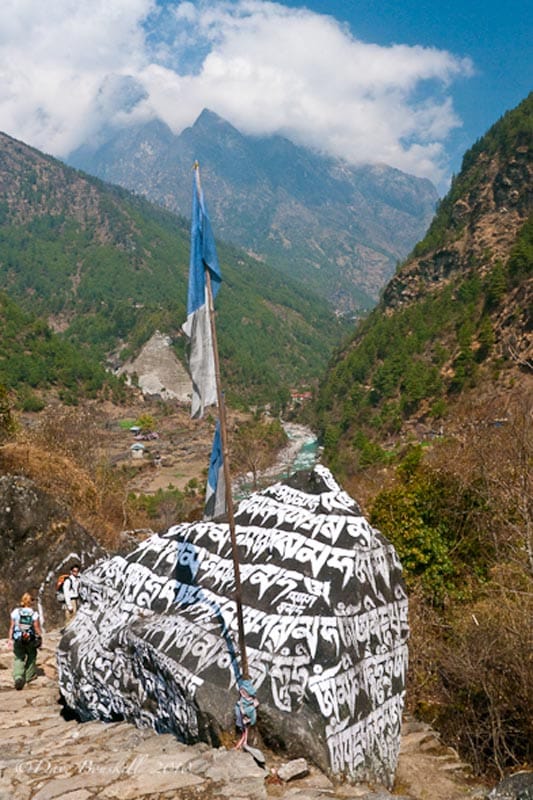 Dipendra told us the meaning of the prayer wheels and prayer rocks that we saw all along the trail to Everest.
Walking to the right of the prayer rocks keeps you on the "right hand of God."
Sherpas and locals spin prayer wheels saying the mantra "Om Mani Padme hum" giving blessings to the climb ahead.
Mount Everest has taken many lives. Even when trekking to base camp people have died. On average 3-5 people die each year trekking to base camp.
But the basecamp trek isn't nearly as dangerous as going to the summit of Mount Everest.
If you have a guide, listen to your body and listen to your guide's instructions, you should have a safe trip up to Base Camp.
It is still wise to respect the dangers on this mountain and to let your guide and climbing party know how you are feeling each day.
Watch our Video Playlist of our time on the Everest Base Camp Trek
Villages Along the Route
The villages of the EBC Trek are picturesque. They remind us of something we would see in the Swiss Alps.
Cozy lodges and brick homes line the trail with the magnificent setting of the Himalayas draped in back.
Children play in the streets and not one person asks for money, pens, or candy.
It is a society that seems to be thriving. Dipendra (our guide) says that life is good here in the Everest Region.
Life on the Route to Everest Base Camp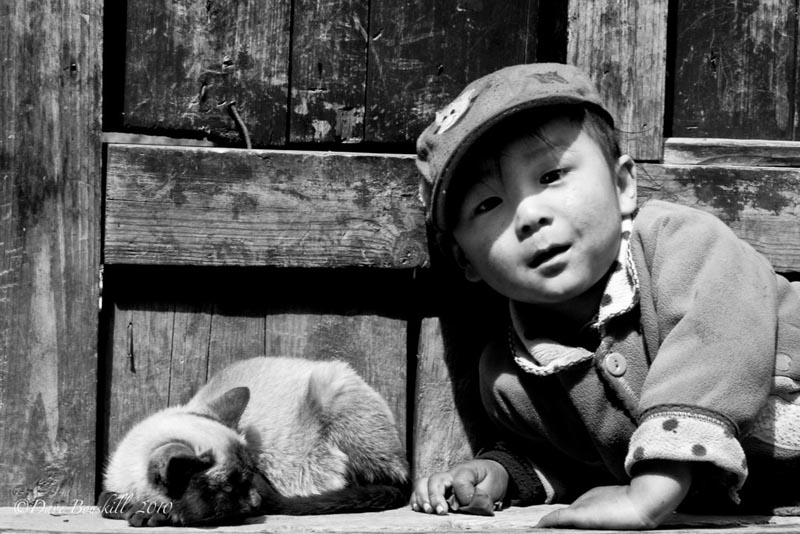 People do well here and they respect the tourists because the tourists are what keeps them going.
Towns function well up here in the mountains.
There is electricity from the water that they harness from the mountain rivers, and they have solar power for electricity, schools, water, televisions, a health clinic and bars.
That is not to say that things are easy.
All supplies, food, and equipment need to be carried in by foot.
Porters carry heavy loads on their backs. Children and women also carry loads.
People herd cows, donkeys and yak trains loaded propane and kerosene.
Just walking the steep stairs in villages is difficult for us but the locals make it look easy.
Sherpas Carry Heavy Loads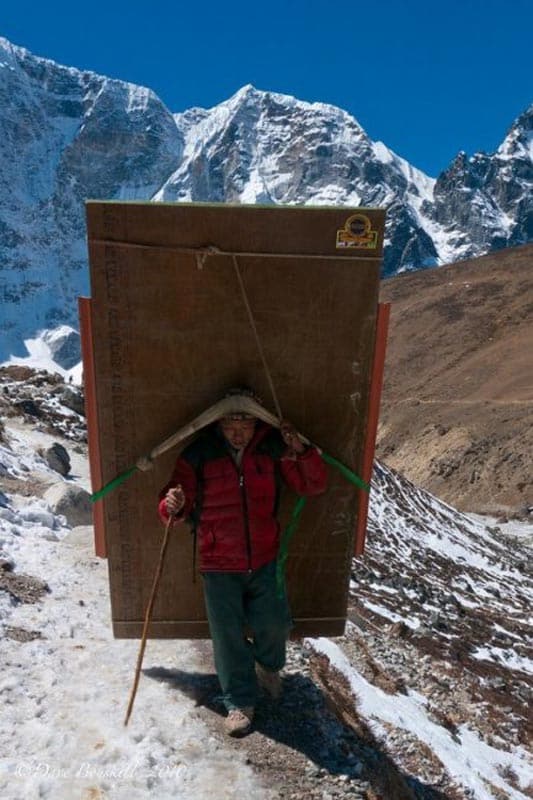 Dipendra tells us that some porters (especially the commercial porters carry up to 60kg (150 pounds). That is a lot of weight and we are surprised.
When climbing Mount Kilimanjaro, porters had a limit of 35kg. (77 pounds)
We kept our pack as light as possible at around 22kg (48 pounds) for Sher and we felt bad about that!

We have heard there is a 30kg (66lb) limit for Everest, but judging by what we saw on the route, people were pushing it well beyond that.

We saw men carrying stacks of plywood with heavy white sacks loaded on top. We saw men carrying propane tanks, doors and huge packs.
The trail to Everest Base Camp is a highway, but instead of transport trucks carrying cargo, people and farm animals carry everything from lumber and building supplies to food and kitchen appliances.
The Nepalese are a strong bunch. Dipendra tells us that they get paid per kilo so some people push it too far.
But they take it all in stride.
They smile and say Namaste (hello) and they talk on their cell phones and listen to music.
All this while climbing uphill towards the tallest mountain in the world with giant over-sized loads on their backs.
Accommodation on Everest Base Camp Trek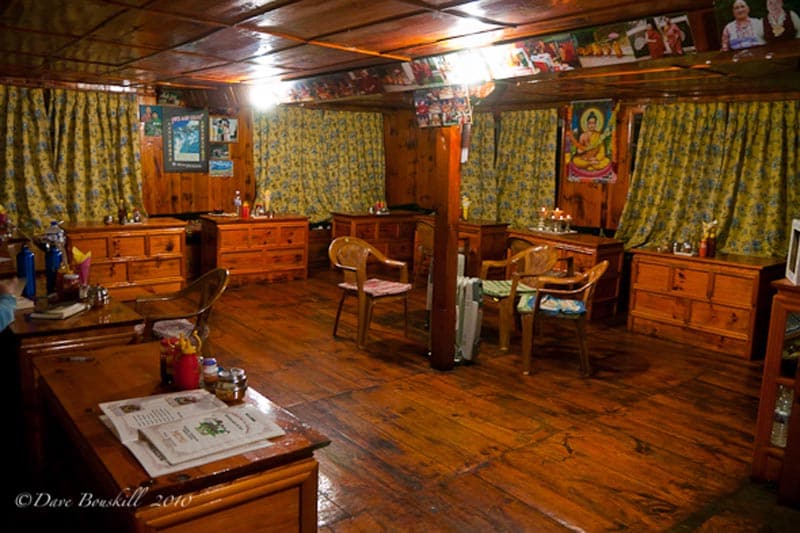 We are thrilled when we reach our first night's accommodation.
It's a quaint little hotel/tea house that looks like a cottage.
The wood-burning stove smells delicious as it warms the restaurant.
After an early dinner, we retire to our clean room where we sleep like rocks snuggled up in our thick down sleeping bags.
We looked forward to each night on the mountain.
The main lodge of each teahouse was cozy and warm.
At the lower elevations, woodstoves burned wood, and as we ventured higher, the stoves burned yak dung.
You heard me, Yak Dung.
Beds were comfortable and Dave and I had a private room.
We supplied our own sleeping bags that we rented and were included in the price of our trek through Dipendra's company.
Hearty meals were served each evening that included pasta, rice or dal bhat: rice and veggies serves with curry.
There are charging stations for our electronics where we paid by the hour for electricity.
We highly recommend taking a portable USB charger to charge yoru own electronics.
We also use a solar USB charger that recharges during the day as we hike and then can be used to charge cameras at night.
Toilets were shared, but everything was clean and comfortable.
Our first day at Everest came to an end and we spent the night at 2400 meters listening to the rain fall outside our rooms with our hearts pounding in anticipation.
Day 2: EBC Trek: Pakding to Namche Bazaar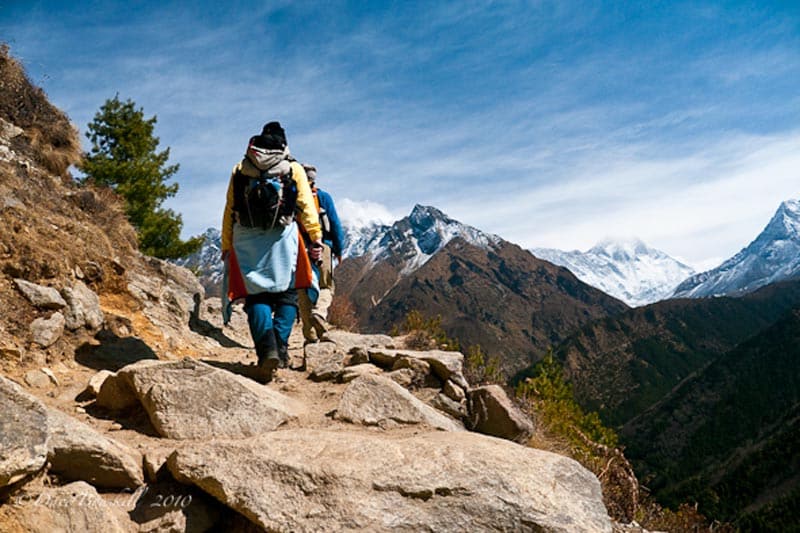 On day two, we checked in with the park headquarters to show our documentation.
Dipendra took care of everything handing in our photo ID and extra passport photos to go into the log that we were entering the park.
Once we signed in, we were officially in the Khumbu Region and on our way to Everest Base Camp.
Day two of our Everest Base Camp Trek was the longest day of our trek.
We covered a lot of terrain on day two.
Day two was a hike of almost 10km with an elevation gain of 800 meters. But we lost a lot of elevation too as we climbed and then descended into the valley only to have to climb back up again at the end of the day.
It involved a 6-hour climb from Pakding (2600m) to Namche Bazaar (3440 meters 11,286 feet)
It was a lot of fun though because you cross several suspension bridges that swing over the Dudh Koshi River Valley.
The trail up the mountains are steep and challenging and it is a memorable day.
Donkey Trains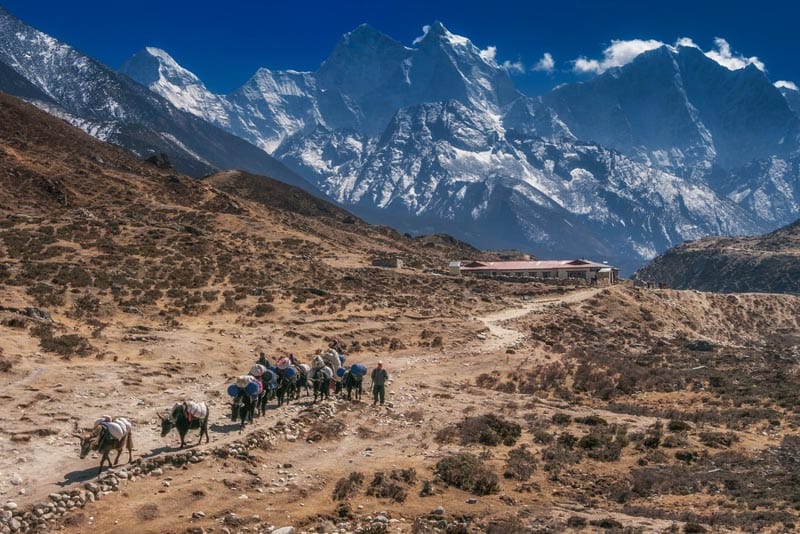 Today we also started to see a lot of donkeys, cows, and goats on the trails taking supplies to Namche Bazaar.
Traffic can get very heavy on the trek.
When animal trains go by, you have to make sure to get out of their way and stay to the side.
These animals don't stop for anything.
They are loaded down with heavy gear, they have a mission to keep on walking until they are done, and if they nudge you off the side of a cliff while barrelling by…well, that is your problem.
Tip: When a yak, donkey or cow train passes, be sure to stand on the mountainside of the trail so they can't push you over the edge!

It is better to be squished into a mountainside than to go tumbling over the edge!
Suspension Bridges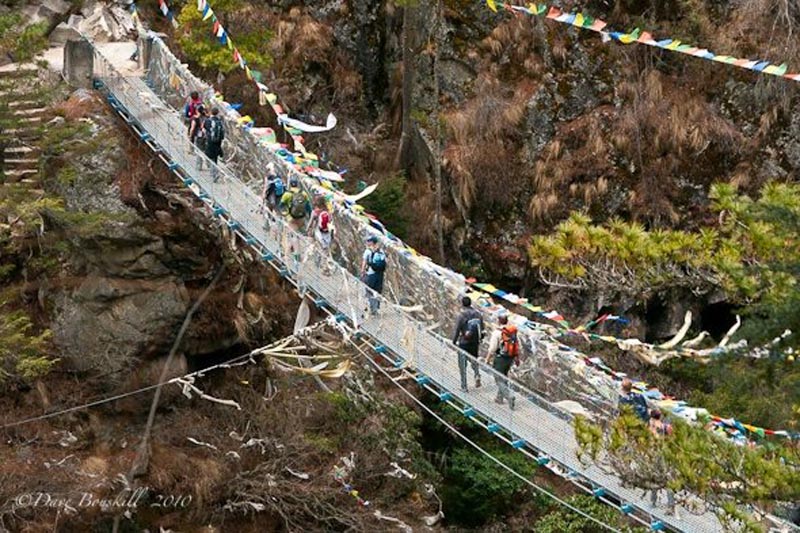 If you have a fear of heights, this may not be your favorite moment, but the suspension bridges are well constructed, made of steel and are in excellent condition.
I was nervous about the suspension bridges.
The Lonely Planet said "Grit your teeth and climb onto a drooping suspension bridge floating at a dizzying height."
That sentence freaked me out.
I had it built up in my head as something monstrous. But by the time we reached the bridge, I wondered what all the fuss was about?
Once I crossed my first bridge, my confidence was up and I was ready for anything.
After that first crossing, I looked forward to each suspension bridge to take in the views!
Trek to Namche Bazaar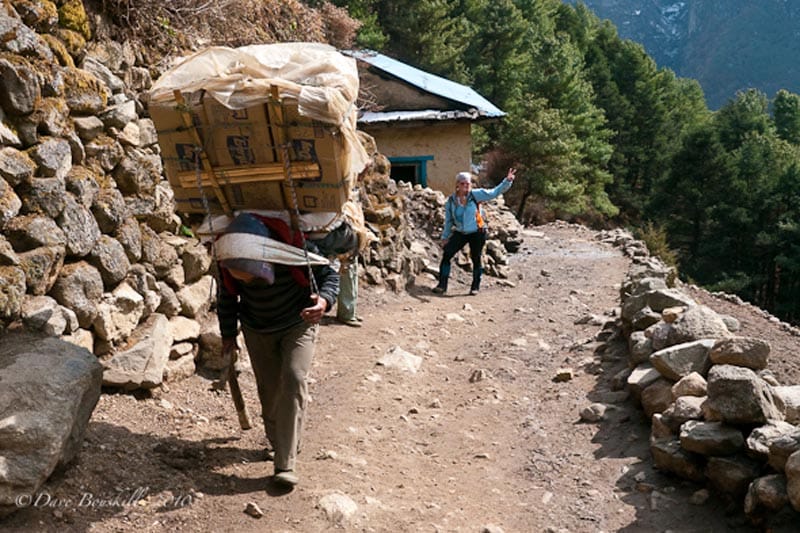 Right after crossing the last bridge, the hardest part of the day started
The last push of the day consisted of 2 hours straight uphill to Namche Bazaar.
We were drenched with sweat but the air was cool.
Whenever we stopped for a break, we would get a chill so we just kept on chugging away.
Groups passed us quickly, only to be caught a few minutes later as they rested.
We realize that we were the tortoise and they were the hare!
Slow and steady is the way to climb to Everest Base Camp and in the end we made it to Namche with plenty of time to spare in the day.
Altitude can kill. We didn't take this lightly and refused to hurry our pace.
By the time we reached Namche Bazaar, we felt great at 3440 meters.
We checked into the security post and cringed when we found out that our lodge was uphill another 20 minutes.
Rest had to wait a bit longer.
When we arrived at our accommodation, Camp de Base, we were thrilled to see our porter Sher's smiling face.
He had already checked us in and put our bag in our room.
All we had to do was get out of our sweaty clothes and climb into our cozy sleeping bags to take a nap.
Day 3: Acclimatization Day at Namche Bazaar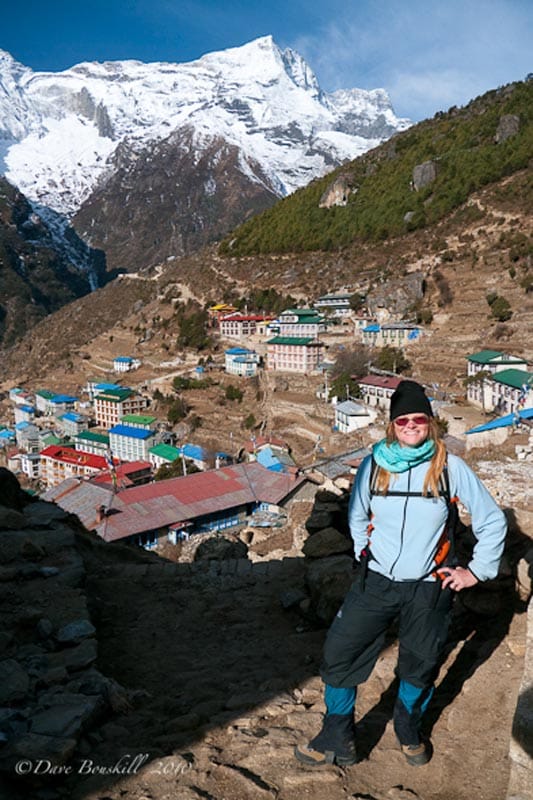 We had two glorious days at Namche Bazaar.
We did some shopping for gear that we realized we should have bought in Kathmandu and got some great deals.
You can pick up a lot of climbing gear at Namche should you find you forgot something. This is the last shopping spot though, so think carefully about what you need.
We bought some down booties for sleeping, a couple of sherpa hats and a warmer set of gloves.
After that, we felt good to go!
The acclimatization Day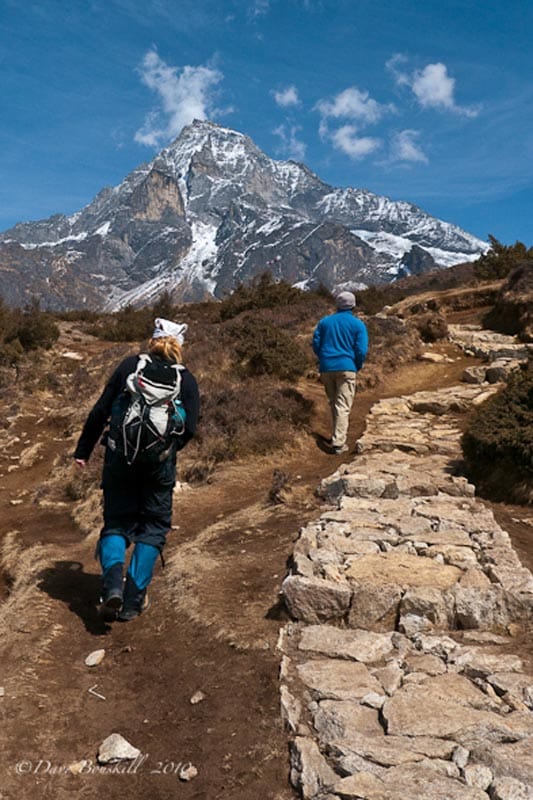 Most high altitude treks have at least one acclimation day. The Everest Base Camp trek is no exception.
An acclimatization day consists of hiking to a higher altitude and then coming back down to sleep at a lower elevation.
It gives your body a chance to adjust to the altitude.
If you are not feeling well, it is also a good day to relax.
It was on this day that we climbed up to the Hotel Everest View that is the popular climb on this day.
It was here that we got to see our first glimpse of Mount Everest.
Our hike started at 8:30 am to see the Everest Viewpoint from Namche Bazaar.
Acclimate to the Altitude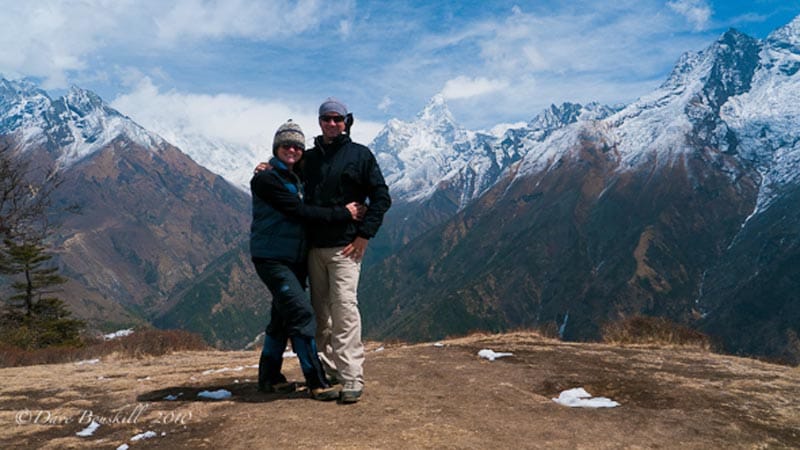 It is not an easy day off. Just walking through town takes your breath away.
As we made our way up the steps, I wondered if I should have just stayed in bed and skipped the viewpoint.
Children run and play and porters carry heavy loads with ease, but we (especially me) were breathing heavy just walking up a few flights of steps.
We hadn't even left Namche Bazaar and I was pooped!
Once we got on the trail, things became easier. The steep grade gave way to a sloping trail and I started to feel better.
After one and a half hours of climbing, we reached what has to be the world's highest airstrip at 3700 meters (12,139 feet).
We arrive just in time to see a small plane take off.
The pilots have a short runway filled with rocks ending with a vertical drop into the abyss. The plane doesn't need much room though, it is airborne before it even reaches the middle of the airstrip.
It flew right over our heads into the valley surrounded by jagged rocky peaks.
First View of Mount Everest

We hiked a bit farther and there it was: Mount Everest, standing quietly behind the other mammoth peaks of the earth.
Lhotse, Changri, Ama Dablam and Nuptse surround the highest mountain in the world.
At 8414m, 6027m, and 7861m they are the little sisters to the mighty Mount Everest. Everest stands at 8848 meters.
The deep valley views were magnificent. The river wove far below, carving through the panorama of white peaks.
We walked a narrow trail snaking along the side of a steep mountain and suddenly realize the trek has become real.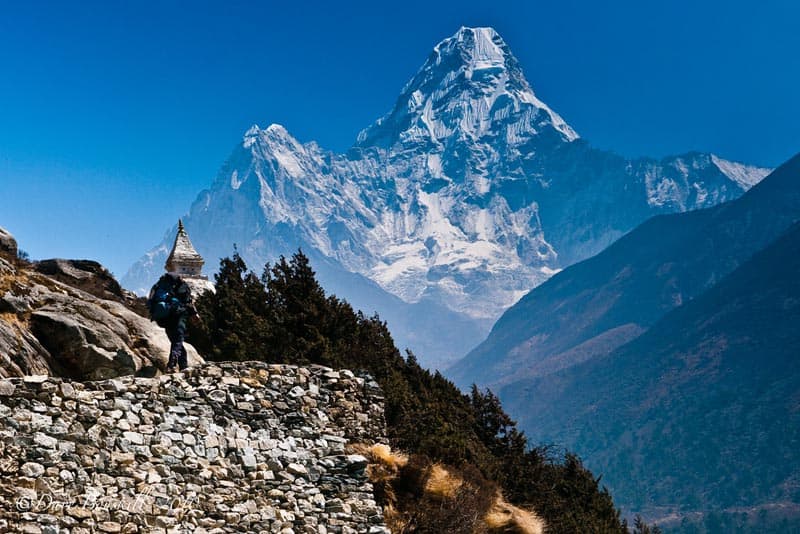 We were high in the Himalayas and one false move could mean catastrophe.
The sky was a deep blue and the white peaks reached towards the billowing clouds. The earth shows off her glory and we suddenly felt insignificant.
These mountains have lasted an eternity. They are the lords of the land and we are merely visitors.
You feel as if you could reach out and touch heaven.
The clouds rolled in quickly so it was time to go. We went back to Namche Bazaar with visions of Everest in our heads.
Namche Bazaar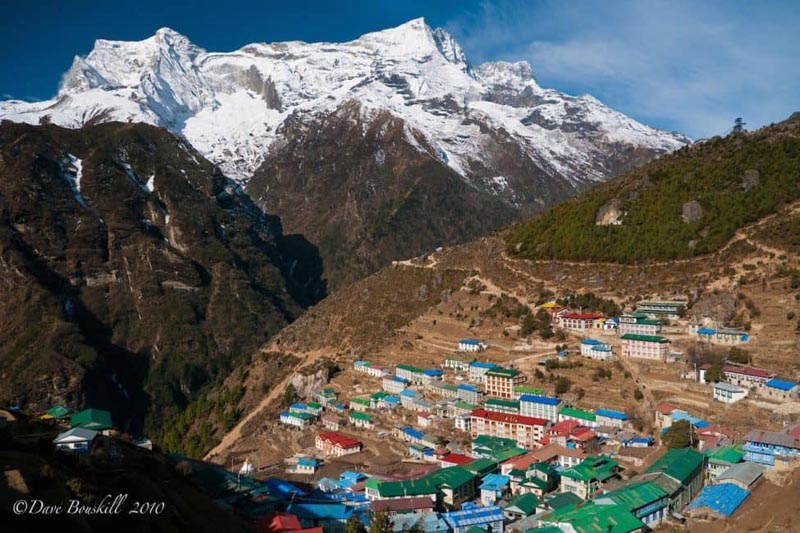 The rest of the day was spent relaxing, reading and eating chocolate. We explored Namche Bazaar and checked out its many shops.
The Everest Bakery was a highlight with delicious apple pie, fresh coffee, and wifi.
We already saw a woman suffering from Altitude sickness. She had her blood pressure taken and heart rate monitored.
When we walked back to our guesthouse we saw her staggering as she leaned on her guide.
Her Everest base camp trek had already come to an abrupt end. It reminded us to relax because the days ahead were going to be tough.
Day 4: Namche Bazaar to Tengboche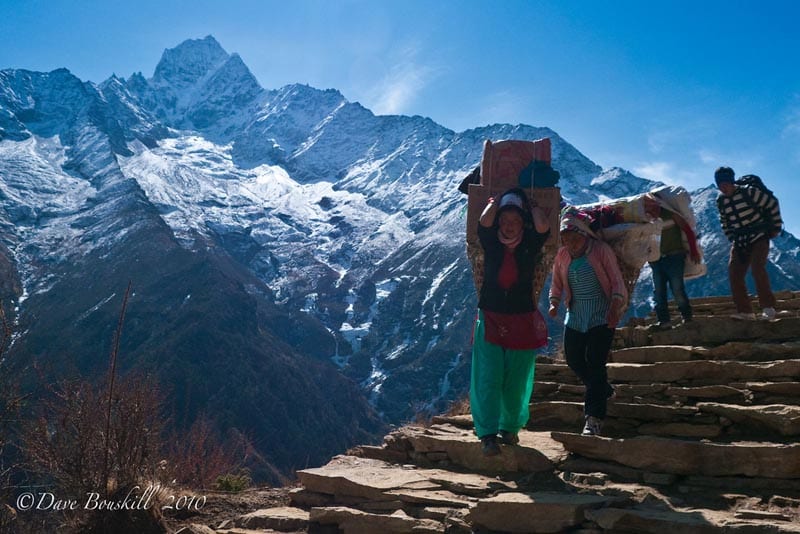 We awoke earlier than usual that day.
An "Intrepid Tour and G Adventures Group had checked into our lodge and we didn't want to have to compete for service or breakfast.
We also didn't want to have to wait in line for the bathroom.
Lodges become more and more sparse as you go higher on the Everest Base Camp Trek and fewer toilets are shared between more people.
Up until now, we hadn't encountered crowds of people. It had been pretty quiet on the mountain and we liked it that way.
Luckily, we were a day ahead of the other tours. They had to stay in Namche Bazaar for an acclimatization day.
So we moved on, free from crowds of people for now.
Tenzing Norgay Monument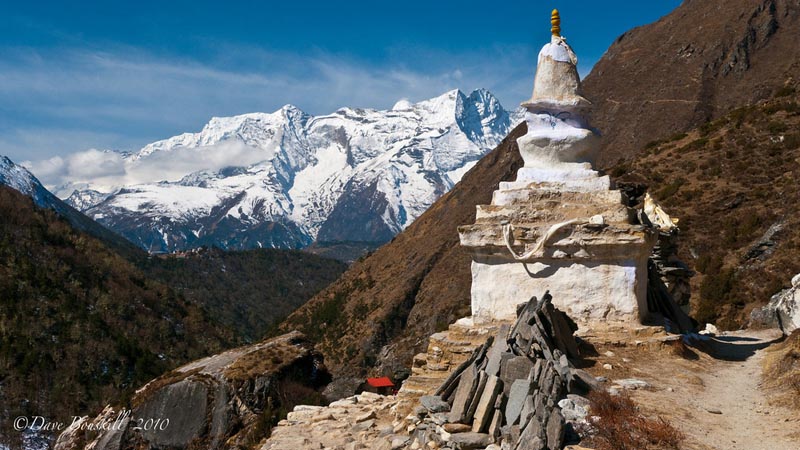 During this day we hiked along trails clinging to the side of the mountain. The narrow trail was a little scary, as it wound along the edge of the cliff with nothing but a sheer drop to the abyss.
But we kept our wits about us putting one foot ahead of the other until we reached the Sherpa Monument.
The Norgay family erected a stupa honoring Tenzing Norgay Sherpa and all the Sherpas that risked their lives for Everest.
Tenzing Norgay Sherpa was the first man to summit Everest along with Sir Edmund Hillary
Sherpas are the unsung heroes of Mount Everest.
They carry the heavy loads, set the ladders and ropes to cross the Hillary Step and take care of setting up camp while climbers and trekkers catch their breath and try to survive life on the worlds tallest mountain.
We can't imagine this work. It looks difficult and dangerous.
Stacks of stones are laid upon one another building a retaining wall.
Men are perched on the edge of the mountain as they do their work and face the danger of plummeting into the depths below.
What is a Sherpa?
Sherpas and porters are very different.
We learned that a Sherpa is actually the name of an ethnic group from Tibet.
The original mountaineers used Sherpas as their guides in the Himalayas and the world has now adopted the name for porters in the Everest region.
If you aren't born into the Sherpa ethnic group, you cannot be called a sherpa.
Porters are porters and Sherpas are Sherpas.
The Everest Base Camp Trek Takes on a New Feel
We made it into our camp at Tengboche by 1:30 pm and had the entire afternoon to ourselves at 3900 meters.
The final push was once again a steady 2-hour steep climb. We put our heads down and huffed and puffed our way up.
We didn't stop for any photos or video and were surprised to cut the climb down to just one and a half hours.
We reached the prayer wheels of Tengboche just in time for a light snow to start falling.
We were happy we beat the heavier snowfall that fell a short while later.
The snow fell all afternoon and the temperature dropped dramatically.
Tengboche Monastery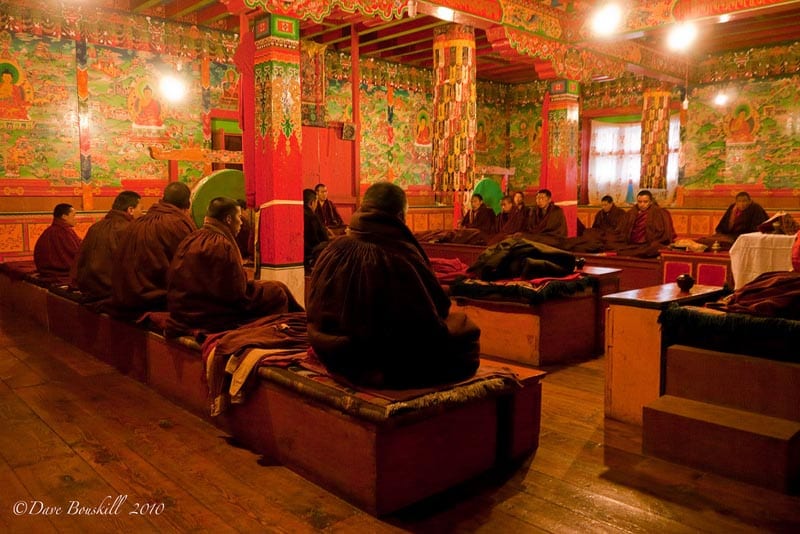 We warmed our feet with our new down booties that we bought at Namche Bazaar and changed into some dryer clothes before heading off to see the monks chant at Tengboche Monastery.
Our guide Dipendra tells us that this is the most important monastery in the Mount Everest region.
All climbers summiting Everest stop at this monastery to be blessed.
We are allowed to watch the ceremony and feel the warmth and blessings come from the monks.
It is a sacred place and all climbers and trekkers stop here before continuing up the mountains.
The View from Tengboche Monastery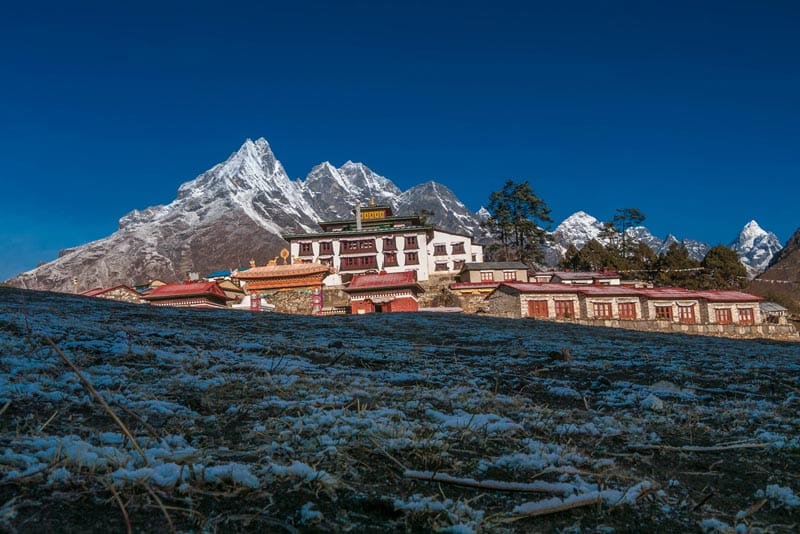 The view us magnificent from Tengboche Monastery.
The valley is wide and opens up to massive rolling hills giving way to the highest peaks on earth.
And yes, Mount Everest is part of that view.
We are told that Sir Edmund Hillary came back to survey Mount Everest from this spot because the view is so clear of the mountain and we can understand why.
Tea Houses at Higher Elevation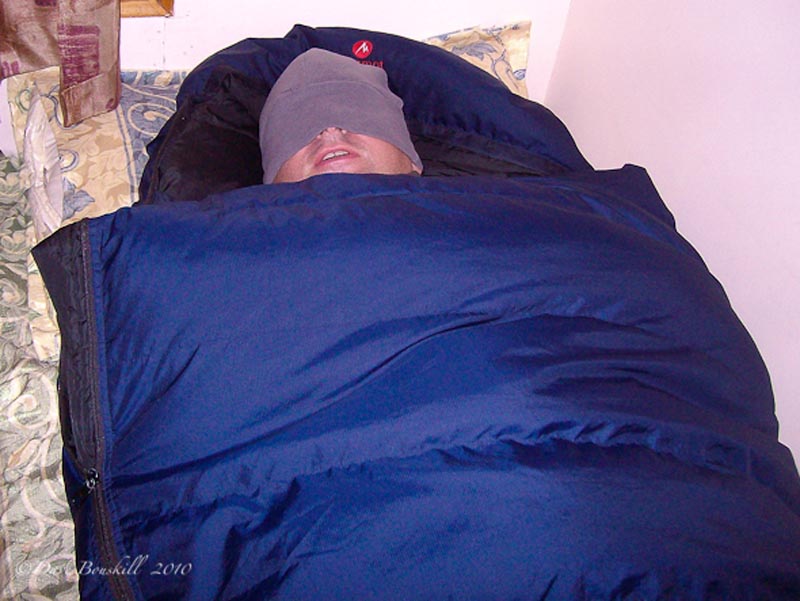 At this higher elevation, the tea houses are very basic and rustic.
We felt like true adventurers as we sat by the fire warming our feet and swapping stories with other trekkers by candlelight.
There are 10 of us staying in this tea house. All are sharing electricity to charge our camera batteries.
When we went to bed, our rooms were freezing.
Rooms are not heated. The temperature easily dipped down to -10 Celcius (14 degrees Fahrenheit) and our plywood walls didn't offer a lot of comfort.
We tossed and turned all night long trying to keep our noses warm.
Toilets on EBC at High Elevations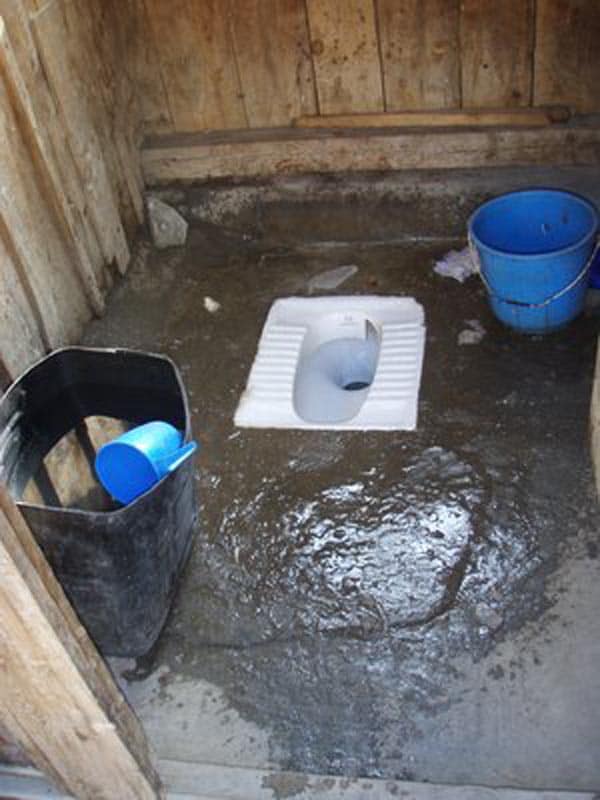 It was so cold the scoop bucket for the shared squat toilet froze over forming a patch of ice to form on the floor.
It was a slippery trip to the outhouse.
Sadly, we always have to pee a lot during the night when sleeping at altitude.
Pay for Your Shower, You won't regret it!
We realized that we should have paid the 250 Rupees for a hot shower at Namche Bazaar the day before because now the weather was so cold there was no way we could face a bucket bath in a freezing shed.
Dave and I set a new record on the Everest base camp trek, 9 days without a shower!
Day 5: Tengboche to Dingboche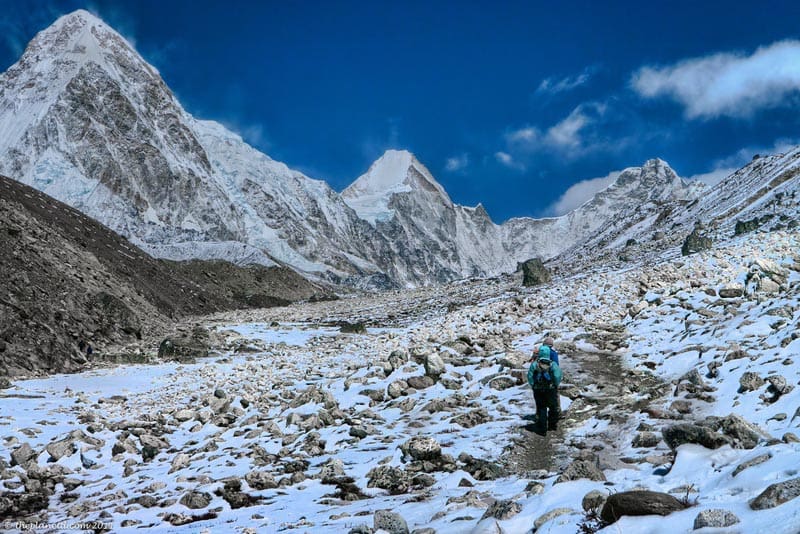 It was freezing! Morning came too quickly on the Tengboche leg of the EBC Trek.
But, we awoke to the fresh snow at the Tengboche Monastery and clear views of the Mount Everest and Lotse peaks.
Today we walked to higher altitudes and saw our first trains of wooly yaks.
Yak can't survive at low altitudes because it is too warm for them, so you don't see them until at least 3000 metres.
They are beautiful.
Yaks on the Trek to Everest Base Camp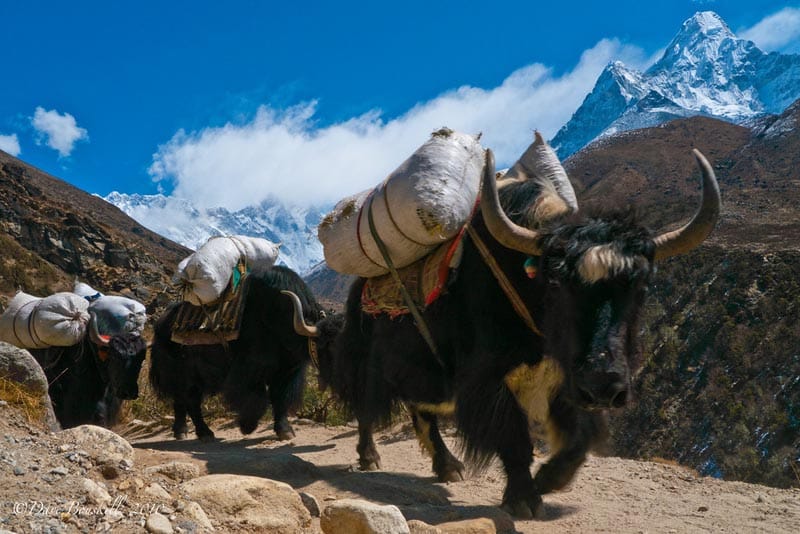 Signs of expeditions going up to summit Everest go by as large groups of yaks and people carry giant loads of gear.
It is exciting to think that we were walking the same trail as so many great mountain climbers, like Sir Edmund Hillary and Tenzing Norgay Sherpa.
Altitude Sickness – A Very Real Threat
We talked to two people whose companions had to go back down due to symptoms of altitude sickness (AMS).
A rescue helicopter flew overhead and we heard stories of people being choppered out regularly.
A fellow from Norway told us of a family that was rescued by helicopter. $6000 later they were safely down at a lower altitude and feeling better.
Luckily, we don't feel in any danger at this point.
The trails are excellent and we take it slow and steady each day.
Staying Ahead of the Climbing Season
Each guest house on the EBC Trek has been quiet and comfortable, with only one to two other parties climbing.
We have been lucky; we only see a dozen or so people on the trail each day, and the yak trains have been few and far between.
We are climbing during the month of March, but in a couple of weeks that all will change.
Soon it will be the high season and the trails will be packed.
The trek from Tengboche is breathtaking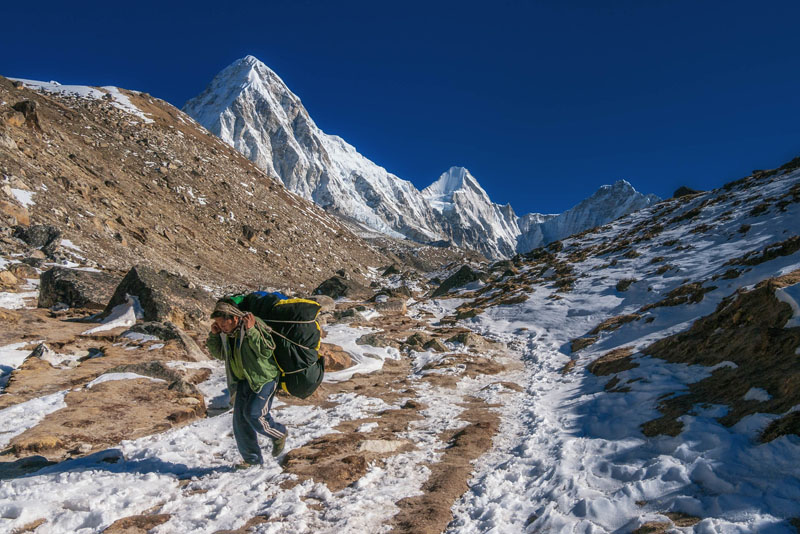 The snow from the night before made for more incredible views. As we started out from the lodge, the sky was crisp and clear, showing Mount Everest in all its glory.
It was stunning, and in between gasping for air, we admired the view.
I conquered what little fear of heights I had left this day. Some of the narrow paths drop sharply into the deep valley below.
Soon we found ourselves walking along the ledge not thinking at all about the dangers below.
Woolly yak trains were more frequent and we had our system perfected to give them the right of way without letting them nudge us off the mountain.
Friendly Locals
After a tea stop in Pangboche, we met a sweet lady that walked with us all the way to Dingboche.
Her name was Yangshou and she waited for us as we struggled up hills and crossed suspension bridges.
Her cute laugh and quiet prayers helped to pass the time.
She stopped to talk to everyone on the trail while we plugged along.
She fell far behind when she chatted with friends, only to quickly catch us and then scoot by with ease.
She'd then wait on a ledge while we caught up. She must have enjoyed our company because we really slowed her down.
When we got to Dingboche, we parted ways and never saw her again.
"Yangzhou, we will always remember your smiling face when we think of our time on Everest!"
Day 6: Acclimatization Day at Dingboche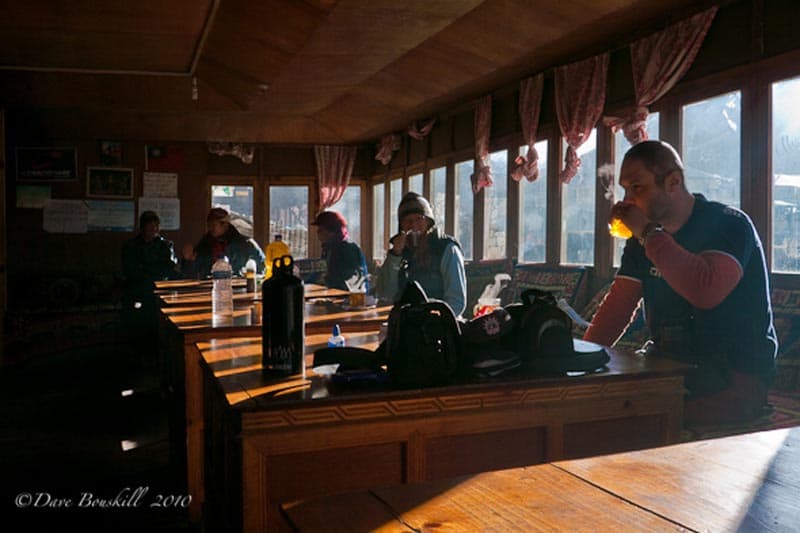 This is a day that most people spend acclimating to the high altitude.
We did not do this day, but you should! We would have had we known better.
Dingboche is a small village with only a few guest houses, so it is a good time to relax, replenish and rejuvenate for the next push.
If we had brought our Lonely Planet Trekking in the Nepal Himalayas (which we forgot in Kathmandu and kicked ourselves about it everyday) we would have realized that we should have taken an extra day to acclimate in Dingboche.

Dipendra was flexible so he would have easily added another day onto our trek, we just didn't know any better to ask about it.

Lucky for us, we felt strong, but other groups were complaining of headaches and dizziness.
In the end, we wish we spent the extra day here, we did suffer after reaching base camp. But that is a story farther down the page!
Day 7: Dingboche to Laboche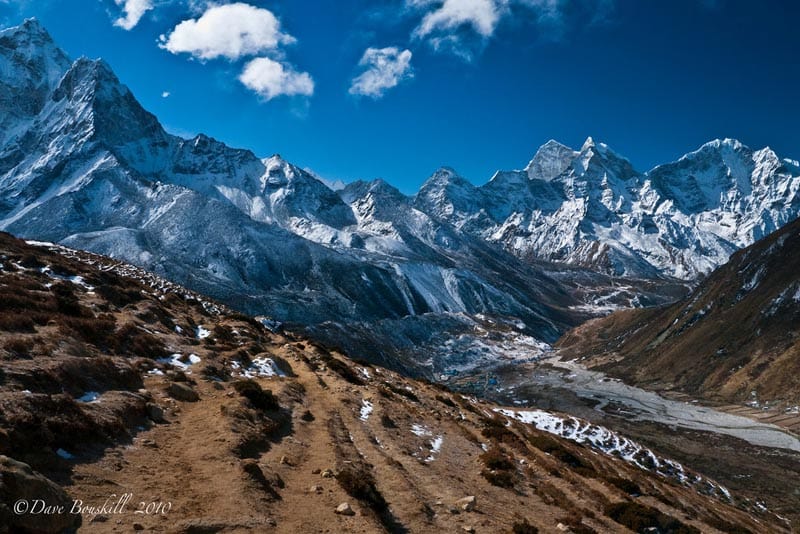 People started to feel ill this morning on our Everest Base Camp Trek.
We walked with Martin and Richard from Slovakia during the morning hours.
They carried their own packs and after watching them struggle, we were happy we hired a porter.
We enjoyed our day taking photos of the stunning clear views of the Himalayas.
It may be a little colder trekking the Everest Region at this time of year (Early March), but the skies are clear and blue.
We had a front row seat to some of the best views on earth.
An entire panorama of the mountains standing proudly overhead, reaching up to the deepest blue sky that I have ever witnessed.
The scene took our breath away.
The mountains looked more imposing with each corner we turned and we could not believe that we were fulfilling our dream of hiking to Everest.
Hobbits on Everest?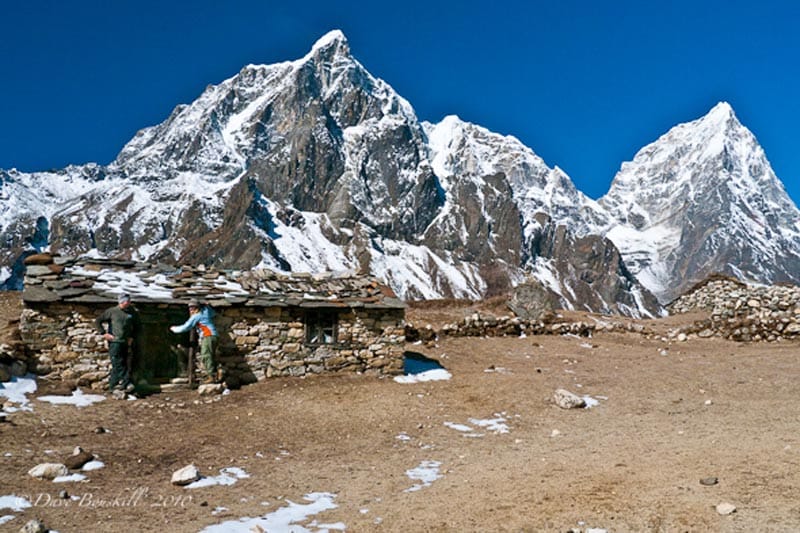 When we came across a small cluster of houses, we felt like we had entered the Kingdom of Middle Earth.
Little Hobbit houses lined a valley with giant peaks looming overhead.
We had to knock on the door to see if Bilbo Baggins happened to be in. Sadly, he wasn't home.
I ended up singing Leonard Nimoy's Ballad of Bilbo Baggins for the rest of the day. A bad idea since I only know a few words.
Weather in the Everest Region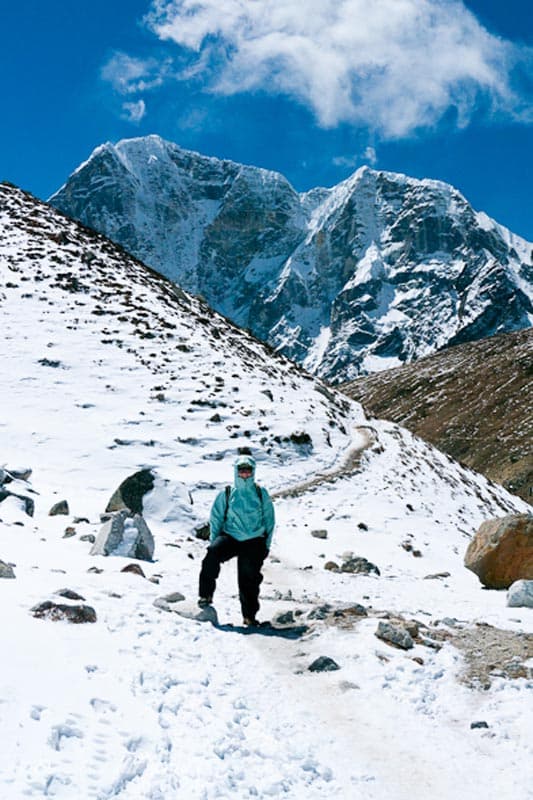 The wind picked up and we put on our outer layers for the first time.
We were thankful to have them as we staggered through the high gusts.
Weather varies greatly in the Everest Region. The sun can be shining one minute and then wind and clouds roll in the next.
After lunch, we faced quite the scramble up a steep hill littered with boulders.
It looked like a tough climb, but we moved with ease and quickly made it to the top. Where we found our strength, I do not know.
Sherpa Monuments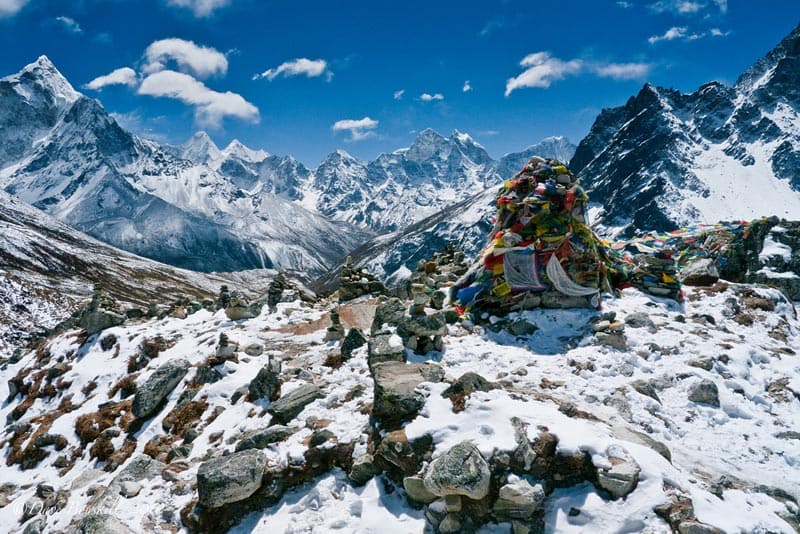 At the top of the hill is a very moving sight.
Several monuments and stupas are erected, honouring Sherpas and climbers that have lost their lives on Mount Everest.
The most notable of these is Babu Chiri Sherpa.
He was the former world record holder of the fastest ascent of Everest, the most number of ascents up the mountain, and the quickest back to back summits of 2 in less than 2 weeks.
He tragically lost his life on his 11th attempt when he fell into a crevasse.
It was a moving experience and a strong reminder to not take things lightly on Mount Everest, even if you are only trekking to Base Camp.
It is still a serious trek.
Day 8: Laboche to Gorepshep – Morning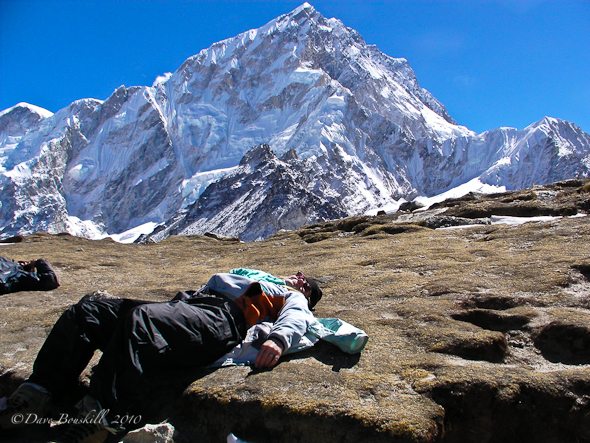 How Are We Feeling at 5000 meters? (16404 feet)
I have been suffering from a cold since India, and it seems to be intensifying with the increase in altitude.
Every morning my cough is worse and my nose is stuffed up to the point of being unbearable.
Dave has suffered his first symptoms of altitude sickness.
He has a slight case of diarrhea and is not happy about having to wait for the toilet in the teahouses.
It was a slow climb to Gorakshep.
We stopped regularly to catch our breath and today we took more breaks than usual.
We noted that if we had taken the extra day to acclimate at Dingboche, we woud have been better off.
Luckily it was only a couple of hundred meters in elevation gain so we made it to our guest house by 12:30.
Afternoon – Mount Everest Base Camp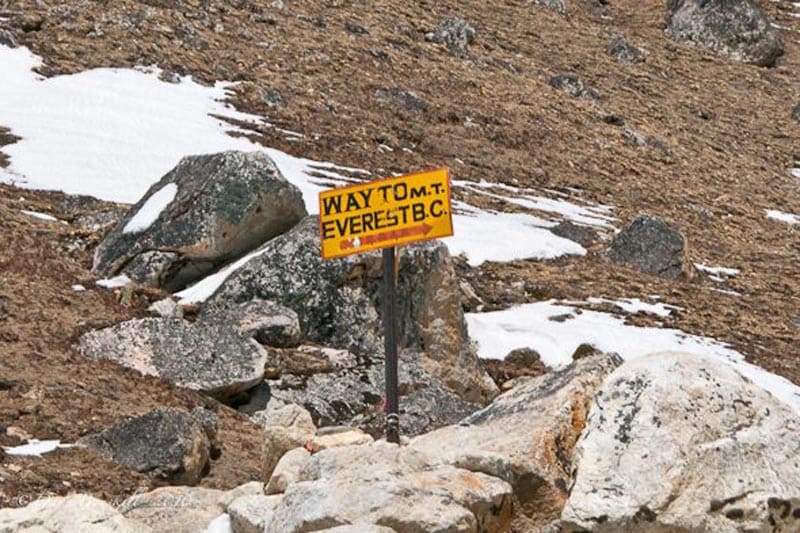 The sun was shining brightly and it was quite pleasant outside.
After eating a hearty lunch of vegetarian Sherpa stew (Dal Bhat) on the terrace, (yes, we ate outside in the warm sun above 5100 meters) we set out for Everest Base Camp.
We were lucky and had clear skies.
Up until today, the clouds had rolled in by early afternoon. Today the sun shone and the skies were blue until sunset.
The trek to Base Camp from Gorepshep is an easy one.
It's two hours of walking with only a small elevation gain, and we made it with ease.
Celebrating at Base Camp Everest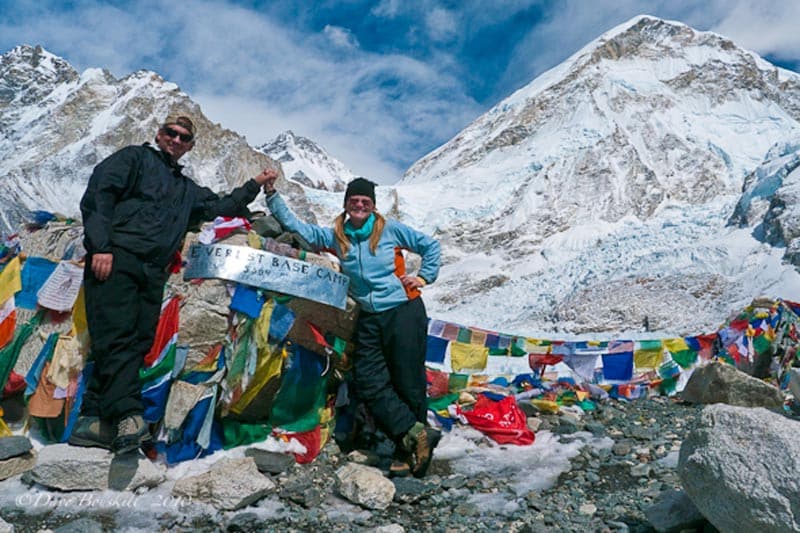 We were the only people at Base Camp when we arrived.
We saw another group coming down on our way up, but once there we had it all to ourselves. It was thrilling.
When you reach base camp, you will hike out from nearby Gorakshep and then hike back the same day to spend the night.
Khumbu Ice Fall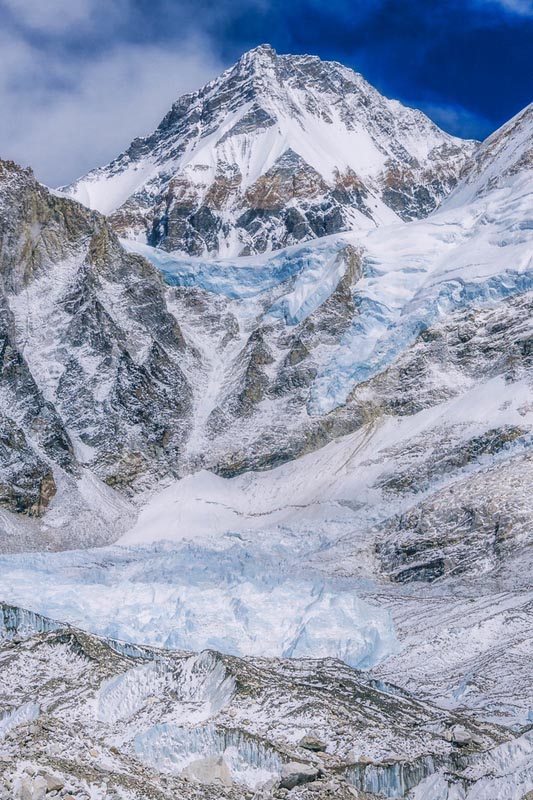 The Khumbu Ice Fall is the first thing to come into view, and it is unbelievable to think that we are actually standing there.
We witnessed an avalanche that reminded us just how precarious this climb is.
It is an intimidating sight and I cannot imagine having the courage to cross that field of ice.
We enjoyed marveling at it from afar.
It may be more exciting later in the season when Everest expeditions are there, but we really liked having base camp to ourselves.
There wasn't a soul on the mountain except for the three of us.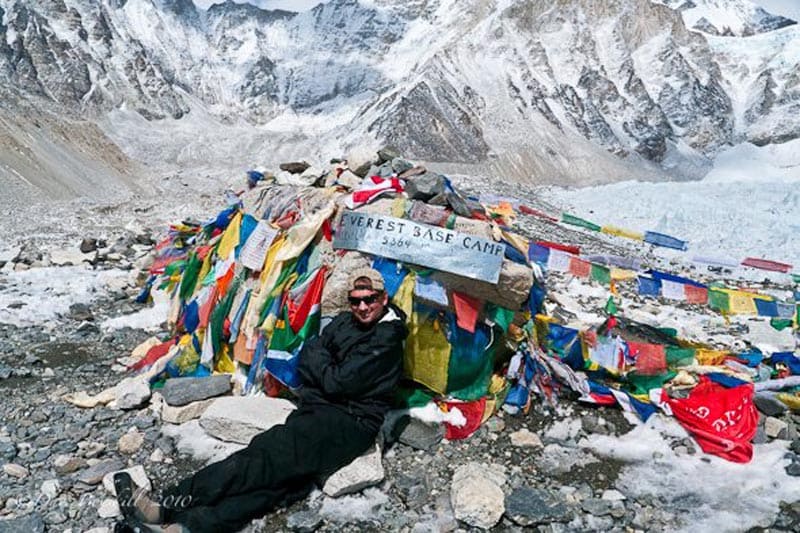 We finished our climb about two weeks before the high season began and we wouldn't have it any other way.
We stood at a rock covered with prayer flags announcing that yes, we had made it to Mount Everest Base Camp.
We stayed for almost an hour taking video, celebrating, and snapping photos.
Safety in Numbers on Everest Base Camp Trek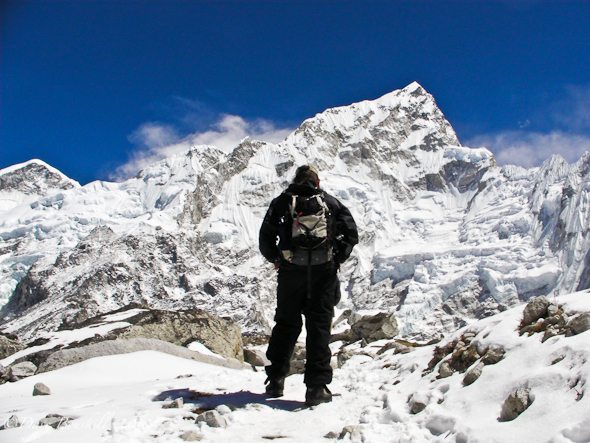 A while later another solo climber came along and we decided to walk back together.
It was close to 4:30 and we didn't want him to walk back alone. People have gone missing at base camp and if you aren't experienced, you could easily go off track, fall into a crack or become seriously injured.
We saw signs of missing solo trekkers all over the Everest region.
It may be a popular route, but there are always times when you are alone and could easily run into trouble without being noticed.
Anything can happen.
Even during our walk back an ice bridge broke off after I stepped on it leaving Dave with a sticky situation.
He had to make a giant leap over a gorge.
We made it back to Gorepshep safely but it was a reminder to never trek alone.
After the Climb
By the time we made it back to Gorepshep, the excitement had worn off.
We felt the same when we climbed Mount Kilimanjaro.
The goal of reaching base camp is complete, but it feels a little anticlimactic.
The thrill of reaching your destination is over and there is nothing more to look forward to, but there are still so many days to go.
That night I had serious sinus congestion and felt like I was suffocating in my freezing bed.
It was quite scary to already be short of breath because of the altitude and then be completely congested. I really felt terrified.
Our guide Dipendra brought me hot tea and I slathered myself in Vicks but nothing helped me to breath easier.
We had planned on climbing up to the Gokyo Lakes trek the next day, but we made the decision that night to end our trek and head back down.
You just can't take a chance when altitude is involved.
Day 9: The Descent and Kala Patthar
This is a quick two-hour trek add on to your descent and a good option as it give a great view of Mount Everest.
Kala Patthar is a hill above Gorak Shep that offers the best view of Everest and is a must-stop on anyone's Everest Base Camp trekking route.
Start early in the morning as it makes for a long day because, after Kala Patthar, it's another five or six hours to your overnight stop at Pheriche.
Days 10 to 12 – The Descent
It took us two days more to climb down from Everest Base Camp.
I started feeling better on the second day as the dryness of basecamp disappeared.
My sinuses cleared and soon I was breathing easy.
Even though we were heading down, there is still a lot of altitude gain and loss on the trek back and we had a tough couple of days ahead of us.
But knowing there was light at the end of the tunnel made everything easier.
It's a lot of mental stamina to climb back down as the euphoria of reaching the top has worn off, but we made the most of it, by chatting with other climbers and getting to know our guides better.
In the end, we fulfilled our dream and made it to Everest Base Camp.
Flight Back from Lukla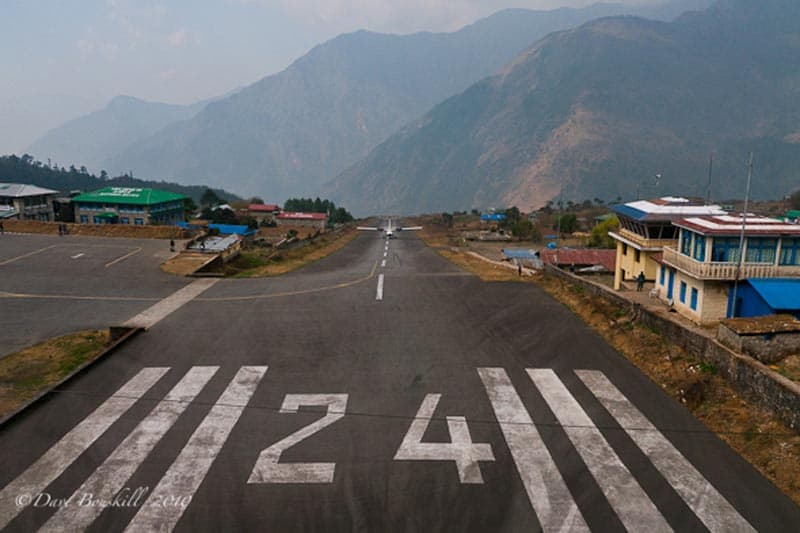 It is very important to give yourself extra time (even days)at the end of the trek before flying home.
It is not uncommon for flights to be cancelled flying out of Lukla. Weather is unpredictable and people miss their flights home from Kathmandu because of delays.
When reaching Lukla we spent a night in town to catch the first flight out in the morning.
But the weather was so bad, we were delayed all day long. It didn't look like we would be able to fly.
But at the last hour, the sky cleared and we made it out on the only flight.
Because we had the morning flight booked, we got out, ut many people had to stay another night. So be prepared for delays.
It's an experience we'll never forget and highly recommend it to everyone. The Himalayan Mountains are the most beautiful and spiritual place on earth.
A trek to the Himalayas and Everest will change your life.
What to Pack For Your EBC Trek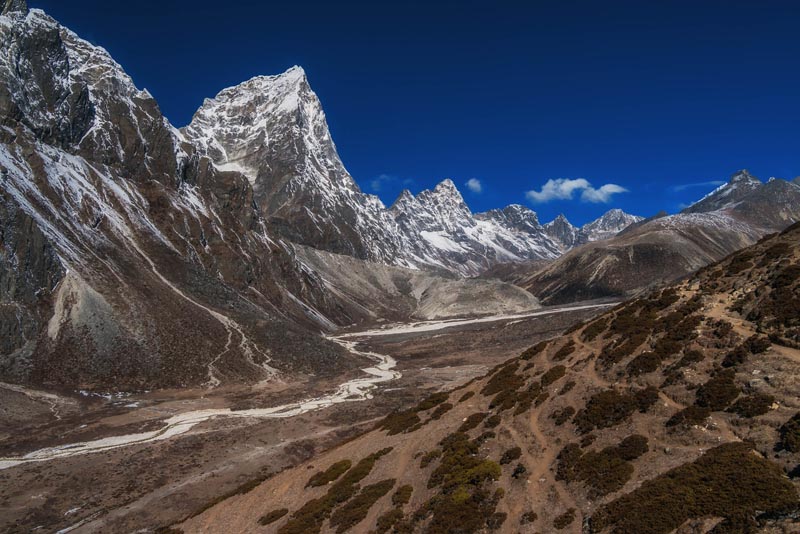 Layering is extremely important when trekking to Everest Base Camp.
This is a quick guide for clothing but we wrote a complete packing guide here of everything we packed for our EBC Trek.
Treats and Medication
Tang – I was glad we packed Tang for our water. It made it taste better, keeping us well hydrated. We didn't really want to drink just water, but the Tang was actually delicious.
Diamox – I highly recommend using Diamox tablets for altitude sickness as well. We met so many people suffering from headaches, dizziness, and fatigue and they weren't taking anything.
We've always used Diamox when climbing to altitude and it has worked beautifully for us. The Everest Base Camp Trek is no exception.
Chocolate – When we were feeling ill, we were happy to have chocolate to eat. It was the only thing that we could at times.
Food and Comfort on EBC
Everest Base Camp Trek Route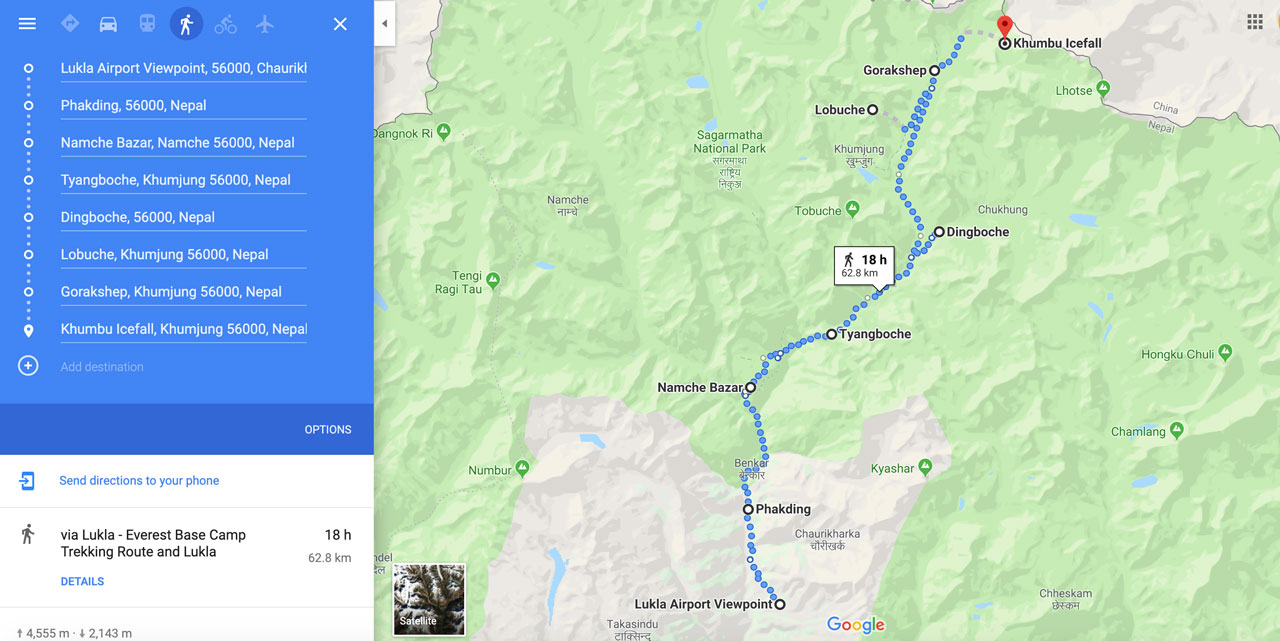 Follow the Everest Base Camp Trek Map: click here
On the map, the Everest Base Camp trek distances look fairly easy from village to village.
It took us 8 days to cover approximately 68 km (42 miles) from Lukla to Everest Base camp. Most people do this trip in 8 days and we recommend doing that too.
By missing out on a day to acclimate the day before pushing to EBC, we felt the effects. We cursed ourselves for not spending another day to rest and recover at Lobuche.
So we are going to break down this itinerary for you as if we did!
Eight Days seems like it would be more than enough time to cover a mere 68 km (42 miles), but with several sustained days in a row above 4000 meters, the walk is slow and steady. It is important not to push too fast to avoid altitude sickness.
There are steady days of walking mixed with acclimatization days to let your body acclimate to the altitude.
How Hard is it to Trek to Everest Base Camp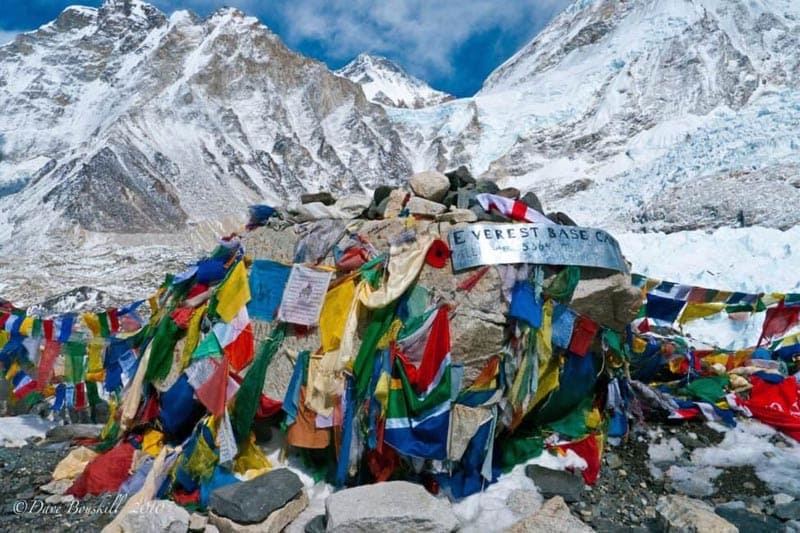 Even though it is a gradual elevation gain over several days, the trek difficult because there are several days of trekking above 4000 meters. (12,000 feet).
Flying into Lukla takes you immediately to an elevation of 2,845 m (9,334 ft). So you start the hike already feeling the effects of altitude.
There is no gradual build to climbing into elevation.
Throughout the trek, there is a total elevation gain of 4500 meters (14,763 feet) with more than 2000 meters lost.
So it is a strenuous hike going up steep climbs and descending into deep valleys.
Do You Need Climbing Experience for Everest Base Camp?
There is no need for any technical climbing skills to make it to Everest Base Camp.
It is one very long hike over suspension bridges, up steep grades and high steps on mountain trails.
But if you are relatively fit, it is very doable.
We didn't train for Everest Base Camp but had been to altitude before and had spent a lot of time backpacking leading up to the months prior.
We recommend being in good shape with some altitude experience before tackling base camp.
It's good to know how your body reacts to altitude. We suggested doing a couple of treks above 3000 meters (9000 feet) to see how your body reacts.
There is a lot of elevation gain with a lot of up and down making for an exhausting yet fulfilling trip.
Mt Everest Base Camp's elevation is 5,380 m (17,600 ft).
When you reach 5000 meters, it is an entirely new ballgame and the effects of altitude are unlike anything we had ever felt before.
Should you hire a Guide When Trekking Everest?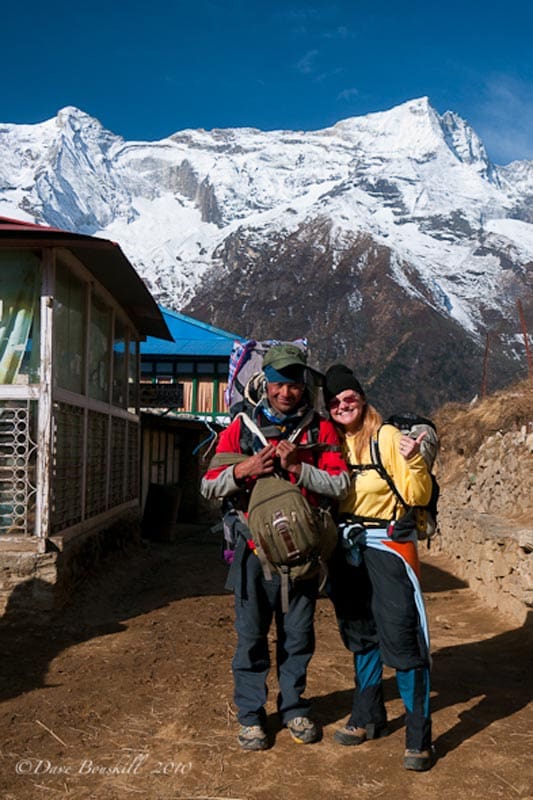 We decided to hire a guide and porter for our Everest Base Camp trek.
Several days on Everest are spent above 5000 meters.
You can trek the region yourself carrying your own packs and gear, but you have a much better chance of making it (and enjoying the experience) if you hire guides.
Hiring a guide means you don't have to worry about finding a teahouse at the end of each day.
Your price is all-inclusive for accommodation, food, a guide through the route and porter to carry your backpack.
Knowing that everything was included helped us focus on the journey rather than worrying about what we'd have to spend at the end of each day.
Plus we say, "Why not enjoy the trek and support the local economy?"
Nobody is going to say, "Yeah, but did you carry your own bag when you went to Everest?"
We also made new friends in Dipendra (Deep) and Sher, and learned a lot about local customs and tradition.
Dipendra has more than a decade of guiding experience and knows most people along the trek, and Sher grew up in the Everest region.
How our Guide Helped us to Everest Base Camp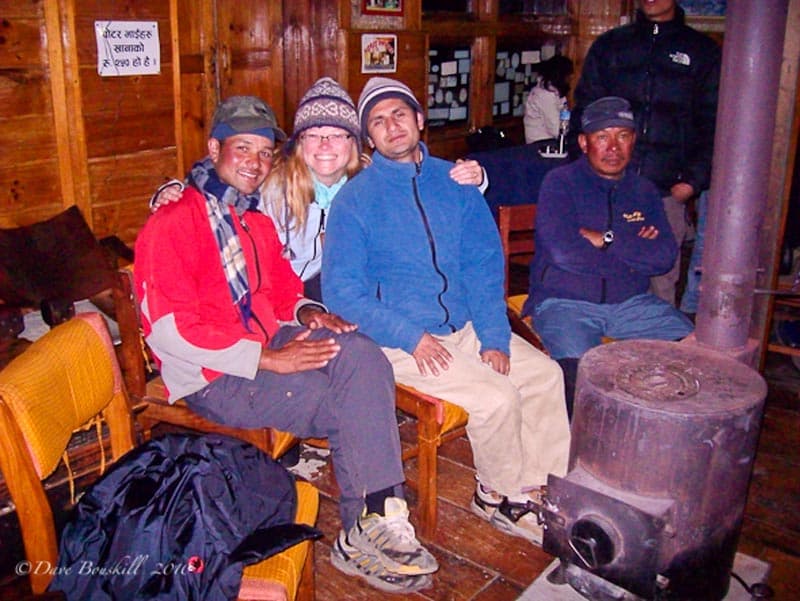 Having Dipendra explain things to us not only made our Everest base camp trek an adventure but it also helped us understand the spirituality of the people.
Everest nurtures and provides for the community. They respect the mountain and keep traditions alive.
He also knew the route like the back of his hand, so he took us through the trails with ease.
He motivated us to keep going, he brought us fresh fruit at the end of each meal. (a pleasant surprise each evening) and made sure we were staying hydrated and nourished.
I don't think we could have made it without him and our porter – Sher.
Book Your Everest Base Camp Trek
We booked our trek in Kathmandu with Local Guide Dipendra of Simrik Real Nepal.

If you are looking for a local guide he is an excellent choice with more than a decade of experience in the Himalayan Mountains.
Everest base camp trek cost can vary depending on where you book. Group tours booked in North American will charge more so we decided to book locally,
You can save a lot of money by booking a local guide as you will cut out the middle man prices.
Having a local guide let us know our money was going directly to the Nepal economy and Dipendra knew the people along the route personally from his years of leading tours.
You can check out itineraries and costs on his website.
Can I Trek to Base Camp Independently?
You can trek to base camp independently and many people do.
But we prefer to support the local economy to hire local guides and porters. Even with our small day packs, we found it a challenge and couldn't imagine having the same experience if we were carrying our own backpacks.
We were grateful to have our porter Sher carry our pack (we packed one backpack for the two of us) leaving us to carry our camera gear and a small day pack of layers and supplies.
Plus, by booking our tour in Kathmandu, all our accommodation and meals were included.
We didn't have any surprise fees once we started on the trail. And we didn't have to worry about finding accommodation when we reached each village.
Dipendra (our guide) had our accommodation all sorted for us.
All we had to worry about was buying extra treats and snacks if we wanted to and to pay for charging our electronics or using the WiFi.
Water on the EBC Trek
We recommend two refillable water bottles per person that can be refilled along the way.
You can fill up anywhere for free along the Everest Base Camp route, but make sure you have a SteriPen or some other form of water purification with you.
We love the SteriPen for purifying water, see our review here.
You can also use the LifeStraw or water purification tablets, but once we discovered the SteriPen, we never went back.
Now that you have the breakdown of the climb, packing, guides and risks, let's get started with climbing Everest Base Camp and the day to day itinerary.
Body aches and pains have popped up from carrying our backpacks.
The old shoulders are a little stiff each evening and the beds aren't the most comfortable, so a little ibuprofen has helped to take the edge off.
But the most important part is to have good company. Having our guides Sher and Deep helped us get through trek with flying colors.
Travel Insurance
We always travel with travel and medical insurance but hiking to Everest Base Camp will not be covered by regular insurance providers.
There is a very real possibility of altitude sickness and we knew of two people that needed helicopter rescues during our trek.
World Nomads offers specific Everest Base Camp Insurance. You can check them out to get a quote.
Book Your Trip to Everest Base Camp
To book your own Everest Base Camp Trek, check out our friend Dipendra at his company Simrik Real Nepal.
We hope you enjoyed our journey along the Everest Base Camp Trek. It is one of the greatest adventures we've ever done. We made new friends and created memories to last a lifetime.
Tips for Trekking to EBC
Keep your camera batteries close to your body when not in use. The cold and altitude really eat up battery life, so you will want to keep them warm for as long as you can.
Bring USD, ATM Fees are high and you are limited to the amounts you can take out of the ATM, so have ISD to exchange instead.
Pack handi wipes and Gold Bond Powder.
See our Full list of Everest Base Camp Tips here.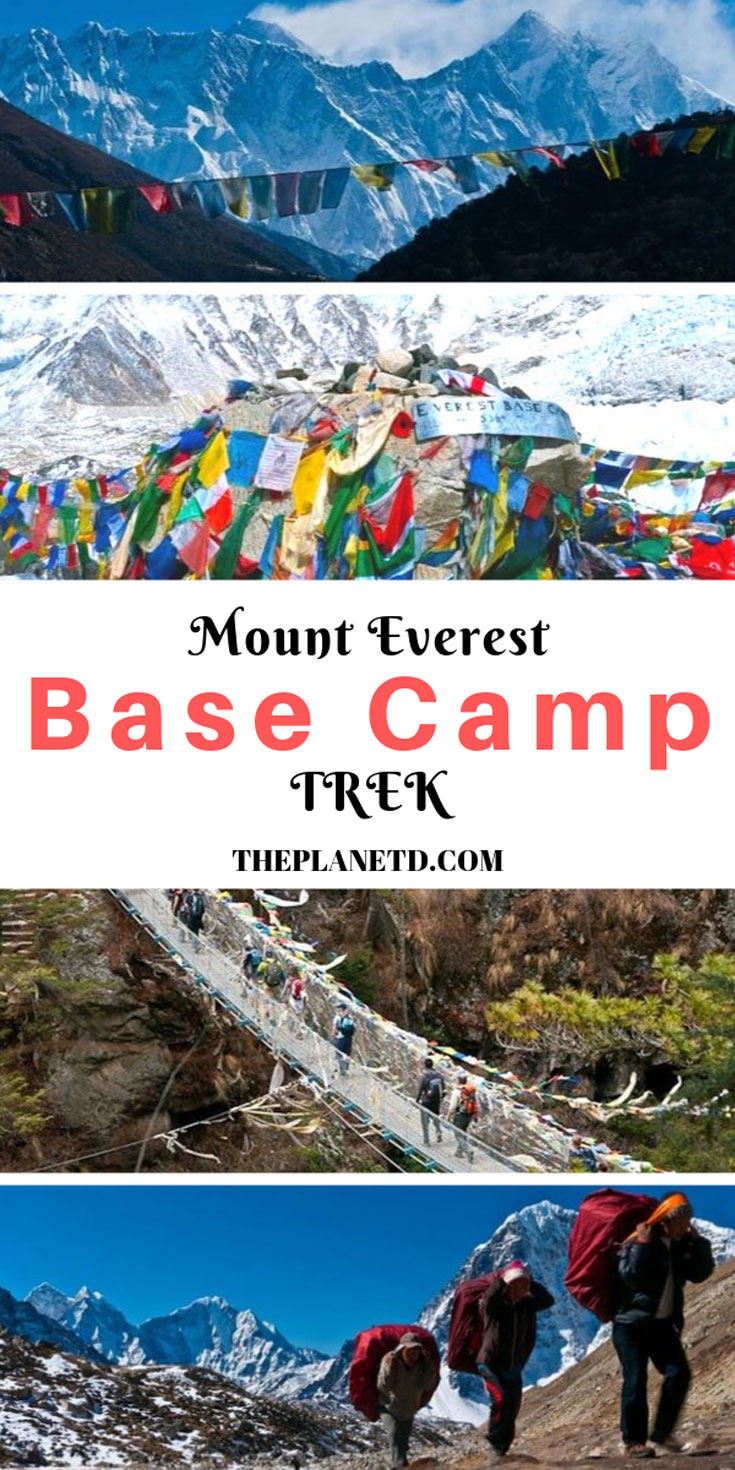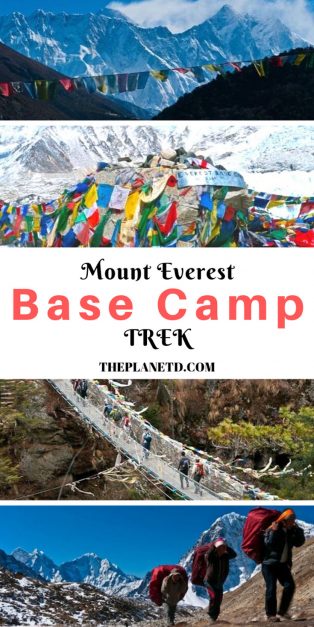 Read More
Packing list for Everest Base Camp