The flight to Lukla is considered one of the most dangerous and scariest flights in the world.
What is scarier than taking a flight on a small twin-engine plane through the Himalayas of Nepal from Kathmandu to Lukla? Having to take a flight back in rough weather.
Flight to Lukla, One Adventurous and Scary Ride from Everest
After two weeks of trekking the the most famous mountain range on earth it was time to return to civilization. At 2800 meters, Lukla is the town where most people start and finish their trek to Everest Base Camp.
The Tenzing/Hillary airport is a crazy airstrip dangling off the side of a mountain. It is short, it is steep and it falls thousands of meters into an enormous valley.
Leaving from base camp
Trekking down from Base Camp we had heard rumours that planes had been delayed for 3 days due to weather. This did not look promising for us. We really wanted to get back down and out of the mountains.
The thing about trekking is, once you have reached your goal, all you want to do is get back down and move on to other things. The climb is over, the excitement is gone and you are sick and tired of the place.
All we wanted was to catch a flight off the mountain and enjoy some pasta back at Kathmandu.
Morning of the flight
On the morning of our flight we awoke to grey clouds and fog. We were scheduled to fly out at 9:00 but that time came and went.
The village of Lukla
The problem with being delayed in Lukla is that there isn't anything to do there. Prices are high and the village is small. We went for a walk and circled the area in about a half an hour.
At least there was a "Starbucks" to hang out in. It isn't the real Starbucks Coffee, but it was comfortable and sort of warm with decent lattes.
We really wished that we had brought our iPhone to check email or at least to talk on Skype because they offer free wifi here.
Read all our tips to Trekking Everest Base Camp
Since we didn't have our Iphone, we had to pay 10 NPR per minute at the Internet Café. We are notoriously cheap about certain things and overpriced Internet is one of those things that we refuse to pay for.
So with nothing else to do, we sat and waited….and waited.
After a few of hours we heard a group of planes returning from Kathmandu. Things were looking up!
Round one had made it through and round two was flying out mere minutes after the planes arrived. We were scheduled for wave three.
If the weather holds off we would be back to Kathmandu by the end of the day.
Read our packing list to help you get to Base Camp
By 3:30 we were told to go to the airport and check in. Looks like we would be flying out after all.
Two planes came in one after another and as quickly as the passengers were filing off, we were filing on. We had barely enough time to strap in to one of the 14 seats on the tiny plane before the pilot took off.
I looked at the window across the aisle. It had a crack that was taped shut with duct tape.
Was this going to be safe?
The takeoff from Lukla is terrifying. The short runway plunges into a deep valley surrounded by the Himalayas.
I couldn't look out the window for fear that we fall off the end of the airstrip before getting liftoff. I kept telling myself that the pilots are professionals, they do this several times a day. Every day.
There was a jolly Sherpa in the seat beside Dave that kept me calm. He had obviously taken this flight many times. He was relaxed and when the weather was rough I looked to him to make sure he was still smiling.
Not long into the flight, we hit severe turbulence. When I looked over to the friendly Sherpa, his smile had faded.
We were tossed around like a rubber duckies in a wave pool. Everyone fell silent. There was an uneasy feeling and the mood was heavy. We hit an air pocket so hard that if we weren't wearing our seat belts we would have gone head first into the ceiling.
All we wanted was to get out of Lukla earlier that morning and now we wished that we had waited an extra day for the air to clear.
I reached behind to grab Dave's knee with my sweaty palm. I clenched his leg and thought to myself, "Well at least if we crash we will be together"
Flight to Lukla
I tried to look out the window to relax. Maybe if I face my fears head on and embrace the view I will feel better. But the constant swaying, bumping and rocking made me airsick.
Even Dave, who has the steadiest of nerves was silent and stressed.
Enjoy our photos of the brave Sherpas and Porters of Everest
Thoughts during our flight
My mind wandered and I went through all the times I had been rude, complained or was short with people during our travels. I worried that Karma was coming to bite me in the ass.
Maybe I should have given that guy some extra Rupees, maybe I should have stopped to buy that necklace from that sweet vendor. Why didn't I tip that waiter more money and why was I short with the guy trying to sell me something on the street.
I vowed to be a better person. I had not been sensitive enough to people's situations and what right did I have to survive and go home to my comfortable life in Canada while so many people are suffering in this world?
Seriously, I thought about these things.
See what it's like to fly to Lukla
It was the longest 45 minutes of my life.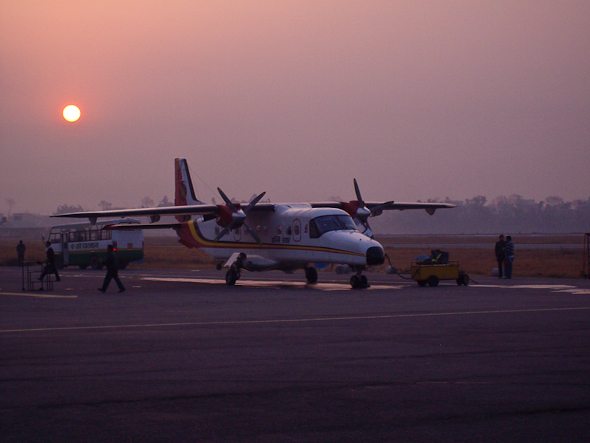 When we landed, the jolly Sherpa laughed and clapped his hands and I knew then that we were on a flight that made even the most frequent fliers of the Himalayas shake in their boots.
We talked to a fellow trekker that was on the other plane from the wave three group while we picked up our luggage in the parking lot. (Yes, we picked up our luggage in the parking lot) She threw up on her flight and looked dazed and shocked. I am surprised that people didn't throw up on our flight myself included.
We all seemed a little shell shocked by the experience.
But we were safe now.
The sun was shining bright and it was warm and breezy in Kathmandu. We had been cold for two weeks on the Everest Base Camp Trek and had forgotten how warm it was at a lower altitude.
We survived Everest, We survived that flight and now all we had to do was survive that taxi ride through the insane traffic back to the guest house.
As with everything in our travels Dave can now say, "Been there, done that and bought the T-shirt to prove it."
Read More
Bhutan Trek to Laya – A Himalayan Adventure to the Remarkable and Remote