For adventure lovers, a Bhutan trek is high on the list. After climbing Kilimanjaro, trekking to Everest Base Camp, and tackling the Arctic watershed, we were excited to finally be able to explore the Land of Thunder Dragon.
Bhutan Trek to Laya
When we were last in Nepal, we considered taking a four-day Bhutan tour to see the famous kingdom in the Himilayas, but the $250 per person per day fee cut into our budget a little too much so we decided against it.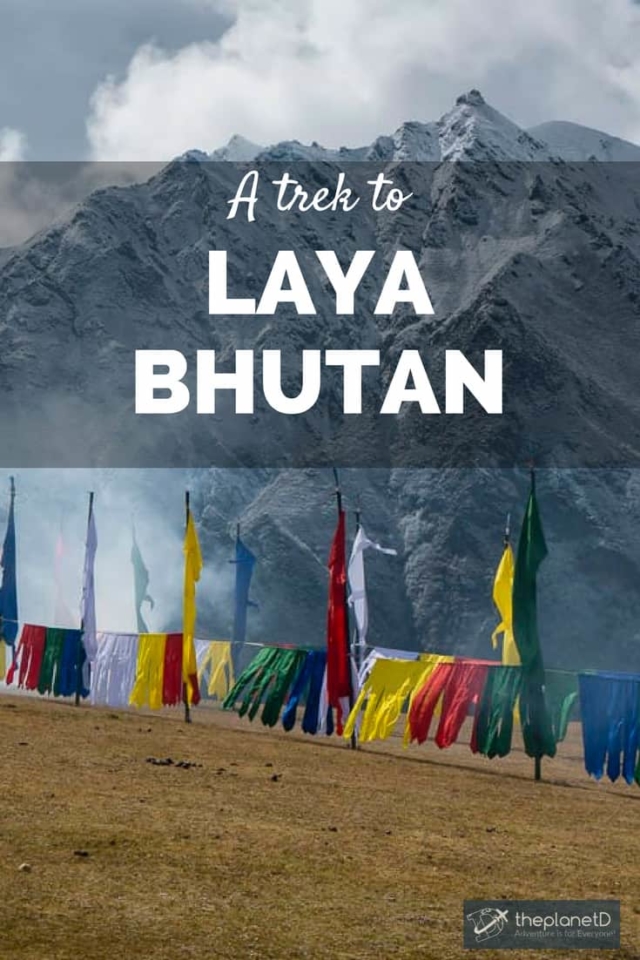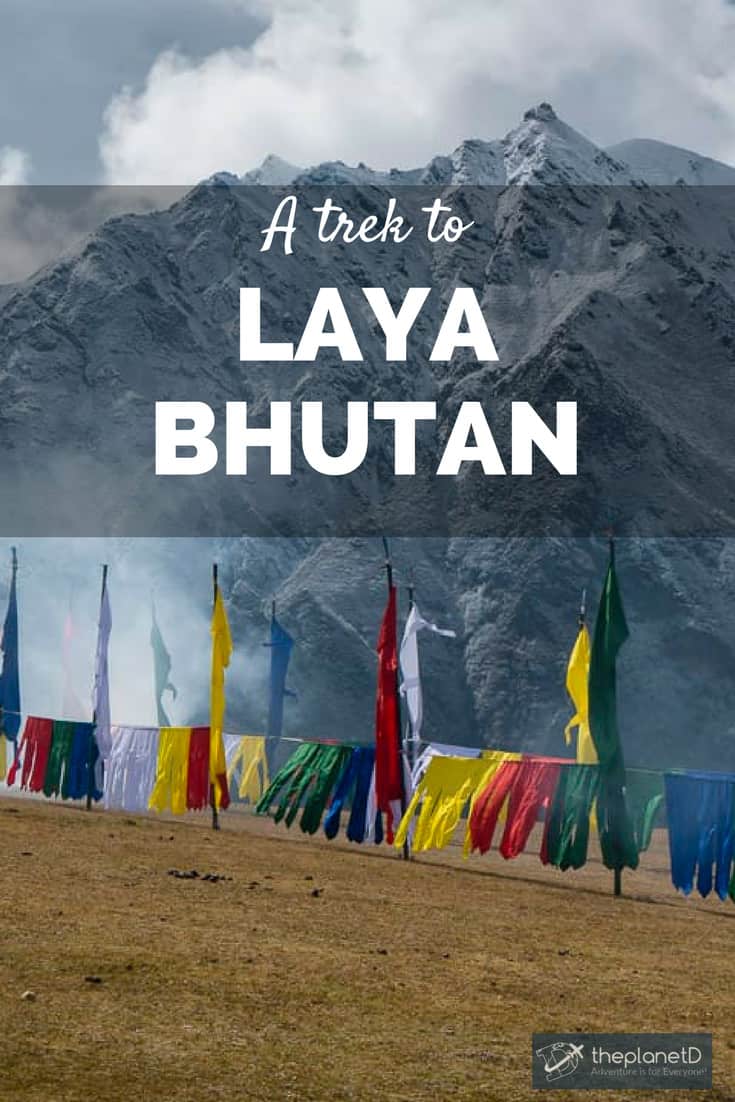 When Gray Langur Tours invited us to join their inaugural tour to Bhutan that included a trek to Laya, we thought "now is the time to go and see what it is like for ourselves."
About Gray Langur
Gray Langur was started last year by Silicon Valley CEO Gabriel Cubbage after a trip to the country on his own. He fell in love with the people and their idea of low-impact tourism. He joined forces with local partner Tshering Tashi and they plan on having luxury tours throughout the country in the coming year.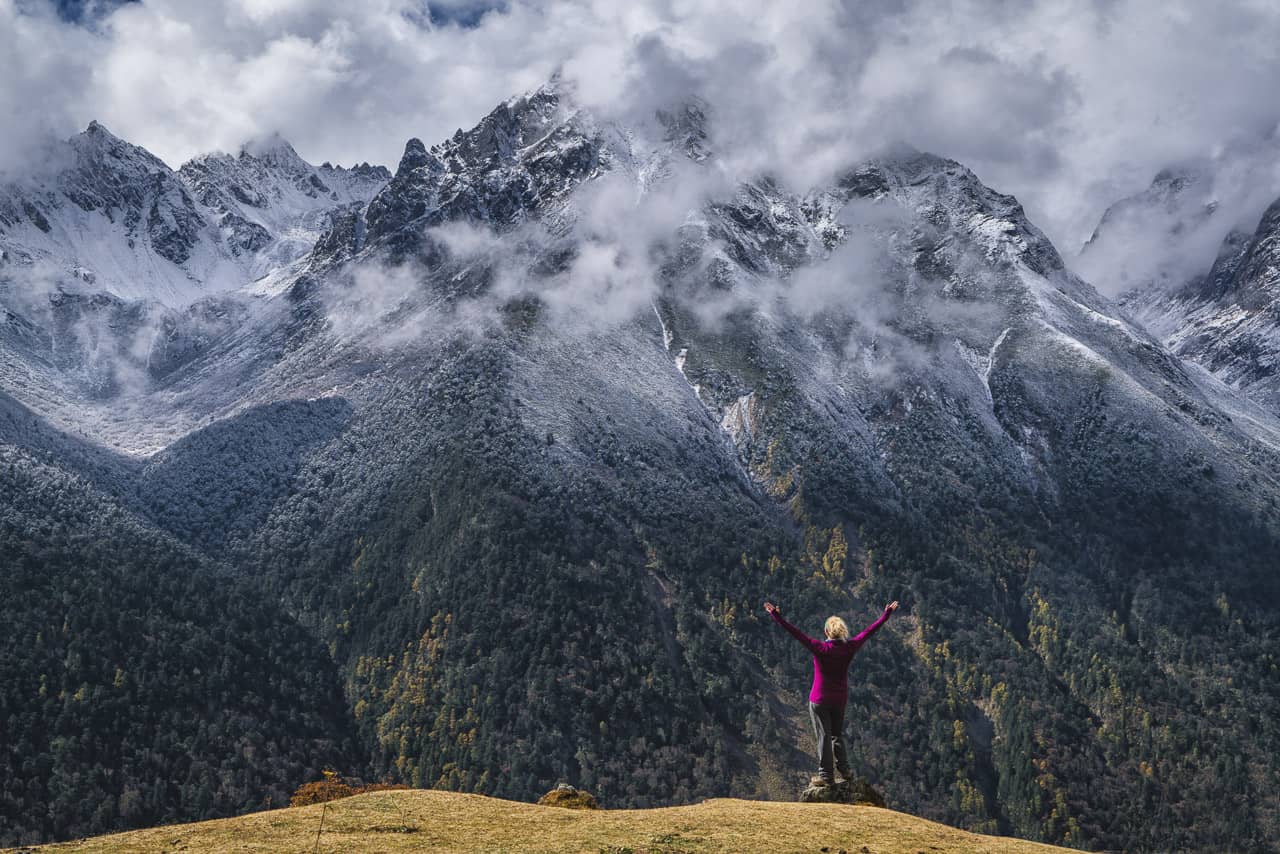 The Four Pillars of Gross National Happiness in Bhutan
1. Equitable and equal socio-economic development
2. Preservation and promotion of cultural and spiritual heritage
3. Conservation of environment and
4. Good governance which are interwoven, complementary, and consistent.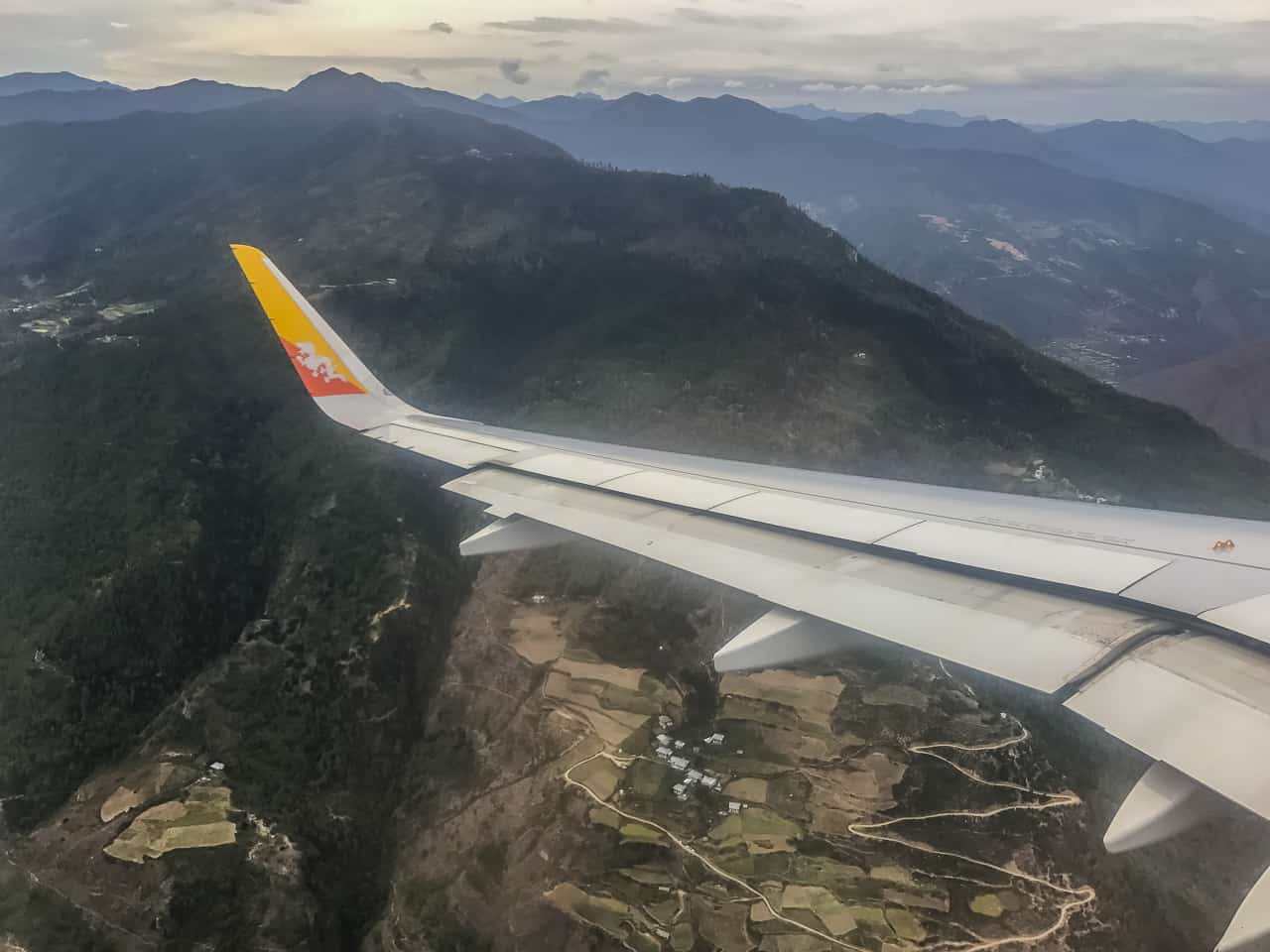 Our tour started in Bangkok where our large group of 20 flew together to the capital city of Paro. After a night in town, we were off the next day for our trek to Laya.
The Trek to Laya Begins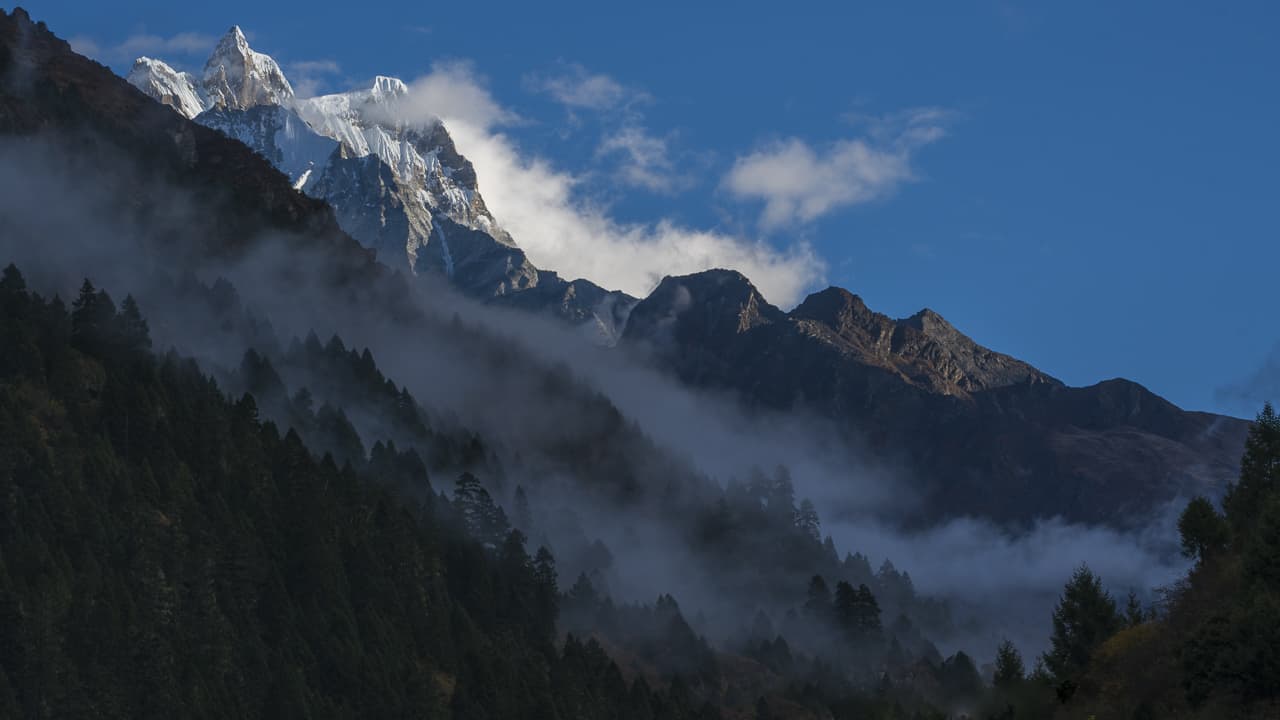 Dave and I were really excited about the trek to Laya. It is considered one of the most scenic long distance treks in Bhutan that doesn't require a lot of physical prep or high altitude experience.
Note: Be warned though, this trek is not to be taken likely if you don't have experience. One person in our party had to turn back due to the trek being too difficult, and one other person in our party went back the following day after being rammed by a donkey on the mountain. Other people who had little trekking experience struggled greatly. Know your limits before booking a Bhutan Trek.
We love the views of the Himalaya mountain range and couldn't wait to see the massive peaks that we saw in Nepal's Sagarmatha National Park.
View on our Everest Trek while in Nepal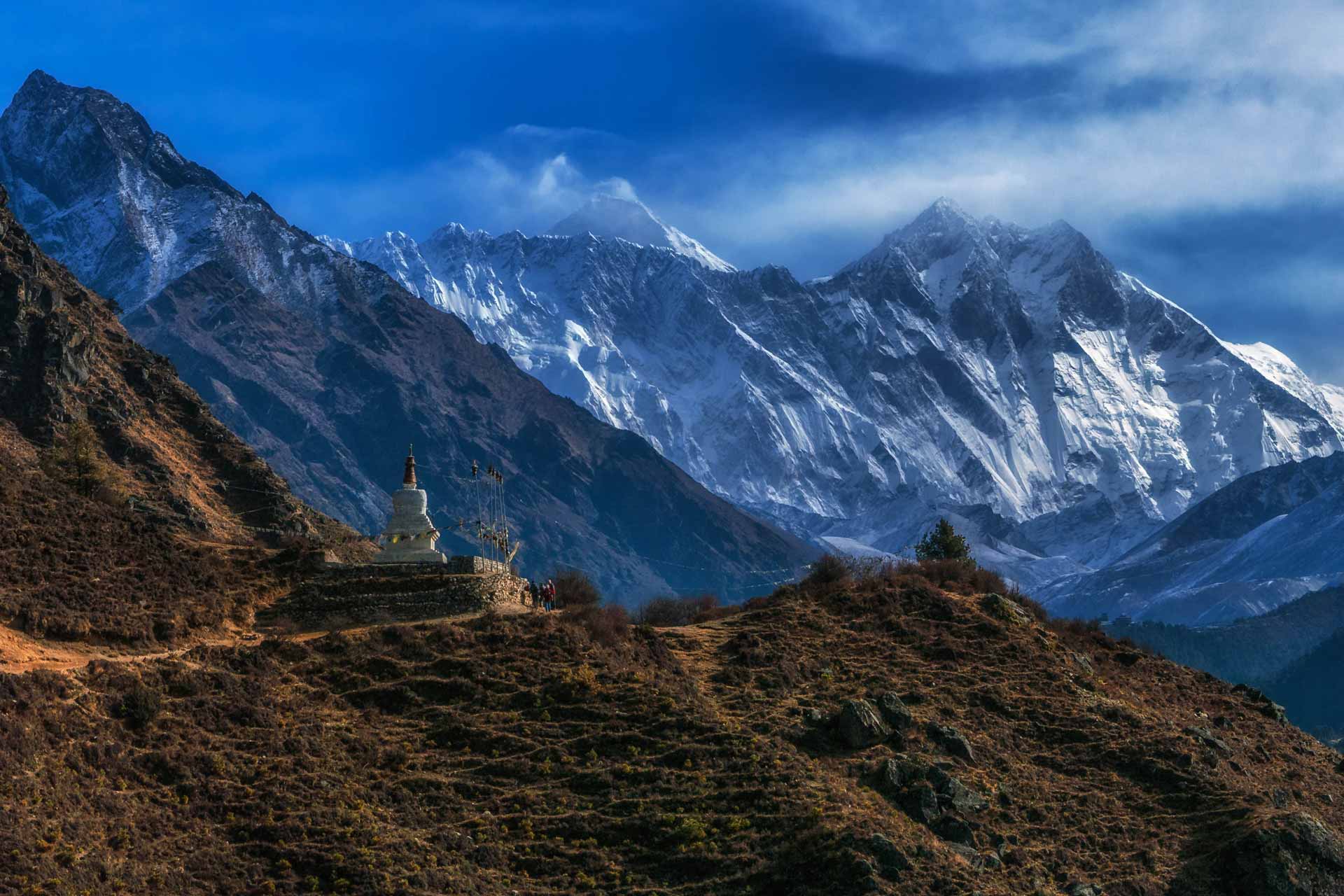 This trek wasn't going to take us to quite the same height as the Everest Trek as our trip to Laya was only two days up and two days down, but it would give us a sense of what trekking in Bhutan is like.
We set off after camping on the side of the road for a night from Gasa towards Laya.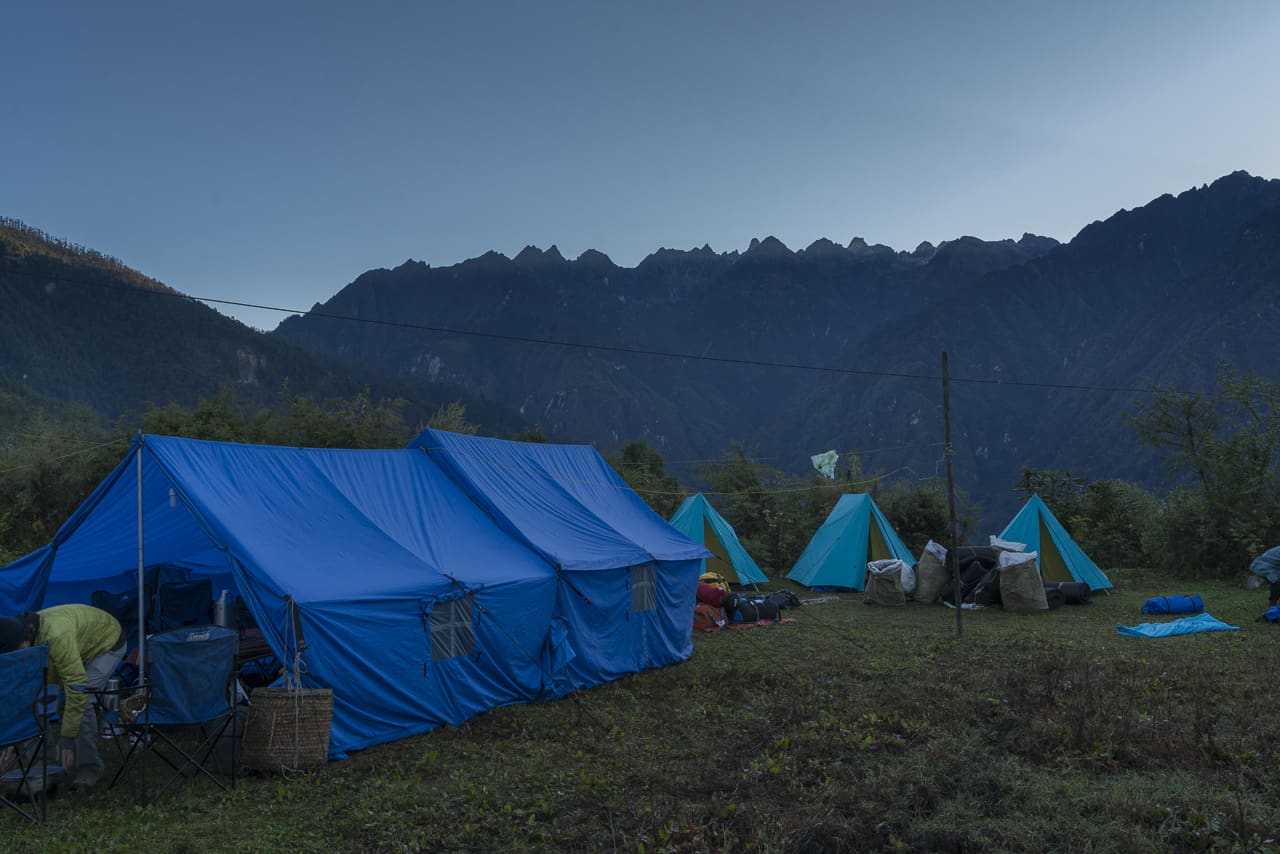 Unlike other treks that go to Laya, Gray Langur takes passengers as close as possible to the start of the trail. We passed many people trekking along the side of the road while we stayed inside our mini bus.
I liked this idea of driving past the hikers on the road as I am not a fan of sharing my trekking path with automobiles. Instead, we went as far as the road would allow and then made the rest of the way on foot with no vehicles impeding our trip.
Breaking Down the Laya Trek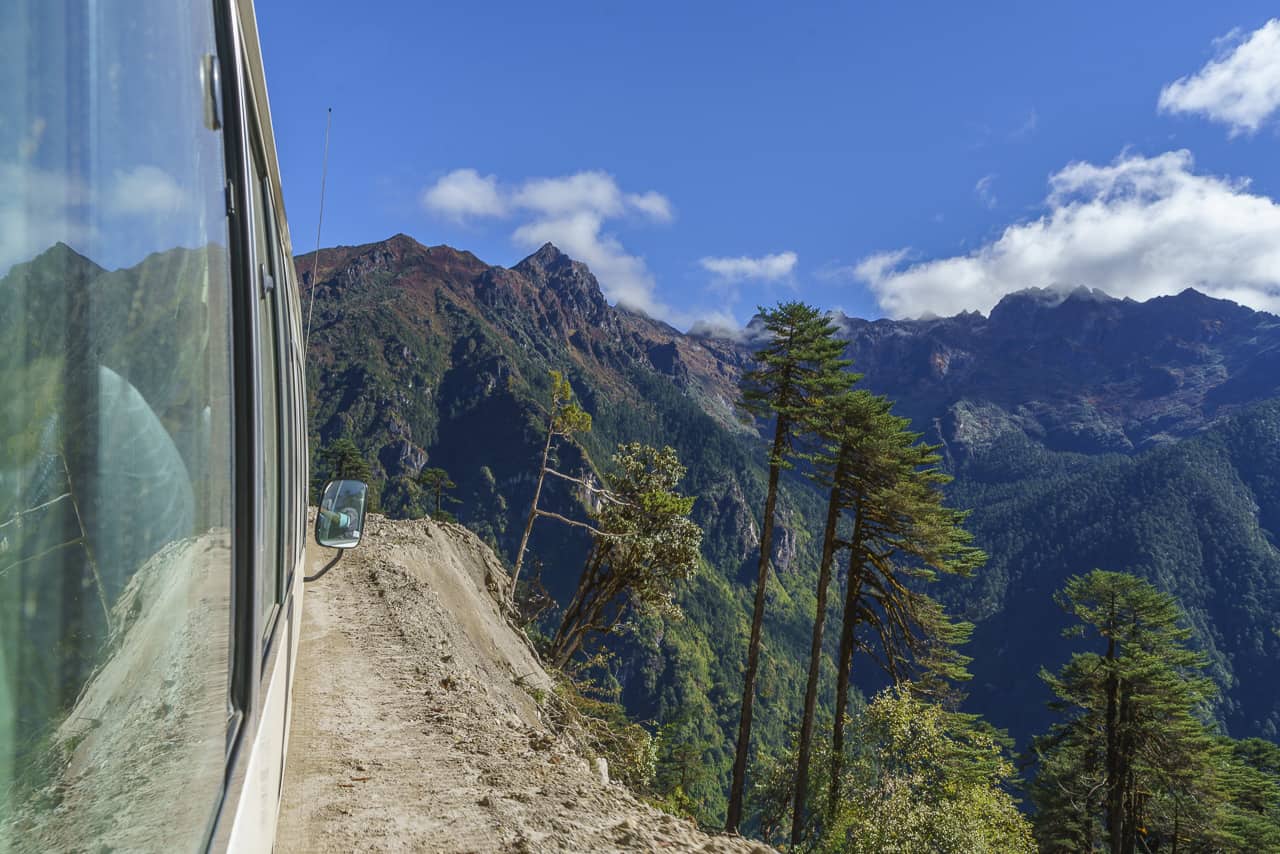 The first part of our trek was an easy walk down a valley on a logging road towards a bridge crossing the river. We stopped in the middle of the bridge taking in the most spectacular views of the valley.
From here the uphill battle began.
Our mish-mashed group spread out quickly and Dave and I had the trail to ourselves the rest of the day as we hiked along narrow paths through high mountains and deep valleys.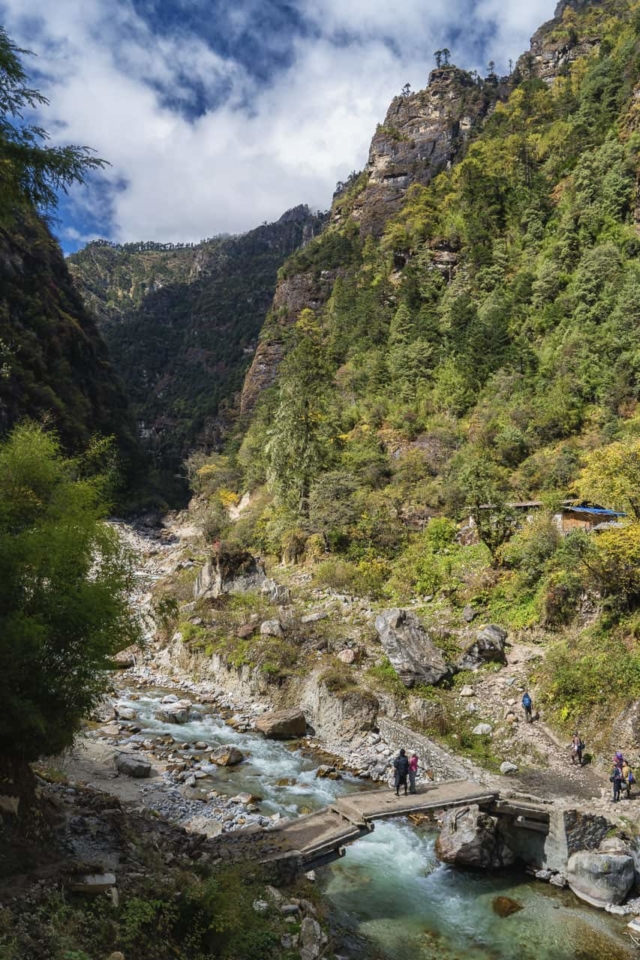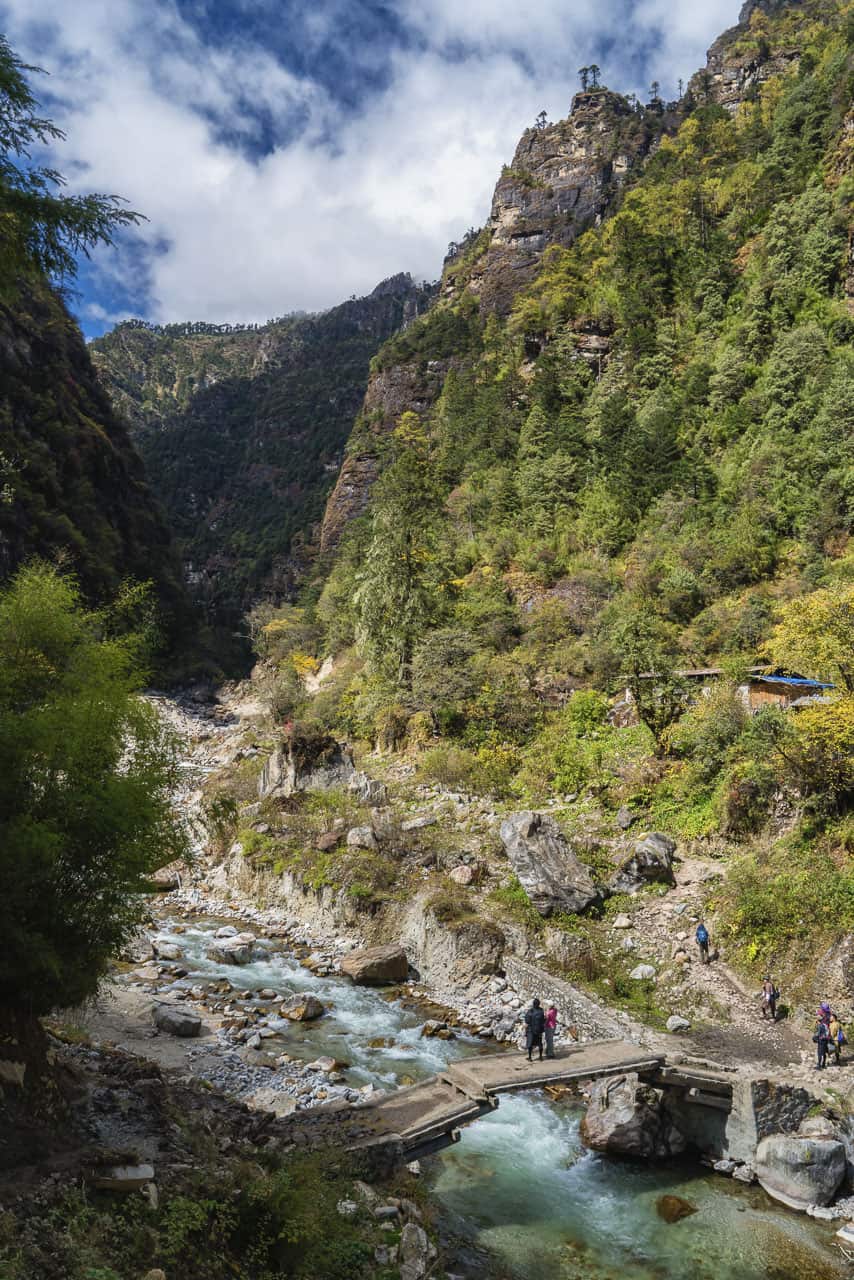 The first day was an 18 km trek uphill with a stop at the 10 km marker for lunch. It took us through forested mountains and single track trails that we shared with mules and donkeys carrying heavy supplies up to Laya and the Army camp at the half way point.
Important tips for hiking on busy trails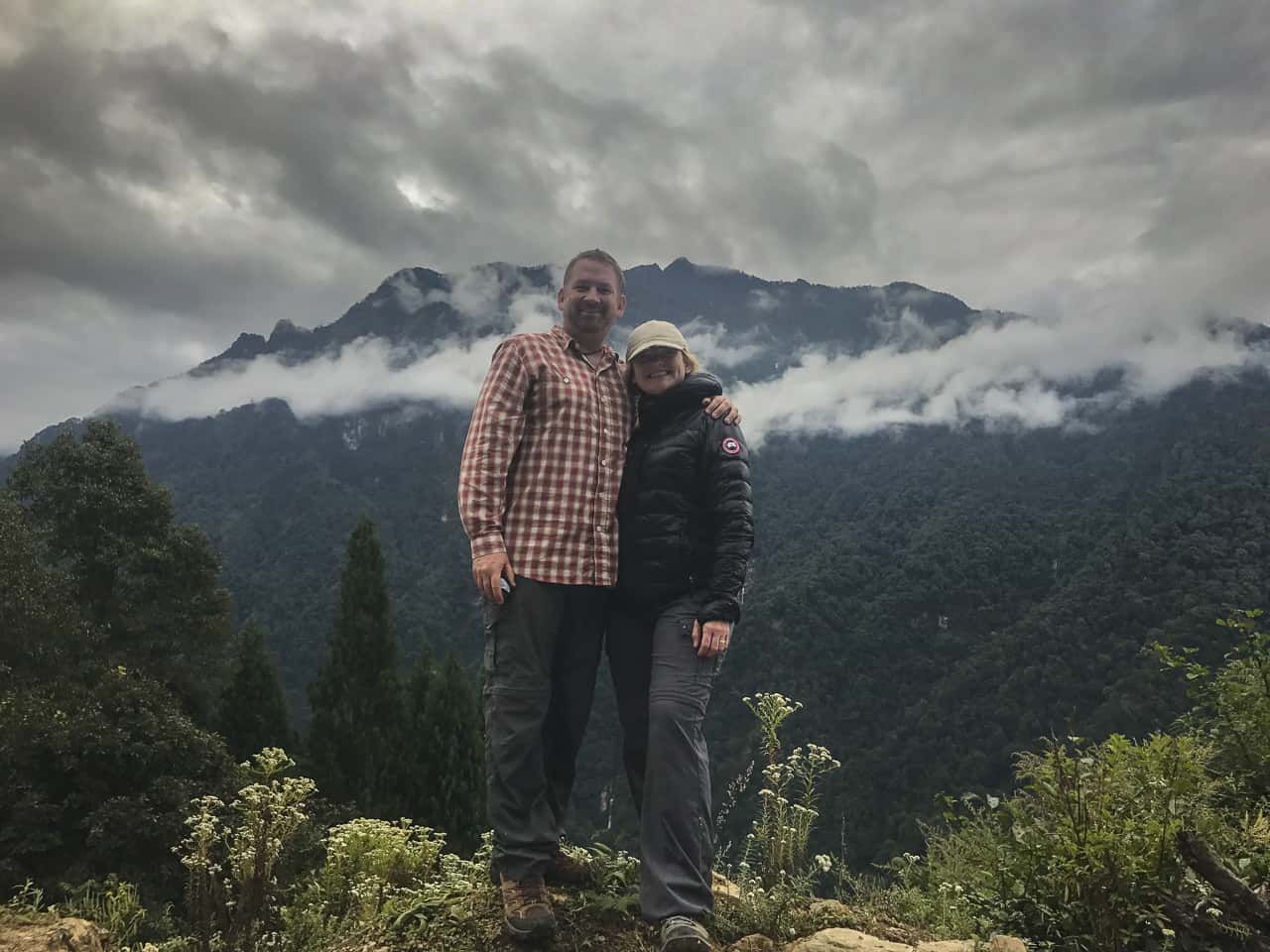 When doing a Bhutan Trek you will have to share the trail with horses, donkeys and mules at lower elevations and yaks at higher elevations. Be sure to get out of their way and leave plenty of space as they won't stop for anything.
Never stand on the cliff dropoff side of the mountain. Always stand on the hill side of the mountain so you don't accidentally get thrown over.
But also make sure to step up as high as you can on the trail side so you don't get pinned to the side of the wall either.
Listen for the bells ringing around their neck and stay alert at all times.
Check out our video of our Laya Trek
Something we love about trekking in the Himalaya are all the prayer flags soaring over mountain passes and deep valleys bringing messages of well wishes and prayers to the heavens. It gives a peaceful sense to the climb knowing that in some way you are being looked after.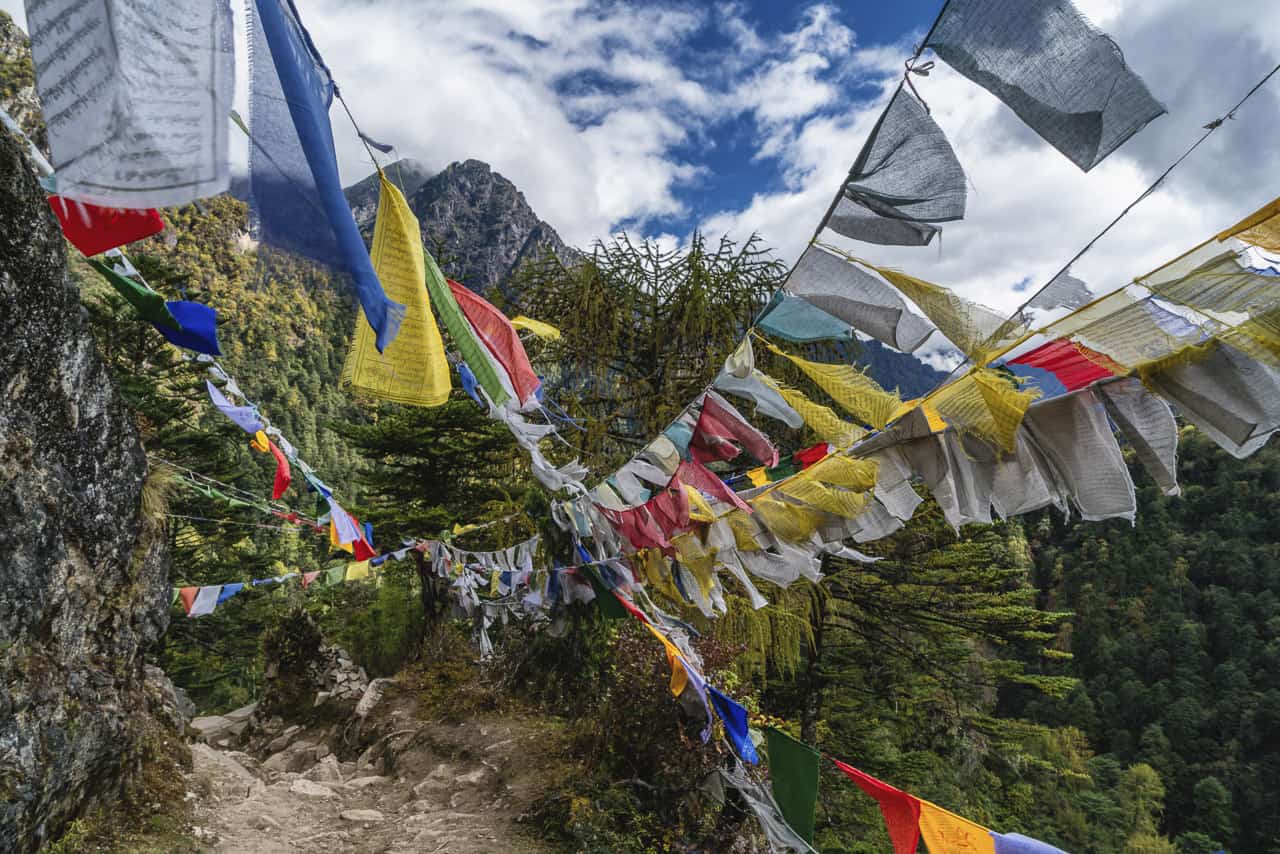 We saw many prayer flags along the trail and stopped to marvel at their beauty and pay our respects.
After a few hours of hiking up hill, the descent to the river began. Dave and I thought we had fallen behind the main group as we constantly stopped to take photos and videos. It seemed that with each corner turned, a more stunning view lay ahead of the high Himalayas in the distance.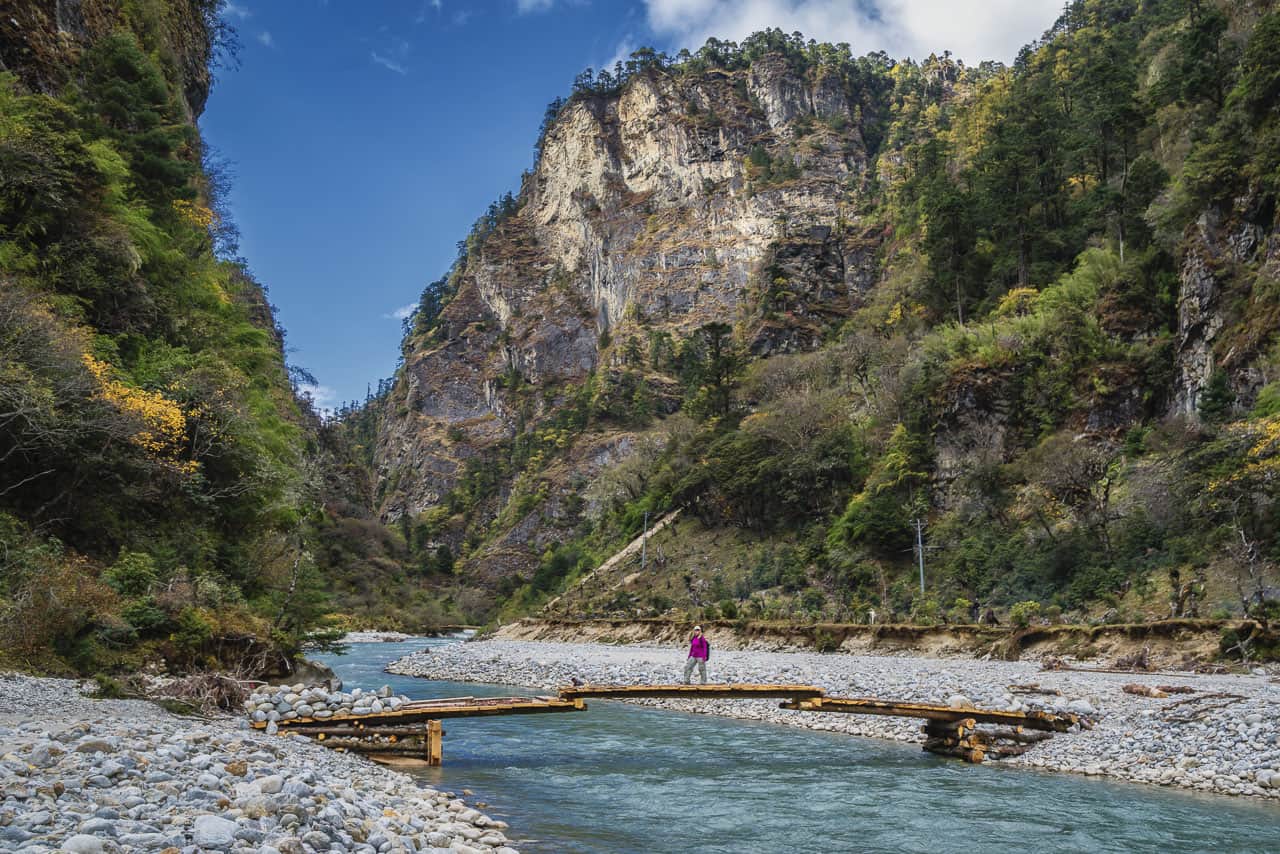 We ended up catching up with some of the group and the guides and took a few extra moments to head down to the fast rapids of the river for a better vantage point of the high Himalayas. It was a drastic contrast from the lush green trails we were walking in.
Why the Laya Trek in Bhutan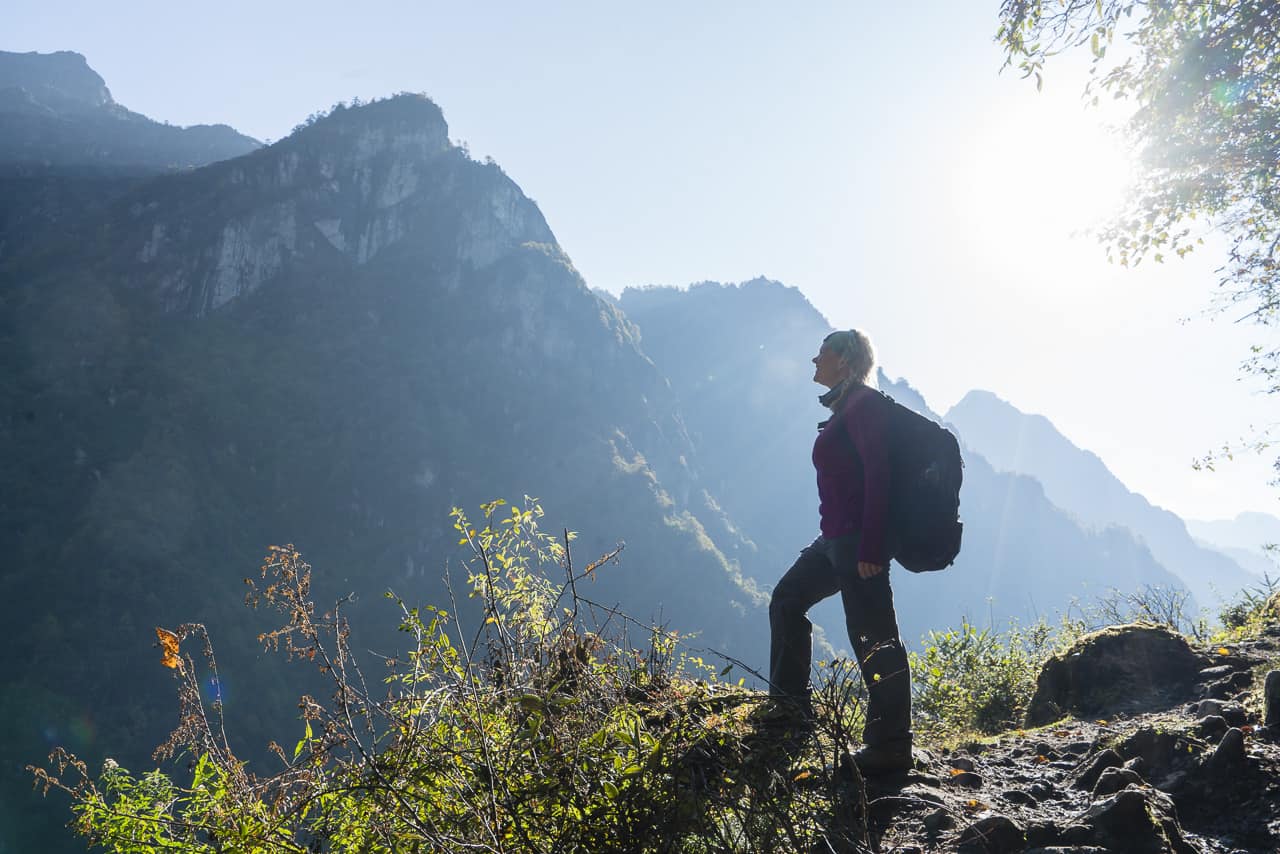 We learned from our guide Sangay that this trail is where the famous Snowman Trek begins. If we were doing that trek, we'd be soon branching off to tackle what is considered the toughest trek in the world with 25 days at altitudes above 4000 metres (13,100 feet)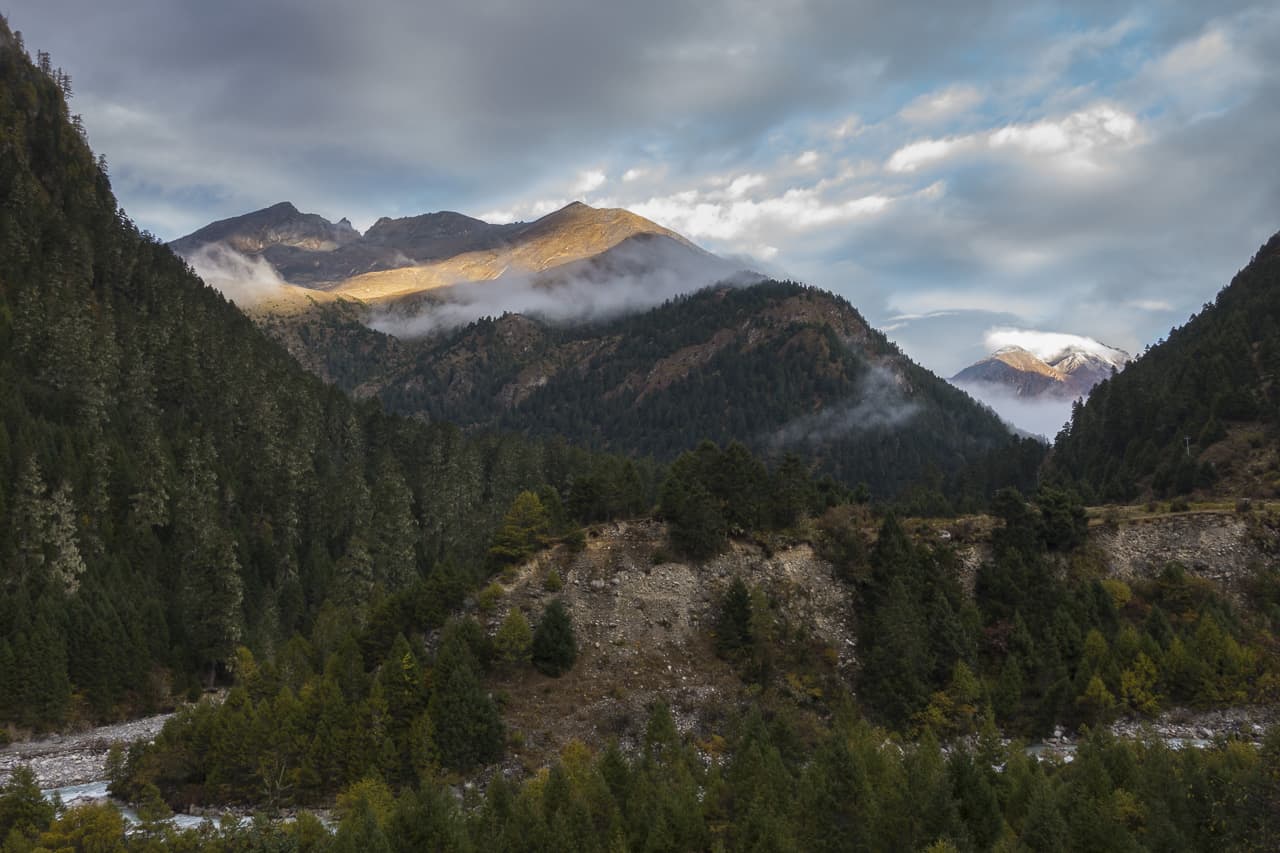 We weren't going that high, but it was pretty cool to know that we were walking along the path that some of the heartiest trekkers take in Bhutan.
Our guide Sangay has done the Snowman Trek four times. This was his first trek to Laya as it is just starting to pick up steam because of the Royal Highlander Festival that started last year.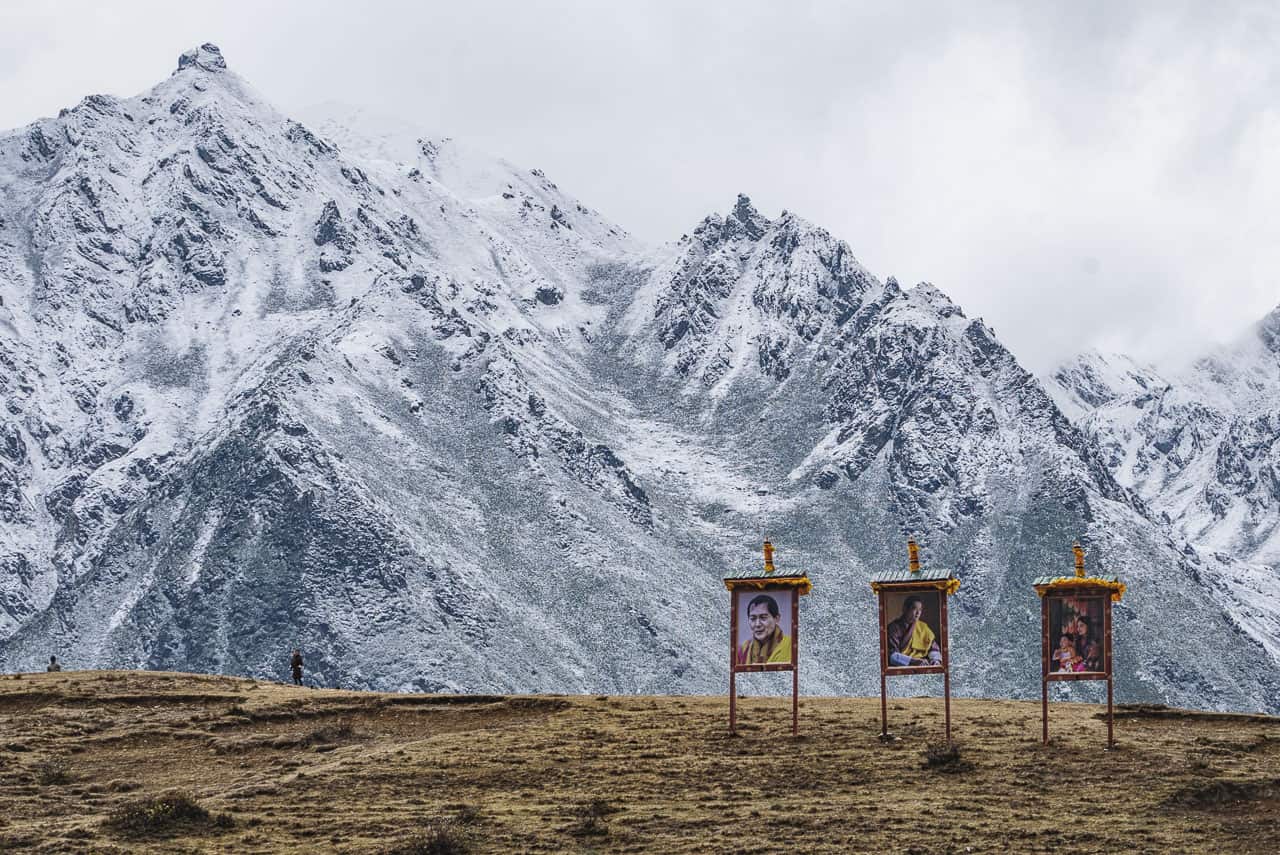 The King of Bhutan loves this region of the country and wanted to promote more tourism to these mountains. He launched the festival last year to highlight the culture and lives of the hill tribes and it is a unique experience to witness Bhutan traditions with very few tourists involved.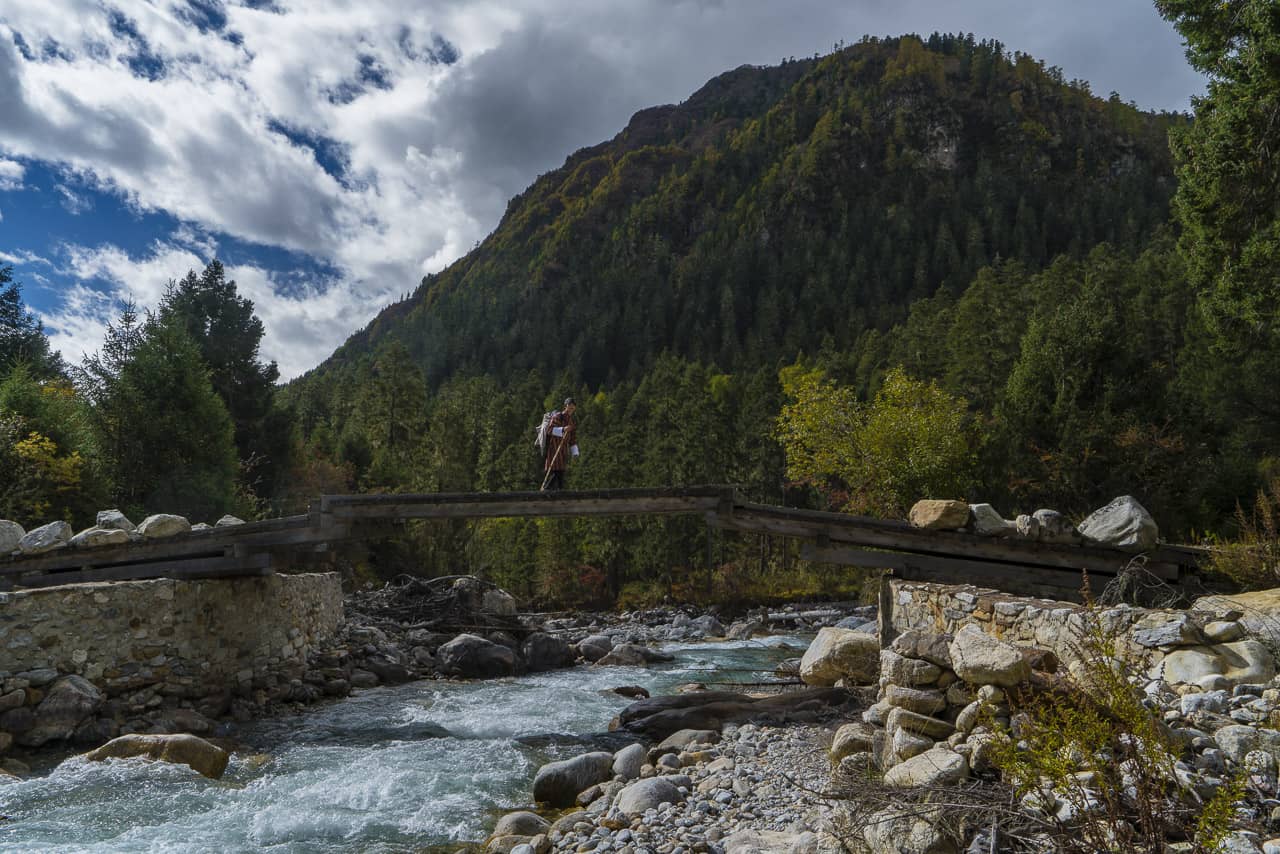 Since it is a two day trek to the festival, it weeds out the quick tours that come in to Bhutan from Nepal and India. This trek attracts only the most dedicated of Bhutan travellers.
After a quick stop for lunch by the river, we continued on for another 8 km uphill.
Night #1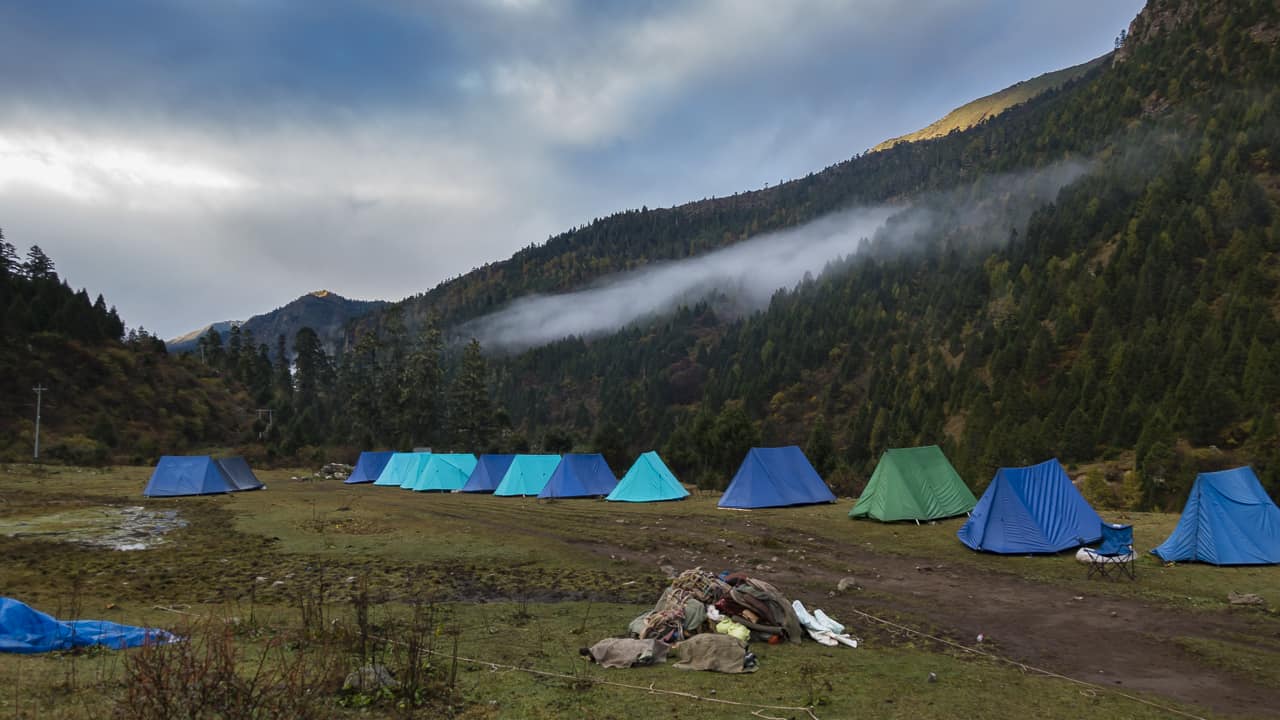 It was a long day, but we made it into camp before sundown. Camp was located directly beside an army outpost. The soldiers were friendly and offered our party some momos while we waited for dinner.
We aren't quite sure what happened at dinner, but with our group sharing a kitchen with the army and someone cooking a kosher meal, it was hours before dinner.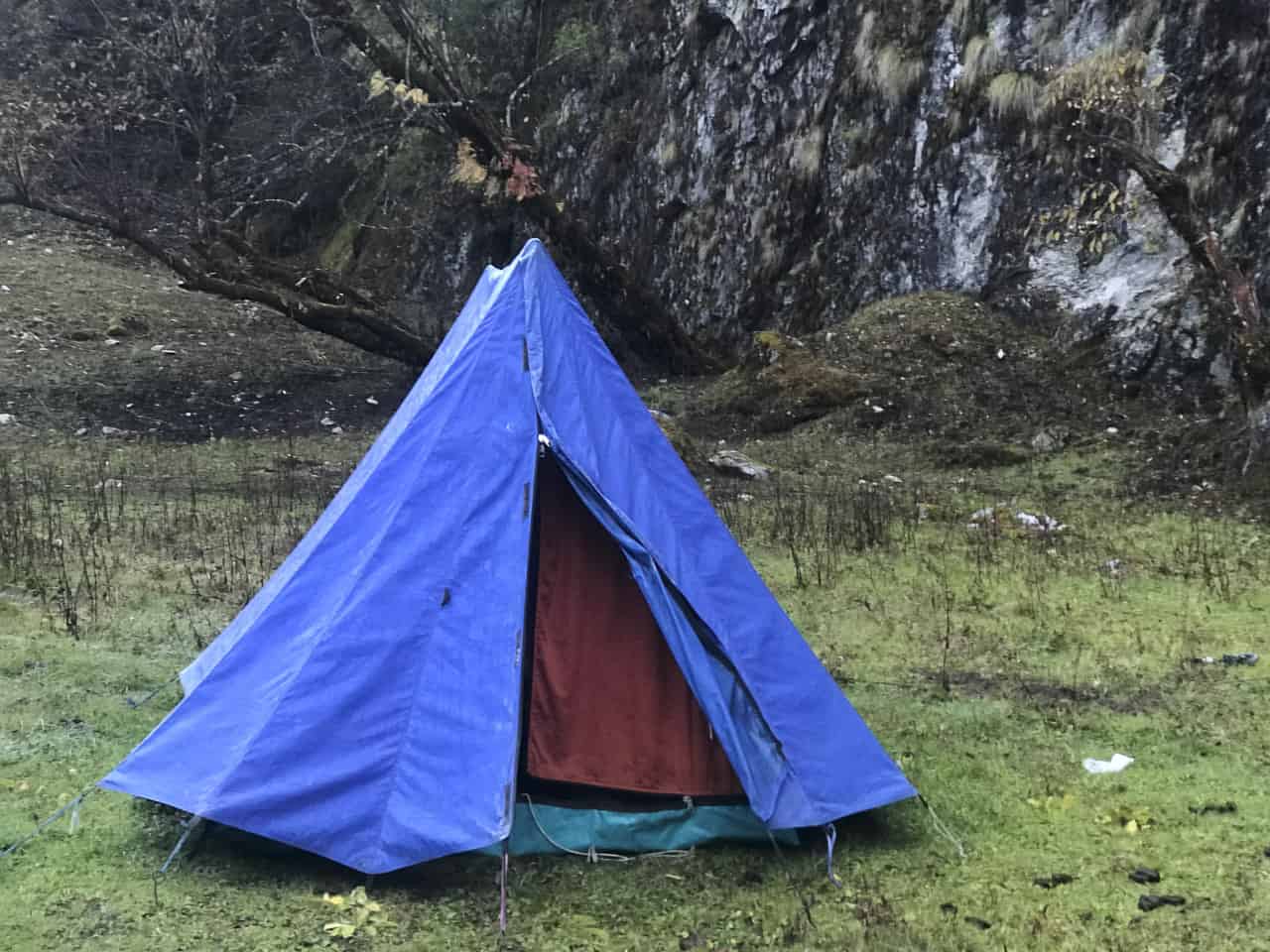 We decided to just eat some snacks and call it a night as it was getting pretty cold outside and our tents weren't in the best of shape thanks to the supplier dropping off sub par trekking gear to Gray Langur.
Morning arrived early and Dave and I were out for sunrise capturing the spectacular scene.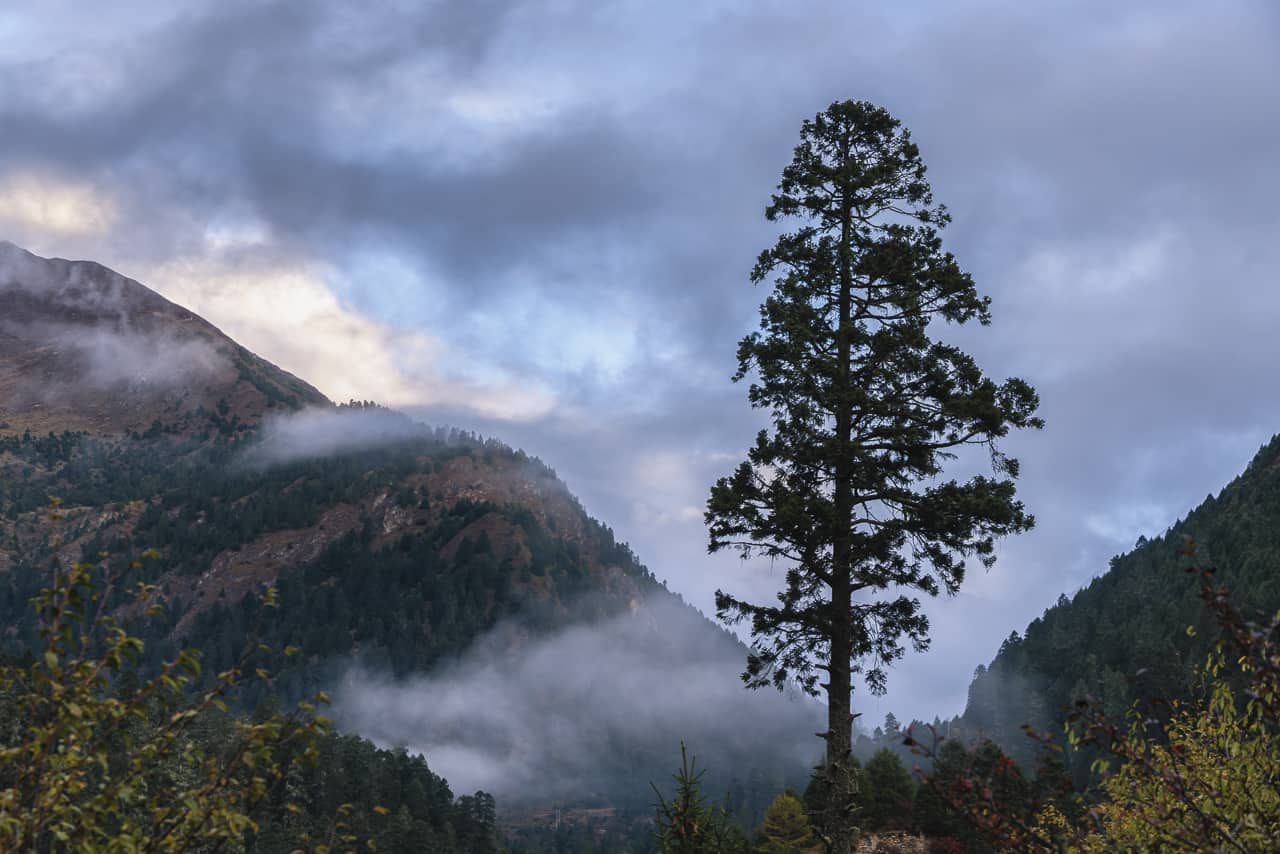 We didn't notice the mountains around us when coming in the night before as the weather had moved in and it was shrouded in cloud. When we woke up this morning, we had spectacular vistas of mountains and valleys in every direction.
Day Two of our Trek in Bhutan
Once again, our ragtag group set out together, but quickly split up into separate groups. Dave and I were alone again and had a wonderful day exploring the hills.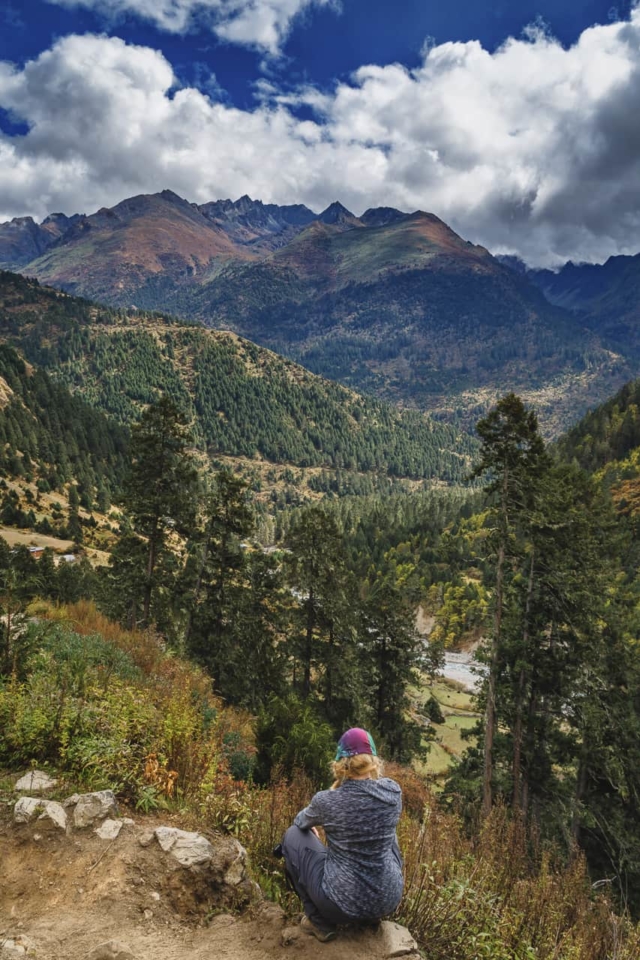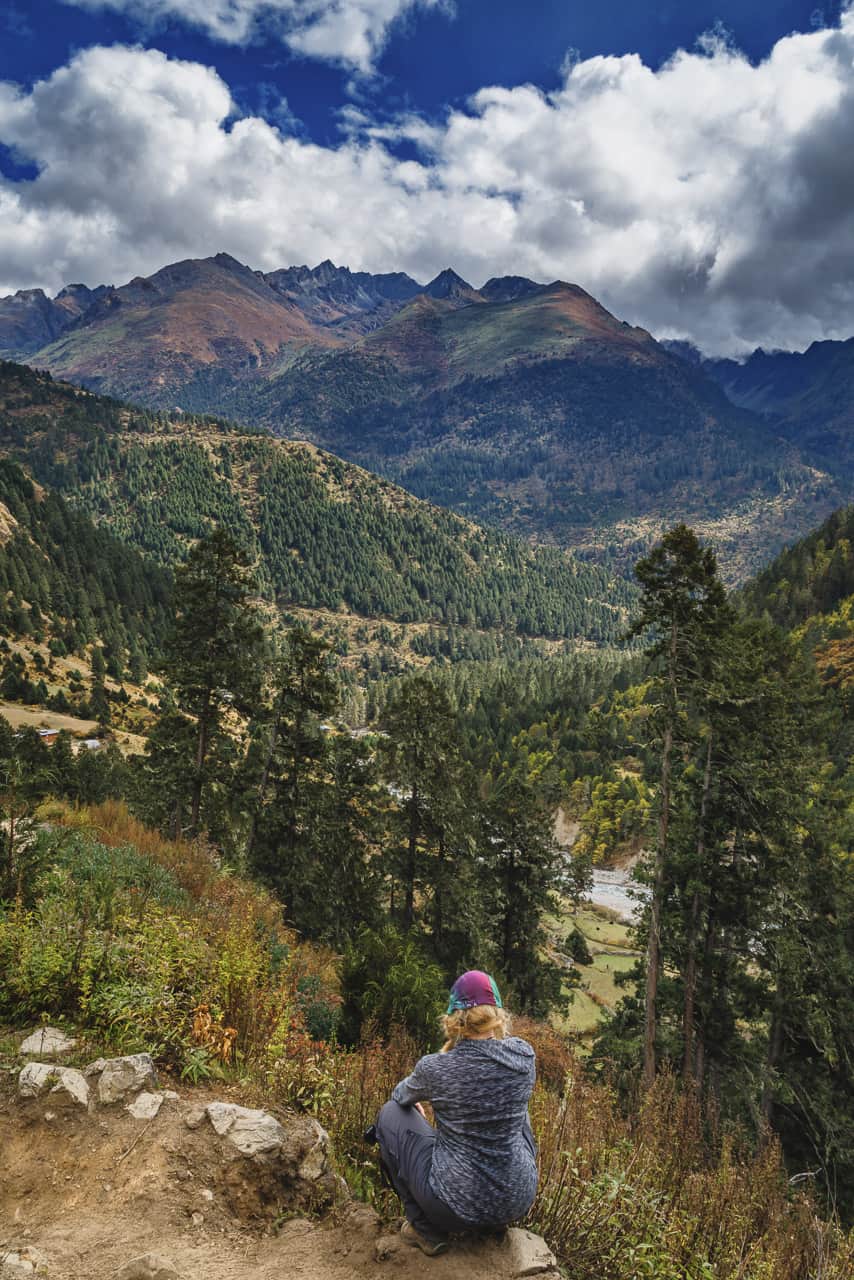 We stopped to talk to as many people as we could. At one point we took a detour to chat with an older lady who was trying to communicate something to us, but we just couldn't make out what she wanted.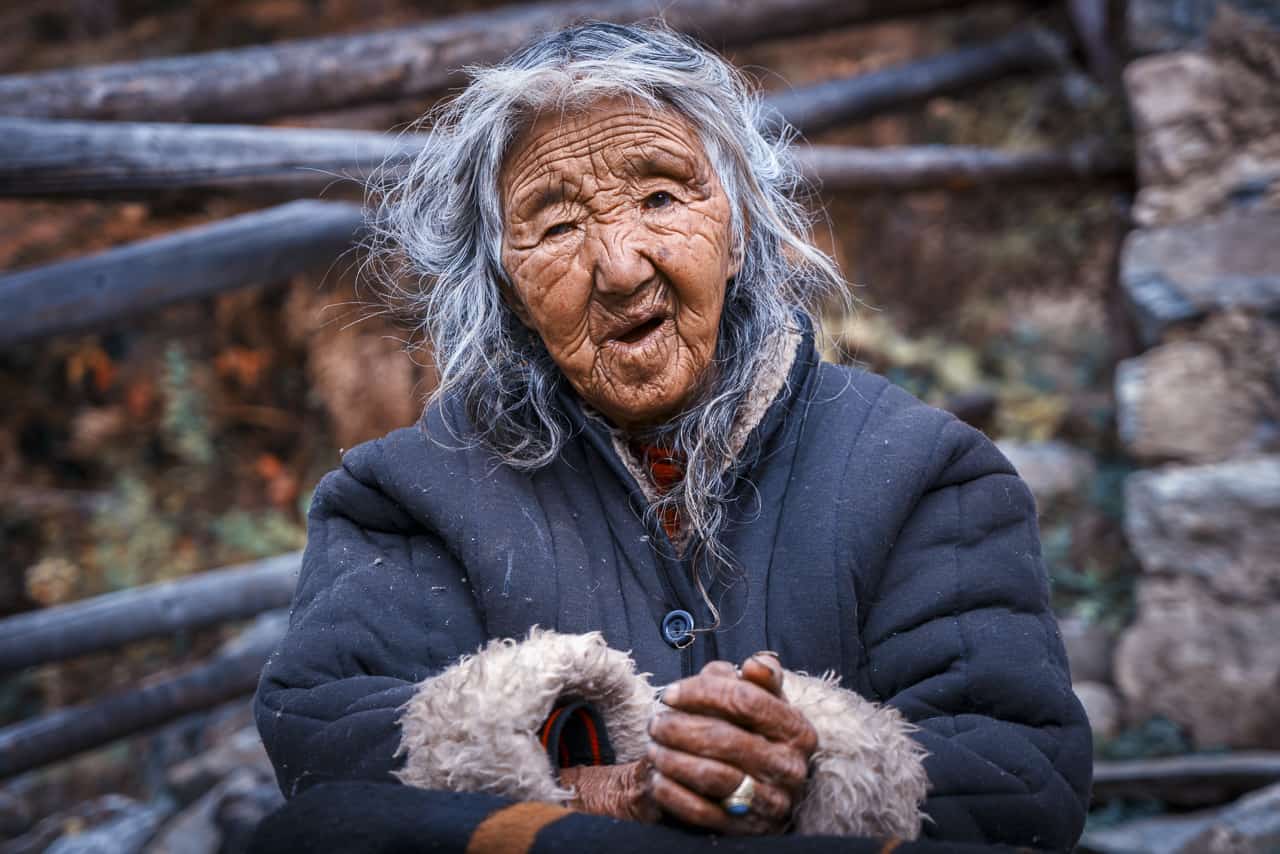 In the end we had a lovely time exchanging smiles and handshakes and moved along to higher ground.
Laya Marathon
It was at this time that the racers for the annual Laya marathon started showing up. To co-ordinate with the festival, young men and women enter the 25 km route racing up to 4,000 metres.
It's a gruelling course and we had a hard enough time walking up the mountains let alone running. The early leaders made it look easy and put our slow pace to shame.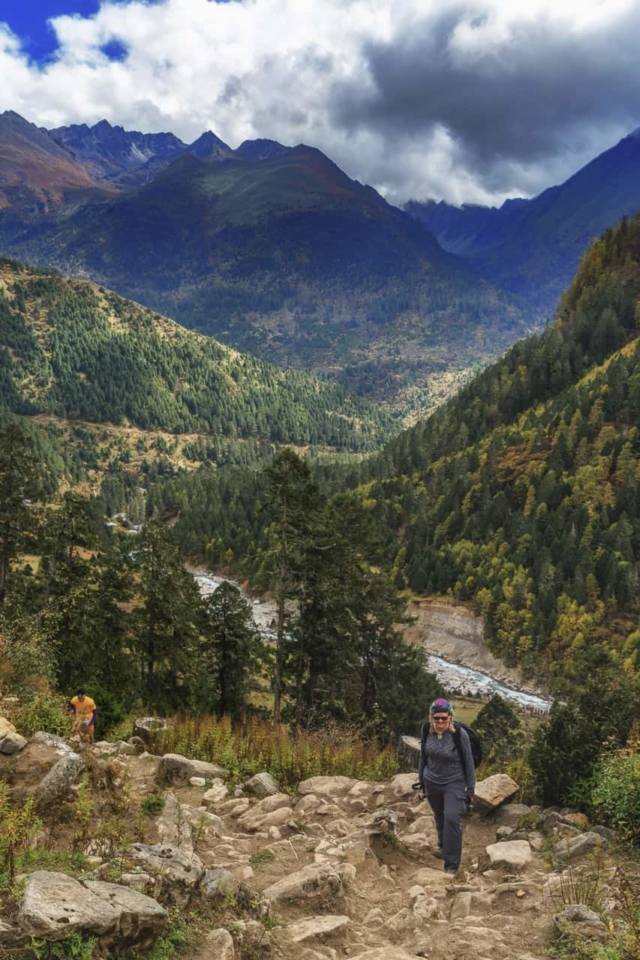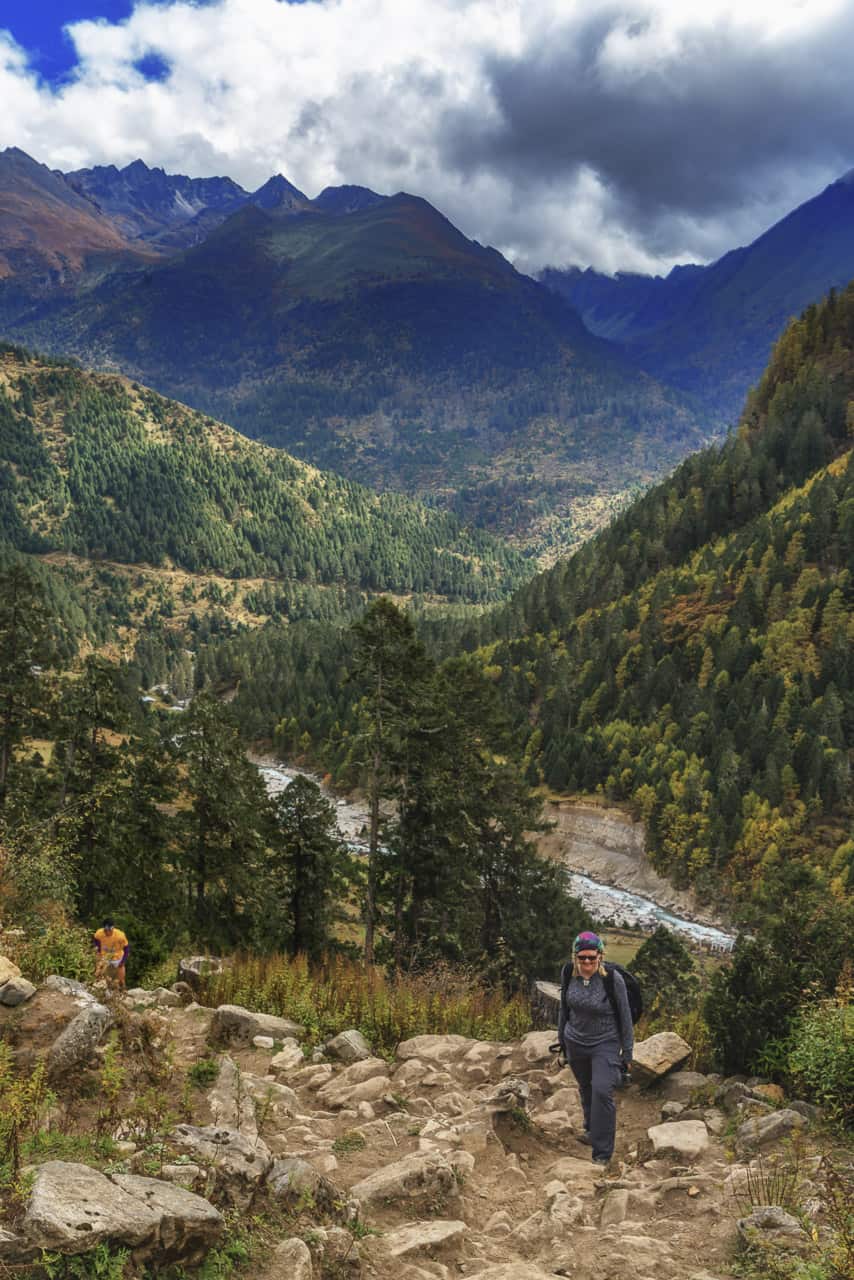 But we stood aside and cheered them on as they pushed forward with great determination.
When we reached a check point for the race, we knew we had to be close to Laya. A group of children were chanting a welcome song to the racers and officials were on hand to check them in and make sure everyone was doing okay.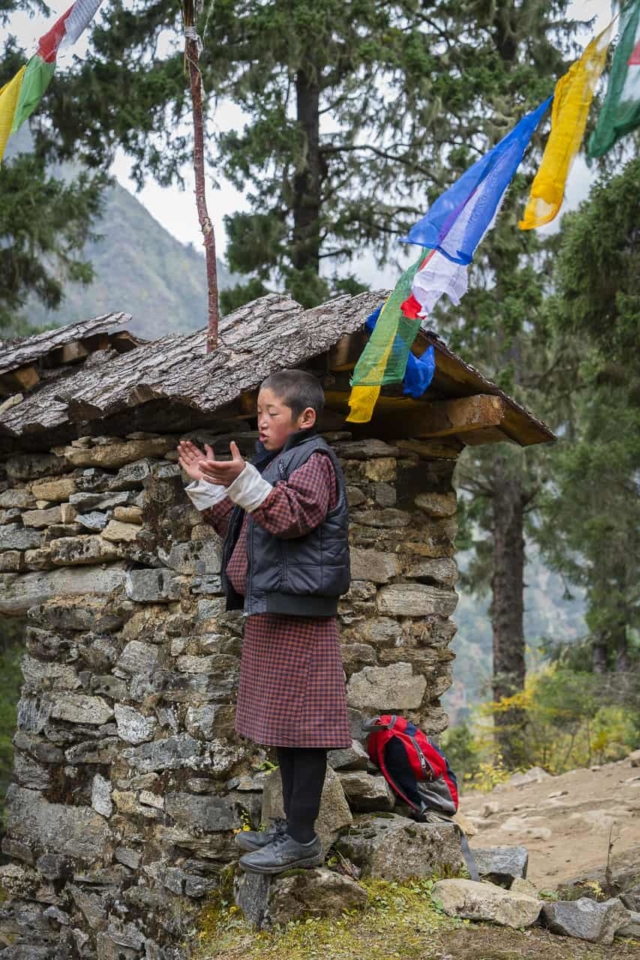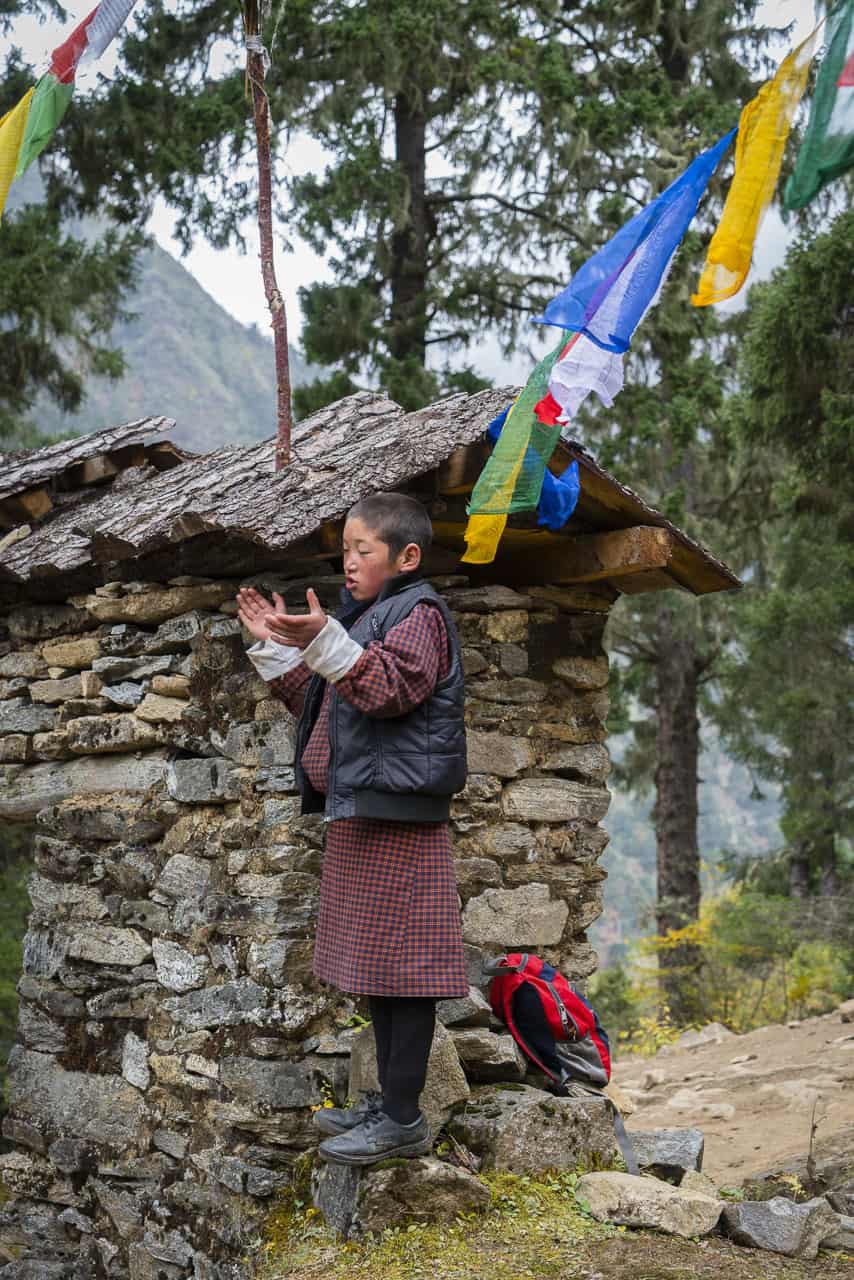 We stopped for a bit to watch racers go by before heading into our final stretch. After the check point the trail turned into more of a village trail with rock walls and well-trodden foot paths.
Arrival to Laya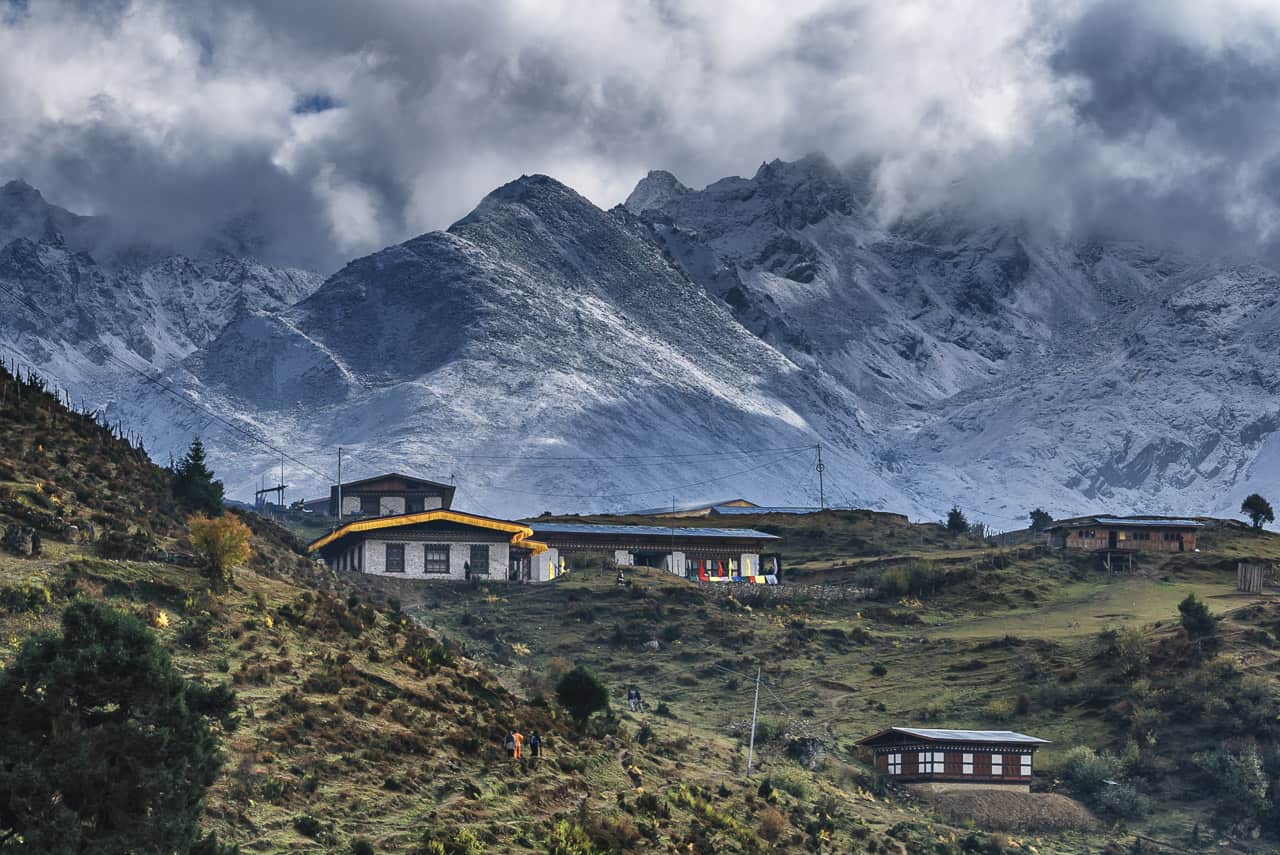 It was about another 45 minutes but we finally made it to the picturesque village of Laya.
Laya is considered one of Bhutan's highest and most remote settlements located at 3800 metres (12,467 feet). It is surrounded by snowy peaks and has a small community with a couple of guest houses and a school.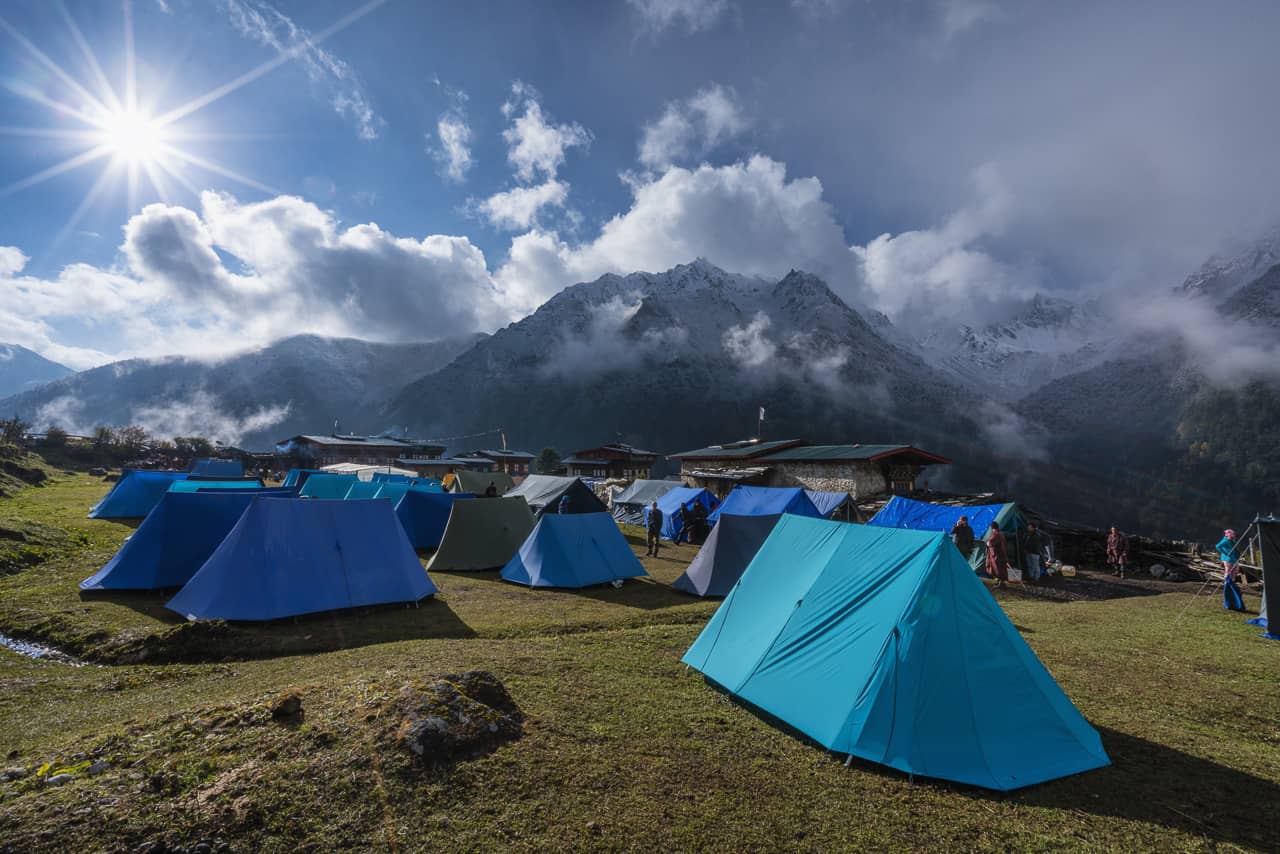 Our gear hadn't arrived from our overnight camp but luckily a friendly local invited us all into his house where we drank milk tea and kept warm and dry for a couple of hours.
Unfortunately everything was closed because of the festival and it was raining pretty good by now, so we didn't do a lot of exploring around the village and instead took the time to relax and get to know one another.
With the weather the way it was, and by already being well after lunch, we decided to wait until tomorrow to enjoy the festival. We wondered how much could be going on at this time of day anyway.
Two Day Festival in Laya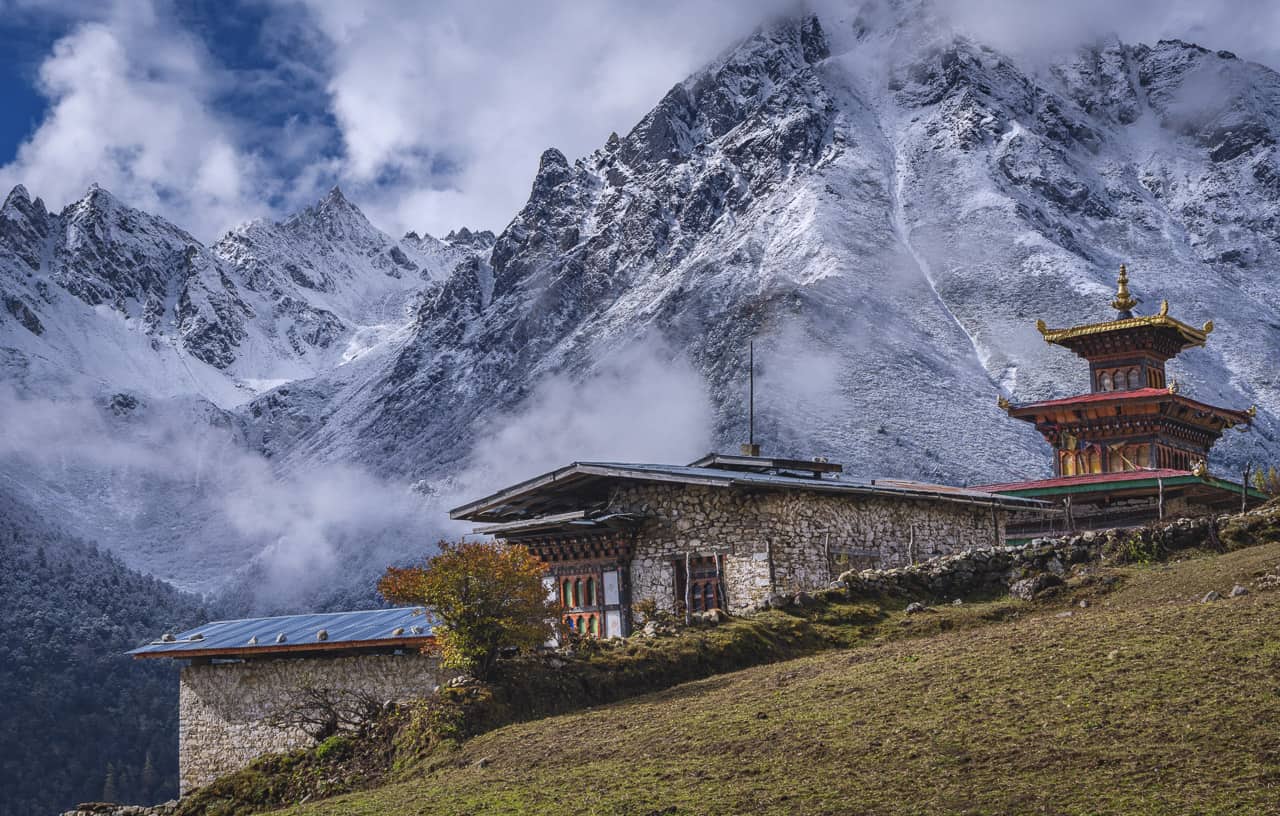 Sadly, a lot went on at the festival on day one and we missed out on seeing the yak races, the dog races and the other livestock shows. At first we were disappointed when we heard the news, but when we woke up the next morning and started the trek up, we felt that we made the right decision.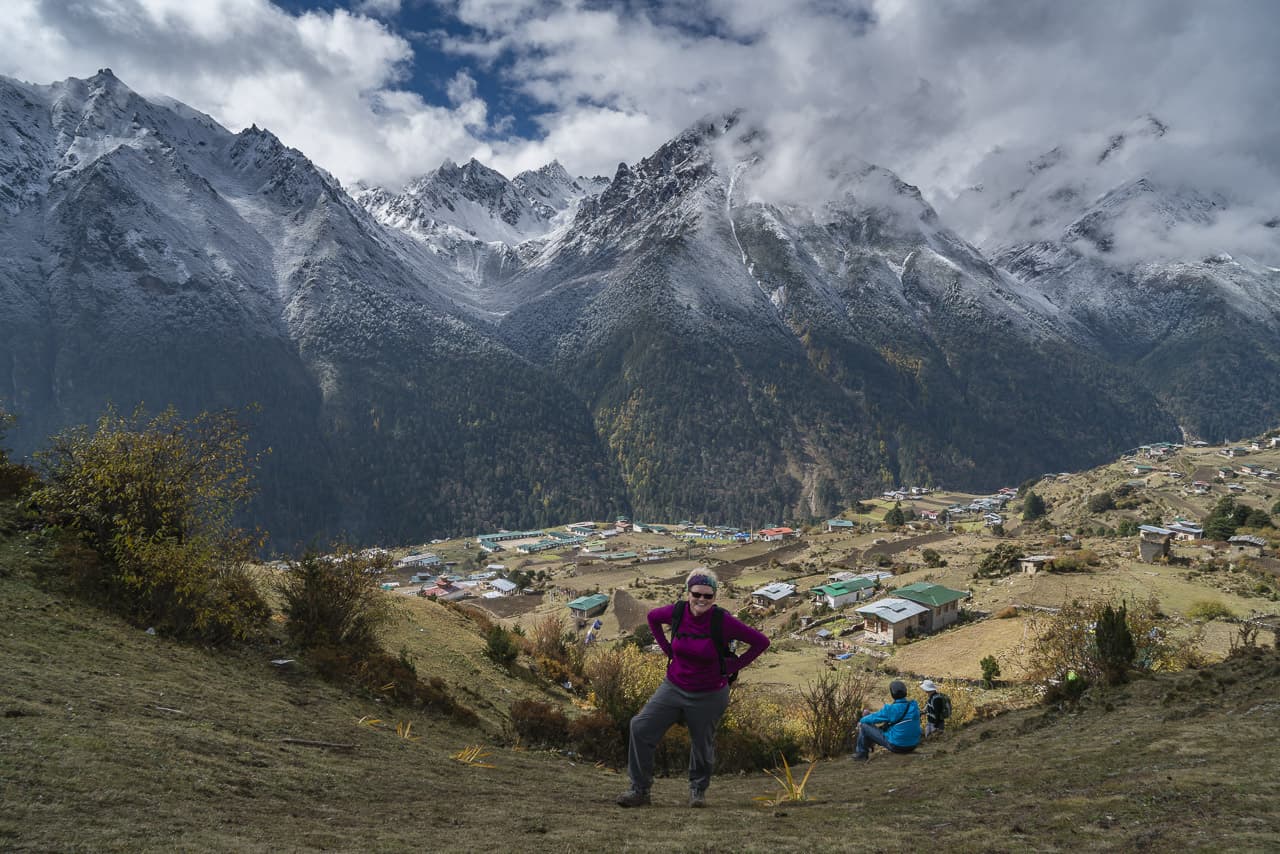 It was another hour long trek up to 4200 metres and it was steep and exhausting. I don't think we would have been up for another hour's worth of climbing after being on the trail for the day.
During this trek up to the festival was when the really amazing mountain views cam into place. There was a fresh snowfall overnight and each mountain looked like a perfect painting.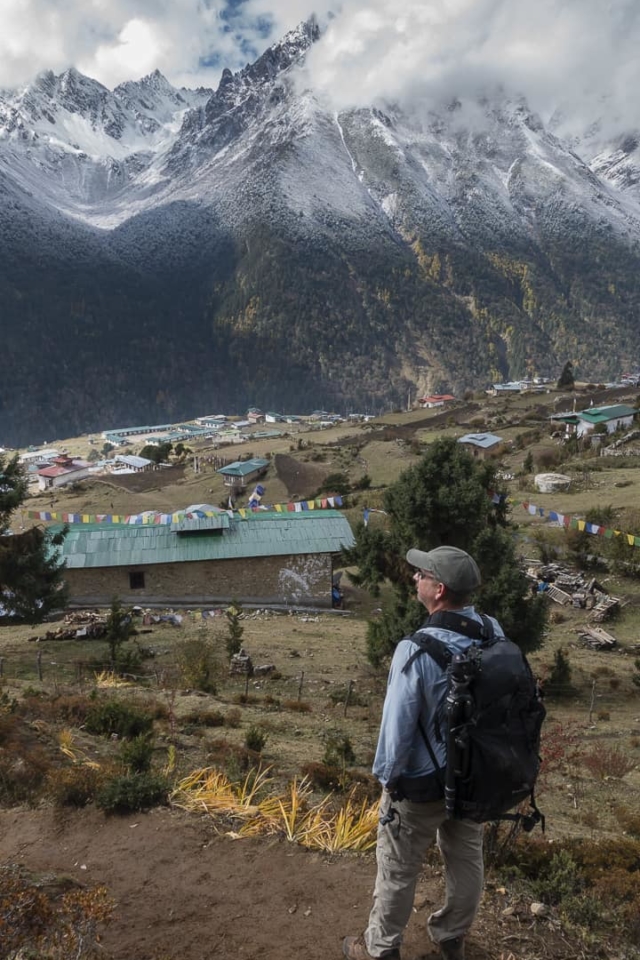 We shared the trail with arriving tribes from all over the country. One person said they had trekked for 7 days to come here.
There are no roads to Laya and the only way in or out is by hiking. It certainly makes for a special experience.
Festival Day
We wrote all about our time at the festival and you can read about it here.
Or you can watch the video below to get a sense of what it is all about.
We ended up seeing a lot of interesting presentations, dances and parades at the festival and we even met the King! We felt satisfied with our time on the Laya Trek and at the Royal Highlander festival.
If we had to do it again, we'd arrive a day earlier to be at camp the night before the festival starts. And then we'd camp for three nights in Laya to be at the festival for the duration. One day was good, but two full days at the festival itself would have been spectacular.
The Trek Down – Two Easy Days
The trek down was a lovely break being mostly downhill. The conditions were a bit slippery on day one due to weather and there was a lot of liquid horse manure on the trail so I would recommend packing some gaiters if you are doing this trek. It can be very muddy. But we made really good time and didn't want to arrive at camp too early.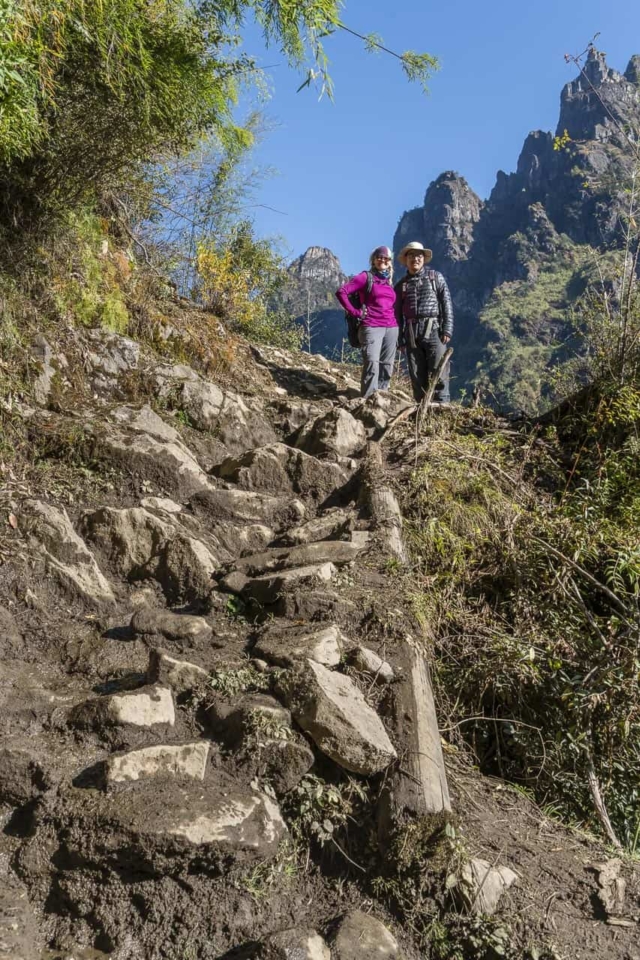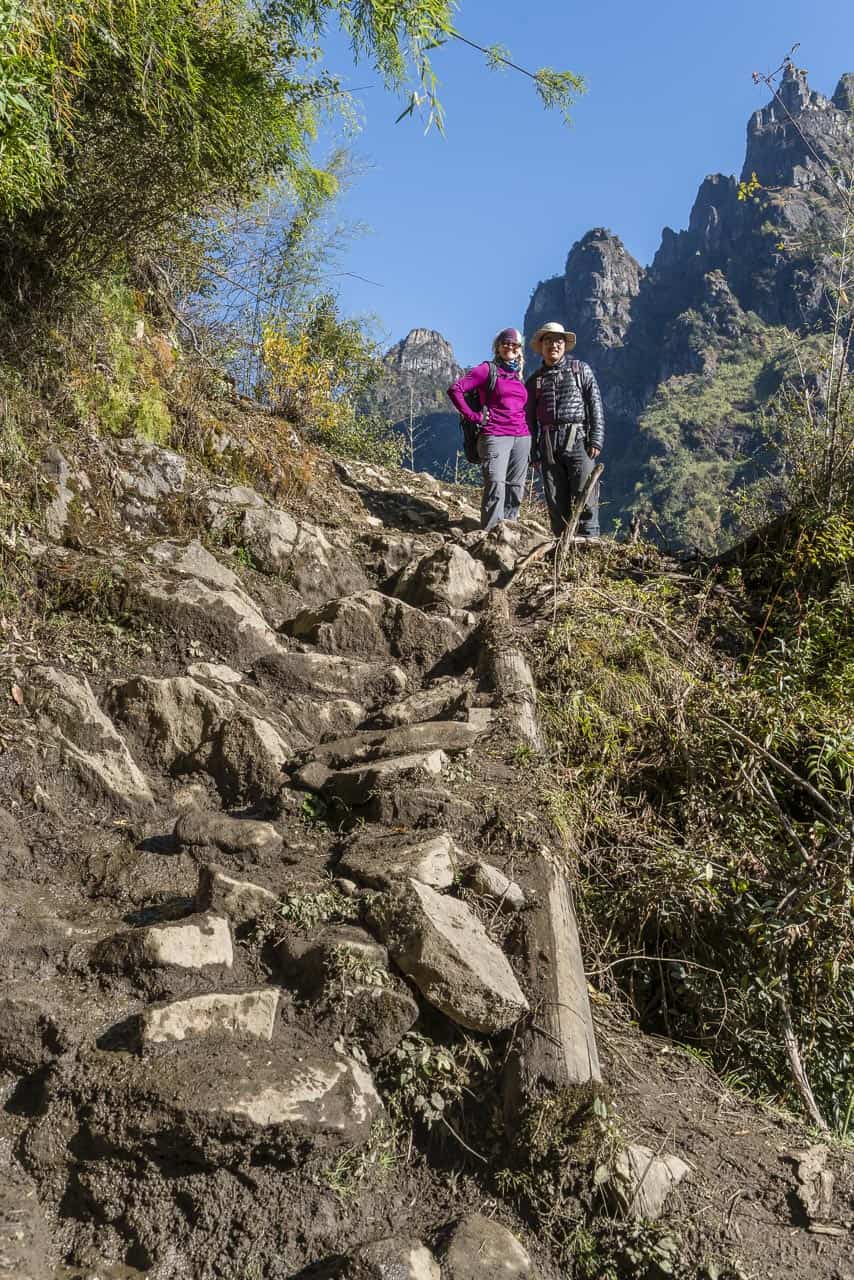 This trek down could have easily been done in one day, but having two gave us a chance to take our time and enjoy the views. I don't know why our entire group was in such a rush to sit at camp. But we drew it out for as long as we could manage. (which wasn't enough)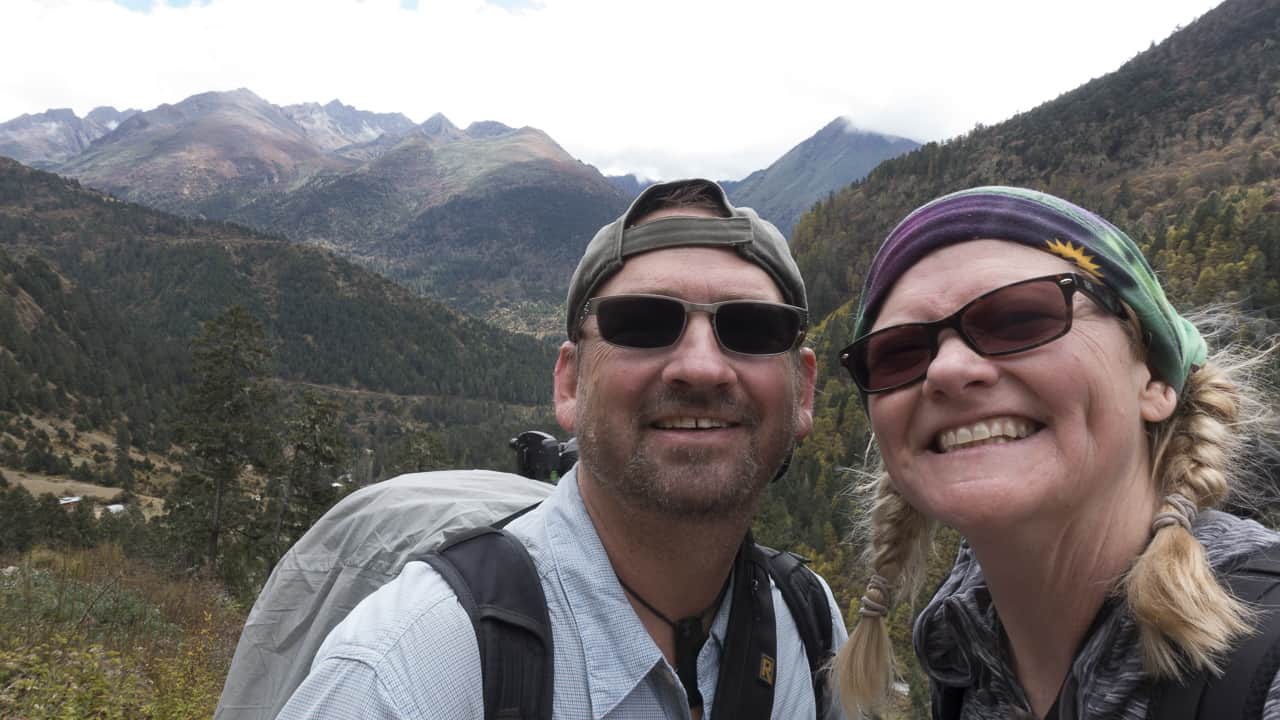 Since it was more of a leisurely pace down and since Dave and I had stopped all the way up for photos and videos, we spent more time enjoying the experience and taking in the views (without looking through a viewfinder). We made sure to slow down, take breaks and enjoy the moment.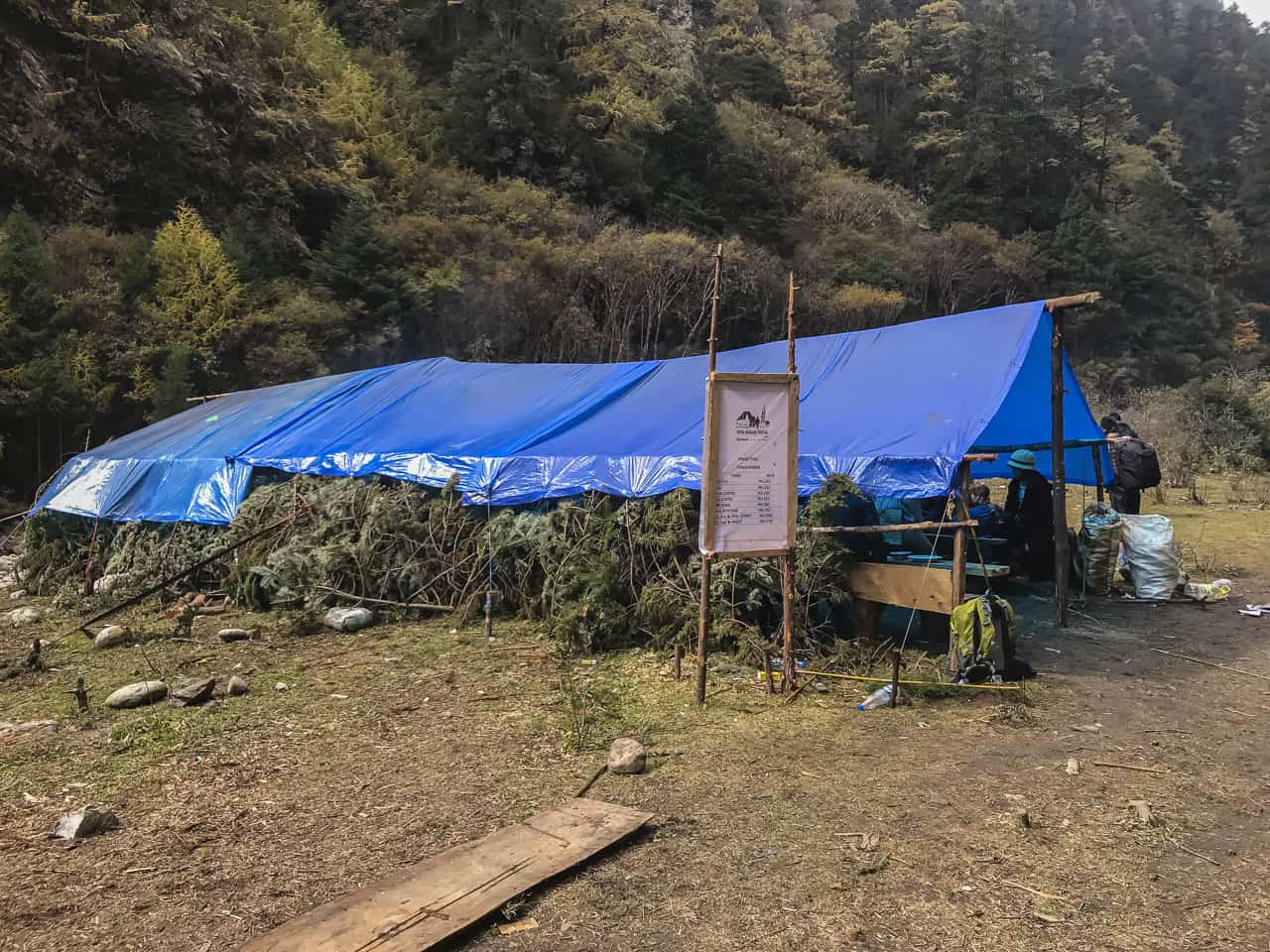 We stopped at the makeshift stands set up in large tents that sold milk tea, momos and soup. There were a few located along the trail and here chatted with fellow trekkers from other groups to see how they enjoyed their trip.
It was one more night of camping and then a final push back to the mini vans for pick up where we were swept off to Phunaka for a few days of adventure and sightseeing.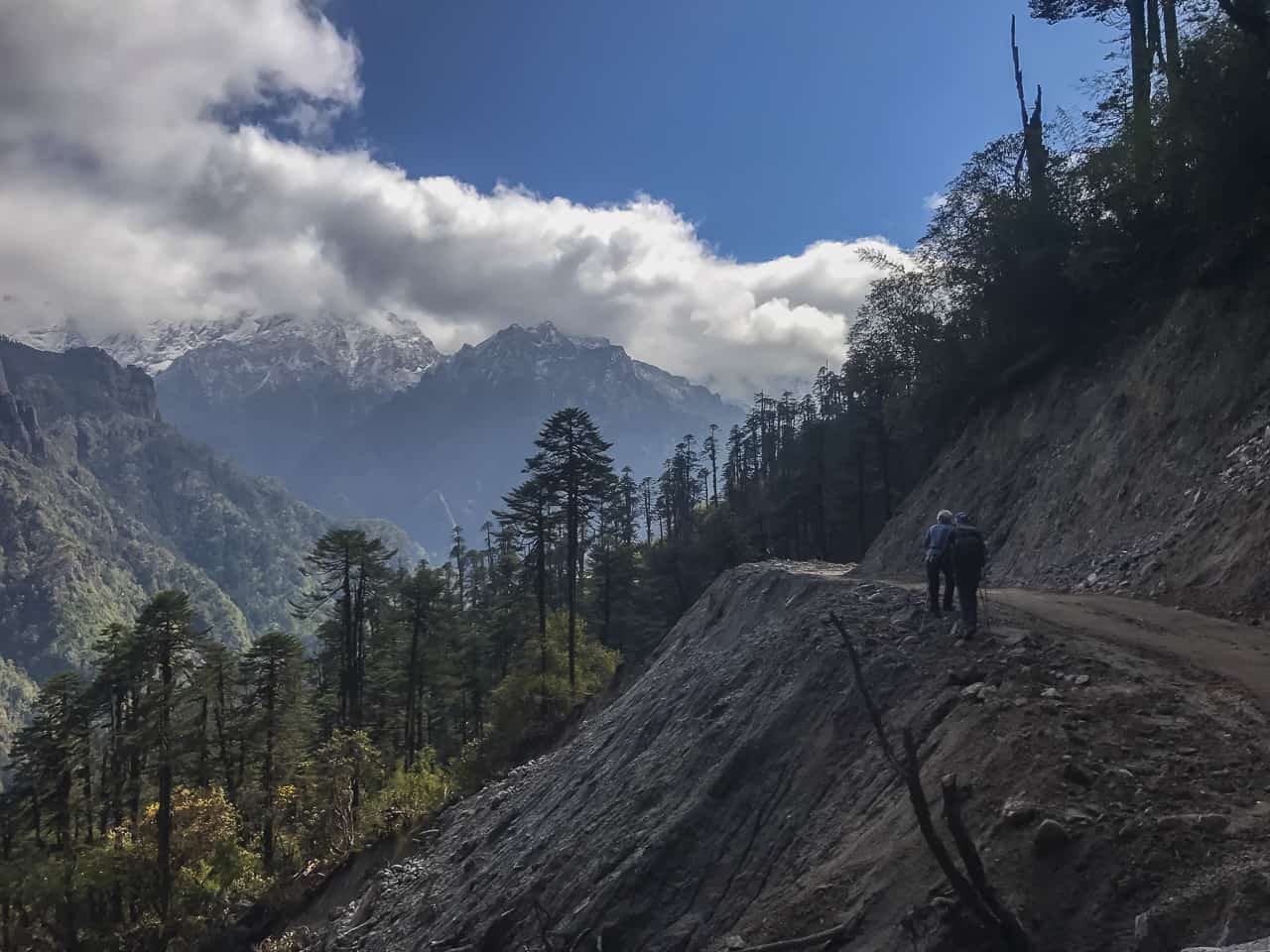 For a first Bhutan Trek, this is a good choice for getting out and experiencing the Himalayas without having to invest 7 – 10 days of trekking.
Most treks in Bhutan are extremely expensive multi day treks or just a quick one day trek. The Laya Trek was a good happy medium giving us 2 days up and 2 days down to feel like we were truly trekking in Bhutan.
With only four days on the trail we had the opportunity to move on and explore other regions and embark on some fabulous adventures and cultural experiences in Bhutan.
Read More