Trekking Everest Base Camp has been on our top adventure list for many years.
We learned quite a bit hike up to 5364 meters and have some valuable tips that we want to share with any future trekkers to make your life easier.
It is not the scary daunting experience that people imagine it to be, trekking to base camp is actually a lot of fun and hopefully these points will help you with your future climbs and make it just a little bit more comfortable on the way up.
Trekking to Everest Base Camp Tips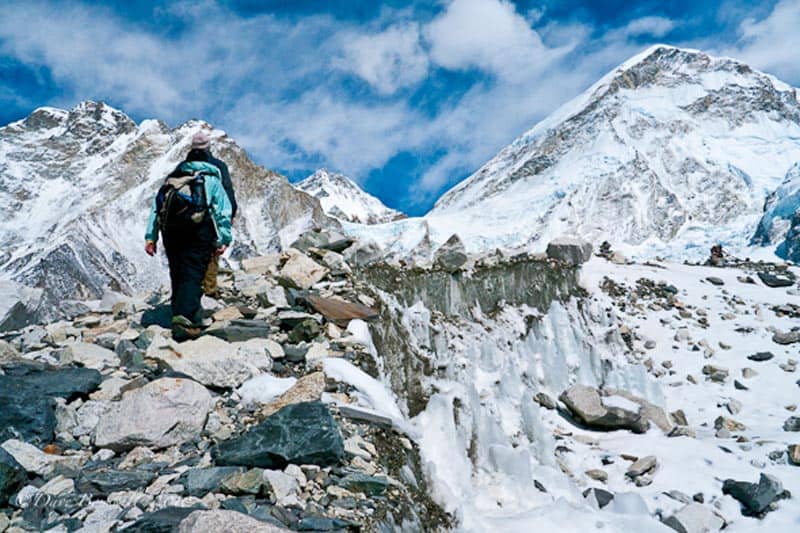 Tips are in no particular order, they are just written down as we learned them.
1. Bring cash USD and Rupees
There are no ATMs in Lukla or Namche Bazaar. Exchange rates are also very dismal so bring rupees with you at least $200 worth.
2. Bring your own tea
Tea is very expensive on Everest and it is cheaper to buy hot water and use your own tea bags. Bring a variety of teas as well for more enjoyment.
3. Buy your gear in Kathmandu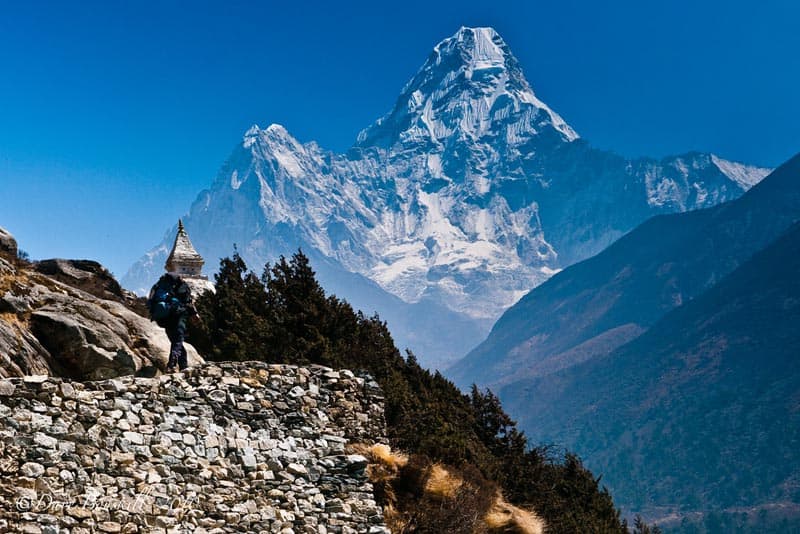 Trekking poles, hats, gloves, socks, down jackets, sleeping bags etc. Everything is cheap cheap cheap.
There are fake, good quality North Face, Mountain Hardwear, and Marmot clothing.
There are also authentic stores for proper mountaineering equipment. Mountain Hardware and North Face authentic store that offers great deals.
Everything you could possibly need to climb to Everest Base Camp is available in Nepal.
If you need it or forgot it, you can get it.
Read about our arrival in Lukla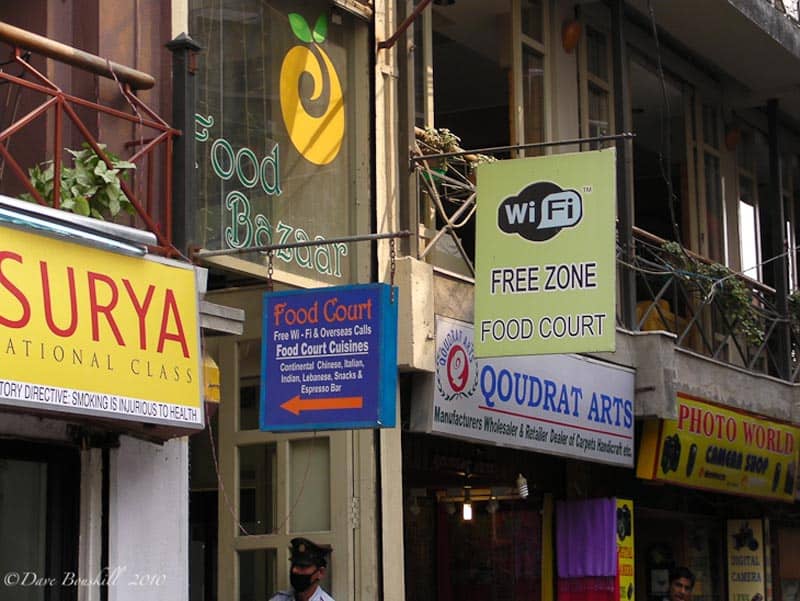 4. Bring chocolate and any extra treats that you want
This is our very important tip for you! Pringles and chocolate are expensive and having your own little stash for treats is nice.
Sometimes when the altitude gets to us, the only thing that feels good going down is chocolate.
It is a good idea to have some with you and you can buy it in Kathmandu.
5. Book Your Tour Locally
We trekked with Dipendra of Kathmandu and he has become a great friend.
We still keep in touch, He took good care of us and has since opened his own company.
With over a decade of guiding experience in the Himalayas, you will be in good hands with Deep.
He hired local porters and is a locally run business and we wanted to give him a shout out for his kind heart and great work.
If you want to book with him, you can visit his website here and tell him Dave and Deb sent you!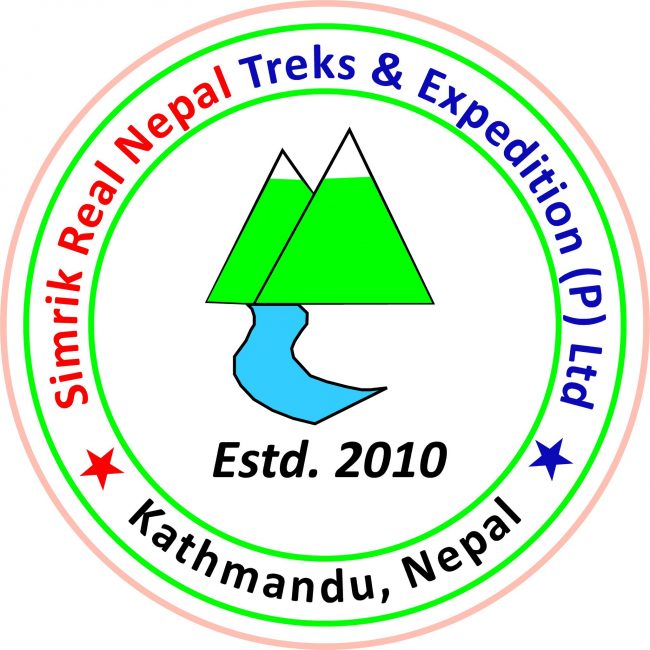 Everest Base Camp Treks, Mustang, Annapurna and more with Simrik Real Nepal
6. Pack Tang – The Orange Drink
Bring Tang to flavour your water.
Water can get pretty boring and you have to stay hydrated at altitude.
Flavoured water helps you to drink more and is far more enjoyable than just water all the time.
See our entire packing list: Packing List for Everest Base Camp
7. Pack a Steripen or Bring a water purifier or purification tablets
See how it works here:
Help save the environment and your pocket book. Just fill water as you go for free anywhere and purify it yourself. Steripens work great using ultraviolet light to purify water in 30 seconds.
8. Pack a book
Trekking to base camp takes several days and it can get a little boring at times. You may only have the energy to lay in bed and read a book, so bring a good one. You can buy books in Kathmandu and at Namche Bazaar.
We recommend Lonely Planet's Trekking in the Himalayas. and National Geographic's Everest Region Adventure Map
9. Pack a map and EBC trekking book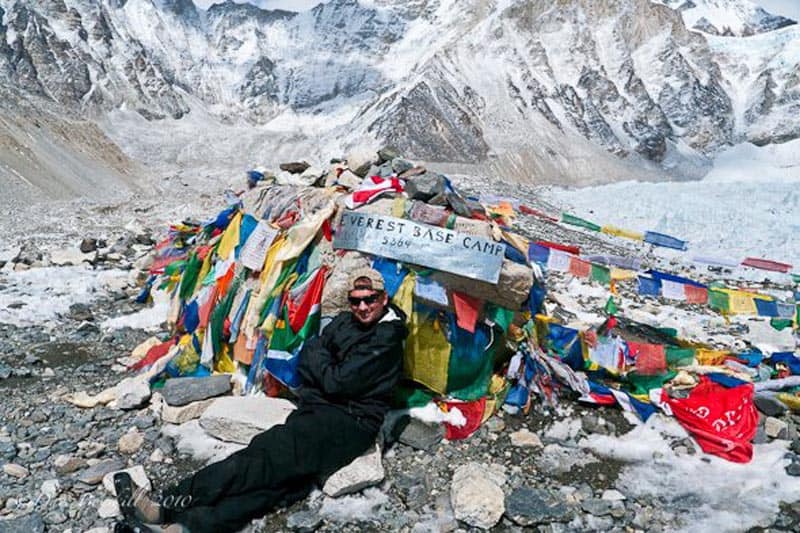 You will want to reference regularly, check altitude symptoms, illnesses, your route and what to expect.
10. Handi-wipes
You won't be showering much showering much. Nobody does on Everest and we all smell.
Showers are not very appealing at -10 degrees Celcius and you can go for days without properly washing.
Handiwipes and hand sanitizer at least helps keep you healthy.
We're fans of Gold Bond powder as well for helping with itch and rashes and just relieving sticky skin.
11. Best Seat on the Flight to Lukla
Sit at either the front or back of the plane on the left-hand side when flying to Lukla for best views.
The Himalayas are on the left and the front and back are not obscured by the wings of the plane. Sit here for your first glimpse of Mount Everest before your trek. It will help to build the excitement and the view is awe-inspiring.
12. Don't eat meat after Namche Bazaar
Meat is carried up the mountain. They do not kill the animals on site. Sherpas trek the meat in for days and it is not guaranteed to be fresh.
13. Don't Fear the suspension bridges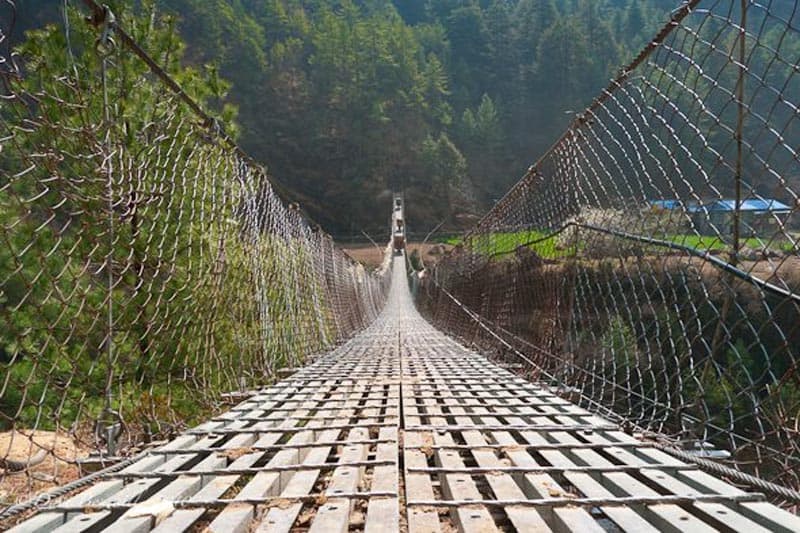 Ok, this may seem like a weird tip, but I had heard about the bridges to Everest being terrifying and freaked myself out. They are safe and in great condition.
I actually enjoyed walking along the bridges and the gorges. It was beautiful. I think that years ago it was scarier when the bridges were rickety, but now they are well made and maintained.
14. Give Yaks and Sherpa's the right of way at all times
When a yak train comes, move to the mountainside to get out of the way. You don't want to be nudged off a cliff by a yak.
Sherpa's and porters work hard on Everest, they are constantly taking supplies up and down the mountain.
Help make their life easier by staying out of their way.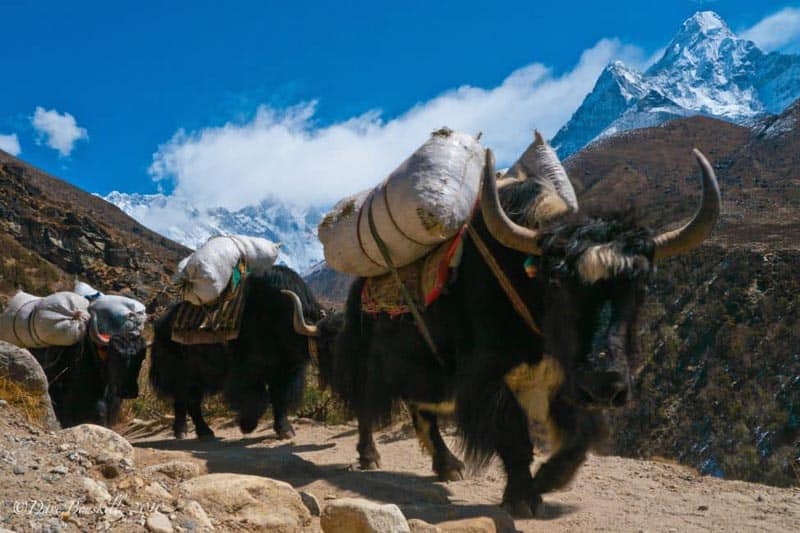 15. Keep batteries close to your body at all times
Sleep with them in your sleeping bags.
Charging batteries is very expensive per hour ($5-$10 per hour)
The cold drains batteries quickly, extend their life by keeping them warm.
Charges for batteries = Near or below Namche Bazaar 100-150 NPR/hour – Closer to Base Camp 300 NPR/hour
16. Stay at Tengboche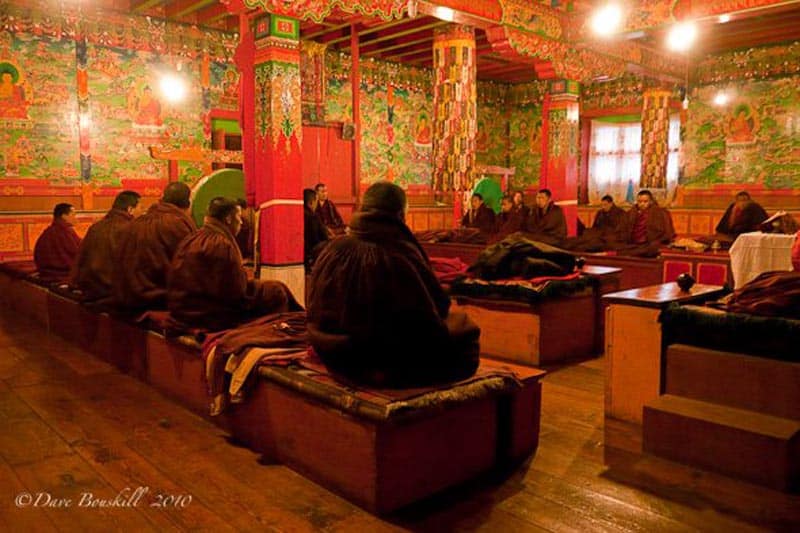 When you arrive atgo and see the monks chant at 06:00 and 15:00 pm, it is very cool.
It is a nice break from trekking to give your mind a break and listen to the music of the monks chant.
It clears your senses and lets you relax for the day ahead. It is also an incredible cultural experience.
17. The best views are in the morning (at least when we were there)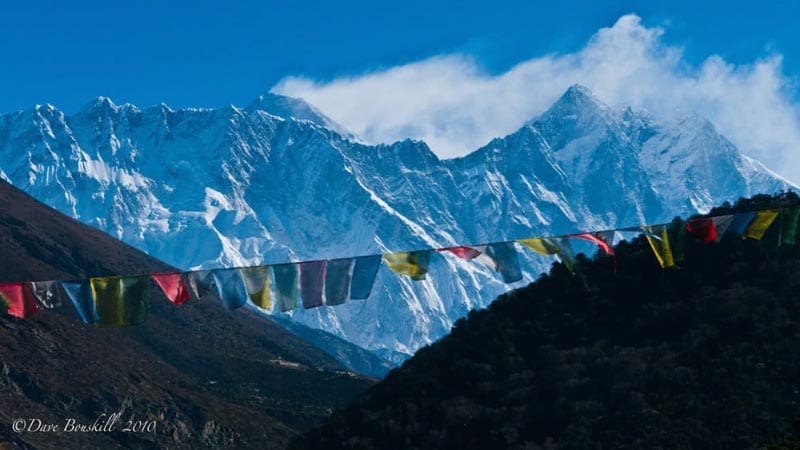 The clouds roll in quickly and obscure the panoramas, so take your photos early.
You can see Everest from a few points on the Everest Base Camp trek.
From Namche Bazaar and at Tengboche are two awesome sites.
Take your photos early for memories to last forever.
18. On your way to Namche Bazaar
Stop for lunch at Jorsale just past the suspension bridge.
It is the final place for any food or water until Namche which is 2 hours straight up!
You will need your energy for this climb.
19. Do some shopping in Namche Bazaar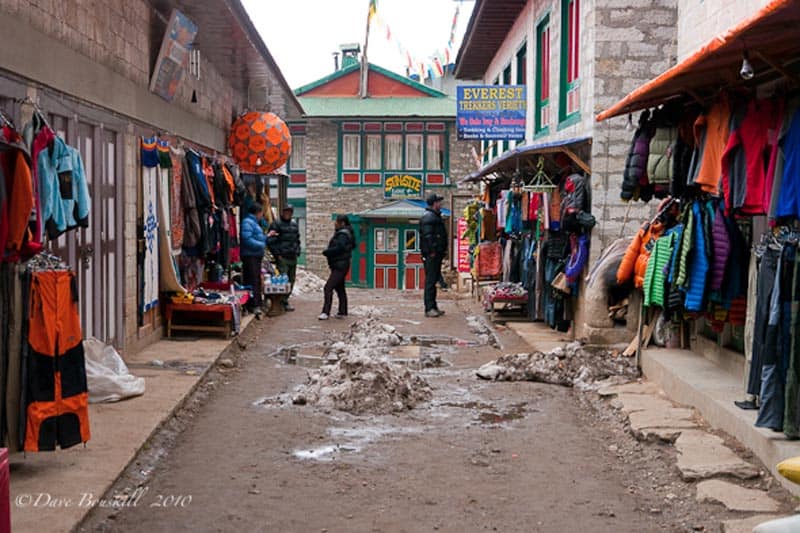 We found some great deals that rivaled Kathmandu contrary to popular belief.
The Sherpa Store was one of our favorite places and a portion of the sales go to help the Sherpas and Porters in the Everest Region.
20. Take your time
It is not a race and nobody is judging how quickly you get up the hill. Acclimatize properly, drink plenty of water and if you need to take an extra rest day.
Nobody is going to ask you how long it took you to get to Everest Base Camp, they are just going to be amazed that you did it.
Your guide and porter will not mind if you hire them for an extra day or two. They will be glad for the work.
Treks are flexible on Everest if you book in Kathmandu or when you arrive in Lukla.
21. Give yourself a few days after the trek before you have to fly home
Flights were delayed for 3 days near the end of our trek.
Some people were stuck in Lukla for 3 days waiting with no way out.
If they had to fly the next day home, they would have missed their flight.
22. Everything you need can be bought in Kathmandu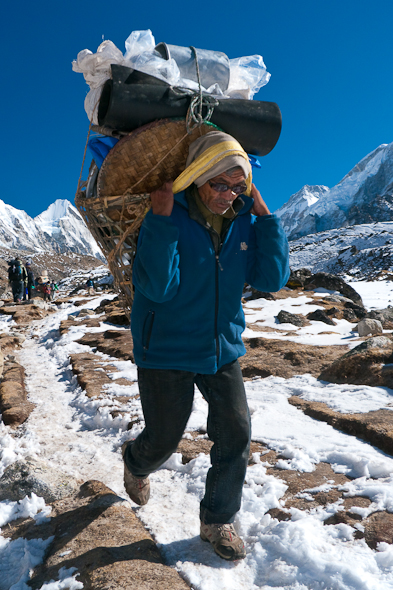 From Tang to tea and from medication to books and maps.
Don't stress too much if you forgot something at home.
23. Have a good first aid kit
Diamox is a must for altitude symptoms.
Follow the directions and take 1/2 of a 500 mg tablet twice a day.
Make sure to have
Decongestants
Advil or your choice of pain reliever
lip balm and sunscreen is a must.
Nasal lubricant – I had a woman give me salve for my sinuses to moisten them. My nasal cavities dried out and I suffered from severe nose bleeds which were quite scary. I will always have a lubricant for my nose from now on.
24. Pack Well and Smart
For our packing a list for Everest trekking, check out tips here at Packing List for Everest Base Camp Trek
25. Bring two pairs of sunglasses
I had a pair of sunglasses break when climbing Mount Kilimanjaro and it could have easily happened on Everest.
At high altitudes, snow blindness is a high possibility so you don't want to take the risk of not having protection for your eyes.
26. Respect local culture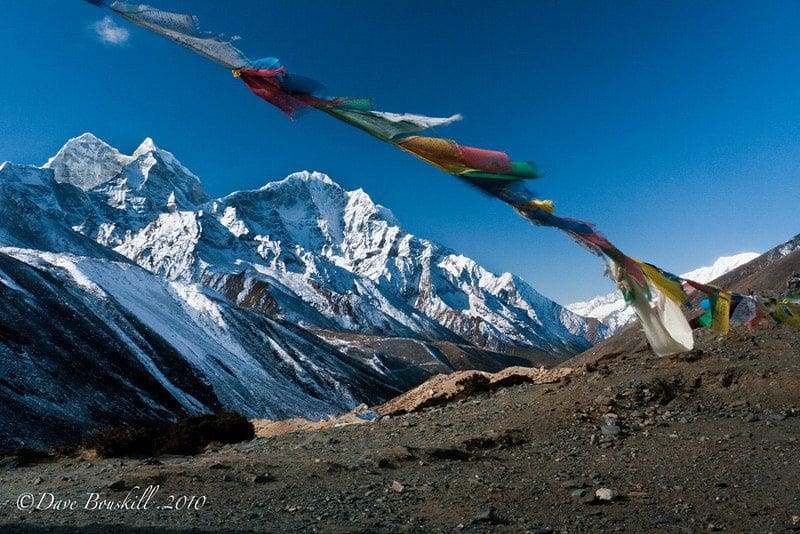 When trekking Prayer rocks, walls and flags are meant to be kept to the right at all times.
It is a custom to follow what the local people believe.
Also, ask before taking any photographs, many people do not want their photos taken.
27. Braid your Hair
If you have long hair, put it in a braid early on in the trek.
I walked with my hair down wearing a hat and a few days in I had full-on dreadlocks.
If I would have put it in a french braid or a couple of braided pigtails a la Anne of Green Gables, I would have saved my hair and not have had to cut off 4 inches after the trek!
28. Hire your porter or guide in either Kathmandu or better yet when you arrive in Lukla on the plane.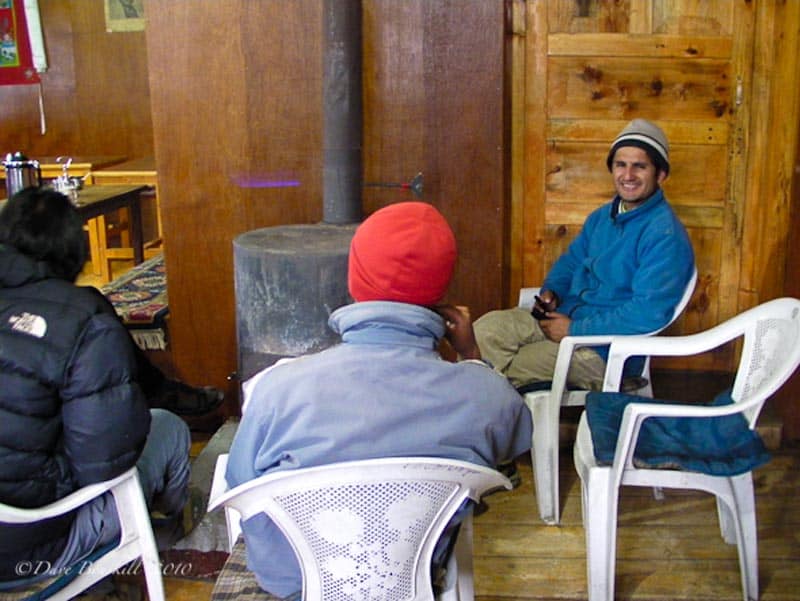 Prices are expensive when you book from your own country and if you book your guides in Nepal, you can be sure that more money is going directly to them as opposed to large corporations.
There are many porters and guides that will meet you at the plane when your flight comes in to Lukla that are very experienced and capable.
Plus, You have the added bonus of being able to interview them and see if you get on and you save money by not having to pay for their flight from Kathmandu.
We climbed with our good friend Dipendra in Nepal, a guide with over a decade of experience.
We climbed with our good friend Dipendra in Nepal, a guide with over a decade of experience. You can book tours with Deep at Simrik Real Nepal
29. There is free wifi in Lukla and Namche Bazaar
If you want to bring your laptop you can use it on the trek.
You a can always leave gear at Namche Bazaar and pick it up on your way down.
Internet is very expensive up on the mountain.
Lukla wifi location – Internet at "Starbucks" Coffee
Namche wifi location- Everest Bakery
Regular costs of Internet with slow connections – 10 NPR/minute below Namche Bazar 25 NPR per minute above Namche Bazaar
(72 NPR = $1 USD)
30. Relish the experience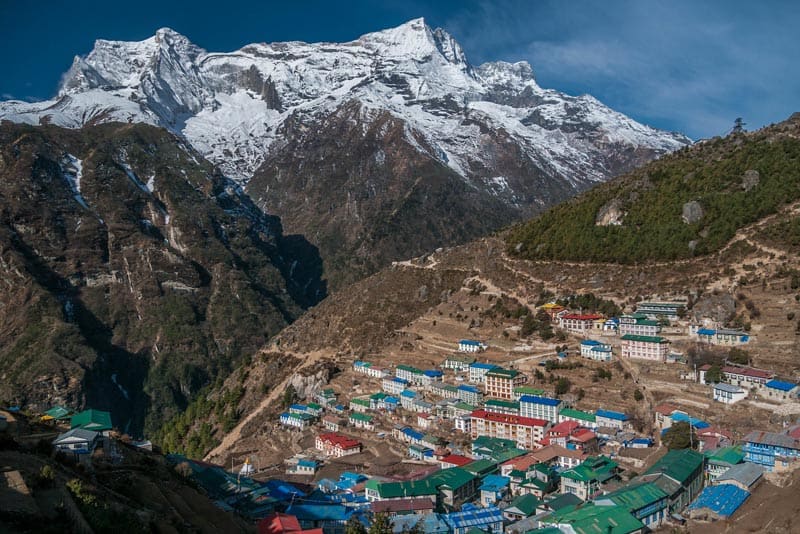 Climbing to Everest Base Camp is one of the most rewarding and memorable experiences you will ever have in yoru life.
Yes, you may be tired and may suffer a bit, but be sure to take a moment and soak it all in.
You are one of the few lucky people in the world that gets to experience this, enjoy every moment and appreciate every moment you can.
Do you have some helpful tips or advice to climb to Everest Base Camp or even some things that you have learned from other treks that you have done? We would love to hear them.
Read Next:
Everest Base Camp Trek – a Day by Day Guide