How on earth does one prepare for this trip of a lifetime? Very carefully. This is a complete guide to our Everest base camp trek packing list.
This is it, boys and girls. We are fulfilling a goal that we have had for many years. We are going to Everest Base Camp. A Packing List for Your Everest Base Camp Trek
Everest Base Camp Packing List
It is a little daunting to know that we will be trekking over suspension bridges, climbing along high ridges and spending several days at 5000 meters.
But the most daunting task that lays ahead is putting together our packing list for our Everest Base Camp Trek.
Here is a list of the gear that we are bringing with us.
We made notes beside each item with suggestions of what we should have done differently. But for the most part, we are very pleased with our EBC Packing list choices.
Packing List for Everest Base Camp Trek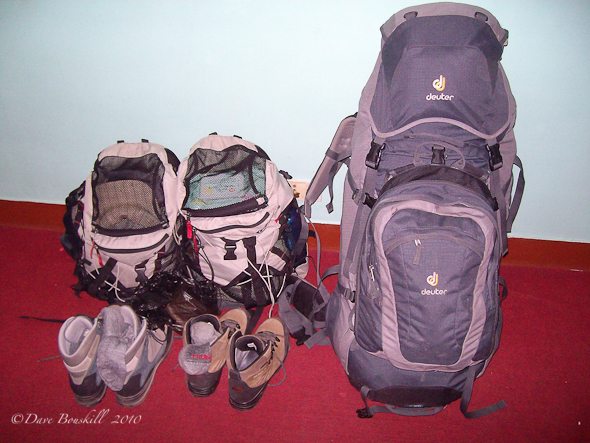 This list is for 1 person, we each brought the same amount of travel gear, but to keep things simple, we are including only what 1 person needs to pack for Everest Base Camp.
It is important to pack layers for your Everest Base Camp trek.
Weather can change rapidly. One minute you can be working up a sweat as you climb uphill and then as the temperature drops, you will be freezing in the cold. Make sure to have tested all of your gear.
Don't wear new boots on the trek, make sure that they are worked in.
Also, check all batteries in headlamps and cameras and be sure to have plenty of spares.
Clothing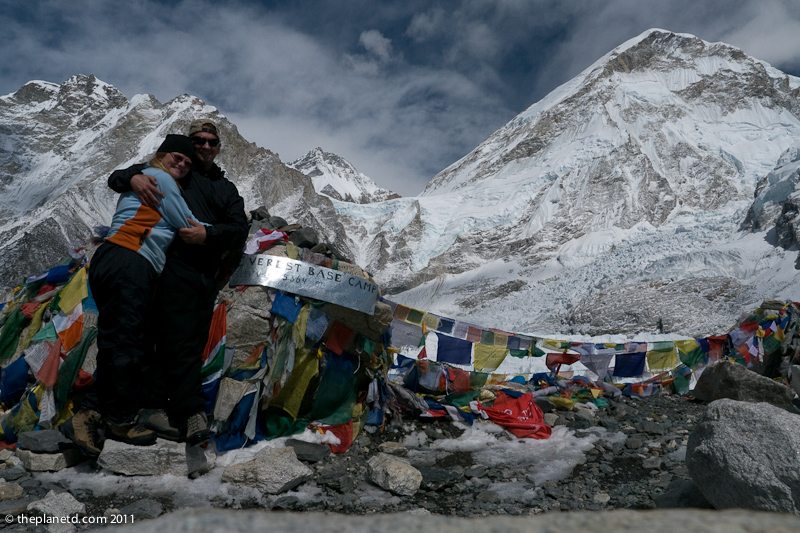 Layering is extremely important when trekking to Everest Base Camp. To learn more, read our post about how to layer and dress for the winter deep freeze.
Read 5 Tips for Winter Layering
Outer Layers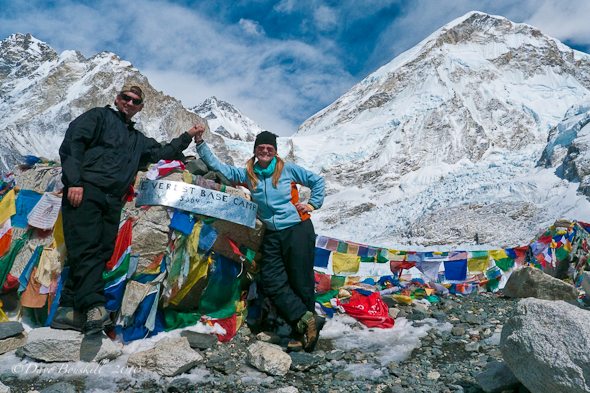 1 wind/rain proof overlayer- jacket and pants
1 down jacket – (didn't really need this, layers would have been fine, but it does get quite cold in March)
1 down vest
1 lightweight thermal layer hat
1 peak hat
1 pair gloves
1 Pair trekking boots
1 Pair crocks or Birkenstocks (would recommend sandals that you can wear with socks. Instead of flipflops we suggest birkinstock type shoes for late night bathroom runs)
1 pair down booties (bought these at Namche Bazar and they saved our feet.) Great for keeping feet warm in room and while sleeping and for in the lodge.
Note: We have since gone over this packing list and found that it all worked very well for Everest Base Camp Trekking.

We didn't feel that we over packed at all and we felt that we had enough travel gear to make it through everything we needed.

Plus, we felt that we didn't overload our porter Sher, he only had to carry one backpack between the two of us.
Going to Everest Base Camp? Read our Insider tips for trekking to EBC
Gear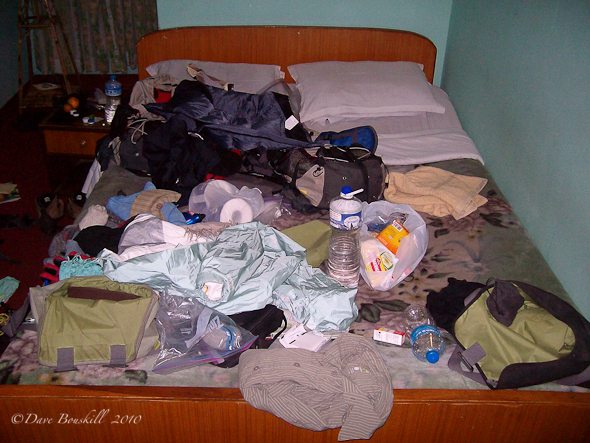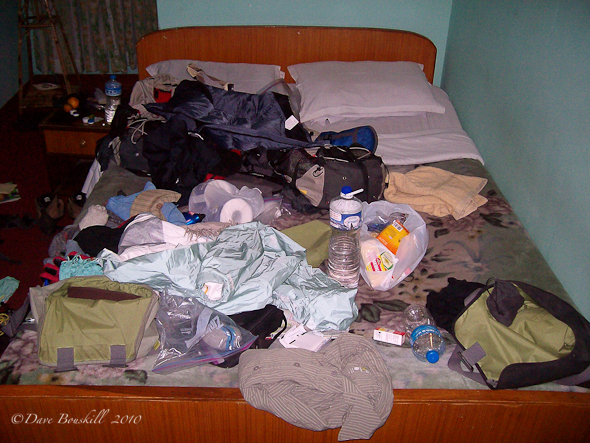 Since you are staying in Tea houses when climbing to Everest Base Camp, you don't need a lot of extra travel gear. If you find you need more, you can pick up what you forgot at Namche Bazaar.
1 sleeping bag heavy (could have gone more lightweight as tea houses supply blankets)
1 watch with alarm
2 Pairs of sunglasses (in case one breaks) – Believe me, I had a pair of sunglasses break while climbing Mount Kilimanjaro and I regret not having extra sunglasses.
Gear for Everest Base Camp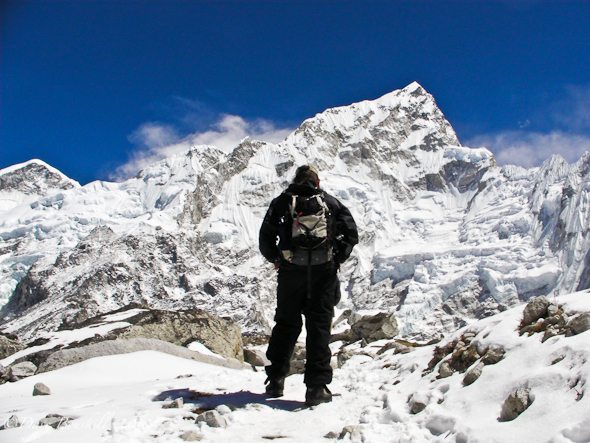 You don't want to go overboard on carrying electronics when climbing to base camp. Every extra piece of gear will feel extremely heavy.
On the other hand, it's a once in a lifetime chance and you will want to capture as many photos as possible.
To see our full camera gear list, see the Complete Photography Gear Guide
1 DSLR camera with 3 extra batteries (charging is expensive on the mountain, but you can charge your batteries if they go dead for a fee)
1 Point and shoot camera
1 Video Camera
1 solar charger (charging is expensive if you can charge yourself will save money)
Chargers with Belkin mini surge protector and adapter
extra batteries for headlamps
Tip: Keep batteries close to your body, that will make them last longer.
See our photo story of Everest Sherpas, the Unsung Heroes
Extras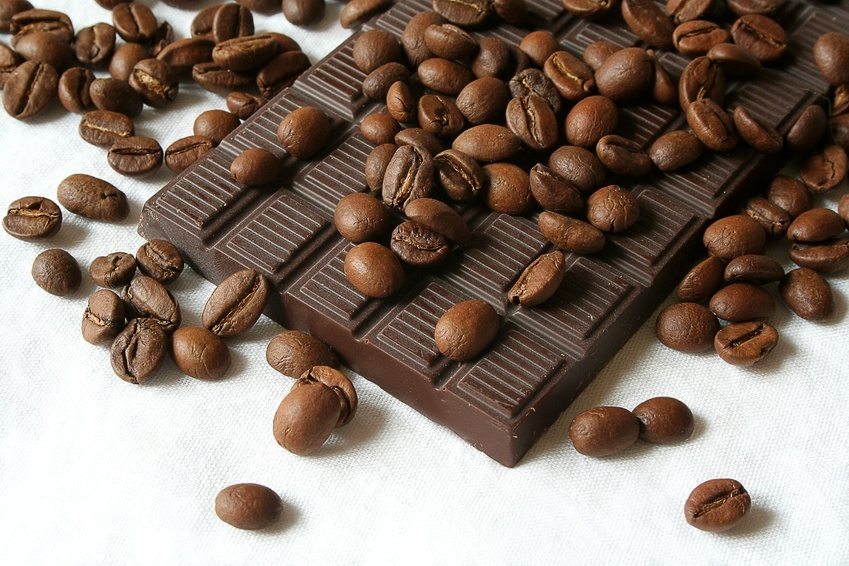 Tang – or any other powdered juice
Tea – you can boil water in teahouses
dairy milk bars – chocolate is a must!
trail mix and peanuts
Journal
paperback – Skip electronics, use paper so you don't have to worry about batteries.
First Aid
Diamox – for altitude
Advil
Aleve
Vicks vapor rub
Sunscreen
chapstick
anti nauseant – you tend to feel just a bit nauseaus a lot at altitude.
immodium – diarrhea is common at altitued.
bandaids
blister bandaids or moleskin
eye drops
advil cold and dinus
nasal moisturizer – altitude causes nasal cavities to be very dry, nasal moisturizer was very helpful
Q-tips
tweezers
tiger balm
See what the flight from Kathmandu to Lukla was like
Toiletries
foot powder (for Deb's stinky feet)
Toilet paper
shampoo
soap
microfiber towel
Gold Bond – this just feels good all the time
Documents
Passports
TIMs Card (permit to allow you into park bought in Kathmandu)
Plenty of Rupees, no ATM's
Map and Lonely Planet – There is a lot to read about on the trek and a lot to see. The Lonely Planet helps you know what to look for.
So there you have it, that's our packing list for Everest Base Camp.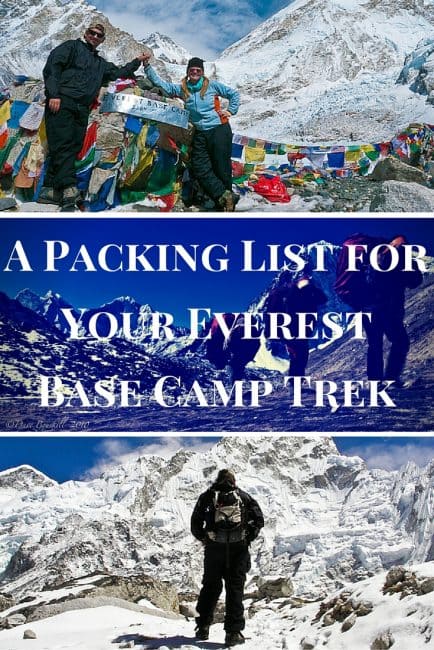 Read Next!