Packing for a beach vacation is easy. Throw in a couple bathing suits, a few sarongs and flip-flops and maybe a little black dress or sundress with some Bermuda pants for guys and you're good to go. Packing for a winter travel to go snowboarding, dogsledding or snowshoeing is a whole new ball game.
Winter Packing Tips
When packing for winter travels, clothes are heavier and bulkier, and it can be difficult to know what travel gear to bring? How much is too much? You don't want to freeze, but you also don't want the frustration of carrying too much with you.
We've been doing a lot of winter travels lately, and after a lot of trial and error I think we've figured it out.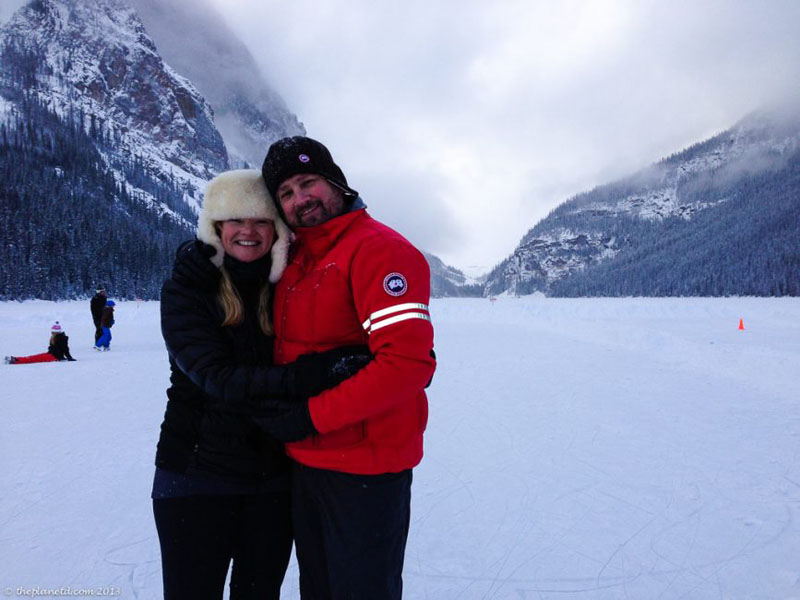 When hitting the ski lodge or any winter destination, you don't have to worry about dressing up too much. Most people sit in the bars Après-sk in their ski pants and jackets.
We found that packing the bare minimum is all you'll need. You'll discover that you'll end up wearing the same long johns and an insulating layer for the entire week under your outer shells.
Note: This packing list is good for Skiing, Snowshoeing, Dogsledding and any winter adventure that will take you outdoors for hours on end.
This is a Winter Travel Packing List for one person.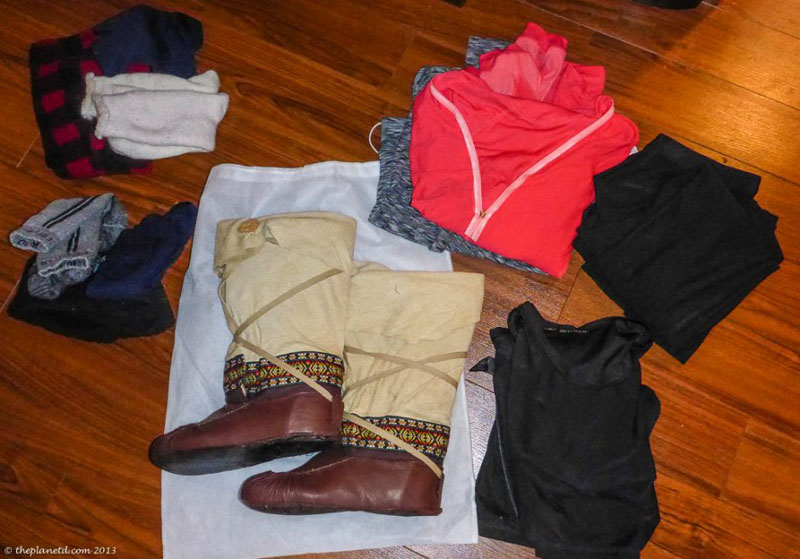 Base Layers
Icebreaker is made of Merino Wool from New Zealand and you can wear it day in day out without odour. We bought the 260 weight for extreme cold temperature and the reason we bring two is so that we can change it up if one gets damp one day.
2 pair Mereno Wool Crew Shirts
Once again we bought the Icebreaker brand. It's expensive, but it's all we'll need for the next decade and we'll be able to use it on any mountain treks or winter trips to come.
It's important to have a base layer that wicks away moisture and we like having two pairs with us because we can change if anything is damp, if it needs to be cleaned or if we just want to change it up.
Liner socks are lightweight and small, but perfect for wicking away moisture. It's important to keep feet dry to keep them warm.
Mid Layers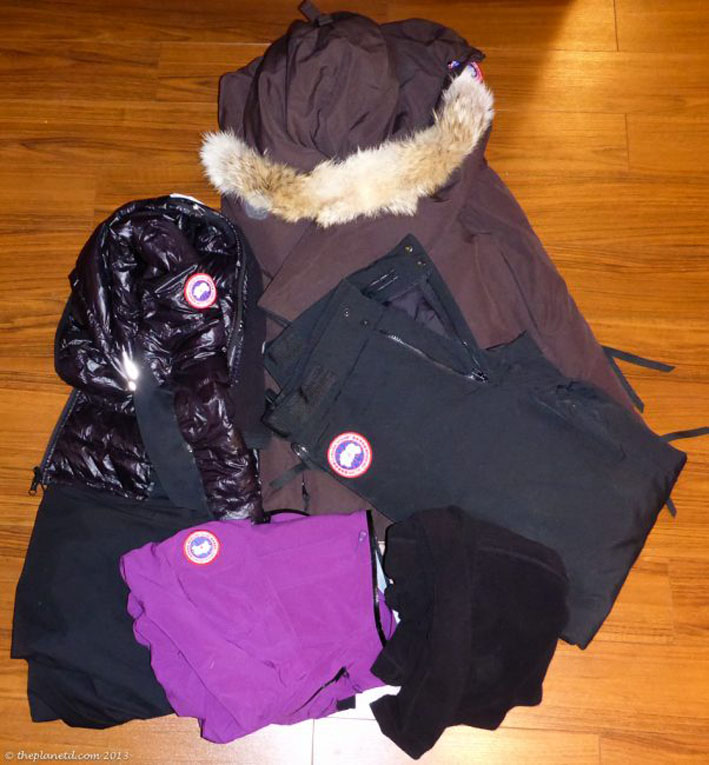 This lightweight down jacket has replaced our fleece layer. The Hybridge light jacket is breathable and lightweight and is perfect for layering. It has become our most versatile jacket.
When it's really cold we wear it under our parka for extra warmth, but it is also perfect to wear under our shell. It's also very stylish when sitting in the bar after being outside all day. We get so many compliments on them.
2 Pair of Canada Goose Tundra Down Cargo Pants
We have skipped the heavier fleece mid layer because we have found that these cargo pants are perfect. They are warm and breathable and all we need in the cold. If we find ourselves out on a milder day, we just wear our Icebreaker Leggings with an outer shell and that is fine.
But so far, the Cargo pants have been all we needed. When we get too warm, all we do is strip down our upper layers and that cools us off quick enough, no need to strip down our pants.
The mid layer socks are thick warm wool socks that insulate our feet.
Usually, this is enough and we don't have to add any more, but when the temperatures get really cold, another outer layer is great.
Outer Shells.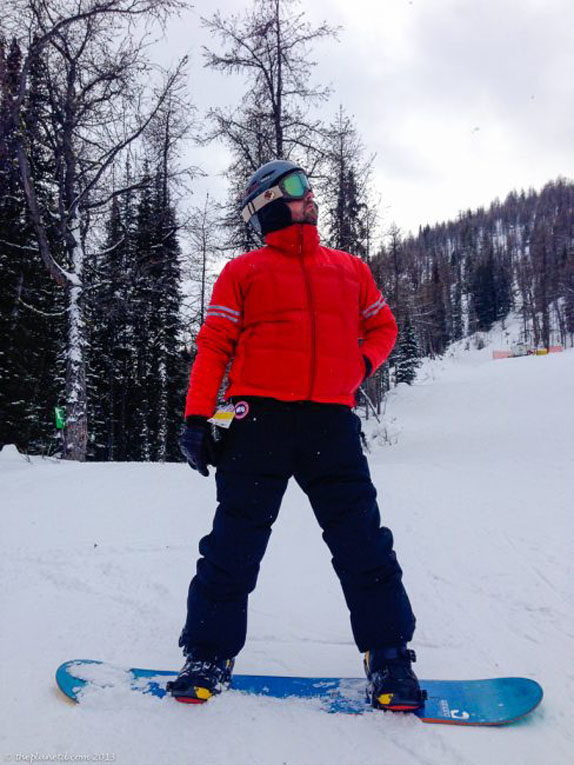 These are our waterproof lightweight gortex pants that are perfect for high activity in wet snow, freezing rain.
As I said above, we now mostly wear our Goose Down Cargo Pants, but we still bring our lightweight gortex to be ready for any situation.
Canada Goose Moraine Shell Jacket
This is the perfect shell for outdoor activity. When put over the Hybridge light down jacket, it insulates from wind and rain and keeps the core warm. We've found that it worked for all outdoor activities.
We wore the shell ice climbing, snowboarding snowshoeing and, ski joring.
Parkas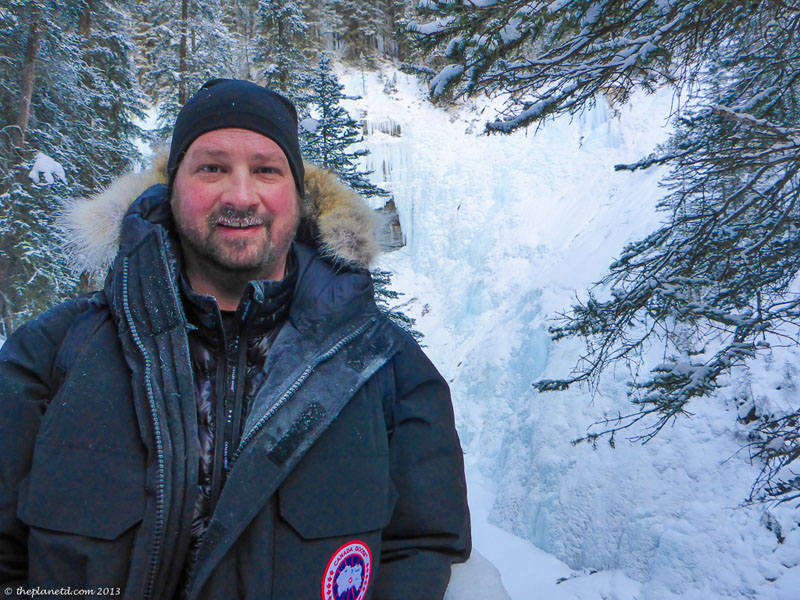 Sometimes, it's just too cold and you need some extra warmth. We converted many people on our crew in Alberta into parka lovers. When standing out on a cold lake or even going on an easy hike through caverns to look at ice waterfalls, our parkas kept us toasty warm.
In Alberta over the holidays, we reached temperatures of 29 below zero not including the windchill. The parkas kept us from freezing.
Extremities.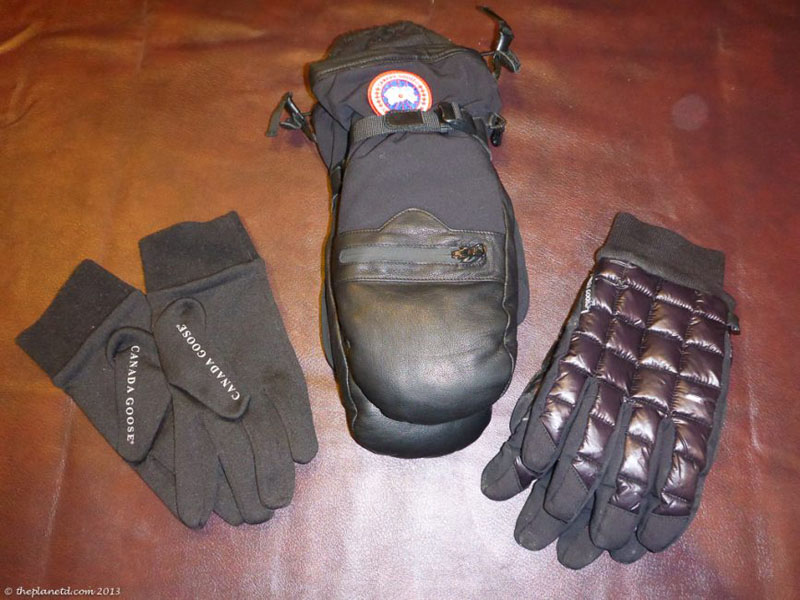 We have just bought new liner gloves that are smartphone friendly.
When out in temperatures below zero, fingers freeze quickly when you take your gloves off. In the days of Instagram and Twitter, we need to take photos with our touch sensitive iPhones, so having gloves that will swipe the screen without having to expose our skin is a lifesaver.
Canada Goose Northern Mitt
We prefer mittens over fingered gloves. The hand stays warmer and it's easy to whip the mitten off if you have to take a photo or do anything that requires a little dexterity.
With the liner glove protecting our skin, our hands stay warm.
Back up gloves or mittens
We always take at least two pairs of warm mittens as if one gets wet, you can wear another. There is nothing worse than cold fingers.
Organizing
Eagle Creek Packing Cubes
All these loose odds and ends can be difficult to organize.
We now pack everything into our packing cubes and compression cubes to keep things organized.
Winter items are bulky and filled with air and the compression cubes help a lot here.
We stuff them into the cubes and then use the zipper to compress it down even more for extra space. We've become big fans. The only thing we wish we did was to buy two different colours. We keep mixing up our cubes!
Head and Face
We bring two hats with us. One ultra warm to put on when resting at camp or lunch and a light hat to wear when doing activity. T
hese have been our go to hats this winter.
These two hats are perfect. The merino beanie breathes and dries quickly while keeping the head warm and the pilot hat keeps everything toasty warm when not doing any activity or in extremely cold weather.
We always bring two sets of buffs. They can be great for keeping the next warm and to be used as a light hat or headband.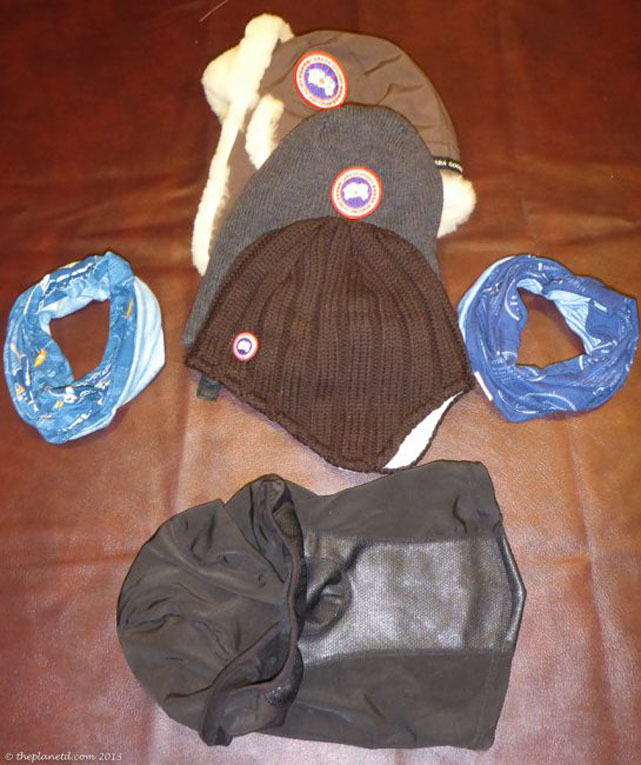 We just added a balaclava to our packing list. We like the Multitask pro from MEC because it has a screen for breathing.
Often the hot air when wearing a buff or scarf fogs up our sunglasses or goggles and the balaclava instead lets the air out the nose screen.
This is really needed for extreme conditions.
Goggles are a must for snowboarding or skiing, but we've found them to be excellent for skijoring and even snowshoeing.
Your face stays so much warmer when it is covered and googles keep the eyes from water.
We highly recommend having them in your cold weather kit for everything.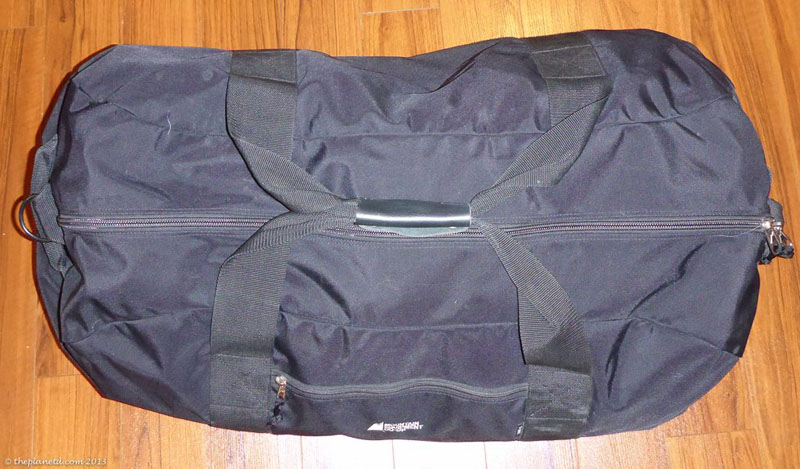 Footwear
Besides your snowboarding or ski boots, all you need are two sets of boots. Hiking boots and something stylish to wear around the chalet.
For trekking and other activities, a good set of Gortex hiking boots will fit all your needs.
Gaiters are waterproof boot leggings that go over your boots and up your calf.
If you are walking in deep snow or slush, it will keep your pants dry and keep water from sinking into your boots.
If you are ice climbing, they will protect your expensive Gortex pants. Instead of kicking your pants, you'll be kicking your gaiters with those sharp spikes.
Mukluks or Moccasins
We recently made our own moccasins on a workshop with Lure of the North in Sudbury. We'll be doing a 100 km trek with them to Northern Canada this month and they swear by them.
Many people call Moccasins, Mukluks, but we've learned that Mukluks are made from Seal Skin and moccasins are made of dear hide. Either way, they are very warm, lightweight and comfortable.
You can layer a lot underneath and they are perfect for extreme cold weather. Even dog musher Hank DeBruin of Winterdance suggested them for us to wear during our dogsledding adventure.
If you happen to be in wet conditions you can buy outer waterproof skins at Mountain Equipment Co-op. Mukluks are fashionable to wear around the chalet and out for dinner too.
Clothing for the Chalet.
You really don't need to bring much with you. As we said above, you will most likely find yourself in your base layers and shells most of the time and you will only need some clothes for a dinner out.
At ski resorts and Northern holiday destinations, you never really have to worry about going glam. Everyone is relaxed and you can go out to eat in a pair of jeans.
2 nice tops and 2 pairs of pants
it's all you will need to add to your winter packing list. You'll be eating breakfast and lunch in your ski/hiking clothes and you can mix up your shirts for every other day the rest of the time.
Nobody will be judging you. I promise.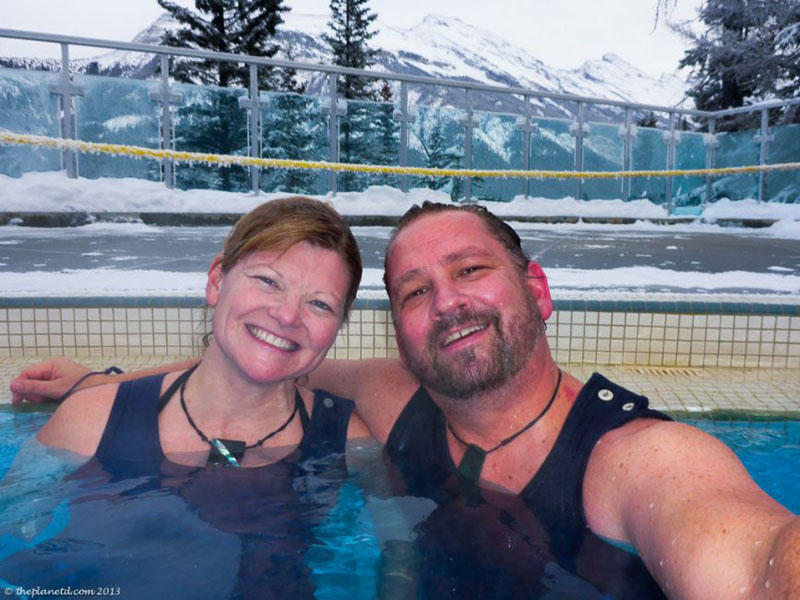 Everywhere you go in cold weather vacation destinations, you'll find the opportunity to sit in hot springs or hot tubs. Be sure to bring along your bathing suit so that you can enjoy sitting outside while basking in hot mineral water.
Toiletries
Stock up on chapstick, moisturizer and sunscreen. Winter cold is hard on the skin and your face will get chapped from the wind and cold. Have some soothing creams to keep you comfortable.
For more information on travel to Sudbury visit Sudbury Tourism
Read More
A Winter Wonderland in Banff Lake Louise
6 Winter Layering Tips to Dress for the Deep Freeze