The Royal Highlander Festival is the newest Bhutan festival. Known as the happiest country on earth, Bhutan knows how to celebrate life.
Festivals dominate the land and it's easy to see why the Bhutanese measure life with a happiness index over the western world's GDP.
The Highlander festival was a day filled with goodwill and celebration.  If only all countries worked on quality of life over the things you have.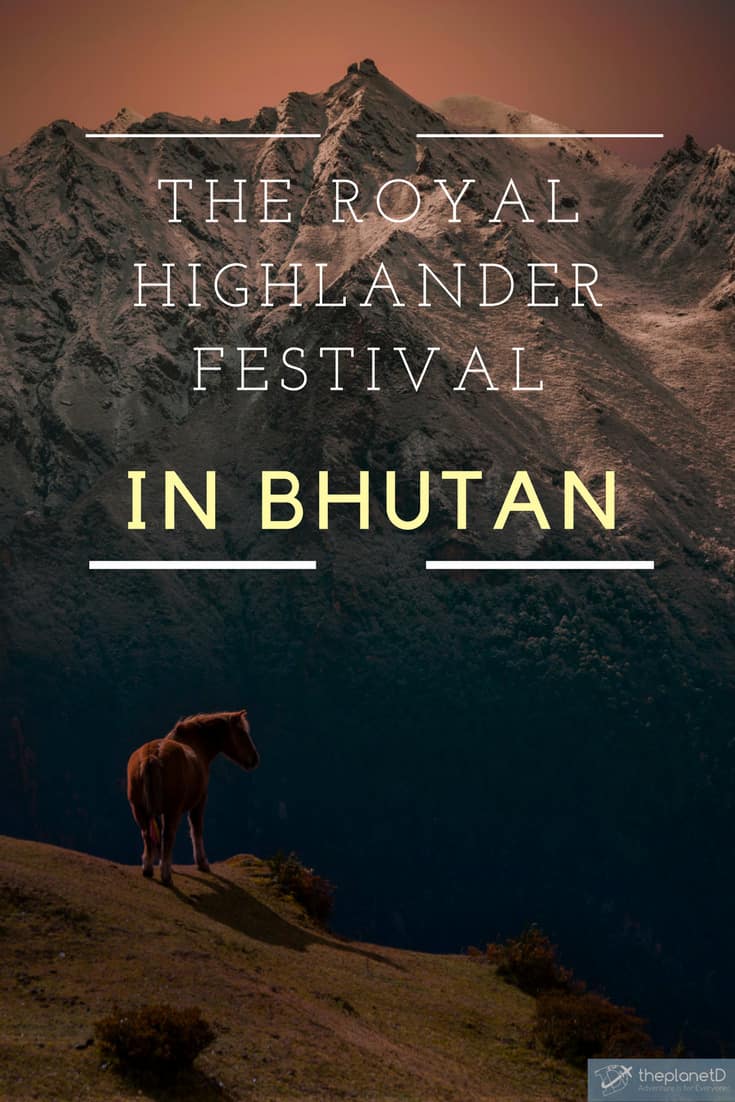 Started by the King of Bhutan to promote highland culture, improve the economy and to bring tourists to the region it is a hearty display of what life is like in the Himalayas.
The king himself attends the festival to say hello to visitors and if you are a foreigner, chances are you will be able to speak directly to royalty.
Gray Langur Tours
We were invited on the very first trip of the new travel company Gray Langur Tours to experience this unique Bhutan festival first hand.
Founder Gabriel Cubbage visited Bhutan last year and fell in love with it.
As former CEO of Adblock, he was feeling empty in his career and walked away from high paying life and stressful life of Silicon Valley to start Gray Langur with local partner Tshering Tashi.
He told us that he is one of the few operators that attends this festival and has big plans to expand his operation throughout Bhutan and to other off the beaten path destinations.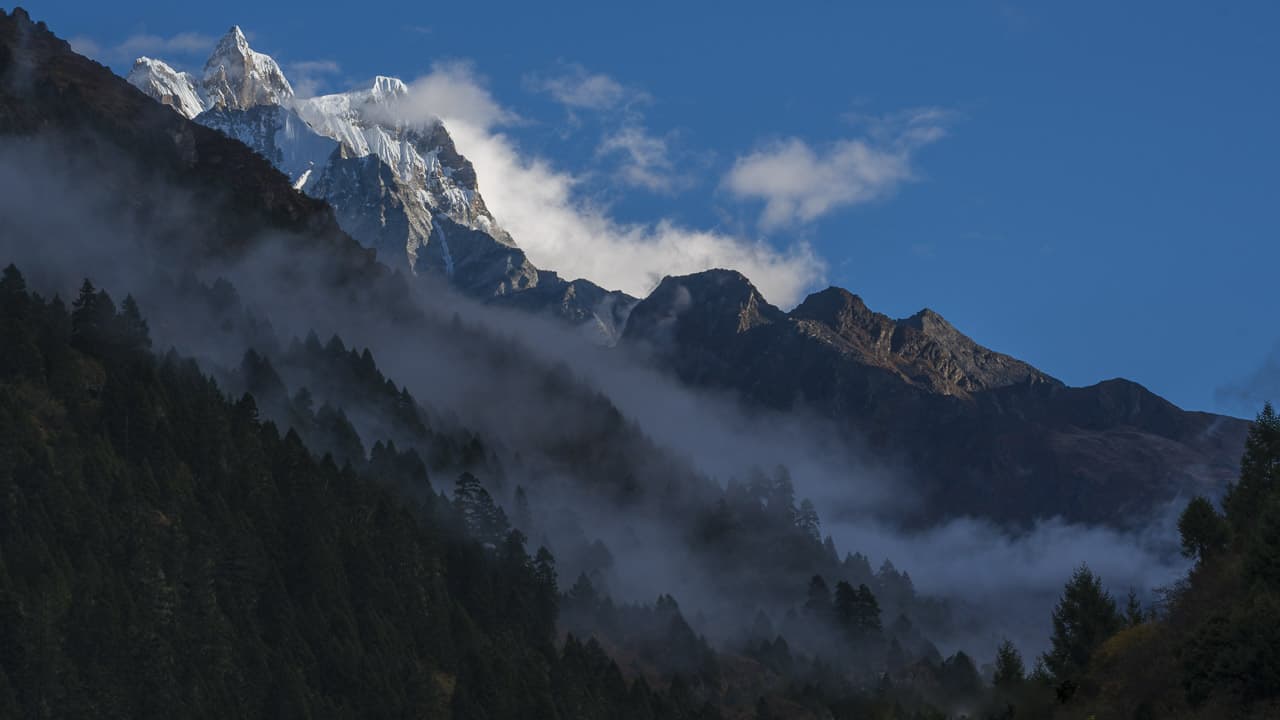 So far very few tourists visit the Gasa region.
Attending the Royal Highlander Festival certainly feels like a local experience rather than a canned tourist display.
There were only a few foreigners in the crowd of thousands of locals that walked for days to attend.
It was exciting to know that we were one of the first outsiders to experience this newest of Bhutan festivals.
Something tells me it will catch on soon in the coming years, so now is the time to book your trip!
About Bhutan Festival – Royal Highlander Culture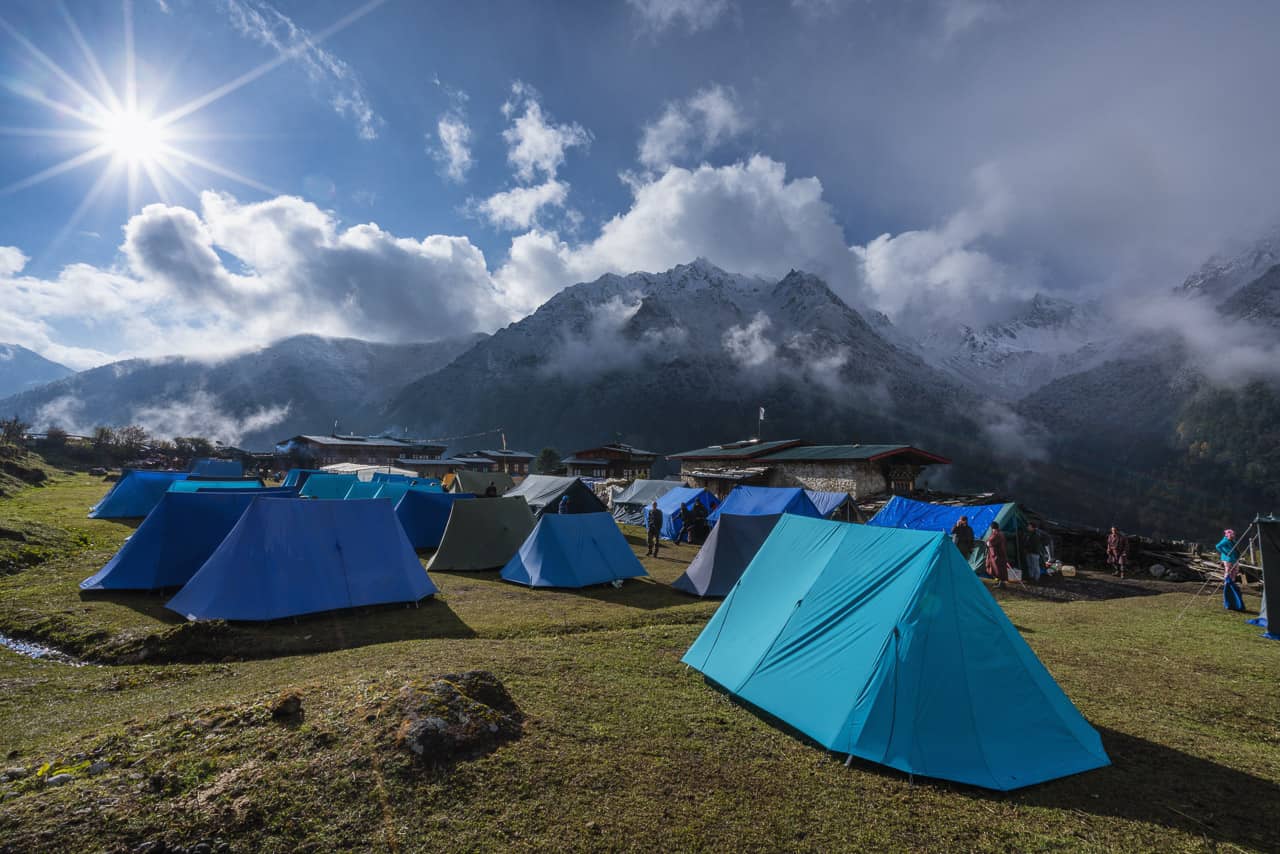 To get to the festival it is a two day trek from Gasa to Laya. We set up tents in Laya some 4000 metres (12,000 feet) high in the Himalayas of Bhutan.
This picturesque village makes for a beautiful backdrop with extraordinary views of the surrounding peaks.
During our trek, the Snowman Run was taking place to kick off the festival. As Dave and I slowly huffed and puffed our way up the narrow trail, local men and women raced past us running 25km up and across the Himalayas of Bhutan.
What took us two days, took the racers a mere 3 hours and 46 minutes for the winning woman and 2 hours and 41 minutes for the men's winner! Results can be found here. Now that's something to make you feel a little out of shape!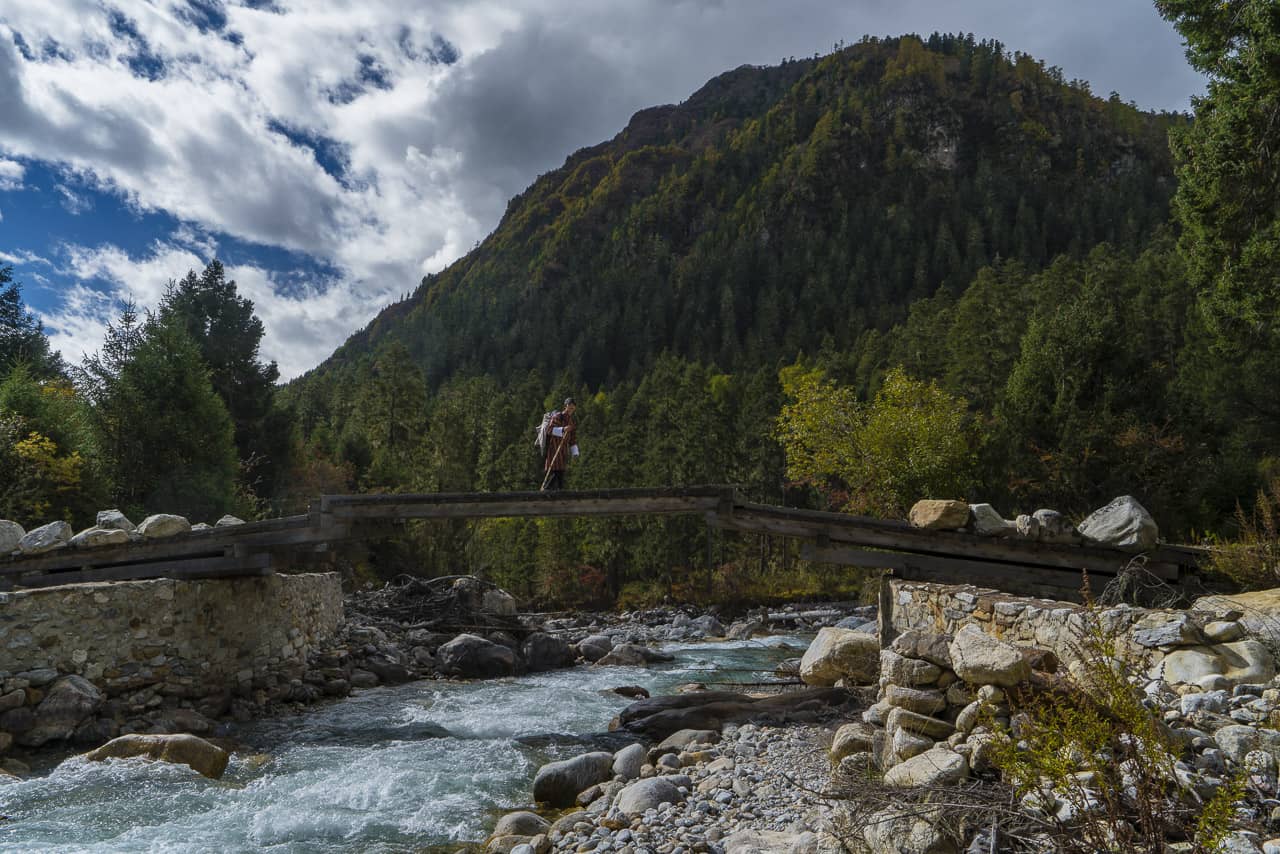 When we approached Laya a welcome committee was waiting at the gate to greet the runners but they also gave trekkers a warm welcome too.
Children sang and encouraged everyone passing by and played coy when we approached giggling as they hid behind a bush.
It was a tiring climb for us and to have smiling faces say hello gave us the energy to move on another hour to our camp.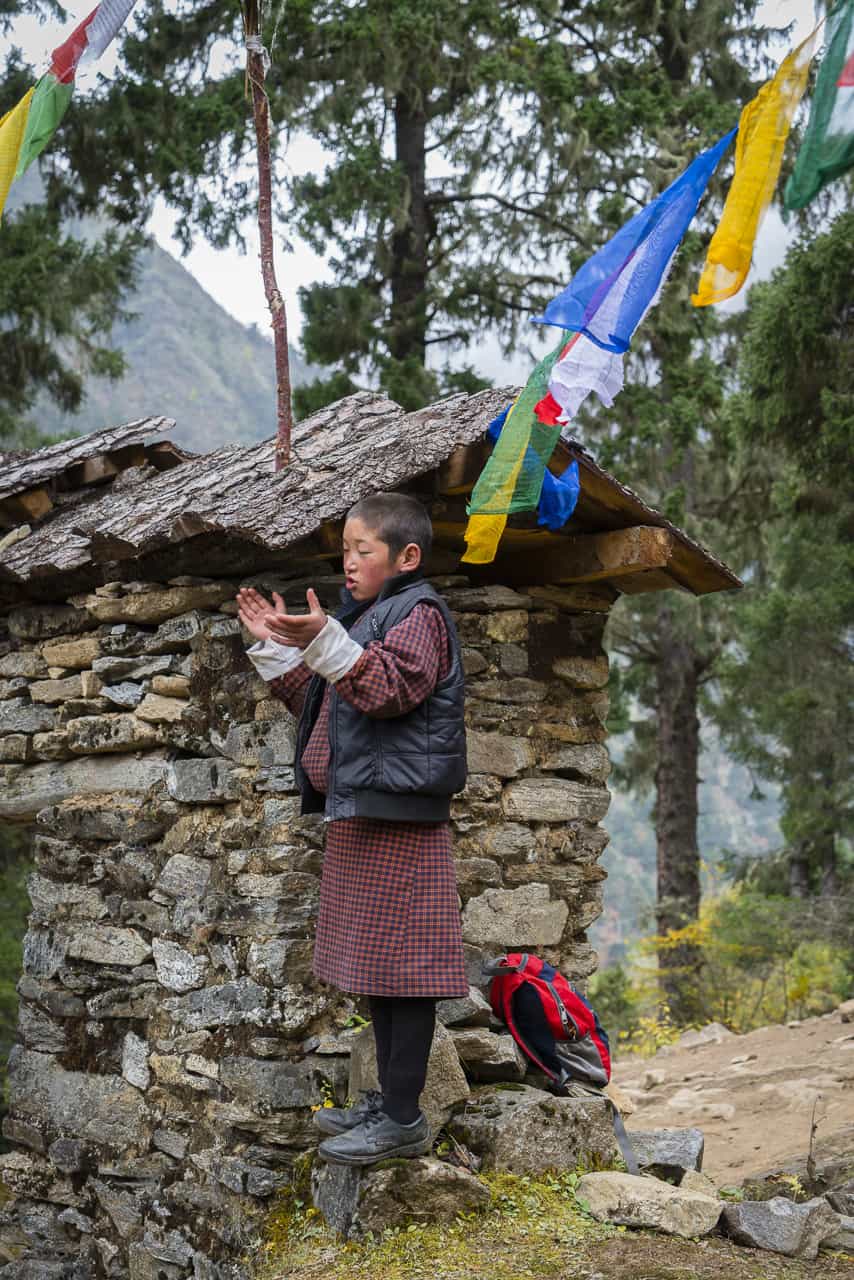 Reaching Laya
By the time we reached Laya in early afternoon it felt a bit like a ghost town. The streets were empty and the shops were closed so we had the place to ourselves.
The festival takes place another 500 meters up the mountains and everything was shut down as the celebration was all taking place an hour's trek further up.
We arrived at our camp and luckily there were a few locals around so a friendly man let us stay inside his cozy house while we waited for the horses to bring up the rest of our tents and gear.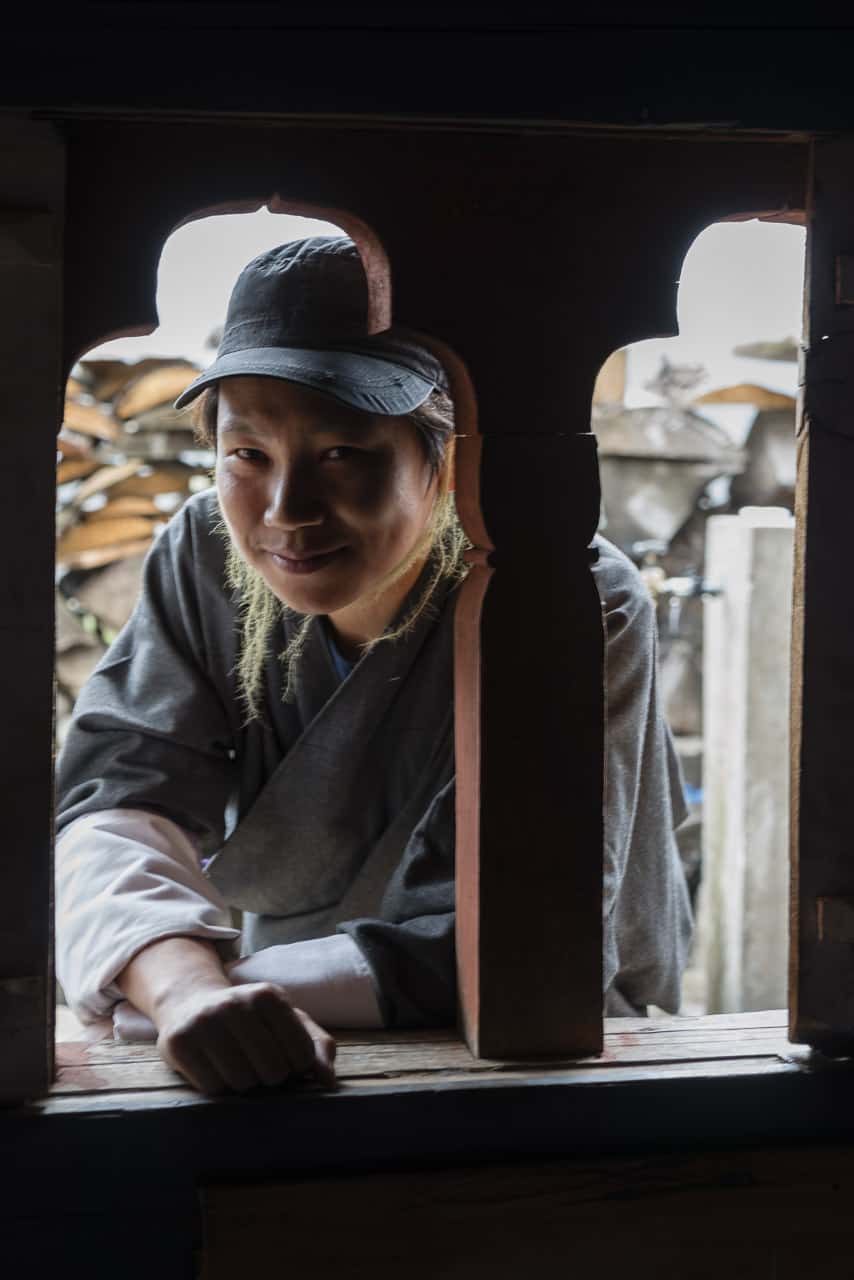 Being the first tour ever for Gray Langur, there were a few kinks to figure out like timing for the arrival of gear.
But knowing Gabriel, he'll have it all sorted by next year as he has very big plans.
It's interesting to talk to a Silicon Valley CEO, they don't let anything phase them and they think big!
I wouldn't be surprised to see a helicopter taking all their gear up to the top of the trek by this time next year!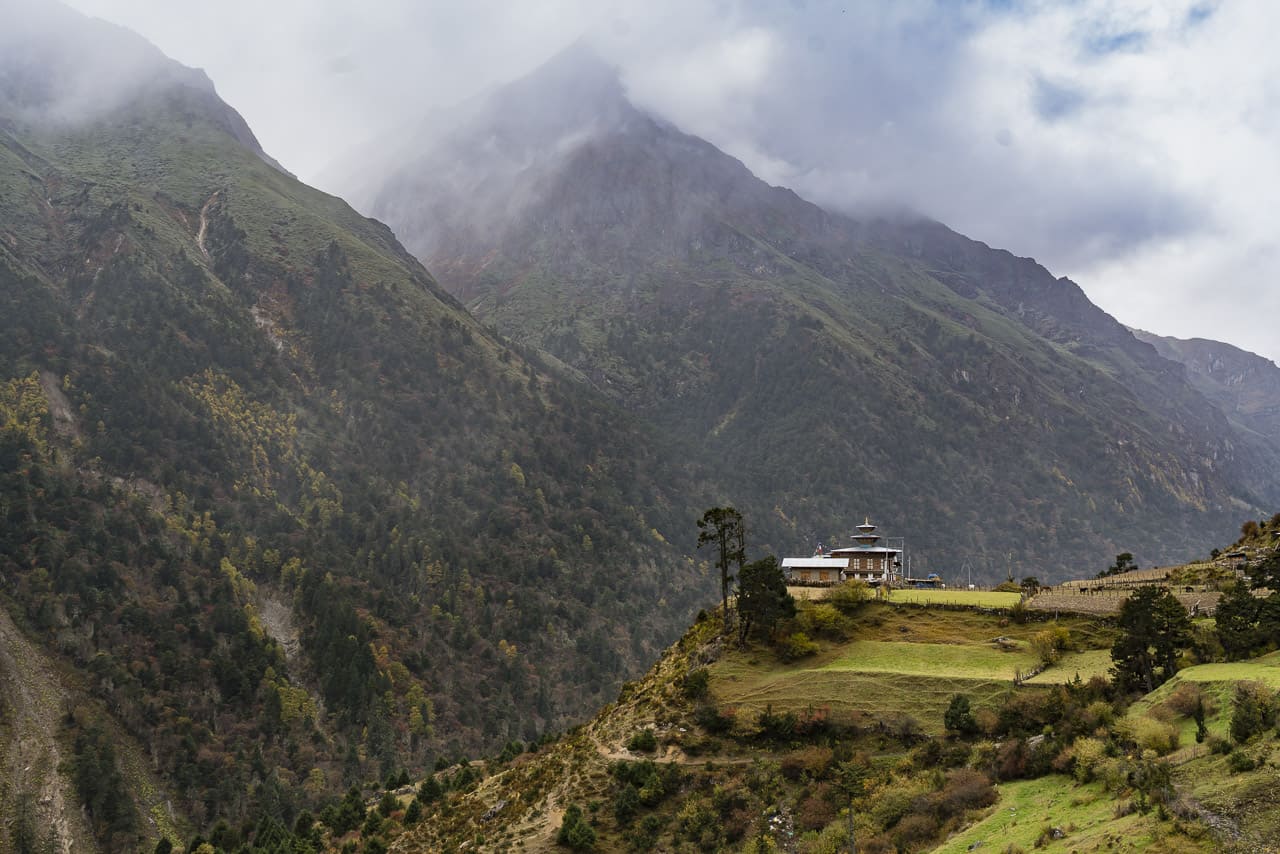 The weather had come in by early afternoon and we weren't sure if we should trek another hour or so up to the festival.
Would anything be going on or did we miss it already? After a discussion we all decided to stay put.
Instead our group drank sweet milk tea and Dave and I eventually ventured off to explore Laya.
The views were phenomenal and it is a place that I could see myself spending a few more days if the festival were not on.
Nothing was open at the time, but we could tell it would make for a great stop at the end of a challenging trek.
The Festival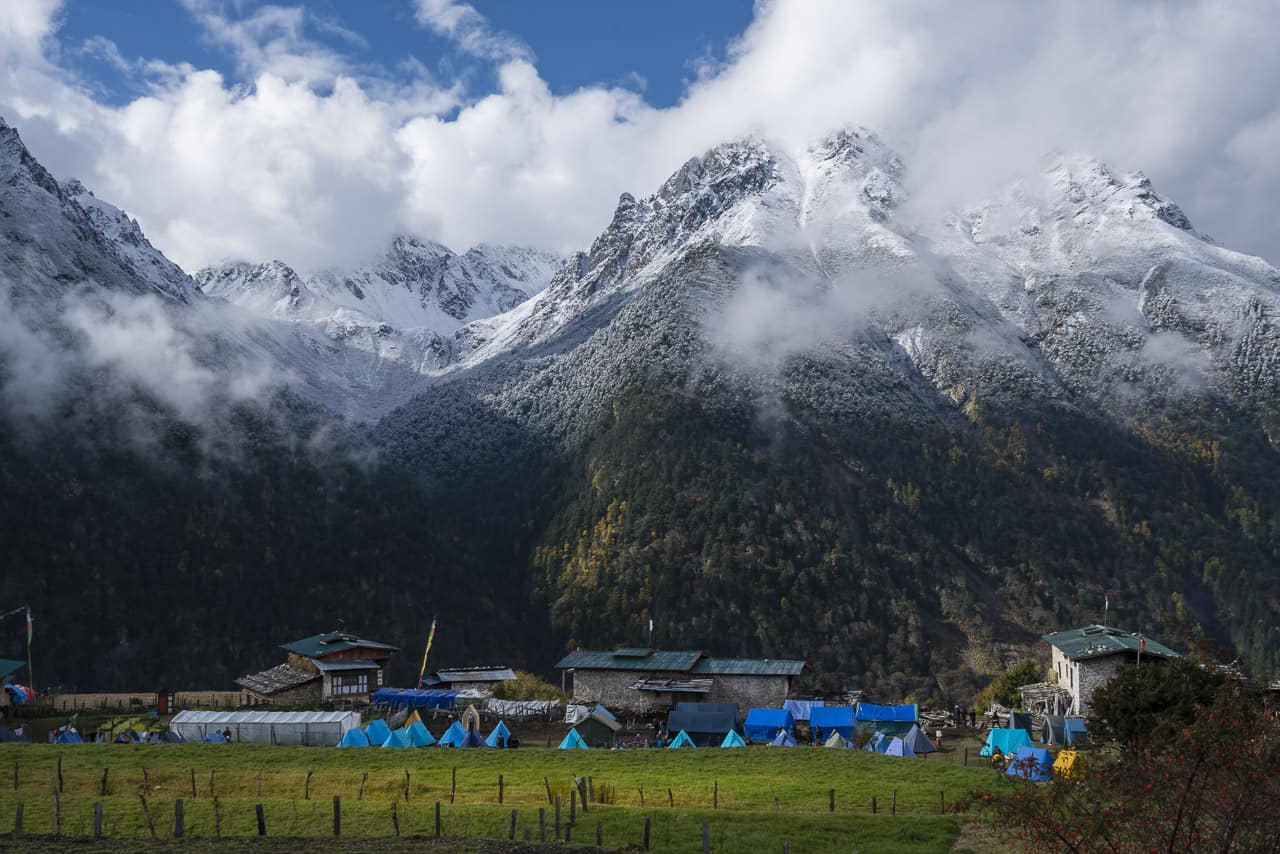 Feeling well rested from an entire afternoon of chilling out, we awoke early the next day to begin our trek up to the festival.
A dusting of snow fell over the Himalayas overnight and the clouds opened up for us in the morning revealing the most spectacular scene of snowcapped mountains.
We knew we had to get to the festival, but Dave and I couldn't walk more than 100 metres without stopping for yet another photo opportunity.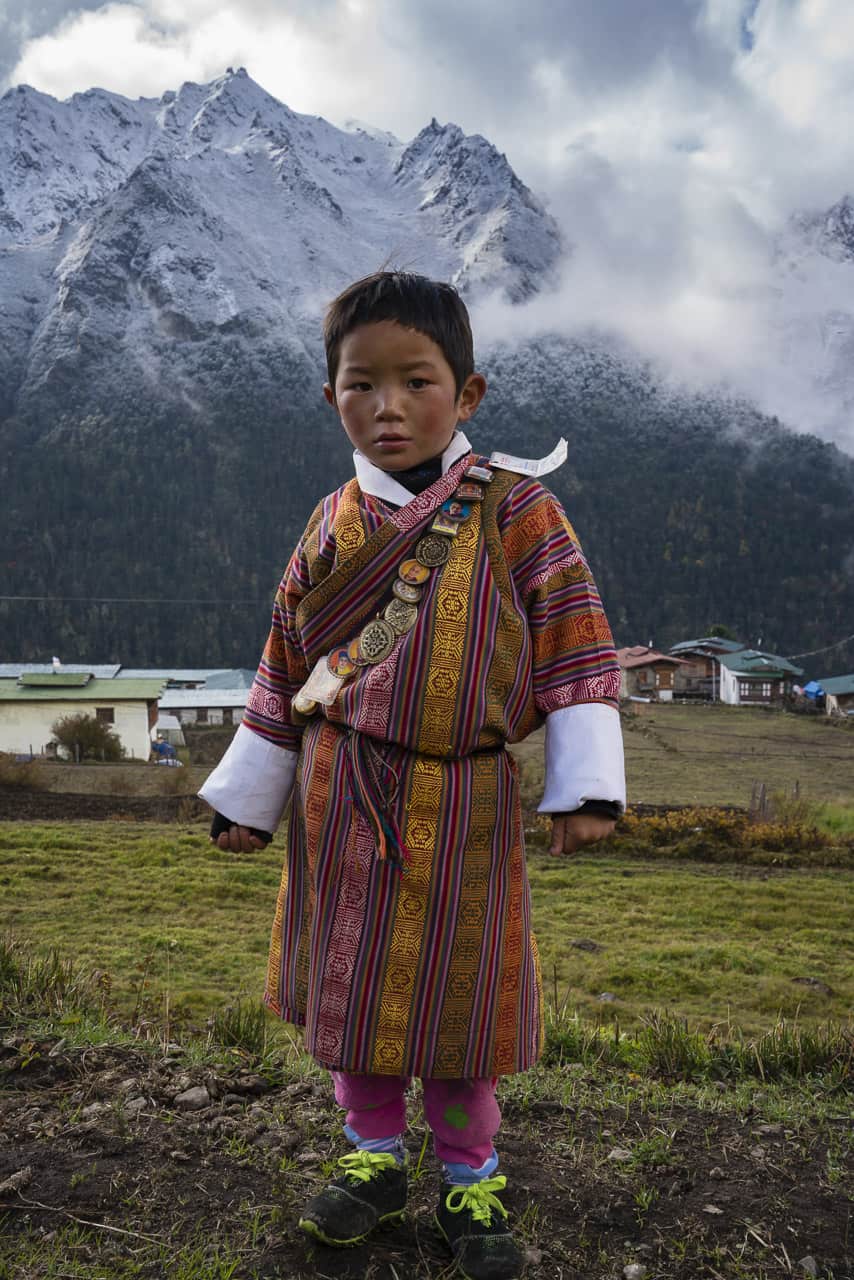 We shared the trail with local tribes walking up to take part in the festival and everyone was so friendly.
People laughed and smiled as we all shared a deep breath joking about how exhausting it was at 4400 metres (15,200 feet).
Arriving at the Festival
We finally made it to the top and walked beside the red carpet set out to welcome the king and dignitaries.
Our guide Rensin told us that we would probably meet the king so he gave us a quick lesson on how to respond should he talk to us.
Right in the middle of him telling us what to do, the king approached and we did a mad dash to get back in line and say hello.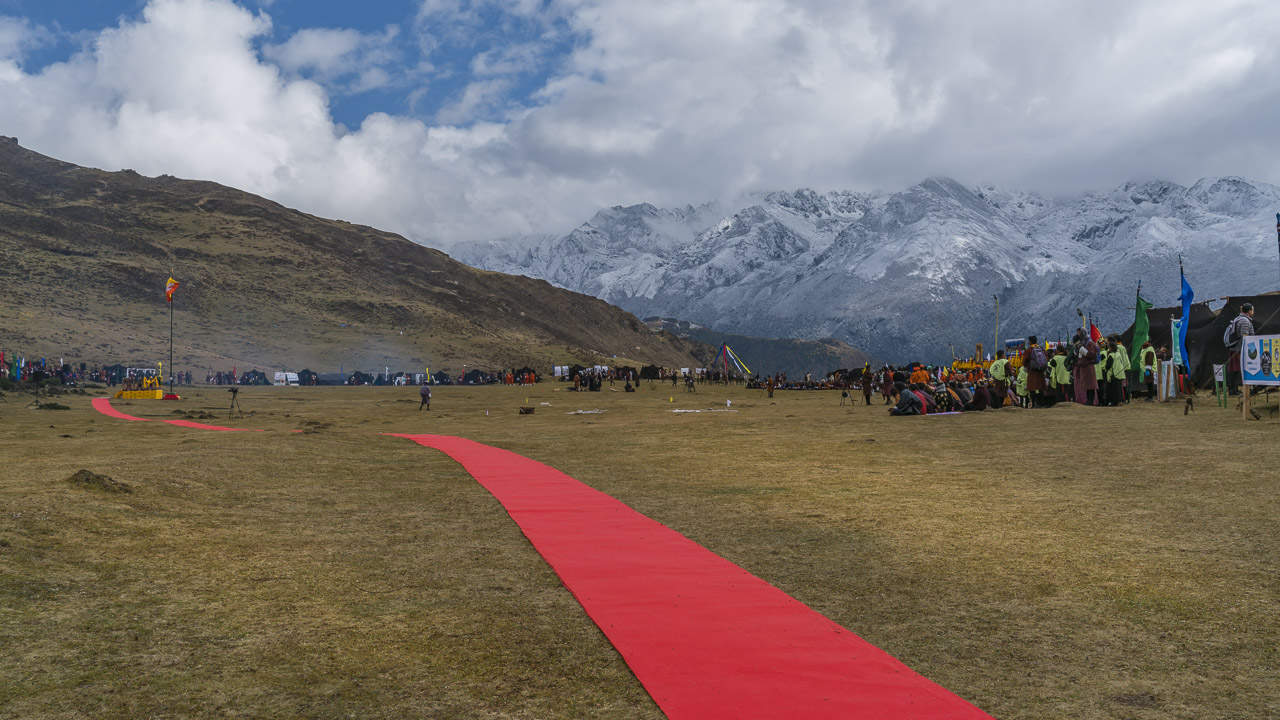 Seeing my scraggly blonde hair (from 3 days of no showers) must have caught the king's attention because he came right up to Dave and I and asked where we were from, how long we have been in Bhutan and how we are enjoying the festival?
We both spewed out a bunch of words telling him how wonderful and welcoming the people are of his nation are and how beautiful his country is.
No photos or video are allowed when you are near the king, so we have no proof of our interaction save for our reaction to his arrival on our video.
Watch our video of the Royal Highlander Festival
The rest of the day was spent running around at altitude trying to take in all the amazing events.
Events at the Festival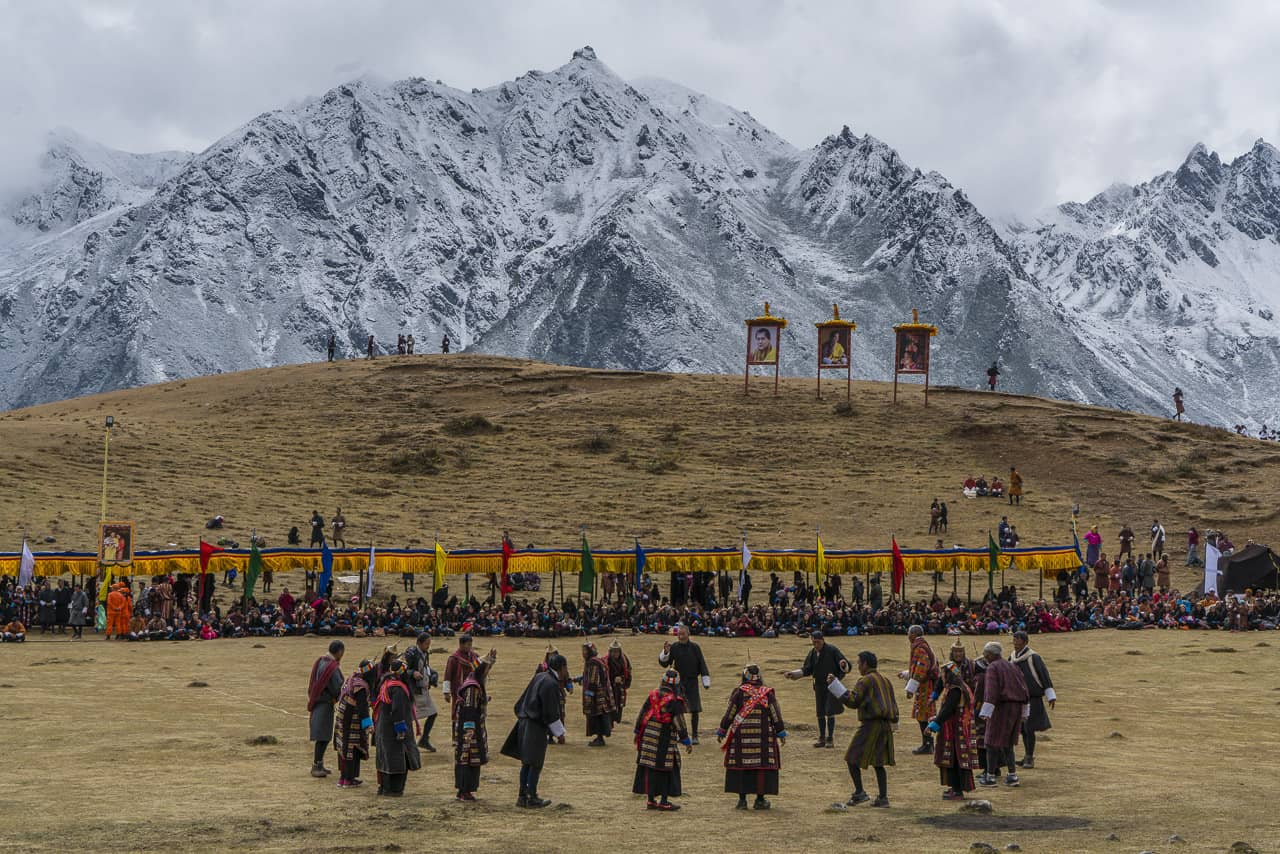 There was a wrestling competition that was definitely the highlight for us.
Two of Bhutan's most famous actors hosted the event and even though we couldn't understand a word they said, we caught on to their humour and laughed at their every move. They were excellent showmen.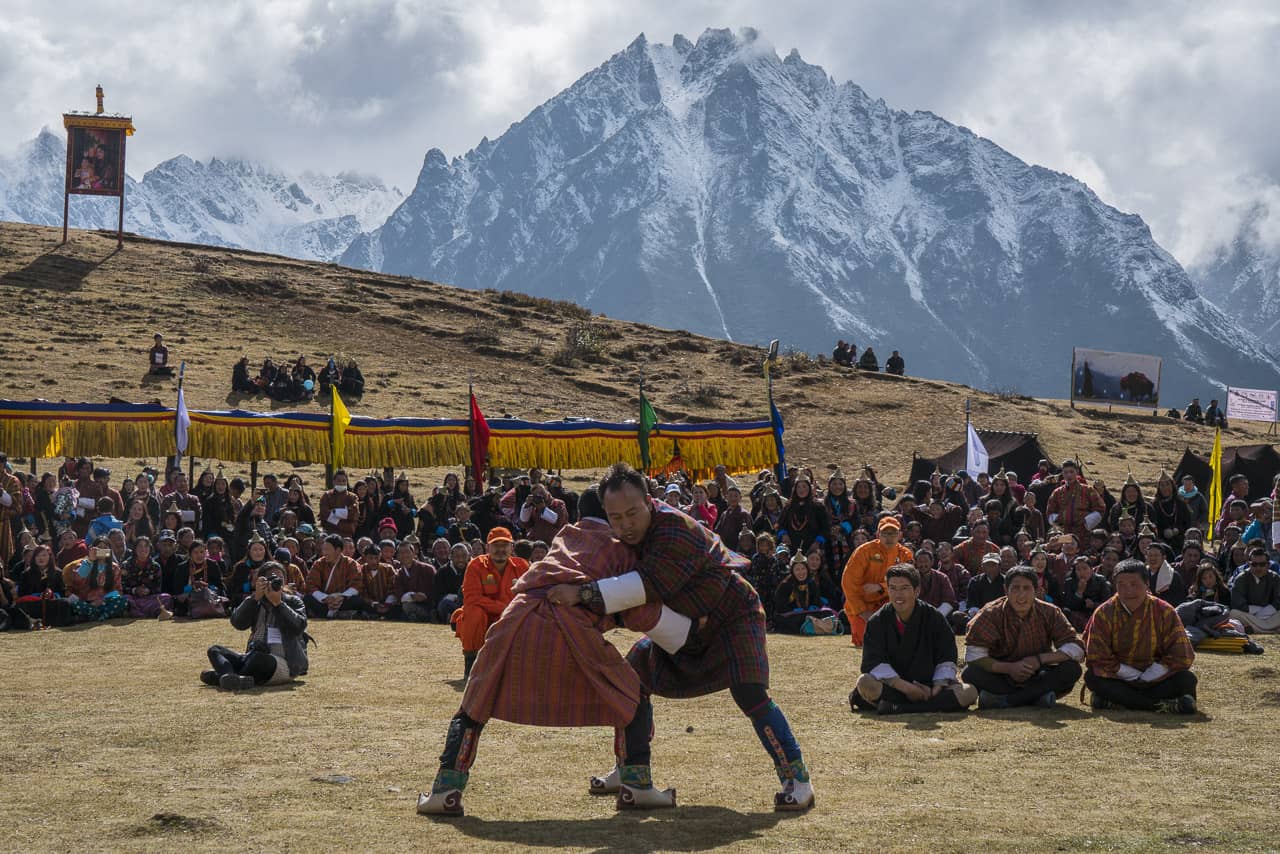 After the competitors fought it out on the field the two hosts took over putting on a comical display of wrestling and dancing combined.
Animals of the Festival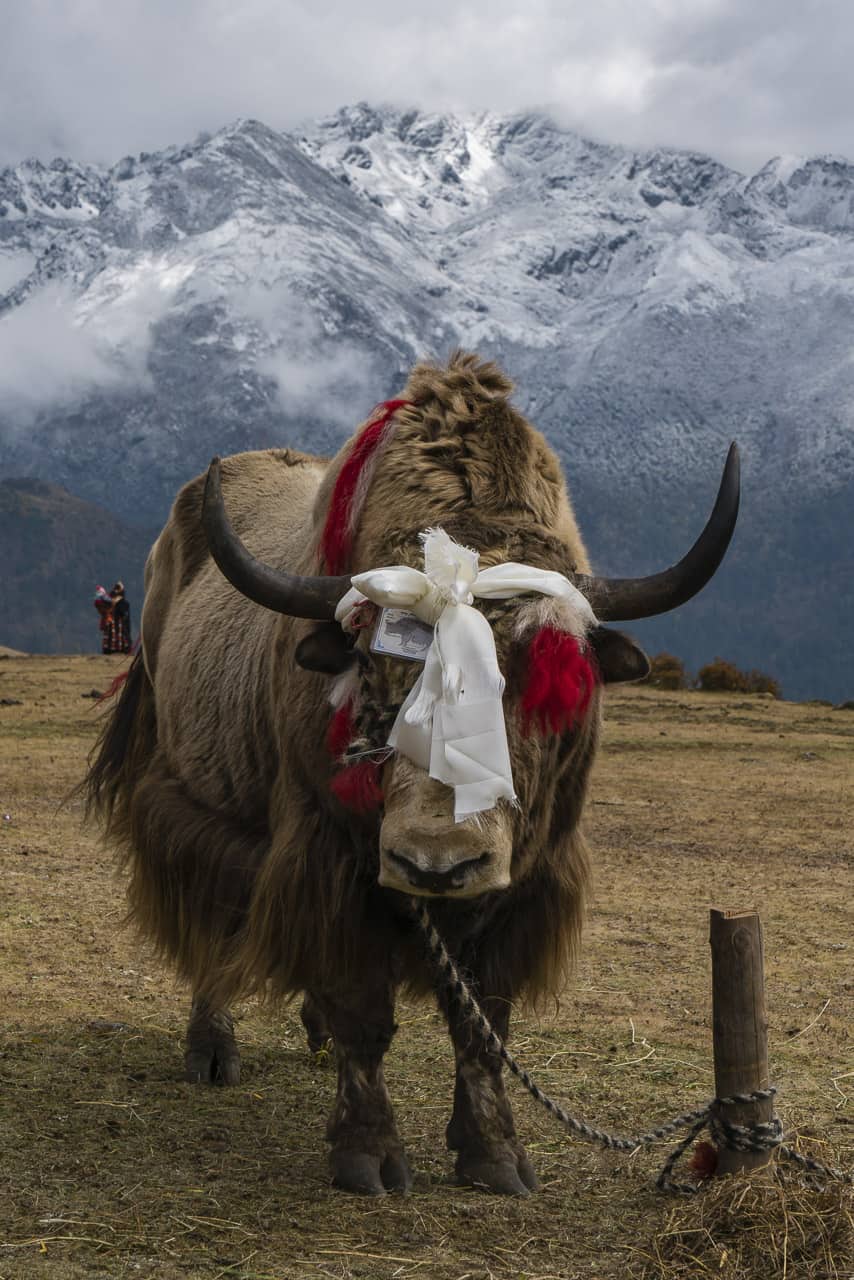 When trekking in Nepal, Dave and I saw a lot of Yaks on the trail, but our trek to Laya in Bhutan wasn't high enough to for the yaks, so donkeys, horses and mules were used to transport our gear.
But the festival attracts communities from all over Bhutan and many tribes came down from the High Himalayas to compete in races and showings of their animals.
We finally had our chance to see yaks up here at 4400 metres and they are the most beautiful animals.
We missed the races the day before, but we did get to see the winner's circle as the best of the best walked around a ring to show off their prized animals.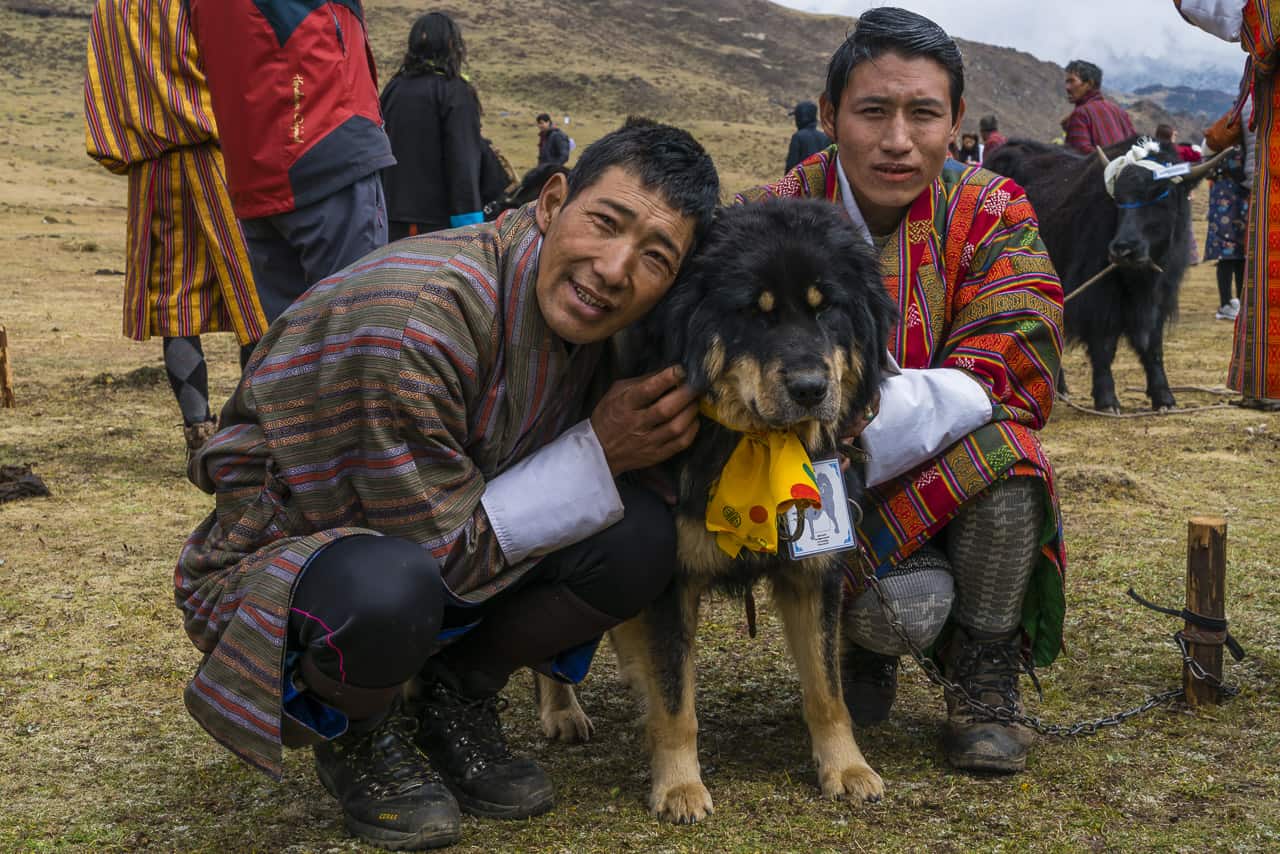 There were events for yaks, horses, cows and the Himalayan mountain dog.
Like the yaks, mountain dogs cannot survive at low altitudes so you must trek up to be able to see them.
These dogs have the most relaxed demeanor and we found ourselves giving many a pat on the head or a scratch on their bellies throughout the day.
Other Celebrations
The day started off with the strongman competition, and as I struggled to catch my breath just trying to hold my camera upright, they went through an obstacle course where women carried their mates upon their backs across the field.
The couple then pulled heavy sandbags across the course stacking them one atop another before loading them onto the male's back where he ran back to the starting line to finish the race.
Everything seemed to be in very good fun and people laughed as they fell down and gave hearty slaps on the back to the winners.
This is definitely a festival of celebration and happiness more than competition.
Food at the Highlander Festival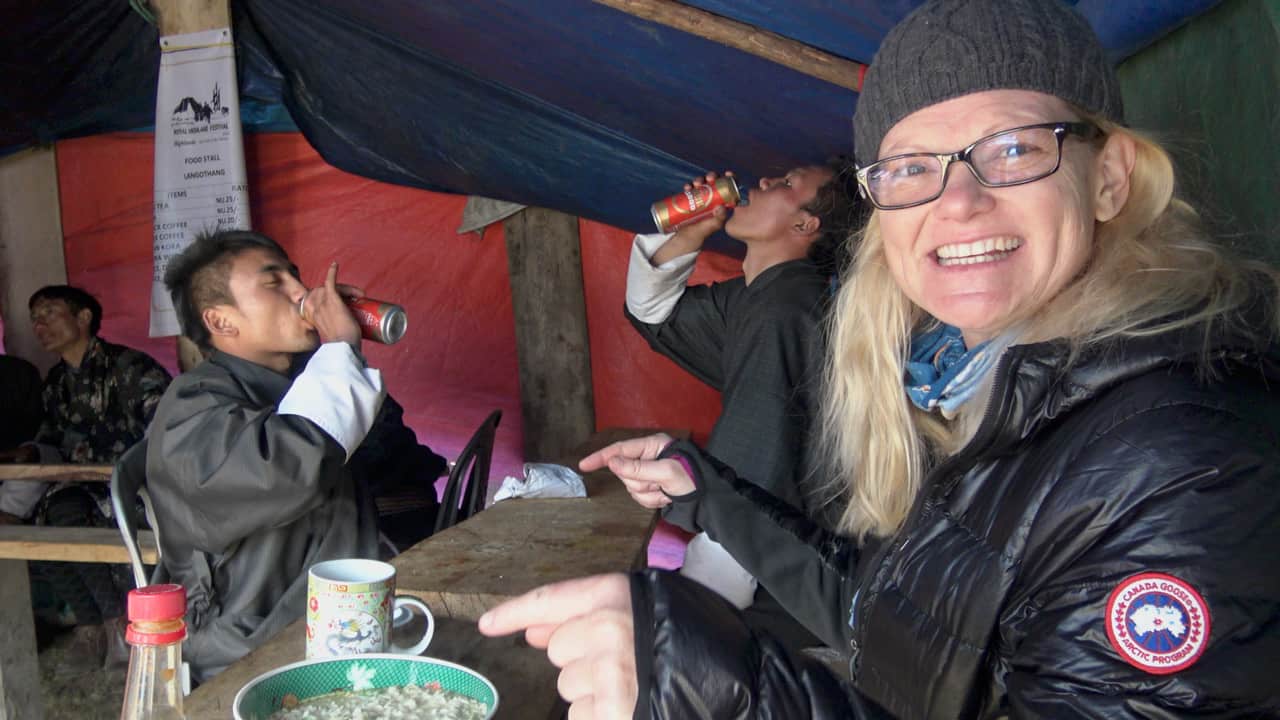 Something that was very impressive was how the festival offered free food, water and tea to spectators.
Great care was taken to keep the food safe as servers wore gloves, hairnets and uniforms as they scooped out large portions of dhal, rice and potatoes.
They went around offering cups of water and tea and there were several stations for recycling and trash.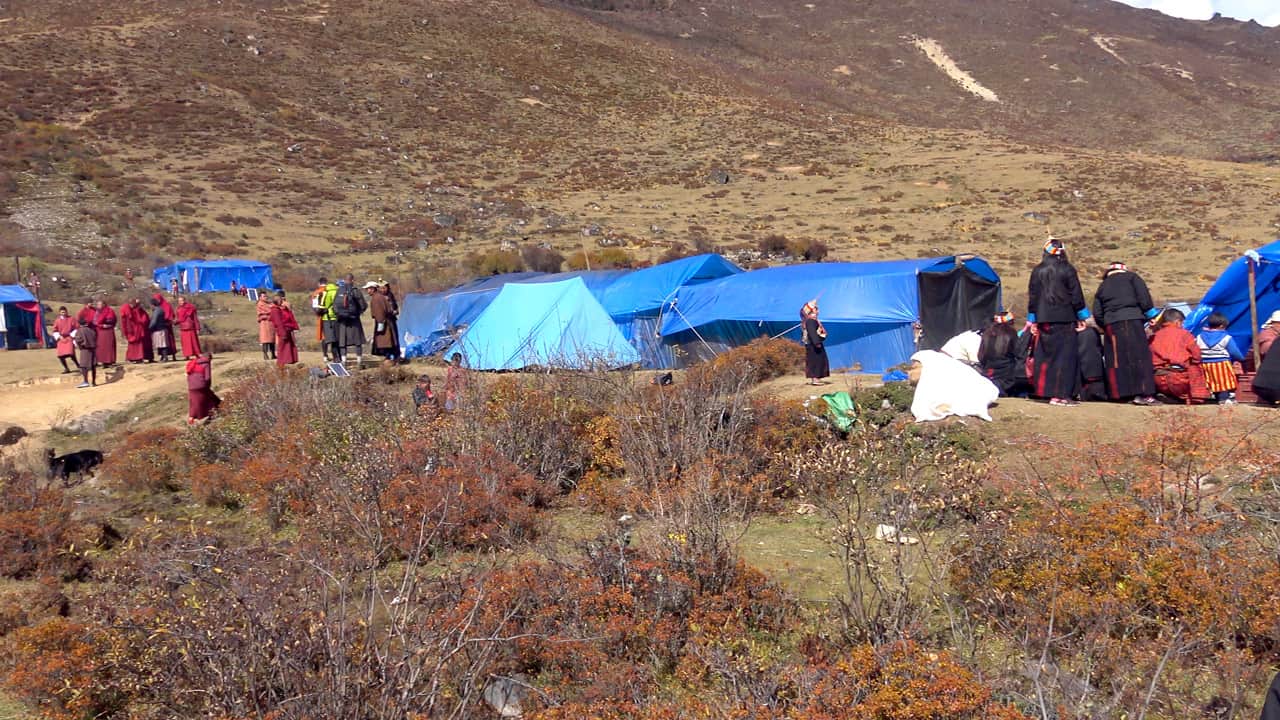 As Gabriel stated, Bhutan is leading the world in responsible tourism thinking of every little thing.
He feels that in the near future, countries will model their tourism plans after Bhutan and as someone who has lead the way in Internet development, I think he is the outside the box thinker that has a strong grasp on the future.
During the entire trek up to Laya, Dave and I noticed pits dug for garbage and stations set aside for water bottles.
There is plenty of fresh water running from the glaciers above, so we recommend taking a Steripen UV water purifier with you to fill up your own water along the way to reduce waste.
See our video of how to use the Steripen
We stupidly left ours at our hotel when repacking before our trek and regret every moment of not having it.
Back to the Festival
There were also food tents set up where you could sit inside and order noodle soup, momos, hot tea or even a beer.
It was a great escape from being outside all day and a super way to chat with the locals.
We had some of our best conversations with the people taking a break from the festivities in the tents.
The Royal Highlander Festival is only in its second year but it is going to expand in the future.
We were told that it will rotate to other villages around the Himalayas.  As time goes by, it will only gain in popularity.
Locals are thrilled with it. When we told people in Thimphu and Paro that we attended the Laya Festival, their eyes lit up.
Many said that they had never been to Laya and were impressed that we had been there.
Most visitors stay on the well-trodden tourist trail, so to see groups expand outside the usual spots is something that is very welcome by the people.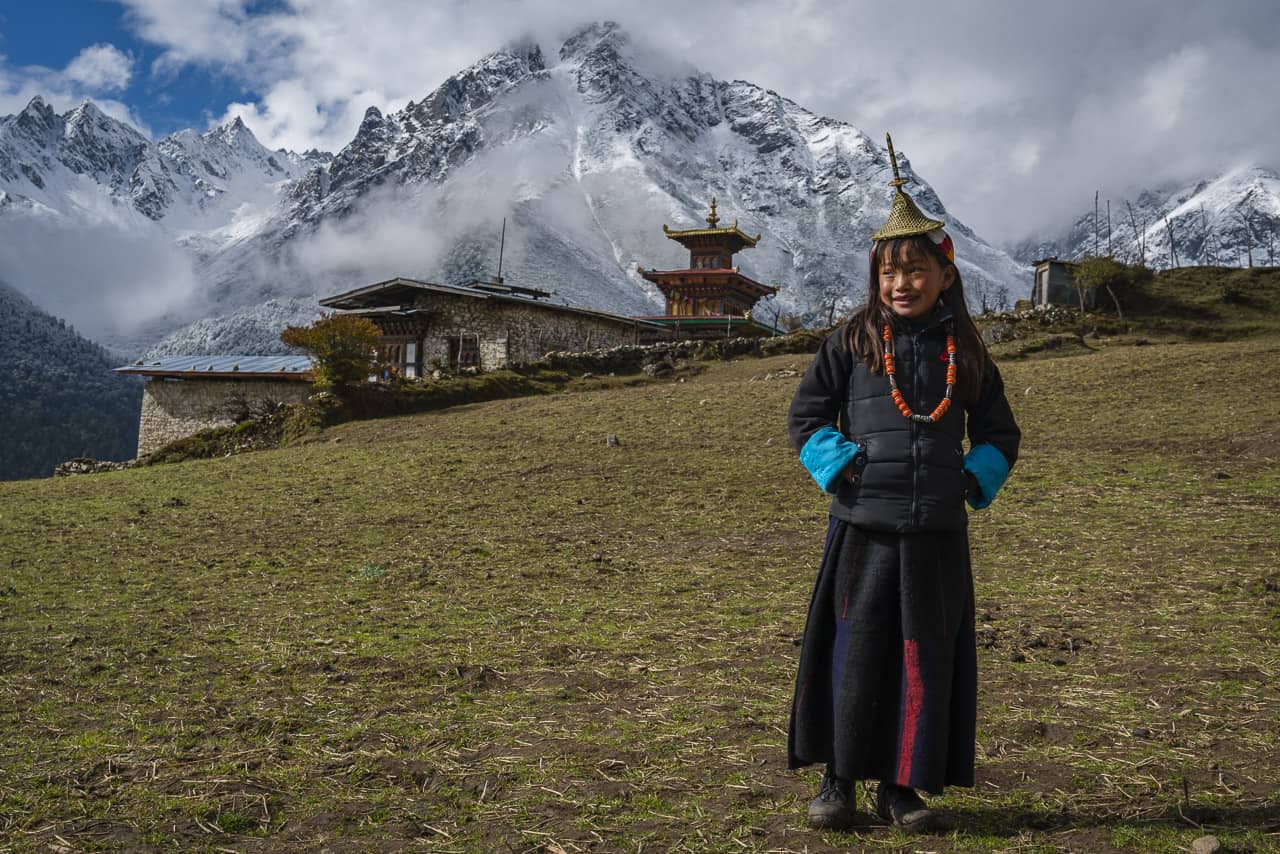 When attending a Bhutan festival, you will have the opportunity to feel the happiness of the people first hand.
There is something soothing about the people of Bhutan and they immediately put you at ease.
The Royal Highlander Festival was a highlight of our trip to the country, but I can guarantee that no matter what festival you attend in Bhutan, you will have the experience of a lifetime.
Tips for trekking to Laya with Gray Langur Tours
Gray Langur offers small and independent tours – Since we were on their inaugural tour, we were in a group of 21 people. For us, it was too large as group, and for trekking and our guides were quite spread out. When booking ask for a small group or even independent custom tour to keep your Bhutan experience intimate.
Refillable Water Bottle: Bring along a Steripen to sterilize stream water. Horses have to carry a lot, so you can reduce the load (and waste) by refilling your water bottle.
Pack your own sleeping bag: Be comfortable and clean by using your own sleeping bag from home. It gets very cold at night, so bring a sleeping bag that is good to -10 Celcius. (If you are trekking higher into the mountains, we suggest -20.
Pack Layers: The days can be quite balmy and you work up a sweat when walking, so bring layers to add or take away when needed. A hat and buff are great to have as well.
Good hiking boots: The trail can get very muddy and slippery. Sturdy hiking boots are a must. Dave and I also wished that we brought gaiters to keep our pant cuffs clean and dry.
Gray Langur takes care of all Visas, Transfers and accommodation. You don't need to worry about booking anything once you arrive.
The trek is tough if you don't have a lot of experience or are not good at altitude it is not recommended. Be sure to book within your limits. The first day is a 18 km hike with a high elevation gain. Some of our group came in well after dark.
We do not recommend taking horses if you are too tired. Gray Langur suggest that you can take a horse should you feel tired, but it can be very dangerous walking on uneven and rocky terrain, so do not depend on that option. Trails are narrow, there are steep drops and horses do not use saddles. They are sure footed and good at carrying loads, but it's a whole different ball game when riding. If you think you can't make it, don't do it. Choose an easier trek instead.
---
Read More:
Top 6 Cultural Experiences in Bhutan
Why I Chose to Travel to Bhutan for my First Trip out of India
5 Experiences You'll Love in Arunachal Pradesh, Northern India