For the past couple of months, we have been running a Giving Back while Traveling Series here at theplanetd. We have been searching for different ways that travelers have given back to the communities that they visit and how they have helped the local population.  It has been a very inspiring series and we are learning a great deal on what we can do when we leave for India next month.
We have always been a little skeptical about who to choose to support, how our contribution will make a difference and if tourists really can have an impact on the world.  When Daniela sent us this post I was pleased to hear that others feel the same way. 
Especially from a person that is doing amazing work out there and runs a successful NGO.  She asks all of the right questions and raises important issues. It is an excellent article that teaches us all to think of our travels in a different way.
The Impact of NGO's and Voluntourism
I am a strong believer that travel can be done better, as can anything else, if we come up with new and creative solutions to the negative impacts that come as a side product of the actions that we take.  I think tourism can and has been a negative force in many areas and I feel the same way about Non-Governmental Organizations (NGOs) yet I have my feet in both of these worlds.
I run an educational non-profit organization (www.pepyride.org), and also a small adventure tour company (www.pepytours.com) too which funds the NGO in part, yet I am skeptical of the impact of tourism and NGOs.  How do I justify this?
Forces for Good
Have you ever read the book "Forces for Good
?"  If you work in development, or on any part of the spectrum of philanthropy work, you should read it.  If you have ever, or plan to ever, donate money to any organization, you too might want to read it.
The book highlights research done on some of the "best US number profits" and what some of the correlating factors are between them.  Although I don't agree with everything in the book nor understand the intricacies of all of the top candidates they selected enough to comment on their NGO choices, I do love reading the themes they found which link these NGOs.
(Side note: it is also really interesting to compare this research with similar research done on top performing corporations in "Good to Great" as lessons can be learned from both)
For me, one of the points that stood out the most to me was how many of the NGOs featured in the book choose to collaborate with other NGOs and the corporate sector and many partnered with their "enemies".  For example, Environmental Defense chose to partner with McDonalds to help them improve the environmental impact of their packaging.
ED got a lot of negative feedback from others working in the environmental protection sector for working with McDonalds and many viewed this as "helping the enemy". It seems that from the ED perspective, the main goal and their mission was to decrease the negative impact we are having on the earth.
By finding ways to convince companies that eco-friendly decisions could also be lucrative, ED could help spark a range of changes in other groups as well.  Their focus was on reaching their mission: to create lasting solutions to the world's most serious environmental problems.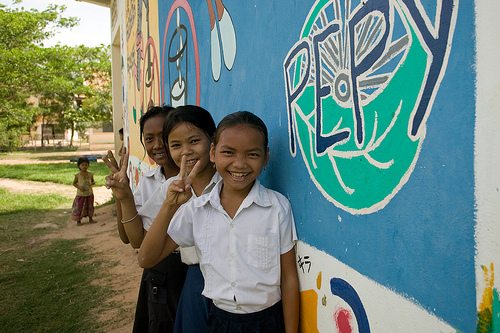 Learning About Voluntourism
On my part, the more I learned about voluntourism and the more I was able to compare this learning with what I was absorbing in my understanding of development best practices, the more I questioned the impact of voluntourism programs.
Many would respond to my by saying "Then get out of this work! Why are you working in a business sector you are skeptical of?" and my reason is in line with why ED chose to partner with McDonalds: because I think it can be done better.
In a different vein of skepticism, some of those same people would say "Why are you encouraging people to travel abroad and give money? Wouldn't those people help the world more if they just sent a check?"
Both of those attitudes, yelling "Get out if you are questioning tourism!" and "Why ask people to travel when they could just give?" are blinkered in some ways as they disregard these facts: People will still travel and other companies will still provide for that, even if I go home.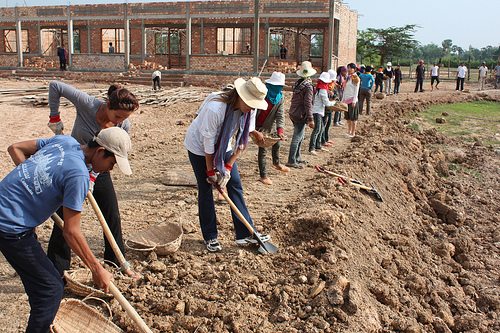 Criticism of Voluntourism
I hear other critics of voluntourism saying "If you want to do good, and you want to call what you do volunteering or philanthropic, then it has to be at least 5 days of volunteering."  The other will say "at least 5 months", others will say "over 50% of your tour time needs to be volunteer focused," and I think this effort to put volunteer travel in a framework is once again myopic.
If someone is planning to come and travel in Cambodia, where I live, for 10 days and they want to squeeze in one hour to visit our office to learn about our education programs, great!  I would hope that, because of our visit, their trip would be just that much better and that perhaps they will travel and give differently based on what they learn in their meeting with us.
If those same people wanted to pop-in to volunteer "playing with children" for that hour instead, I would argue against it and point out that, if their kids were in a school somewhere, I'm quite sure they would not like it if foreigners could come in off the street to play with their children.
What is my point? Don't listen to the skeptics out there who tell you that volunteering has to be a certain length to do good.  Don't be turned off and scared of supporting NGOs because you have learned about how some groups are not using your donations to help the people and the groups they claim to be.  DO start asking questions!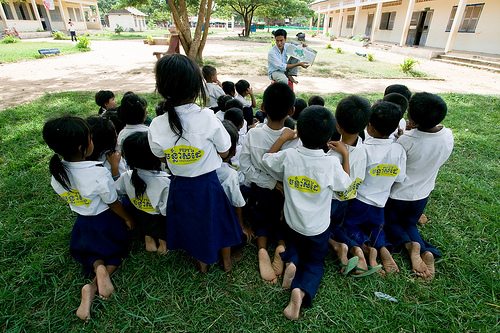 In an effort to share the lessons we have learned in voluntourism and responsible philanthropy, our team at PEPY Tours reached out to others working in this area to come up with a list of questions which travel operators can ask themselves to help improve their offerings.
These same questions are also questions that YOU, the traveler, can consider when choosing your travel provider.  You can download this tool at Voluntourism101.com and the full-site will be up and running there soon.
For those who don't have the time to read the whole document now, here are five key areas I would consider when choosing a philanthropic travel provider:
Is the travel company transparent about how much of your tour fee is going to the programs you are supporting?  Is there marketing consistent with the itinerary they are offering?  (As with the above, I don't think length of time nor percentage of funding going to a project is a determinant of if the project is good or not. A tour company can be very responsible if none of your funding is going to support projects, if that is clear from the start, as long as the program is design responsibly.)
What interaction with children is included in your itinerary?  Is the interaction described like a visit to the zoo?  Are there child protection policies in place?  If it was YOUR child, would you be ok with the type of itinerary an interaction being offered?
How does the travel company choose the programs they support?  Ask questions about how your time and any additional support offered by the company itself is designed and what monitoring they do on the impact of these programs.  How is the community or NGO partner involved in designing the programs?
Are you giving things away (school supplies, food, wells, etc) on your tour?  How are the recipients chosen?  Is the program designed to help empower people to be able to improve their own lives, or a small bandaid to a larger problem?  If the item is something that will need repair in the future, how is that being dealt with?  Is there community ownership built into the project plan?
What about the REST of the trip?  There is so much focus on volunteer interactions and donations as a key to improving the impact of tourism, but perhaps the best way we can improve the impact of tourism is in the "everything else" category.  How does the travel operator choose their hotel partners/travel operators and how do they work to both support the local economy and improve the overall impact of their tours?
Hopefully thinking about these things will make us all better prepared to pick the best partners for our future travel.  You can read a lot more of my verbose thoughts on voluntourism and NGO work on my blog. (www.lessonsilearned.org).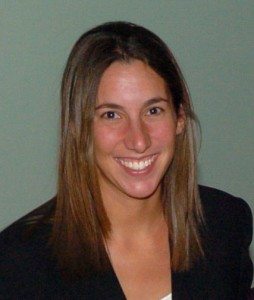 Daniela Papi is the director of PEPY, an educational development organization working in rural Cambodia.  PEPY focuses on building the capacity of teachers and communities to increase access to quality education.  PEPY is funded in part through PEPY Tours, and edu-venture tour company offering cycling trips and service learning experiences in South East Asia. PEPY's tagline, "Adventurous Living. Responsible Giving." which highlights the dual mission of the organization. PEPY Tours has won the University of Notre Dame's Social Venture Business Plan competition, CIMPA Humanitarian Travel Award, and was recently chosen as a winner in the National Geographic and Ashoka Geotourism Challenge.  For her work in developing PEPY, Danie was a finalist for the Cartier Women's Initiative Awards. Driven by a young group of social entrepreneurs, in the past four years PEPY has grown from a one-off bike ride which funded the construction of a rural school to a non-governmental organization working in over 10 schools and employing over 30 local staff.
Daniela is active in the "Voluntourism" sector speaking regularly on both the negative and positive impacts of this growing trend and encouraging industry players to be self-reflective and proactive in measuring their impact. The team at PEPY Tours worked with a range of industry professionals to create internal monitoring guidelines for voluntourism which was just launched onwww.voluntourism101.com. Daniela grew up in New York but has spent the last seven years in Asia working in education and tourism. She currently manages PEPY from her home in Siem Reap, Cambodia.
Previous Articles from our Giving Back, Travel the World and Make a Difference Series;
Read More
The Very Best Healthy Travel Snacks for a Long Flight
Our 27 Best Travel Tips from 16 Years Traveling the World
How to be a Travel Blogger – From Dream to Reality and How We Make Money