Years ago, when Dave and I were trying to figure out our lives after college, we considered being stunt men. Seriously. We were living in Vancouver, working as waiters at Earls and The Cactus Club, and we were failing miserably at being famous musicians.
That was the first time in our lives we started brainstorming about our future. We were both huge fans of the series The Fall Guy with Lee Majors as kids, and the Vancouver film business was booming.
Instead of serving people food while trying to make our desired careers work, we thought we'd work in the movies! We saw some stunt training courses and seriously considered it…for about 10 minutes.
Hollywood Stunt Training Australia
At that time in our lives, we didn't know the first thing about any sort of stunt work, so in our minds it was a silly pipe dream. We'd never picked up a sword, scaled a rock cliff or driven a motorcycle, how could we possibly prepare to be Stunt Men?
So we joined the crew in the booming BC film business and never looked back. We settled in to our respective jobs as a make-up artist and Rigging Gaffer for the next decade or so.
The Hollywood Stuntman
As we became more active and started taking up hobbies like rock climbing, mountain biking and scuba diving, we passingly said "maybe we should have been stunt men!" But that never stuck. We know that it's hard work being a stunt man in Hollywood. You do all the hard work while silly actors take all the credit.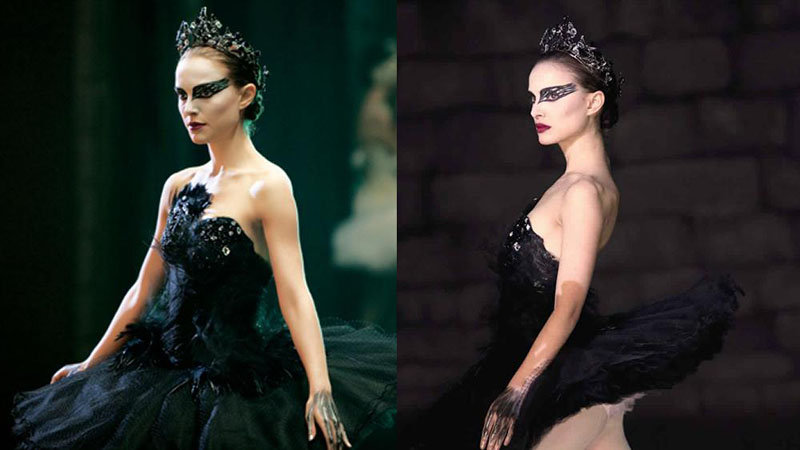 So while visiting Queensland, Australia we had the chance to live our fantasy of being stuntmen for a day. It was at The Australian Stunt Academy that we met up with martial arts expert Colin Handley. He caught the eye of Chuck Norris and was invited to Hollywood to work as a stuntman on over 100 TV and movie projects.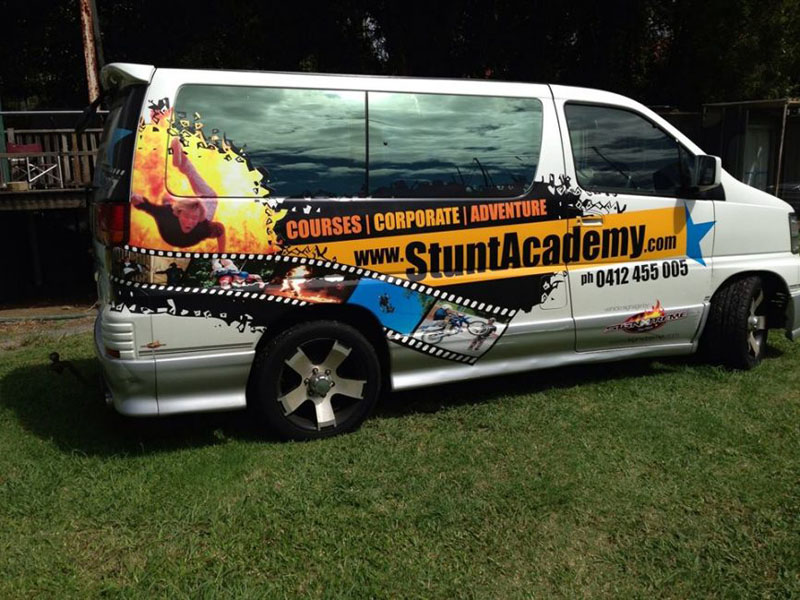 The Australian Stunt Academy offers a three week stunt course giving you the practical elements to begin your career as a stunt performer. You will learn everything from stage combat, high falls, wire works and fire arms. By the time you leave this course, you'll be ready to give Tom Cruise a run for his money… (or should I say his stuntman)
Australian Stunt Academy
You don't have to take a three week course though to get a taste of Hollywood. Dave and I signed up to be a stunt star for a day. Colin and his team offer half day, full day, advanced courses and even kids stunt training. There's something to suit everyones needs.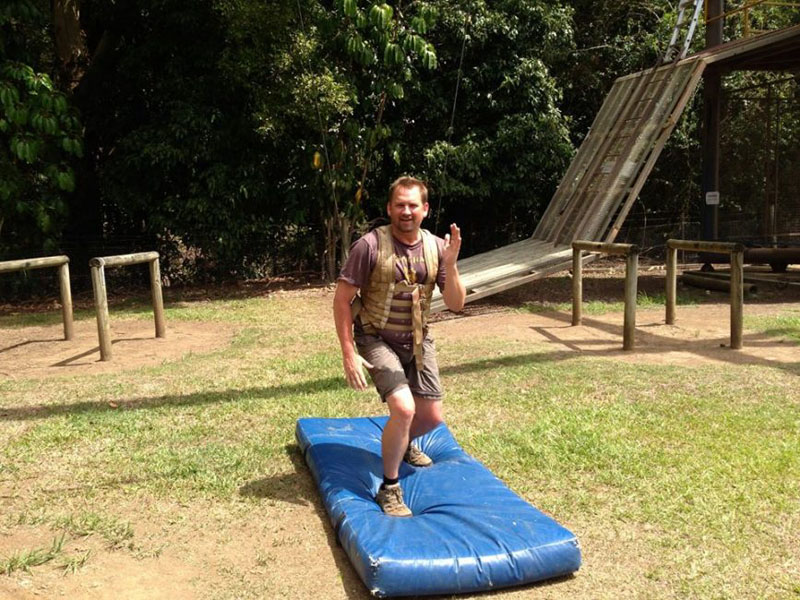 We were fastened in to our harnesses and instantly taken through the obstacle course to get warmed up. Every army movie I've ever seen came rushing back. Although in this scene I felt more like the John Goodman or John Candy character that has troubles getting over the rope ladder, climbing over the walls and running through the tires during basic training!
It was a hoot! After the basic obstacle course training, we started the fight training. We've had a bit of fight training at Gladiator School in Rome, so we were prepared to do some sword play. They put together a routine and filmed it for us.
We put in all the acting we could and fought each other to the death! I won, but Dave said that was because I had dance training in the past. I know it was just my skill and might.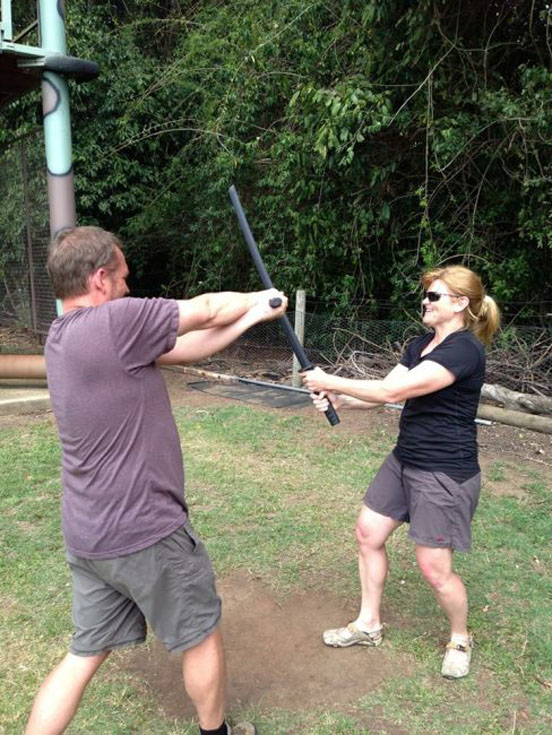 The real fun began when we got to play on the wires. We channelled our inner Crouching Tiger Hidden Dragon warrior and worked those wires with all our might. We both have a new respect for the Hong Kong action heroes making things look so easy. It's difficult looking elegant and mighty all at once while trying to stay upright on wires.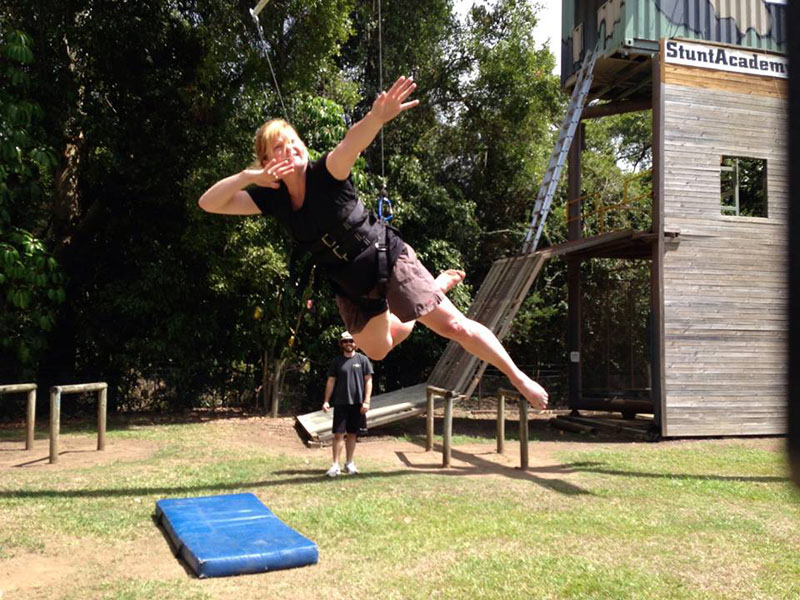 We lost our balance, fell over, tilted to the side and made a lot of funny faces, but in the end, we came out with a pretty good fight scene to show off.
After playing on the wires, it was time to get way up in the air. Lucky for us, we've done some abseiling and jumping off high things in the past, so we could get right down to business and do our best Mission Impossible impersonation. Even though we've rapelled before though, there's something just a little terrifying about going down a wall face first.
Up in the Air with Hollywood Stunt Training
Colin said that since we had abseiling experience, we might as well go face first and with a twist!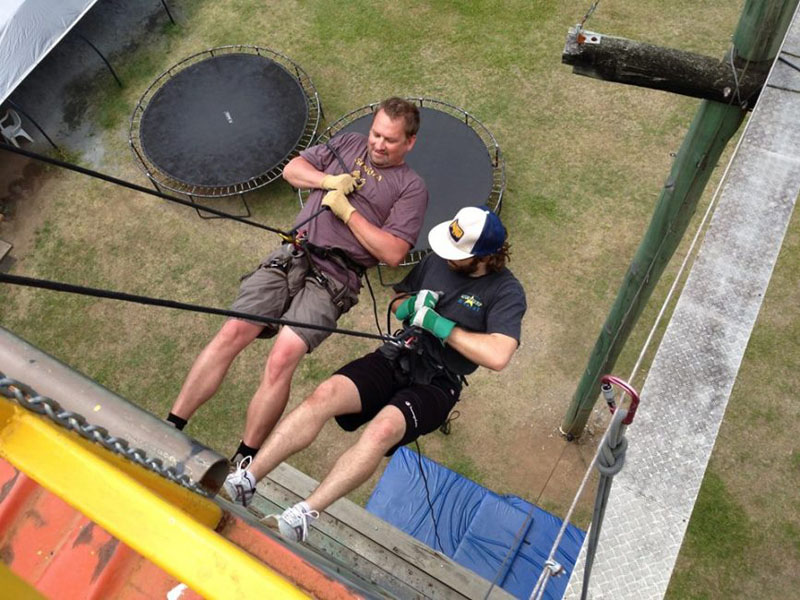 You don't just scale a wall when taking Hollywood Stunt School, you make it into a movie scene. We walked down the wall and then burst into a window before hopping out and flying down the rest of the way. We hung upside down and spun around and envisioned ourselves scaling the walls of The Burj in Dubai.
Ok, so we aren't ready to join the Bourne series or the ranks of Mission Impossible, but after a day of Hollywood Stunt Training on the Gold Coast of Queensland, we are rethinking our life choices. Hollywood Stunt Couple has a good ring to it.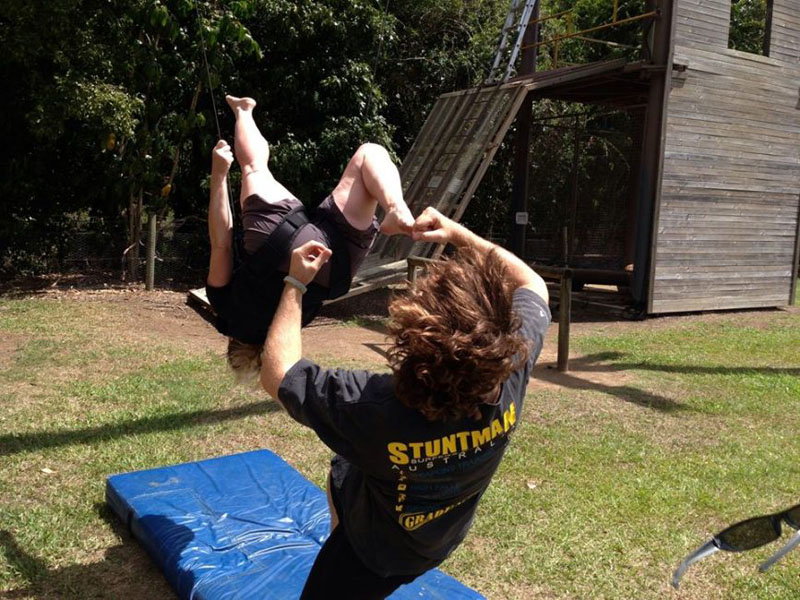 For more information on Stunt Training in Queensland, visit The Australian Stunt Academy
We were visiting the Gold Coast as part of Room753 at Peppers Broadbeach in conjunction with Tourism and Events Queensland. Car Hire was provided by Vroom Vroom Vroom.
---
Read Next:
Things to do in Queensland Besides Surfing
15 Amazing Wildlife Encounters in Western Australia
Where To Stay In Melbourne – A Guide To The Best Neighborhoods
Great Ocean Walk – A Beautiful Way to Experience the Twelve Apostles
SaveSave
SaveSave
You Might Also Enjoy