Australia is known for its killer great white sharks.
Even though more people die each year in California from shark attacks than off the coast of Australia, there is something about being Down Under that makes you think twice when you go in the water. That didn't stop us though.
Before our cage diving experience, we hopped in the water with dolphins and sea lions.
I admit that sharks were on my mind though. While we snorkeled with the seals, I kept thinking to myself, "A seal is the Great White Shark's favorite food, Maybe we shouldn't be hanging out offshore with them."
Our guide had an electronic pulse strapped to his ankle so I guess we were safe enough, but I most certainly didn't stray from the 10 metre radius safe zone.
Cage Diving Great White Sharks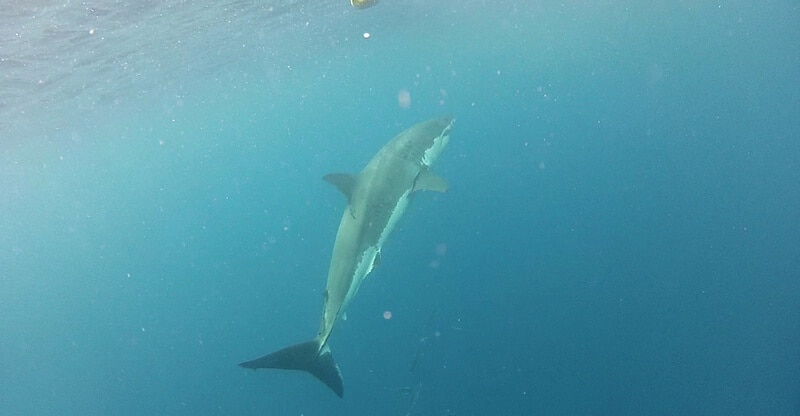 We had already been cage diving once before in South Africa and had the biggest thrill of our lives.
When we heard that South Australia was the other place on earth that a person could get in the cage and see great white sharks up close and personal, we had to jump on the chance.
It was early in the morning when we were picked up at our hotel in Port Lincoln to transfer to the marina where we met our captain and guide for our day on the water.
Unlike our trip in South Africa, we had a two-hour drive out to "Shark Bay," so we settled in, had a cappuccino and enjoyed the sunrise.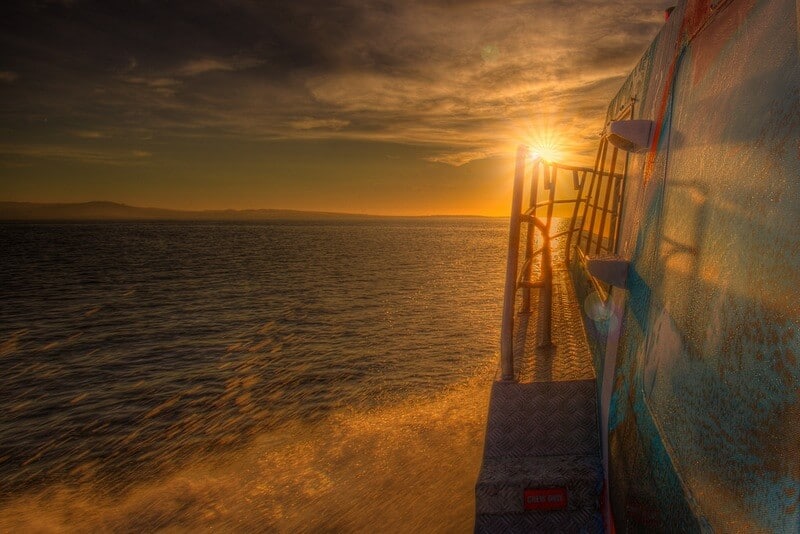 We were diving with Adventure Bay Divers, a company that has won several eco-tourism awards.
They use sound waves to attract the sharks rather than chumming the water with fish guts and juice. I was expecting the sound waves to be some sort of high tech sonar, but as it turned out, the sound waves ended up being rock music.
More specifically ACDC. Actually, there were an array of tunes and if you are a hard rock fan like Dave and myself, you will love the playlist.
Dave and I felt pretty comfortable since we had just dove with great whites a month earlier, so when they asked for volunteers to go in first, we were quick to raise our hands.
The water was a chilly 16 degrees Celcius (60 Fahrenheit) so I must admit, I was more afraid of the cold than the sharks.
I had trouble catching my breath and breathing through the long hose of the surface fed air, but once I settled in and warmed up, I felt much better.
Within minutes of getting in the water, we saw a shark. It was much bigger than the sharks we saw in South Africa, but far less active.
This shark floated around the boat and the cage for a little bit before disappearing into the abyss. He didn't seem to love the music as much as we did.
We all took turns getting in and out of the water. It was near the end of the season so we only had 6 people on the boat which was awesome.
It's always great to have a fun group when you are stuck on a tiny vessel. We had a lot of cage time if we wanted it, so we spent most of the day underwater.
Sadly, no other sharks decided to grace us with their presence. 
Unfortunately that's what happens with Mother Nature, sometimes you win and sometimes you lose.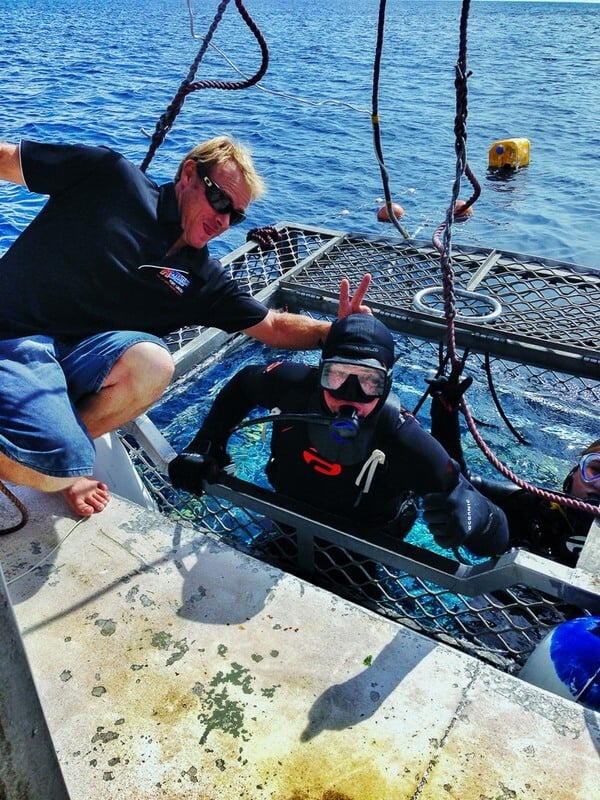 Get Down and Boogie
We still had lots to keep us occupied thought. The guys at Adventure Bay Charters are prepared for all possibilities, and even though we didn't see anymore sharks, we still had fun under the water.
The music was cranked and they handed down a guitar for us to play. Not only did we play guitar, we boogied too.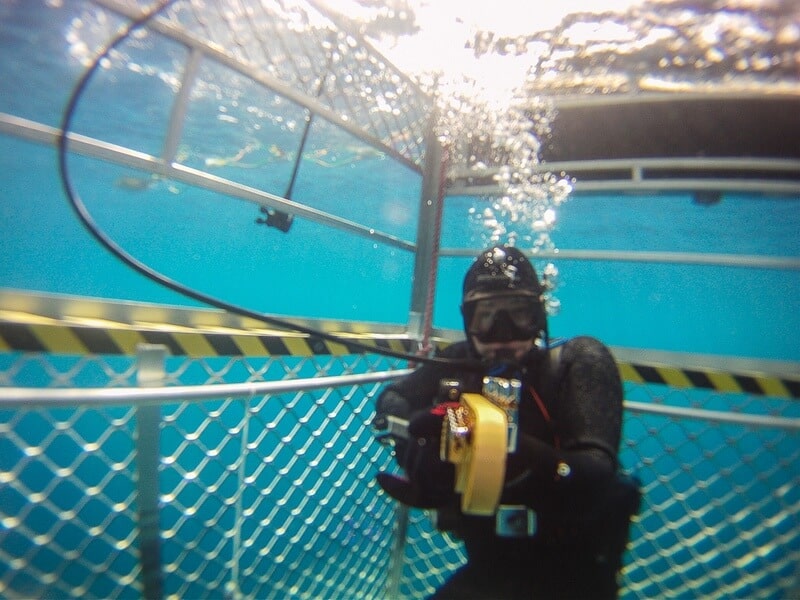 We put on the old GoPros and hammed it up for the camera. Give Dave and I a prop and we're all over it.
I really think that we were circus performers in another life. We can entertain each other for hours.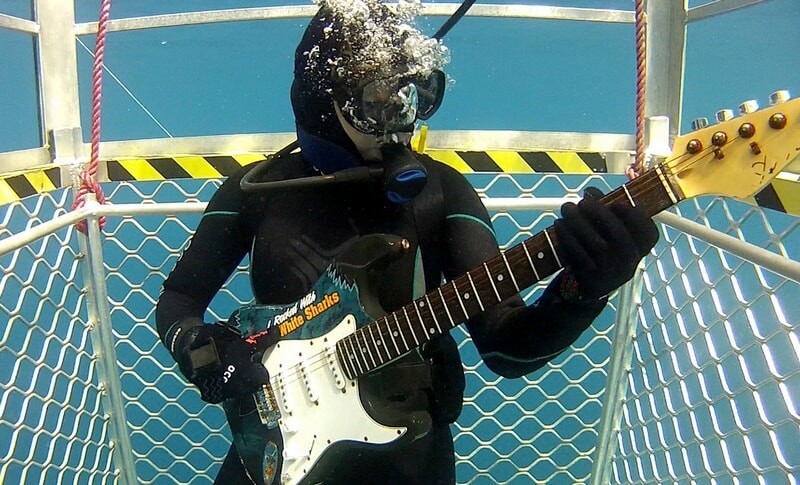 On the Boat
The day on the boat was a lot of fun. We were served a delicious buffet lunch and all the cappuccinos we wanted.
It was a beautiful day too. Not too hot, not too cold.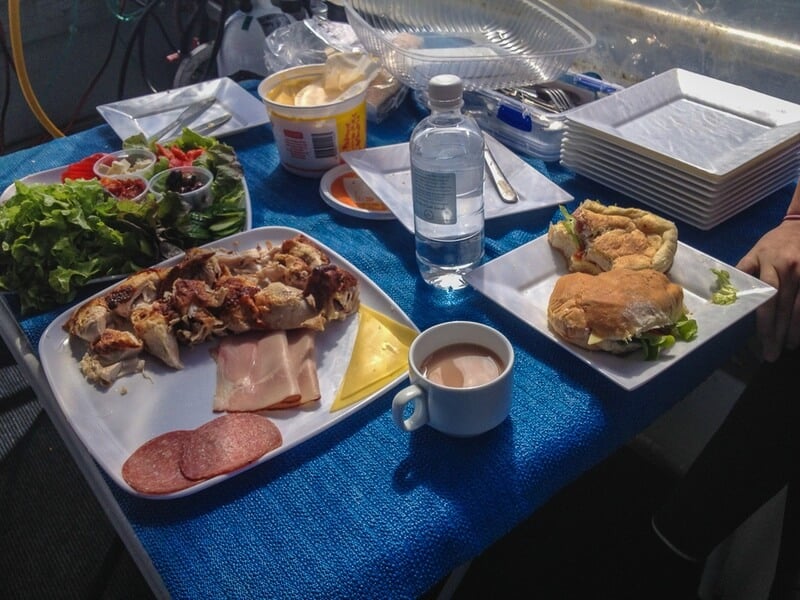 We had the chance to get in the water as much as we wanted and if you are a die hard diver like most that we know, you'll want to keep getting in to see what's up. Fish floated by and there was always a chance to see another shark, so we all kept alert and paid attention. You just never know what you'll see.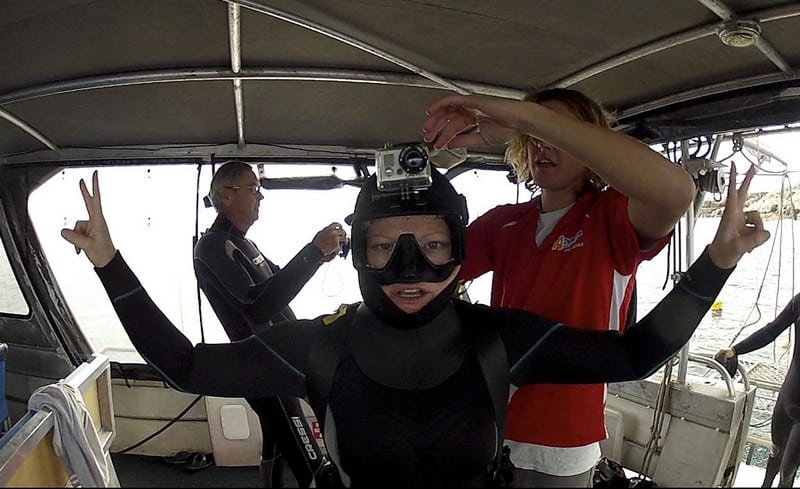 Even if you are not a certified diver, you can cage dive with sharks. You are only a few feet below the surface of the water and if you are uncomfortable in any way, you can pop back up in a heartbeat. The guys are right there to take care of you and to help out if anything happens. If you have never dove before, don't let that stop you, it's the perfect introduction to diving. I guarantee you'll be hooked after you see a great white in real life. We haven't been certified divers for a few years, but all these mock diving holidays are starting to make us feel that we should refresh our PADI Courses. And here I thought I'd never dive again.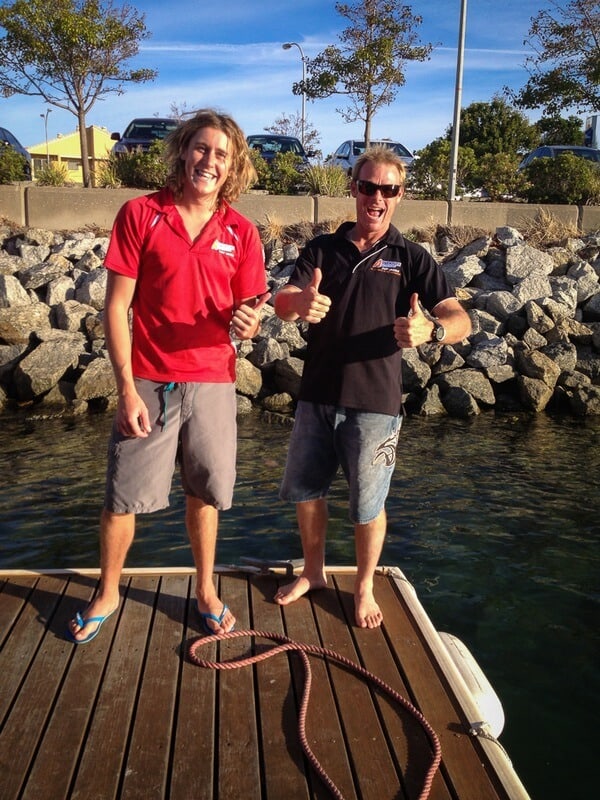 The guides were a lot of fun while being very professional and safe and they put on a great tour. Even though we only saw one shark this day, it was still a fun and exciting time. Being in the water with a great white shark is a thrill of a lifetime. Period. Even if it is only one. It's still an amazing thing to witness. And hey, still get to say we looked a great white shark in the eye. If we ever have the opportunity again, we'll be in there for sure. I wonder where our next Great White Shark encounter will be?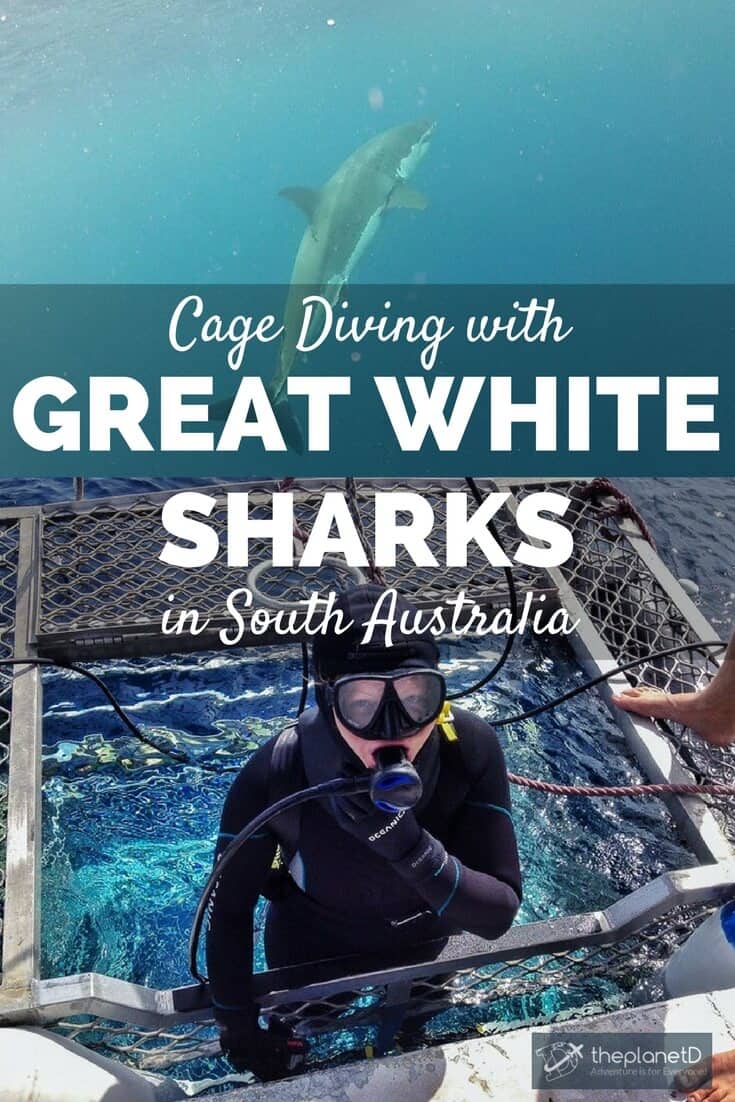 We'd love to hear about your shark experiences, tell us where we should have our next shark encounter!
---
Read More:
A Dolphin Swim in Shark Country
There's More to Kangaroo Island than 'Roos
Koala Cuteness in South Oz
South Australia in Photos