Queensland is known for its big waves on the Gold Coast. I mean how many places on earth have an entire community called Surfers Paradise? But there are a lot more things to do in Queensland besides surfing.
We spent two glorious weeks touring Queensland and the Gold Coast and had the adventure of a lifetime. What are some other things to do in Queensland besides surfing? Let me tell you.
Things to do in Queensland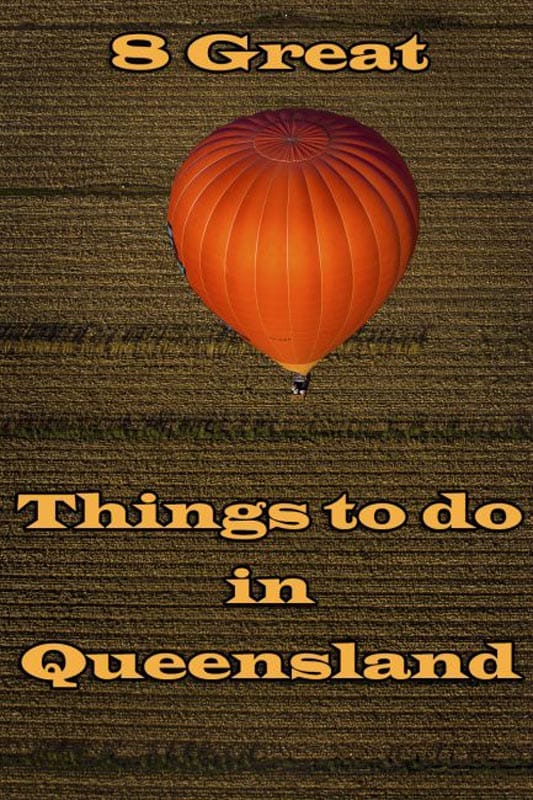 #1 Take a Helicopter Tour Over the Great Barrier Reef 
One of the Seven Natural Wonders of the World, the Great Barrier Reef is THE thing of things to do in Queensland. The Great Barrier Reef is located off the coast of Queensland. A flight over the reef give you the opportunity to appreciate just how massive this system is. Leaving from Cairns or Port Douglas you can be out at the Great Barrier Reef in a half an hour. For Helicopter tours in Queensland, check out Queensland Heli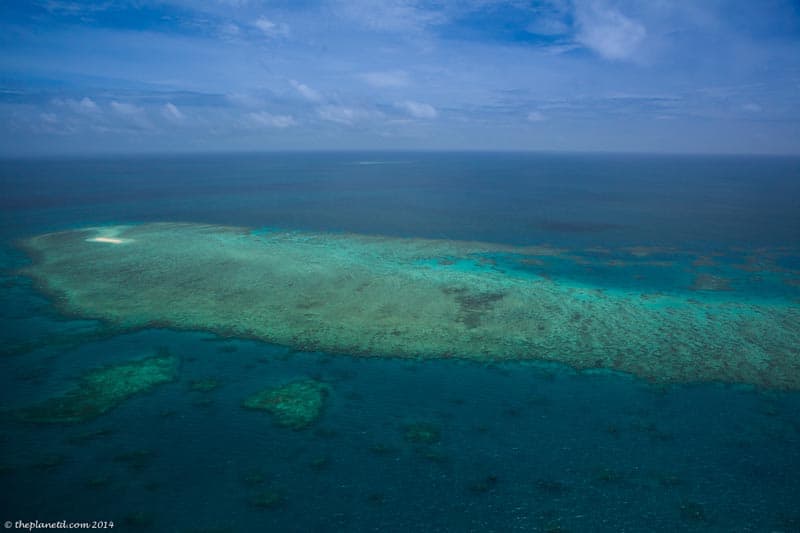 Read more at The Great Barrier Reef Extravaganza
#2 Paddle Board in the Oldest Rainforest on Earth
What better way to spend an afternoon than a lazy float along the river. We've done paddle boarding in the past and love it. It's one of the most relaxing ways to get a full body workout. You don't even know how hard you are working until you feel your muscles the next day. We paddled up the Mossman River far away from the salt water crocs closer the ocean. In the Daintree forest, the waters are safe to swim in. During our paddle we played on rope swings, relaxed in warm pools and treated to local fruits for snacks. It's a beautiful day.
book paddleboarding and kite surfing with Windswell Kite Surfing and SUP
#3 Take a Flight on a Hot Air Balloon
There's nothing better than flying in a hot air balloon. Step back in time and fly high in the sky as you take in sunrise over the Gold Coast. As you fly over farmland and wide open spaces you'll spy kangaroos and finish off with a champagne breakfast at a local vineyard. See our video and read more about our flight at Flying High in Queensland
Book your trip to Queensland with Hot Air
#4 Attend Hollywood Stunt Academy
It may not be the first thing you think of when visiting Australia, but its the most fun you'll have on your trip! The Australian Stunt Academy is run by martial arts expert Colin Handley. He caught the eye of Chuck Norris and was invited to Hollywood to work as a stuntman. After working on over 100 TV and movie projects he came back to Australia as continued acting, and opened the Stunt Academy. You can spend a day with him or train for an entire month learning everything from wire work, high jumps, and stage fighting.
See our video at Hollywood Stunt Academy and find our more information at their website!
See more Things to do in Queensland at Queensland Australia Tourism's Website
#5 Walkabout with an Aboriginal Guide
A visit to Australia would not be complete without learning about the Aboriginal Culture. When thinking of things to do in Queensland, consider doing a walkabout with an Aboriginal Guide.
Learn about the culture and traditions of the Kuku Yalanji people as you walk through the world's oldest rainforest. From the Mossman Gorge you can book a walking tour where you'll learn about life in the rainforest, medicinal and poisonous plants and ancient walk paintings.
Our guide Mooka grew up in this forest and can tell you anything about how to survive here. He told us that he has helped cure many ailments by using traditional medicine. Before entering, you must take part in a smoking ceremony to let the spirits know that you are visiting as a friend.
Read more at The Daintree Rainforest where Dreamtime Walks and Luxury Meet
#6 Go White Water Rafting
Just 20 minutes outside of Cairns is the Barron River where we went white water rafting. We were told that the rapids were an easy grade 2 and 3 so we weren't expecting much of a thrill. However, it ended up being one of our most fun rafting excursions we ever had!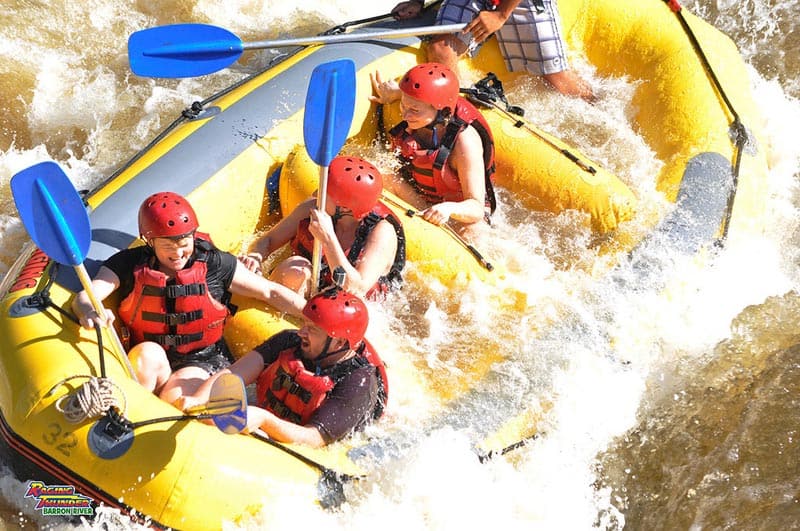 With experienced guides, we ended up surfing into a waterfall and whirlpool that gave us a soaking turn after turn. People fell out of their boats, we were completely submerged and at one point when the guide asked: "Debra are you ok?" I had to choke through my coughs to yell, "I'm ok now, I'm ok now!" I don't know if we had perfect conditions or not, but I've had fewer thrills on class 4 rapids than I did here.
#7 Chill out in Port Douglas 
Port Douglas is a laid-back town with great shops and cafés set on a beautiful sandy beach known as 5 mile beach. This is the place to hang out for a few days getting up early for sunset, enjoying a relaxing massage and sitting by the spectacular pool at Peppers Resort that actually has a beach right in it! Make sure to check out the waterfront market at the park, we bought our digeridoo here for the best price we've seen in Australia.
Hanging out at Peppers enjoying the sandy beach pool and spa was one of the most relaxing things to do in Queensland.
Heading to Victoria Next? Check out the Great Ocean Walk for More Adventure
Check out more of our time at Peppers here at our Spa Etiquette, From Stripping to Tipping
#8 Go for a Bike Ride Along the Gold Coast
The Gold Coast is an area of sandy beach that stretches for miles. It's difficult to explore it all on foot, and driving make you miss all the little secret spots, so we signed our a bike from Peppers Broadbeach and explored the area.
We cycled out to Currumbin Beach and Burleigh Head to watch the surfers. (there are paddle boarders there too!) We dined at Surfers Paradise, road past Sea World and wove through a maze of high rises and million dollar homes enjoying the outstanding Australian sunshine.
Visit Gold Coast Tourism for Things to do in Queensland along the Gold Coast
9. Fraser Island
10. Story Bridge Climb
11. Coo-Tha Mountain
What do you recommend for things to do in Queensland? There's so much more, I bet you know of a few suggestions. 
Read More:
 13 Mindblowing photos that will make you love Queensland
Our Complete Australian Travel Guide
Mindblowing Photos of Queensland
The details:
Our Trip to Queensland is brought to you by Tourism and Events Queensland. Car Hire was provided by Vroom Vroom Vroom. Accommodation provided by  as part of Peppers Broadbeach on the Gold Coast, Peppers Beach Club in Port Douglas,  Silky Oaks Lodge at The Daintree Forest and Peppers Beach Club & Spa Palm Cove
You Might Also Enjoy